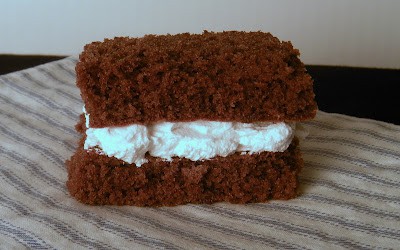 Tomorrow,
Tomorrow,
I LOVE YA
TOMORROW!!
Wow.
It's here.
Tomorrow is it, boys and girls.
This roller coaster is over as we know it.
Don't worry, we're going to be getting on another one.
You better make sure you come back tomorrow. It's going to be a PARTAY!!!!!
And I'll have a giveaway for one of my lucky readers!!
The other night I was in bed and all of a sudden I had the craving for a Suzy Q. You know the kind that that comes from those wonderful people at Hostess?
I grew up with this company eating Twinkies, those Powdered Sugar Donettes, Ho-Ho's, Suzy-Qs and my absolute favorite, the Cupcakes. Ooh, that cream in the middle!
Man…
I know the nutritional content in those things is minimal, at best, but even to this day I still love some of those treats. However, I rarely by them.
Since I've been baking this last year, I find that I won't go out and buy those kind of treats or cakes or pies, or even cookies when I know that I can make a healthier version without all of those artificial colors or preservatives AND save some money in the process.
That's why I decided to make the Suzy-Qs, too.
I made the Devil's Food cake from my Fannie Farmer Cookbook, p. 567; author Marion Cunningham; publisher Alfred A. Knopf, a division of Random House, Inc.; ISBN 0-394-56788-9.
The recipe for the filling I found
here
and is the "top secret recipe for Twinkie filling".
I cut the recipe in half for the cake, but made the full amount for the filling.
Homemade Suzy-Qs – makes 6
Devil's Food Cake
2 tablespoons unsweetened cocoa
1/2 cup plus 1 1/2 tablespoons sugar
1 1/2 tablespoons water
1/4 cup milk
4 tablespoons butter
1/2 teaspoon vanilla
1 egg, separated
1/2 cup flour
1/4 teaspoon cream of tartar
1/4 teaspoon salt
1/4 teaspoon baking soda
Preheat oven to 350 degrees F. Prepare a 9-inch square cake pan by lining it with parchment. Butter and lightly flour the parchment. (You may be able to just butter and flour the pan, but I didn't want to chance any part of the cake sticking to anything, and it worked.)
In a small microwavable bowl, combine cocoa, 1/4 cup of the sugar and water. Place into the microwave and heat on high for 30 seconds. Remove and stir until smooth and blended.
Stir in the milk, and set aside.
In the bowl of an electric mixer with the paddle attachment, cream the butter. Add the vanilla and 1/4 cup of the remaining sugar. Beat until light.
Beat in the egg yolk and mix in the cocoa mixture. Mix well (it may appear grainy).
In a small bowl, whisk together the flour, cream of tartar, salt, and baking soda. Add to butter mixture and beat until smooth. Pour batter into a large bowl, so the mixing bowl can be cleaned.
In the cleaned bowl of the electric mixer, beat egg white until foamy. Slowly add sugar and continue beating until the white is stiff but not dry.
Fold the whites into the batter.
Spread batter evenly into the prepared cake pan.
Bake for 20 minutes or until a toothpick inserted into the middle comes out clean.
Place on a wire rack to cool for 5 minutes before removing the cake in wax paper from the pan. Allow to cool completely on a wire rack before cutting.
Filling – makes 1 1/2 cups
2 teaspoons very hot water
1/4 teaspoon salt
2 cups marshmallow fluff
1/2 cup shortening
1/3 cup confectioners' sugar
1/2 teaspoon vanilla
In a small bowl, combine salt and hot water and stir until salt is completely dissolved. Set aside to cool.
In the bowl of an electric mixer fitted with the whisk, beat together marshmallow fluff, shortening, confectioners' sugar and vanilla on high speed until fluffy.
Add the salt solution to the filling and beat thoroughly.
Assembly
Place a piece of parchment paper on top of the cake and place a cookie sheet on top of that.
Holding one hand on the cookie sheet and one hand under the wire rack, flip the cake onto the cookie sheet.
With a serrated knife, cut the cake into thirds and then in the other direction into fourths.
Spread 2-3 tablespoons of filling onto one slice of the cake and then cover with another slice.
Repeat with remaining cake and filling.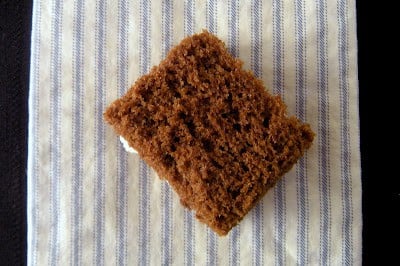 I rate everything I bake on a scale of 1-4 with 4 being the best and these Homemade Suzy-Qs earned 1 1/2 rolling pins.
The cake tasted ok, but wasn't close to the rich, chocolatey flavor of the Suzy-Q cake. I thought it could have definitely used more chocolate!
Also, the recipe called for baking the full amount of batter in 2 8-inch round cake pans, but since Suzy-Qs are square, I opted for the 9-inch square pan. I was planning on slicing the cake in half (top to bottom), but it was too thin. I would use an 8-inch square next time.
And also next time, I would DEFINITELY use another filling!!
Ok, that "top secret" recipe doesn't have to be so top secret because I don't think it tasted ANYTHING like the actual filling Hostess uses in their goodies!
BLECH!
When I dipped my finger into the filling itself, the taste of the shortening was overpowering.
When tasted in between the two pieces of cake, it was so horribly sweet that it made my mouth tingle. That happens some times when I have wedding cakes or bakery cakes that have REALLY sweet frosting. I actually spit it out. My daughter said it was so sweet it made the back of her mouth hurt.
I was extremely surprised that the filling tasted so differently when combined with the cake.
Conclusion, to find another cake AND filling recipe.
This could work and I know there are people out there who have done it. I think I'll be trying one of their recipes, first.
REMEMBER!!!!!!!
TOMORROW'S the BIG day here at 365.
IT.
IS.
OVER!!!!
Ok, not really over, but the baking every day will be over.
I will continue to post maybe not every day, but at least every other. I don't want to go two to three days without talking to you! I'll go through withdrawal!!
Although I am planning on taking the weekend off from any recipes or blogging and will just enjoy the time spent at a track meet and time with the family.
I love you and I thank you.
And I give you BIG baking hugs!!