These 4th of July Rice Krispie Treats are a red, white and blue spin on a classic childhood favorite. Chewy, sweet and colorful Patriotic Rice Krispie Treat Stars are a yummy dessert and just what you need to complete your 4th of July dessert table!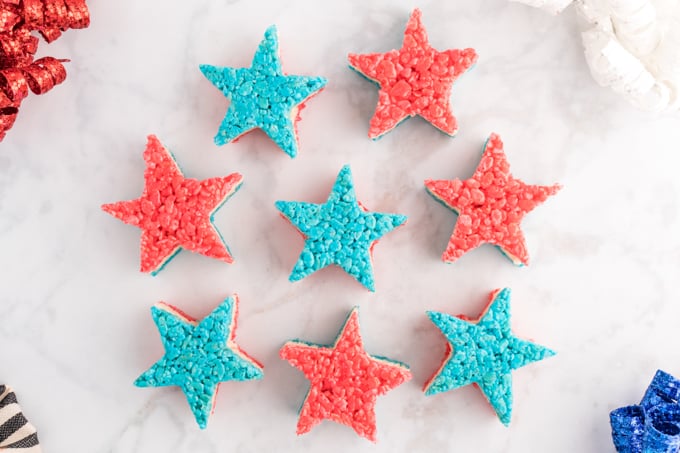 How do I celebrate America's independence day?
I most often bake cookies, of course. Or, in this case, NOT baking and making a no-bake dessert instead!
SAVE THIS RED, WHITE AND BLUE RICE KRISPY TREATS RECIPE TO YOUR FAVORITE PINTEREST BOARD!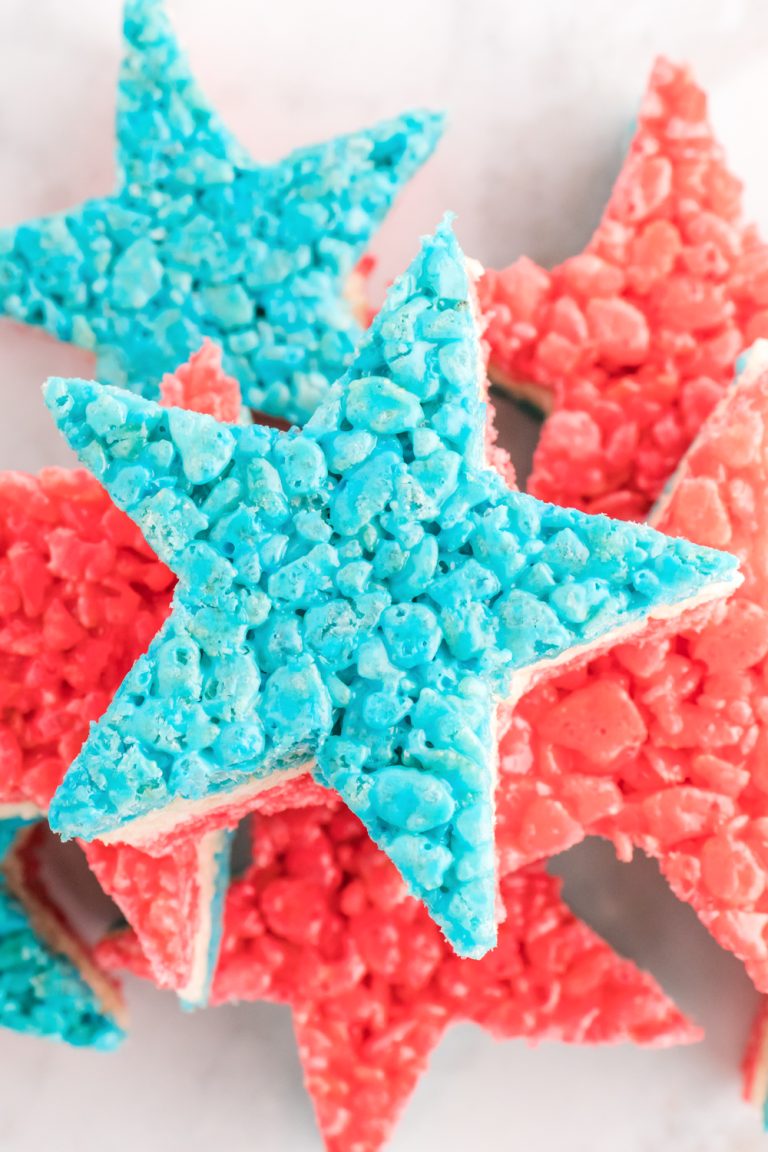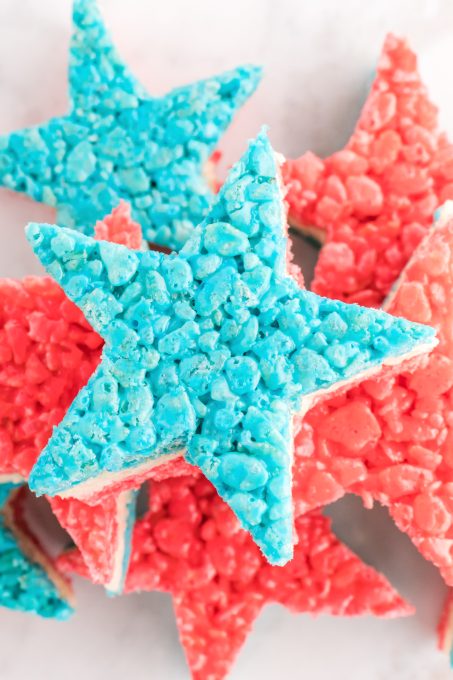 I'm a big fan of Rice Krispie cereal treats. They're one of my favorite no-bake dessert bars and for good reason – they're an easy dessert to make with just a handful of ingredients. Besides, who can resist those gooey ribbons of marshmallow when you take a bite? Not me!
There are nearly endless ways to customize, shape and decorate krispie treats for any occasion. Today I'm sharing an easy method for turning rice krispies batter into Patriotic Rice Krispie Treat Stars, the quintessential July treats.
You'll love nibbling on these red, white and blue treats while you watch the fireworks this year!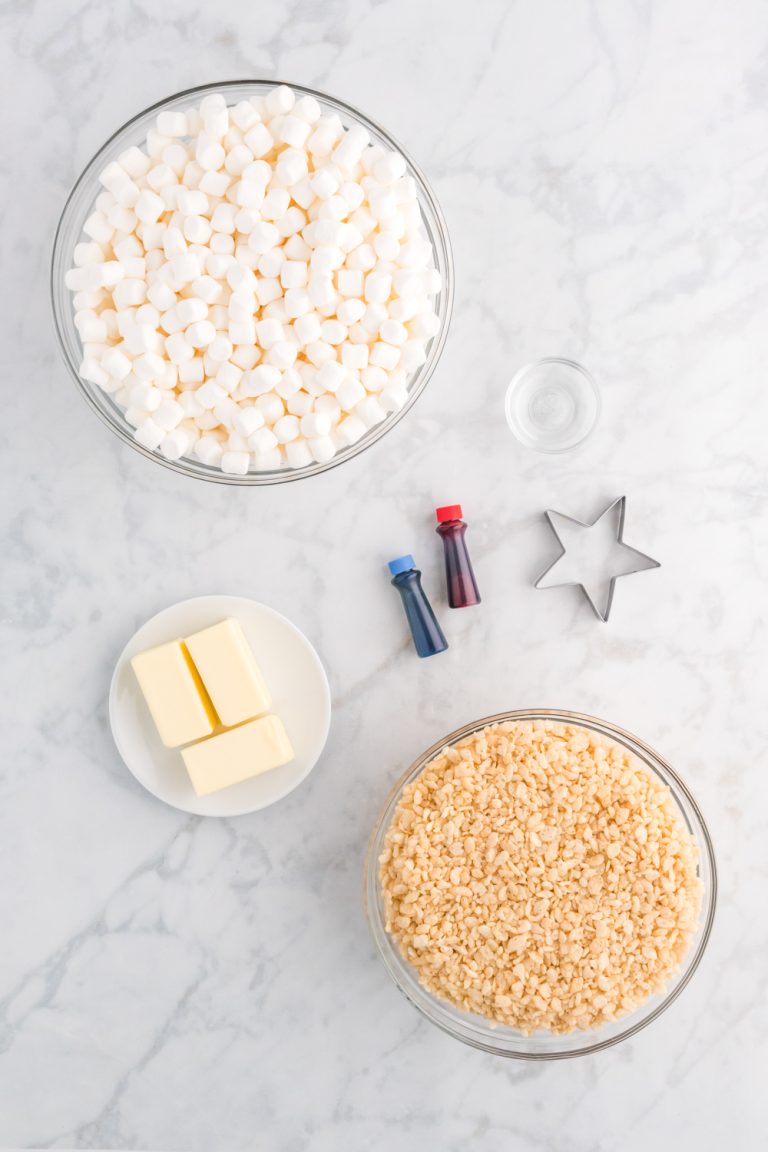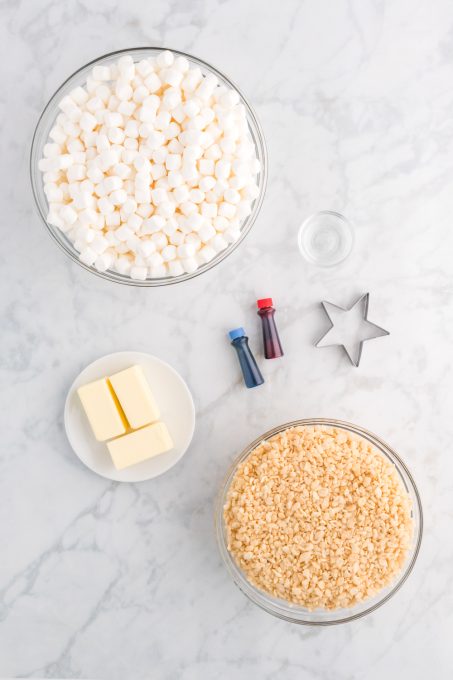 What do I need?
You only need 5 ingredients to make this no-bake 4th of July dessert.
Butter
Mini marshmallows
Rice Krispies cereal
Vanilla extract
Red food coloring
Blue food coloring
Since we're going to cut the red white and blue rice krispie treats into stars, you will also need a star shaped cookie cutter. I used a 3 inch star cookie cutter for my treats.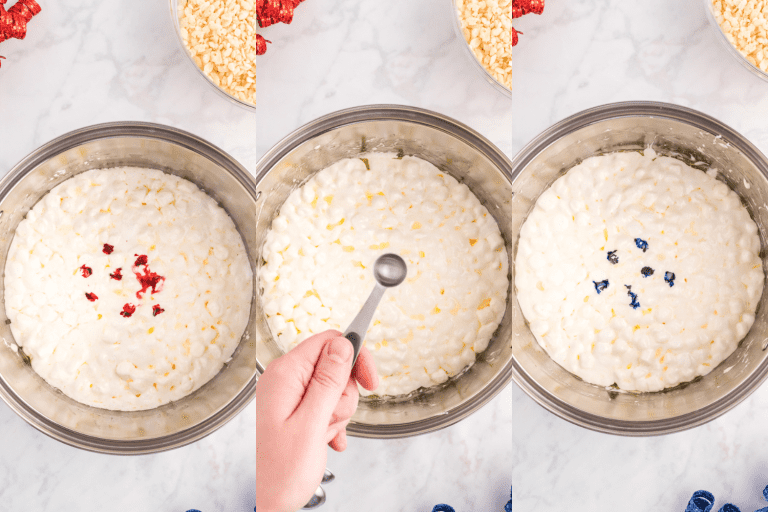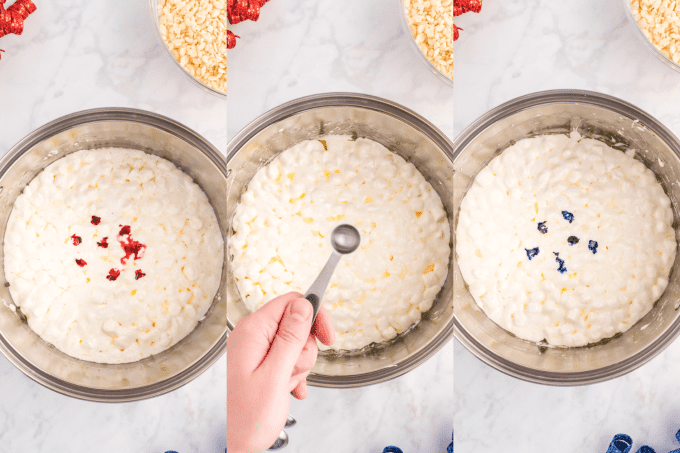 How to Make Easy 4th of July Rice Krispie Treats Stars
To make red, white and blue rice krispie treats, make 3 separate small batches of rice krispie batter. Add red food coloring to one batch, blue to another and leave one batch white.
Press the red rice krispie treat batter into a parchment lined pan. Top with the white batter, followed by the blue. Now let the treats set and cool. Use cookie cutters to shape them. So easy!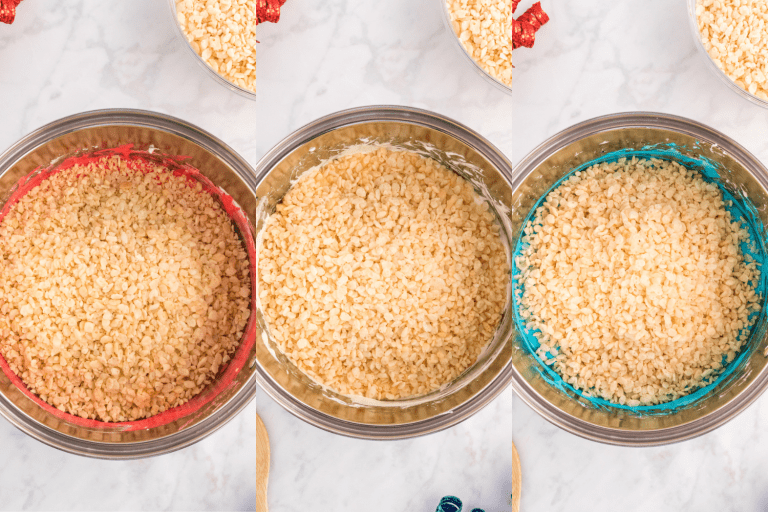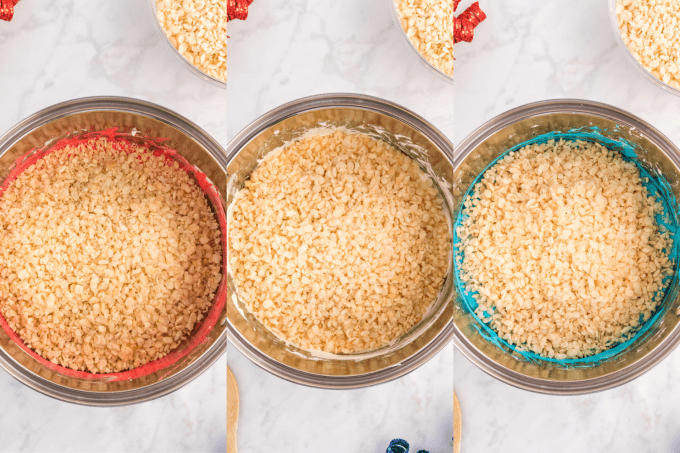 What if I don't have a star shaped cookie cutter?
If you don't have a star shapes, try cutting a star out of paper with scissors. Place the paper star over the pan of treats and use it as a stencil for cutting the treats into stars. It's less precise, but still does the job!
The easier solution is to just cut the rice krispie treats into squares instead. They'll look and taste just as delicious!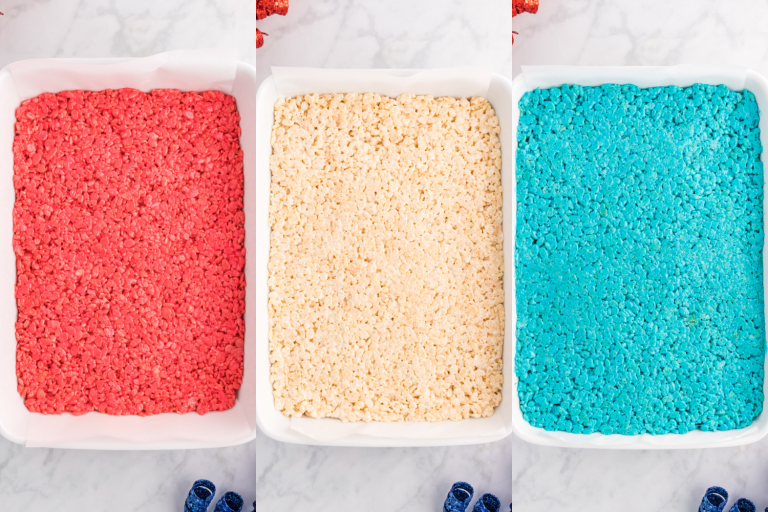 How should I store the Patriotic Rice Krispie Treat Stars?
Store homemade rice krispie treats in an airtight container at room temperature. They taste best enjoyed within 3 days. After that they'll start to get hard and tough to chew.
I don't recommend freezing rice krispie treats. Some people have success with freezing them, but in my opinion frozen and thawed rice krispie treats don't taste nearly as amazing as fresh ones!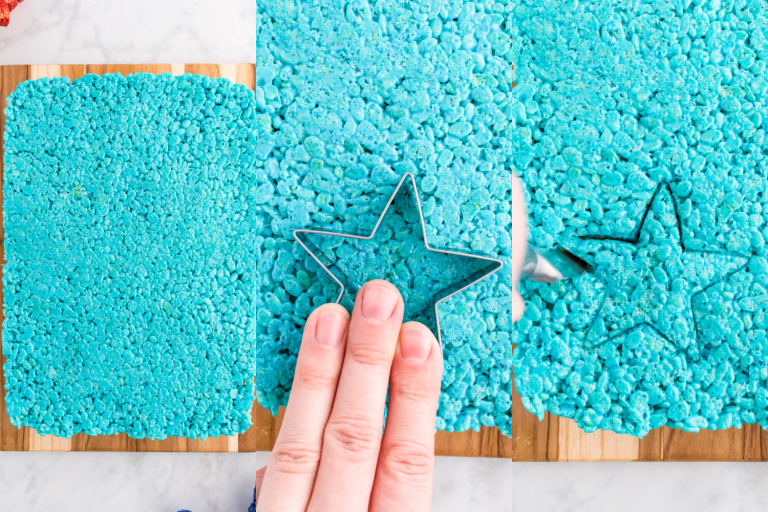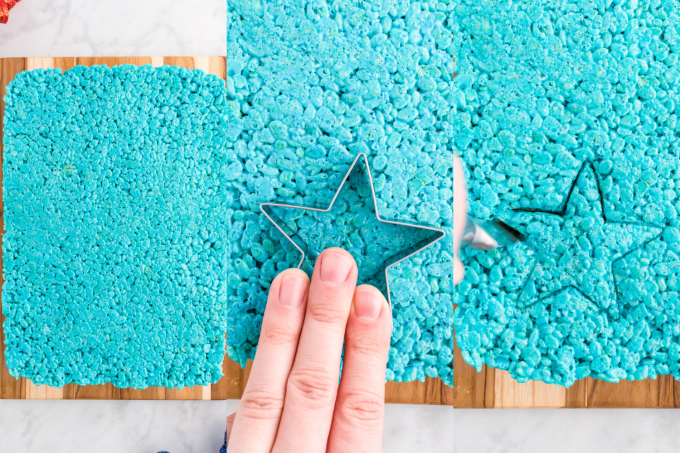 How can I keep them from sticking to the baking pan?
The sticky marshmallows in rice krispie treats is what makes them so good. It's also what makes them so prone to sticking to everything—pans, knives, and even your fingers.
To keep these treats from sticking, make sure to line the pan with parchment paper AND give it a light spray with baking spray. Once the treats are set, you can use the parchment paper to life the whole batch right out of the pan. You will be able to flip them upside down, peel of the parchment and cut without much mess.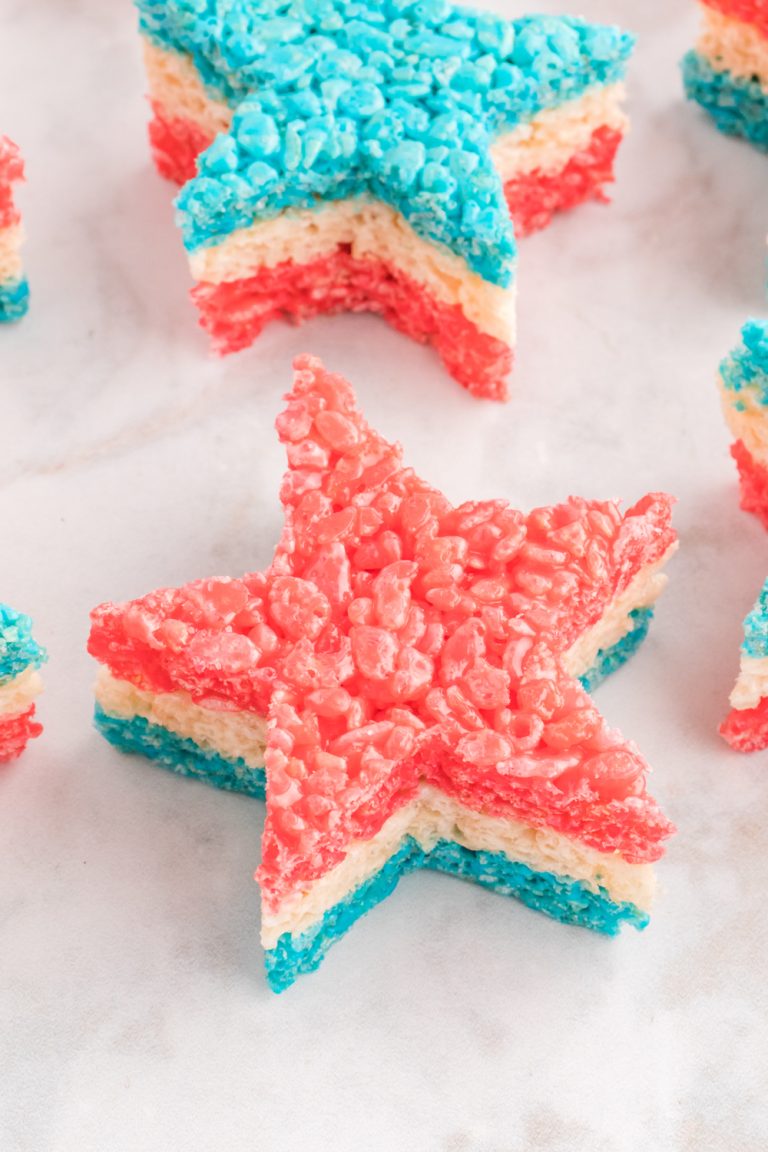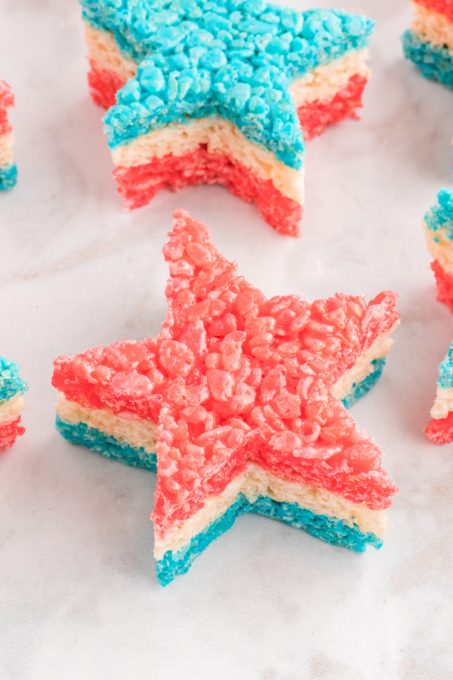 What other variations can I make?
These aren't just for patriotic holidays, you can change the colors of the layers for other holidays or celebrations. Use red and green for Christmas, pink and red for Valentine's Day, green for St. Patrick's Day—you get the idea.
Changing up the shape is easy with different kinds of cookie cutters, too. Think hearts, circles, diamonds, flowers. . .whatever fun cookie cutters you have on hand!
More Tips and Tricks
Use good quality, FRESH marshmallows. It makes a difference! If your bag of mini marshmallows has been sitting in the cupboard for a while, it's time to toss them and replace with a fresh batch.
Mix the rice cereal into the marshmallow mixture right away. The warm butter and marshmallow mixture will start to cool quickly, so work fast!
Butter your spoon and knife. Use a buttered spoon or some buttered wax paper to flatten the cereal mixture in the pan. The butter keeps the cereal from sticking. A buttered knife is also helpful for cutting the sticky treats neatly.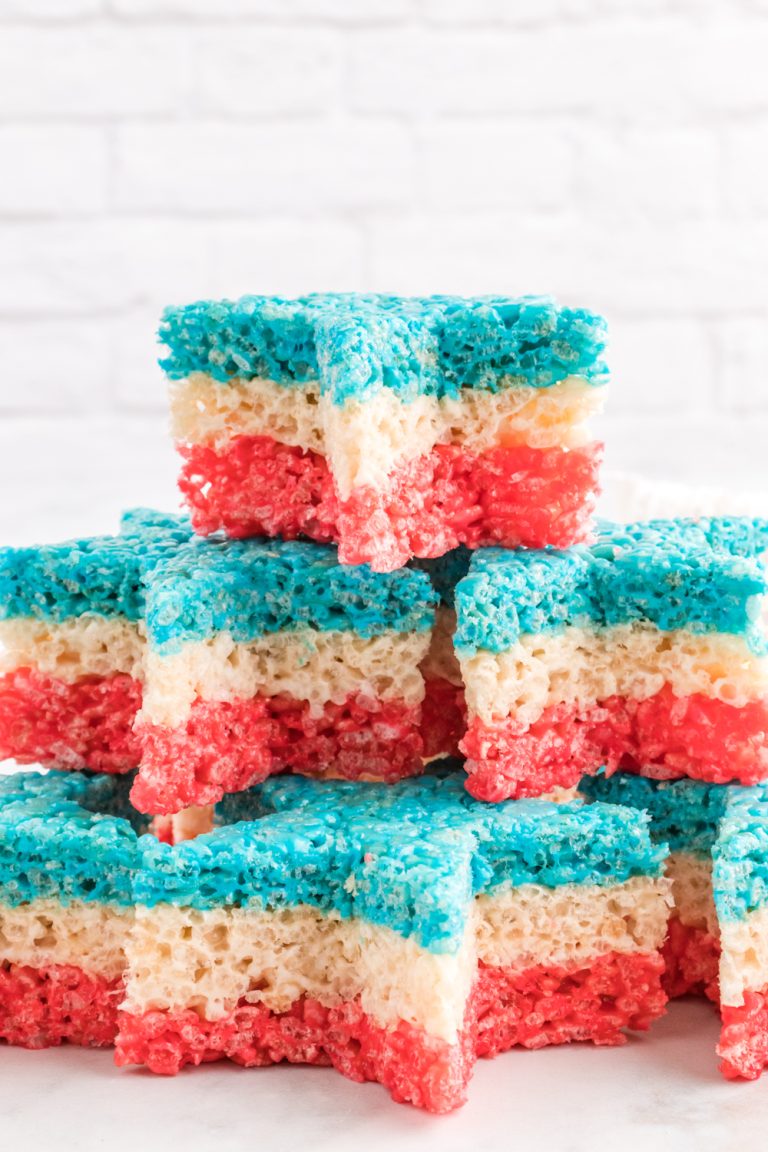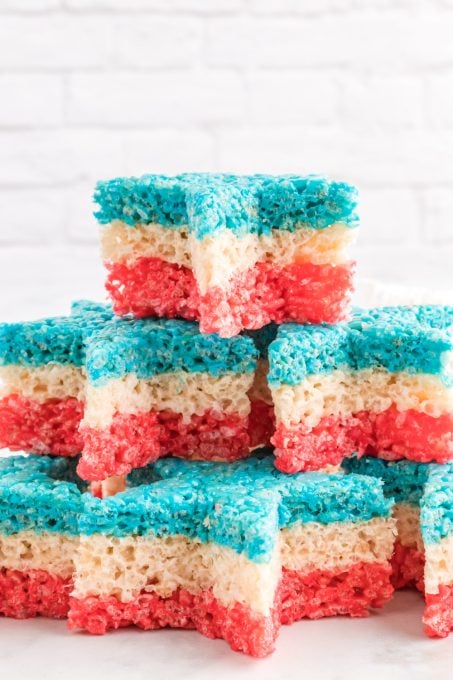 Red, White and Blue Desserts
I mentioned before that I celebrate July 4th the same way I celebrate just about every other holiday—dessert!
Any dessert is appropriate for the 4th of July and Memorial Day as long as it's red, white and blue, right? Take this Patriotic Poke Cake. Red cherry pie filling in the middle and a red, white and blue topping make it an instant hit.
If you like the striped layers in today's Patriotic Rice Krispie Treats, you'll love the look of this patriotic dessert, my Patriotic Layer Cake. Good news: it tastes even better than it looks, if you can believe it!
For an even easier dessert idea, check out my Red, White and Blue Berry Delight recipe. The layers of pound cake, and berries with homemade whipped cream are a summertime dessert staple.
You can use the same cookie cutter from today's recipe to make other patriotic desserts like these Easy Jello Stars and my favorite Patriotic Pinwheels and Star Cookies!
No cookie cutter? Here's a Patriotic Jello Dessert that's part cake, part pie and completely irresistible.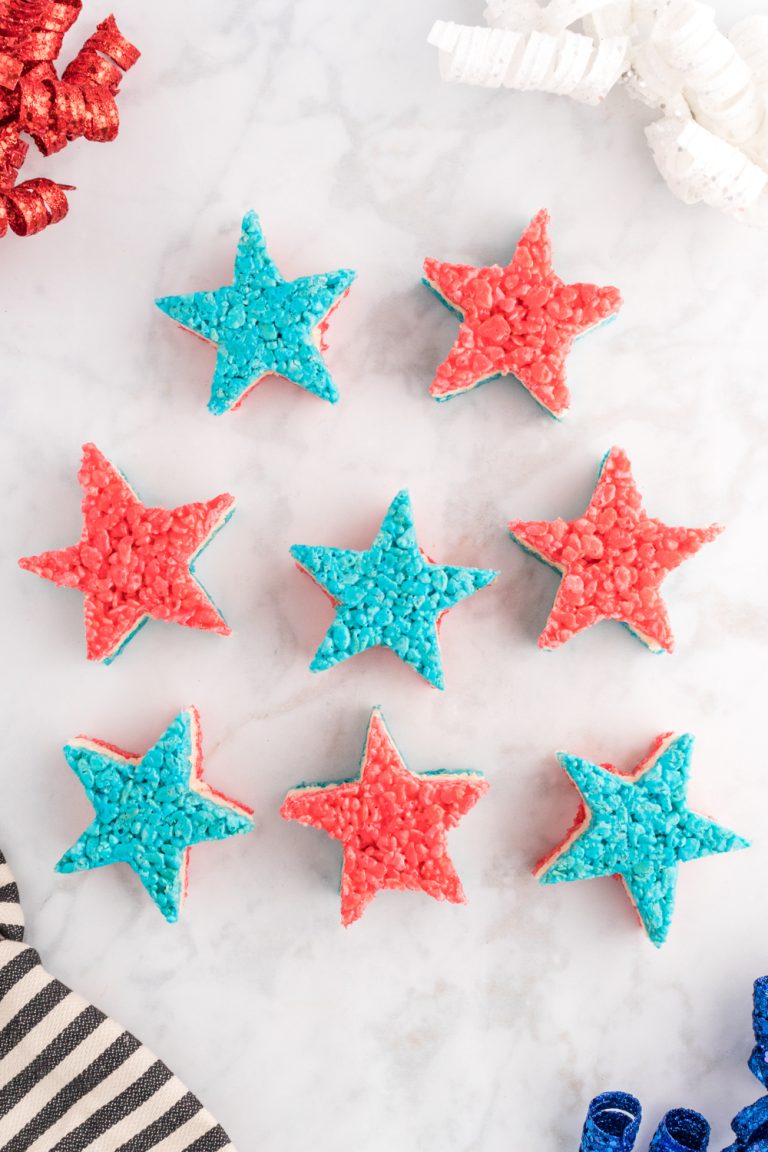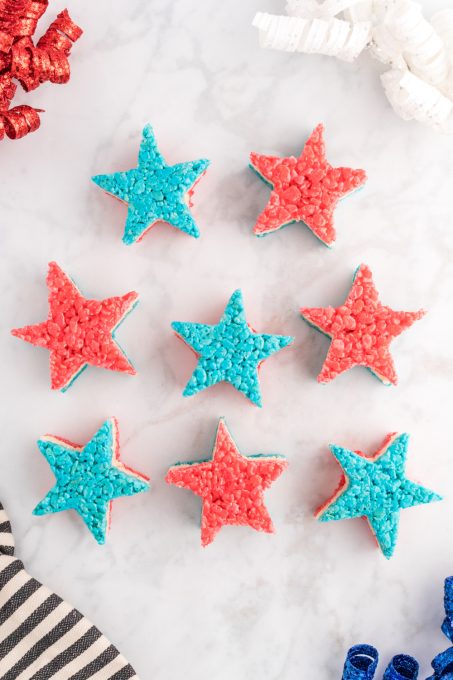 Rice Krispie Treats and other desserts
Need a little more inspiration for your dessert menu? Here are a few tried and true recipes you'll want to make (and eat!) over and over again. You might just find a new favorite rice krispie treat recipe among them!
In the mood for something different? You'll love these other crowd-pleasing desserts too!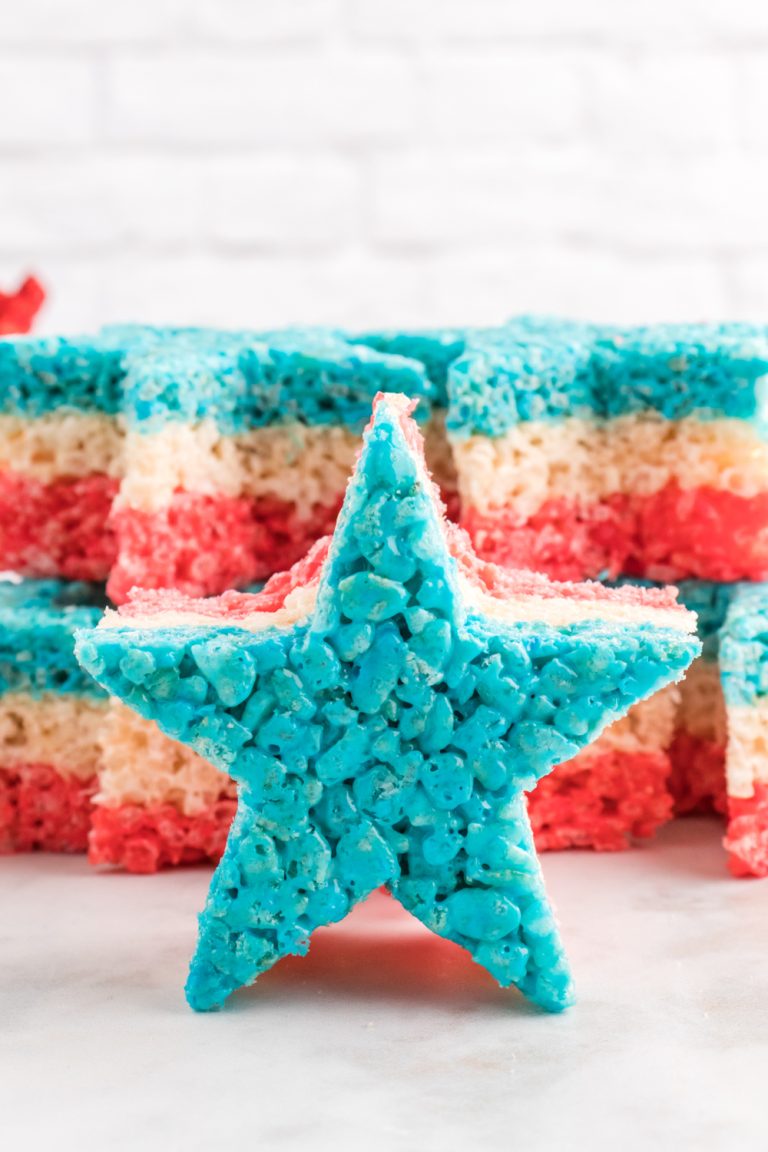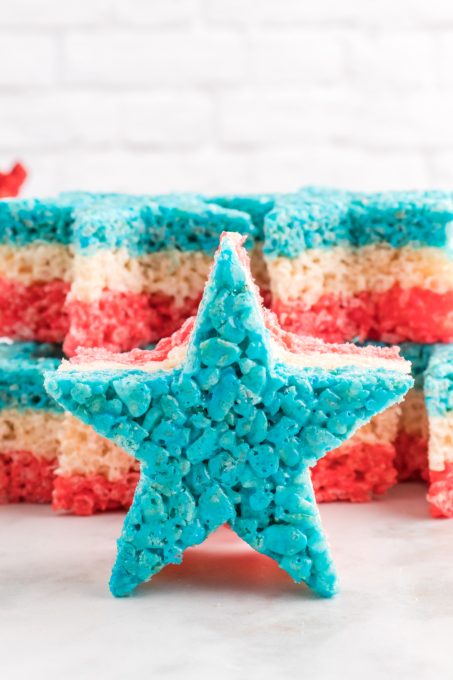 Everyone will love this easy fourth of July dessert. These patriotic star rice krispie treats are a delicious treat that are sure to impress your party guests, and fun to bring to any July BBQ.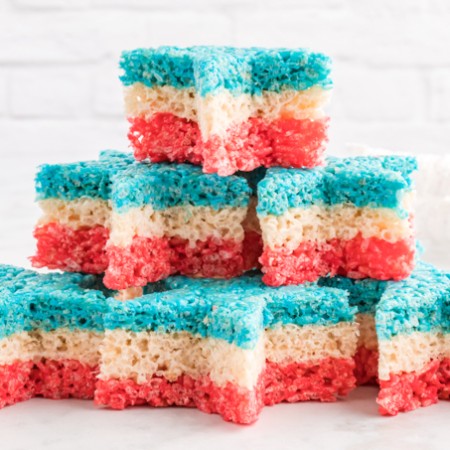 Patriotic Rice Krispie Treat Stars
These 4th of July Rice Krispie Treats are a red, white and blue spin on a classic childhood favorite. Chewy, sweet and colorful Patriotic Rice Krispie Treat Stars are a yummy dessert and just what you need to complete your 4th of July dessert table!
Equipment
9 X 13-inch baking dish

parchment paper

Large pot

3-inch star cookie cutter

large spoon or silicone spatula

cutting board
Ingredients
¾ cup butter divided
15 cups mini marshmallows divided
12 cups Rice Krispies cereal divided
1 ½ teaspoons clear vanilla extract divided, can also use pure vanilla extract, but color may differ slightly
8-9 drops red food coloring
6 drops blue food coloring
Instructions
Line a 9×13-inch pan with parchment paper. Spray lightly with cooking spray. 

In a large pot, start to melt ¼ cup butter over medium-low heat. Once melted, add 5 cups of the mini marshmallows to the butter, stirring often. Once the marshmallows are almost melted, reduce the heat to low. Add ½ teaspoon of vanilla and the red food coloring, a few drops at a time, and mix well. If needed, continue to add drops of food coloring until you reach the desired color. Remove from heat. Mix in 4 cups of the cereal. Stir until the cereal is well coated. Pour into the parchment lined pan. Spread evenly while pressing down firmly, and smooth the top using the back of a buttered spoon.

Repeat the same process, leaving the second batch white. Pour the white batch on top of the red layer. Press down smoothly and evenly.

Repeat the process one last time with the blue food coloring. Place on top of the white layer. Press firmly and smooth out the top layer.

Add sprinkles to the top, if desired, pressing them down to stick.

Allow to cool completely at room temperature for about an hour.

Remove the treats from the pan (use a knife to cut around the edges if needed). Gently peel off the parchment paper and place on a cutting board.

Cut the treats into star shapes using a cookie cutter. If the cutter isn't deep enough to completely reach the bottom of the pan, create an indentation with the cutter to use as a stencil, and then cut it out completely using a knife. If desired, you can also just cut them into squares.
Nutrition
Serving: 1star | Calories: 613kcal | Carbohydrates: 112g | Protein: 5g | Fat: 18g | Saturated Fat: 11g | Polyunsaturated Fat: 1g | Monounsaturated Fat: 5g | Trans Fat: 1g | Cholesterol: 46mg | Sodium: 433mg | Potassium: 63mg | Fiber: 0.3g | Sugar: 58g | Vitamin A: 3326IU | Vitamin C: 27mg | Calcium: 10mg | Iron: 13mg
Did you make this recipe?
Share it with me on Instagram and make sure to follow me on Pinterest for more recipes.
Reader Interactions