Reese's Peanut Butter Rice Krispies Treats

– your favorite Rice Krispies treats made even better with the addition of peanut butter, Reese's Mini Pieces, frosted with chocolate and covered with chopped Reese's Peanut Butter Cups.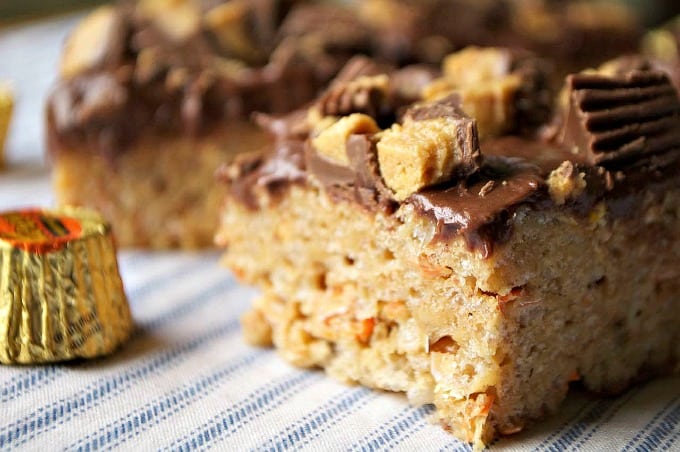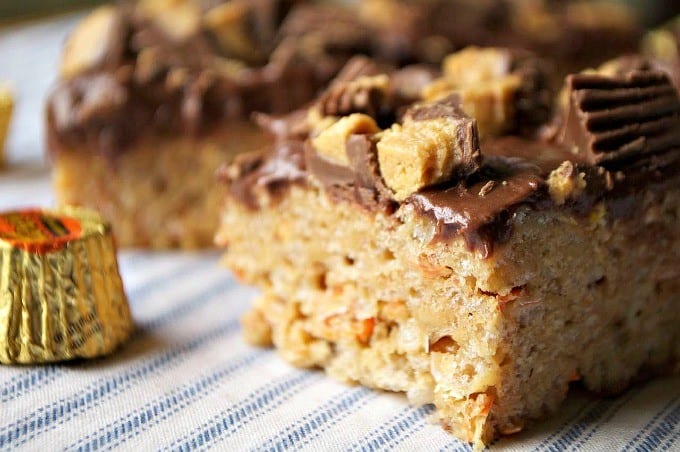 We saw a snake yesterday.
I don't think I like snakes. They're just slithery and really sort of freak me out.
I've seen mice running around in our house in New Hampshire, have managed to catch the scorpions we've had under cups, but snakes…
Yeah, no.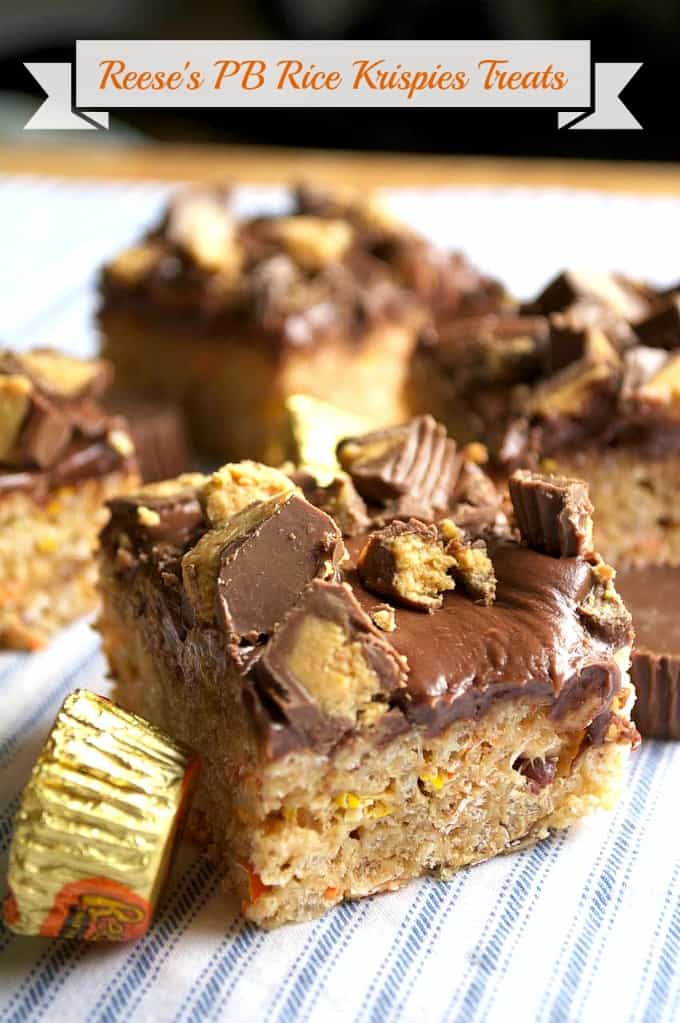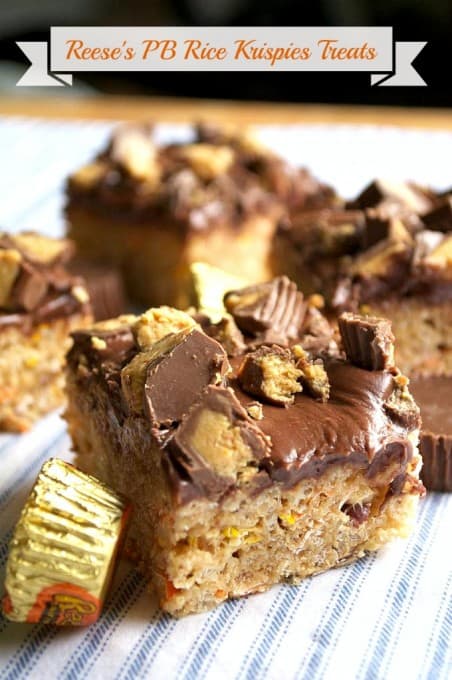 The Mr., the daughter who's home from college and I were out for a hike along with our dog, Brady yesterday. Being in the desert, we are very aware that there's a high probability we'll see a snake on our hikes, especially this time of year, but one can become a bit lackadaisical.
We were walking along the path behind some houses before heading off into the desert and at the same time my daughter and I spotted it. Actually, spotted the dog standing over it and sniffing.
YIKES!
SAVE THESE REESE'S PEANUT BUTTER RICE KRISPIE TREATS TO YOUR FAVORITE PINTEREST BOARD!


We both yelled at him simultaneously to move away from it and surprisingly enough he did as the snake gingerly slithered off down the bank and into the bushes.
Brady didn't seem too concerned about him perhaps it's because he'd gone through Rattlesnake training when he was younger. You can never be too sure with your pups, so I figured it might be a good thing to do.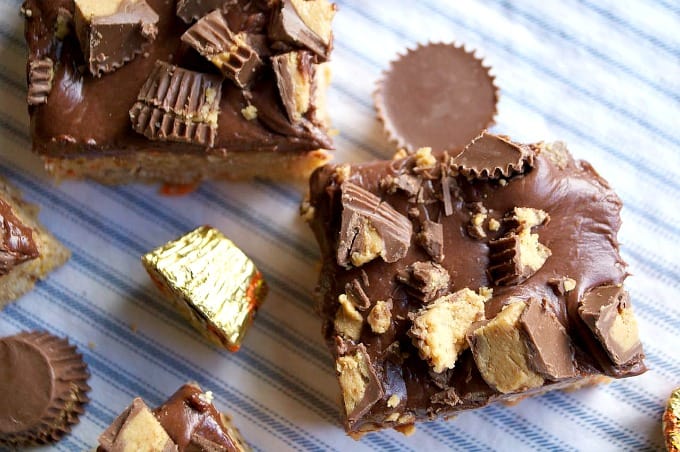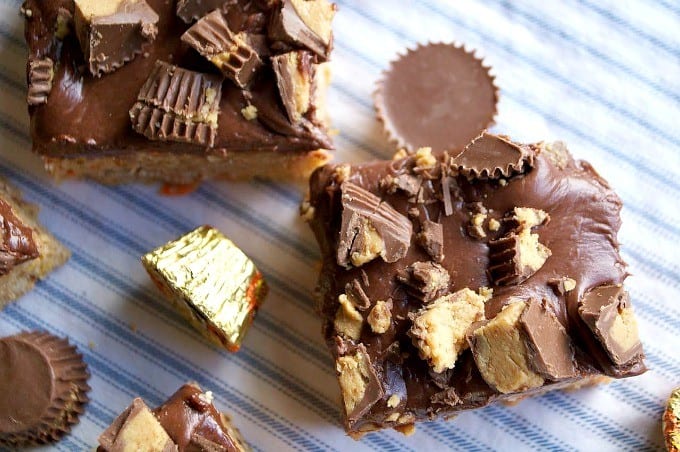 Rattlesnakes are dangerous and not to be messed with. Fortunately, the snake we encountered was a California Kingsnake and is not venomous. In fact, he eats other snakes, so he's a good Rattler protector!
You can see one of those and other Arizona desert dwellers here.
And did you know that the act of searching for amphibians or reptiles is called "herping". I didn't. See, you learn something new every day, don't cha' now? You just never know what I'll throw at you amongst the recipes.
I'm not sharing this with you to discourage you from visiting our beautiful state of Arizona. Quite the contrary. Y'all just need to be aware of your surroundings and what's going on. Come visit. You won't be sorry. Just make sure you don't do it over the summer when it's 120 degrees F. Ick.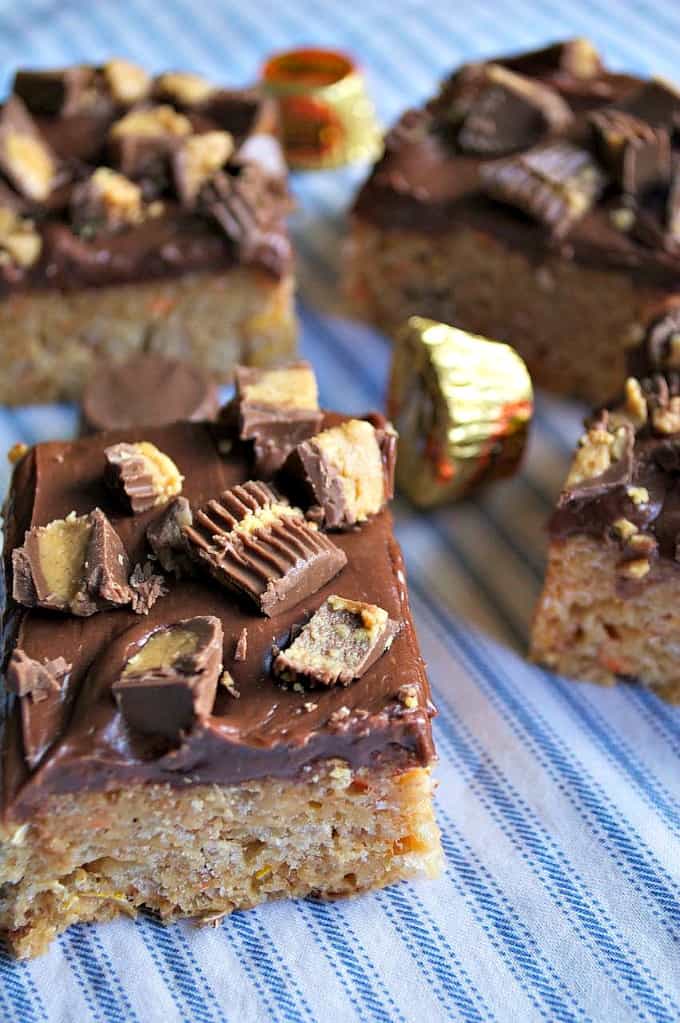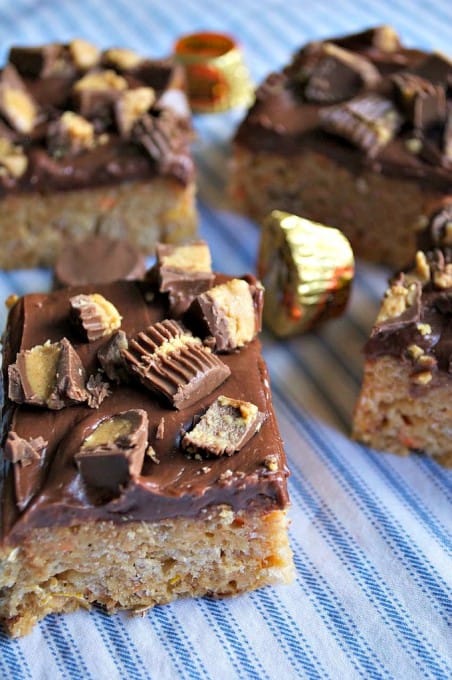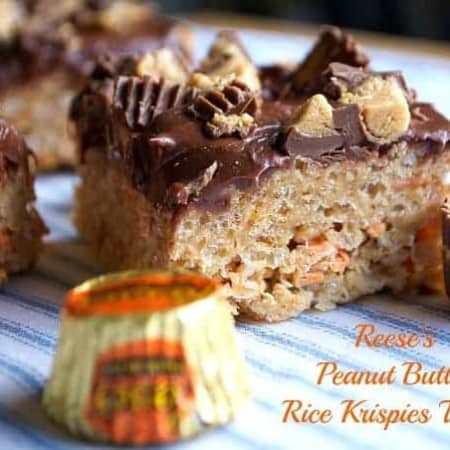 Ingredients
6

cups

Rice Krispies cereal

3

tablespoons

unsalted butter

½

cup

creamy peanut butter

1 10-

ounce

package marshmallows

1 10-

ounce

package Reese's Mini Pieces

1 16-

ounce

container milk chocolate frosting

20

miniature Reese's Peanut Butter Cups

coarsely chopped
Instructions
Prepare a 9 X 13 - inch baking dish by greasing it with butter.

In a large saucepan, melt butter over low heat,

Add marshmallows and stir until melted.

Mix in the peanut butter until thoroughly combined.

Add half of the Rice Krispies and the bag of Reese's Mini Pieces and mix.

Stir in the remaining Rice Krispies.

Pour into the prepared baking dish and flatten.

Cover with milk chocolate frosting and chopped Reese's Peanut Butter Cups before cutting to serve.
I rate everything I make on a scale of 1 -4 with 4 being the best and these Reese's Peanut Butter Rice Krispies Treats earned 4 rolling pins!
Yeah, they're da BOMB-diggity! You need them in your life. Peanut butter, chocolate, Rice Krispies, and Reese's. Heck, what more could a girl ask for?
A girl could also ask for these Circus Animal Treats. This S'Mores Rice Krispies Treats, and even these Butterfinger treats. You make the choice. There might even be some more to come in the very near future, too. So watch for them!
Oh, and when you're mixing the Rice Krispies into the marshmallows, don't use your rubber spatula or this will happen. We're in mourning, and calling hours will be tomorrow from 2 – 4. In lieu of flowers, the family requests that donations be made to the Spatulas for Bakers Foundation here at the 365 home.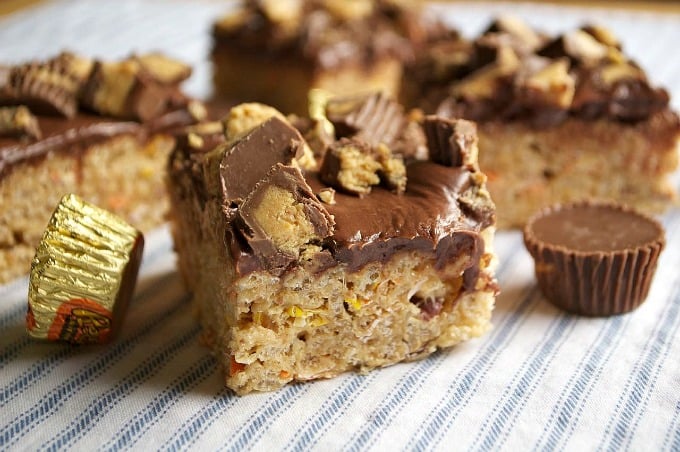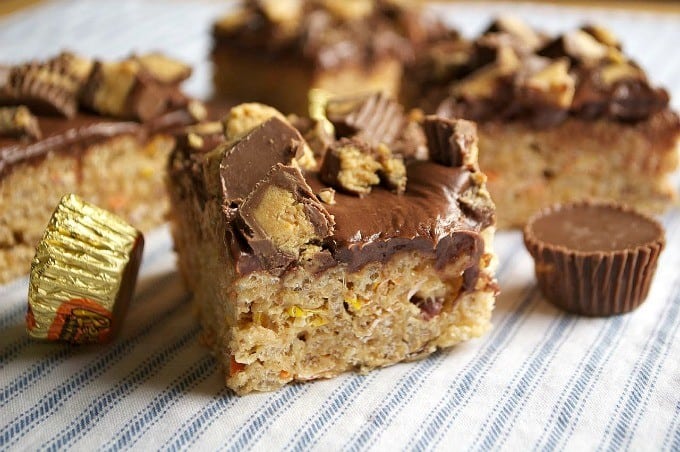 Why not try out these other delicious dessert recipes? You won't regret it!