Oreo Peppermint Rice Krispies Treats – rice puffed cereal mixed with melted marshmallow and Winter Oreos, and flavored with peppermint – a tasty and colorful holiday treat!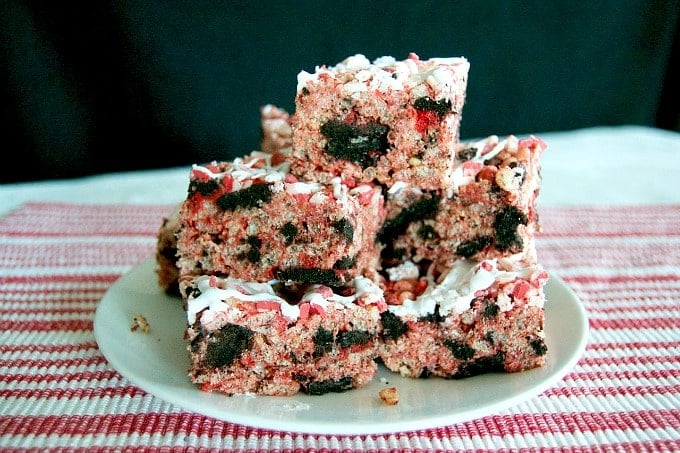 Growing up, my mother made a lot of Rice Krispies Treats.
I didn't realize it, but this delectable dessert was first created in 1939! Who knew?!
These things have been around for ages, but nowadays, there are SO many incredible variations.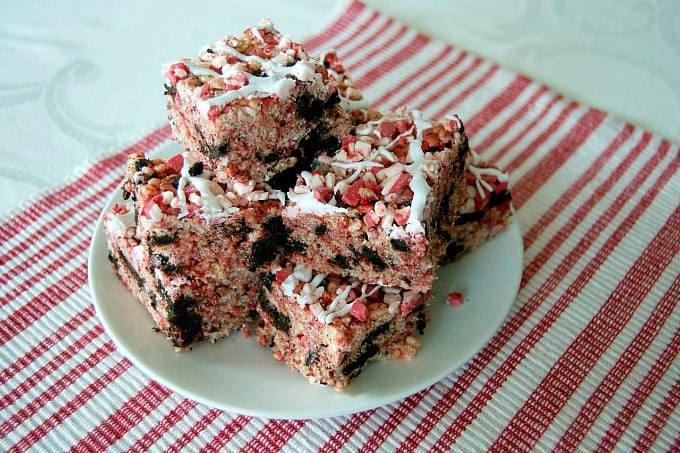 So, I decided to just add to the list and come up with another of my own.
I think I'll be making these again next year. They were pepperminty good and just scream holidays.
Ok, maybe they don't really scream it, but I certainly don't hear fireworks going off or any Star Spangled Banner playing.
So, here you go, a pepperminty holiday treat that kids of any age will be pleased with.
SAVE THIS RICE KRISPIE TREAT TO YOUR FAVORITE PINTEREST BOARD!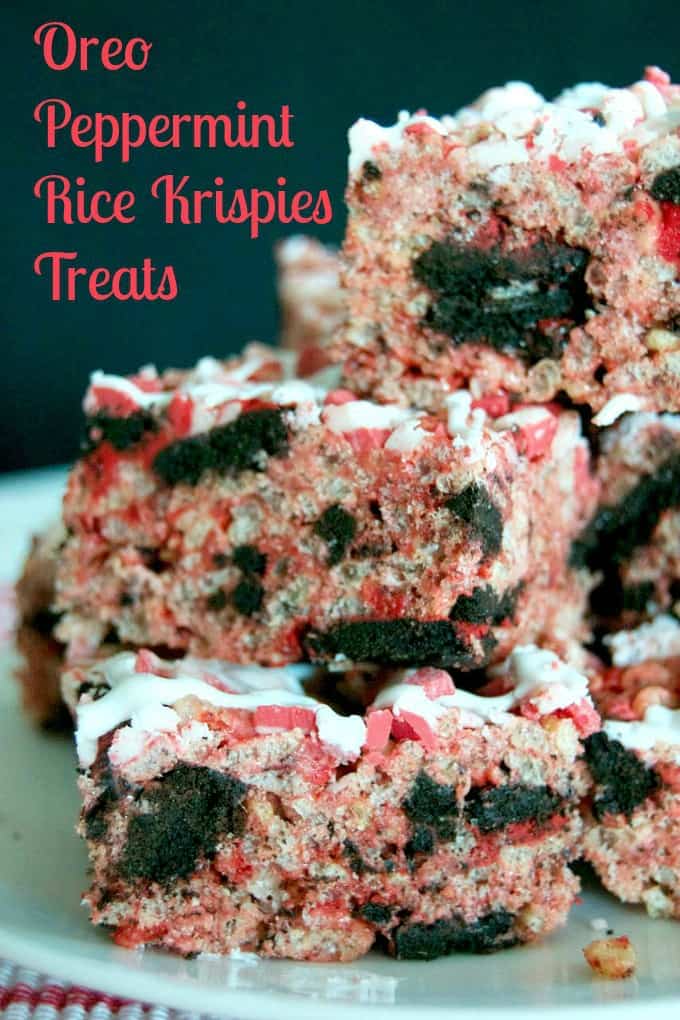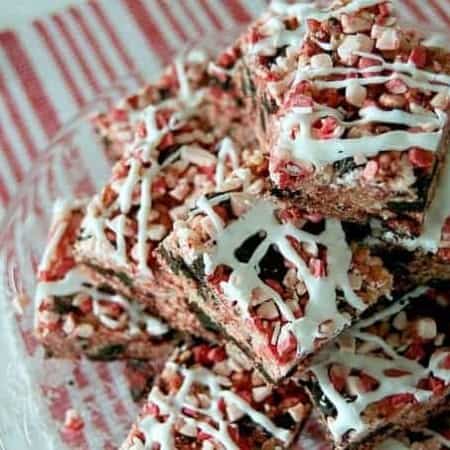 Oreo Peppermint Rice Krispies Treats
Ingredients
1 10- ounce bag mini marshmallows
3 tablespoons unsalted butter
6 cups Rice Krispies Cereal
1 15- ounce package Winter Oreos red filling
1 teaspoon peppermint extract
¾ cup Andes Peppermint Crunch Baking Chips
1 package store-bought white cookie icing
Instructions
Prepare a 9 X 13-inch baking dish by spraying it with cooking spray.

Crush the Oreos in a Ziploc bag. You want various sized pieces.

Mix with the Rice Krispies cereal in a large bowl.

In a large pot over medium heat, melt the butter.

Add the marshmallows and stir until melted.

Mix in the peppermint extract.

Stir in the Rice Krispies and Oreos.

Place into the prepared baking dish and gently, but not completely, press down to touch all sides of the pan.

Sprinkle the Andes Peppermint Crunch chips on the top and press them into the Rice Krispies.

Drizzle the white cookie icing over the top.

Allow to set for 10 - 15 minutes before serving.
Did you make this recipe?
Share it with me on Instagram and make sure to follow me on Pinterest for more recipes.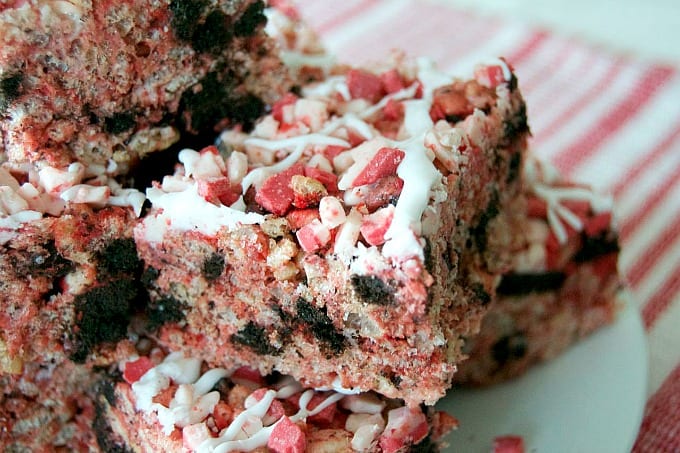 I rate everything I make on a scale of 1 -4 with 4 being the best and these Oreo Peppermint Rice Krispies Treats earned 3 1/2 rolling pins.
Boy, were they good!
Don't forget these tasty recipes for your weekend get-togethers!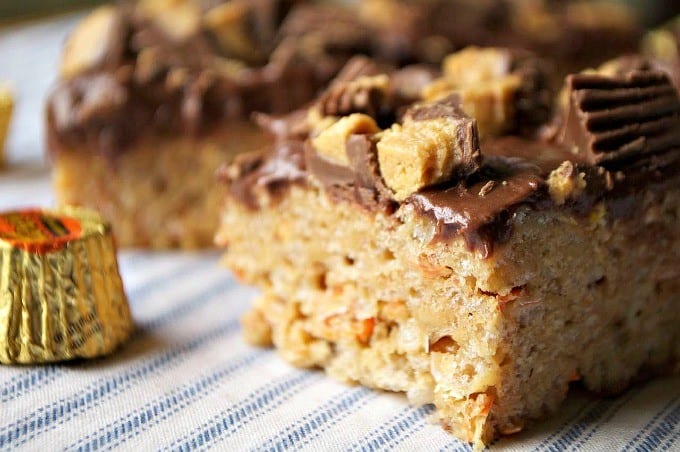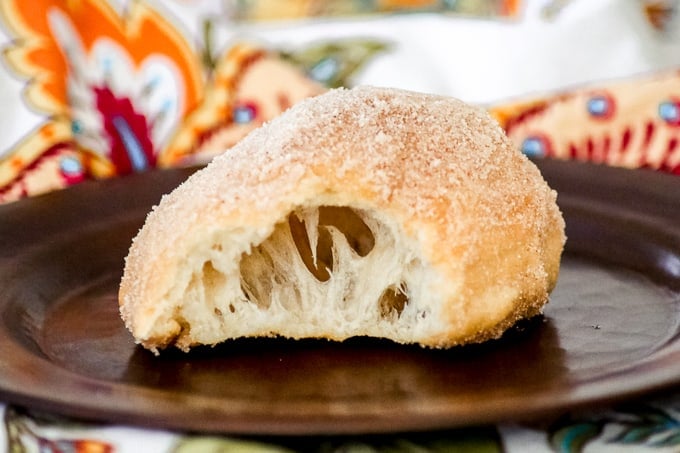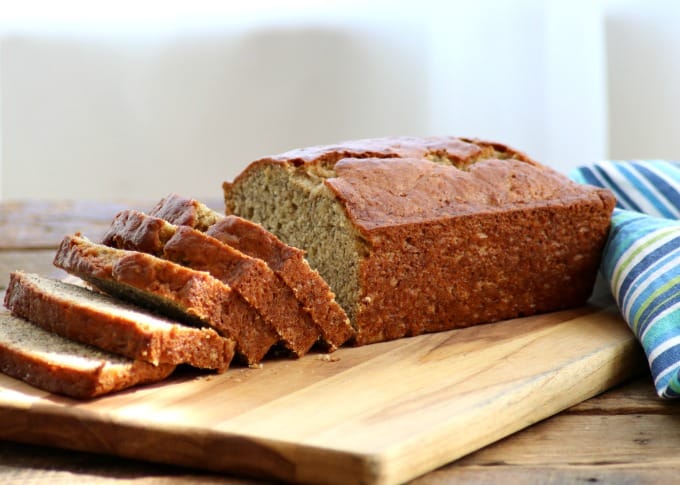 Although I'm not a huge fan of red dye, I have to admit that I did like the color of these. I think they'd be a great treat for Valentine's Day, too, but probably without the peppermint and substitute the icing for some drizzled white chocolate.
Reader Interactions