No-Bake Creamy Peanut Butter Pie – a crushed Oreo crust, with a thick, creamy, and delicious peanut butter filling drizzled with chocolate syrup, and topped with crushed Reese's Peanut Butter Cups.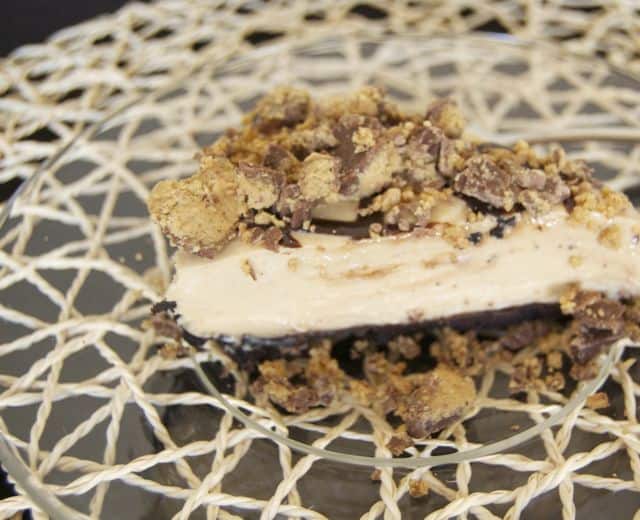 A no-bake peanut butter pie is the way to go if you're looking for a memorable dessert.
Peanut butter and chocolate is a great combination. I've said it so many times that you know it's true. Now, we can mix that into a no-bake peanut butter cream pie. Get out that milk and make sure you get every last crumb on that plate.
I was doing my daily blog perusal this morning when I came across a post on Two Peas & Their Pod about fellow blogger Jennifer Perillo of In Jennie's Kitchen who unexpectedly lost her husband on Sunday to a massive heart attack. Mikey was a son, a husband, and a father of two little girls ages 8 and 3. Then I came across a truly beautiful post from Shauna at Gluten-Free Girl about the wonderful time she and her family had spent with Jennifer, Mikey, and their girls recently. This whole thing has had me in tears.
All day I've been thinking about Jennifer, whom I've never met, and her two daughters. Suddenly their lives have been changed forever. Without warning. Without the chance to say goodbye. My heart completely breaks for them.
SAVE THIS NO-BAKE CREAMY PEANUT BUTTER PIE TO YOUR FAVORITE PINTEREST BOARD!
Our oldest daughter goes away to college on the 22nd. Our other two children start school on Monday. My anniversary with Mr. 365 is Wednesday. Life is going by too quickly and it is too short. As it usually happens, life is put into perspective when something like this jolts us back to reality. Things that seem monumental and worry us so very much now become trivial and unimportant. Unfortunately, there are so many times life is taken for granted; that we will be around to see tomorrow, watch our kids grow up and get married, grow old with our spouses or significant other and enjoy our grandchildren or just plain growing old. Mikey has none of this now.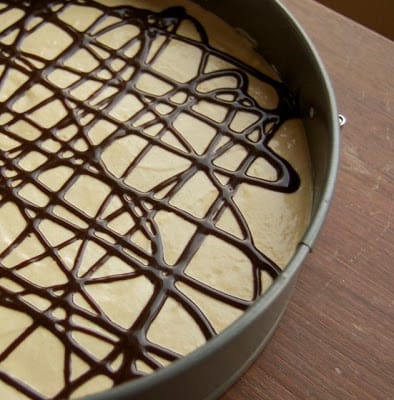 How can adults explain to children that their father is gone, that it was "just his time" or "he's in a better place" if they had been suffering when as adults we can't even make sense of it ourselves? I was running an errand tonight and on the way home I was listening to one of the three Christian radio stations that I flip between in the car.
On one of them, Chuck Swindoll was talking about Job's trials in the Bible and about grieving. Ironic? No Intentional. We are given things when we are ready to hear them. He brought up some good points when dealing with those who are grieving. There are times when they want and need to be silent. And need us to be silent. Yet we, feeling either uncomfortable with grief and not knowing what to say or how to offer comfort, talk, and many times, too much.
Just be there. A hug, a hand to hold, or a shoulder to cry on is often more of what is wanted than words. And just be there… To listen. It's good to talk about those we've lost, share stories of times we've shared – it helps to keep the memories alive and can offer a great amount of comfort to those in pain. Too often we fear that if we talk about the person who has passed that we will just create more pain for those closest to him or her. When in fact, it could be just the opposite. Speak from the heart and watch your words, for once they are spoken they cannot be taken back.
Come from love. And just be.
Here are some other great recipes from injennieskitchen that I'm sure you'll love. She's a star in the kitchen! Her hot chocolate cookies are a perfect wintertime dessert. I'm in love with this classic crumb cake that she makes. Every mouthful is better than the last.
Jennifer asked all of her readers to honor Mikey by making a Creamy Peanut Butter Pie today, something she had been meaning to make him for the past few weeks, but unfortunately never did, and to share it with those we love.
There are many, many bloggers around the world who have done just that and some of them can be found here on a Food Network post. And she also requested that we "hug them like there's no tomorrow because today is the only guarantee we can count on."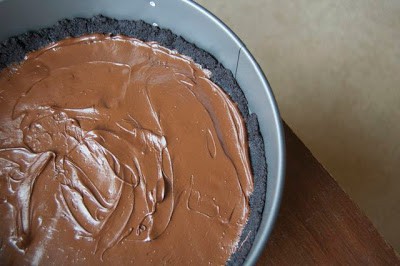 The recipe that follows is the Creamy Peanut Butter Pie adapted from Jennie's blog.
For Mikey.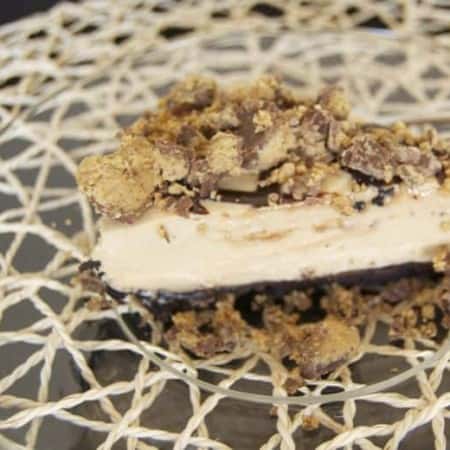 No-bake Creamy Peanut Butter Pie
Ingredients
8 ounces oreos
4 tablespoons butter, melted
4 ounces semi-sweet chocolate chips
1 cup heavy cream
8 ounces cream cheese
1 cup creamy peanut butter
1 cup confectioners' sugar
1 14 ounce can unsweetened condensed milk
1 teaspoon vanilla extract
1 teaspoon freshly squeezed lemon juice
3-4 tablespoons Hershey's Chocolate Sauce
8-10 regular size Reese's Peanut Butter Cups, chopped and slightly crumbled
Instructions
Place the Oreos in a food processor and pulse into fine crumbs.

Combine melted butter and cookie crumbs into a small bowl, and stir with a fork to mix well.

Press mixture into the bottom and 1-inch up the sides of a 9-inch springform pan.

Melt the chocolate in a double boiler. Pour over bottom of cookie crust and spread to the edges using an off-set spatula.

Place pan in the fridge while filling is prepared.

Pour the heavy cream into a mixing bowl and beat until soft peaks form. Transfer to a small bowl and store in the fridge until ready to use.

Clean mixing bowl, and place cream cheese and peanut butter in. Beat on medium speed until light and fluffy.

Reduce speed to low and gradually beat in the confectioner's sugar. Add the sweetened condensed milk, lemon juice, and vanilla extract.

Increase speed to medium and beat until all the ingredients are well combined and filling is smooth.

Stir in 1/3 of whipped cream into filling mixture. Then fold the rest of the whipped cream.

Pour the filling into the prepared springform pan. Drizzle the chocolate syrup on top and refrigerate for 3 hours or overnight before serving. Immediately before serving, scatter chopped and crumbled Reese's Peanut Butter Cups on top.
Nutrition
Calories: 5312kcal | Carbohydrates: 406g | Protein: 102g | Fat: 384g | Saturated Fat: 165g | Cholesterol: 582mg | Sodium: 3060mg | Potassium: 3296mg | Fiber: 30g | Sugar: 283g | Vitamin A: 6600IU | Vitamin C: 1.4mg | Calcium: 608mg | Iron: 32.5mg
Did you make this recipe?
Share it with me on Instagram and make sure to follow me on Pinterest for more recipes.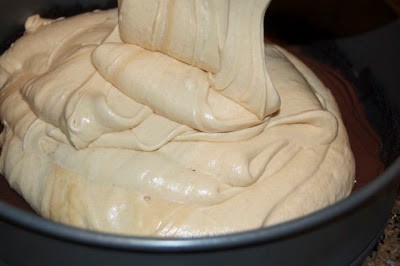 The pie is in the fridge and will be there overnight. It's just not ready to eat yet. I'll post the final picture and review tomorrow. Give hugs. Give kisses. Talk, but not too much. Tell those around you that you love them. And listen. Don't wait. Tomorrow may never come. It was so very rich and believe it or not, I could only eat 1/2 of the piece. It was delicious. And a fitting tribute to Mikey. Thank you, Jennifer, for sharing your recipe, but more importantly your life and your pain. I pray that the love that has poured forth from the flood blogging community brings comfort. For you, your daughters, and for Mikey.
Reader Interactions