My mouth has a funny taste.
I think I may have had…
one too many Oreos,
TOO many bites of Mikey's Peanut Butter Pie, (even though I couldn't eat a whole piece, I've been snacking along the way),
and
4 or 5 or maybe even 6 more Reeses Peanut Butter cups.
Sigh
I think I need an apple.
Or 2 or 3.
And I'm feeling that I'll be baking something with a lot less sugar tomorrow.
Chorizo Zucchini Fettucine
Has a nice ring to it, don't you think?
Darn, I wish I was Italian and could say it with a really good thick accent.
We'll see if it tastes as good as it sounds.
Adapted from the Victory Garden Cookbook.
Chorizo Zucchini Fettuccine – serves four
1/2 pound fettuccine
3 tablespoons butter
1/2 cup chopped onion
1 large clove garlic, minced
2 cups salted, shredded zucchini
1/2 teaspoon salt
freshly ground pepper
1/2 pound Chorizo
3 eggs
1 15 ounce container ricotta cheese
1/2 cup freshly grated Parmesan cheese
Preheat oven to 350F.
Prepare an 8 X 8-inch baking dish by generously spraying it with cooking spray.
Prepare fettuccine according to package directions, but undercook it by two minutes because it will continue to cook in the oven. Drain and return to pot to keep warm.
Place zucchini on a plate covered with a couple of paper towels. Place two paper towels on top and pat dry; set aside.
Melt 2 tablespoons butter in a large skillet over medium-high heat. Add onion and saute until soft.
Add the minced garlic and cook for 30 seconds.
Add the chorizo and cook for about 7 minutes, breaking apart as it cooks.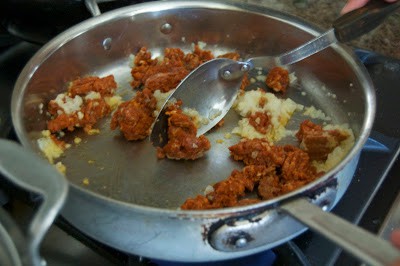 Add zucchini to skillet and saute for 5 minutes til heated throughout.
My zucchini was shredded and then sliced because I took the top off the processor and mistakenly turned the blade upside down for the slicer. Oh well.
Variety is a good thing.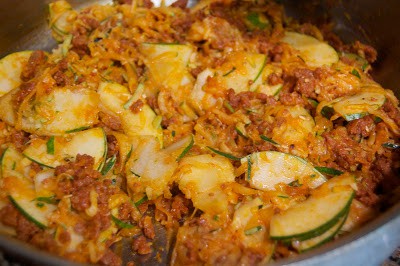 In a large bowl lightly beat eggs. Add ricotta cheese and Parmesan cheese. Mix well.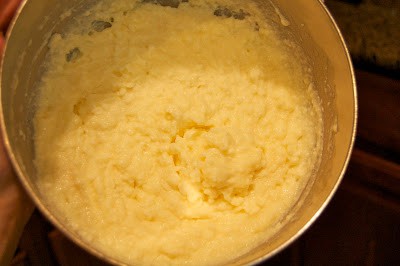 Add contents of skillet to ricotta/Parmesan mixture, and mix.
Add mixture to pot of drained fettuccine combining thoroughly.
Pour contents into prepared baking dish.
Dot with remaining tablespoon of butter.
Bake for 30 minutes.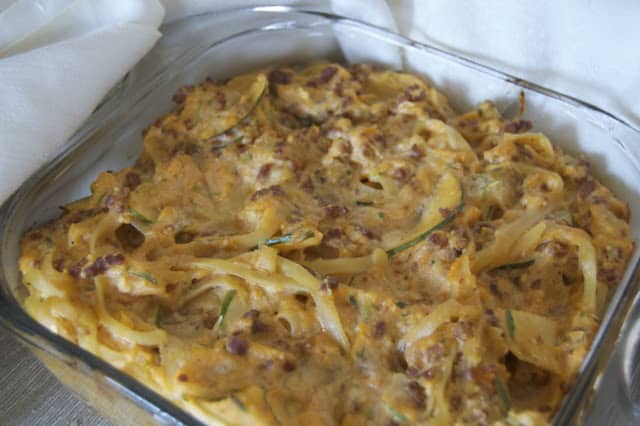 The dish sure did look pretty, but was just kind of eh. Nothing special unfortunately.
The chorizo gave the dish a nice little kick because of the spice, but it wasn't as savory as I thought it would be, so I was rather disappointed.
I think something was missing, but I can't put my finger on what it may have been.
I rate everything I bake on a scale of 1-4 with 4 being the best and this Chorizo Zucchini Fettuccine earned 2 rolling pins.
Happy baking!