I fell asleep last night before I could even start my post. I was exhausted!!!
Had to be from vacation and then getting back into a routine at home, I guess.
Anyway, that's my story and I'm stickin' to it.
I also didn't think I was going to be able to post it tonight because I'm still having trouble typing on that tablet, but hubby's done with his laptop, so I kidnapped it.
I've got to buy a keyboard or the thing's going to be thrown out a window one day due to frustration.
I had to take a picture to show you all what I came home to the other day.
These cookies were made by my eldest daughter and they were humongous and fabulous!
AND…
They had a surprise inside.
She found the recipe at Picky Palate, and believe me, they earned 4 rolling pins!
They were
SCRUMDIDDLYUMPTIOUS!!!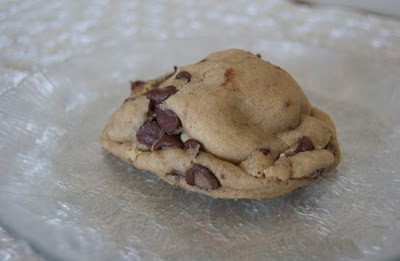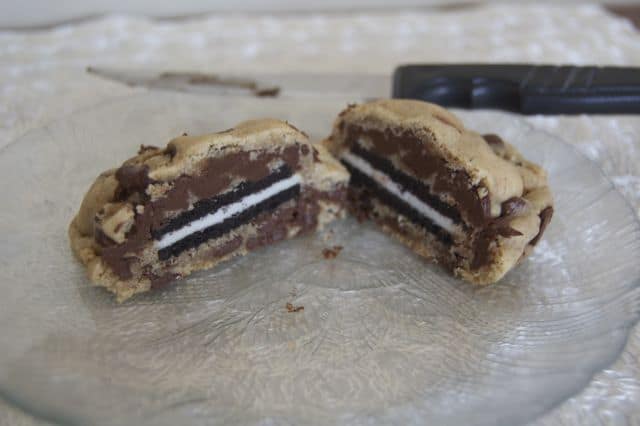 See the Oreo inside???!!! Woo Hoo!!
This cookie is just waiting to be bathed in a giant glass of milk!
I've been wanting to make a galette and haven't made anything with rhubarb for 365 yet.
I found this wonderful strawberry rhubarb galette from Two Peas & Their Pod. It is a lovely blog with wonderful recipes written by Maria and her husband, Josh. Be sure to stop by and tell them hello.
Thank you, Maria and Josh for sharing this with us!
Strawberry Rhubarb Galette
Crust
1 3/4 cups flour
1/3 cup granulated sugar
1/4 cup yellow cornmeal
1/4 teaspoon salt
1/2 cup cold butter, cut into small pieces
1/3 cup buttermilk (I used 1/3 cup milk mixed with 1 teaspoon vinegar)
1 egg, beaten
2 tablespoons turbinado sugar
In a large bowl, combine flour, sugar, cornmeal, and salt in. Add butter and with a pastry cutter blend in butter until mixture resembles coarse meal. (You can also use a food processor for this step and pulse the butter in to the mixture 4-5 times)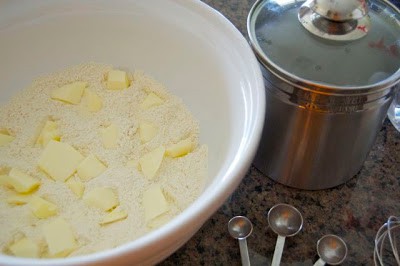 Pour the buttermilk into the bowl and stir dough until it begins to stick together. (Ok, mine didn't completely stick together, so, I gathered it into a ball and stuck the remnants to it. When I took it out of the fridge to roll it, it was fine and not crumbly.)
(OR: With the processor running, slowing pour the buttermilk through the chute, processing until the dough forms a ball.)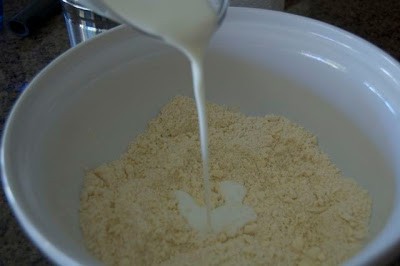 Remove the dough ball and adhere any remaining pieces of dough to it, then wrap in plastic wrap or parchment paper.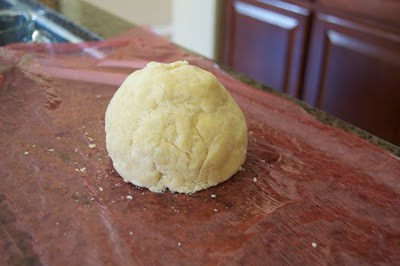 Refrigerate for at least 45 minutes before rolling out.
*The galette dough can be made in advance. It will keep in the refrigerator for 3 days.*


Filling
2 1/2 cups strawberries, sliced
1 cup rhubarb, chopped
1/3 cup granulated sugar
3 tablespoons cornstarch
1 teaspoon lemon zest
Combine all ingredients in a medium bowl.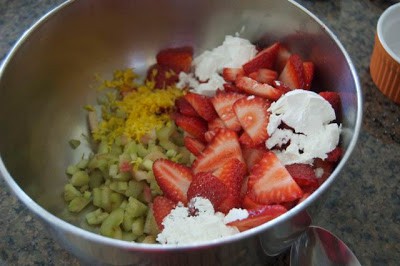 Toss gently, making sure that the cornstarch is coating the fruit. Set aside.
Center a rack in the oven and preheat to 350º F.
Remove the dough from the refrigerator and place on a pizza stone (my inner baker was telling me I should use it, so I listened) or a sheet of parchment paper. Starting at the center of the dough, roll out to form a 14-inch wide circle. Place the dough with parchment paper on a baking sheet. (I used the pizza stone without any parchment, and didn't have a problem with it sticking.)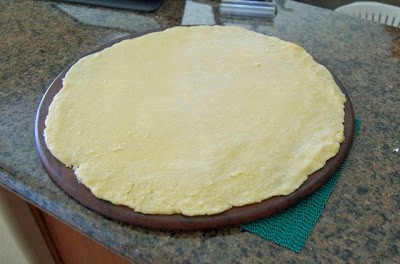 Add the fruit mixture to the center of the dough, leaving 2 inches around the edge.
Fold the edges over the filling and gently press to make sure the creases are adhered. It is fine to overlap the dough.
Lightly brush the edge of the dough with the egg (don't worry, you will have some left over) and sprinkle with turbinado sugar.
Bake for 1 hour; crust should be golden brown and the filling will be bubbly.
Transfer baking sheet with galette to a wire rack and allow to cool for 20 minutes.
Serve warm or at room temperature.
Adapted from Cooking Light
This was quite delicious.
The rhubarb was a little tart, but the strawberries and the sweetness of the sugar on the crust gave it a nice balance.
The crust was delicious, too.
We didn't have any vanilla ice cream which is what I usually top our berry desserts with, so I served it with some homemade whipped cream.
YUM!
I rate everything that I bake on a scale of 1-4 with 4 being the best and this Strawberry Rhubarb Galette earned 3 rolling pins.
I really had a lot of fun making it because it was so free-form. It was also neat to be able to make something different. (Neat? who uses that word anymore?)
I look forward to making some other types of galettes. This opened up a whole new world for me!
Happy baking!