Easter Egg Hunt Cookies are delicious cookie cups with a surprise inside! Jelly beans on top and a mini Cadbury Creme Egg in the middle make these the best Easter Cookies for your springtime holiday celebrations.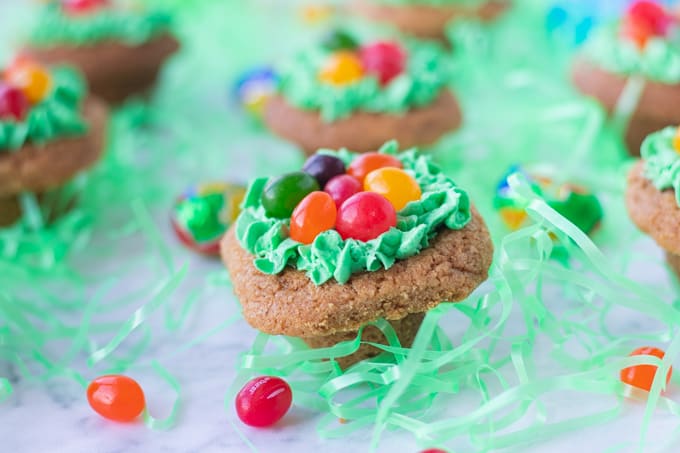 Everyone thinks of Christmas as the big cookie holiday.
Why not let Easter in on the fun too?
Cadbury Creme Eggs and I go back. Way back. I've loved them since I was a kid raiding the cupboard at my grandmother's house to find the shiny foil wrappers.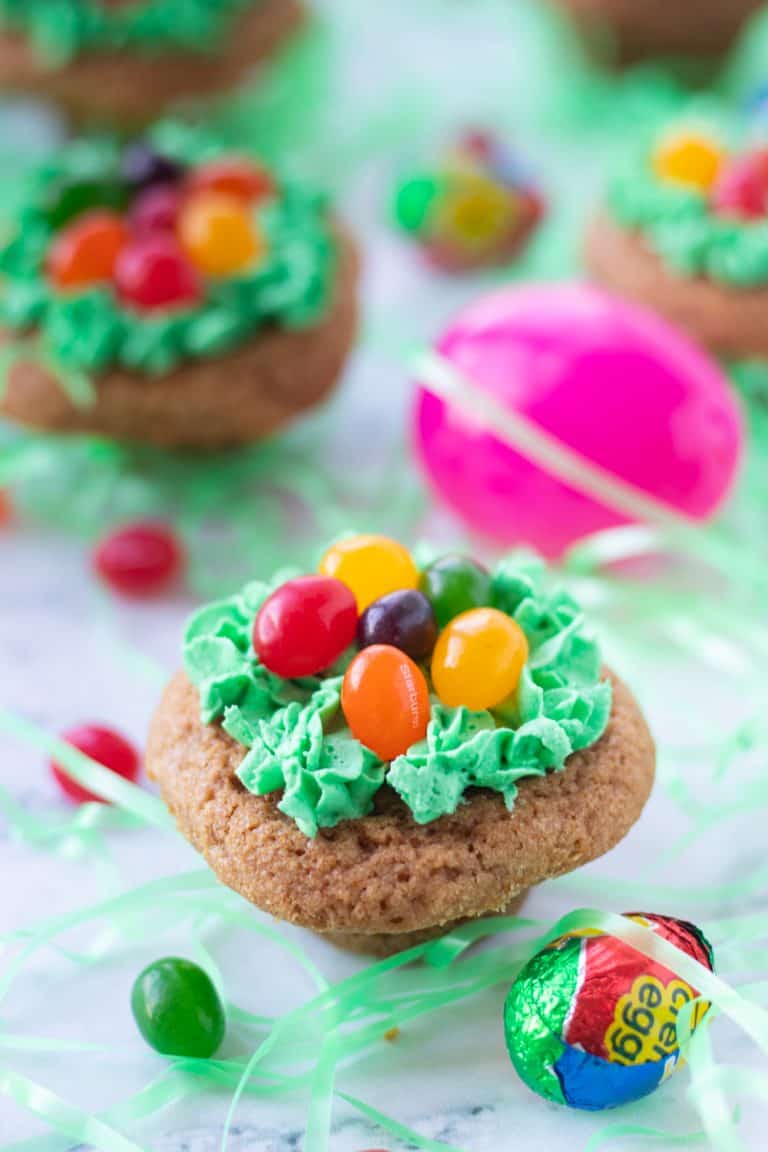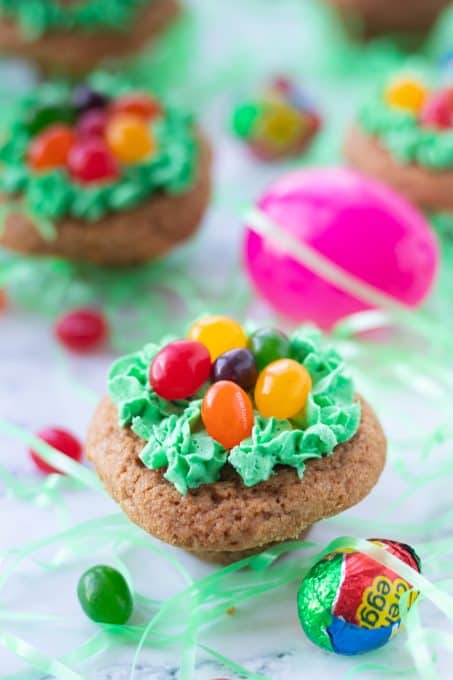 The miniature version of those decadently sweet cream-filled chocolate eggs are perfect for baking. This Easter, bake up a batch of festive Easter Egg Hunt Surprise Cookies with mini Cadbury Creme Eggs at the middle. That is, if you can resist eating all of the mini eggs straight from the package!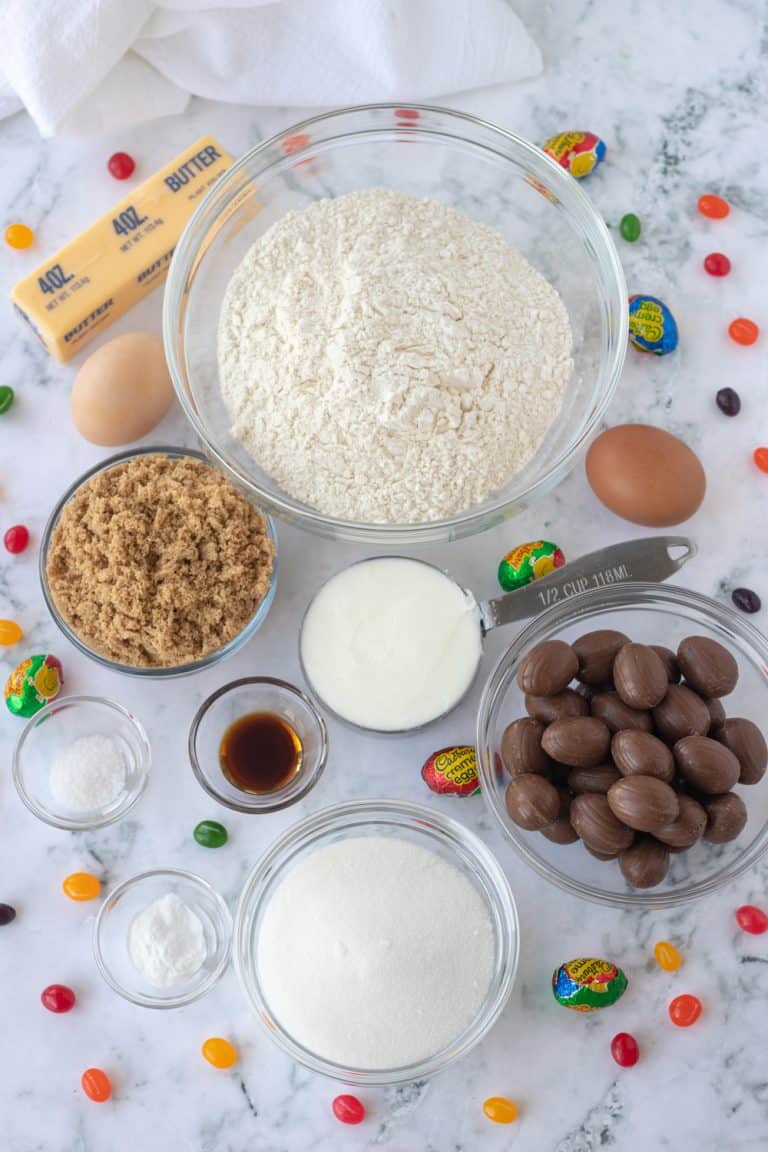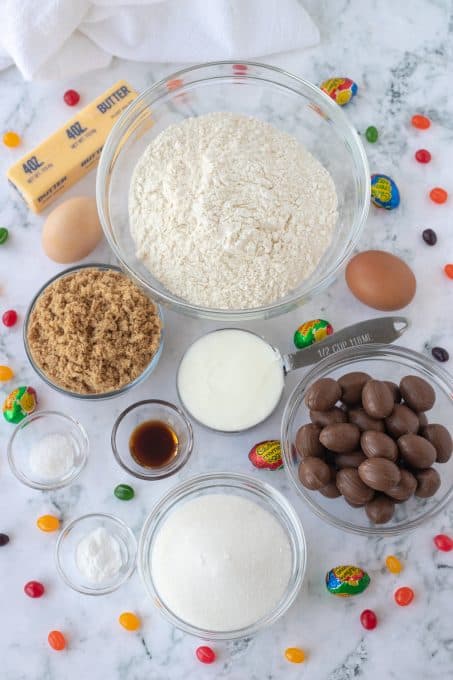 What do I need?
You will need these ingredients for the cookie cups themselves:
Shortening
Butter
Brown Sugar
Vanilla
Eggs
Flour
Baking soda
Salt
Mini Cadbury Creme Eggs
And here's what we used to decorate the cookie cups with an Easter egg hunt theme:
Jelly beans – We recommend an assortment of colors.
Green icing – Wilton icing is perfect! Add a little green food coloring to give it a grassy color, like the grass in an easter basket!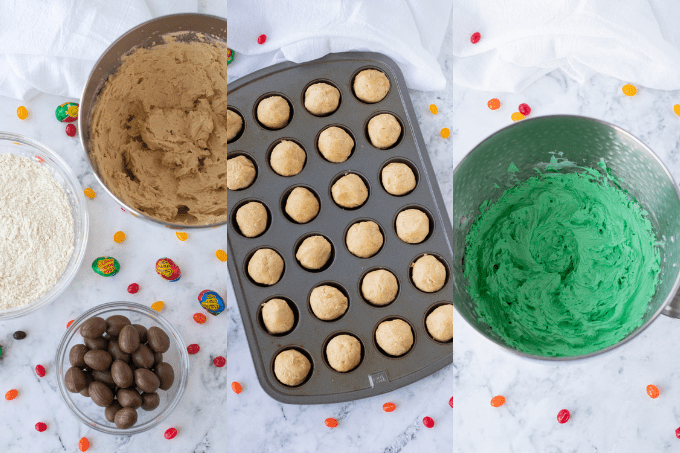 How do I make them?
These colorful Easter Cookies are a cinch to make.
STEP 1. Make the cookie dough.
This is a simple dough that takes just minutes to mix together. You don't even have to chill it.
STEP 2. Wrap the dough around the mini eggs.
Pinch of a tablespoon of the cookie dough. Wrap it around one mini Cadbury egg until it's completely covered. Now repeat this step with the rest of the dough until all of the mini eggs are used.
STEP 3. Bake.
Place the balls of dough into the wells of a mini muffin tin. Bake for 9 – 12 minutes, or until the cookies are golden brown. Let them cool completely before you add the frosting and jelly beans.
STEP 4. Decorate!
Pipe green frosting onto the tops of the cookies. Arrange jelly beans on top in whatever pattern you like. Serve and enjoy!
These would be the perfect dessert to enjoy with the kids once they've successfully completed their annual egg hunt. Finding the mini egg inside each cookie is like a bonus prize!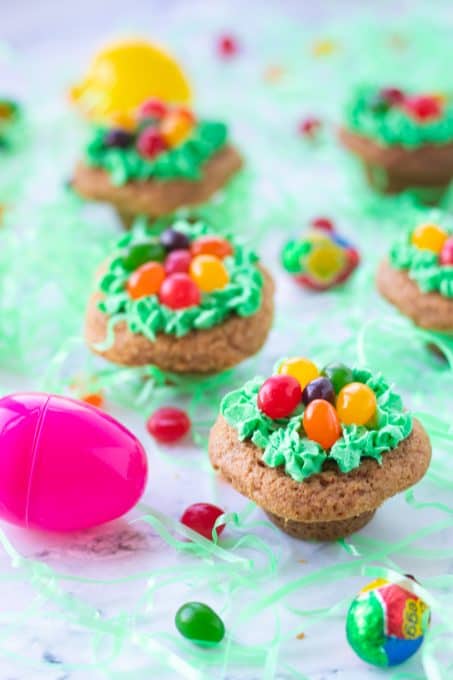 What if I don't have mini creme eggs?
These cookies with a surprise inside will work with any mini chocolate eggs. You can find all kinds of varieties on the candy shelves this time of year. Feel free to experiment with different varieties and flavors.
SIGN UP FOR THE WEEKLY 365 DAYS OF BAKING & MORE
NEWSLETTER BELOW!
Cookie Recipes
If you like these Easter Egg Hunt Surprise Cookies, take a look at some of our other favorite fun cookie ideas.
So many cookies. So little time!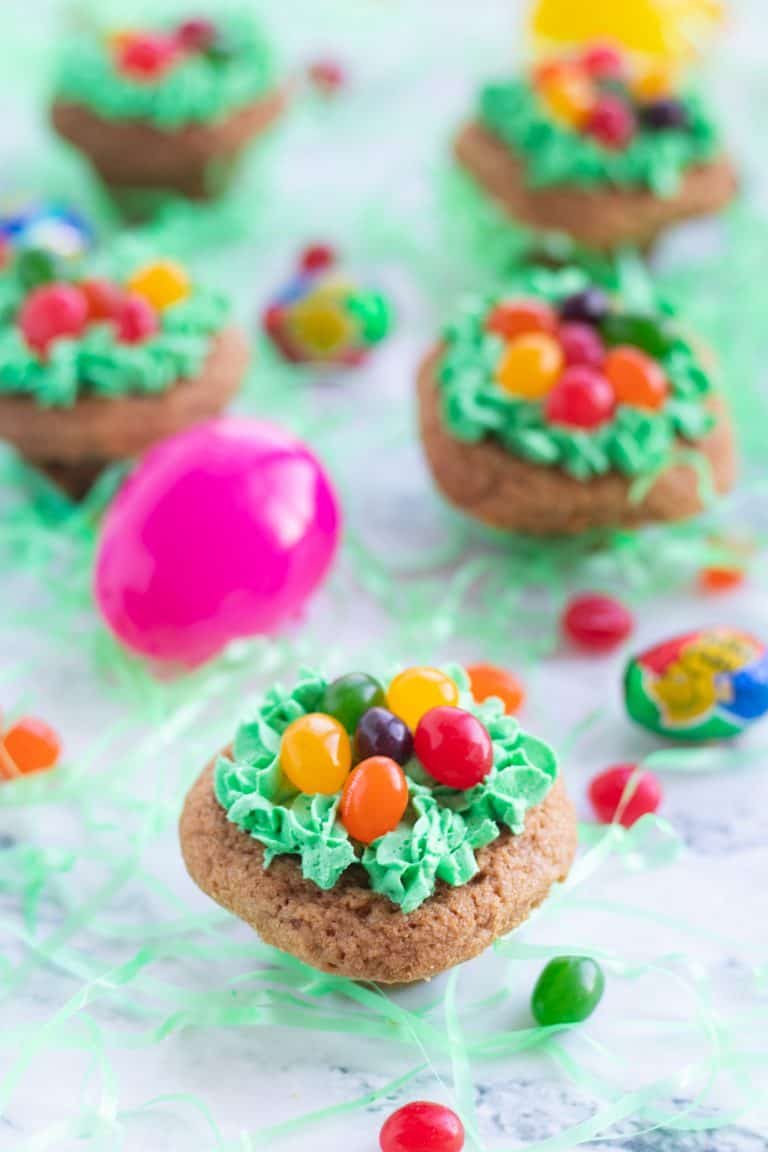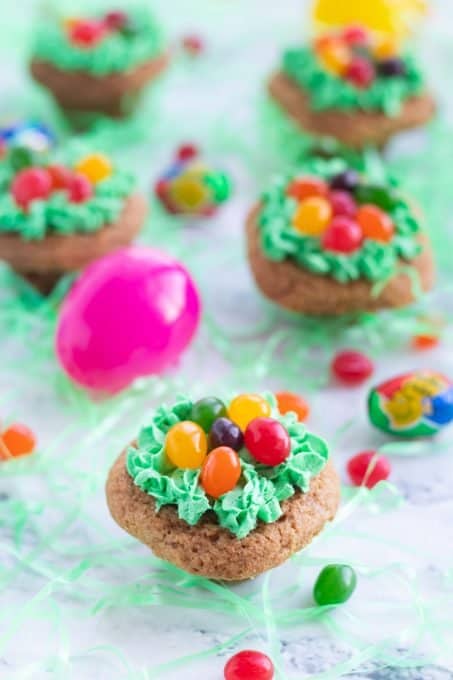 Easter Desserts
Let us help you find the perfect dessert for Easter! Our Easter menus are all about the colorful treats with fresh flavors that make us think of blossoming trees and sunny days.
What will you serve for this year's Easter dessert?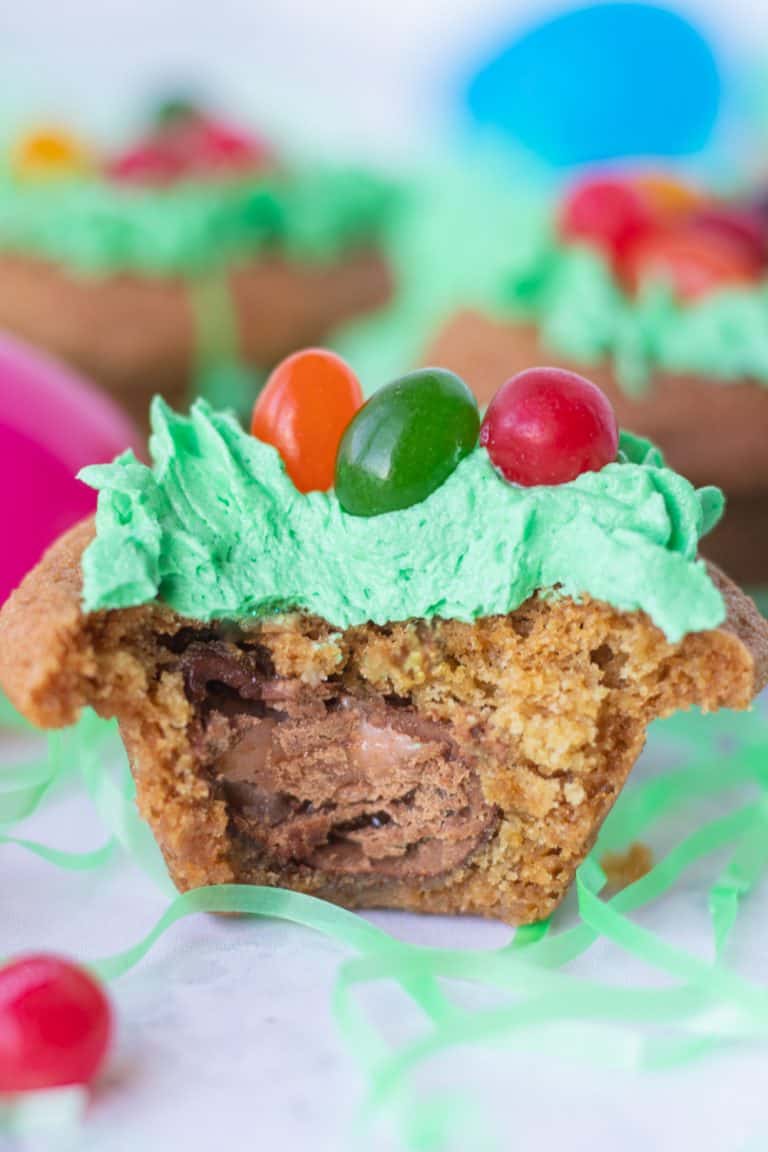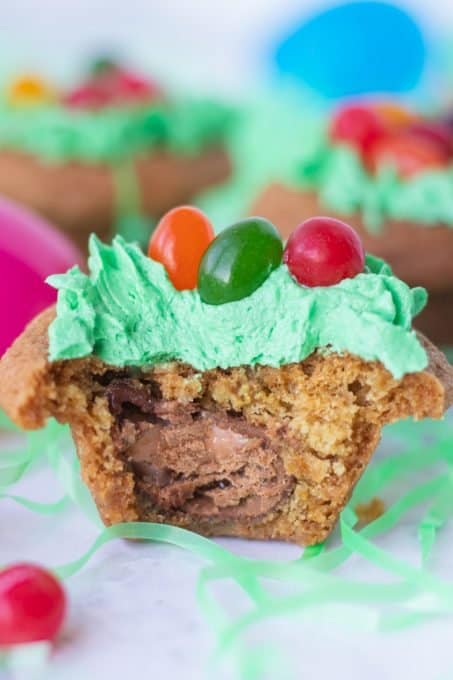 Once you try this Easter cookie recipe it's bound to become an annual tradition. There's nothing quite as satisfying as biting into a cookie covered with jelly beans . . .and finding a Cadbury Creme Egg inside!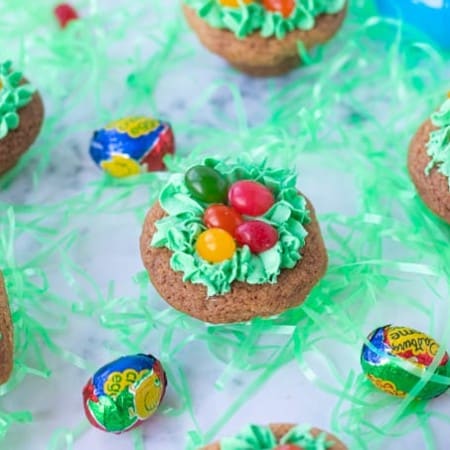 Easter Egg Hunt Surprise Cookies
Easter Egg Hunt Cookies are delicious cookie cups with a surprise inside! Jelly beans on top and a mini Cadbury Creme Egg in the middle make these the best Easter Cookies for your springtime holiday celebrations.
Ingredients
½ cup shortening
½ cup butter softened
¾ cup granulated sugar
¾ cup packed brown sugar
1 teaspoon vanilla
2 large eggs
2½ cups flour
1 teaspoon baking soda
1 teaspoon salt
30 mini Cadbury Creme Eggs unwrapped or solid chocolate eggs
Green Buttercream Frosting
¼ cup solid vegetable shortening
¼ cup unsalted butter room temperature
2 cups sifted powdered sugar
1 tablespoon milk
½ teaspoon pure vanilla extract
pinch of salt
50 drops green food coloring for desired hue may use more or less if desired
1 cup assorted mini jelly beans
Instructions
Preheat oven to 350 degrees F. Prepare a mini-muffin tin by spraying it well with cooking spray.

Cream butter, shortening, both sugars, and vanilla in a mixing bowl.

Add eggs, one at a time, mixing in thoroughly.

In a separate bowl, whisk together the flour, baking soda and salt.

Gradually add flour mixture to the creamed mixture.

Using just under a tablespoon of dough, wrap the dough around one mini Cadbury egg so that it is completely covered. After wrapping, roll it around in your hands making sure it is spread evenly around the egg. It is important to use just under the tablespoon of dough otherwise the dough will spread over the top of the pan when baking.

Place into the prepared muffin tin.

Bake for 9-12 minutes until golden brown.

Allow cookies to cool in pan for 15-20 minutes until you can twist them out. Using your fingertips, gently try to twist the cookie to remove it. IMPORTANT: If the cookie seems to soft or like it will break apart, wait 2 minutes and try again. If the muffin cups have been greased well enough, the cookies should gently twist out after the cookies have been slightly cooled. However, DO NOT allow the cookies to completely cool in the pan as they could stick to the bottom and then it will be even more difficult to remove them.

Allow cookies to cool completely before frosting.
Frosting
Top with jelly beans.

In a mixing bowl, cream the shortening and the butter together until smooth and creamy. Add the vanilla and mix.

Gradually add the powdered sugar one cup at a time, scraping down the sides of the bowl as needed. After all of the powdered sugar has been added, the frosting will appear dry.

Add one tablespoon of milk and mix until light and fluffy, scraping the sides as needed.

Gradually add as many drops of food coloring as desired until the desired green color is reached.

Place a Wilton Tip #74 into a piping bag and fill with frosting. Pipe the grass onto each cookie cup and then decorate with 3-4 jelly beans.
Nutrition
Serving: 1cookie | Calories: 234kcal | Carbohydrates: 34g | Protein: 2g | Fat: 10g | Saturated Fat: 4g | Polyunsaturated Fat: 2g | Monounsaturated Fat: 3g | Trans Fat: 1g | Cholesterol: 23mg | Sodium: 150mg | Potassium: 28mg | Fiber: 1g | Sugar: 24g | Vitamin A: 161IU | Vitamin C: 1mg | Calcium: 12mg | Iron: 1mg
Did you make this recipe?
Share it with me on Instagram and make sure to follow me on Pinterest for more recipes.
This post was originally published April 22, 2011. It has been updated in format and with pictures on April 15, 2022.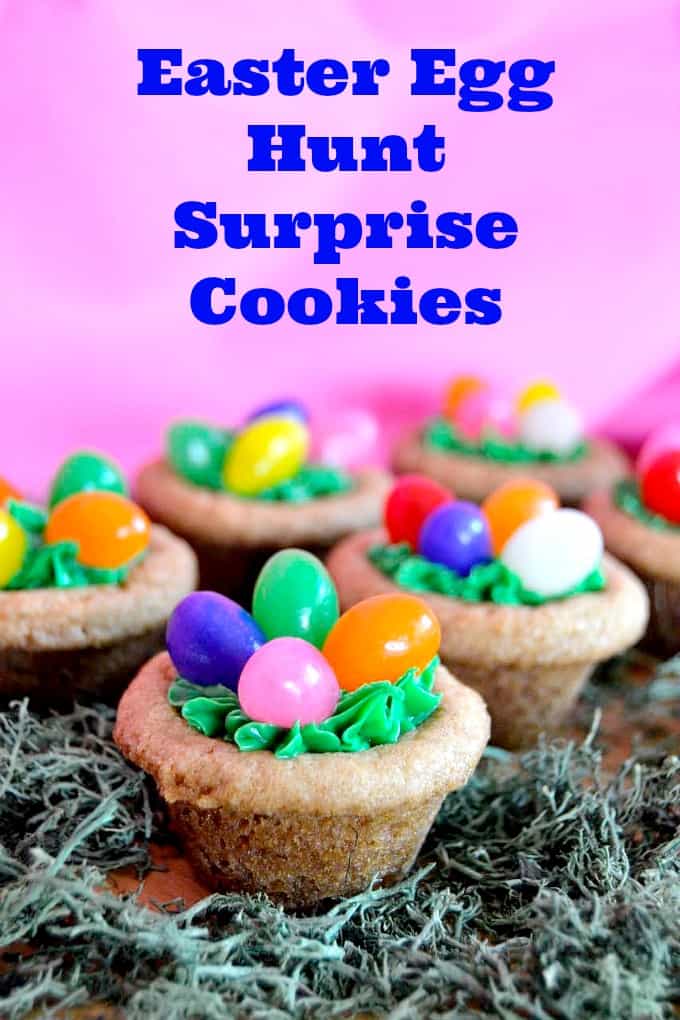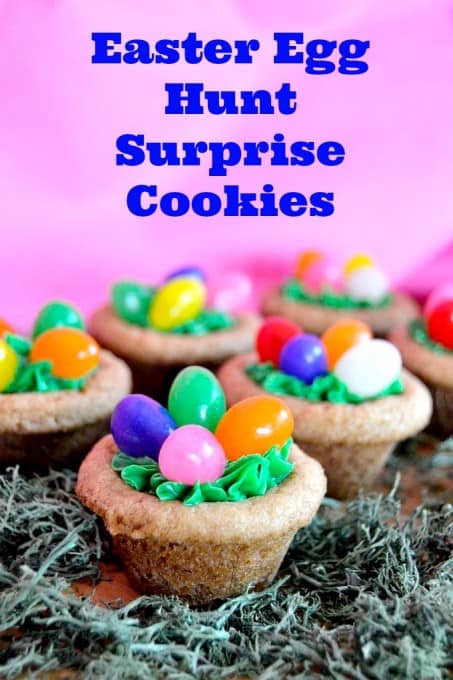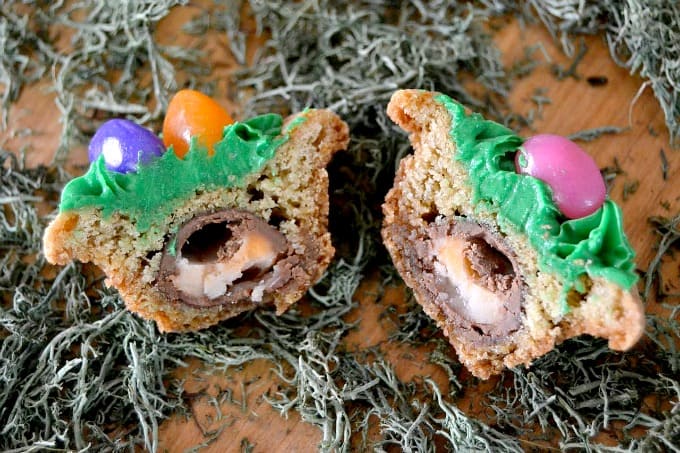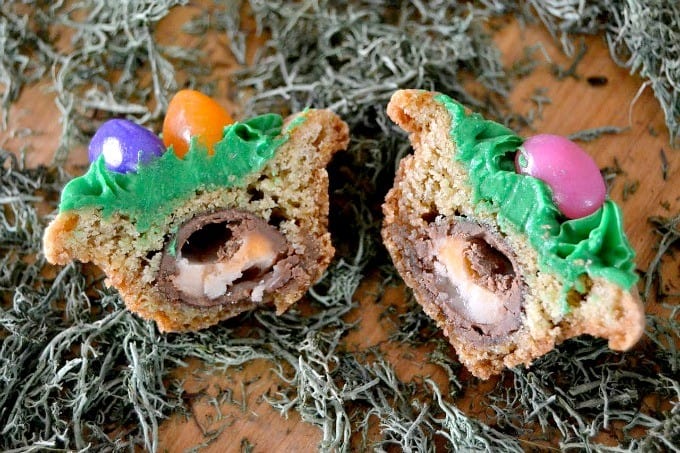 Reader Interactions