Easter Egg Hunt Cookies – cookies decorated with green icing to resemble grass with jelly beans. The best is the surprise Mini Cadbury Creme Egg baked inside!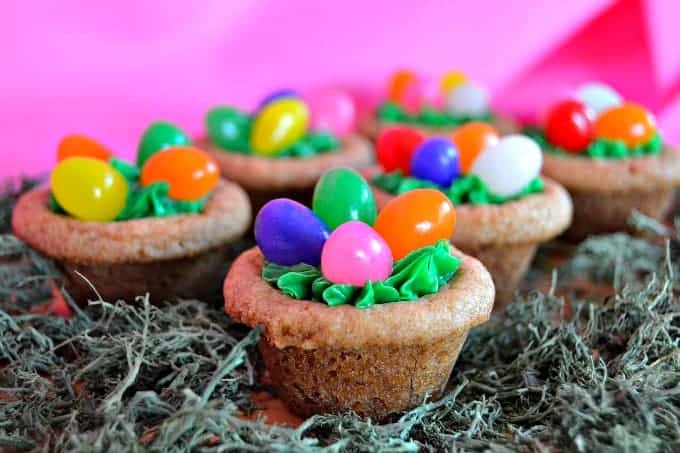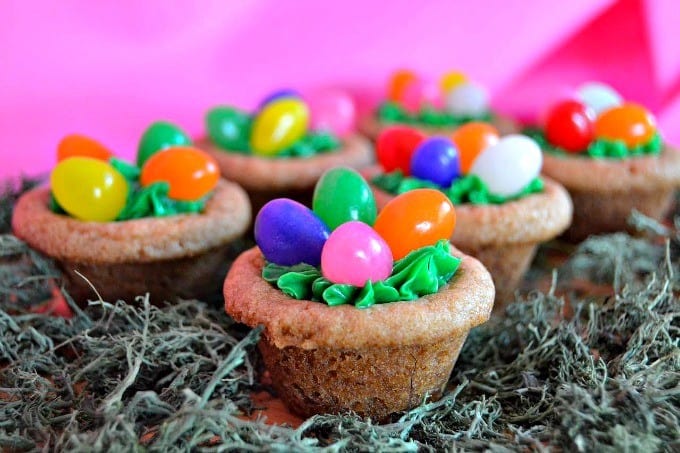 The Easter Bunny's almost here and he's going to LOVE these treats!
I found these INCREDIBLE looking bundles of deliciousness on the blog In Katrina's Kitchen. What a great blog! OH. MY. GOODNESS! I left her a comment saying that I just HAD to use these for one of my baking days and share them with you. Yes, you and just you. Because I know you'll like them! And, I have a history with Cadbury Creme Eggs. A LONG history.
I remember seeing those brightly colored wrappers in my grandmother's kitchen back in 19…, ok, the early 80's. So I was what, a preteen? I loved them then and I still absolutely love them now. AND, I have loved them in between then and now. So much so (and I wrote this in that comment to Katrina, too), that when they started selling them again (because they only sell them for a few months of the year) in late January of 1992 up until my delivery/due date on April 3rd, 1992, I ate one. EVERY. SINGLE. DAY.
SAVE THIS EASTER EGG HUNT COOKIE TO YOUR FAVORITE PINTEREST BOARD!
And, I'm not talking the baby ones, either. NOPE, I ate a single large Cadbury Creme Egg every day for about 2½ months while I was pregnant with our first child, our daughter. It's no wonder I gained 52 lbs. during that pregnancy, but it is amazing I wasn't diagnosed with gestational diabetes. Every day. They were and still are a tiny piece of heaven.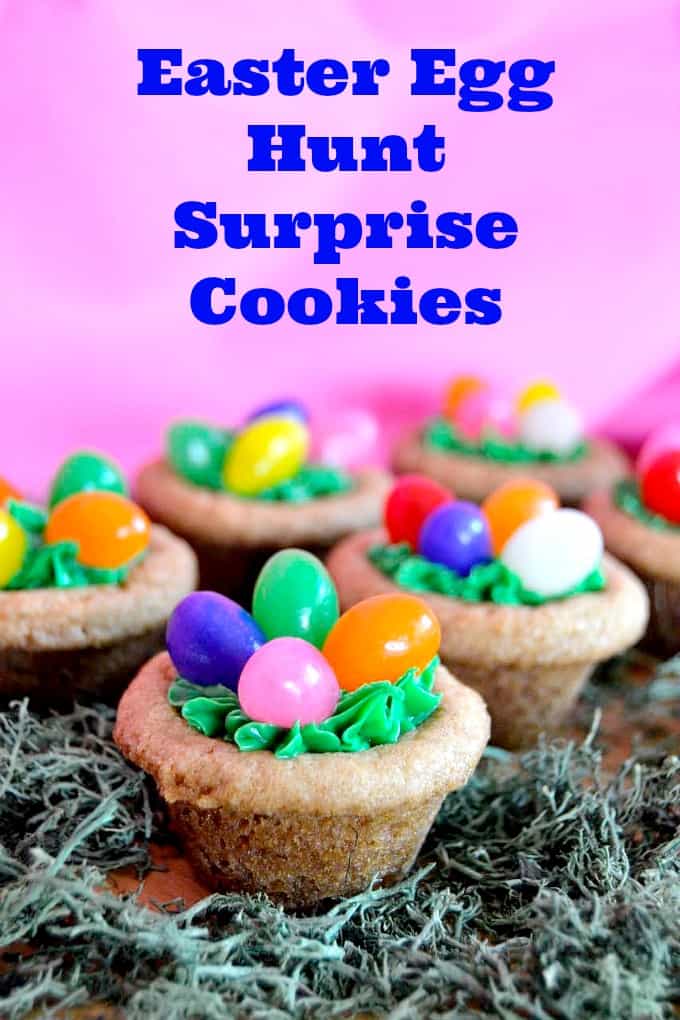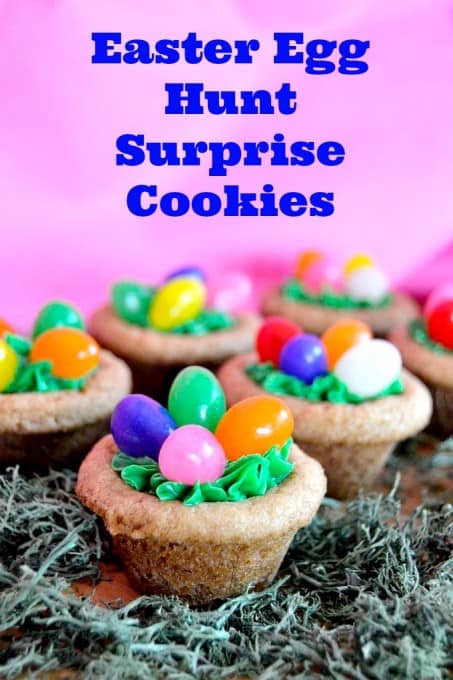 SIGN UP FOR THE WEEKLY 365 DAYS OF BAKING & MORE
NEWSLETTER BELOW!
These cookies were also great to make because I was able to bring out my mini muffin tin from hibernation and give that baby a good scrubbing. In the 20 years we've been married, I've used that thing only once.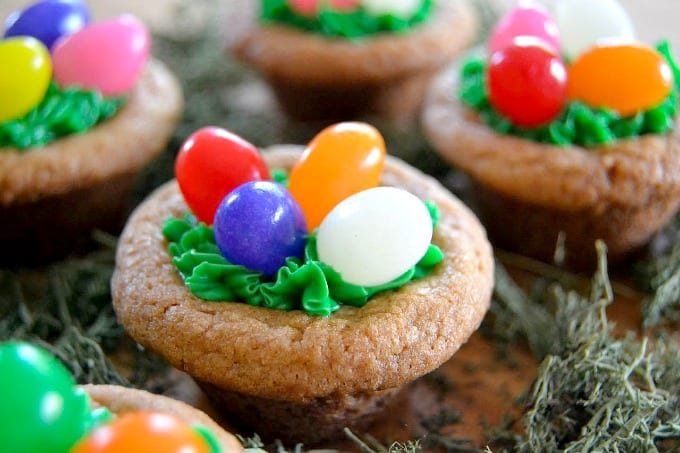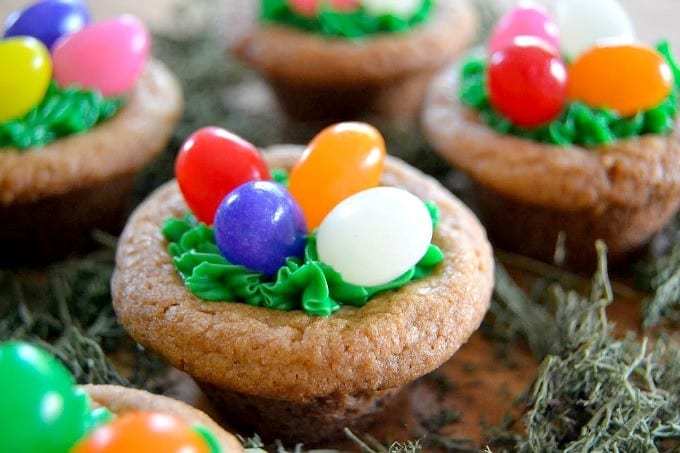 Here are some tidbits from the Cadbury Creme Egg website (which as of 3/2015 I can no longer find) (Hershey's owns the rights to manufacture, advertise and distribute these delectable morsels in the U.S.):
Quick Facts
So, how do people eat their Creme Egg?

53% of people bite off the top, lick out the 'creme' then eat the chocolate

Nope, not me. Too difficult when I'm driving 'cause I'm usually eating these in the car immediately after purchasing it in the store.

20% just bite straight through – YUP! That's ME!!!

16% use their finger to scoop out the 'creme' – WHY would I waste some of that precious creme on my FINGER??!!

How people unwrap their eggs can also reflect their Creme Egg eating style, we have…

Delicate Peelers – To achieve a considered, methodical & subtle eat
Stage Peelers – Who unwrap just enough to keep the 'creme' off their fingers
Quick Discarders – Who rip off the foil as they just can't wait to eat their Creme Egg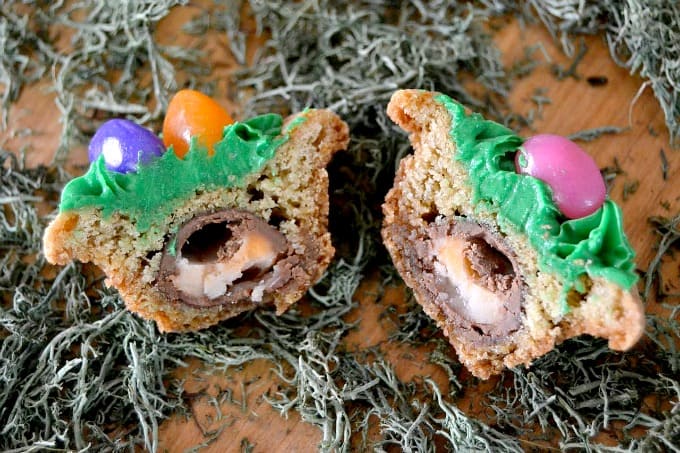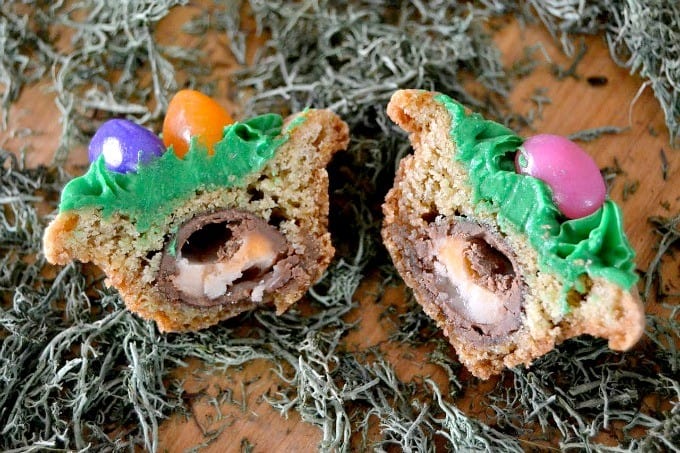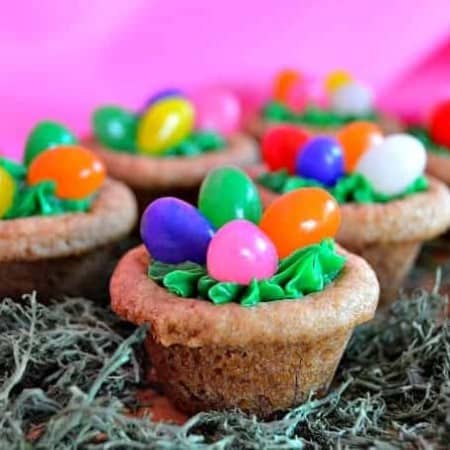 Ingredients
½

cup

shortening

½

cup

butter

softened

¾

cup

granulated sugar

¾

cup

packed brown sugar

1

teaspoon

vanilla

2

large eggs

2½

cups

flour

1

teaspoon

baking soda

1

teaspoon

salt

30

mini Cadbury Eggs

unwrapped

½

recipe of this Wilton Buttercream Icing colored to the desired hue with green food coloring

assorted jelly beans
Instructions
Preheat oven to 350 degrees F. Prepare a mini-muffin tin by spraying it with cooking spray.

Cream butter, shortening, both the granulated and brown sugars, and vanilla in a mixing bowl.

Add eggs, one at a time, mixing in thoroughly.

In a separate bowl, whisk together the flour, baking soda and salt.

Gradually add flour mixture to the creamed mixture.

Using just under a tablespoon of dough, wrap the dough around one mini Cadbury egg so that it is completely covered. After wrapping, roll it around in your hands making sure it is spread evenly around the egg. It is important to use just under the tablespoon of dough otherwise the dough will spread over the top of the pan when baking.

Place into the prepared muffin tin.

Bake for 9-12 minutes until golden brown.

Allow cookies to cool in pan for 15-20 minutes until you can twist them out. Using your fingertips, gently try to twist the cookie to remove it. If the cookie seems to soft or like it will break apart, wait 2 minutes and try again.

Allow cookies to cool completely before frosting. Top with jelly beans.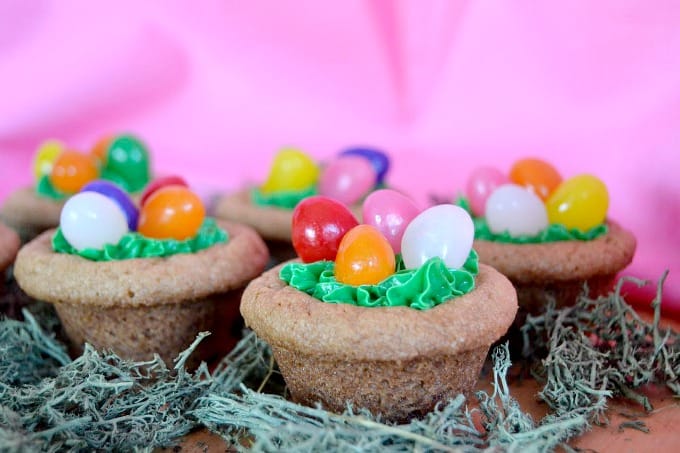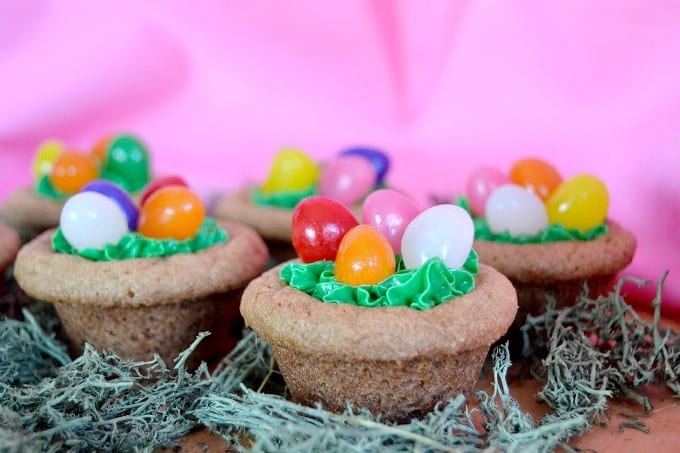 I don't need anyone else's help in rating these puppies. I'm giving them 4 rolling pins! Haha, even without the cookie dough I'd give them a 4! I have a rating system for my baked goods which is based on a scale of 1-4 with 4 being an Oh. My. Goodness!
If you make them, I want to see!! Please post a picture on our 365 Facebook page and while you're there, "Like" us! Also, if you're on Instagram, tag us (or me haha) Lynne365DaysofBaking with #365daysofbaking!
Thank's for reading and happy baking! I'd say have a great weekend, but I'll be back every day. 🙂