Delta Bars are rich, chewy cookie bars with plenty of brown sugar flavor. A layer of pecans and meringue on top gives an unexpected delicious, and chewy finishing touch.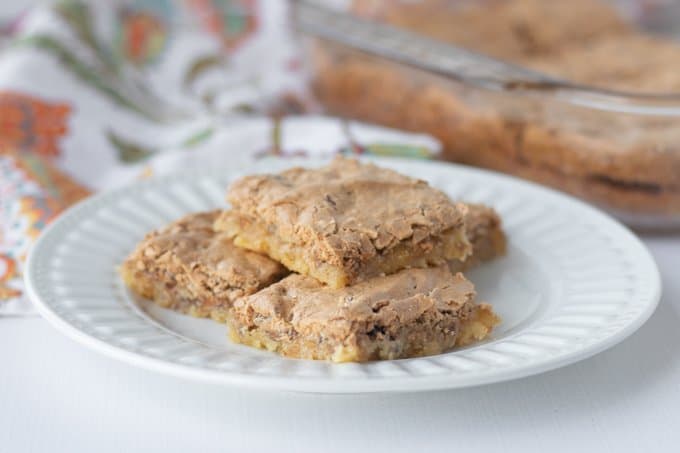 No one knows exactly why these are called Delta Bars.
At least everyone who tries them can agree on one thing: Delta Bars are out of this world delicious!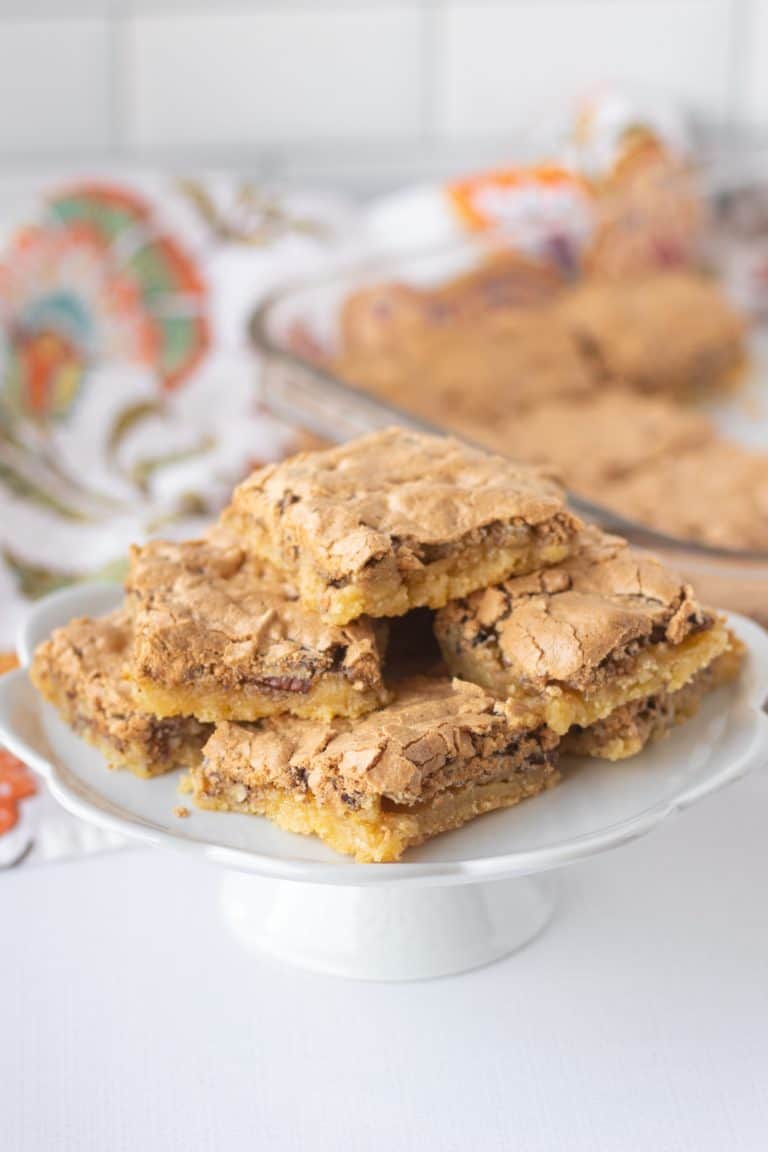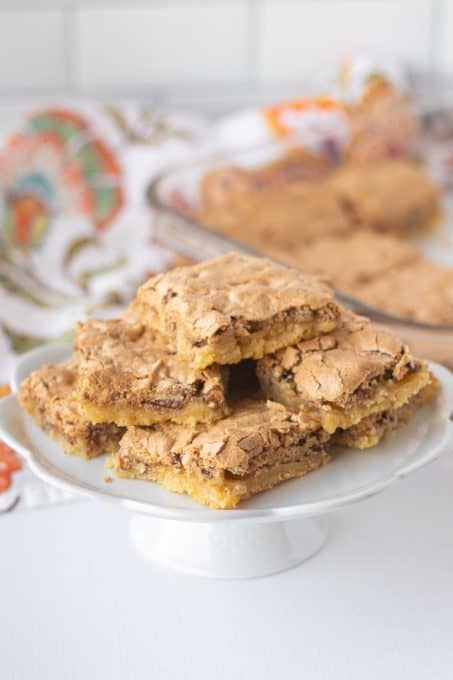 It's the meringue that sets these bars apart from the rest. Airy egg whites are beaten with brown sugar to create a crackly chewy topping for the buttery cookie bar layer underneath.
Add a generous handful of pecans to the mix and you have a perfect easy dessert recipe that's unlike anything you've tasted before!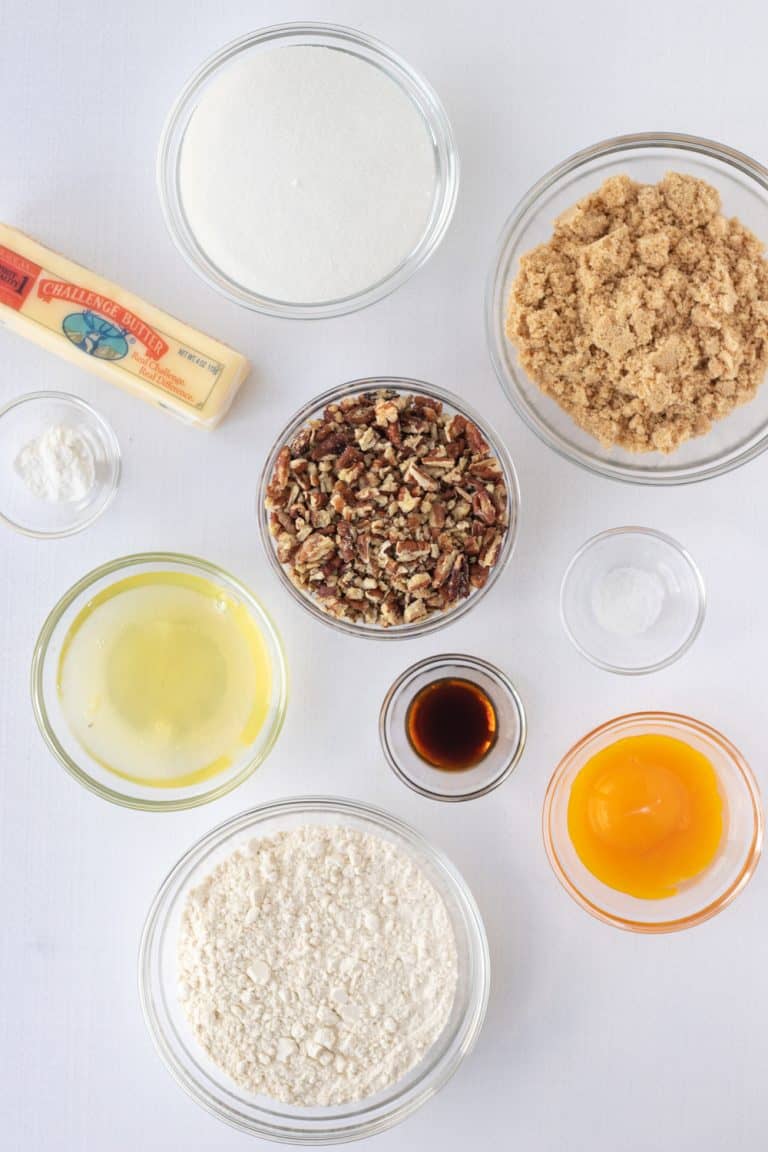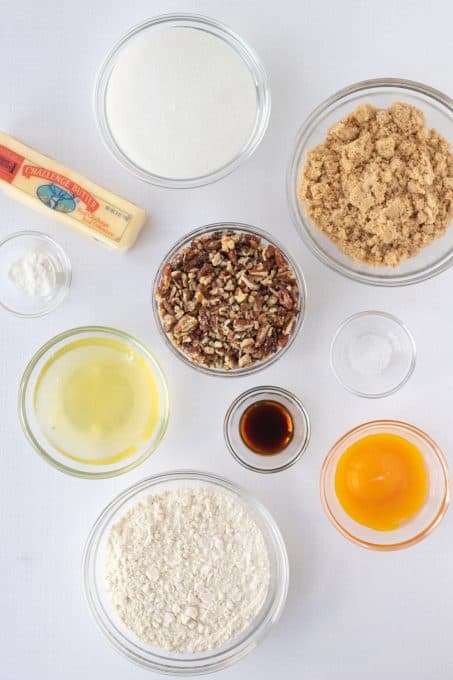 What do I need?
You will need these ingredients to make the cookie layer:
Butter
Sugar
Egg yolks – Set aside the whites for the meringue.
Vanilla
Flour
Baking powder
Salt
To make the meringue layer, you need:
Egg whites – The ones you separated from the yolks.
Brown sugar – Light or brown can be used.
Pecans – Coarsely chopped.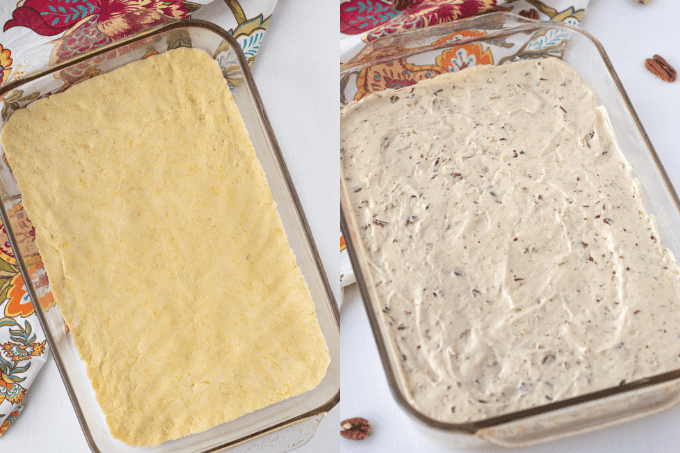 Tips for Delta Bars
The dough will be sticky when you add the dry ingredients to the batter. Dust your fingers with flour to prevent sticking!
Use a clean metal bowl for successfully whipped egg whites. If a bowl has any hint of grease or debris from previous use, it can interfere with the texture of your meringue.
Also, make sure that the egg whites and egg yolks are completely separated. Egg whites won't whip up even if there is the tiniest amount of an egg yolk present.
Store leftover Delta Bars tightly covered at room temperature and enjoy within 5-7 days, though I seriously doubt they'll last that long.
What does it mean for egg whites to form 'stiff peaks'?
Most recipes with meringue will instruct you to beat the egg whites until "stiff peaks" form. This means if you lift the mixer or beater out of the bowl, the whites will stand straight up with a narrow point at the tip. That is the stiff peak! It's caused by incorporating lots of air into the protein of the egg whites, the key to the appealing consistency of meringue.
Depending on the strength of your mixer and the conditions of your environment, it can take several minutes to get the egg whites stiff enough. Be patient. It's well worth it when you tase these amazing meringue bars!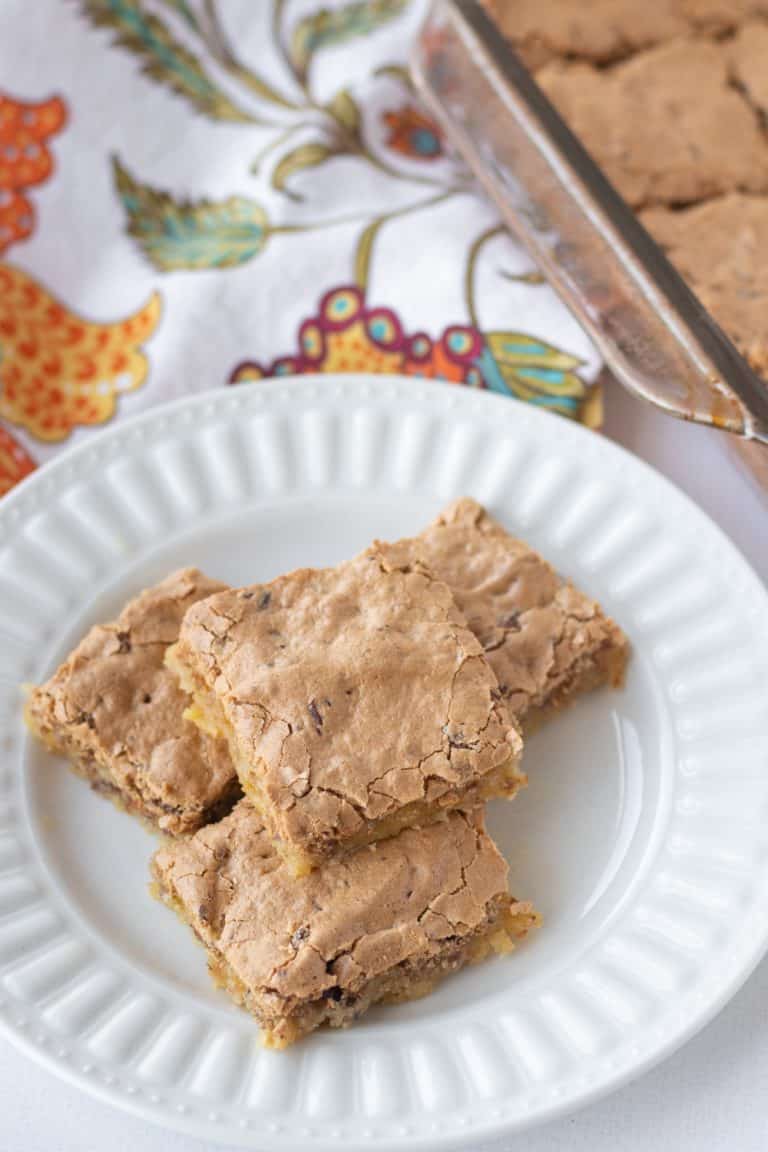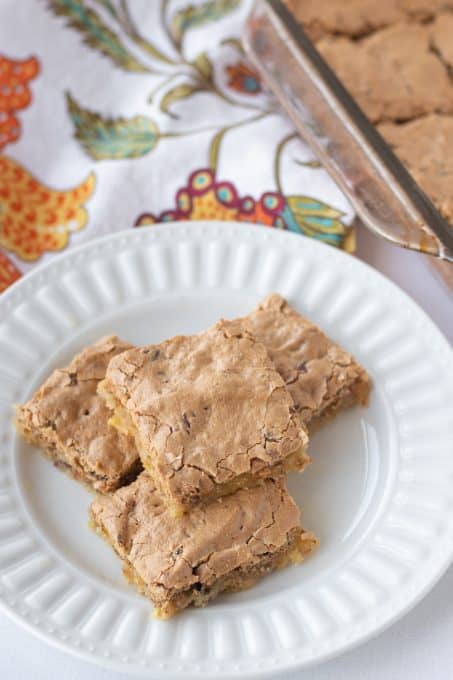 Can these be frozen?
Most cookie bars with meringue freeze well, including Delta Bars. After baking and cooling, slice the bars into squares. Store in an airtight container or freezer bags. Keep frozen for up to 3 months.
Bar Recipes
It's almost impossible to pick a favorite bar recipe! Delta Bars are high on the list, right next to these Toffee Coconut Oatmeal Bars and our Snickerdoodle Bars.
If you like meringue bars, add these Lemon Meringue Rice Krispie Treats to your list to make next. Or give these Easy No Bake Turtle Dream Bars if you're looking for more dessert bars with pecans!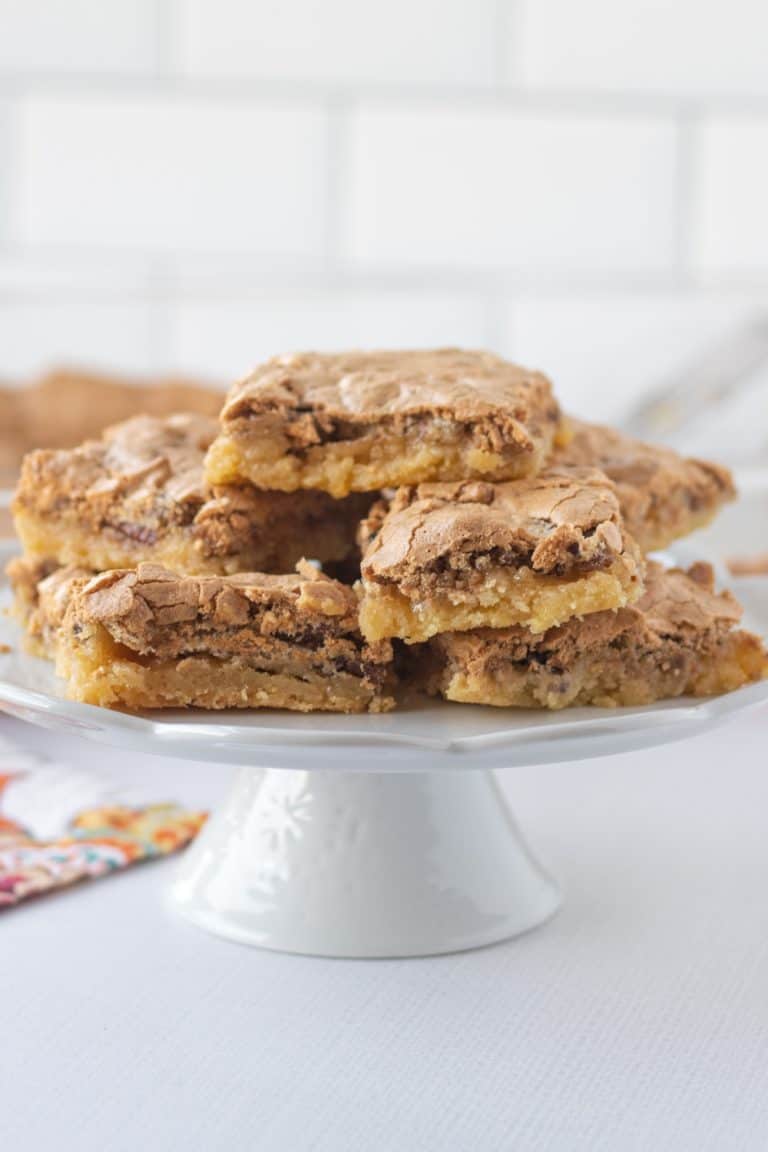 Even more dessert bars our readers love:
Dessert Recipes
Desserts and baked goods are kinda my thing, in case you couldn't tell by now. If you enjoy these Delta Bars with their buttery brown sugar taste, pecans and crispy meringue, you'll love these other reader favorites too!
Which one will you make first?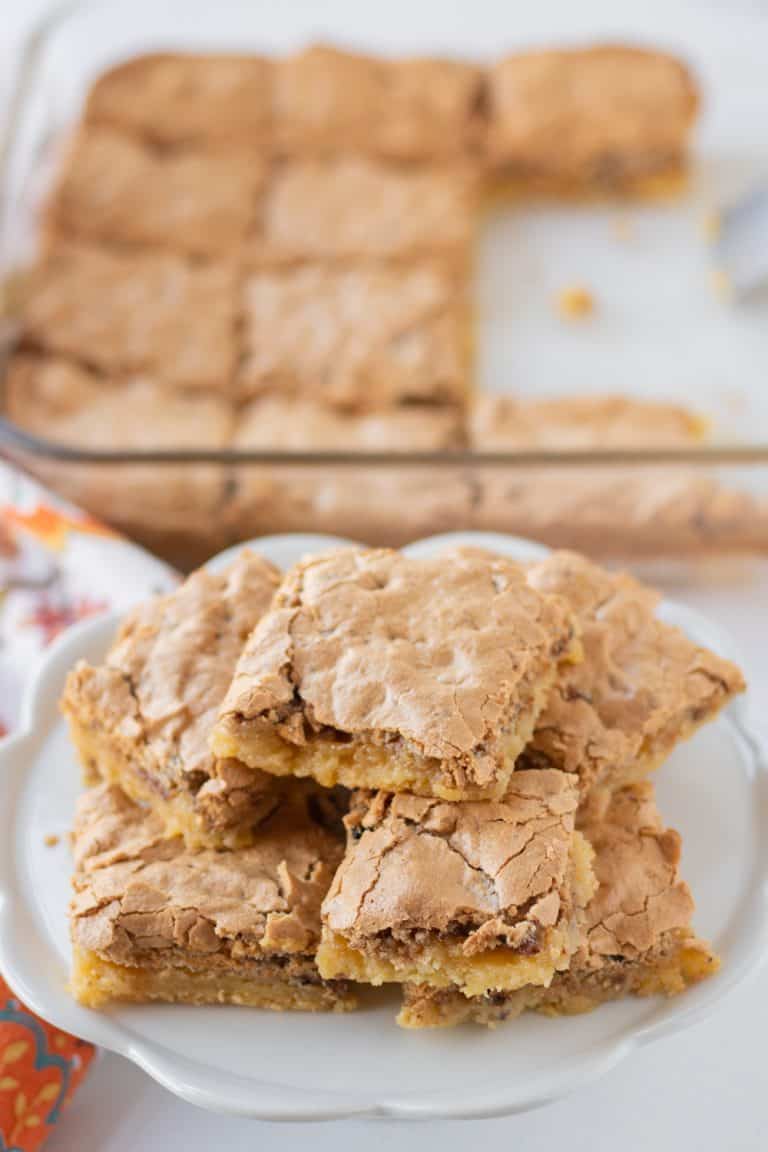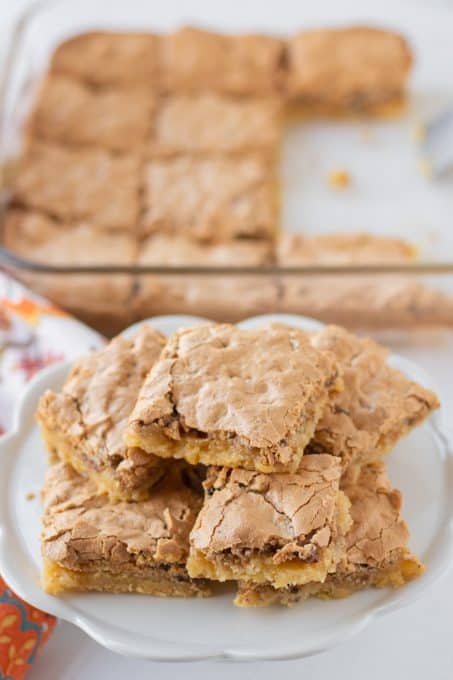 Delta Bars are easy to make with meringue, pecans and plenty of brown sugar goodness in every bite!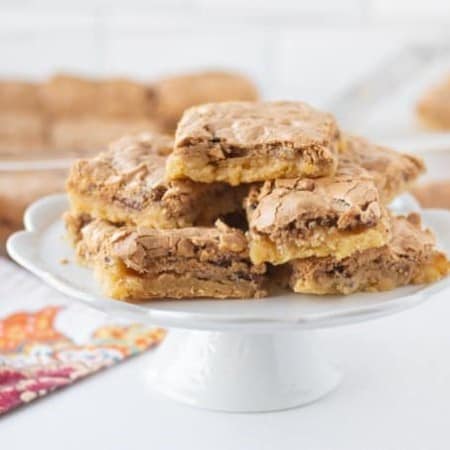 Delta Bars are rich, chewy cookie bars with plenty of brown sugar flavor. A layer of pecans and meringue on top gives an unexpected delicious, and chewy finishing touch.
Equipment
Mixer

9 X 13-inch baking dish

Offset spatula
Ingredients
½ cup unsalted butter room temperature
1 cup granulated sugar
2 eggs separated
1 teaspoon pure vanilla extract
1 cup all-purpose flour
½ teaspoon baking powder
¼ teaspoon kosher salt
1 cup brown sugar loosely packed
1 cup chopped pecans
Instructions
Preheat oven to 350° F.

In a small mixing bowl, whisk together the flour, baking powder and salt.

Cream the butter and sugar in a mixing bowl until light and fluffy, about 3 minutes. Add the 2 egg yolks, and vanilla, and thoroughly mix.

Add the dry ingredients and mix until crumbly. Press into a 9 X 13″ baking dish. (The dough will be sticky, so you may need to dust your fingers with a bit of flour.)

In a clean mixing bowl, beat the egg whites until stiff peaks form. Continue to beat at medium speed while slowly adding the brown sugar. Then fold in the pecans.

With an offset spatula, evenly spread the meringue mixture over the crust. Bake for 20-30 minutes until golden brown.
Nutrition
Serving: 1bar | Calories: 314kcal | Carbohydrates: 44g | Protein: 3g | Fat: 15g | Saturated Fat: 6g | Polyunsaturated Fat: 2g | Monounsaturated Fat: 6g | Trans Fat: 1g | Cholesterol: 48mg | Sodium: 66mg | Potassium: 103mg | Fiber: 1g | Sugar: 35g | Vitamin A: 281IU | Vitamin C: 1mg | Calcium: 37mg | Iron: 1mg
Did you make this recipe?
Share it with me on Instagram and make sure to follow me on Pinterest for more recipes.
This post was originally published June 11, 2011 and was Day 129 in my original 365 Days of Baking.
It has been updated with pictures and in format on 4/13/22.
Reader Interactions