I know I haven't posted in the weigh-in page in a few weeks and keep meaning to do it, but then become sidetracked and forget. I have been weighing myself, it just needs to be documented.
Today was a full day. I was determined last night to wake up as my husband left for work, and DO things around the house which have been neglected ie., kids, animals.
I'm kidding.
My kids are anything BUT neglected. The animals…no, I'm kidding there, too.
I'm talking about housework, some laundry and those expired coupons taking up precious space in my coupon binder. (No, I never worked on it last night.)
So, I woke up without sleeping in, and actually took the dog for a walk/run first thing this morning (after throwing in a load of laundry 🙂 ). Then came back to clean the kitchen, yada yada yada…you don't want to hear every detail.
I'll be losing my readers because I'm boring you to death about what I do all day.
I was very saddened to hear that my very dear friend's mother passed away today. She was sick and it had been expected, but it is still never an easy thing to deal with. My husband, children and I are extremely blessed to have known Joan. She adopted us as her own extended family and we had many wonderful times together.
She is no longer suffering and has gone home to be with her Jesus.
My prayers for comfort, peace and an abundance of love go out to the family.
I love you, Joan.
I found this recipe on Heather's Dish and knew I had to try it. Her blog is very inviting, and has lots of great recipes.
I am in love with the food blogging world! There's so much to see and taste.
Before I started doing this, I had NO idea it was so vast. It really is amazing and I can easily spend hours going from one blog to another.
Delta Bars
1 stick of butter, room temperature
1 cup granulated sugar
2 eggs, separated
1 teaspoon vanilla
½ teaspoon baking powder
¼ teaspoon salt
1 cup flour
1 cup loosely packed brown sugar
1 cup chopped pecans
Preheat oven to 350 degrees F.
In a mixing bowl, combine butter and granulated sugar. Add the 2 egg yolks, vanilla, baking powder, salt, flour. Mix until crumbly.
Press into a 9 X 13″ baking dish. (The dough will be sticky, so you may need to put flour on your fingers.)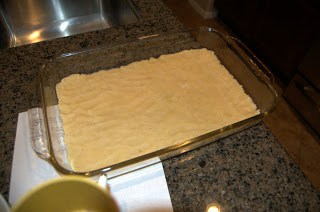 Beat the egg whites until stiff. Slowly add the brown sugar while continuing to beat on medium. Fold in pecans.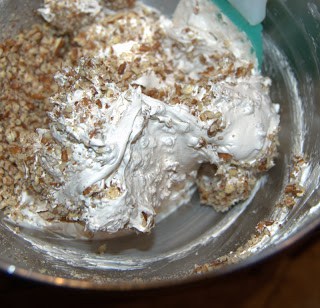 Spread evenly over the crust.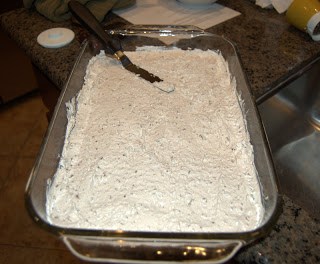 Bake for 20-30 minutes until golden brown.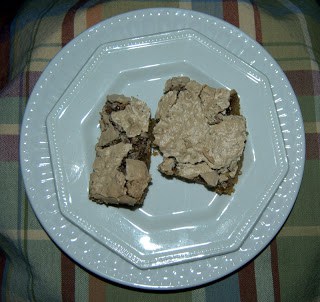 Wow!
These are rich! Heather wasn't lying.
But they are GOOD!

These are being added to the recipe file. I will definitely be making these again.
The kids really liked them as did the men playing pool across the street (Mr. 365 included).
They are very rich, so you can't eat too many in one sitting (but you can eat many, many bits and pieces – haha).
Everything I bake is rated on a scale of 1-4 with 4 being the best and these Delta bars earned 3 rolling pins. These would be a great dessert to bring to a potluck or family gathering.
Happy baking!