Heart Meringues with Berries and Cream – an easy and light dessert made from egg whites and topped wth fresh strawberries. These individual serving size treats that are perfect for Valentine's Day.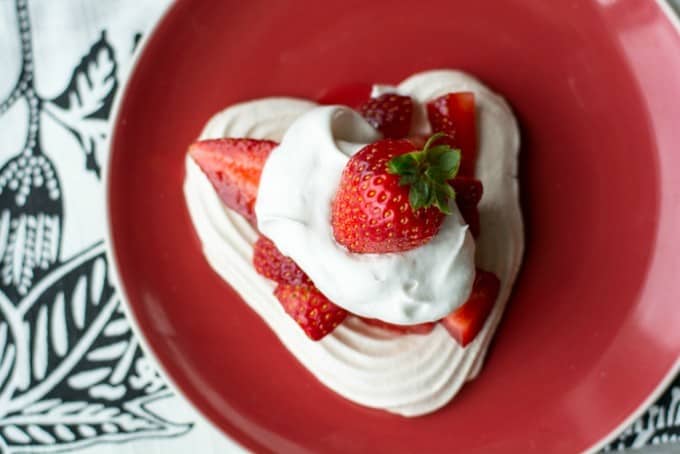 Hello there! This is Leia, from Eat It & Say Yum, again. I'm excited to be sharing another recipe here on 365 with you all.
Can you believe Valentine's Day is just around the corner! This time of the year always flies by for me. We have several family birthdays in the next few weeks, plus Valentine's Day, and some days off from school. So it's kind of a crazy time.
But even with all of that, I still have time for these lovely Heart Meringues. They are so pretty. So delicious. And actually not difficult to make. Have you made a meringue before? Does the thought scare you? Well DON'T be scared! You can do it.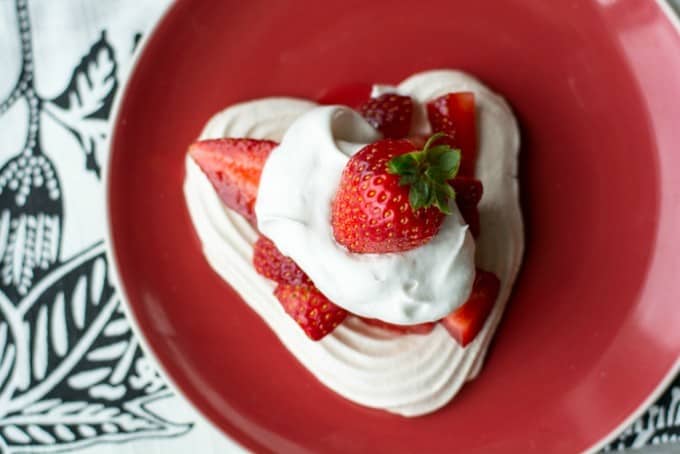 These meringues only require three ingredients. THREE! Egg whites, cream of tartar, and sugar. Easy.
And piping them into a heart shape is easy, too. I used a piping bag, but you can even use a plastic zipper bag with one corner cut off.

The meringues cook at a low temperature for about 30 minutes, and then you leave them in the oven for another 30 minutes after the oven is turned off. This dries them out. Which makes them crispy, and airy, and light. This is not a dessert to weigh you down. Even you have a big meal before hand, this isn't going to ruin your day. Which also makes these a great dessert to have during Spring and Summer. And you can use a variety of fruit on them. I can't wait for summer to use fresh peaches. Yum!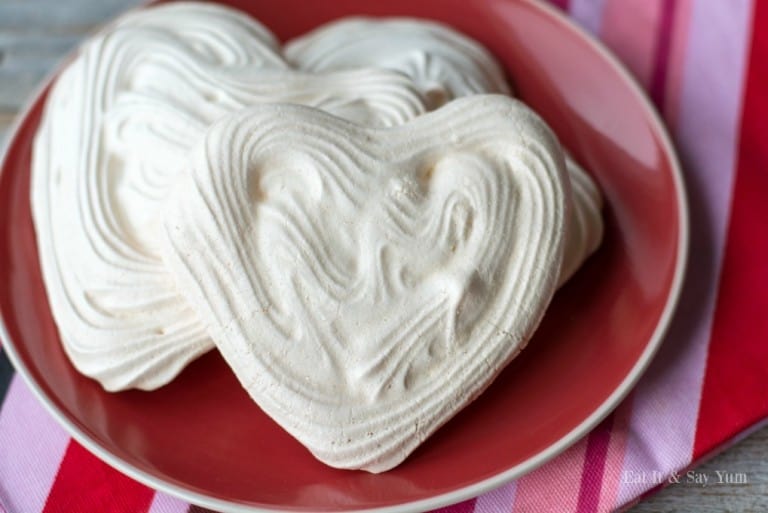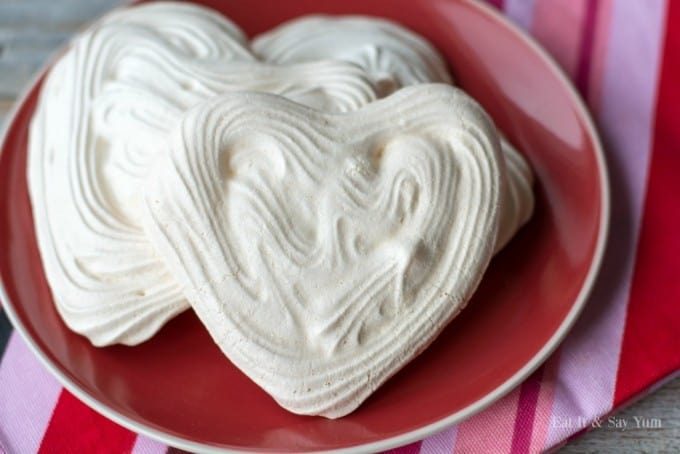 Another great point about these is you can make the meringues in advance. I just leave them out on my counter, not in an airtight container, for a day or two. So I can worry about other details on Valentine's Day, and just have these ready to go. Then all I do is top them with some macerated strawberries, and whipped cream.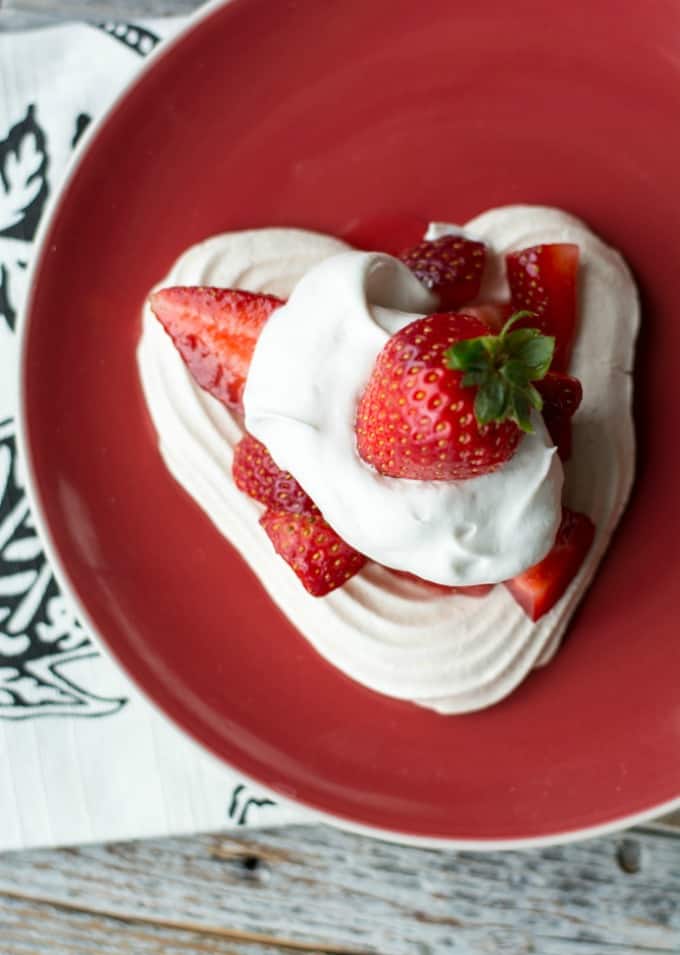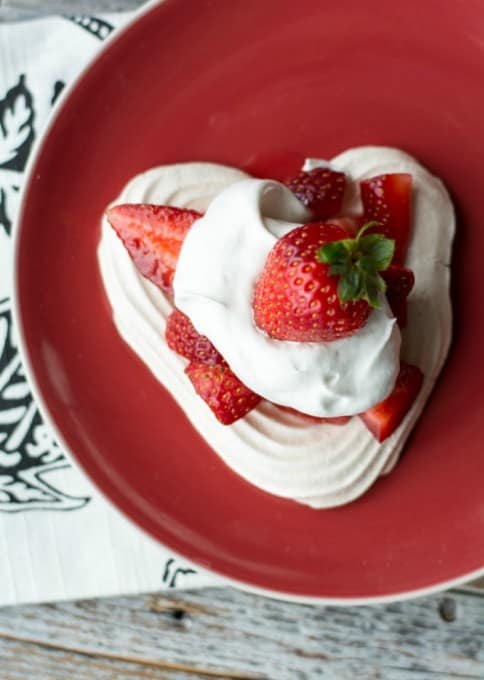 What are your plans for Valentine's Day dinner and dessert? I hope you will give these meringues a try! I just know you'll love 'em. 😉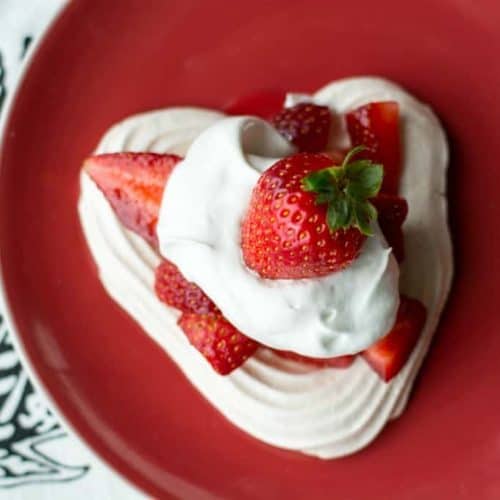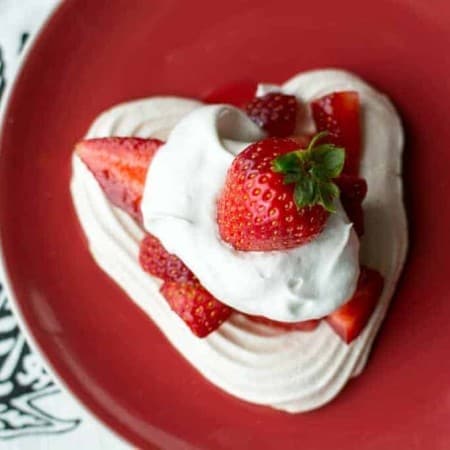 Heart Meringues with Berries and Cream
Heart Meringues with Berries and Cream- so light and refreshing, they're a perfect dessert for Valentine's Day.
Ingredients
Meringues
2 egg whites- at room temperature
¼ tsp cream of tartar
½ cup sugar
Toppings
3 cups sliced strawberries
1 ½ Tbs sugar
2 Tbs cold water
1 cup heavy whipping cream
¼ powdered sugar
½ tsp vanilla
Instructions
Preheat oven to 275 degrees. Line a baking sheet with parchment paper and grease the paper with shortening.

In a clean glass or metal bowl, beat the egg whites with the cream of tartar until frothy- just a few seconds.

Keep beating while you slowly add the sugar. Continue beating until the egg whites form stiff peaks, and are glossy.

Scrape egg white mixture into a piping bag, I like to use a star tip, but it's not necessary. Pipe the egg whites onto the greased paper in the shape of hearts.

Bake the meringues for 30 minutes then turn the oven off. Without opening the door, allow the meringues to sit in the oven for another 25-30 minutes.

Let the meringues cool completely. Good for a couple days, no need to seal in a container.

About 15 minutes before serving, slice the strawberries and toss them with the sugar and water. Let sit until ready to serve.

Beat the whipped cream with the powdered sugar and vanilla until stiff peaks form. Spoon some strawberries over each meringue and top each with whipped cream, then serve.
Did you make this recipe?
Share it with me on Instagram and make sure to follow me on Pinterest for more recipes.
~FOLLOW LEIA~
More to love from Eat It & Say Yum: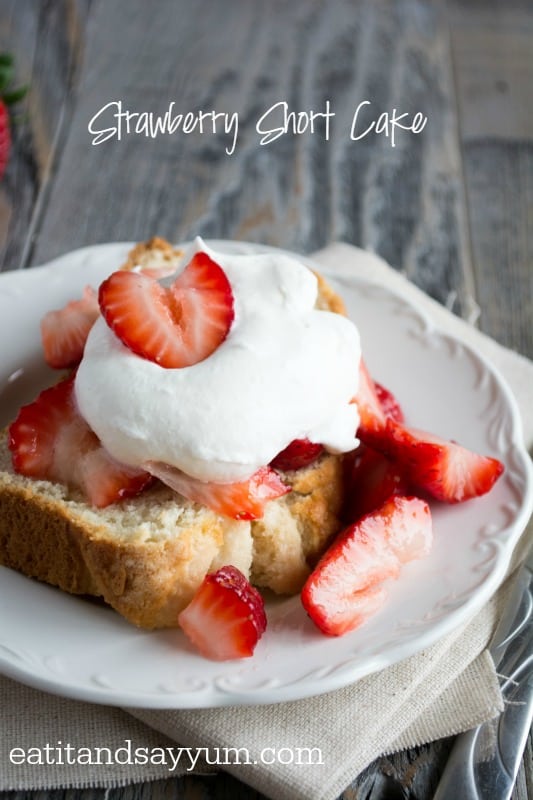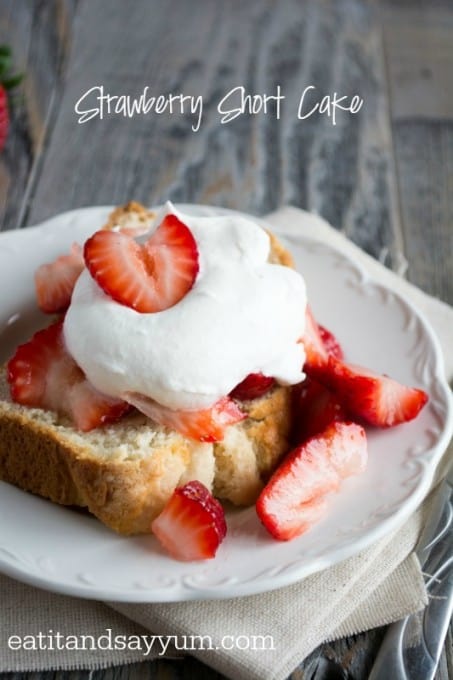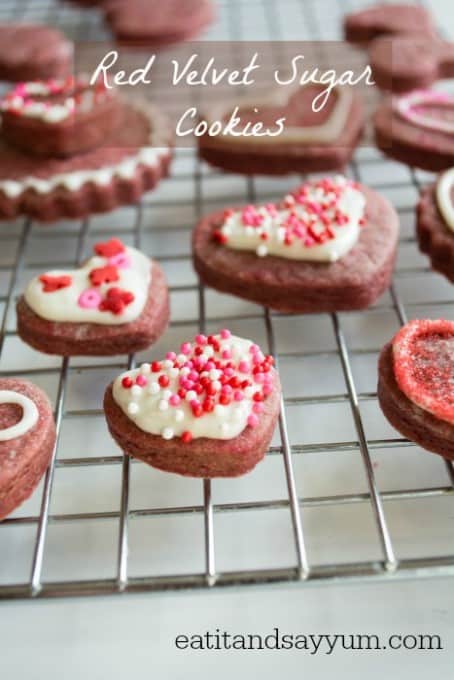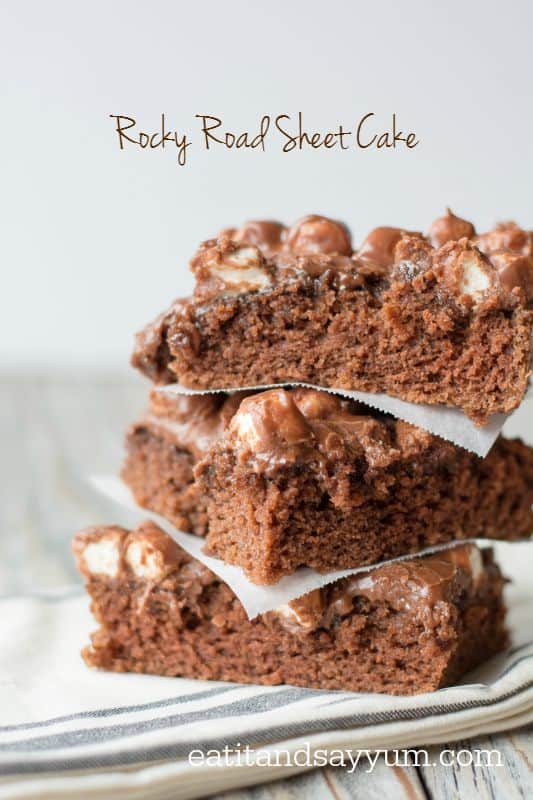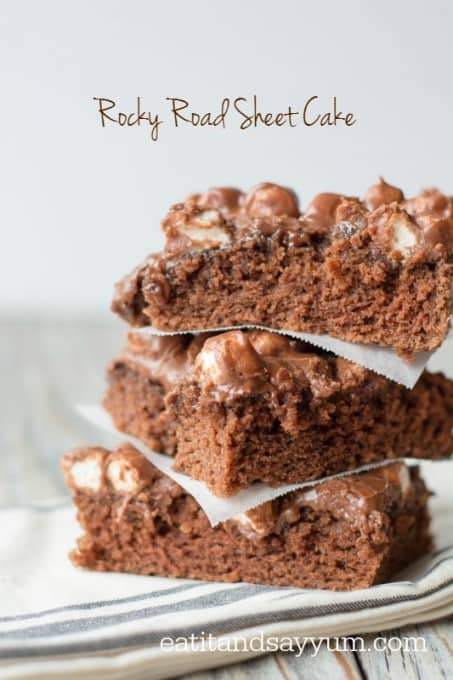 Thank you Leia, for providing us with these Heart Meringues with Berries and Cream!
Check out these other Valentine's Day treats…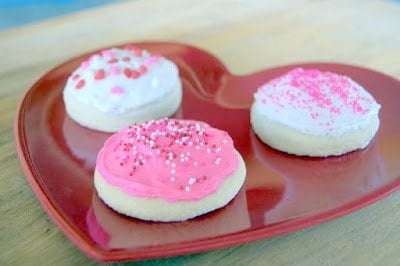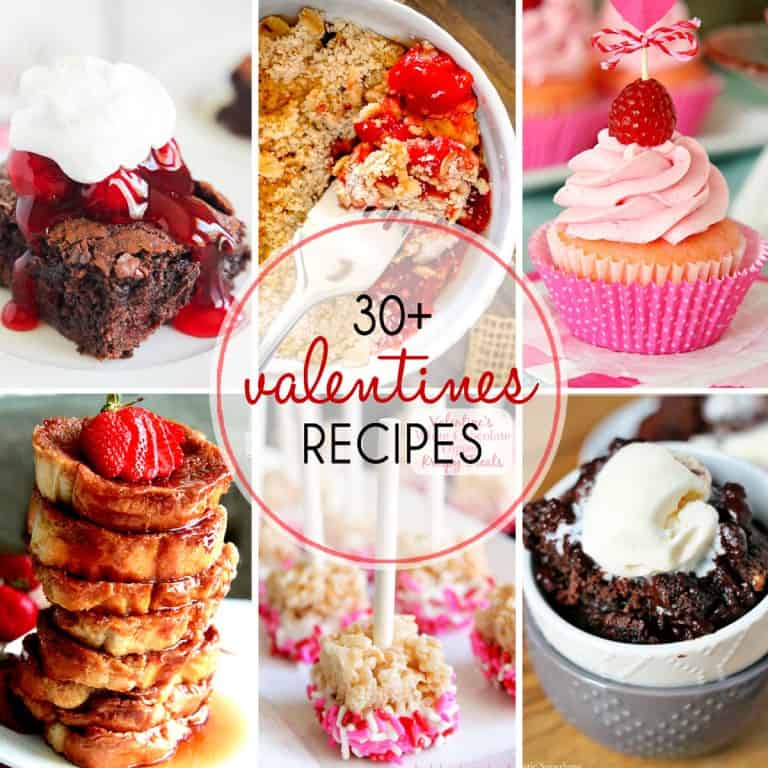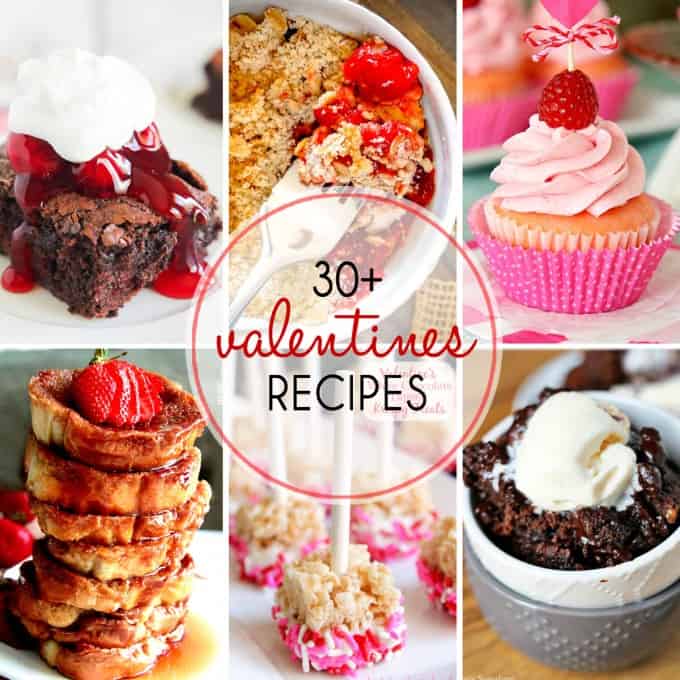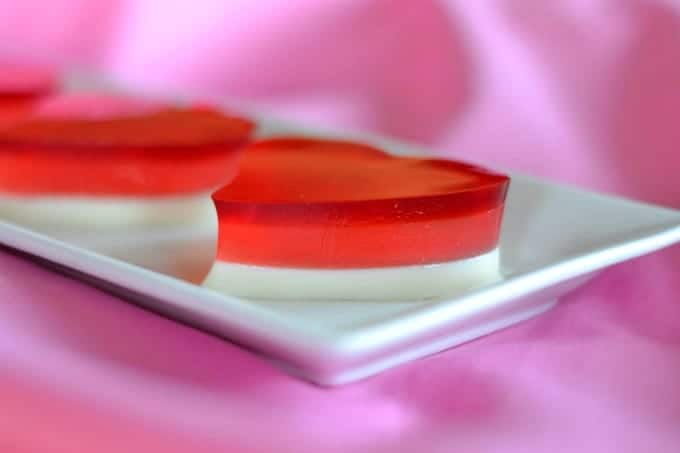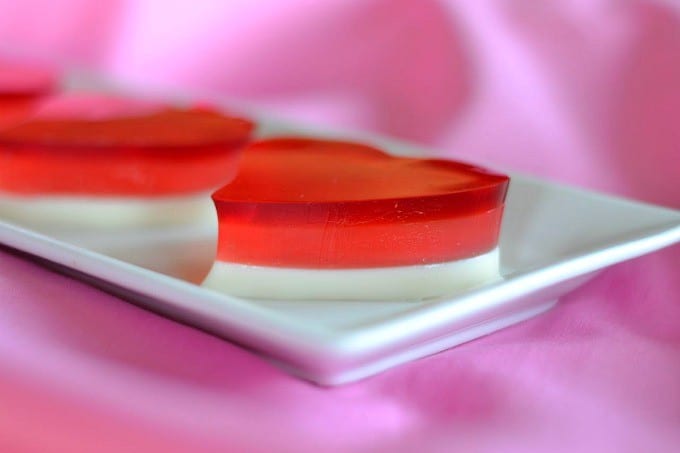 Take a look at these great videos for more Valentine's Day ideas…

I give you BIG baking hugs and muffins!!
Reader Interactions