These Cranberry Orange Dream Bars are a dessert inspired by the 9 Ladies Dancing verse in the popular "Twelve Days of Christmas" song. Layers of goodness including a crust made of crushed ladyfingers, a Sweet'N Low® cranberry orange layer, white chocolate pudding and stabilized whipped cream make this a fun holiday dessert.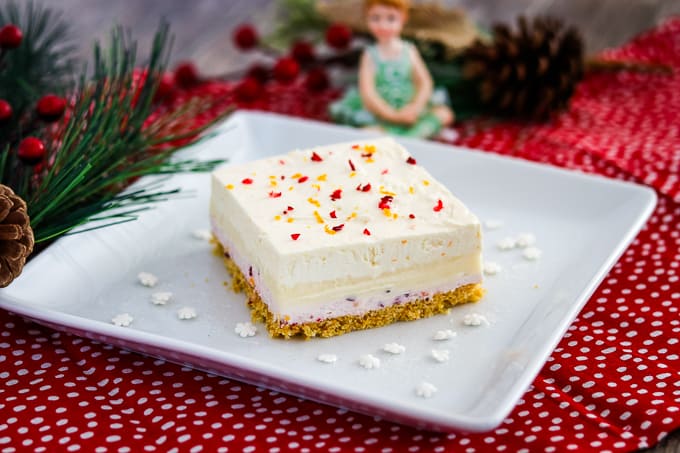 Can you believe we're in full holiday mode?
I am partnering with Sweet'N Low® to bring you this sponsored post. As always, all opinions are 100% my own.
Did it come quickly this year or what?
For the first time in a long time, I feel that I've got a good handle on things. I've actually started my shopping early and have decorated as much as I can since we have a puppy with us now.
Our kids are all coming home for Christmas, so I'm super excited about that!
Besides spending time with family, one of my favorite things about the holiday season is the music.
I've always loved the music!
When I was in my high school's Concert Choir, every year we'd go caroling to the local nursing homes.
It was a very eye-opening and humbling experience.
SAVE THESE CRANBERRY ORANGE DREAM BARS TO YOUR FAVORITE PINTEREST BOARD!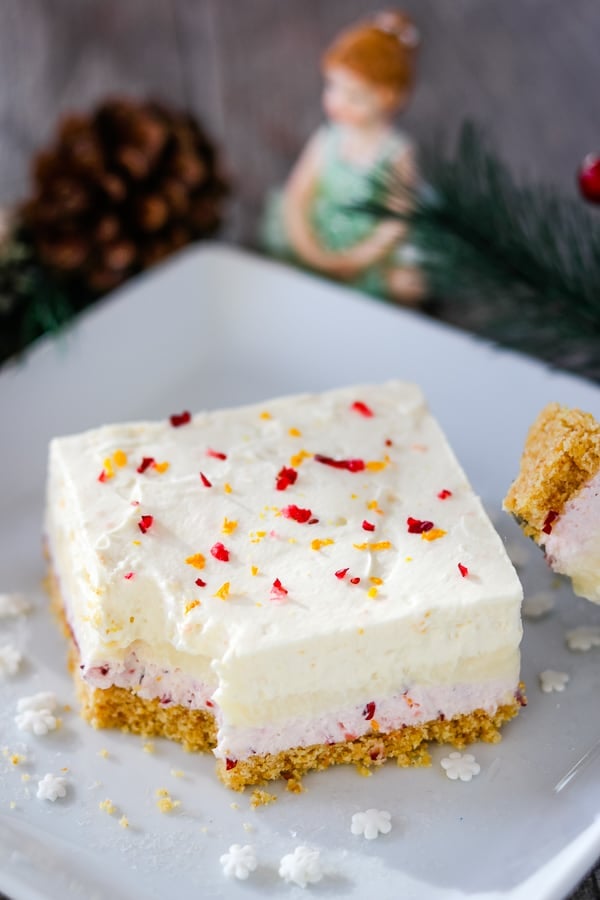 In high school, I thought I had my whole life ahead of me, was pretty much omnipotent and that I'd live forever. No doubt many of my friends felt the same.
What about you?
Visiting these elderly people who were not able to care for themselves, and thinking that they might not have family members visit them for the holidays really left a lasting impression on not only me but on all of my fellow choir members.
We were able to see how very fortunate we were. By volunteering our time to use the gifts we'd been given we could bring joy to others and make a difference in their lives if only for a few minutes.
I'm not going to lie, it was scary walking into each of those buildings.
We didn't know what we were going to see, or how people were going to react.
It was especially emotional for those of us who had experienced the loss of an elderly family member or had one living in a nursing home.
Needless to say, every year quite a few tears were shed.
SIGN UP FOR THE
365 DAYS OF BAKING & MORE
NEWSLETTER BELOW!
Yet as sad and scary as it may have been, it never ceased to really awaken the spirit of the holidays within us.
I know we are each completely grateful to our choir director for the experience.
We saw smiles light up their faces with their eyes sparkling.
They clapped along, tapped their feet, and some even got up to dance!
The best was hearing them sing right along with us.
All of it far outweighed any gift that might have been waiting for us under our tree.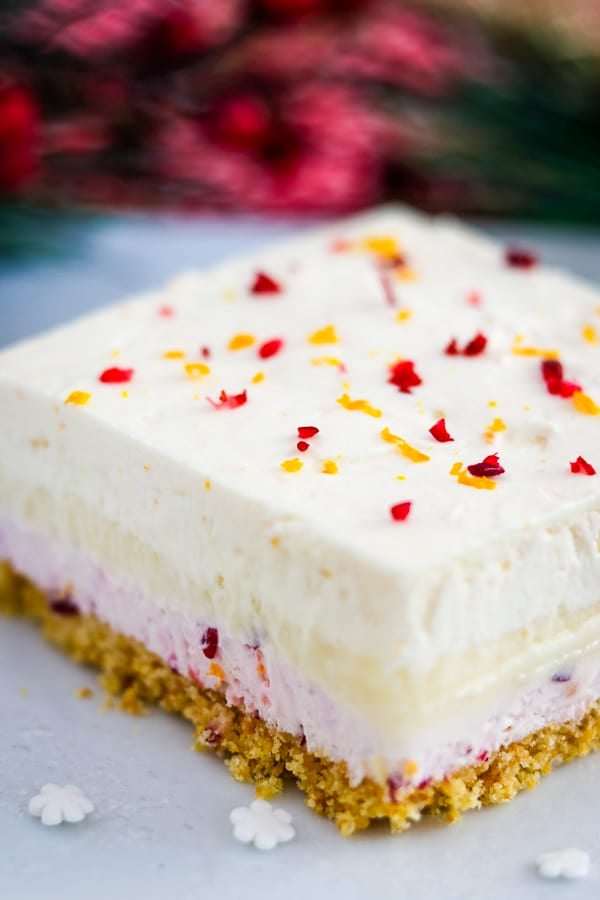 So, this is where these Cranberry Orange Dream Bars come in.
I've partnered with Sweet'N Low®, along with 11 other bloggers, to bring you a total of 12 recipes all based on the song, "12 Days of Christmas."
You know the one, where after "5 Golden Rings" there's that buh dump bump bump. haha
Betcha just sang all that, didn't ya?!
I did!
These Cranberry Orange Dream Bars remind me of "Nine Ladies Dancing" with their ladyfinger crust, light texture and smooth taste.
You might even be dancing after one bite!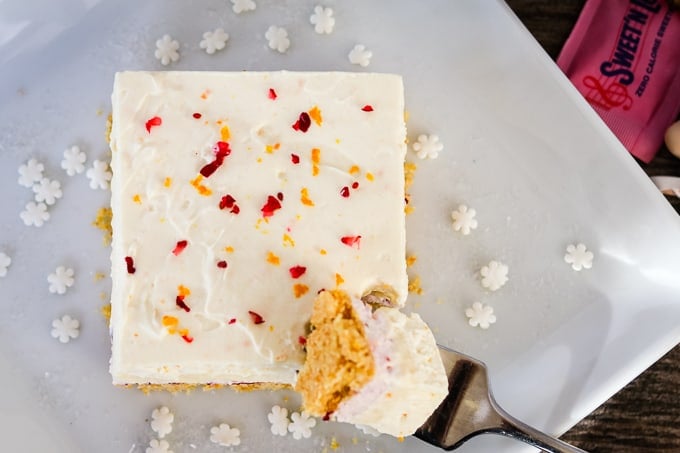 It's nice to know that during this busy holiday season when there are so many delicious and tempting sweet treats that Sweet'N Low® has your back. You can enjoy delicious desserts like my Cranberry Orange Dream Bars and more without all of the excess sugar and calories!
You'll find it at your favorite grocery store, and it's available in both packets and bulk. So not only can you use it to sweeten beverages, you can use it in a variety of recipes as well!
The packets of Sweet'N Low® have the sweetness equivalent to about 2 teaspoons of sugar.
The bulk size is good for baking and cooking and each pink spoonful is equal to about 1 teaspoon of sugar. It has less than 1/2 g of carbohydrates. Sweet'N Low® is also easy to bake with! A general rule of thumb is to keep half of the sugar in a recipe to ensure proper volume, texture and browning.
Be sure to check out these great Sweet'N Low® recipes from all of the bloggers who are participating in our 12 Days of Christmas!
~~~~~~~~~~~~~~~~
~~~~~~~~~~~~~~~~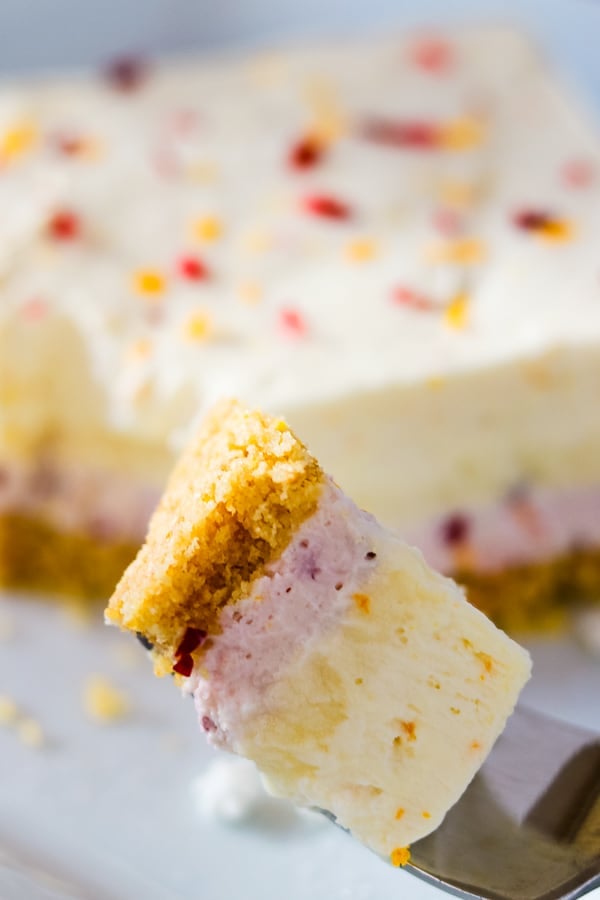 Cranberry Orange Dream Bars
Cranberry Orange Dream Bars - crushed ladyfingers, a Sweet'N Low® cranberry orange layer, sugar-free white chocolate pudding and stabilized whipped cream.
Ingredients
Ladyfinger Crust
24 Ladyfingers or enough for 2 1/4 cups
5 tablespoons unsalted butter melted
1 teaspoon orange zest
Cranberry Orange Cream Cheese Layer
¾ cup fresh cranberries
8 ounces cream cheese room temperature
2 packets Sweet'N Low® or 1/2 teaspoon Sweet'N Low® 8 oz.
¾ teaspoon orange extract
pinch kosher salt
Pudding Layer
1 ounce sugar-free cheesecake pudding mix
1 ½ cups whole milk
Stabilized Whipped Cream
6 ounces cream cheese room temperature
1 ¾ teaspoon pure vanilla extract
1 teaspoon orange zest
2 packets Sweet'N Low® or 1/2 teaspoon Sweet'N Low® 8 oz.
1 ½ cups heavy whipping cream
Instructions
Prepare a 9 X 9-inch baking pan, by lining the bottom and sides with parchment.


In a medium bowl, mix the sugar-free pudding mix with the 1 1/2 cups milk as directed here in the recipe. Put into the refrigerator to chill.
Ladyfinger Crust
In a food processor, pulse the ladyfingers into crumbs.

In a medium bowl, combine the ladyfinger crumbs with the orange zest. Add the melted butter and mix until completely combined.

Place crumbs into the prepared baking pan, spreading evenly to the edges and corners. Press the crumbs flat and freeze for a minimum of 30 minutes.
Cranberry Orange Cream Cheese Layer
In a food processor, pulse the fresh cranberries until well chopped.

In a medium, combine the chopped cranberries, cream cheese, orange extract, salt, and Sweet'N Low®. Mix completely.
Stabilized Whipped Cream
In another medium mixing bowl, beat the cream cheese until smooth. Add the vanilla, orange zest, and Sweet'N Low® and combine.

With the mixer on low, gradually pour in the heavy whipping cream, slowly increasing speed as it incorporates. Once it is thoroughly mixed with the cream cheese, turn mixer to high and beat for about a minute, until nice creamy peaks are created.
Assembly
Gently place dollops of the cream cheese layer on to the crust and with an offset spatula spread evenly around the crust.

Repeat with the cheesecake pudding.

Place dollops of the stabilized whipped cream gently onto the pudding layer and spread evenly.

Place the pan into the refrigerator for a minimum of 4 hours or for two hours in the freezer to chill.
Nutrition
Calories: 491kcal | Carbohydrates: 25g | Protein: 7g | Fat: 40g | Saturated Fat: 23g | Cholesterol: 188mg | Sodium: 344mg | Potassium: 184mg | Sugar: 3g | Vitamin A: 1600IU | Vitamin C: 2mg | Calcium: 131mg | Iron: 1.2mg
Did you make this recipe?
Share it with me on Instagram and make sure to follow me on Pinterest for more recipes.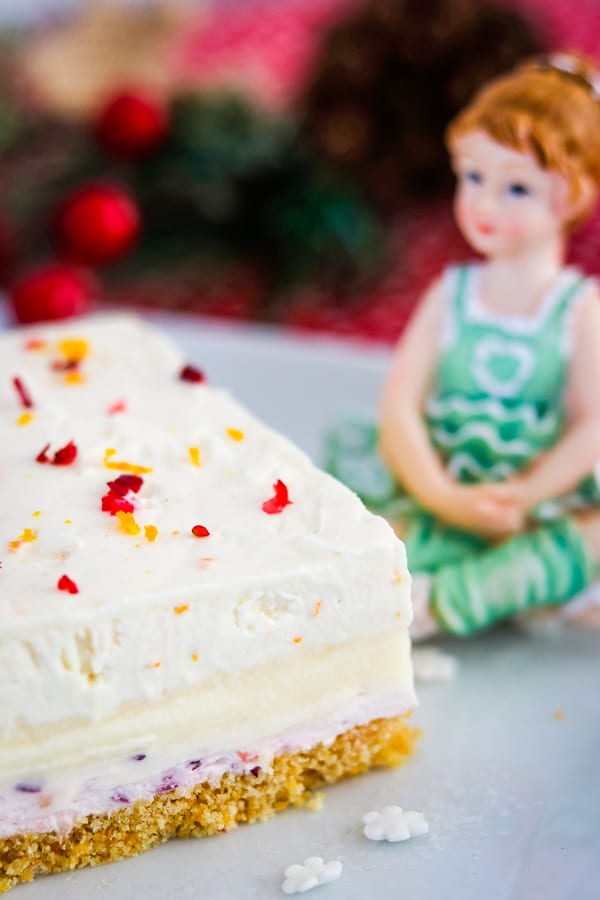 If you like my Cranberry Orange Dream Bars, then try these Dream Bar recipes, too!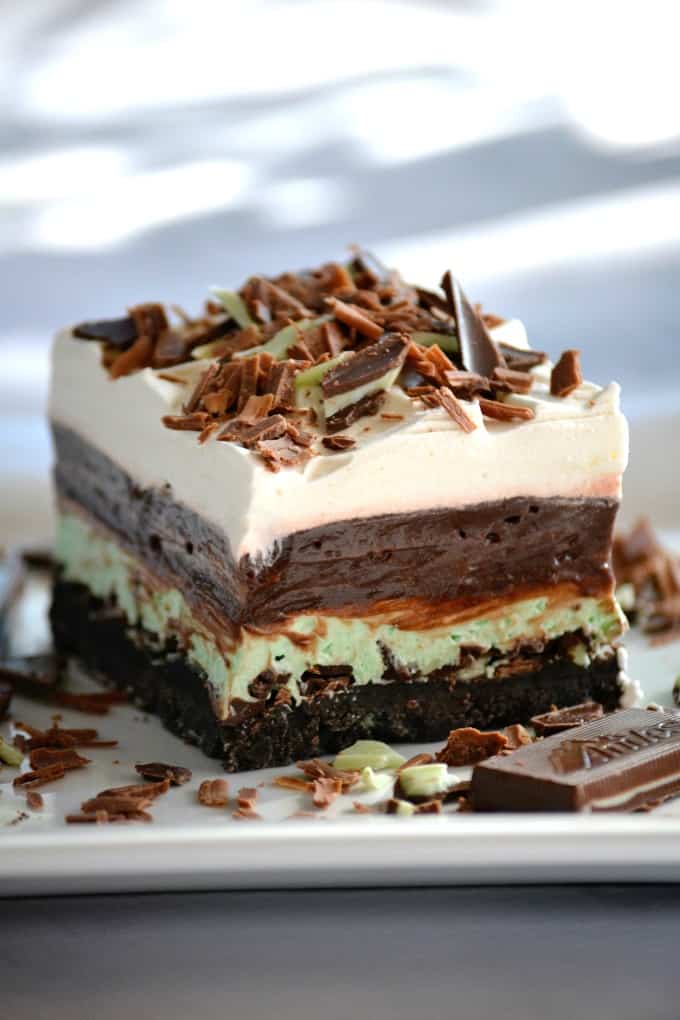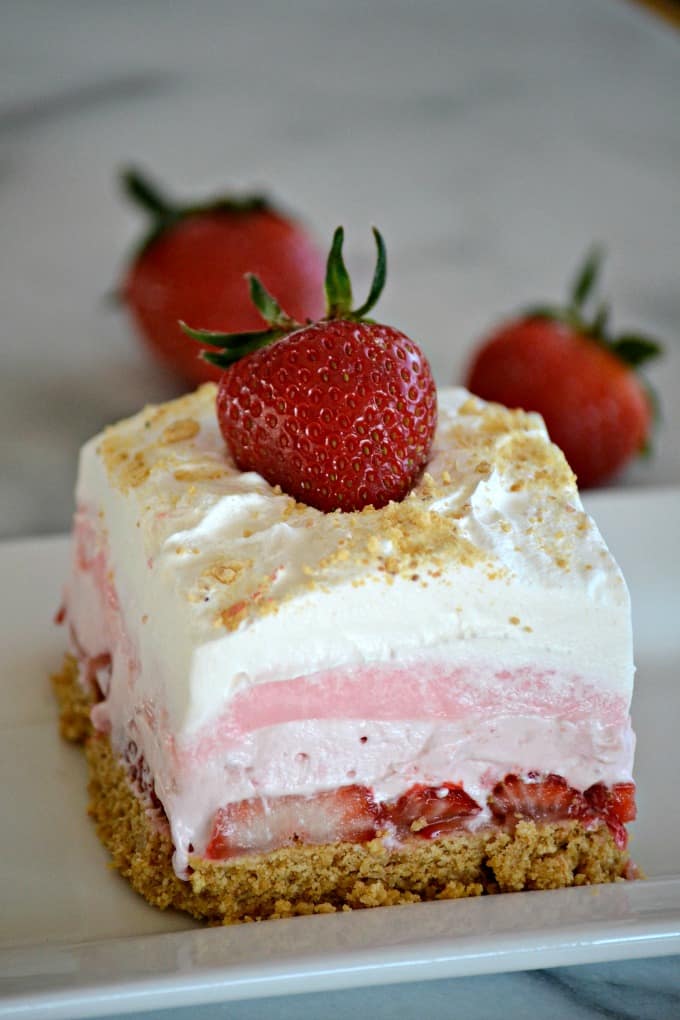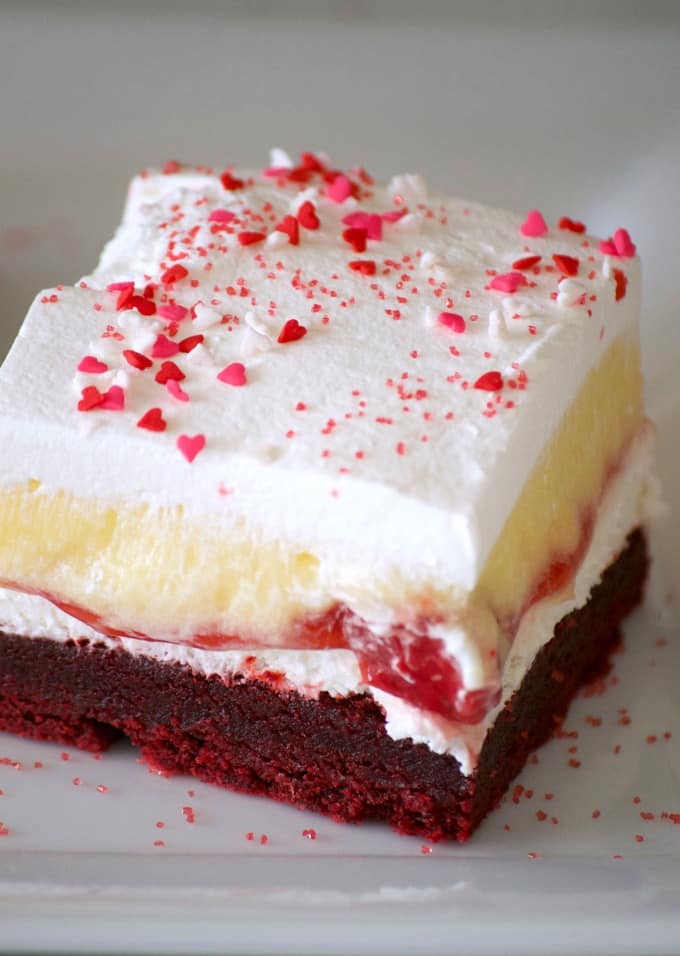 Reader Interactions