You'll adore this Easter Fudge – white chocolate fudge with mini Cadbury Creme Eggs, Starburst Jelly Beans, and Spring themed sprinkles. It's the perfect sweet treat to serve your little bunnies at your Easter celebration. Wrap up this delicious treat and put it in an Easter basket, or add it to your dessert tray!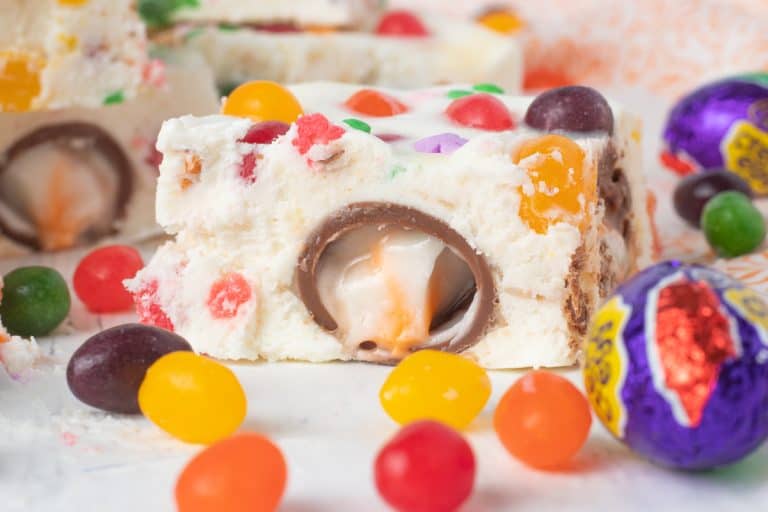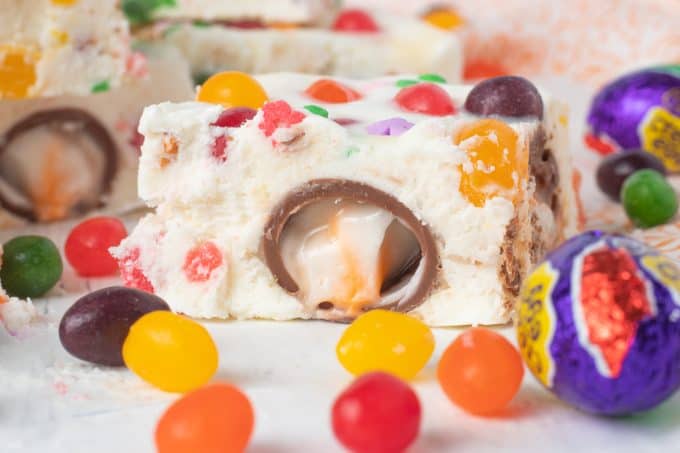 Easter will be here before you know it! I think I prefer Easter in April only because I feel as if time is flying, and when it happens in March, my mental calendar is all messed up.
I love making a sweet treat or two leading up to the holiday, and this fudge is the perfect Easter treat! It's so rich and sugary sweet that I can only eat a little at a time, and I have a major sweet tooth! But each bite of this homemade fudge is a party for my mouth!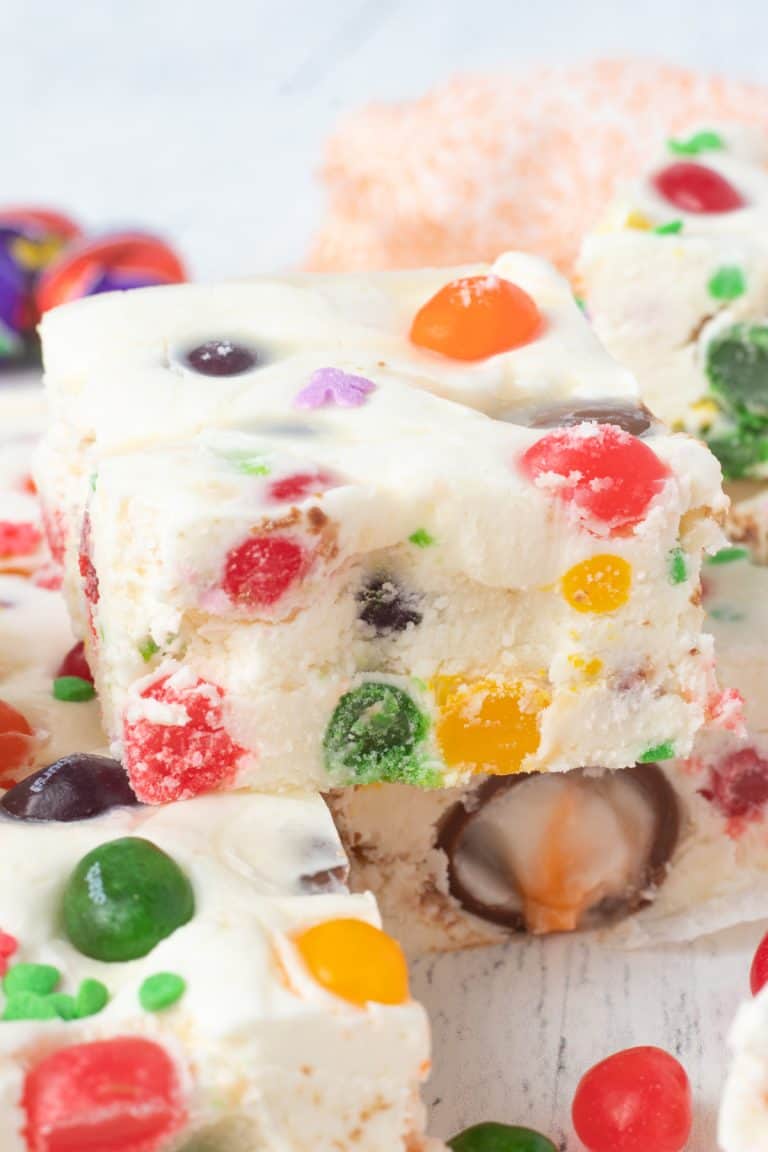 Easy Easter Fudge
This tasty treat is so easy to make. It only takes a handful of ingredients and comes together quickly. All you do is combine the ingredients, then leave the fudge in the refrigerator to set!
This recipe has a similar base to my Candy Corn Fudge. Wouldn't it be fun to make other themed fudge, like Christmas Candy fudge or Leprechaun Fudge for St. Patrick's Day? Just switch out the candy and sprinkles, and you can make just about any festive treat!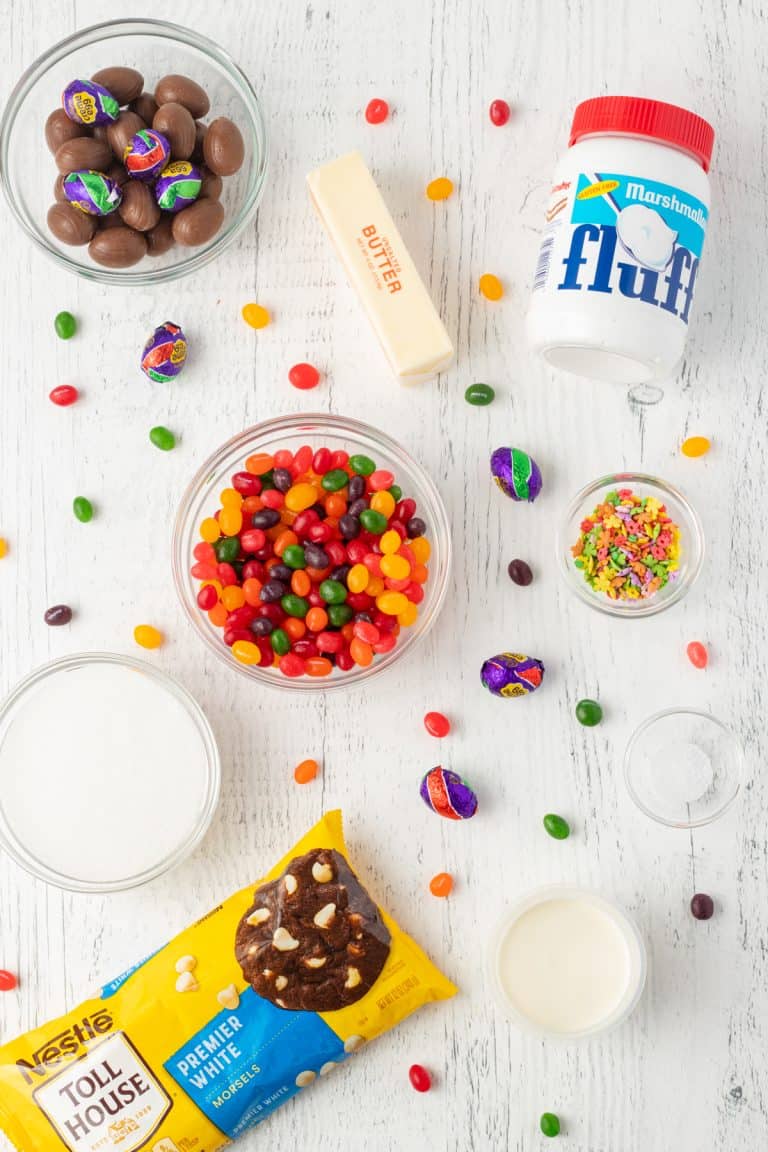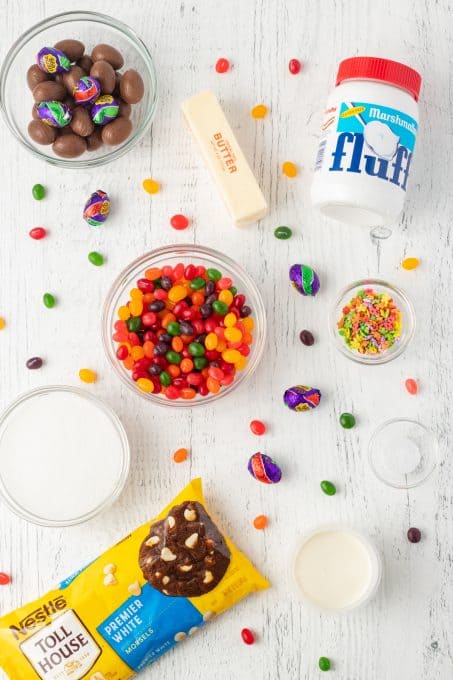 What ingredients do I need for this white chocolate fudge?
The fudge base only takes six simple ingredients. Add in a few items for fun, and you've got delicious Easter-themed fudge!
1 7-ounce canister marshmallow crème
1 12-ounce bag of white chocolate chips
1 cup of sugar
½ cup heavy whipping cream
½ teaspoon kosher salt
½ cup (8 tablespoons) of unsalted butter
Mix-Ins: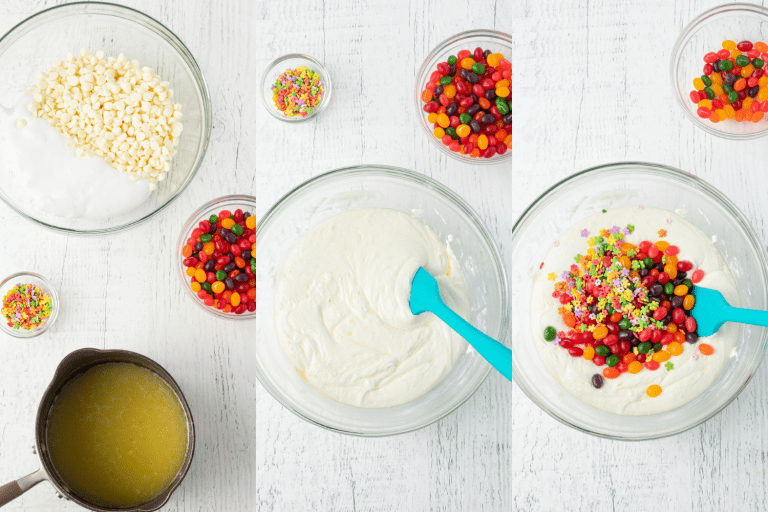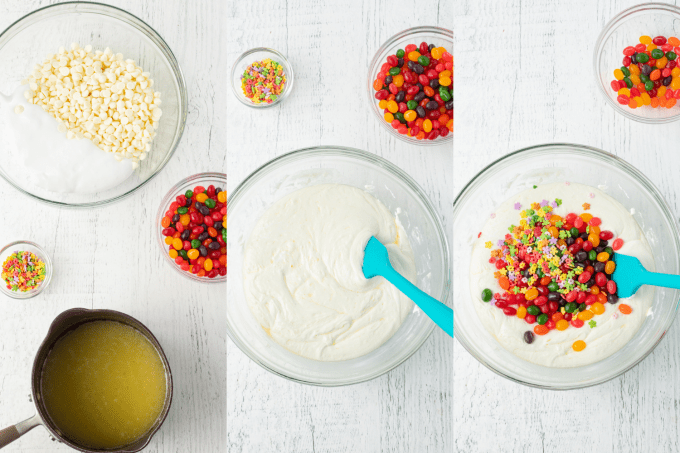 How to make this easy Easter Fudge recipe
Prepare: Use parchment paper to line an 8×8 square pan (see tips for more information!) Unwrap the Cadbury mini eggs with crème and place them in a small bowl to sit in the freezer while preparing the fudge.
Easy Fudge base:

Place the white chocolate chips and marshmallow crème into a large mixing bowl and set it aside. Combine sugar, butter, whipping cream, and salt in a large saucepan and bring this mixture to a gentle boil over medium heat. Cook for 5 minutes.
Pour the contents of the saucepan into the mixing bowl over the marshmallow cream and white chocolate chips. Blend this mixture until smooth using a rubber spatula.

Add mix-ins: Fold in 1 cup of Starburst jellybeans and the sprinkles with a rubber spatula until spread evenly throughout the fudge. Then gently fold in 20 of the Crème Eggs. Try not to over-stir, as the eggs may begin to melt if the fudge is still warm.
Let it set: Place the fudge mixture into the prepared pan and smooth the top. Evenly distribute the remaining mini chocolate eggs, jellybeans, and flower sprinkles and gently press them into the top of the fudge. Place the pan in the refrigerator and allow the fudge to set for 3-5 hours before cutting and serving.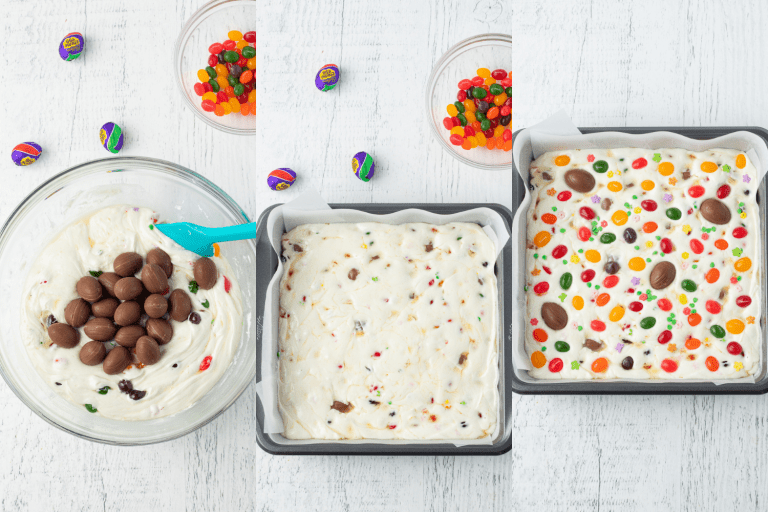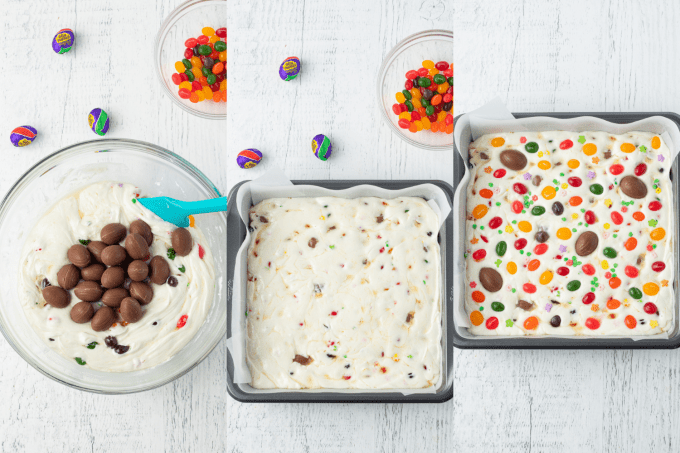 Tips for Perfect Fudge
There are a few things you can do to make sure this fudge turns out exactly how you want it, AND that it makes a beautiful presentation if the "Easter Bunny" is giving this as a gift!
When you line your pan with parchment paper, let the ends overhang the sides of the pan, so it is easy to lift the fudge out of the pan for cutting!
Make sure all ingredients are blended well so your fudge is smooth and creamy when it sets!
Add a few drops of food coloring when mixing the fudge base for a pretty pastel color.
If you can't find the Dallies flower sprinkles, you can substitute them with any Easter sprinkles or just pastel sprinkles. Just avoid nonpareils, as they tend to bleed into the batter.
Don't like jellybeans? Substitute your favorite Easter candy instead.
For best results when cutting, use a warm, dry knife!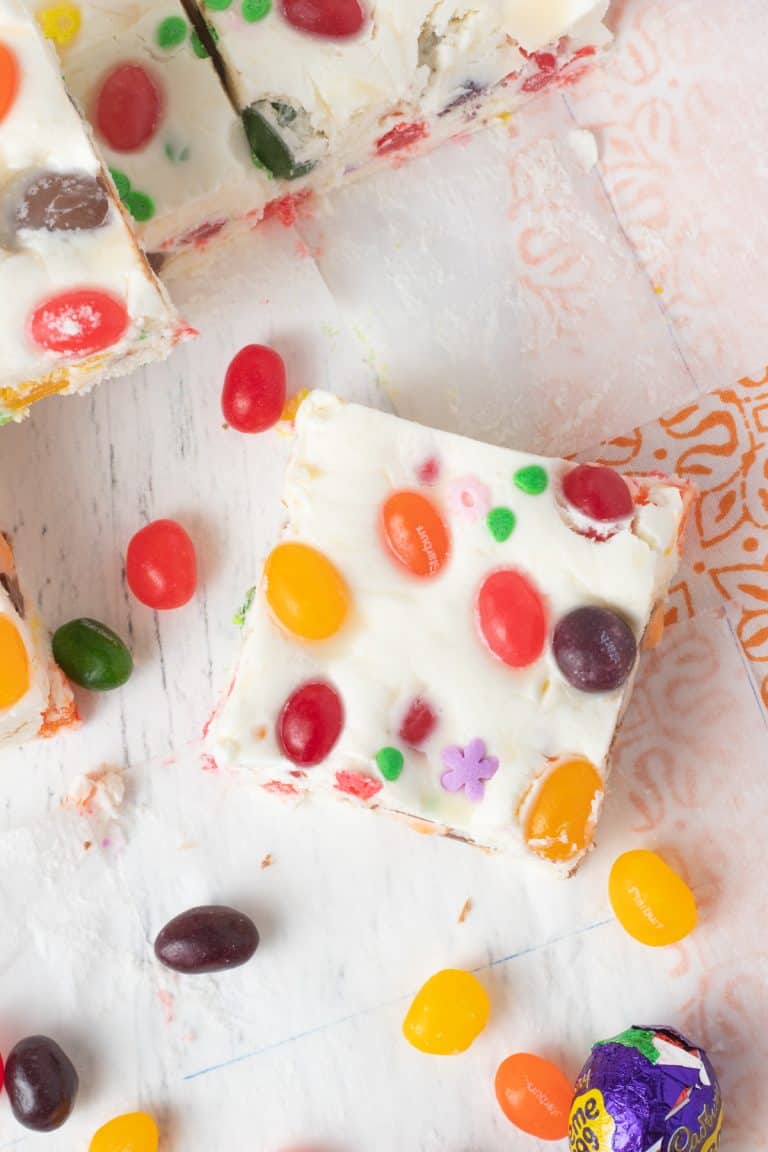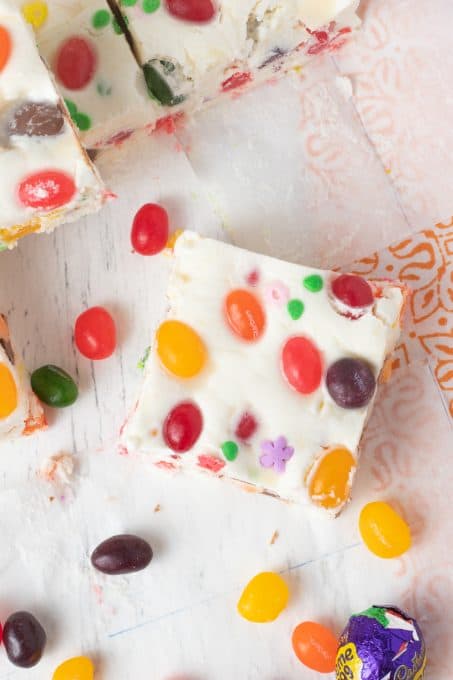 How to store Easter fudge
You can keep this delicious fudge at room temperature, but if you want it to last longer, wrap it in aluminum foil or store it in an airtight container in the refrigerator. Stored this way, it will last up to 2 weeks! It will stay fresh longer if you don't cut it until you need it.
Can I freeze fudge?
Yes, you can freeze this delicious white chocolate fudge! Wrap the uncut fudge in plastic wrap, then place it in a freezer bag or other airtight container. Freeze for up to 2 months.
To serve frozen fudge, let it thaw at room temperature overnight, then slice and enjoy!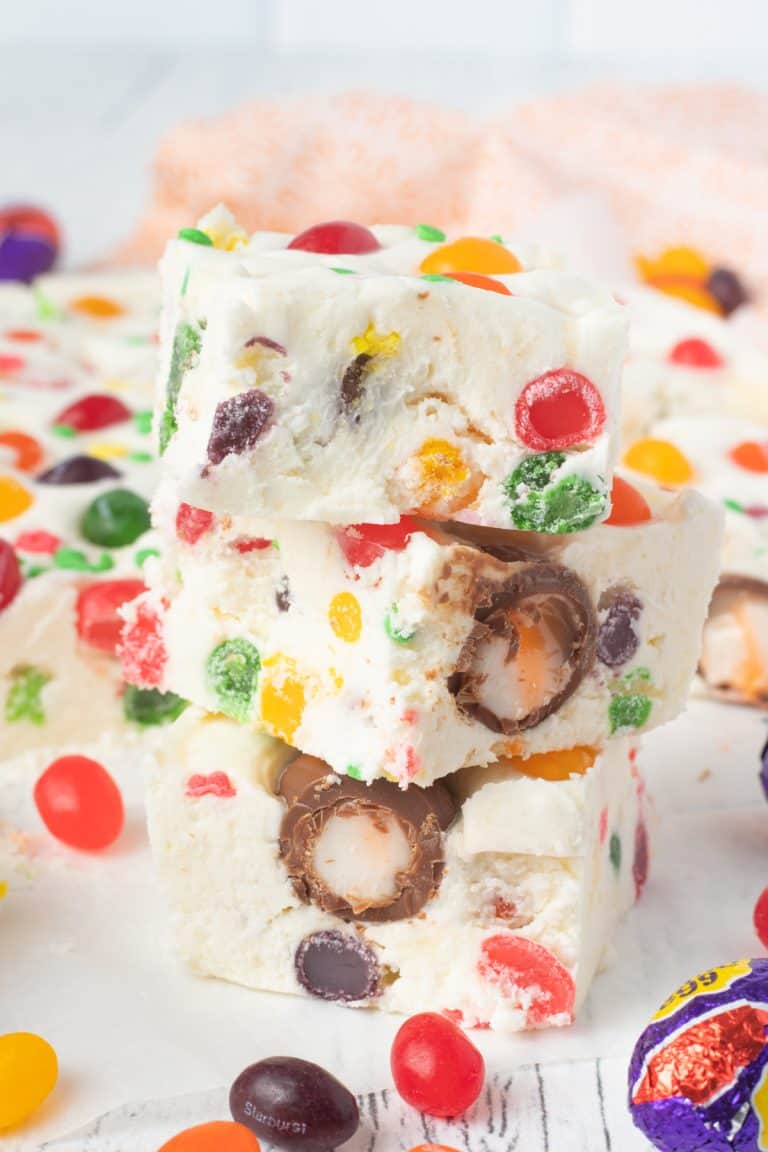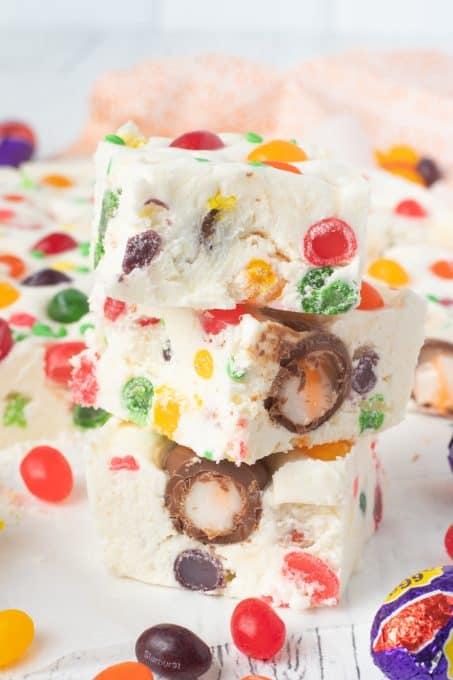 Here are more recipes that are perfect easy treats for Easter!
These Easter Egg Hunt Surprise Cookies are so much fun for the whole family!
Carrot is a classic Easter flavor, and these Carrot Cake Mix Cookies are so yummy!
My No-bake Lemon Cheesecake is the perfect dessert for Easter Dinner! Or try this soft, citrusy Lemon Cake.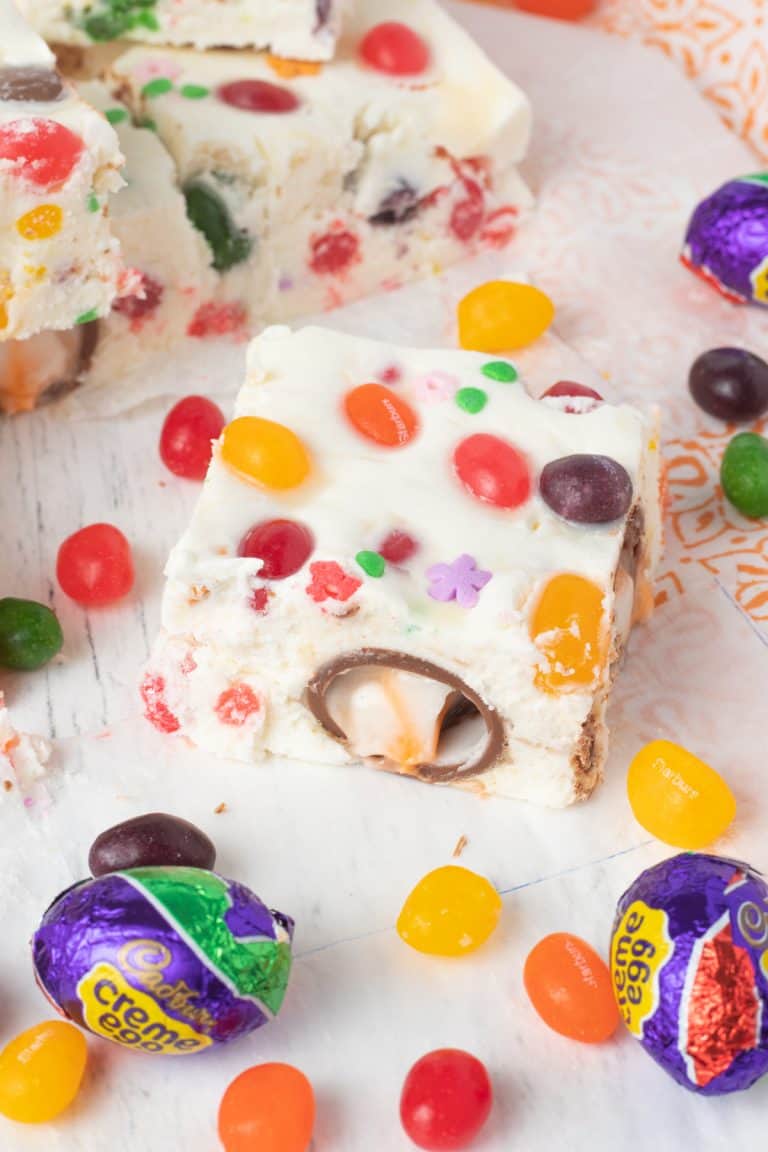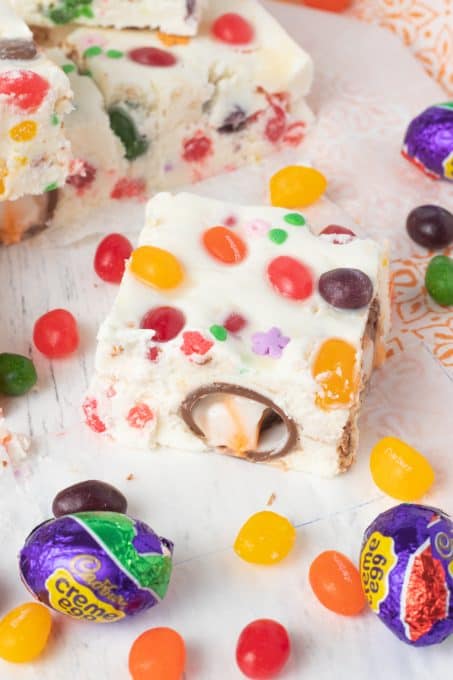 These recipes also feature candy: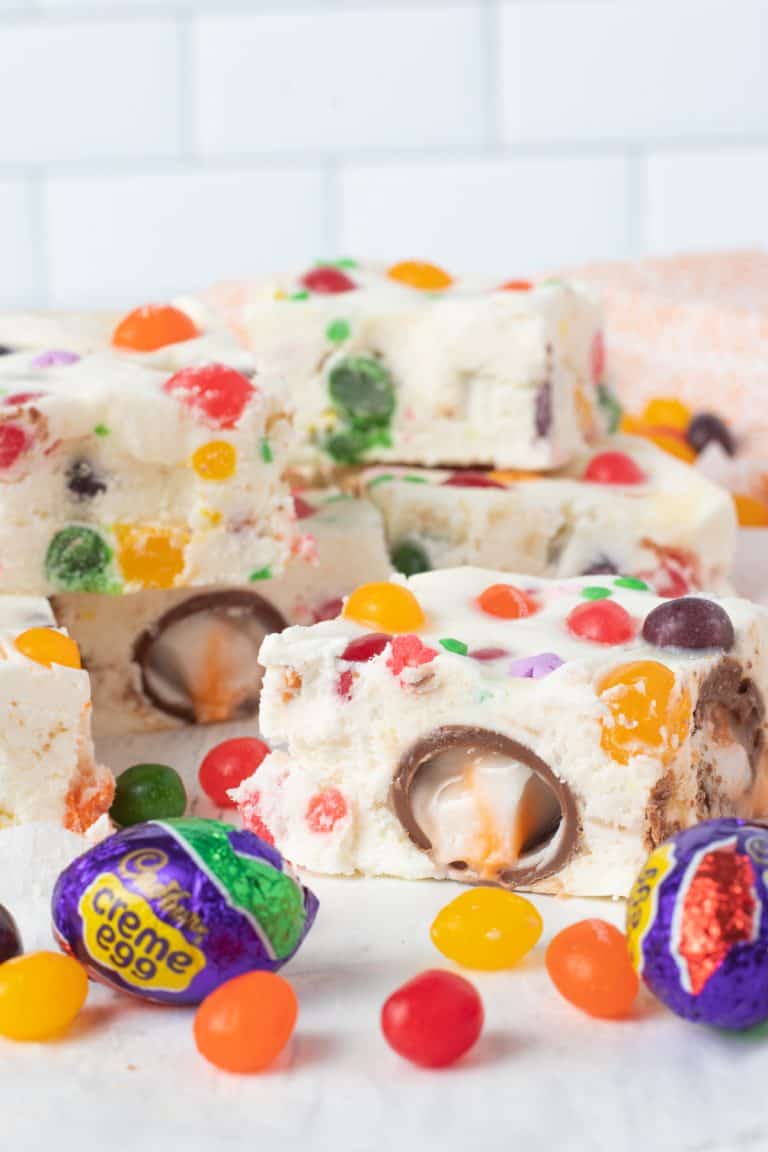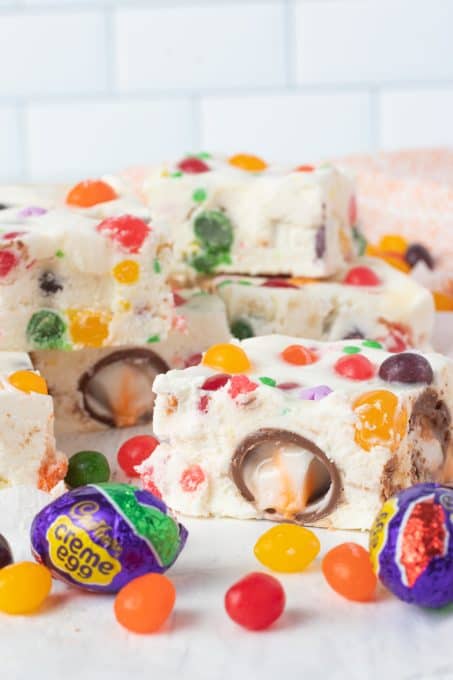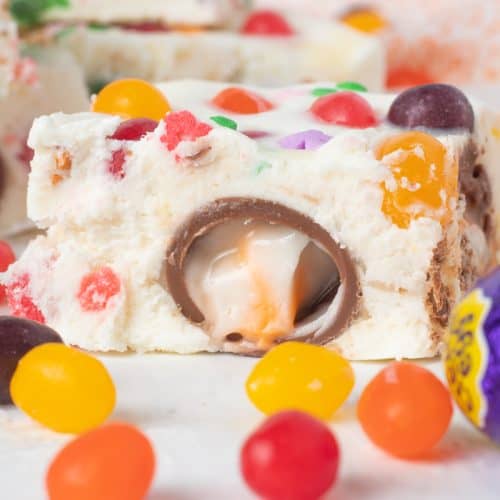 Easter Fudge is white chocolate with mini Cadbury Creme Eggs, and Starburst Jelly Beans – the perfect sweet treat to serve your little bunnies for Easter!
Ingredients
Instructions
Unwrap the Creme Eggs and place into a small bowl to sit in the freezer for at least 15 – 30 minutes while preparing the fudge.

Prepare a 8 X 8-inch pan by lining it with parchment. Use a parchment sheet a couple inches larger than the bottom of the pan. Place the pan on top and trace the outline of the bottom onto the paper. DO NOT cut the outline out. Instead, cut from the sides of the parchment just to the edge of each corner. Cut any excess paper off of the top. You will then be able to put the paper into the pan, and have the sides fold up allowing for very easy removal of the fudge once it's set.

Place the white chocolate chips and jar of marshmallow creme into a mixing bowl.

In a medium saucepan over medium heat, place the sugar, butter, whipping cream and salt and bring to a gentle boil. Cook for 5 minutes.

Pour contents into the mixing bowl containing the chips and creme, and blend with a rubber spatula until smooth.

Fold in 1 cup of the jelly beans and two tablespoons of the sprinkles. Blend until mixed thoroughly.

Gently fold in 20 of the Creme Eggs. Try not to over-stir as the eggs may begin to melt if the fudge is still warm.

Place into prepared pan and smooth the top. Evenly distribute the remaining 1/3 cup of jelly beans on the top along with the remaining sprinkles and gently press into the fudge.

Place pan into the refrigerator and allow to set for 3 – 5 hours.

For smooth, even cuts use a warm, dry knife.
Notes
I've calculated the nutritional information for 16 servings, but since fudge is very sweet and there are additional delicious ingredients in this, you may want to make all of the pieces even smaller. 
Nutrition
Serving: 1serving | Calories: 363kcal | Carbohydrates: 56g | Protein: 2g | Fat: 16g | Saturated Fat: 10g | Polyunsaturated Fat: 1g | Monounsaturated Fat: 4g | Trans Fat: 0.2g | Cholesterol: 28mg | Sodium: 105mg | Potassium: 77mg | Fiber: 0.1g | Sugar: 49g | Vitamin A: 297IU | Vitamin C: 0.2mg | Calcium: 53mg | Iron: 0.1mg
Did you make this recipe?
Share it with me on Instagram and make sure to follow me on Pinterest for more recipes.
This post was originally published on 3/24/16. It has been updated in format and with pictures on 3/6/23.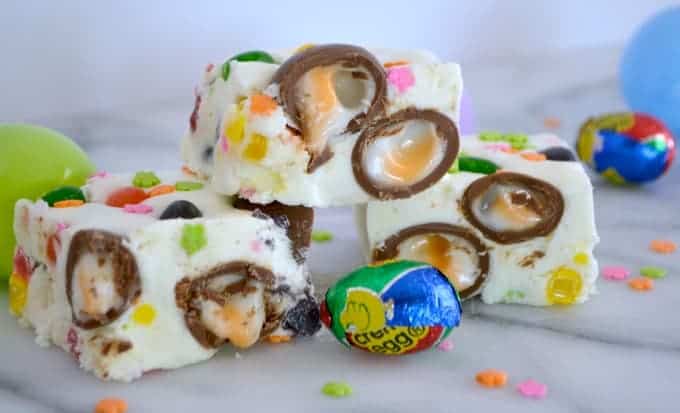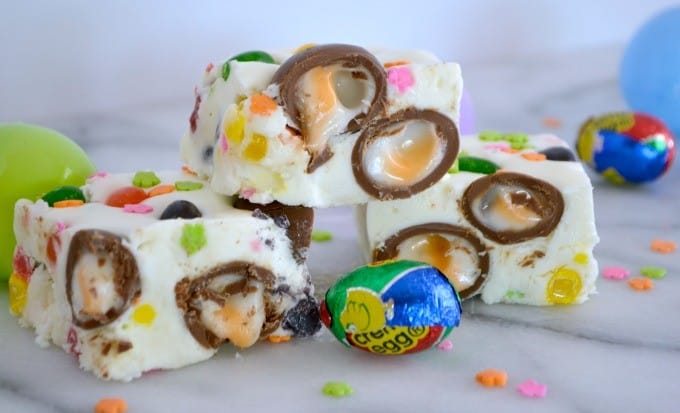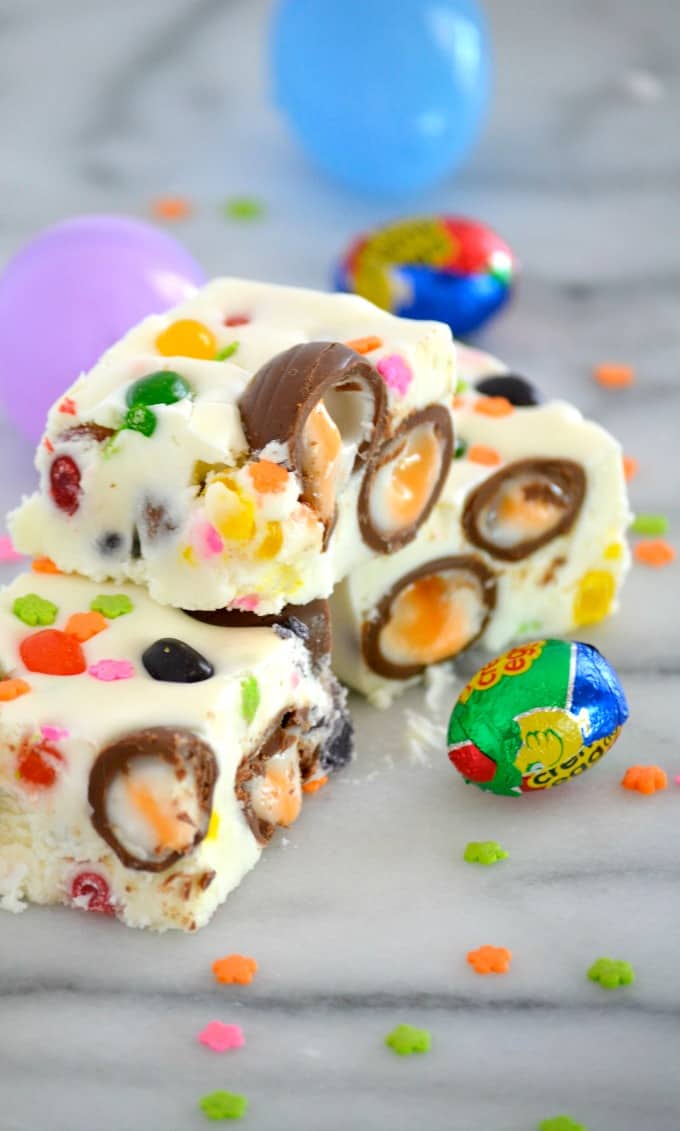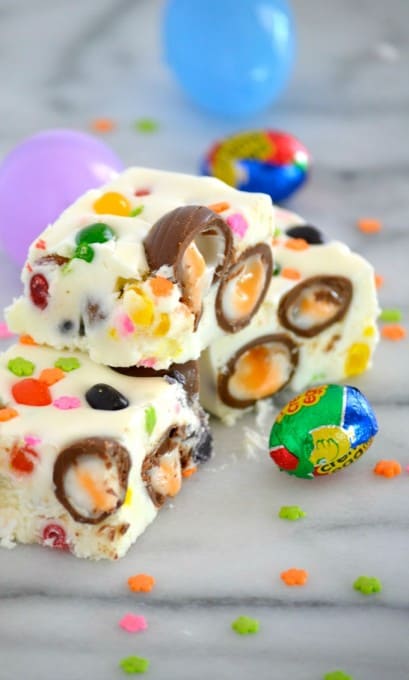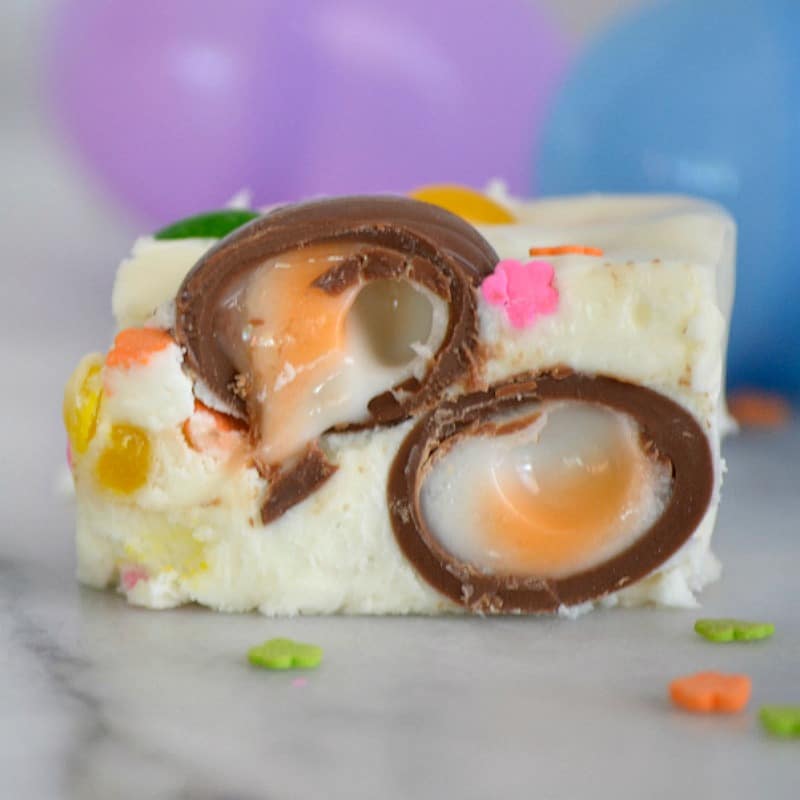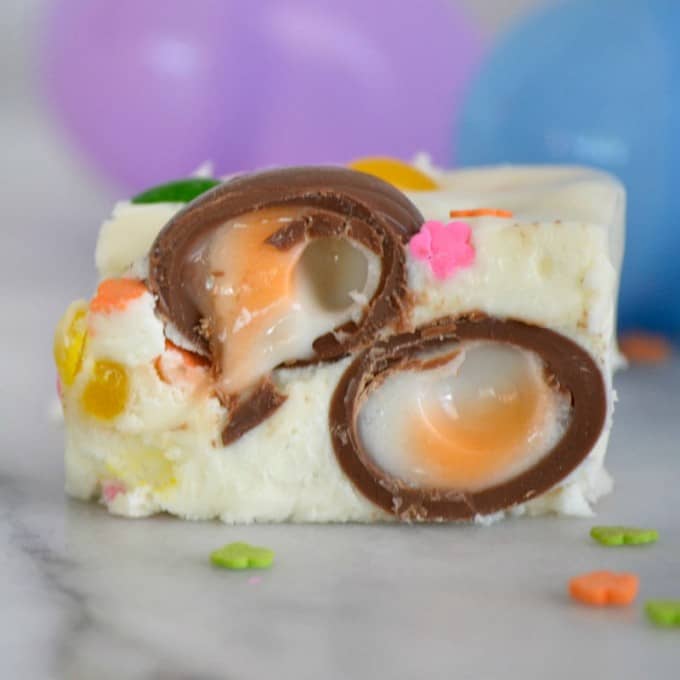 Reader Interactions