Candy Corn Fudge – white chocolate fudge with candy corn. This treat is sprinkled with the taste of Fall!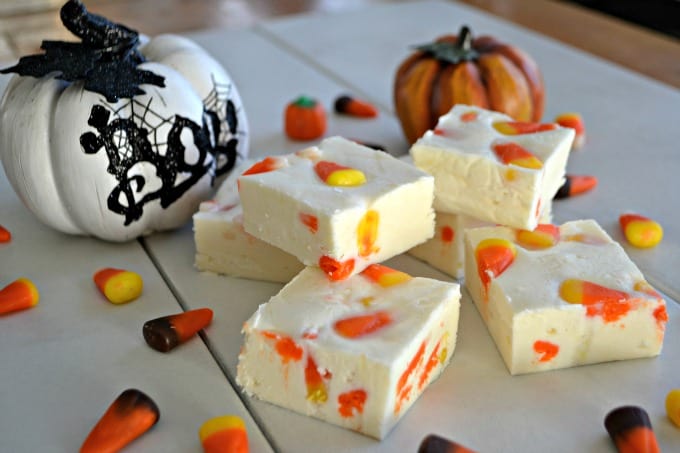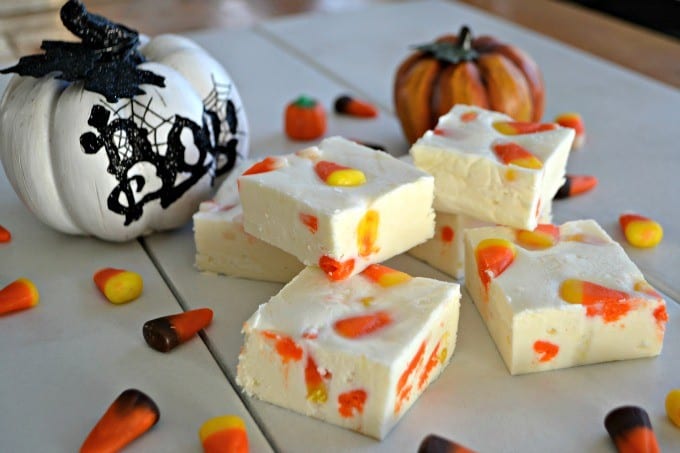 I've never been one to go head over heels for candy corn.
I mean, it's ok, and I'll snack on it if it's placed in front of me. I mean, come on now, I wouldn't want to be rude or nothing.
SAVE THIS FUDGE RECIPE TO YOUR FAVORITE PINTEREST BOARD!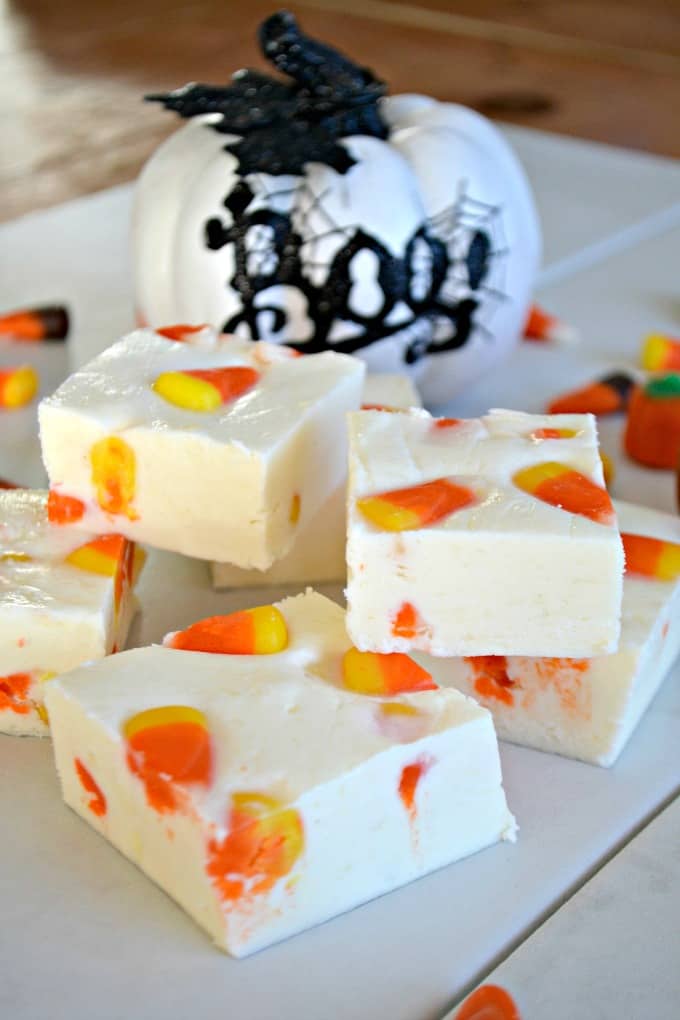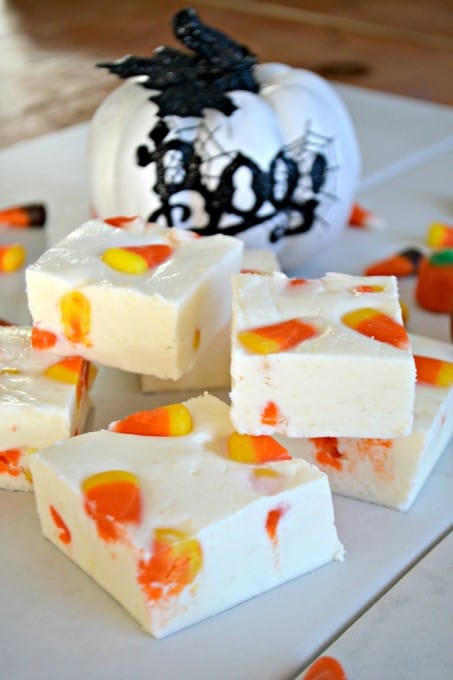 But fudge????
Now there's something I have a slight major sweet tooth for. White chocolate fudge is good, but I do prefer the milk with some caramel… and some nuts… or some candy bars…
Hmmmmm, I sense a fudge making marathon coming up very soon!
I found this recipe over at Lil' Luna when I made the fudge below. So Krysten gets all the credit. I just switched out some of her ingredients for this one.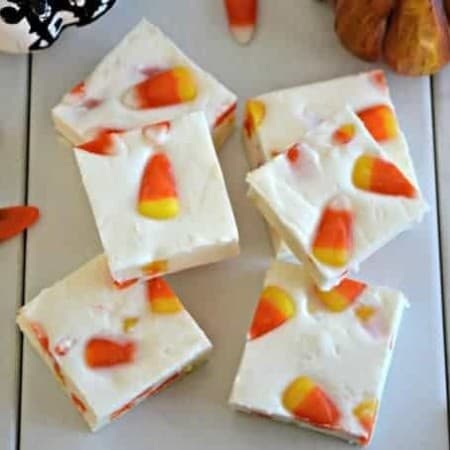 Creamy white chocolate fudge with the taste of Fall. It's Candy Corn Fudge!!
Ingredients
1 7- ounce canister marshmallow creme
1 12- ounce bag white chocolate chips
1 cup sugar
½ cup heavy whipping cream
½ teaspoon kosher salt
½ cup 8 tablespoons unsalted butter
1 cup candy corn divided
Instructions
Prepare a 8 X 8-inch pan by lining it with parchment. Use a parchment sheet a couple inches larger than the bottom of the pan. Place the pan on top and trace the outline of the bottom onto the paper. DO NOT cut the outline out. Instead, cut from the sides of the parchment just to the edge of each corner. Cut any excess paper off of the top. You will then be able to put the paper into the pan, and have the sides fold up allowing for very easy removal of the fudge once it's set.

Place the white chocolate chips and jar of marshmallow creme into a mixing bowl.

In a medium saucepan over medium heat, place the sugar, butter, whipping cream and salt and bring to a gentle boil. Cook for 5 minutes.

Pour contents into the mixing bowl containing the chips and creme, and blend until smooth. I did this easily with a rubber whisk or you can also use your mixer.

With the rubber spatula, fold in 3/4 cup of the candy corn. Blend until mixed thoroughly.

Place into prepared pan and smooth the top. Evenly distribute the remaining 1/4 cup candy corn and gently press into the fudge.

Place pan into the refrigerator and allow to set for 3 - 5 hours.

For smooth, even cuts use a warm, dry knife.
Notes
A 9 X 9 -inch pan will also work, but I couldn't find mine.
Did you make this recipe?
Share it with me on Instagram and make sure to follow me on Pinterest for more recipes.
I think the kids will go nuts for this. It's a smooth, creamy fudge with the great taste of that candy corn mixed in. It's a perfect treat for Fall with no tricks! 😉
If you like this then you'll love…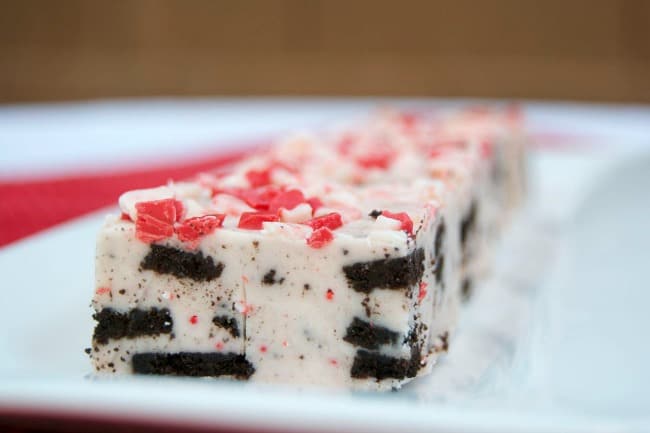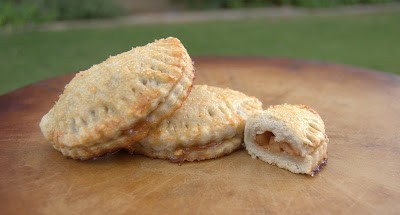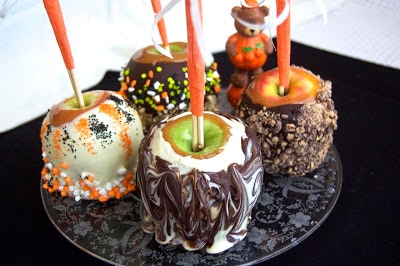 Reader Interactions