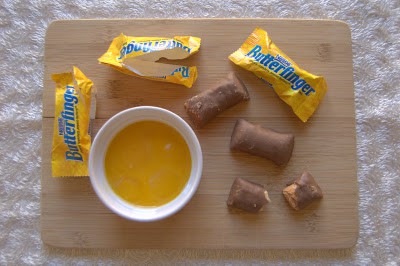 Alright, I hear ya.
You've got egg yolks sitting in the fridge from when you made the Halloween Meringues…
WHAT?!
You didn't make those???!!
That's ok. I won't hold it against you.
You were probably making these ugly, but Halloween appropriate Witch's Fingers from RecipeGirl.com
or these scary spider cookies which really aren't so scary from Land O'Lakes.com.
That's alright, I forgive you. We'll be making them again before that red and green holiday at the end of December, just a little differently.
That is of course, if I remember. :-/
So, you've got this left over Halloween candy because you didn't have as many trick or treaters come to your door as you thought you would and WHAT are you going to do with it?!
You could eat it, just as is.
Donate it to your local dentist Halloween candy buy-back program who will send it to the troops overseas.
Throw it away. Eee-gads, who would do a thing like that?!
Or
you could do what we do here at 365 and use it to bake with!
DUH!
If Lois, my mother, were still alive, she'd have me donate it.
She was a dental hygienist back in the early 70's before they used to wear…GLOVES!!!
HOW DISGUSTING!!!!
NOT wearing gloves when you're sticking your fingers into someone's mouth!!!
Oh, now that's just plain GROSS!!
Anyway, mom, because she worked in a dentist's office, always gave out sugarless gum and nickels on Halloween.
How utterly embarrassing!
This was also the era when people used to give out fruit and we'd have to check to see if there were razors in the apples.
Ah, the good ol' days…
So, leftover Halloween candy + the urge to bake something yummy = COOKIES!!!
Of course, it's going to be cookies, because it's this guy's birthday, too!
Just sounds logical, don't you think?
Doesn't he look GREAT for 42??
I wonder what type of skin cream he's using. It does him wonders!
I'm going to have to think about getting me some of that stuff.
Anywho…
I adapted this recipe from Food.com
Egg Yolk Butterfinger Cookies – makes about 38
1/2 cup butter (1 stick), room temperature
1/2 cup shortening
1 cup sugar
6 egg yolks (or 3 whole eggs)
2 1/2 cups all-purpose flour
1 teaspoon baking soda
1 teaspoon cream of tartar
1/2 teaspoon salt
1 1/2 teaspoons vanilla extract
1 cup Butterfinger candy bars, crushed (about 8 snack size – give or take the one that I ate)
Preheat oven to 350ºF.
Prepare a baking sheet by lining it with parchment paper.
In a mixing bowl, cream together butter, shortening, and sugar until light and fluffy.
Add egg yolk and vanilla and mix well.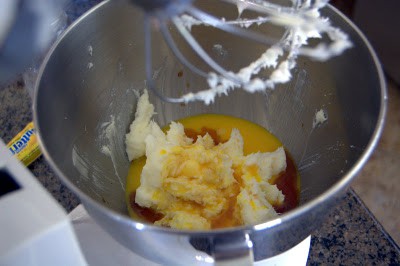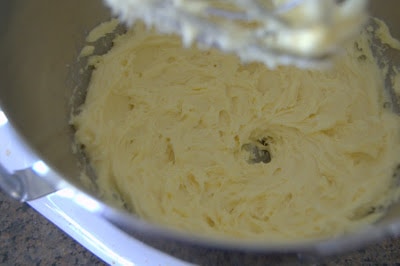 In a separate bowl, whisk together flour, baking soda, cream of tartar, and salt.
Gradually add dry ingredients to creamed mixture.
Combine thoroughly.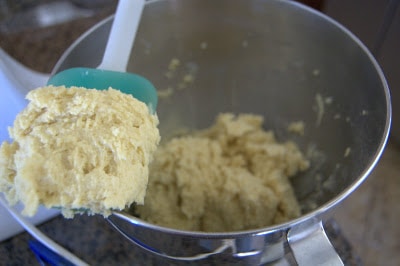 Add crushed Butterfingers and mix.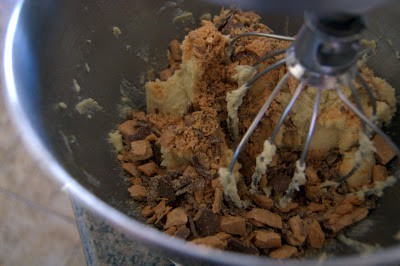 Using a tablespoonful of dough, roll into balls and place onto prepared cookie sheets.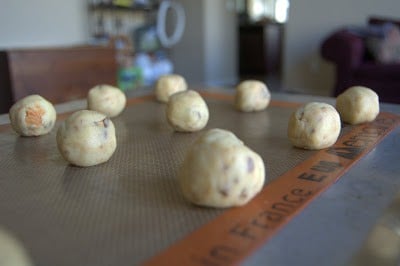 Doesn't everyone bake in their kitchen and then take pictures of the food in the living/supposed to be our dining room?
Slightly flatten dough balls with palm of hand.
No karate chopping.
Refrain yourself.
Bake for 8-10 minutes until slightly golden.
Allow to cool a few minutes before transferring to a wire rack.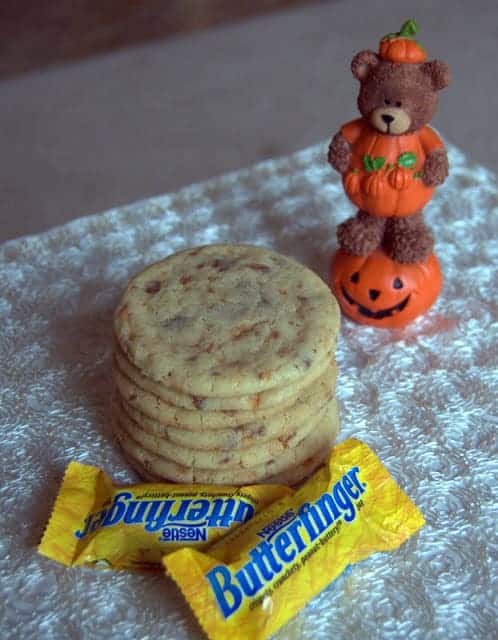 I rate everything I bake on a scale of 1-4 with 4 being the best and these Egg Yolk Butterfinger Cookies earned 2 1/2 rolling pins.
My kids really liked them The boy thought they should earn 3 1/2, but that's really pushing it.
I didn't think they were anything special.
They were a good way to use up the candy, but I think I'd rather just eat the plain old candy bar.
I think I'll go nab me one of those Snickers.
I give you all BIG baking hugs and muffins!!