Homemade pudding with lemon has all the great things a dessert should have, and a perfect mixture that proves some things will never go out of style!

If you love lemon, then this Lemon Pudding is something you'll really enjoy.
There are so many uses for a lemon that it makes my brain hurt. Maybe not that, but it's crazy to think about all the various ways. Lemon water, lemon cake, and even lemon bars. Like, it can be everywhere, in anything because it's that delicious! And, to submit to this, I created an illustrious pudding recipe of my own that's pretty darn good. How do you like them lemons?
BEHOLD, THE LEMON PUDDING!
To much? Well, you get my point of figuring out a recipe for this thing. And it adds to an already world favorite.
Pudding!
Mix these two together and you have yourself a magical lemon pudding dessert! No wonder I said it was 3 1/2 rolling pins. I loved that the pudding was on the bottom, and on the top because there was an airy cake-like mixture that I really enjoyed.
SAVE THIS LEMON PUDDING FOR YOUR FAVORITE PINTEREST BOARD!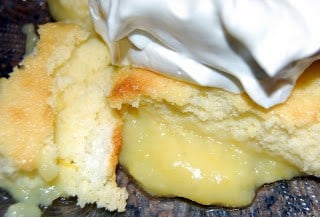 Do you ever have those days when you feel like you're going 500 miles an hour and have so much to do and feel like you're head's spinning? I didn't think so.
I knew I was the only one feeling this way, and no, I know we all have those days. Yesterday just happened to be one for me and I was feeling like a chicken with my head cut off.
"I want to get out of here. I want to get out of town."
Two sentences I've heard from my husband before and I know I'll hear them again. Two sentences that can send me into a freaking frenzy! Because he doesn't mean, "I want to go in a month or even a week, so let's start planning." No, no. He means this afternoon. Or tomorrow. Or if I'm lucky, and at the very latest, the day after tomorrow.
When he says this, the "good Lynne" on my right shoulder starts screaming, "Wait, but what about…, when will I…, how will…, who will…," and what I heard her say the loudest the other day was,
"BUT YOU HAVEN'T EVEN CLEANED THE HOUSE FROM EARLIER IN THE WEEK!"
I know, I know. The "bad Lynne" on my left shoulder says, "Go on, enjoy yourself. Go away. You've all been working hard and it'll be good to enjoy some quick time away as a family. Besides, giving a gentle wave of her arm, "it'll all be here when you get back."
I know, I KNOW!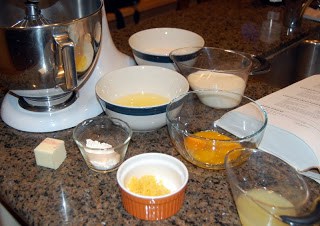 A combination of an extremely quick trip to Vegas to see the Blue Man Group (which I highly recommend), a return home in less than 19 hours and yesterday's events.
We arrived home, pack child his lunch, and took him off to school. I had a much-needed nap because I needed to bring the other child to an appointment. Then pick up a child from baseball practice and run some errands after that.
I picked up dinner because I was sure as heck wasn't going to make it! Baked the pudding, washed the dishes and work on the blog – hmpf. One child needs the computer to finish a paper due tomorrow, so I had to work on the blog from the laptop.
Grrrr…hubby needs his laptop, so it definitely left me feeling like a headless chicken. And since I didn't finish blogging, I was a headless chicken without any closure. Fortunately, I wasn't hormonal.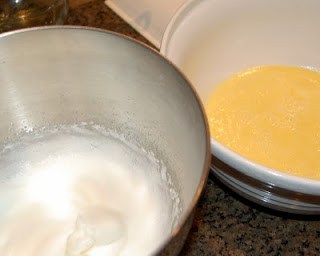 Now don't get me wrong, I love spontaneity but I just want it scheduled. We had a short, good time and we're just exhausted. Besides, I can't be gone for more than half a day because I need to have access to an oven.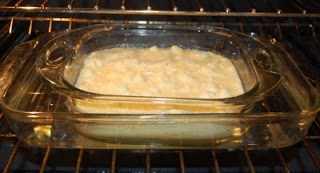 Today's puppy (no, not literally) just came out of the oven and it's about 9:00 pm. The house smells really good and I can't wait to try it. Just waiting for it to become "tepid". I just love that word.
Here are some helpful tips so your pudding comes out the way you want it to.
When you're measuring the sugar, make sure you don't have any distractions because it'll be very easy to lose count. I made sure I counted it out loud, very loudly, so that all family members would know I was busy.
There was quite a bit of rind, so I think next time I'll lessen that and only grate half of the lemon.
The stabilized whipped cream on the top really added to it too. It took some of the tartness away and was a great combination!
The recipe calls for 7/8 cup sugar, and me not having a 7/8 measuring cup, I googled it and I found that the amount is equal to 15 tablespoons.
Lemon Pudding from the Fannie Farmer Cookbook Thirteenth Edition, pg. 676; author, Marion Cunningham; publisher, Alfred a. Knopf, Inc., a division of Random House; ISBN 0-394-56788-9.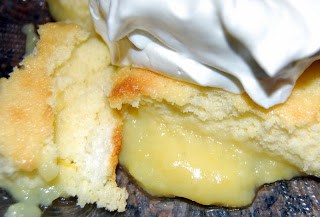 Homemade pudding with lemon has all the great things a dessert should have. A perfect mixture that proves some things will never go out of style!
Ingredients
2 tablespoons butter
⅞ cup sugar
3 eggs separated
1 cup milk
1 ½ tablespoons all-purpose flour
⅓ cup lemon juice
1 grated rind lemon
heavy cream
Instructions
Preheat oven to 350 degrees F.

Beat the butter until soft, then gradually add the sugar, beating it until it is all incorporated.

Beat in the egg yolks one by one.

Add the milk, flour, lemon juice, and rind, and beat to mix well.

Beat the egg whites until they form soft peaks, then fold the batter.

Place into 1 1/2-quart baking dish and set in the pan of hot water that comes halfway up the sides.

Bake for 50-60 minutes.

Let cool. Serve either tepid or chilled with a pitcher of heavy cream.
Nutrition
Calories: 1233kcal | Carbohydrates: 193g | Protein: 24g | Fat: 43g | Saturated Fat: 23g | Cholesterol: 575mg | Sodium: 494mg | Potassium: 588mg | Sugar: 189g | Vitamin A: 1810IU | Vitamin C: 31.4mg | Calcium: 350mg | Iron: 2.3mg
Did you make this recipe?
Share it with me on Instagram and make sure to follow me on Pinterest for more recipes.
In need of some other recipes? Here are a few that I think you'll love!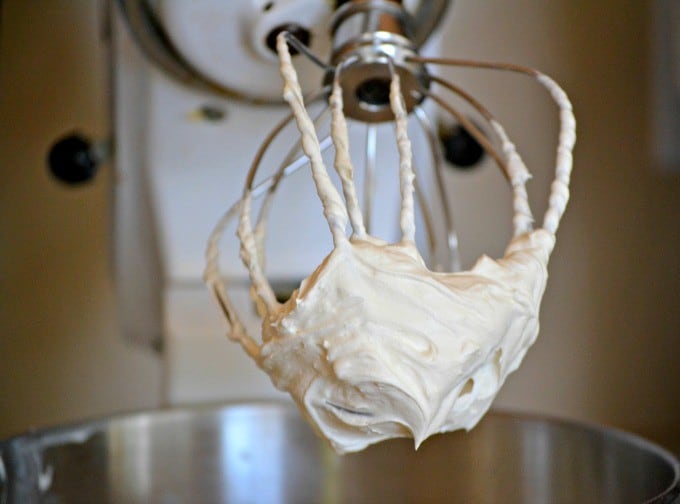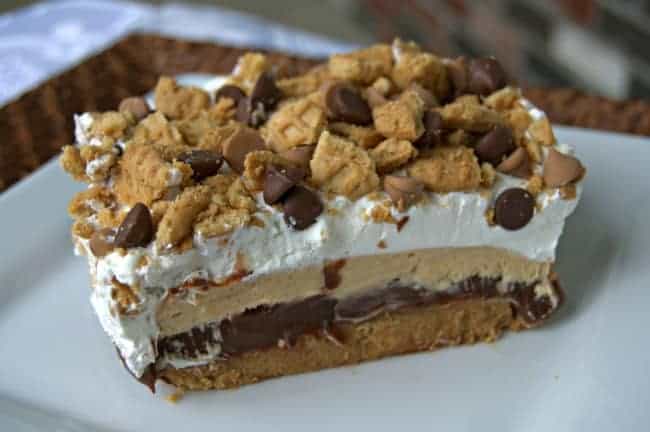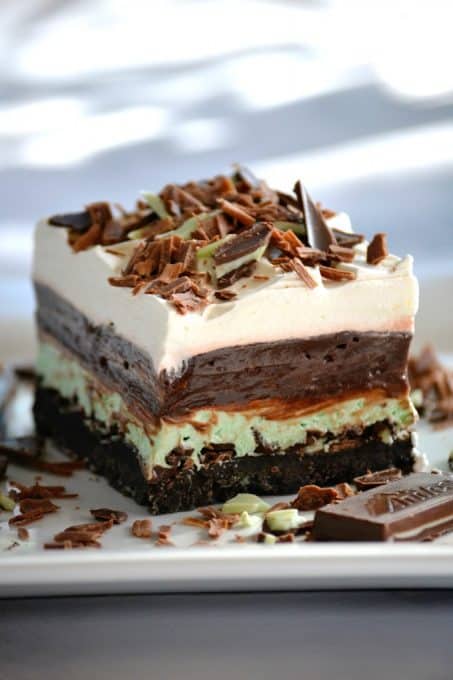 So now, the taste test…really, really good. On a scale of 1 to 4 with 1 being the worst and 4 being the best, and I gave this 3½ rolling pins. Not bad, and an enticing dessert that I will make again for sure. Just need to pinpoint how to make it better, if it needs to be better. That'll be the day…when I make the perfect recipe!
Reader Interactions