This Funfetti Puppy Chow recipe is a crunchy, colorful snack mix with a cake batter twist. You'll love this colorful treat made with frosting and funfetti cake flavors in every bite!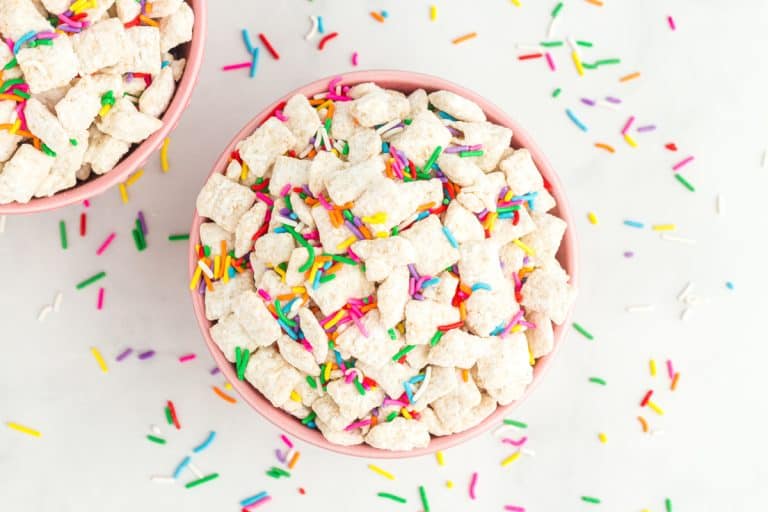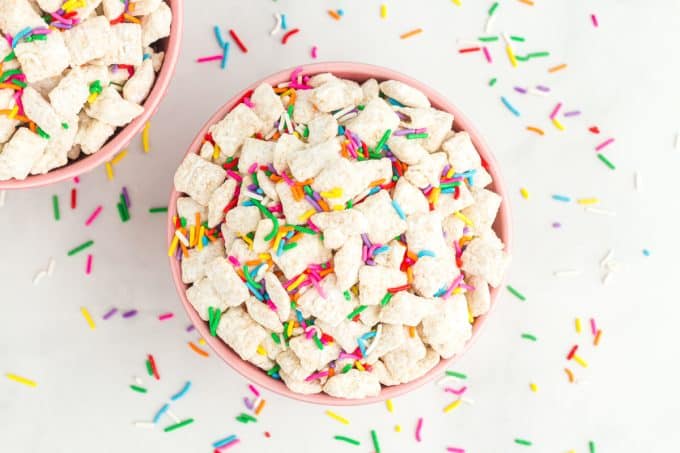 Did you know that you can make puppy chow without peanut butter?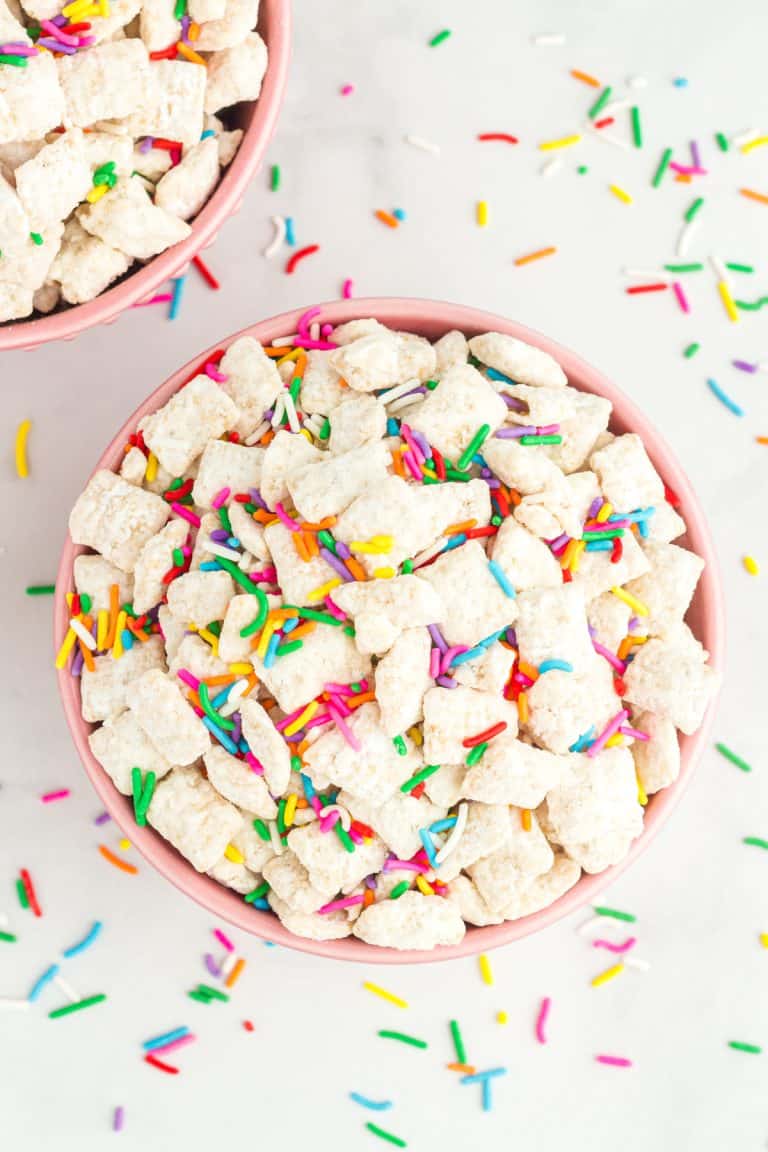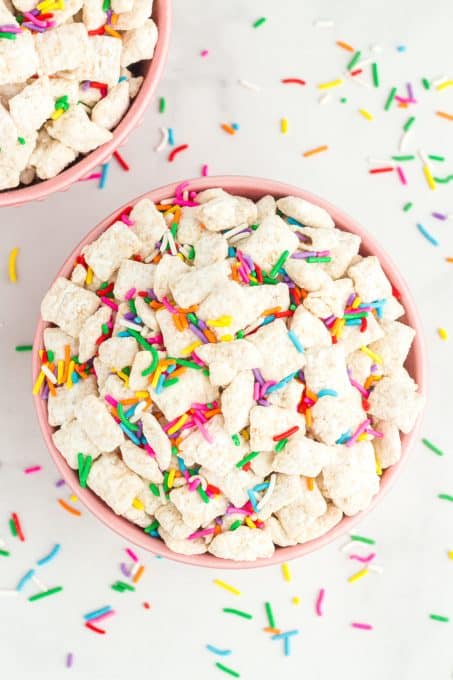 The first puppy chow I ever tried was the classic: peanut butter, chocolate and powdered sugar on rice chex. Since then I've tried tons of different puppy chow variations and even come up with a few of my own. It turns out it's not only possible to make puppy chow without peanut butter—it's easy and delicious.
Funfetti Puppy Chow is the perfect easy snack mix for a birthday party or any celebration because it's a real crowd pleaser and everyone loves this sweet treat! Instead of peanut butter, we coated the chex cereal with a homemade frosting, before adding powdered sugar and sprinkles.
It takes just a few minutes to assemble with minimal effort to make cake batter chex mix and only 6 simple ingredients. You have no excuse not to give it a try!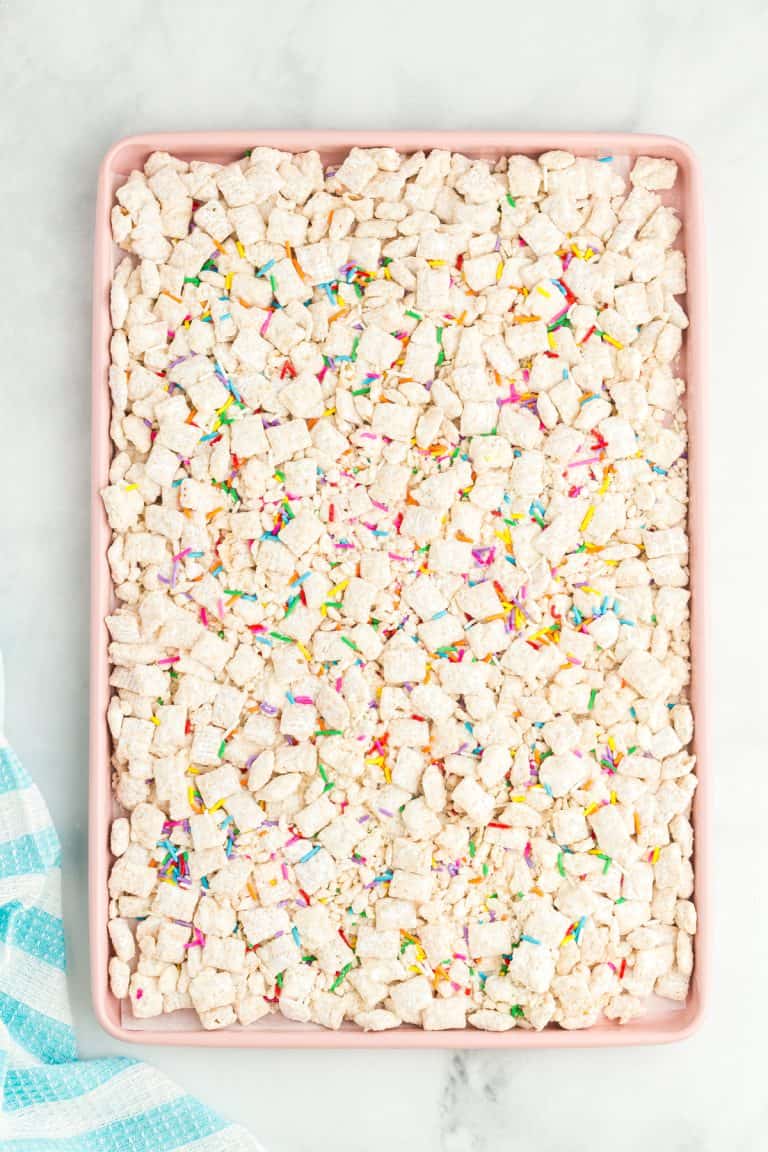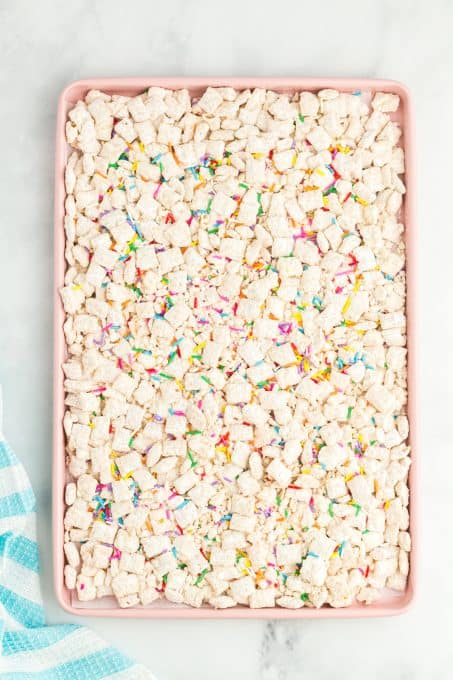 Why is it called Puppy Chow?
Before we go any further, let's get one thing straight. This classic puppy chow is NOT meant for dogs!
PLEASE, DO NOT feed this to your pet. It's a tasty treat for you and your human friends!
Okay, back to the question: If puppy chow is not for dogs, why is it named after dog food?
The Puppy Chow moniker is chalked up to the original snack mix's resemblance to dog kibble. Small pieces, usually stored in a large bag and an initial combination of ingredients that give it a beige-y color. At least that's the story I was told.
In the Midwest, folks tend to call this kind of snack mix "muddy buddies". At Christmas time, I've seen it labeled "reindeer chow." I even had one friend who referred to this kind of snack as "monkey munch".
You're welcome to call this Puppy Chow with funfetti sprinkles any thinG you like. Asking your guests what they call this kind of snack doubles as a great party conversation starter, too!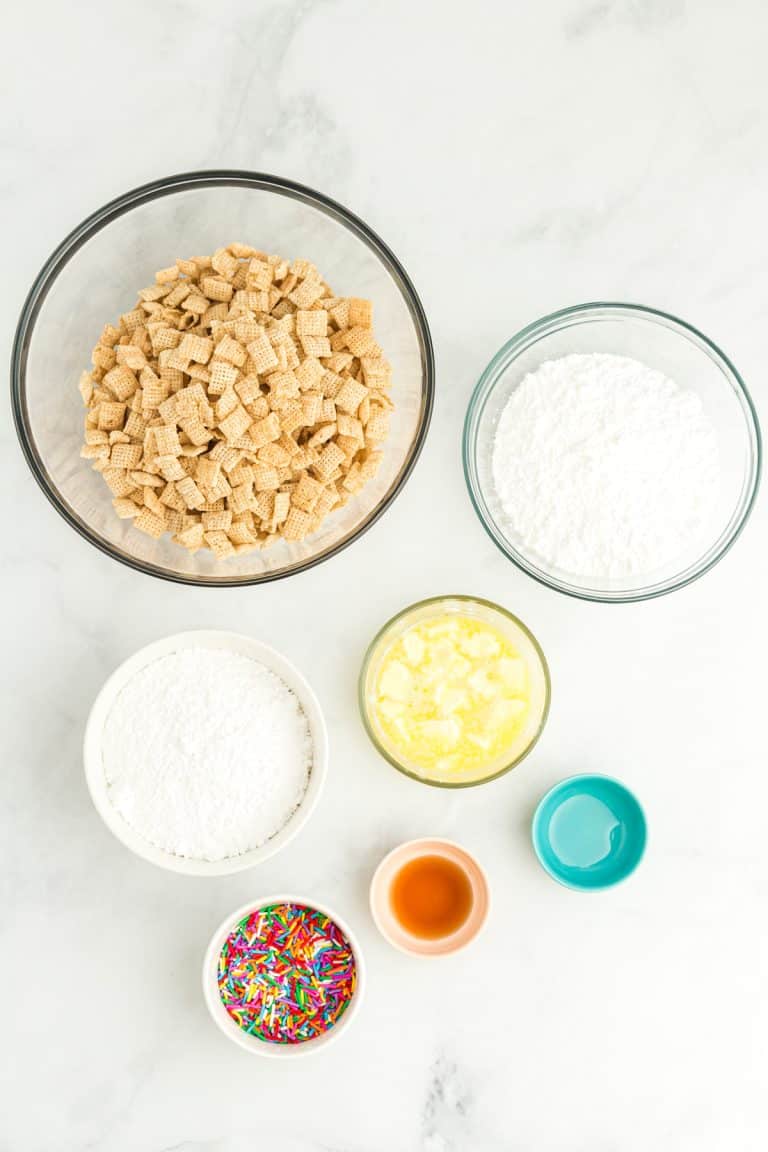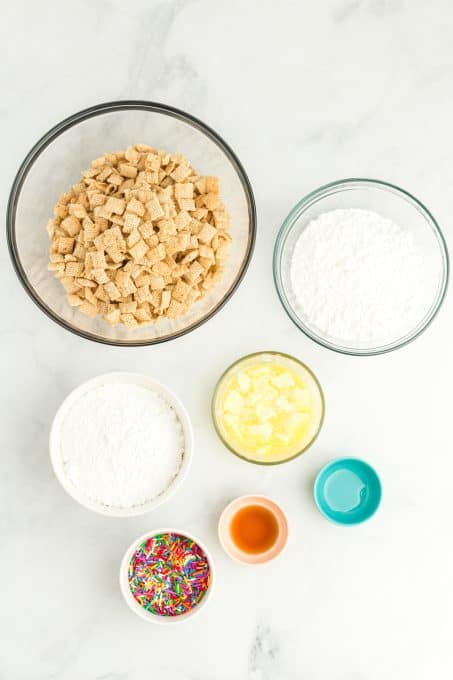 What do I need to make this birthday cake puppy chow?
Chex Rice Squares
Butter
Confectioner's sugar
Vanilla extract
Cotton Candy extract – Optional but enhances the 'cake batter' flavor.
Sprinkles – Use Jimmies sprinkles, NOT the round nonpareils here.
How do I make funfetti muddy buddies?
Start by pouring your rice Chex cereal into a large mixing bowl.
Use a separate bowl to make a frosting. Add butter, confectioner's sugar, vanilla extract and cotton candy extract to the bowl. Beat well with an electric mixer until fluffy.
Pour the frosting into the bowl with the cereal. Stir to coat the cereal with frosting, being gentle not to crush it. Now add more powdered sugar and toss it again until all the cereal pieces are well coated.
Cover the puppy chow with sprinkles and toss it one more time. Finally, spread the cake batter puppy chow out on a baking sheet lined with a sheet of parchment paper. Put it in the fridge for about 20 minutes so the frosting firms up a little bit.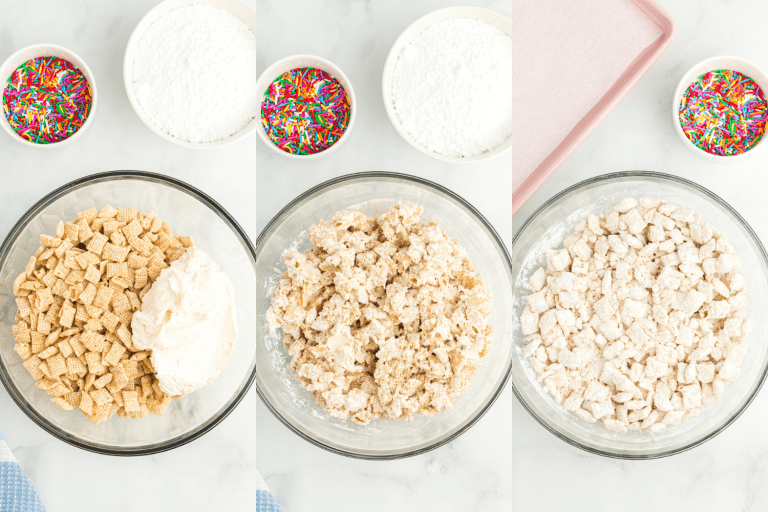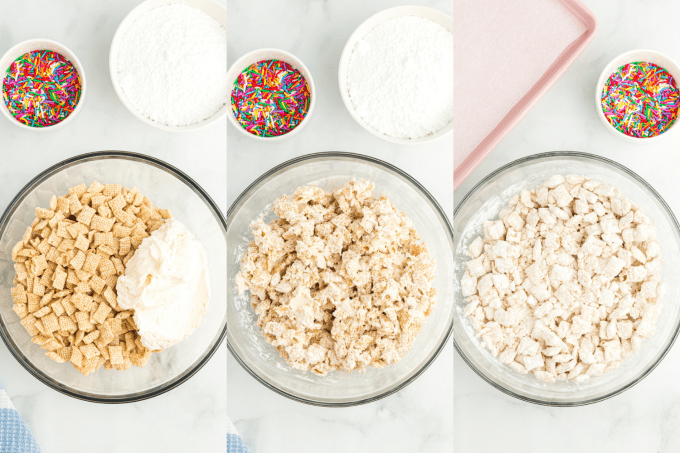 Funfetti Puppy Chow Tips
Use softened butter for the frosting. If your butter is ice cold from the fridge, place it into a microwave-safe bowl and microwave it for 30 – 40 seconds to soften it to the perfect consistency.
We added cotton candy extract to give this puppy chow a cake batter flavor. Feel free to make it without this extract if you don't have any. You can also use cake batter or almond extract.
Store any uneaten puppy chow in an airtight container or Ziploc bag at room temperature. It stays crunchy and delicious for up to 4 days.
Funfetti Snack Mix is incredibly sweet. Pace yourself to avoid a sugar crash!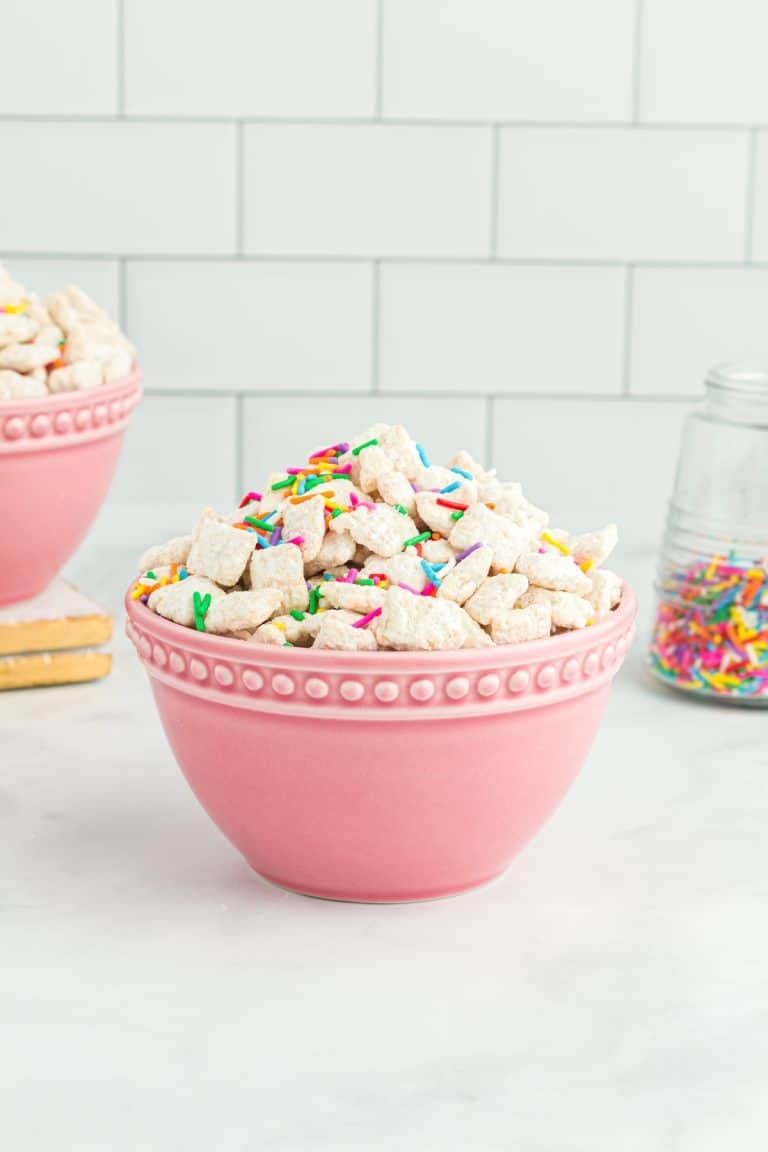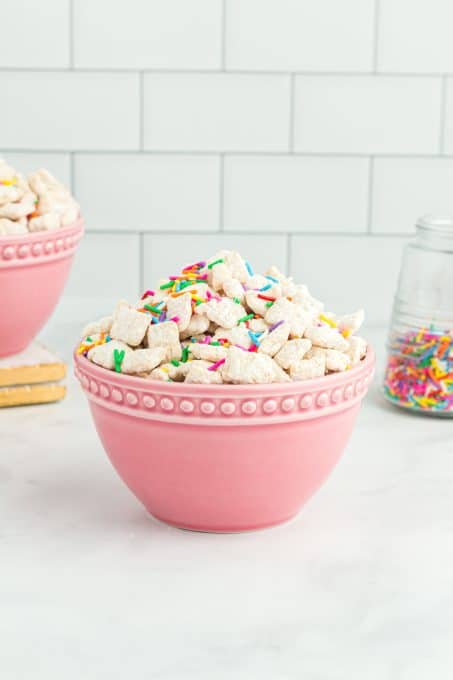 Funfetti Recipes
You don't have to be a kid to go wild about funfetti. Everyone loves desserts with sprinkles. And if you say you don't like sprinkle desserts, you're probably lying.
These Easy Homemade Funfetti Cupcakes are the first funfetti desserts I shared on the blog years ago. They taste and look like the boxed mix kind, but so much fun and better because they're made from scratch!
Want a sprinkled cookie without frosting? Funfetti Cookies are the answer! Since the sprinkles are baked right into the batter, you don't have to worry about the potential mess of frosting. Our Funfetti Ooey Gooey Bars are another easy option, especially if you love blondies!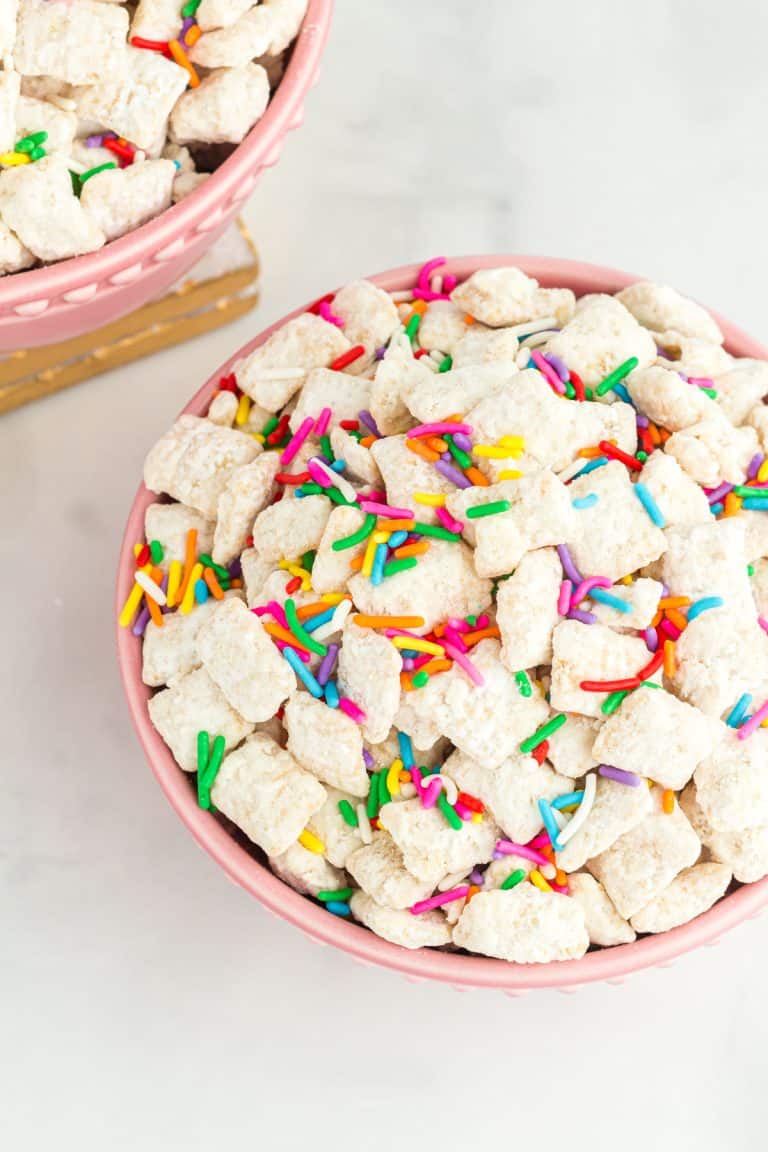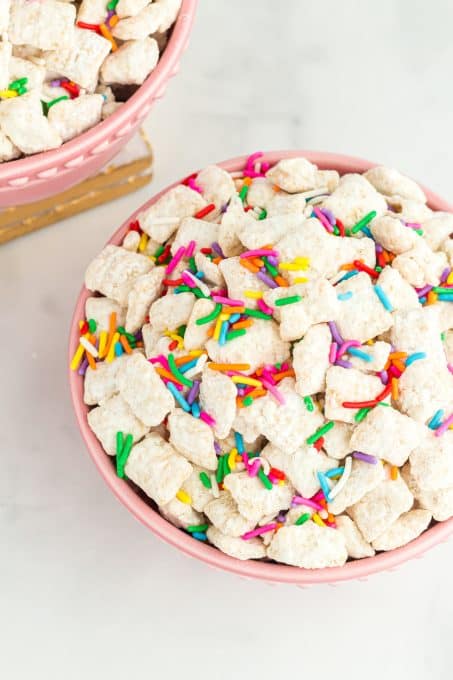 Snack Recipes
It's no surprise to me that the best puppy chow recipes are such a popular party snack. You've got sweet, salty and crunchy flavors all in one. Plus, you can make big batches inexpensively, making it ideal for feeding a crowd.
This Cookie Butter Snack Mix is another puppy chow-inspired recipe with no peanut butter. It's got a little bit of a healthier twist with granola pieces and dried fruit, which I love. If you like the dried cranberries in that recipe, I recommend trying my recipe for Cranberry Almond Granola Bars next.
Need a tasty, EASY and last-minute treat for Halloween? I have the perfect Halloween Snack Mix. It's got Chex cereal plus Halloween candy and even candy monster eyes!
Savory snack lovers won't be able to stop munching on these Bacon Ranch Crackers. I always have a bowl of those on the table on football Sundays, along with a tray of veggies and this Jalapeno Ranch Dip.
When you need a protein packed snack, reach for these Baked Spiced Almonds. For those sweet and salty cravings, you need a big bowl of Cinnamon Sugar Popcorn! It's totally satisfying but not as heavy as most processed packaged versions. And definitely not as sweet as today's puppy chow with funfetti cake mix.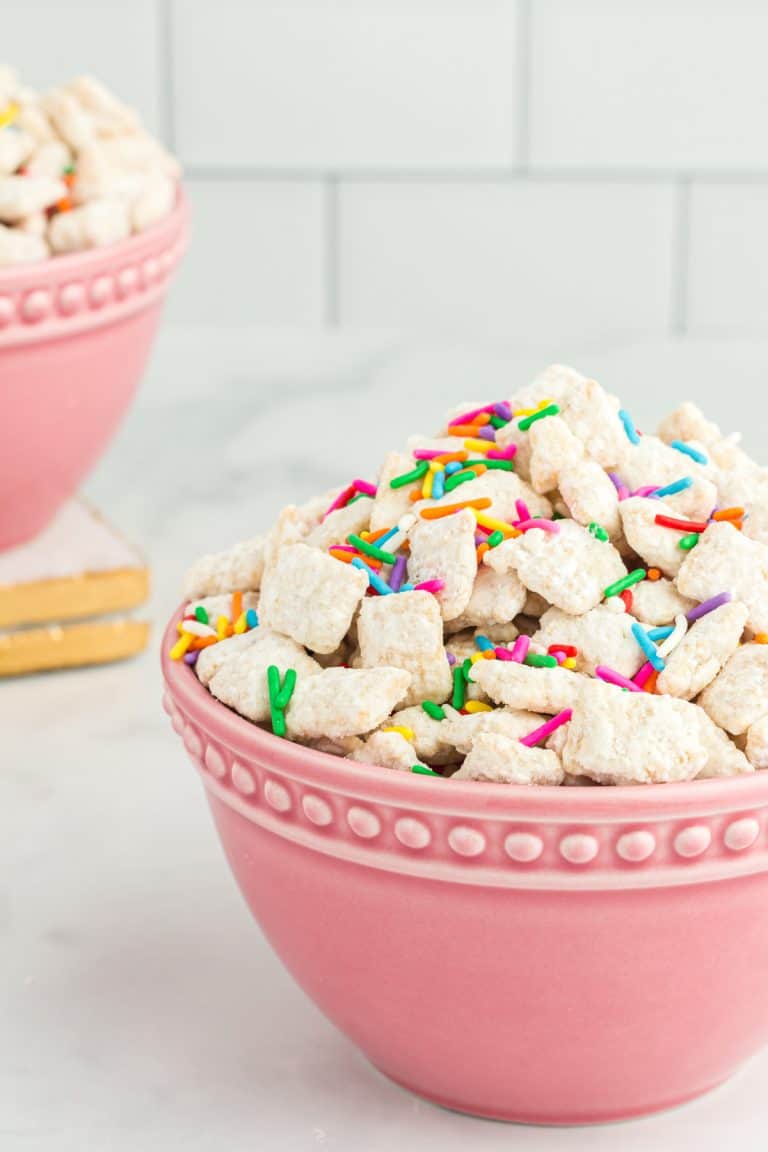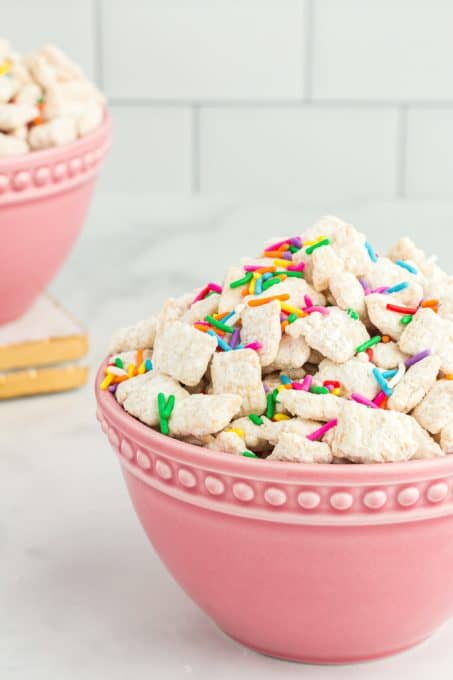 What are you waiting for? Satisfy that sweet tooth, and grab a box of cereal and some sprinkles so you can enjoy this sweet delight of this delicious puppy chow recipe!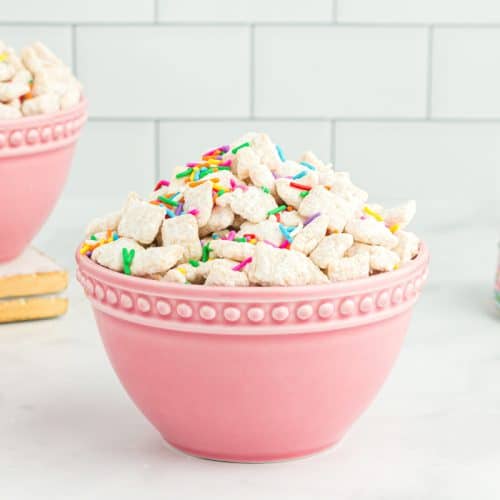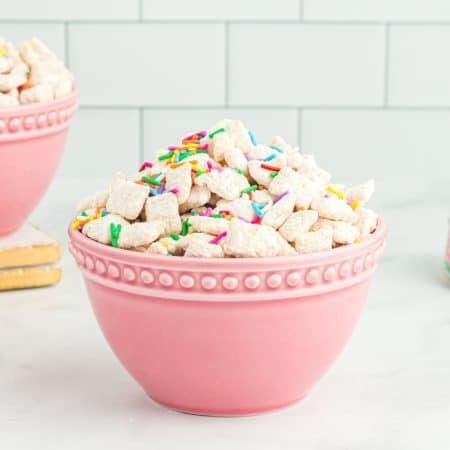 This Funfetti Puppy Chow recipe is a crunchy, colorful snack mix with a cake batter twist. You'll love this colorful treat made with frosting and Funfetti cake flavors in every bite!
Ingredients
7 cups Rice Chex Cereal
3 ½ cups confectioners's sugar divided
½ cup unsalted butter slightly melted*
1 teaspoon pure vanilla extract
½ teaspoon cotton candy extract optional
⅓ cup colored sprinkles Jimmies, NOT nonpareils
Instructions
Line a baking sheet with parchment paper and set aside.

Place the Rice Chex in a large bowl.

In a medium bowl, beat together 2 cups of the confectioners' sugar, butter, vanilla extract and cotton candy extract (if using). Beat on high for 2-3 minutes until icing is light and fluffy.

Pour frosting into the bowl with the cereal. Stir well until all the cereal is coated in frosting. Stir gently as to not crush the pieces of cereal.

Pour the remaining 1 ½ cups of confectioners' sugar into the cereal mixture and toss well until all the cereal is coated in powdered sugar.

Pour sprinkles into the cereal mixture and toss well.

Pour cereal mixture onto the prepared baking sheet in an even layer.

Place baking sheet of Funfetti Puppy Chow into the fridge for 20 minutes so the frosting can set.

Store in an airtight container at room temperature for up to 4 days.
Nutrition
Serving: 1person | Calories: 221kcal | Carbohydrates: 81g | Protein: 2g | Fat: 12g | Saturated Fat: 8g | Polyunsaturated Fat: 1g | Monounsaturated Fat: 3g | Trans Fat: 0.5g | Cholesterol: 31mg | Sodium: 193mg | Potassium: 49mg | Fiber: 0.5g | Sugar: 8g | Vitamin A: 792IU | Vitamin C: 5mg | Calcium: 91mg | Iron: 8mg
Did you make this recipe?
Share it with me on Instagram and make sure to follow me on Pinterest for more recipes.
Reader Interactions