Cranberry Almond Granola Bars are an easy snack recipe made up of oats, flaxseed meal, coconut, dried cranberries and almonds, honey and liquid brown sugar. These granola bars are great for breakfast, in lunch boxes or even as an after-school snack!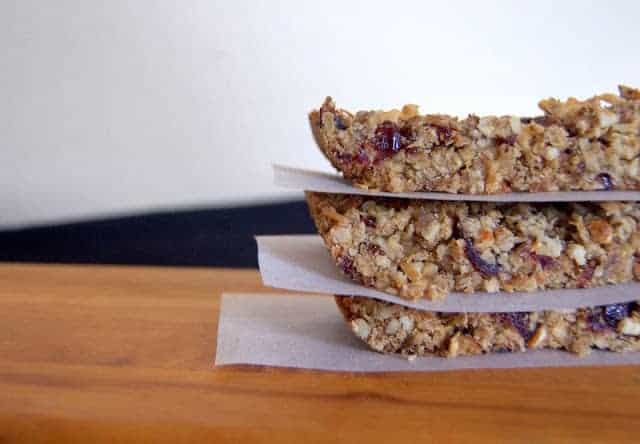 Finally a granola bar recipe the kids will actually want before dinner.
I'm already licking my chops wanting these bad boy granola bars.
With all these ingredients it's like a granola bar on steroids.
Maybe I shouldn't use that word, but it sure feels that way.
Eh, we're going with it.
I never would have thought all of this could be in bar form.
Usually, I'm the one who eats everything plain and never mixes my meals.
Well, I guess I need to go out of my comfort zone a lot more often now, especially when the things I eat are this good. This chewy granola bar has everything you need, and I mean EVERYTHING.
Plus, the good thing is, or should I say great thing, is that you can add (or subtract) ingredients.
If you find something that works in this granola bar recipe, the more the merrier.
Get a little creative with it, and I'm sure it'll be a weekly baking recipe.
If you really wanted to, you could call this the next protein bar. Maybe I'm pushing it a little but you could surely do something of the sort with this.
I just love now that when I make these, I wake up and my craving for a big breakfast goes away with one or two bites.
SAVE THIS CRANBERRY ALMOND GRANOLA BAR RECIPE TO YOUR FAVORITE PINTEREST BOARD!
I was ready to slap someone at dinner tonight. And it wasn't one of my children.
Mr. 365 was pushing everyone to the limit.
And if you know him personally, you know what I'm talking about.
When he is in one of his giddy, silly moods he has a tendency to go just one step too far.
Like when I tell him to stop (which I did multiple times at dinner), he always has to say one more thing – just to get that last word in.
Used to be when we were living in Rhode Island we would have monthly get-togethers with four other couples.
Things would get silly, and inevitably, Mr. 365 would end up saying something to someone leaving people, especially me, shaking my head.
The next morning, he'd be doing his famed "Apology Walk" around our neighborhood.
In need of an actual breakfast? Life Made Simple's Pumpkin French Toast Sticks are perfect if you want a small meal. They'll be delicious for brunch, too!
If you want something out of the box that tests your food adventure level, then No Spoon Necessary's Banana Honey Bunches Cereal Breakfast Popsicles is just for you.
Tonight though he'd been making comments to the kids, trying to lighten things up and be a "cool dad", but everyone (mostly our daughters) was becoming a little agitated at his antics, so I told him to knock it off.
For the most part, dinner was finished when one child excused herself having had enough of both dinner and dad, and retreated to her room.
Mr. 365 then proceeded to take a sip of water and pretending to be a water fountain, sprayed it onto himself and part of the table.

SIGN UP FOR THE WEEKLY
365 DAYS OF BAKING & MORE
WEEKLY NEWSLETTER BELOW!
"That's it! I'm done!!"I picked up my plate (as I was still eating) and glass and moved into the other room to sit on the couch.
Good Grief!! He is the biggest child I've got.
And of course, the one left laughing at the table was our son. Two peas in a pod those two.
This recipe adapted from The New Doubleday Cookbook.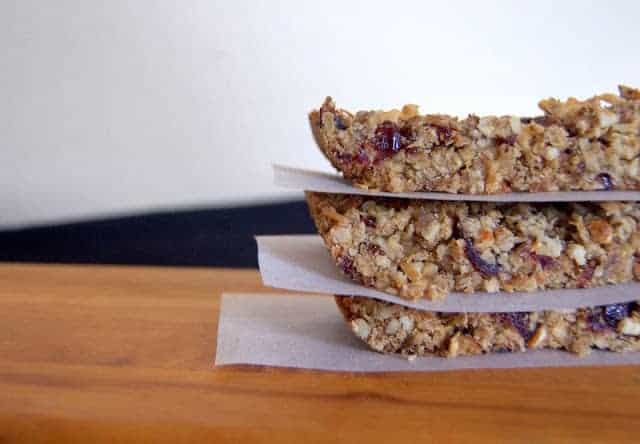 Cranberry Almond Granola Bars
Cranberry Almond Granola Bars - great for breakfast, in lunch boxes or as an after-school snack!
Ingredients
½ cup sifted flour
¼ teaspoon salt
1 ½ cups quick-cooking oats
½ cup flaxseed meal
½ cup unsalted butter room temperature
1 cup unsweetened shredded coconut
1 cup finely chopped raw almonds
1 cup chopped dried cranberries
⅓ cup honey
⅓ cup liquid brown sugar directions below
1 tablespoon molasses
1 teaspoon pure vanilla extract
Instructions
Liquid Brown Sugar
Combine 1/3 cup water and 1 cup brown sugar (1 part water to 3 parts brown sugar) in a small saucepan.

Heat over medium heat, stirring constantly until sugar is dissolved, about 7-10 minutes. Do not boil.
Granola Bars
Preheat oven to 325 degrees F.

Prepare a 9 X 13-inch baking dish by generously spraying it with cooking spray.

Sift flour with salt into a large bowl and add oatmeal and flaxseed meal.

Using tips of fingers, rub butter into dry ingredients until well blended.

Mix in all remaining ingredients. Combine thoroughly.

Place mixture into prepared baking dish and using a rubber spatula, press firmly into pan.

Bake for 30 minutes until pale brown.

Transfer to a wire rack and allow to cool completely.

Cut into bars.
Nutrition
Serving: 1g | Calories: 245kcal | Carbohydrates: 27g | Protein: 4g | Fat: 15g | Saturated Fat: 7g | Cholesterol: 14mg | Sodium: 39mg | Potassium: 175mg | Fiber: 4g | Sugar: 15g | Vitamin A: 158IU | Vitamin C: 1mg | Calcium: 45mg | Iron: 1mg
Did you make this recipe?
Share it with me on Instagram and make sure to follow me on Pinterest for more recipes.
Know what? These Cranberry Almond Granola Bars were SO healthy and the whole family LOVED them!!!
These are definitely something I am making again and again and again!!
I will be trying the Agave Syrup next time.
If any of you use it before I do, please leave me a comment to let me know how it turned out.
I rate everything I bake on a scale of 1-4 with 4 being the best and these Cranberry Almond Granola Bars earned…Da da da DAH!!!!!
4 rolling pins!!
Who knew something so healthy could taste so darn good?!
These are going in the kids' lunches tomorrow!
There are days where I need more flavor in my coffee, or I need more than one cup. This peppermint white chocolate mocha takes care of one of those things.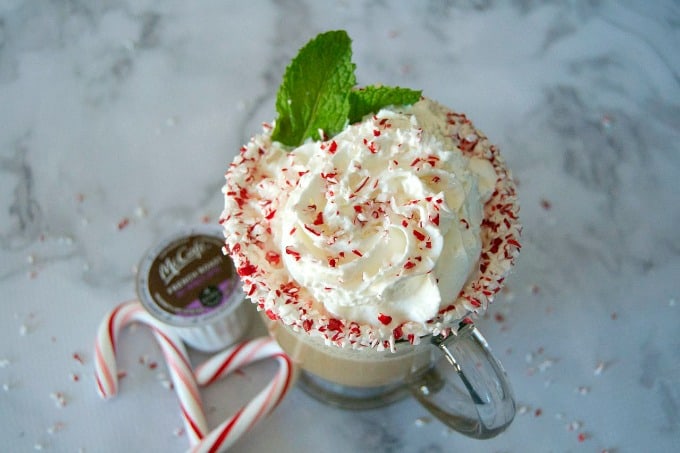 You are going to love my strawberry spinach salad for your next party. Make a salad a little more interesting with these different ingredients.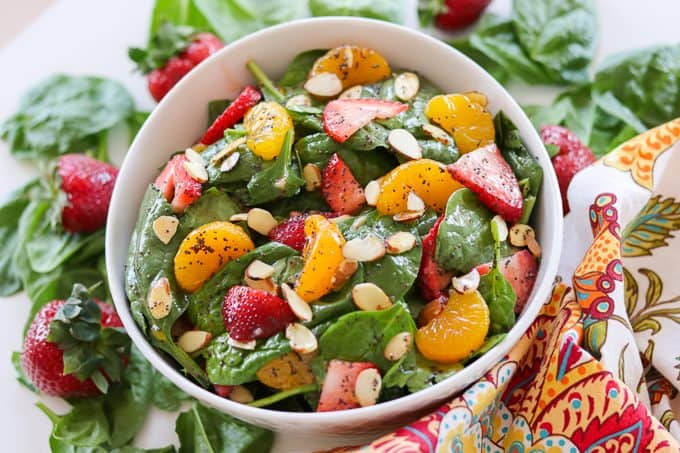 Reader Interactions