Soft and sweet with crackly powdered sugar edges, these Pumpkin Crinkle Cookies are a fall season delight! Made with real pumpkin and seasonal spices, they're the perfect cookie for a crisp autumn day or any time of year.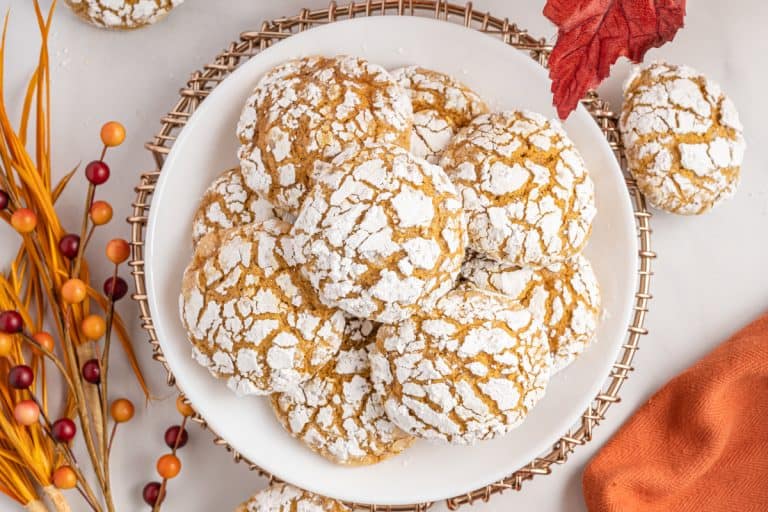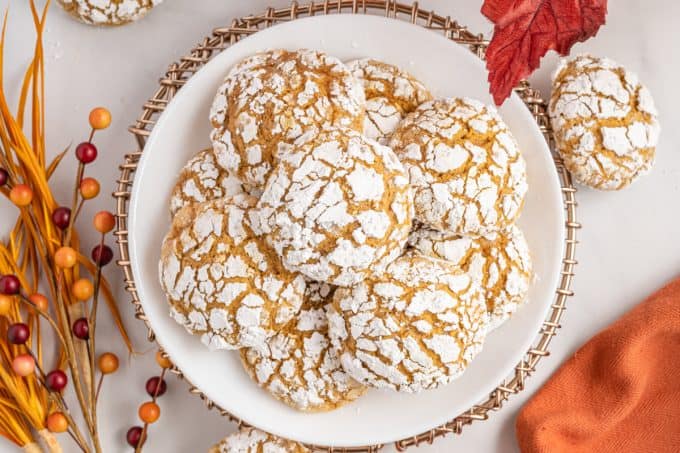 I can never resist the allure of a good crinkle cookie. Or the temptation of a freshly baked pumpkin spice dessert.
It's no wonder I love this simple recipe for Pumpkin Crinkles so much.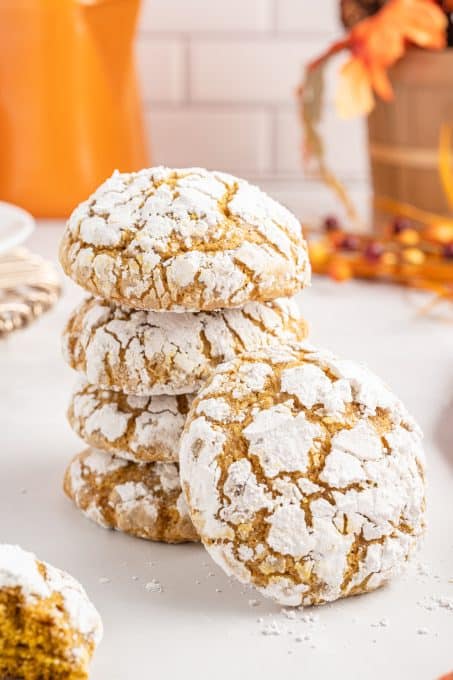 These pumpkin cookies filled my kitchen with the most magnificent blend of aromas. Rich pumpkin, sweet brown sugar, spicy cloves. . .this recipe has it all.
After they've baked and cooled, the pumpkin crinkle cookies have the most satisfying texture. Soft cookies with a bit of a cakey texture on the inside. A thin crispy outer crinkle, courtesy of a generous amount of powdered sugar. You'll fall in love at first bite, and won't be able to eat just one!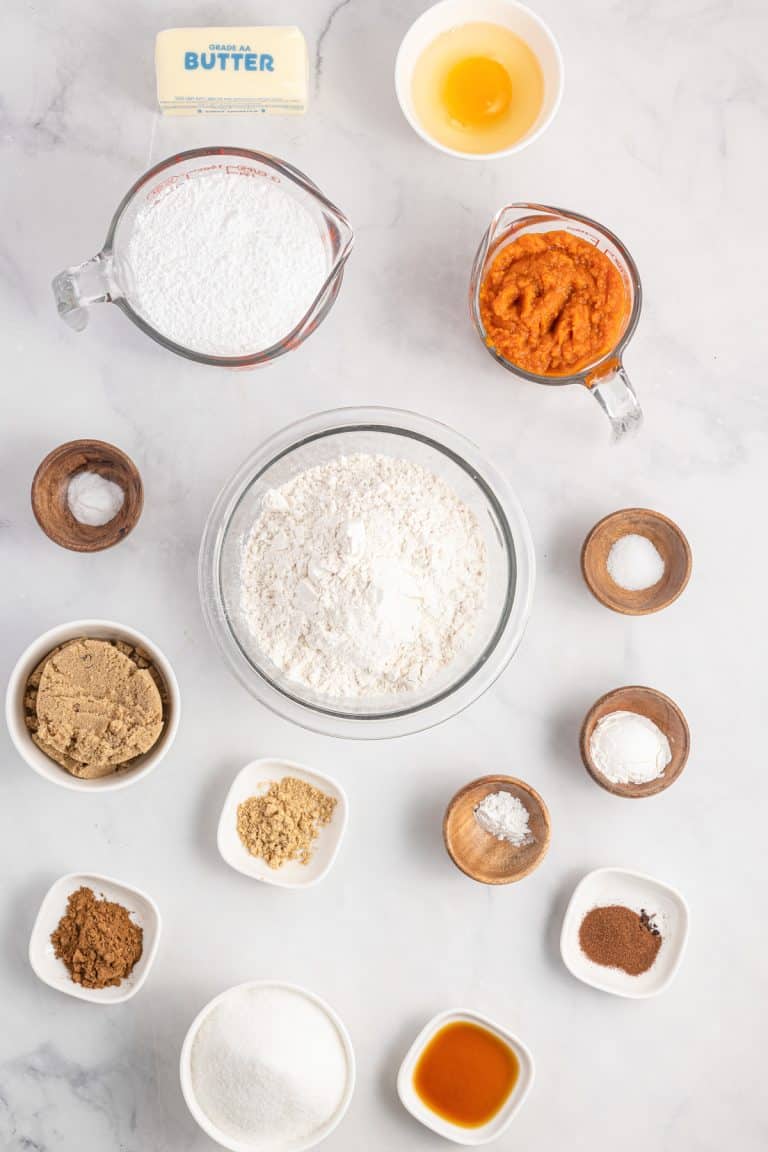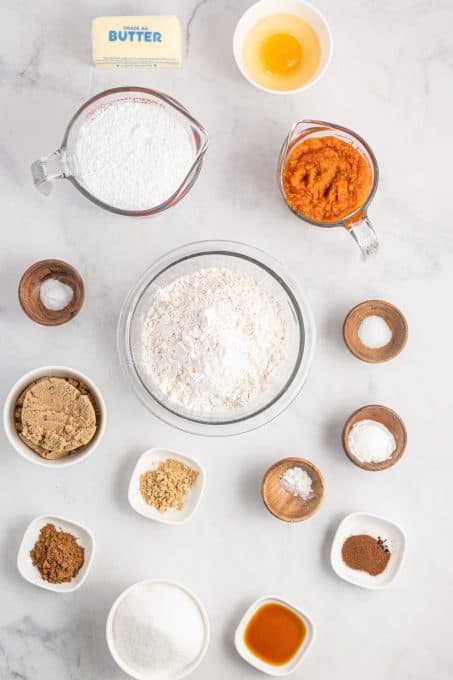 What do I need to make this delicious cookie with tons of pumpkin spice flavor?
Here's what you need to make your own batch of homemade pumpkin crinkles.
All-purpose Flour
Salt
Baking soda
Baking powder
Corn starch
Cinnamon
Ginger
Cloves
Granulated sugar
Light brown sugar
Butter
Vanilla extract
Egg
Pumpkin puree, not pumpkin pie filling
Confectioner's sugar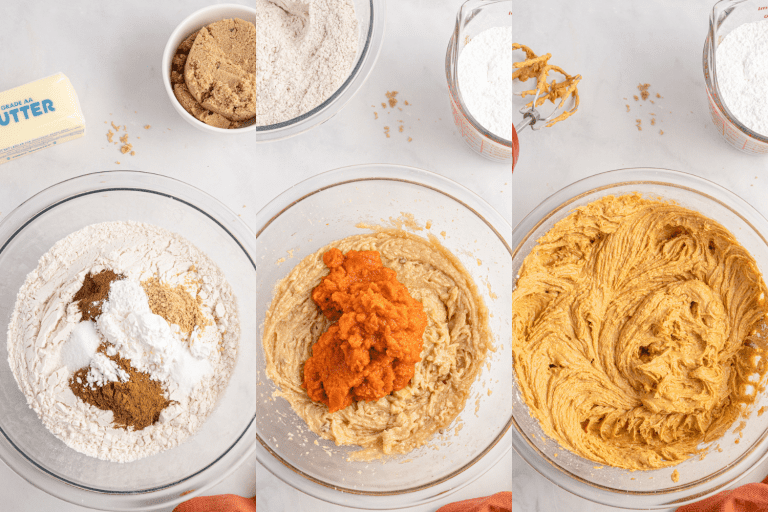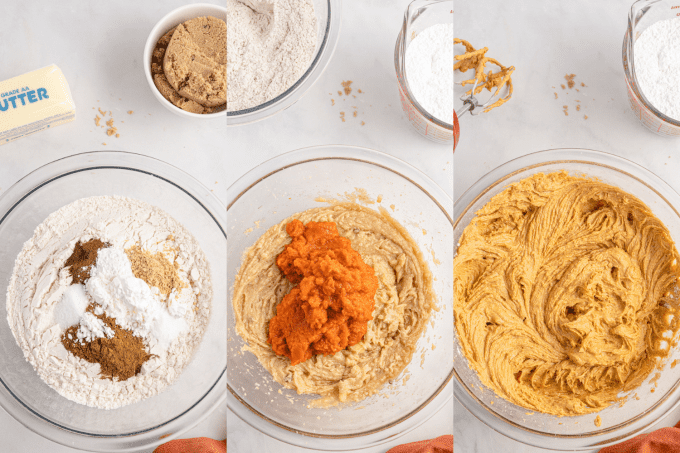 How do I make these Pumpkin Spice Crinkle Cookies?
Start by preheating your oven and lining two baking sheets with parchment paper.
Combine the dry ingredients (except sugars) in a medium bowl and set it aside.
Then put the butter and both sugars in a large bowl. Use an electric mixer on medium speed to beat the sugars and butter together until light and fluffy. Now mix in the egg and vanilla extract followed by the pumpkin puree.
Next, beat the flour mixture into the wet ingredients to form a thick, sticky dough. Scoop balls of dough onto a sheet of parchment paper. Freeze the cookie dough balls for 15 to 20 minutes.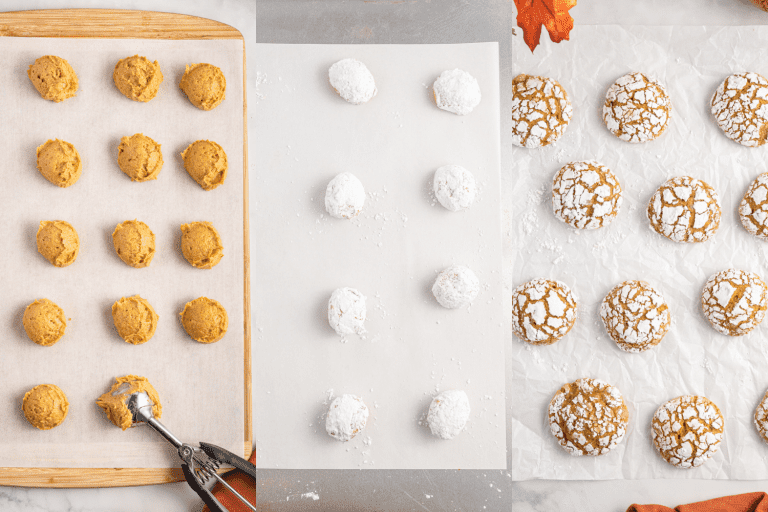 Now it's time to add the sugary crinkle cookie coating!
Add the confectioner's sugar to a wide bowl. Drop the balls of cookie dough into the sugar one at a time. Roll them around individually until well coated. Place the cookies onto your lined cookie sheet. Use your hands or the bottom of a glass to slightly flatten the cookie balls.
Once all the pumpkin crinkle cookies are rolled and lightly pressed into disks, it's time to put them in the oven! Let your pumpkin cookies bake in a preheated oven until they've nearly doubled in width. This can take anywhere from 12 to 15 minutes depending on your oven.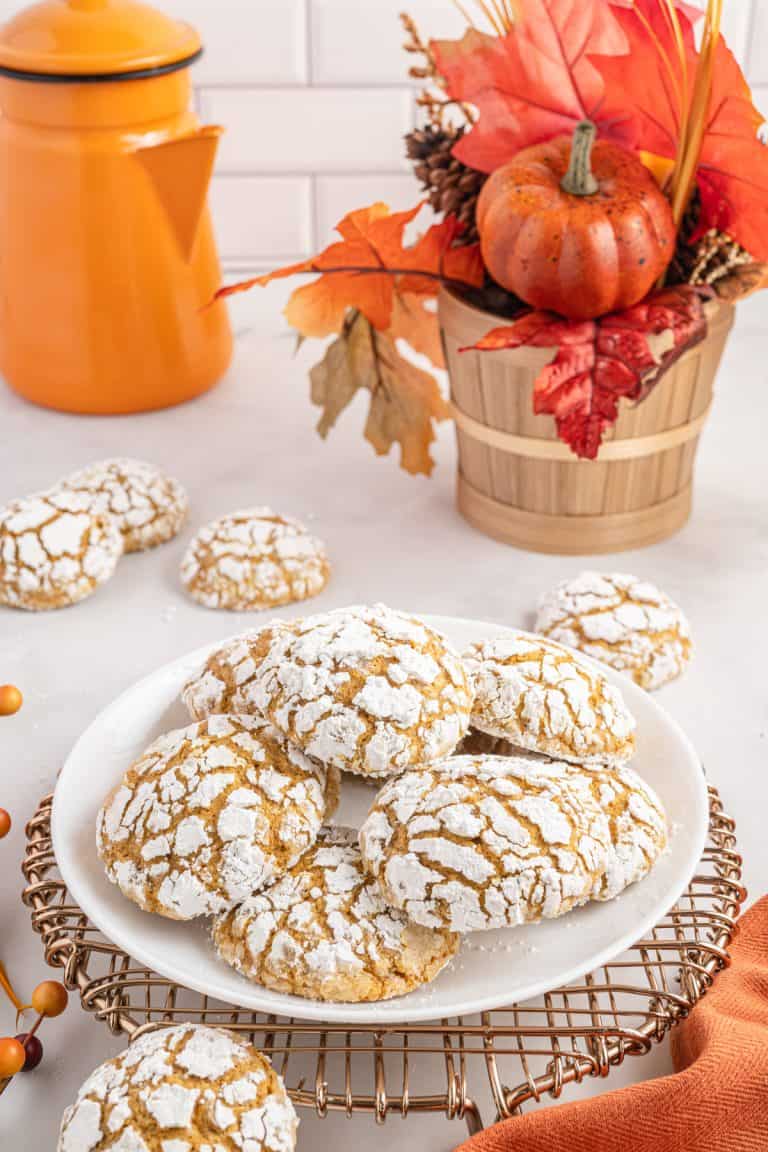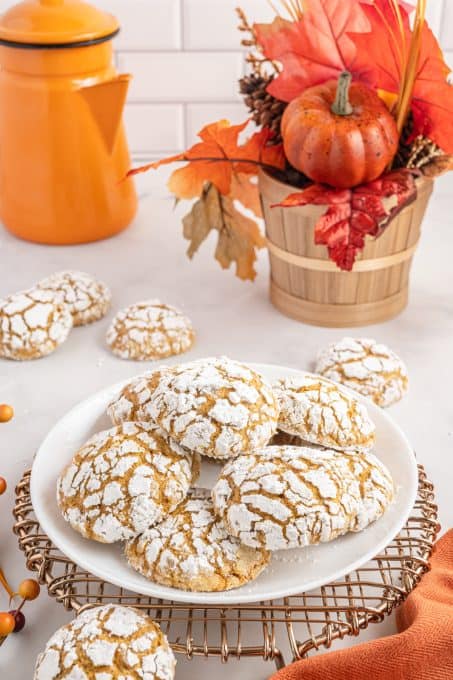 Pumpkin Spice Crinkle Tips
We used a 1 1/2 tablespoon cookie scoop to get about 3 dozen pumpkin cookies from this crinkle cookies recipe. You can definitely use a larger scoop, but the recipe will yield fewer cookies, and you'll need to bake them a few minutes longer.
Be generous with the powdered sugar! If you don't have excess sugar on the outside of the cookie, the sugar will "melt" into the cookies as they bake and you won't get that amazing crinkle effect. When in doubt, use more powdered sugar than you think for rolling crinkle cookies!
These cookies are puffy and soft. For a flatter, chewier cookie use an extra teaspoon of baking soda and omit the cornstarch.
If you make these cookies with salted butter instead of unsalted, cut the amount of added salt in half.
Have a batch of homemade pumpkin spice handy? You can add 1 tablespoon of your favorite pumpkin pie spice mixture to the dough instead of the cinnamon, ginger and cloves. The cookies have a lovely pumpkin spice flavor both ways.
Can I freeze this great recipe for pumpkin cookies?
YES!
If you'd like to freeze the dough before you bake cookies:
Place the balls of dough before they have been rolled in confectioner's sugar onto a baking tray and place into the freezer for two hours. Put the balls into an airtight container or ziptop bag, and store in the freezer for up to three months.
Thaw in the refrigerator overnight before rolling in powdered sugar and baking as directed in the recipe below.
To freeze crinkle cookies after they have been baked:
Allow cookies to cool completely on a cooling rack, and place into a Ziploc bag or air tight container, and write the date on the container. They will be good for up to three months. Thaw them at room temperature before serving. It's important to know that the powdered sugar probably won't be as vibrant or the crinkles won't be as pronounced because the sugar has a tendency to melt into the cookies.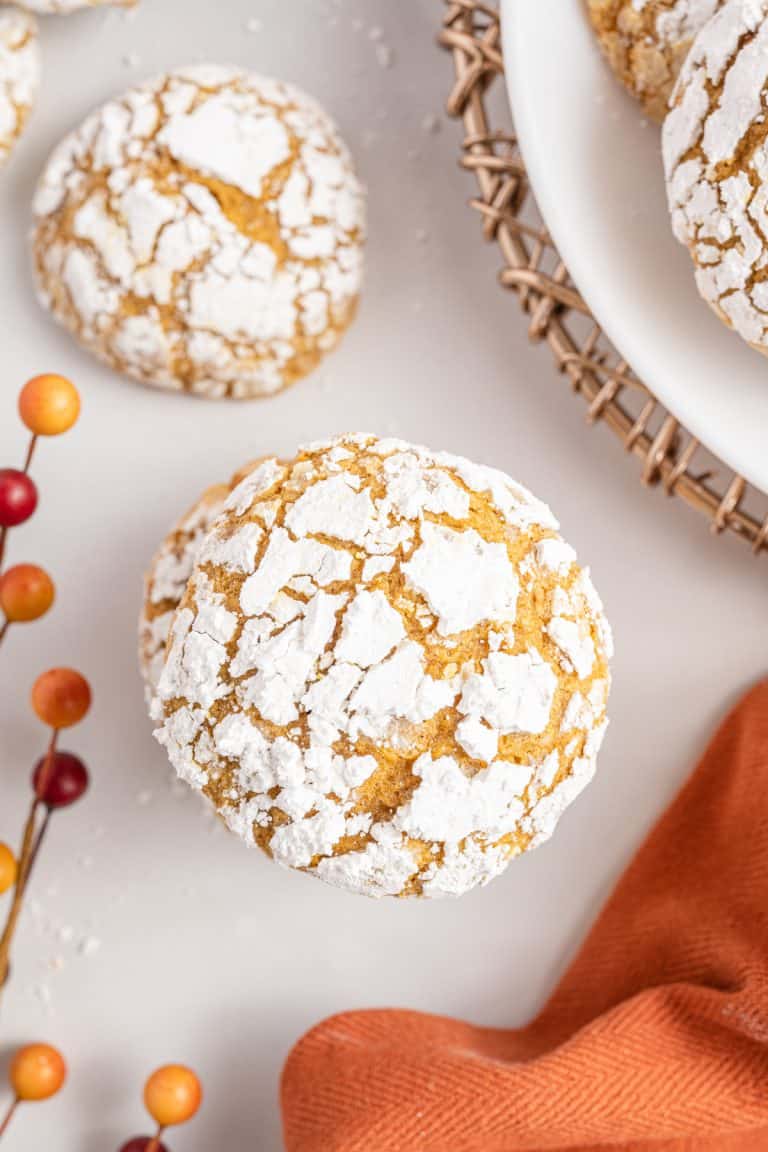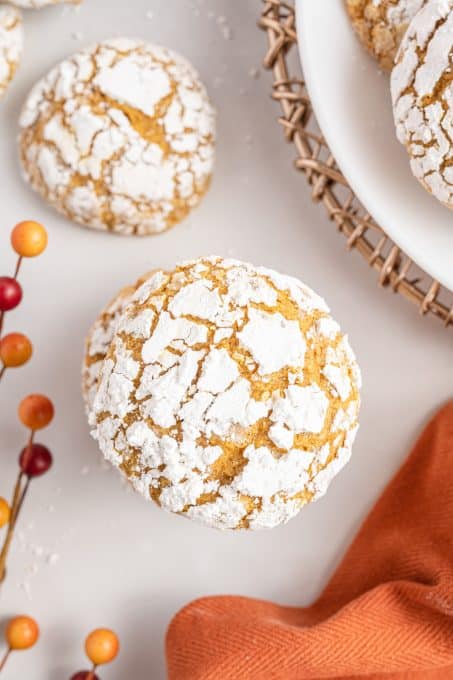 Pumpkin Recipes
Our whole family absolutely devoured these delicious pumpkin crinkle cookies. They're now competing with my Pumpkin Chocolate Chunk Cake as an all time favorite pumpkin dessert for fall. Although these No Bake Pumpkin Dream Bars are certainly a contender for that title as well!
Today's easy pumpkin crinkles are bursting with pumpkin flavor. For a pumpkin-shaped cookie check out these Pumpkin Spice Meringue Pumpkins! I love them for Halloween or as an addition to my Thanksgiving dessert spread.
Looking for something different to bring to the family Thanksgiving gathering this year? No-Bake Pumpkin Nutella Cheesecake is the perfect blend of tradition and innovation. The pairing of cheesecake, pumpkin pie flavors and chocolatey Nutella is pure magic.
Thanks to my Dairy-Free Pumpkin Muffins, no one needs to wait for dessert to get their pumpkin spice fix! Bake up a batch to enjoy with your morning coffee any morning of the week.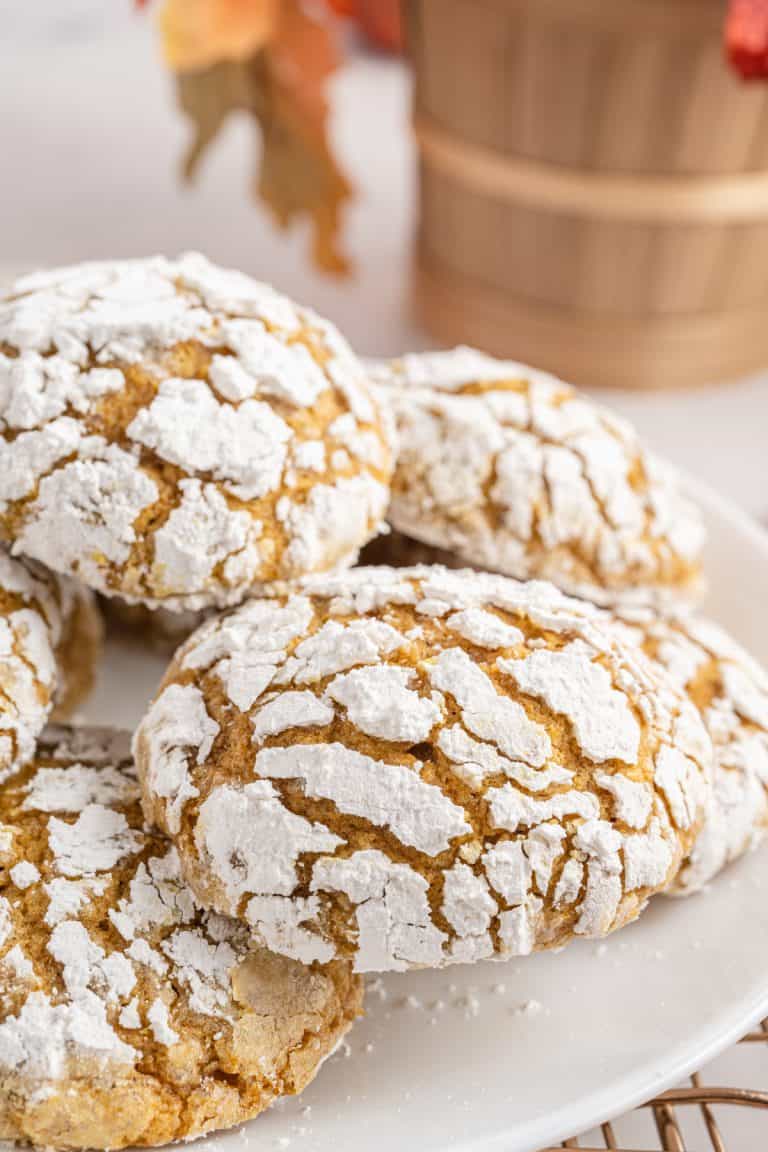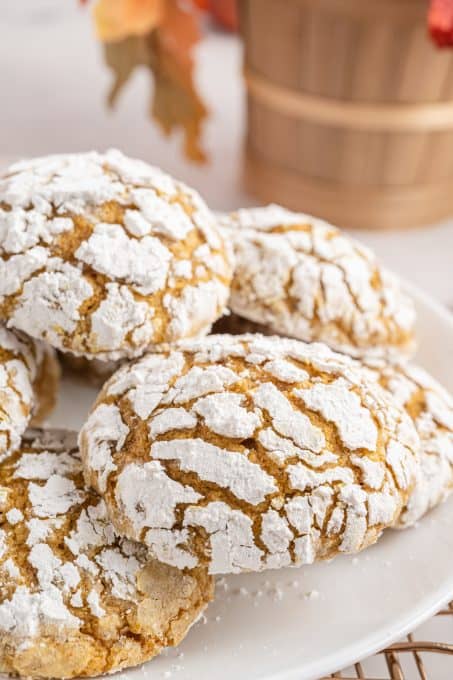 Best Cookies
From crinkle cookies to no-bakes, I have homemade cookies to satisfy any craving! After you make (and fall in love) with these Pumpkin Crinkle Cookies, give some of my other favorites a try.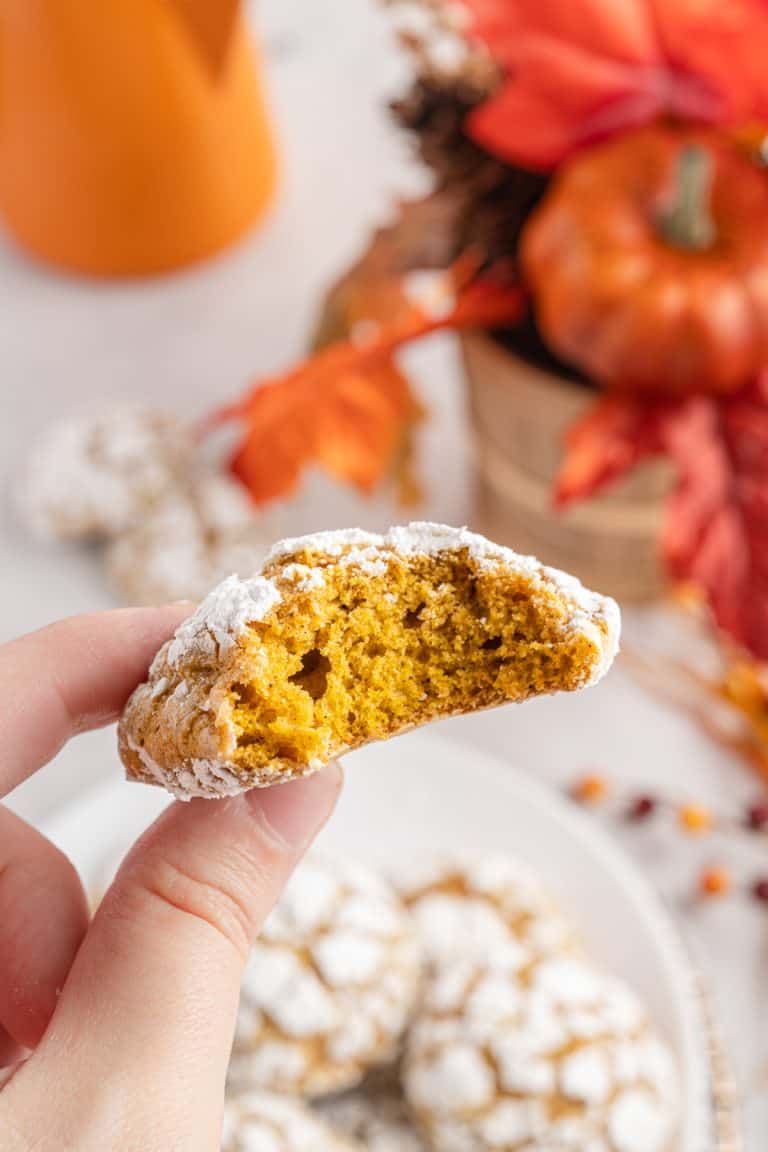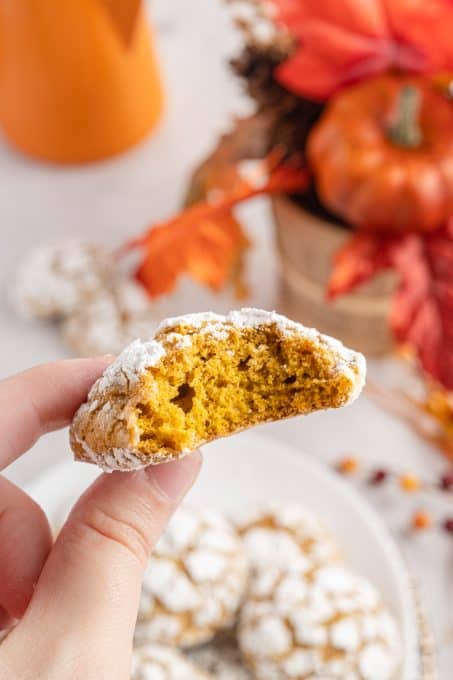 Pumpkin and spice and everything nice. That's what this Pumpkin Crinkle Cookie recipe is made of!
Happy Baking!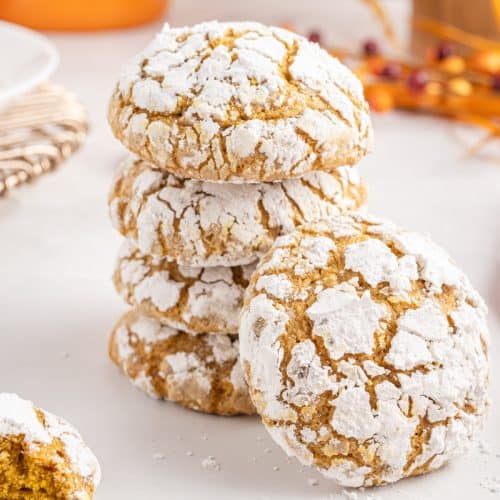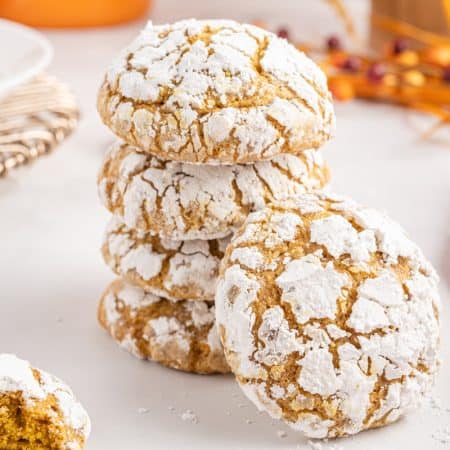 Soft and sweet with crackly powdered sugar edges, these Pumpkin Crinkle Cookies are a fall season delight! Made with real pumpkin and seasonal spices, they're the perfect cookie for a crisp autumn day or any time of year.
Ingredients
2 ¼ cups all-purpose flour
½ teaspoon salt
½ teaspoon baking soda
½ teaspoon baking powder
1 tablespoon corn starch
2 teaspoons cinnamon
1 teaspoon ground ginger
½ teaspoon ground cloves
¾ cup granulated sugar
½ cup packed light brown sugar
½ cup butter room temperature
1 teaspoon vanilla extract
1 large egg
1 cup pumpkin puree NOT pumpkin pie filling
1 ½ cups confectioners' sugar
Instructions
Preheat oven to 350°F, and line two large cookie sheets with parchment paper.

Whisk the flour, salt, baking soda, baking powder, cornstarch, cinnamon, ginger, and cloves together in a medium bowl.

In a large mixing bowl, use an electric hand mixer to beat the sugar, light brown sugar, and butter until combined and fluffy.

Add the vanilla extract and egg, and beat until mixed.

Add the pumpkin puree and continue mixing with the hand mixer.

Beat in the dry ingredients until just mixed. The cookie dough will be thick and sticky.

Place a piece of parchment paper on a cutting board or separate baking sheet. Use a 1 1/2 tablespoon cookie scoop to drop balls of dough on the parchment paper.

Place the dough balls in the freezer for 15-20 minutes.

Individually drop the dough balls into the powdered sugar, and roll them around until they are well-coated.

Place the sugared dough balls on the parchment-lined cookie sheets about 2 inches apart (about 12 cookies per sheet), and press the balls down slightly.

Bake for 13-15 minutes, or until the cookies have almost doubled in size.

Cool to room temperature, and serve.
Nutrition
Serving: 1cookie | Calories: 117kcal | Carbohydrates: 21g | Protein: 1g | Fat: 3g | Saturated Fat: 2g | Polyunsaturated Fat: 0.2g | Monounsaturated Fat: 1g | Trans Fat: 0.1g | Cholesterol: 13mg | Sodium: 80mg | Potassium: 41mg | Fiber: 1g | Sugar: 14g | Vitamin A: 1289IU | Vitamin C: 0.3mg | Calcium: 12mg | Iron: 1mg
Did you make this recipe?
Share it with me on Instagram and make sure to follow me on Pinterest for more recipes.
Reader Interactions