These Halloween Monster Cookies are creative, delicious and easy to make! Made with colorful M&M candies and candy eyes, they're the perfect treat to get you in that Halloween spirit or be a fun addition to you next Halloween party dessert table.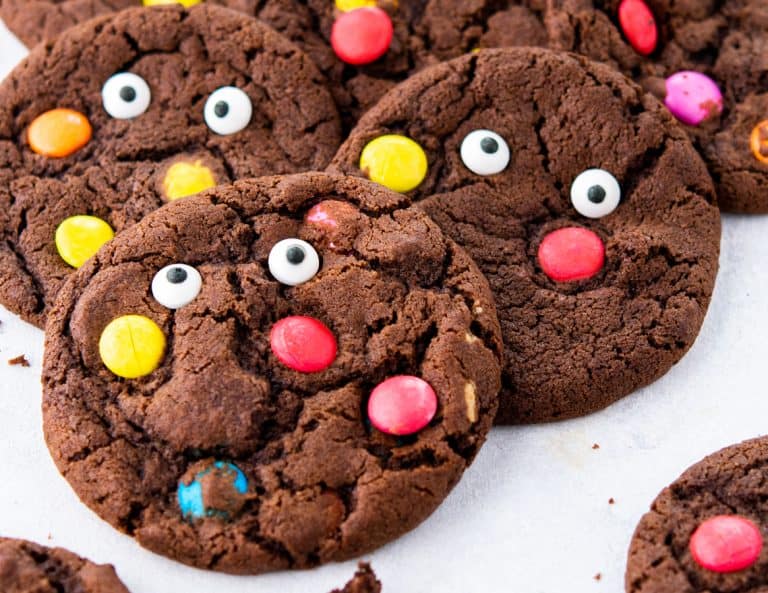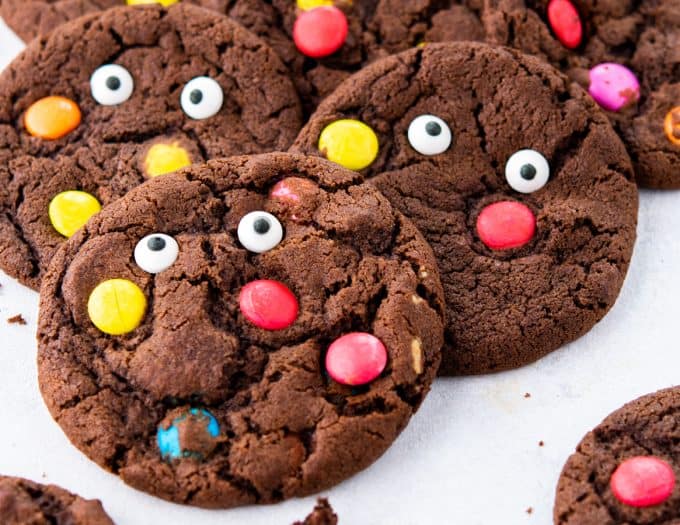 Cookies with M&Ms are always a hit. For more easy M&M cookie recipes, check out these Peanut Butter Oatmeal M&M Cookies and these Chocolate M&M Christmas Cookies for the holidays!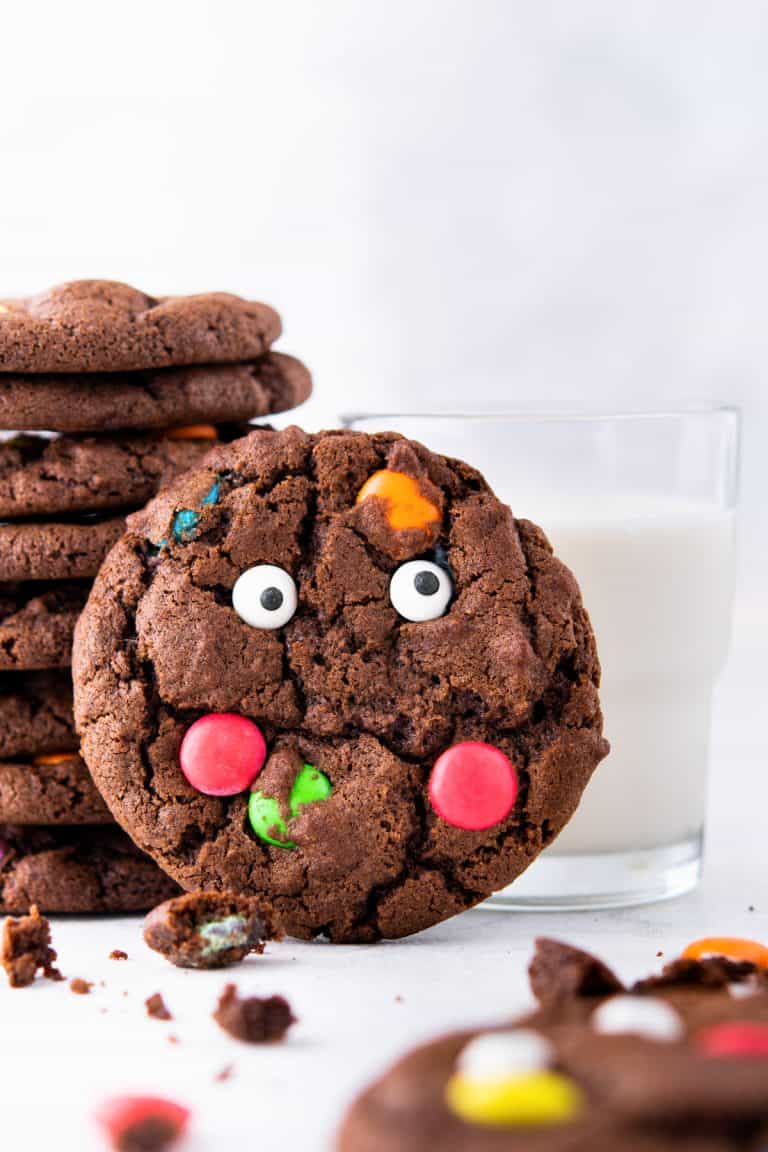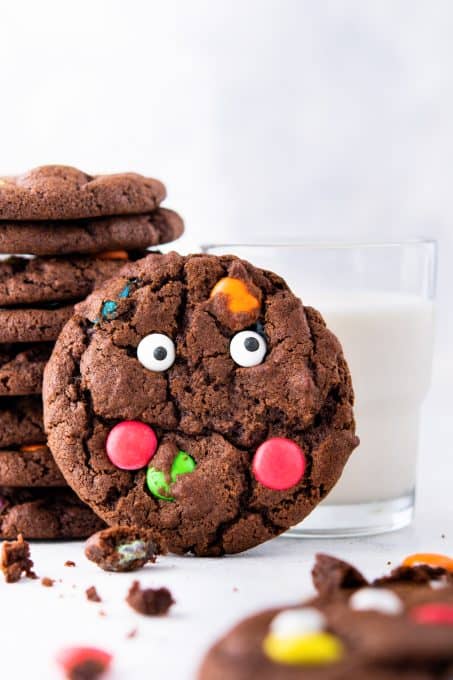 With "spooky season" approaching, it's the perfect time time to share this super fun Halloween cookie idea. This recipe takes a simple chocolate cookie and turns it into a festive kid-friendly dessert for your Halloween party table.
Halloween Monster Cookies are rich, chewy and chocolatey with M&Ms candies in every bite. Adding a few candy eyeballs to the cookies gives them that "monster effect" and takes hardly any extra effort.
Will I make these cookies again? YES!
I love that these cookies are so easy to decorate without needing any frosting or cookie decorating skills. If you're looking for the best EASY cookies for Halloween, these M&M Monster Cookies are perfect!
Equipment needed to make monster sugar cookies –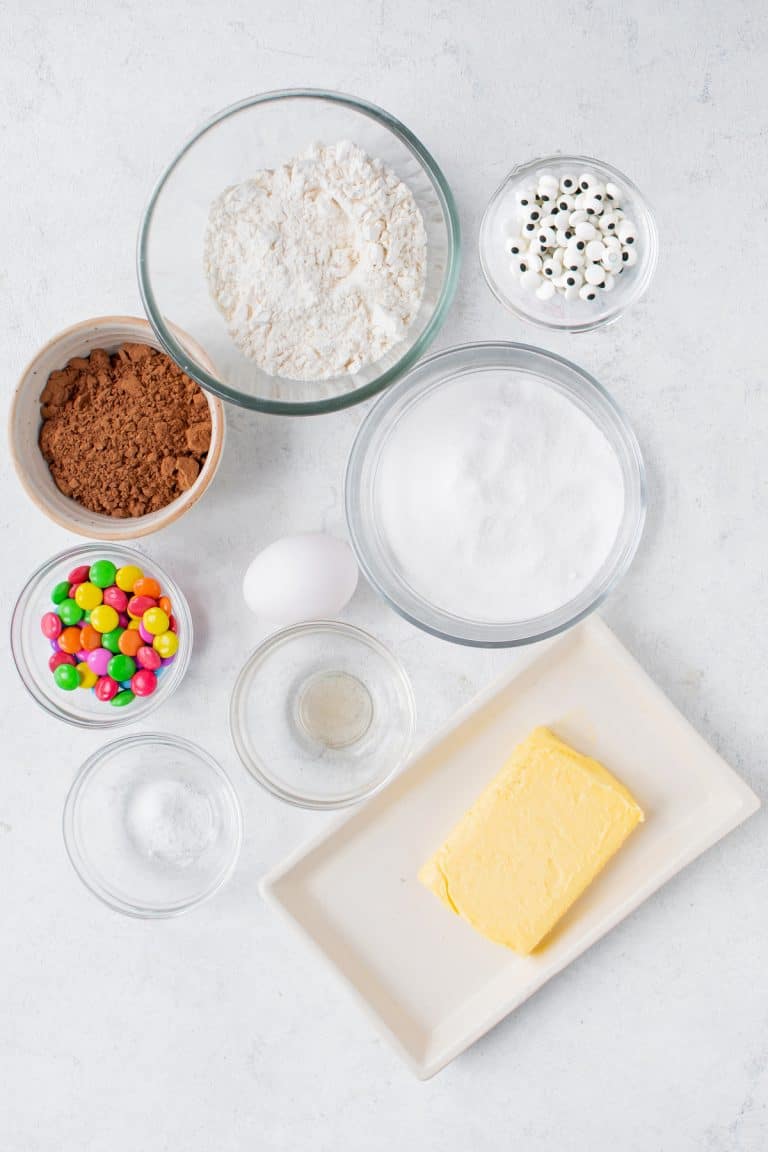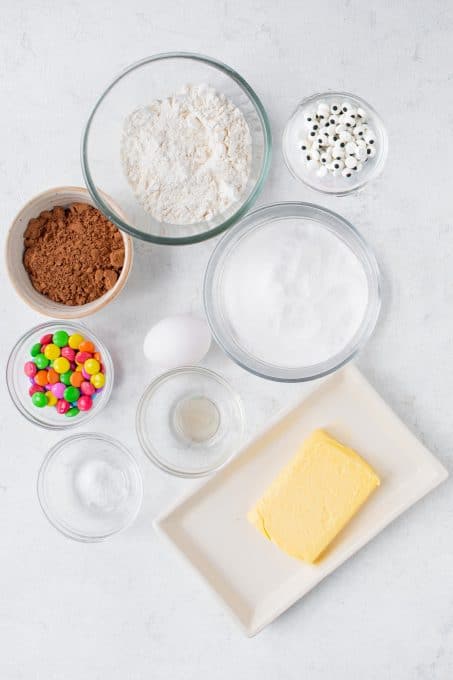 What do I need for these easy Halloween Cookies?
Here are the ingredients we used to make the chocolate monster cookies:
All-purpose flour
Cocoa powder
Baking soda
Salt
Unsalted Butter
White sugar
Egg
Vanilla extract
M&Ms – We used plain M&Ms in regular colors; you could use the M&Ms with special Halloween colors if preferred.
Candy eyes – These are like edible googly eyes. You can find them in the baking aisle at most craft stores and online.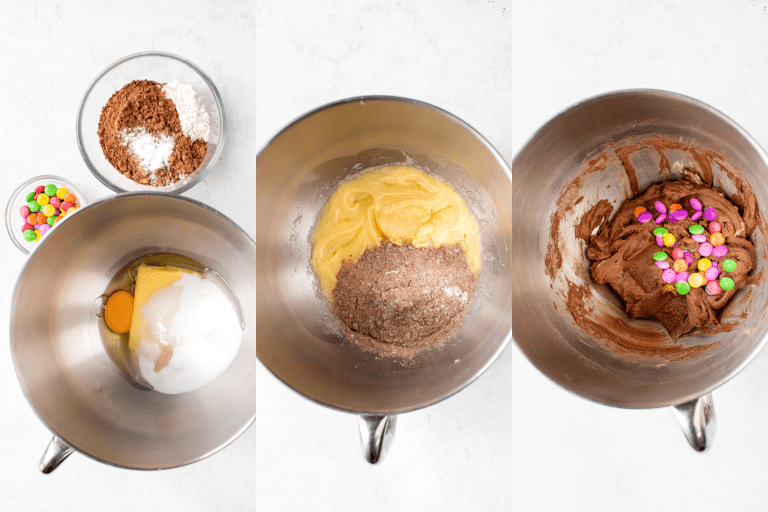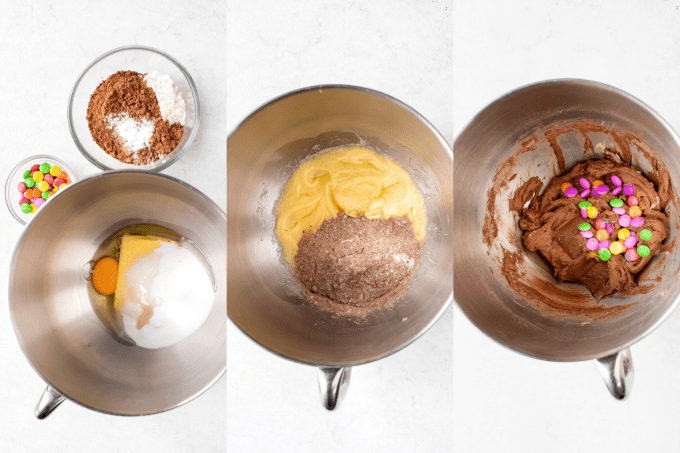 How do I make this M&M Monster Cookie Recipe?
This fun recipe is just as easy as any drop cookie recipe.
Beat together butter, sugar, egg and vanilla in a large mixing bowl.
Whisk the flour, salt, cocoa powder and baking soda together in a medium bowl. Then add the dry ingredients to the butter mixture.
Fold M&Ms into the batter. Make sure to save a few for the tops of the cookies!
Cover the bowl with plastic wrap and chill the cookie dough for an hour. Meanwhile, heat oven to 350°F and line a cookie sheet with parchment paper.
Shape tablespoons of dough into 2 inch balls and place them on the prepared baking sheet. Press a few M&Ms into the top of each cookie.
Let the cookies bake for 12 to 14 minutes. Press candy eyes into the tops of the cookies while the cookies are still warm, and transfer to a wire rack.
You can keep it simple and do two eyeballs on each or make a zany multi-eyeballed monster! Feel free to get creative and have fun crafting your Halloween Monster Cookies.
How do I store these Halloween treats?
You can store your chocolate monster cookies in an airtight container for 1 or 2 days at room temperature or 4-5 days in the refrigerator.
You can also freeze cookies with M&Ms in an airtight container for up to 3 months. Make sure to thaw them for 1-2 hours at room temp before serving. I wouldn't want you to crack a tooth on a frozen piece of candy!
Do I add the candy eyes before or after baking?
We add the candy eyes to the Halloween cookies just after baking. The cookies are still warm, making it easy to press the eyes into the top of the cookies. The heat from the cookies softens the candy eyes slightly so they adhere themselves to the surface.
You may have success adding the candy eyes before baking but I don't recommend it. You run the risk of the candy eyes melting completely ruining the look of your monster treats.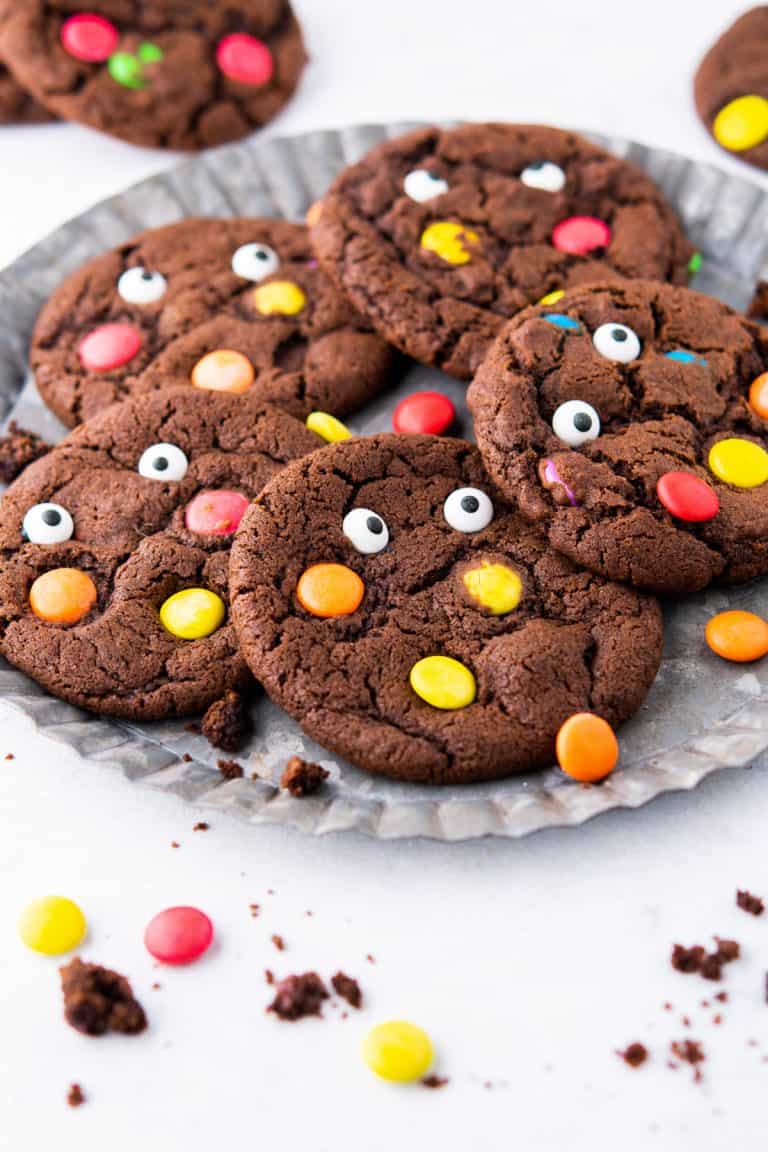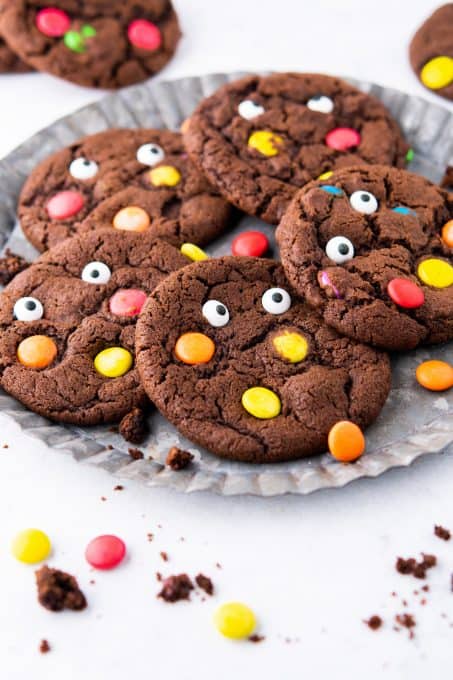 Halloween Theme Recipes
Some people are all about the costumes, the pumpkin carving and the parties this time of year. Me? I'm here for the food. The leftover candy (if there is any!), the desserts, all of it!
If you have leftover candy eyes after making today's cookie recipe, you can use them for a batch of Halloween Ghost Meringues next. Those ghost treats have just the right blend of spooky and silly for any Halloween party, and you can't beat the taste. I like to serve them on a platter with Pumpkin Spice Meringue Pumpkins for a mix of colors and shapes.
Wondering what to do with leftover candy corn? Try this Candy Corn Fudge recipe! The orange and yellow stripes add a perfect pop of color. Candy corn is an amazing addition to these Oreo Halloween Truffles too.
Of course, I can't talk about my favorite Halloween foods without mentioning Caramel Apples. There's nothing quite like the satisfaction of eating a caramel coated apple on a stick while you get ready for a night of trick-or-treating (or while you're waiting by the door for trick-or-treaters)!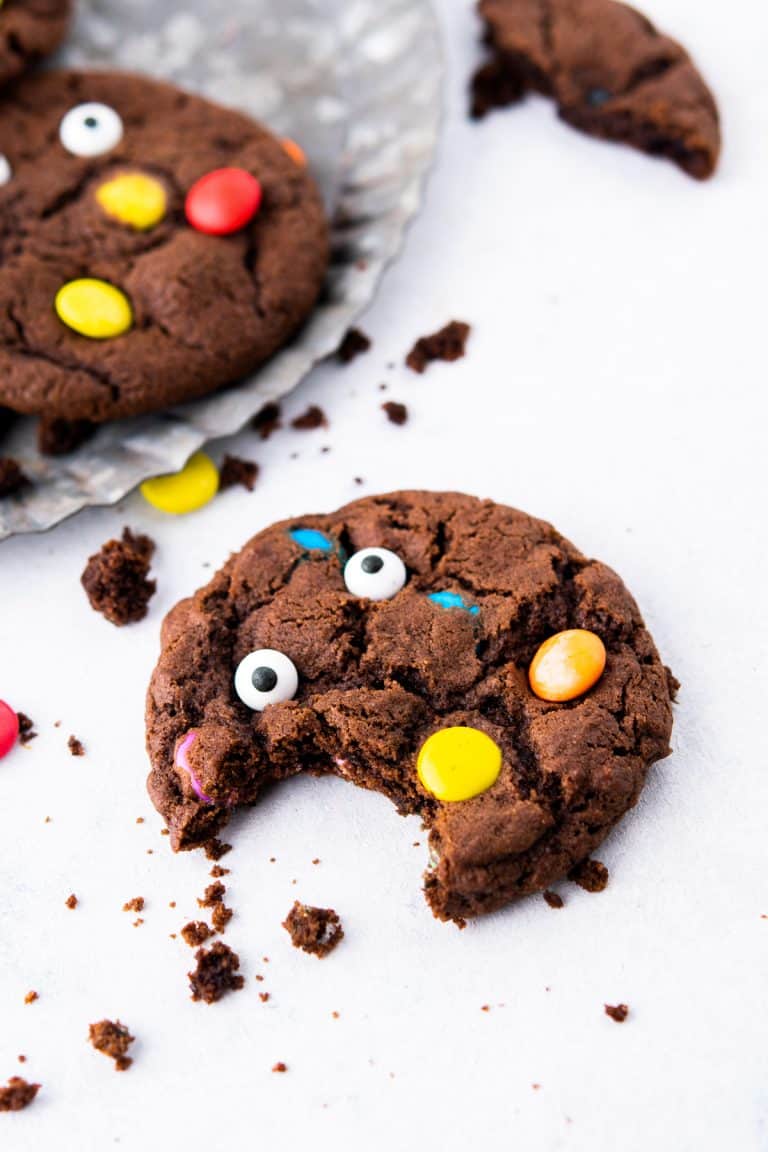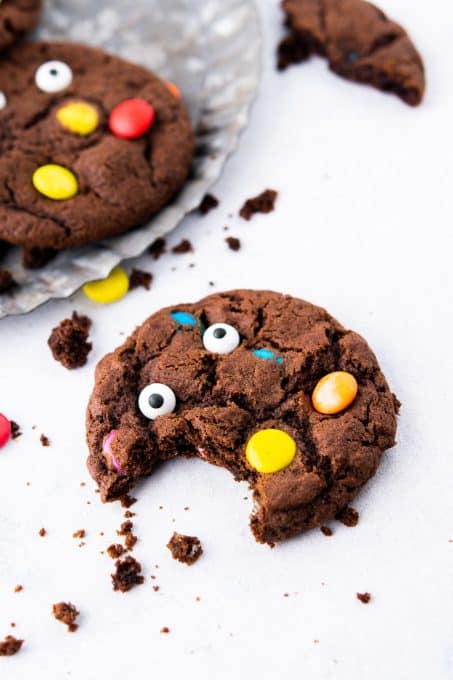 Cookie Recipes
We gave our M&Ms Monster Cookies the Halloween treatment today, but you could totally leave off the candy eyes to make them for other holidays or occasions. Or try these Double Chocolate Oatmeal Cookies for a different take on chewy chocolate cookies!
Speaking of chewy cookies, have you tried my recipe for Chocolate Chip Cookies yet? They're the softest, chewiest homemade cookies ever!
Peanut butter lovers with go nuts (ha) for these Peanut Butter Chip Chocolate Cookies. They're easy chocolate cookies with peanut butter chips.
If you like lemon, try these Lemon Cake Mix Cookies. The citrus flavor is amazing!
Looking for more cookie ideas you can save for all of your favorite holidays and seasons? I've got you covered.
These Easter Egg Hunt Surprise Cookies are a hit with kids and adults alike. Each sweet cookie cup has a candy surprise tucked inside! Funfetti Cookies are another crowd pleaser I like to make at Easter time.
Everyone has their own delicious recipes for Christmas cookies and for me it's a toss up between Stained Glass Cookies and Viennese Crescents. Both are beautiful, delicious, and bring back lots of cozy memories.
When Valentines Day rolls around, you'll want to bake up a batch of Chocolate Cherry Cookies for your special someone. And every day is a good day to bake up a batch of classic Vanilla Cut-Out Sugar Cookies!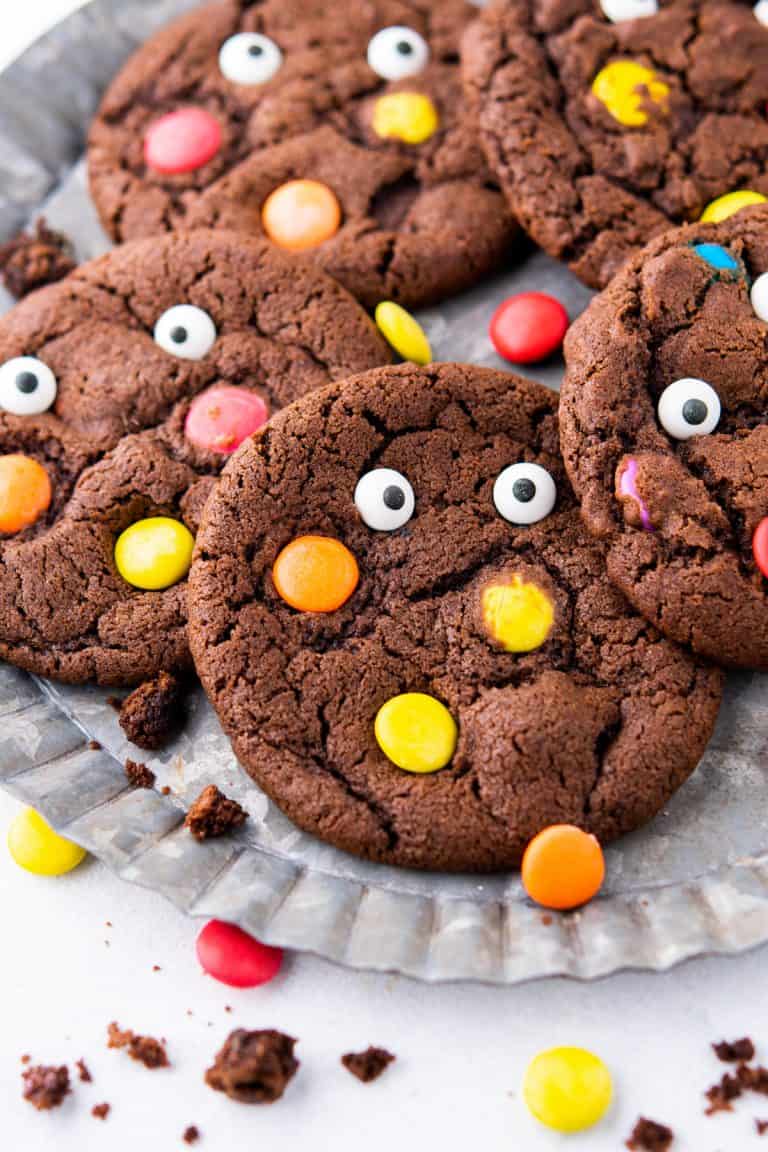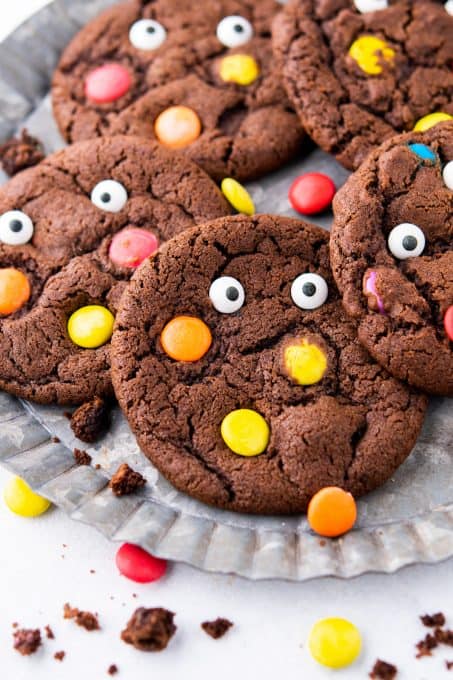 This sweet treat is an easy Halloween dessert that the whole family will enjoy.
Chocolate Monster cookies with M&M's and candy eyes.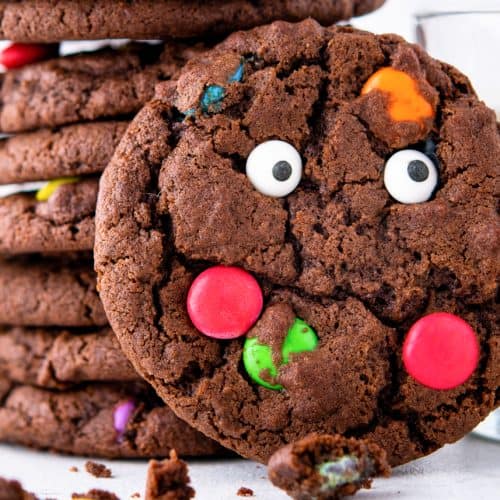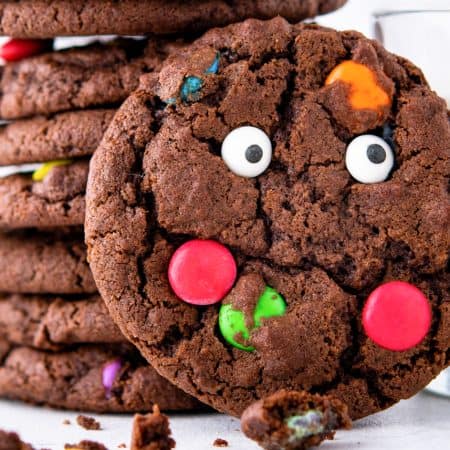 Halloween Monster Cookies
These Halloween Monster Cookies are creative, delicious and easy to make! Made with colorful M&M candies and candy eyes, they're the perfect treat to get you in that Halloween spirit or for your next Halloween party.
Ingredients
1 cup all-purpose flour
⅓ cup unsweetened cocoa powder
½ teaspoon baking soda
¼ teaspoon kosher salt
½ cup unsalted butter room temperature
¾ cup granulated sugar
1 large egg
1 teaspoon pure vanilla extract
1 cup plain M&M's with a few reserved for the tops of the cookies
24 candy eyes
Instructions
Preheat oven to 350°F. and line a baking sheet with a piece of parchment paper.

Whisk the flour, cocoa powder, baking soda, and salt together in a medium bowl.

In a large mixing bowl, cream the butter, sugar, egg, and vanilla at medium speed for a minimum for 3 minutes, until smooth and creamy. Scrape down the sides of the bowl as needed.

Add the dry ingredients and mix until just combined. With a rubber spatula, mix in the M&M's, reserving some for the tops of the cookies.

Cover the dough and refrigerate for a minimum of 1 hour.

Using 2 tablespoons of dough, roll into a ball. Place at least 2 inches apart on the prepared baking sheet. You can place the reserved M&M's onto the tops of the dough or wait until after they come out.

Bake for 12-14 minutes.

Upon removing the cookies from the oven, press the candy eyes into cookies while they are still warm. Gently push them into the cookies a little bit so that they stick. You can also add additional M&M's.
Nutrition
Serving: 1cookie | Calories: 267kcal | Carbohydrates: 37g | Protein: 3g | Fat: 13g | Saturated Fat: 8g | Polyunsaturated Fat: 0.4g | Monounsaturated Fat: 2g | Trans Fat: 0.3g | Cholesterol: 37mg | Sodium: 124mg | Potassium: 56mg | Fiber: 2g | Sugar: 27g | Vitamin A: 295IU | Vitamin C: 0.1mg | Calcium: 29mg | Iron: 1mg
Did you make this recipe?
Share it with me on Instagram and make sure to follow me on Pinterest for more recipes.
Reader Interactions