There's nothing quite like that feeling when you bite into soft and chewy chocolate chip cookies. Two secret ingredients add flavor and texture, and whether they remind you of Grandma's kitchen or your favorite bakery, these cookies will immediately have you pouring a glass of milk to dunk them in.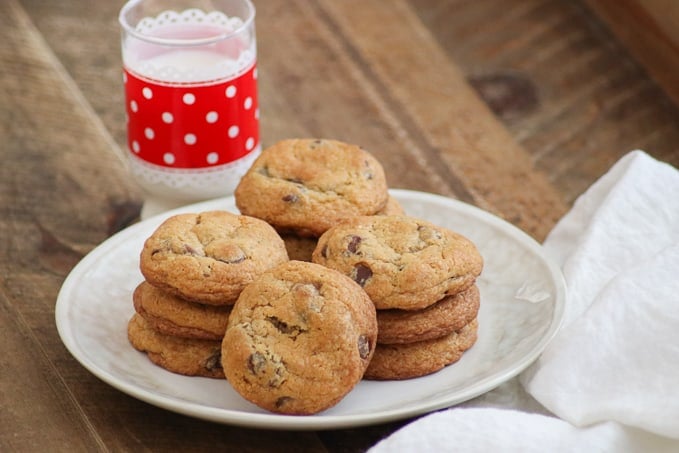 Don't you just want to reach in and grab one of these chocolate chip cookies right off that plate?!
They're also the perfect treat to celebrate Lindsay of Life, Love, and Sugar for her surprise virtual baby shower!
I have to say that I think this is my best chewy chocolate chip cookies recipe ever!! Ok, I confess. There is no other plain ol' chocolate chip cookie recipe here on the blog. Seriously.
Nada. Zip. Zilch. Zippo. A Big. Fat. Goose egg. Can you believe that??!! Not a single one when I went searching.
I found these Double Peanut Butter Oatmeal Chocolate Chip Cookies. I love peanut butter, oatmeal, and chocolate chips together, don't you? There are my Pecan Oatmeal White Chocolate Chip Cookies which were super popular around the holidays. I can even remember making these Chocolate Chip Oreo Cookies when I did my original 365 Days of Baking.
Yet, there is NO best chocolate chip cookies recipe. Seriously. It's kind of embarrassing. And while we're at it, I might as well tell you that I don't have a go-to brownie recipe either. But, don't worry. I'm putting that on my to-do list. So, who knows, maybe this will turn out to be my award-winning chocolate chip cookie recipe! hee hee
SAVE THIS CHOCOLATE CHIP COOKIE RECIPE TO YOUR FAVORITE PINTEREST BOARD!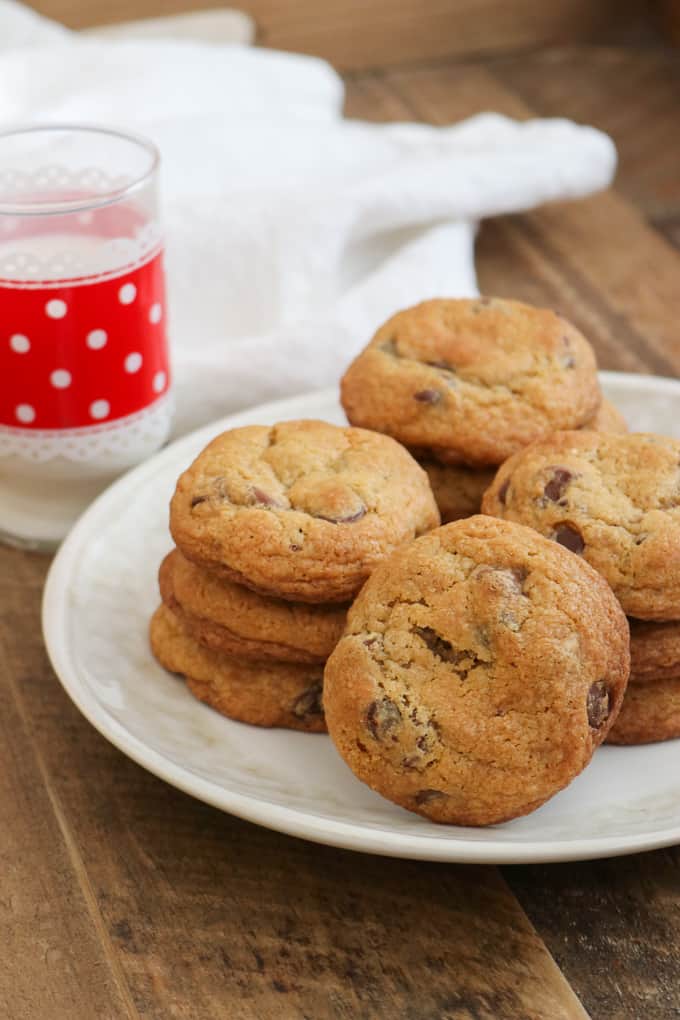 These delicious treats will be a wonderful dessert for your upcoming Super Bowl party, bridal shower or baby shower. And that's just the thing we're celebrating today!
Lindsay of Life, Love and Sugar is one of the sweetest (ok, no pun intended because she blogs mainly about delicious sweets!) people I've ever met. I had the opportunity to meet her a few years ago in Myrtle Beach, S. Carolina at our Blog N' Bake Retreat. At the time, I'd known who Lindsay was through her blog and some Facebook groups we were in together but hadn't really gotten to know her.
I was very eager to meet this woman who was taking the internet by storm with all of her fabulously decadent recipes! If you aren't familiar with her blog, I strongly encourage you to follow her. The recipes she creates are ones you won't want to miss! I made her Cinnamon Roll Layer Cake when she came out with her cookbook. It was AH-mazing and has been one of my most popular posts.
When we were on the retreat, Lindsay shared that she and her husband were trying to have a baby and had been for a little while. My heart went out to her as she talked about her frustrations and struggles about not being able to conceive, something that I completely took for granted as it happened so easily for us.
I remember wanting to be a mother at such a young age that I cannot fathom the pain and heartache women feel as each month passes.
My heart breaks.
One of the wonderful things I love about blogging is the community we have and how supportive everyone is. For the past few years, Lindsay and her husband, have so courageously shared their story on her blog in hopes that it might reach someone else who may be struggling. The IVF treatments, emotional roller coaster ride, and daily stress certainly took their toll, but they weren't willing to give up.
Since my mother passed many years ago, I've been very firm in my belief that there's a right time for everything and that God knows what is best. Even in difficult situations when this is the last thing I wanted to be reminded of, I've focused on it knowing that the outcome will be much better than the present storm. It so warms my heart that everything has now come together for them.
Because of their love for each other, persistence, courage and determination, they will now be welcoming twin baby boys into their family!!! I, along with many others who have followed their story couldn't be happier! They are going to be absolutely wonderful parents and those boys are going to be very much loved. Not to mention the fact that they'll be blessed with absolutely gorgeous birthday cakes!every year! 😉
Not only are these soft, but they're also thick and chewy chocolate chip cookies because you're using two tablespoonfuls of dough. If you want a smaller cookie, use just one, but I think you'll agree using two is better!
SIGN UP FOR THE WEEKLY 365 DAYS OF BAKING & MORE
NEWSLETTER BELOW!
Tips for making Soft and Chewy Chocolate Chip Cookies
1. Make sure your butter is softened to just the right temperature. You want to be able to make a slight indentation when pressing into it, but not so much that it squishes.
2. I like to use kosher salt instead of table salt in all of my recipes. I like the consistency of the crystals and find the taste more appealing as well.
3. Pure vanilla extract. Plain and simple. It may cost a touch more, but it can seriously make a difference in the taste of your goodies.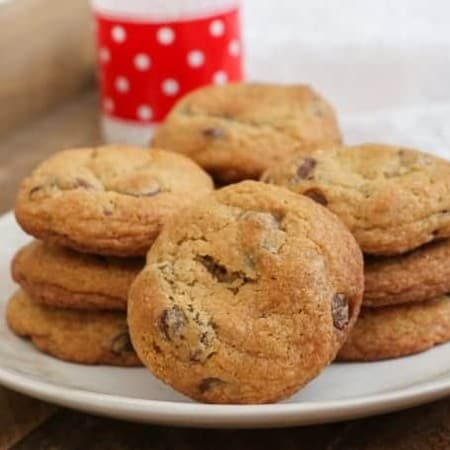 Soft and Chewy Chocolate Chip Cookies
There's nothing quite like that feeling when you bite into Soft and Chewy Chocolate Chip Cookies. Two secret ingredients add flavor and texture, and whether they remind you of Grandma's kitchen or your favorite bakery, these cookies will immediately have you pouring a glass of milk to dunk them in.
Ingredients
1 cup unsalted butter room temperature
6 ounces cream cheese room temperature
¾ cup granulated sugar
¾ cup packed dark brown sugar
2 large eggs
1 ½ teaspoons pure vanilla extract
2 ¼ cups all-purpose flour
1 3.4- ounce package instant vanilla pudding
1 ¼ teaspoons kosher salt
1 teaspoon baking soda
2 cups semi-sweet chocolate chips
Instructions
In a mixing bowl, cream together the butter and cream cheese until well blended.

Add both sugars and mix on medium-high speed until light and fluffy, about 4 minutes.

Add the eggs, one at a time, incorporating each fully and the vanilla.

Into a medium bowl, sift together the flour, vanilla pudding packet, baking soda and salt.

Gradually add the dry ingredients to the butter mixture and mix until just blended.

With a rubber spatula, fold in the chocolate chips.

Refrigerate dough for at least 12 hours before baking.

When ready to bake, preheat oven to 375° F.

Using two tablespoonfuls of dough, roll into a ball and place onto a baking sheet at least two inches apart.

Bake for 12 - 14 minutes.

Allow to cool on baking sheet for at least two minutes before transferring to a wire rack.
Did you make this recipe?
Share it with me on Instagram and make sure to follow me on Pinterest for more recipes.
More great bloggers are participating in Lindsay's Baby Shower.
See what everyone's bringing to the party!
Banana Pudding Cupcakes, Lemon Coconut Cupcakes, Chicken Salad Cups,
Soft and Chewy Chocolate Chip Cookies, Star and Moon Decorated Cookies,
Lemon Poppy Seed Cupcakes, Cream Cheese Cookies with Nutella Glaze,
Salted Caramel Popcorn Brownies, Sugar Cookie Bars, Funfetti Cheesecake Pie,
Banana Chocolate Chip Cheesecakes, Sweet and Sour Slow Cooker Smokies
Red Velvet Cookie Bars, Veggie Egg Muffins, 2 Layer Espresso Chocolate Cake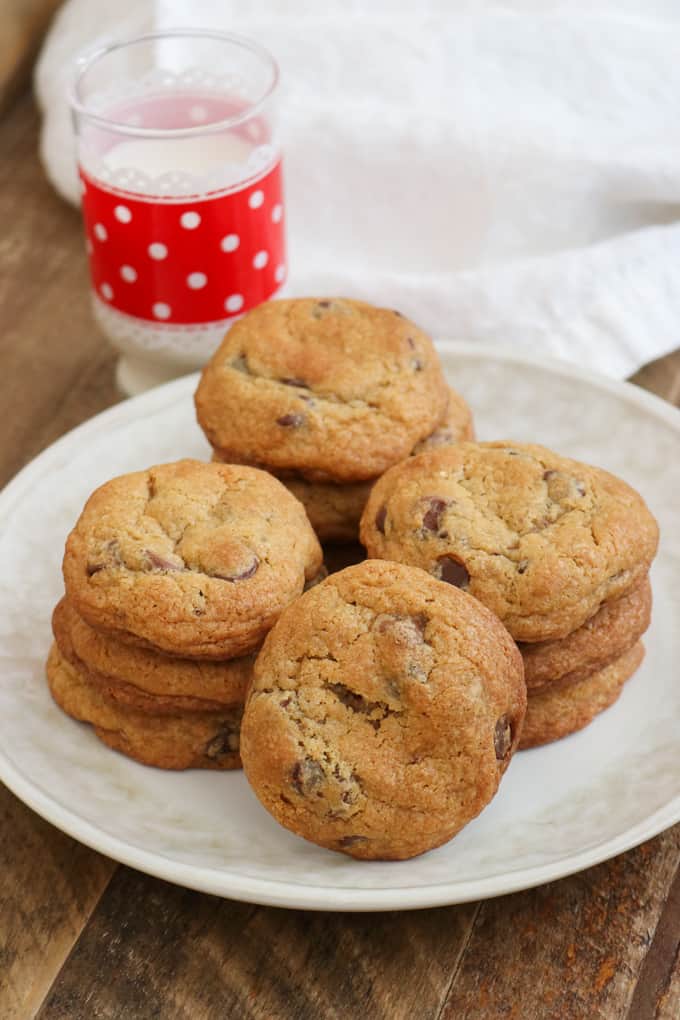 Don't forget to whip up these desserts when the family is craving sweets!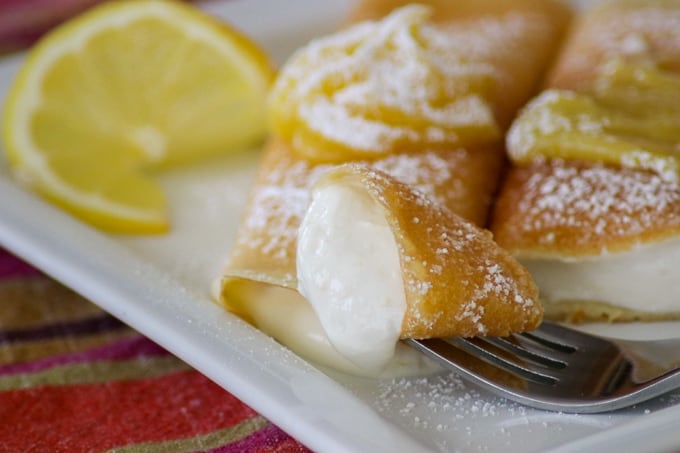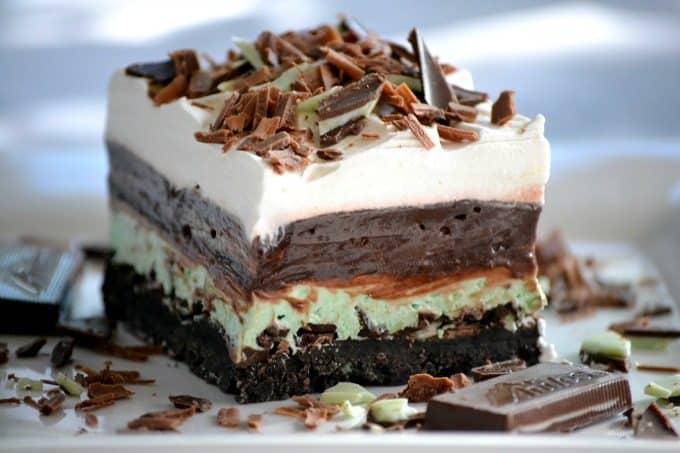 Reader Interactions