Funfetti Ooey Gooey Bars are an easy dessert bar inspired by the classic birthday cake. Every bite of these buttery soft bars is packed with sweet vanilla flavor and plenty of sprinkles!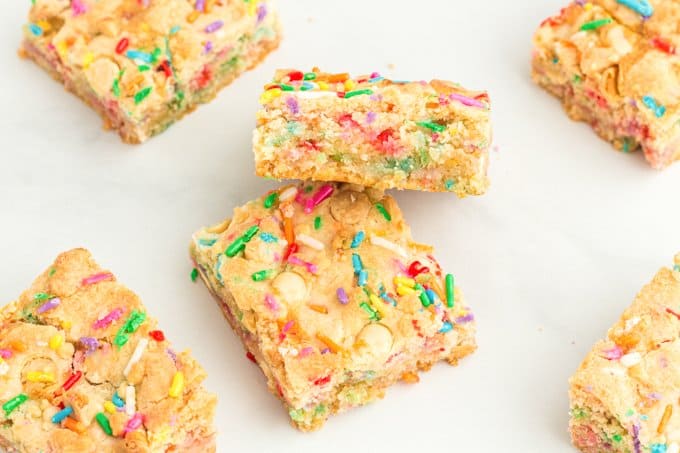 Life is so much better when colorful sprinkles are involved.
This Funfetti Ooey Gooey Cake Mix Bars recipe is about to rock your world.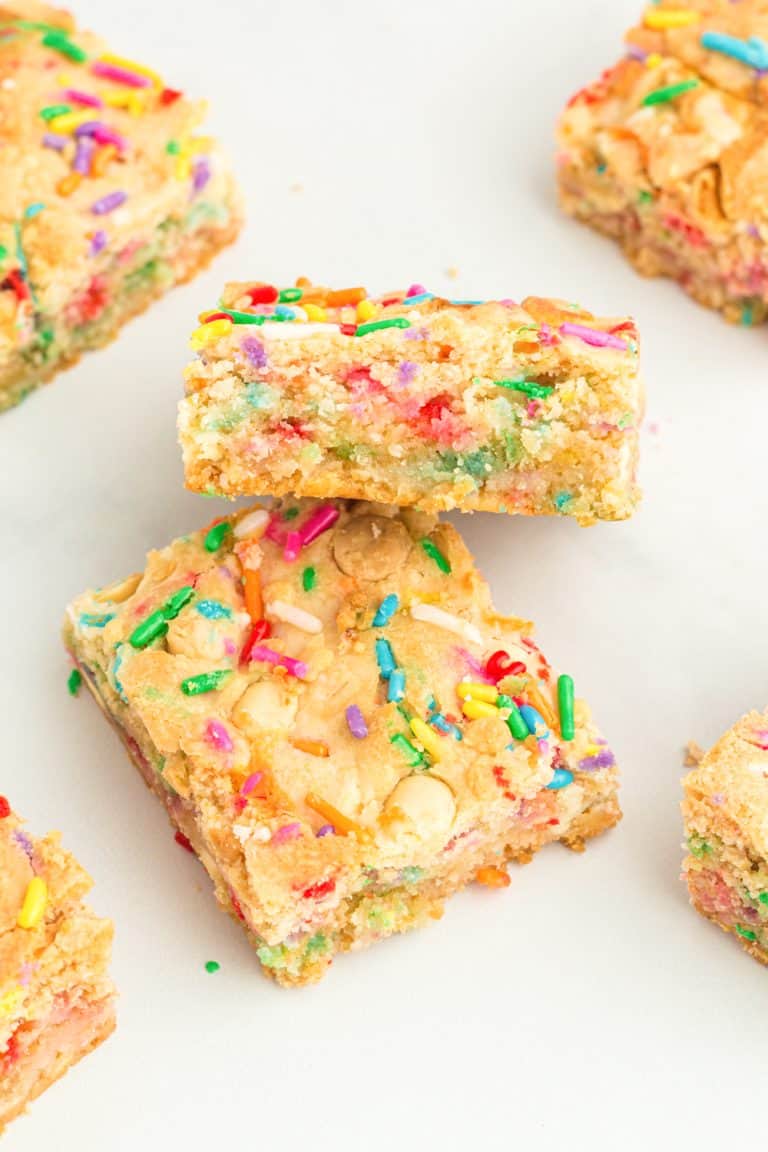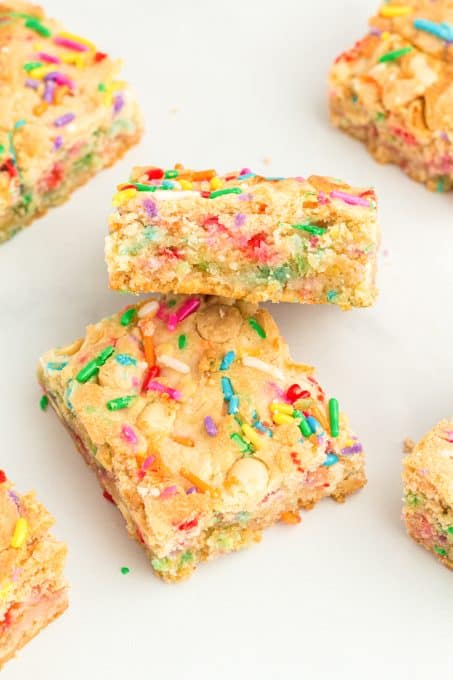 Take a white vanilla birthday cake, fuse it with super soft blondies and toss in a handful of sprinkles. Now you have a pretty good idea of how amazing these cake mix bars taste. The secret to the irresistible ooey gooey consistency is boxed cake mix and one a key ingredient that might surprise you!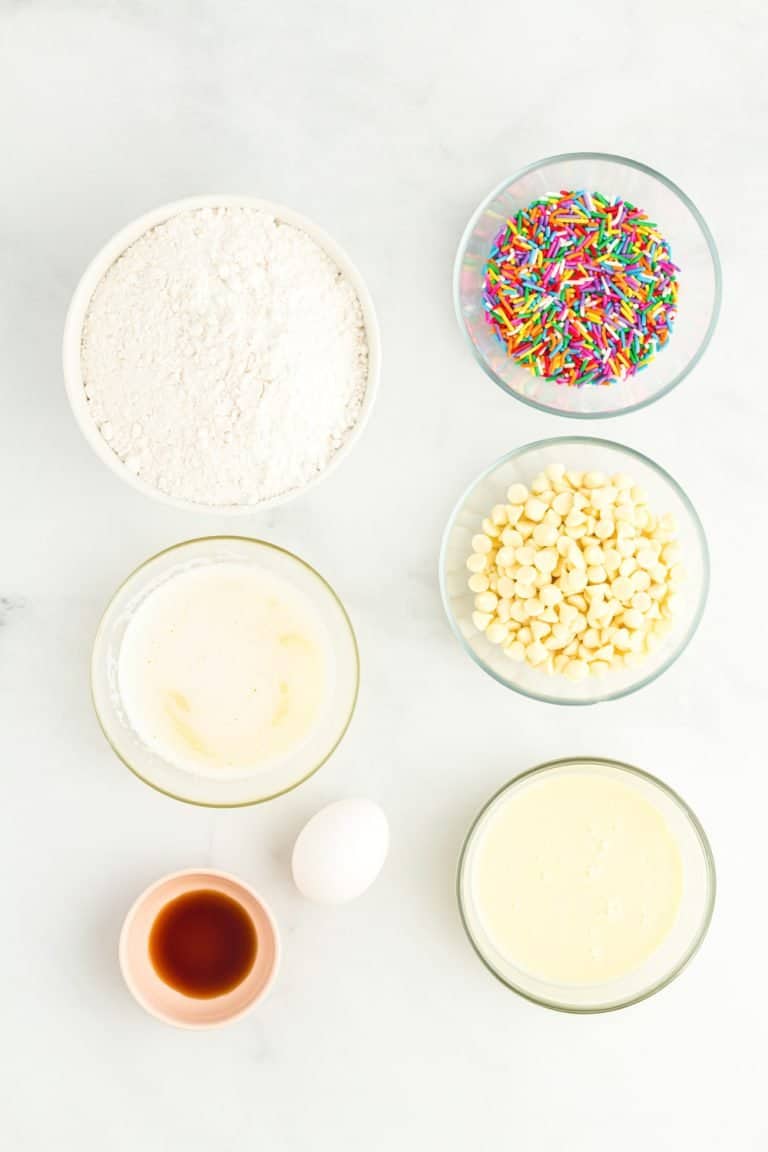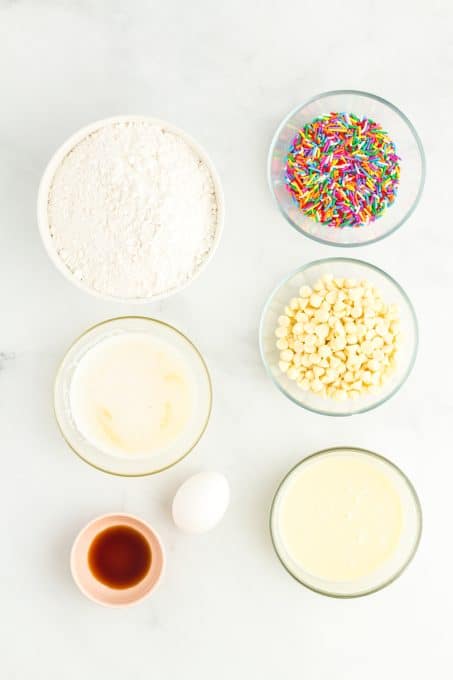 What do I need?
Here's everything you need to make perfect Funfetti Oeey Gooey Bars.
White cake mix – Use the dry mix only. Don't follow the box directions for baking a cake.
Melted butter
Egg
Vanilla extract
White chocolate chips
Colored sprinkles
Sweetened condensed milk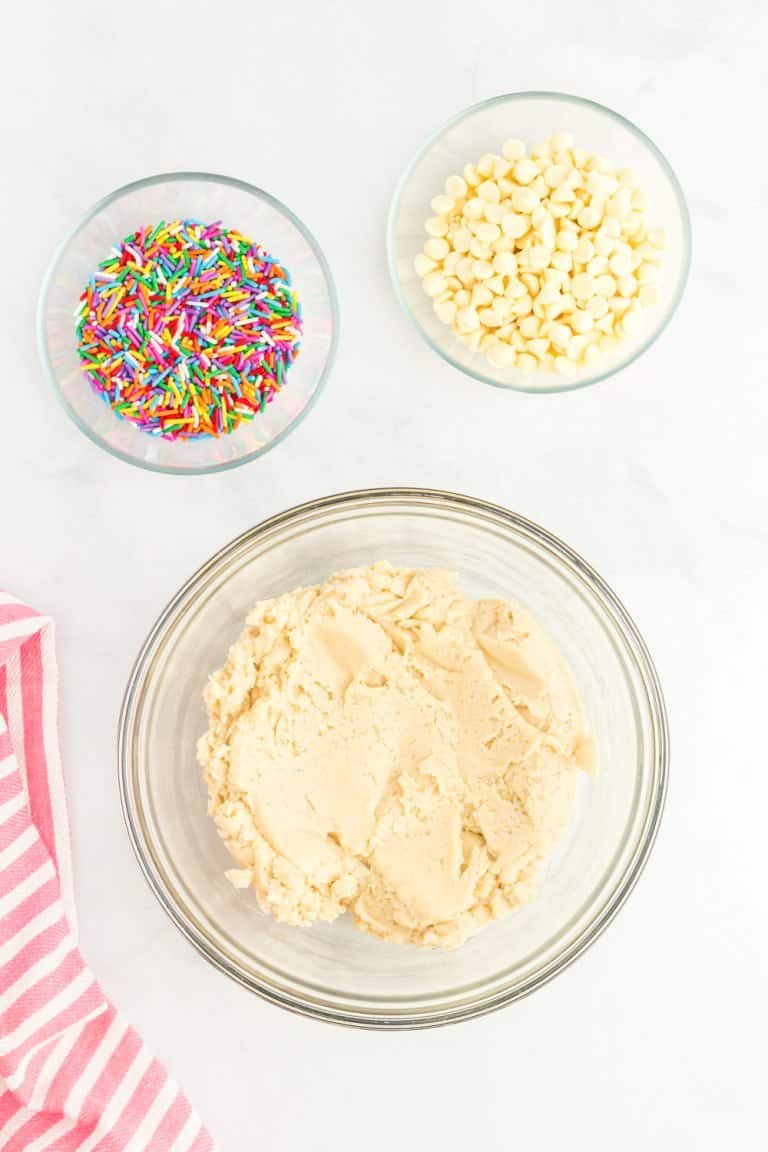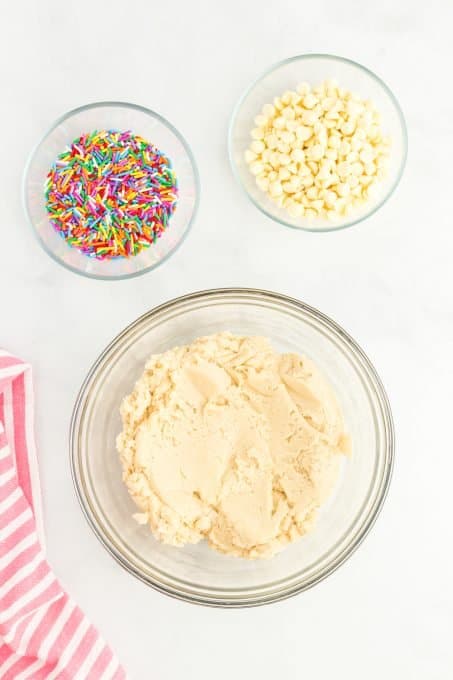 How do I make them?
Start by lining a square baking dish with parchment paper. Give it a good spray with some baking spray and set aside.
To make Funfetti Oeey Gooey Bars, combine your cake mix with melted butter, egg and vanilla. Fold white chocolate chips and sprinkles into the batter.
Now, press two-thirds of this dough into the bottom of your lined pan. It will be thick, like cookie dough.
Here's where it gets interesting: pour the condensed milk over the dough. This is what makes the bars oh-so gooey after they're baked! Trust me.
Finally, spread the remaining dough on top and bake. Once the edges look set, let the bars cool in the pan for an hour. Then lift them out of the pan using the parchment paper and slice.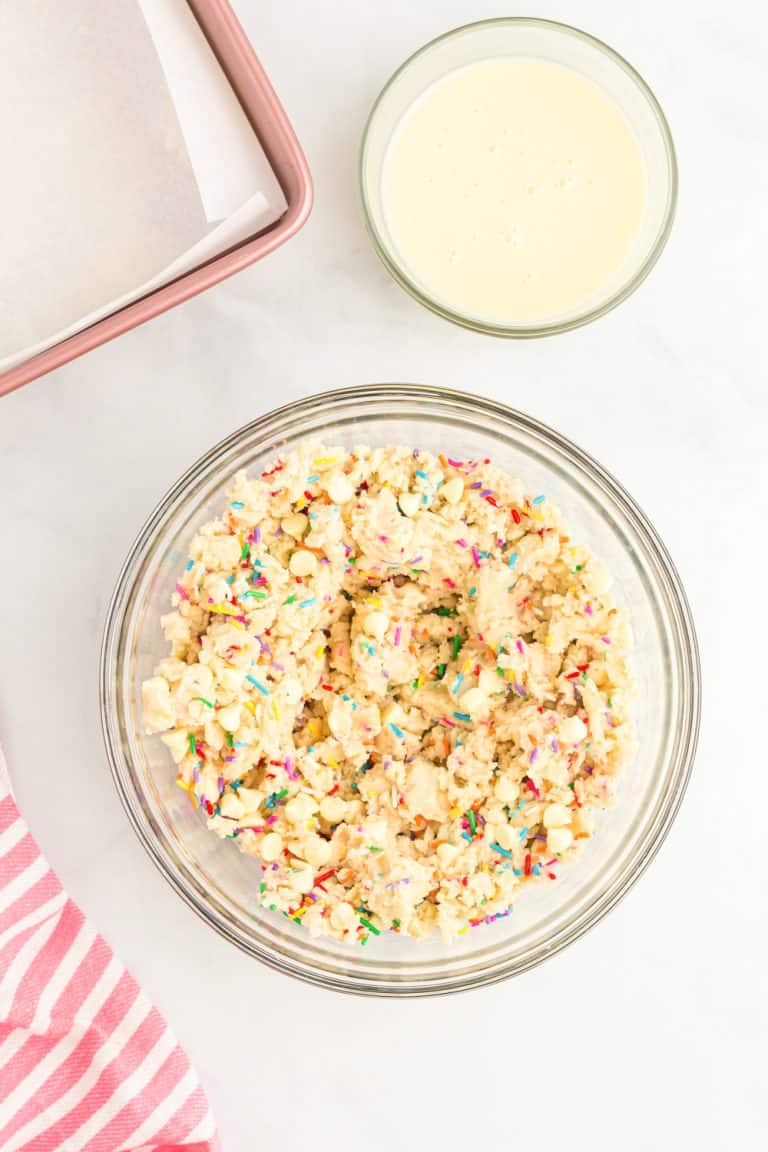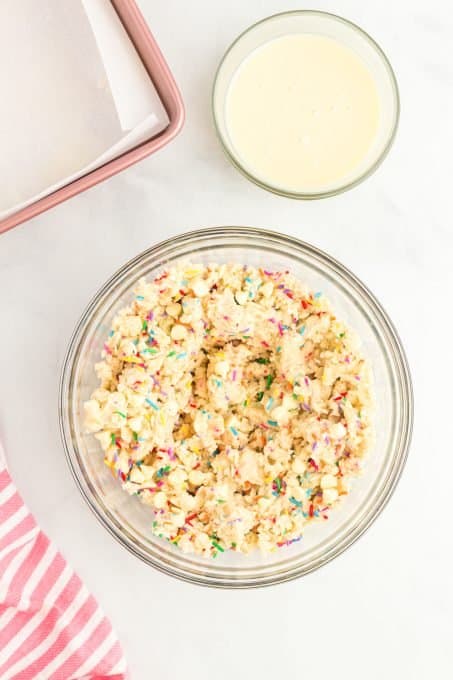 What sprinkles are best for funfetti gooey bars?
Make sure to use jimmies style sprinkles. Those are the long skinny sprinkles available at virtually every grocery store in a variety of colors.
Do NOT use the small ball sprinkles called nonpareils. They tend to bleed color into the batter as they bake, distorting the appearance of the finished ooey gooey bars.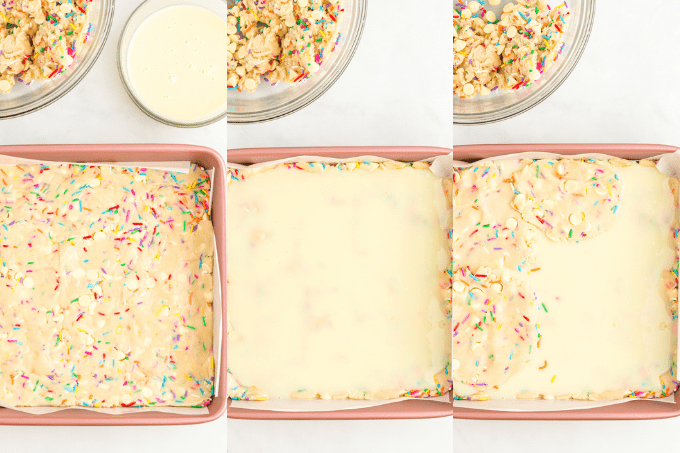 Do these ooey gooey bars need to be refrigerated?
You can store Funfetti Oeey Gooey Cake Mix bars at room temperature in a sealed container for up to 3 days. For longer storage, you can refrigerate them. They will stay good in the fridge for up to 1 week.
Can these Funfetti bars be frozen?
Yes, these dessert bars can be frozen for up to 2 months. Make sure to wrap them well in plastic wrap, foil or freezer bags to preserve freshness.
Let the frozen bars thaw and come to room temperature before enjoying. Keep in mind that the sprinkles may leak some of their color into the bars as they thaw. This won't alter the taste but may affect how the Funfetti bars look.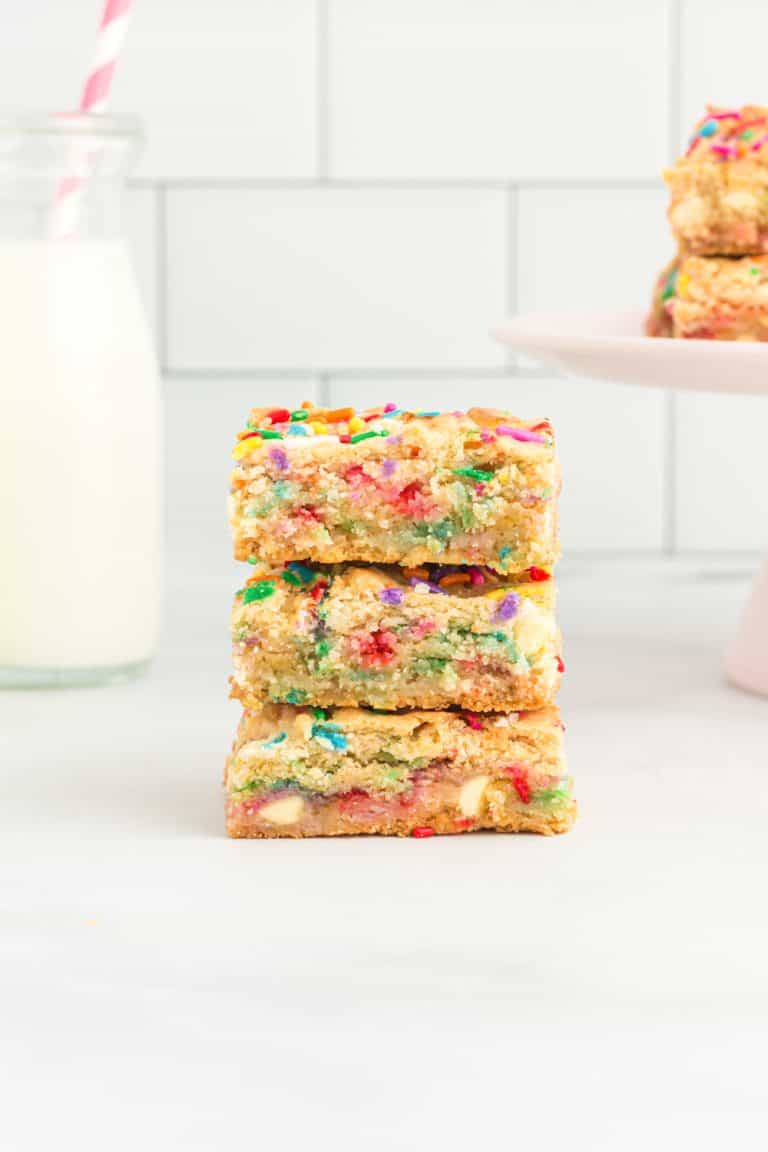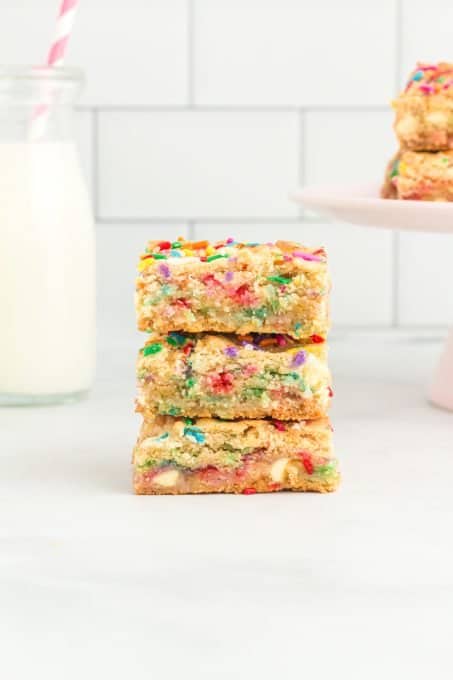 Can I skip the sweetened condensed milk in this recipe?
That's a definitive NO. You cannot make ooey gooey bars without sweetened condensed milk.
It's what gives them the unbelievably gooey consistency that sets Funfetti Ooey Gooey Bars apart from the other dessert bars out there!
If you leave off the condensed milk, you will end up with cakey bars instead of gooey ones.
I know it sounds strange to pour milk straight over dough, but the results speak for themselves. You won't regret giving this recipe a try!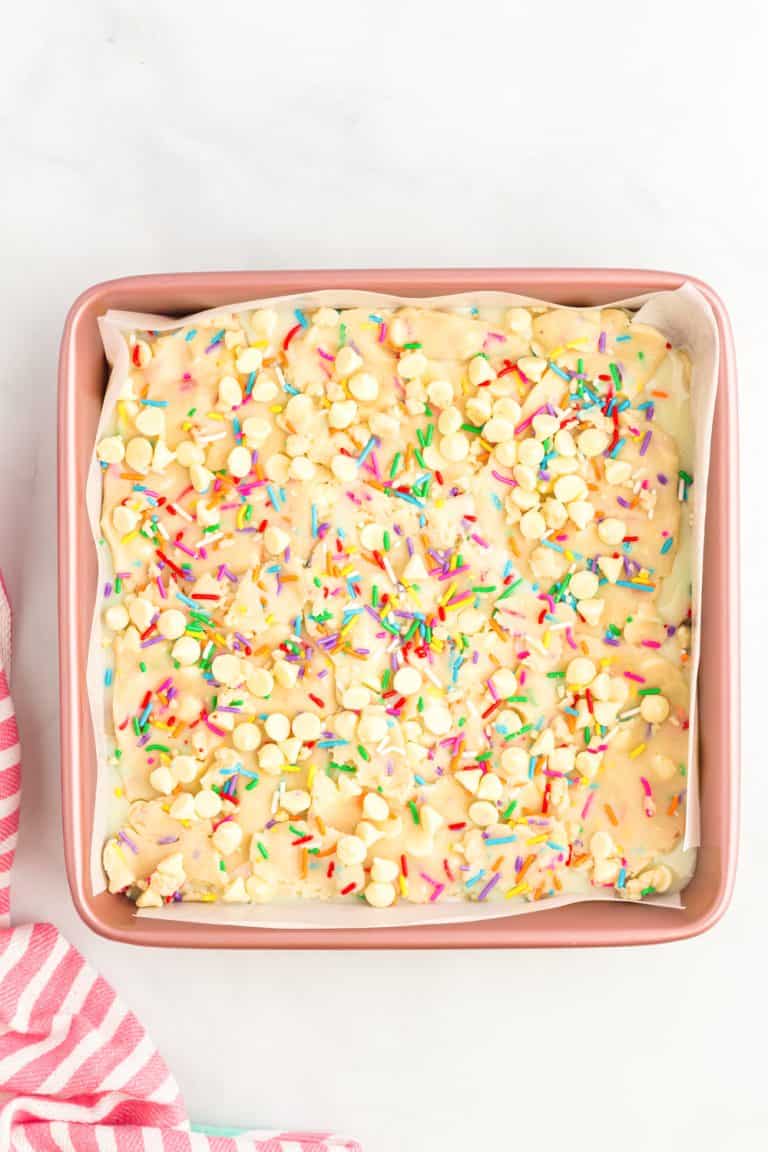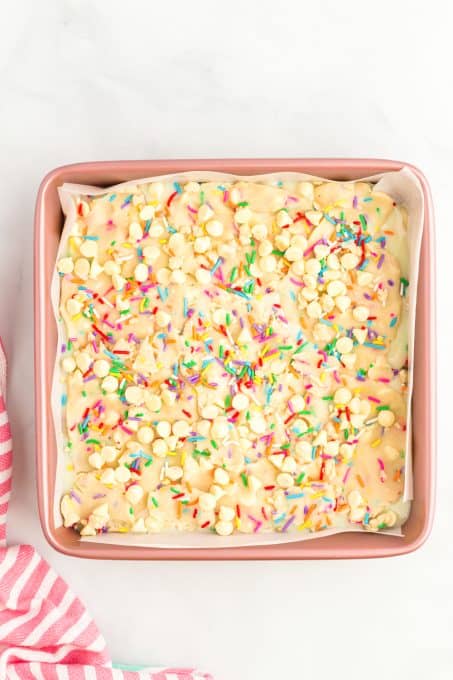 Bar Recipes
Dessert bars are ideal for bake sales, parties and all kinds of gatherings. I love that you don't need to worry about forks or plates. Just slice, grab and go!
These Toffee Coconut Oatmeal Bars are another must-try if you love soft, chewy cookie bars. Real toffee pieces and sweetened coconut give them an unforgettable flavor.
If you like rich brown sugar flavor, you'll love these Delta Bars. They've been one of the most popular recipes on this site for years and, once you taste them, you'll understand why everyone loves them so much!
My recipe for classic Lemon Bars is a favorite for citrus lovers. And the chocolate peanut butter fanatics rave over my no bake Chocolate Peanut Butter Dream Bars recipe.
What's your favorite dessert bar?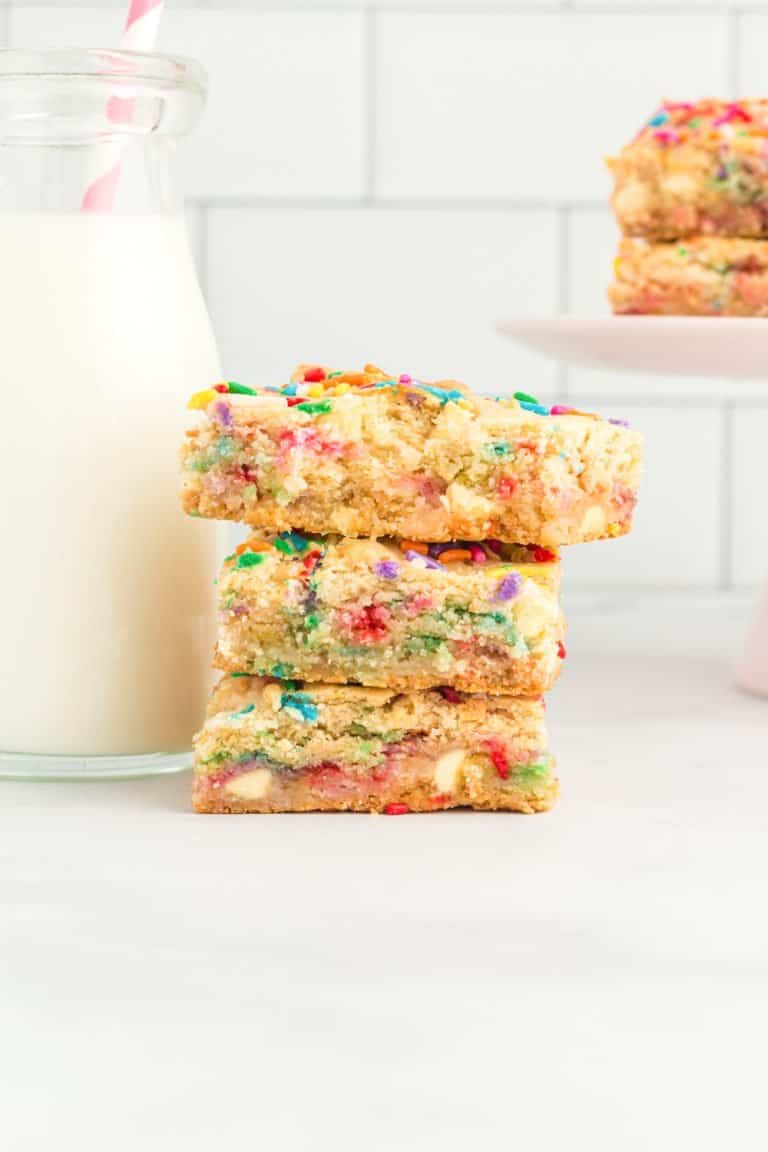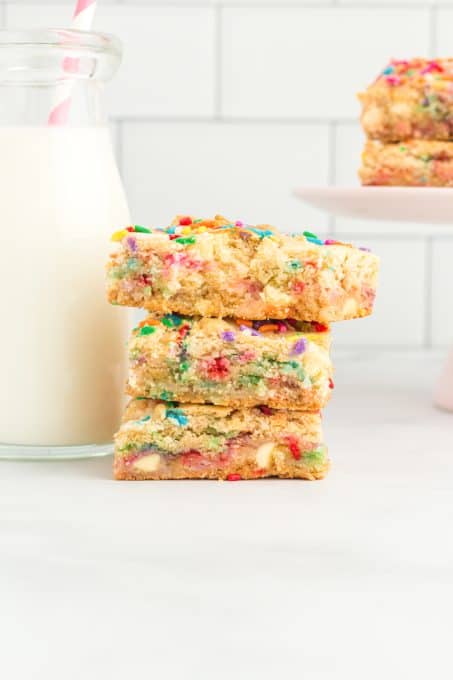 Dessert Recipes
Satisfy any sweet tooth with some of these other fun dessert recipes our readers love.
SIGN UP FOR THE WEEKLY
365 DAYS OF BAKING & MORE
NEWSLETTER BELOW!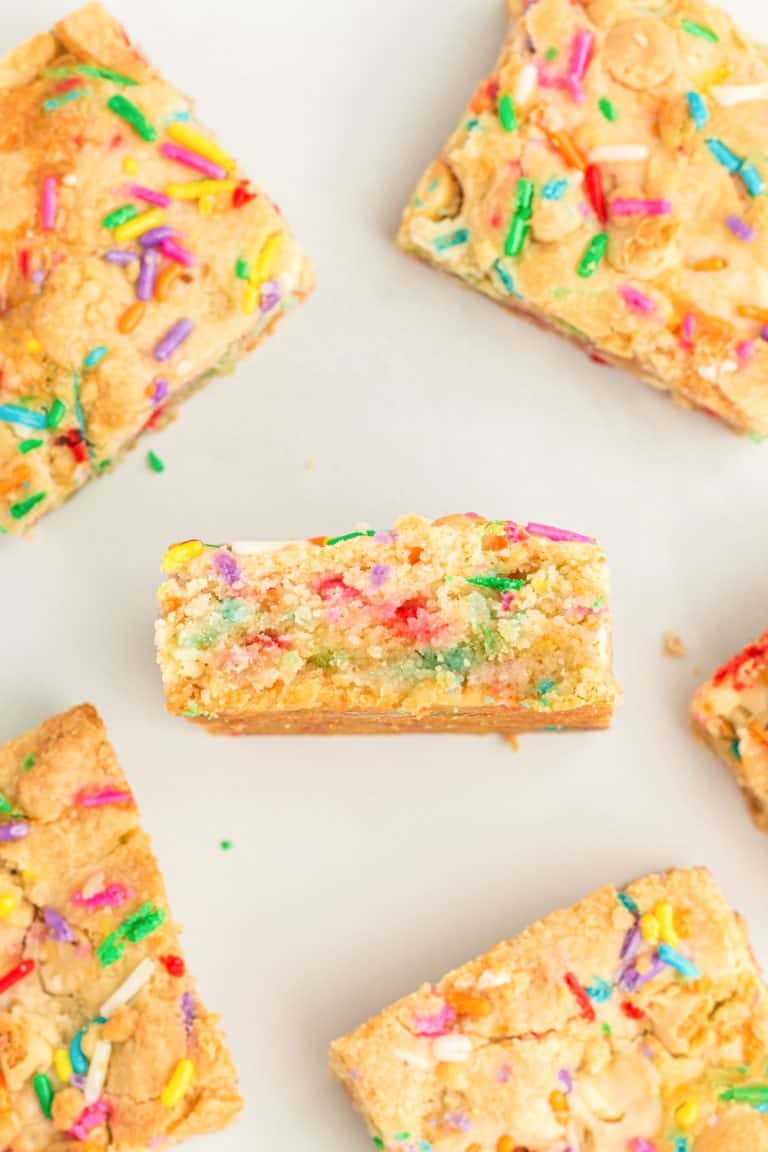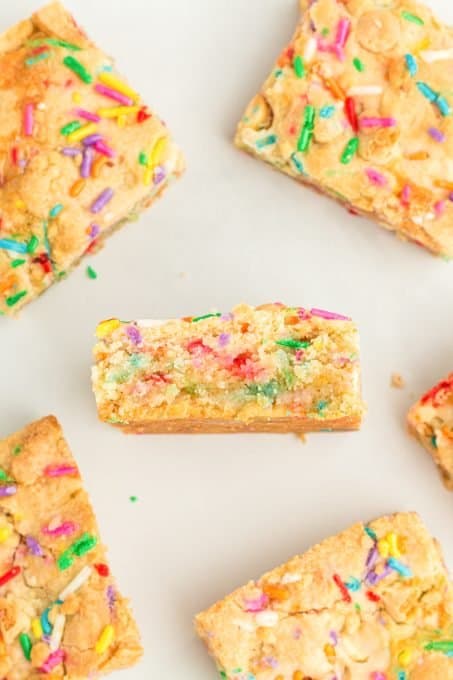 Turn a box of cake mix into unbelievably delicious dessert bars with this easy Funfetti Ooey Gooey Bars recipe!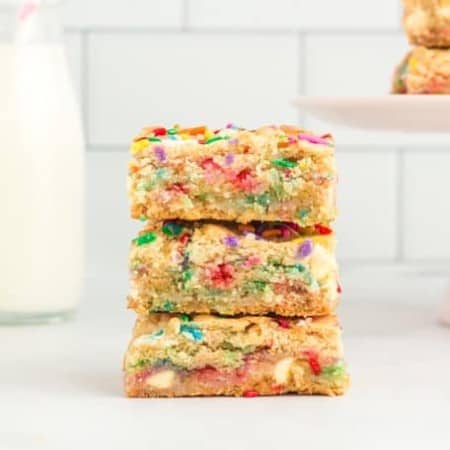 Funfetti Ooey Gooey Bars are an easy dessert bar inspired by the classic birthday cake. Every bite of these buttery soft bars is packed with sweet vanilla flavor and plenty of sprinkles!
Equipment
8 X 8-inch baking pan

parchment paper

cooking spray

Large Mixing Bowl
Ingredients
15.25 ounces white cake mix
½ cup unsalted butter melted, and slightly cooled
1 large egg
1 teaspoon pure vanilla extract
1 cup white chocolate chips
½ cup colored sprinkles
½ cup sweetened condensed milk
Instructions
Preheat oven to 350° F.

Line an 8" x 8" baking pan with parchment paper. Leave the sides a little higher than the pan so the bars can be lifted out easily after they've cooled. Spray the parchment paper lined pan with non-stick cooking spray and set aside.

In a large bowl, beat together the dry cake mix, butter, egg and vanilla extract until fully combined (about 30 seconds). Do not over mix. 

Stir in the sprinkles and white chocolate chips.

Press about 2/3 of the dough mixture into the bottom of the prepared pan. This dough will be thick (cookie dough consistency). If you are having difficulty spreading dough into the pan, lightly spray a spatula with non-stick cooking spray to help spread out the bottom layer.

Spread the sweetened condensed milk evenly over the first dough layer.

Press the remaining 1/3 of dough into super flat pieces and cover as much of the sweetened condensed milk layer with the dough as possible.

Place baking tray in oven and bake for 29 to 31 minutes – the middle will look set and edges will be slightly browned. Do not over bake or these bars will lose the gooey texture.

Let ooey gooey bars cool in pan for at least 60 minutes before removing from pan and slicing into 16 squares. For clean edged squares, wipe the knife with a damp cloth in between cutting each row.

Store ooey gooey bars in a sealed food safe storage container at room temperature for up to 3 days or in fridge up to a week.
Nutrition
Serving: 1bar | Calories: 269kcal | Carbohydrates: 39g | Protein: 3g | Fat: 12g | Saturated Fat: 7g | Polyunsaturated Fat: 1g | Monounsaturated Fat: 3g | Trans Fat: 1g | Cholesterol: 31mg | Sodium: 214mg | Potassium: 90mg | Fiber: 1g | Sugar: 28g | Vitamin A: 221IU | Vitamin C: 1mg | Calcium: 112mg | Iron: 1mg
Did you make this recipe?
Share it with me on Instagram and make sure to follow me on Pinterest for more recipes.
*We are a participant in the Amazon Services LLC Associates Program, an affiliate advertising program designed to provide a means for us to earn fees by linking to Amazon.com and affiliated sites as well as ShareASale.
These are links that can take you to a product (or products) that I recommend. I do receive a portion of the sales or credit for my future purchases from any items purchased through those links. Your purchases encourage my baking, cooking and butter habit, and contribute to the life of this blog. I thank you so very much for your support. Let's keep having fun in the kitchen!!
Reader Interactions