Blueberry Cream Cheese Scones are soft, lightly sweetened scones bursting with fresh, juicy blueberries. Perfect for breakfast, a Mother's Day brunch, tea time or an afternoon snack!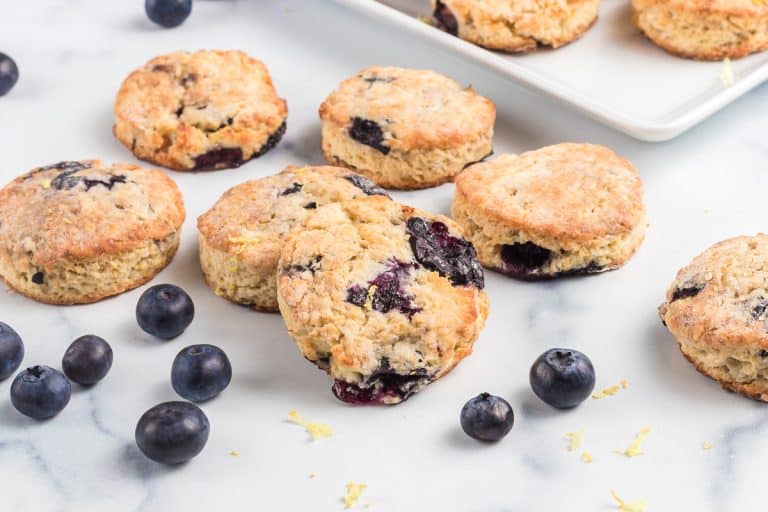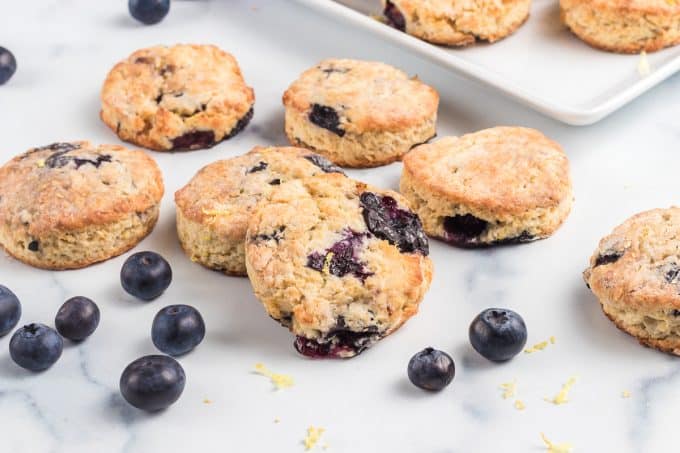 Homemade scones. The ultimate in easy breakfast goodies!
Blueberries bring a taste of summer to your kitchen. It can be zero degrees outside and all I need is a batch of Blueberry Cornmeal Muffins or one of these amazing blueberry scones to remember that warmer days are coming.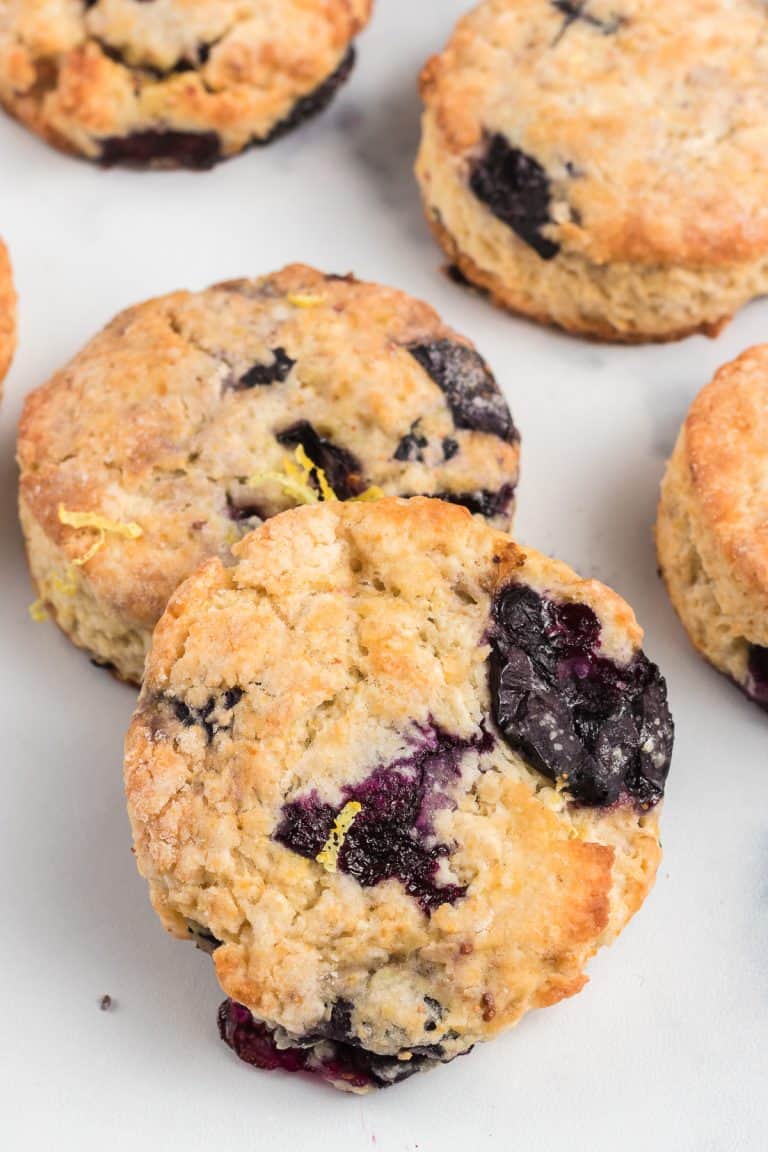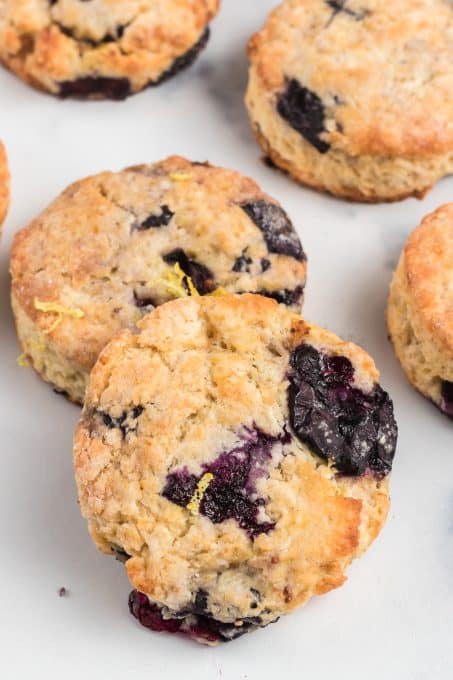 Today's scones aren't just blueberry scones. They're Blueberry CREAM CHEESE scones!
My Raspberry Cream Cheese Scones were such a hit, that I just had to make a blueberry version too. Adding cream cheese to the pastry dough, along with butter, gives the scones a softer crumb and hint of tangy flavor.
While cream cheese is front and center in desserts like Blueberry Cheesecake and Strawberry Cream Cheese Hand Pies it plays more of a supporting role in Blueberry Cream Cheese Scones, with small chunks of cream cheese enhancing the sweet, tart, juicy taste of blueberries.
Serve these scones with a fresh pot of coffee or tea for a perfect anytime treat!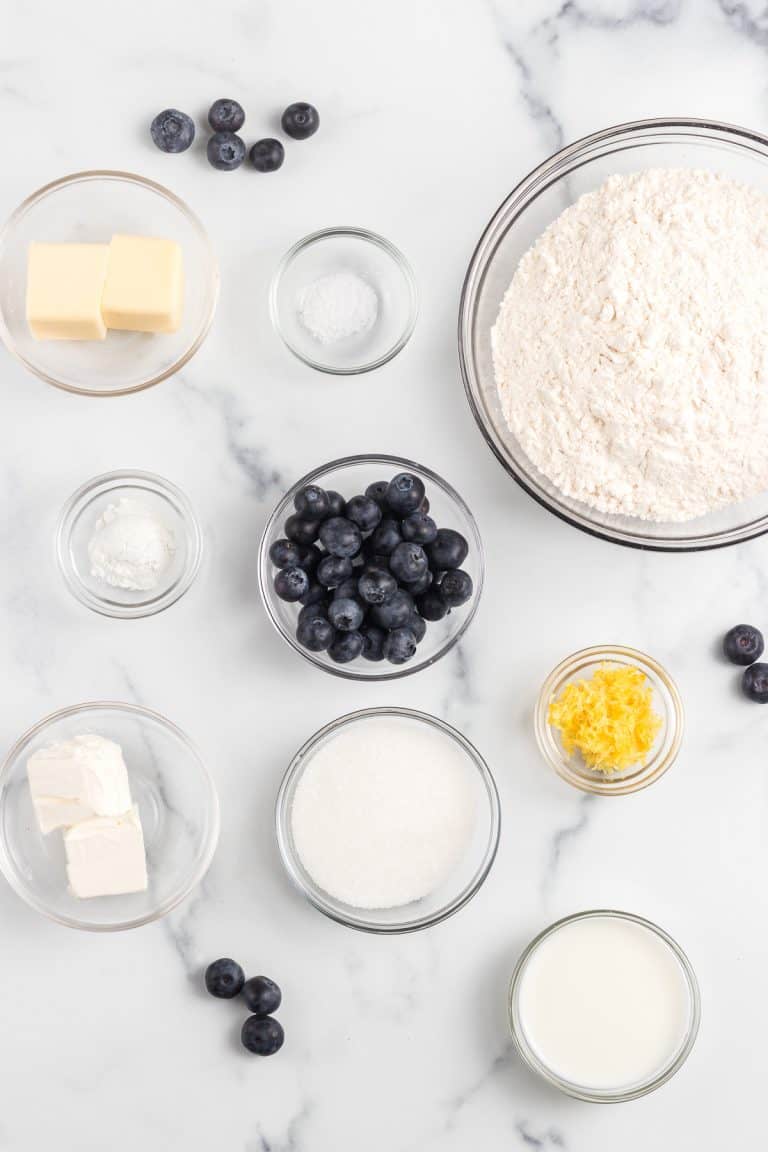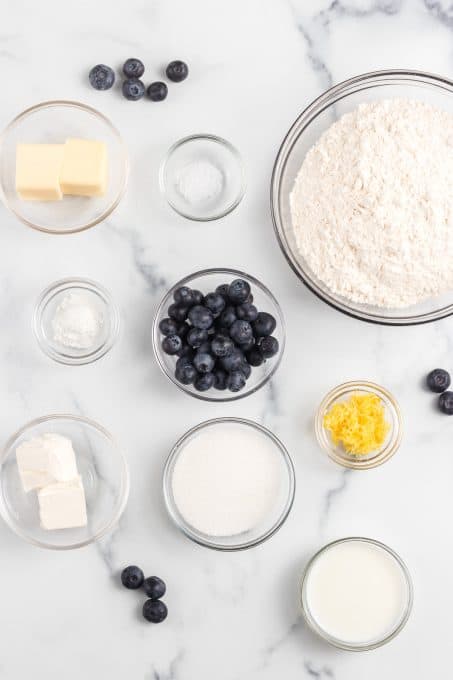 What do I need for this delicious recipe?
Time to assemble your ingredients. Here's everything you need to make these bakery quality scones at home.
All-purpose flour
Sugar
Baking powder
1/4 teaspoon Salt
Lemon zest
1/4 cup Butter
Cream cheese
Fresh blueberries
Egg
Milk
Turbinado Sugar – or raw sugar to sprinkle on the tops of the scones
Can I substitute frozen blueberries?
Yes, you can use frozen blueberries in this scone recipe. I like to freeze fresh blueberries with this method when they're in season so I'm ready to make these scones whenever I want.
You'll just need to make sure to thaw the frozen blueberries first. Then use a paper towel to blot away the excess moisture. Otherwise the dough will be too moist, the texture of the scones will be off, and there's a great chance your scones will be BLUE.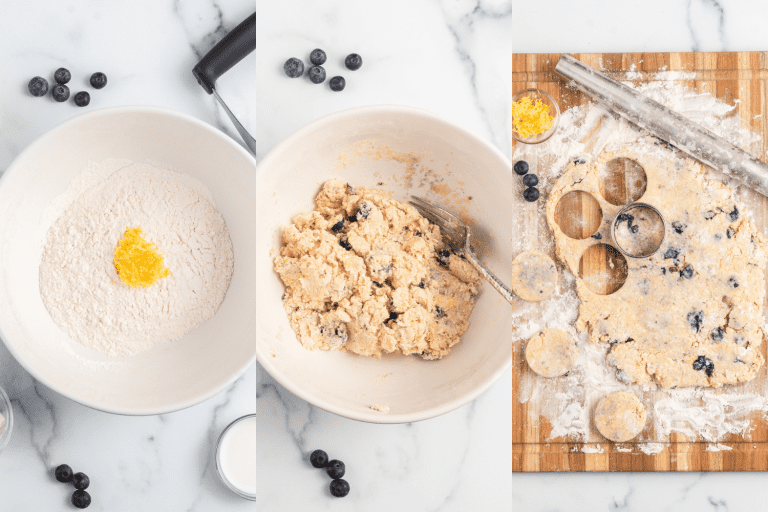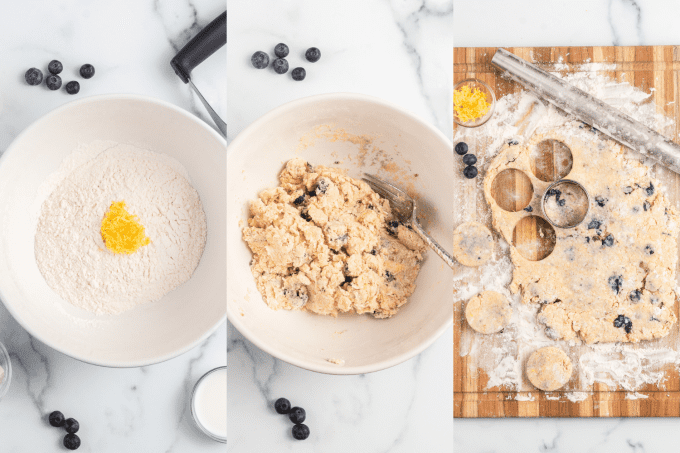 How to Make Blueberry Cream Cheese Scones
Making these scones is as easy as mixing up a dough, cutting it into circles, and baking.
Start by adding the flour, baking powder, salt and zest to a large bowl. Combine butter and cream cheese by incorporating them into the dry ingredients with a pastry blender or two butter knives. Once the flour mixture resembles coarse meal, mix in the remaining ingredients to form a dough.
Now shape the dough into a round disk on a lightly floured surface. Pat the dough with your hands so its even. I made mine about a 1/2-inch thick all the way around.
Use a round cookie cutter or biscuit cutter to cut the dough into rounds. Arrange the scones on a baking sheet lined with parchment paper, making sure to leave an inch of space between each one. Sprinkle each scone with a little bit of Turbinado sugar.
Place the scones in a preheated oven set to 425 F degrees. Baking time is about 12 minutes, or until the tops are a lightly golden brown.
These blueberry scones only need a couple of minutes to cool on a wire rack before eating. I think they taste best warm, almost right out of the oven!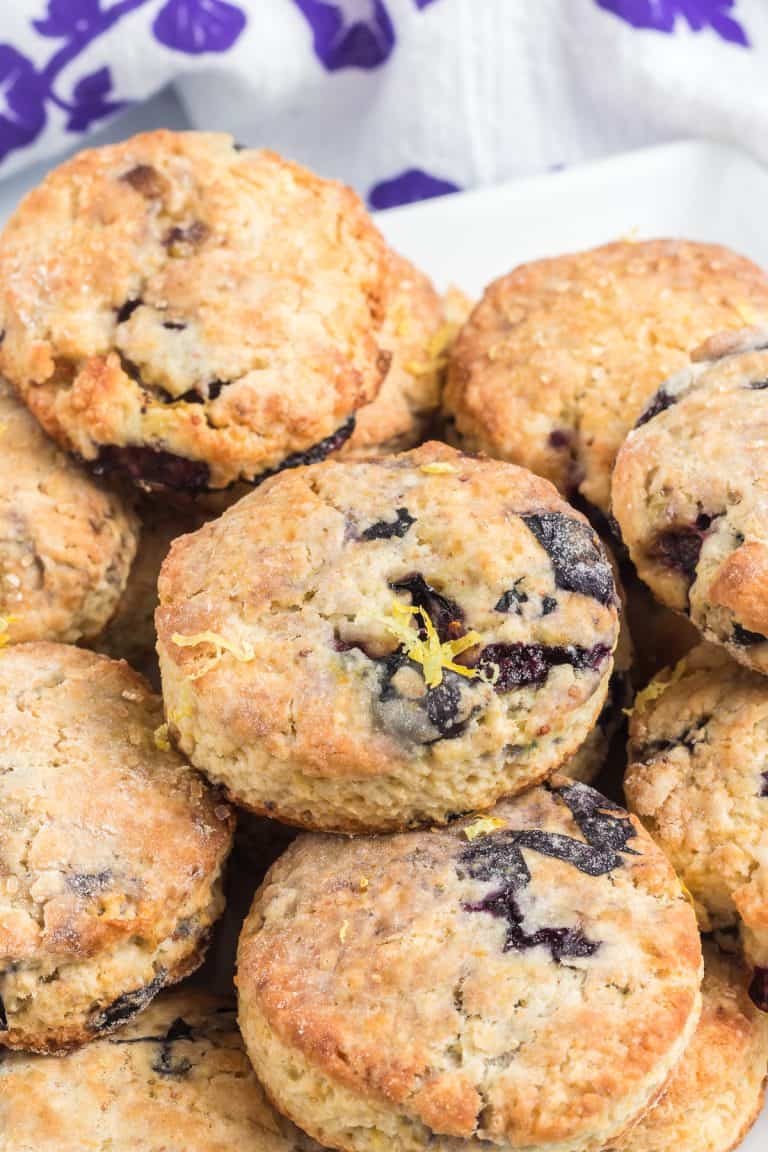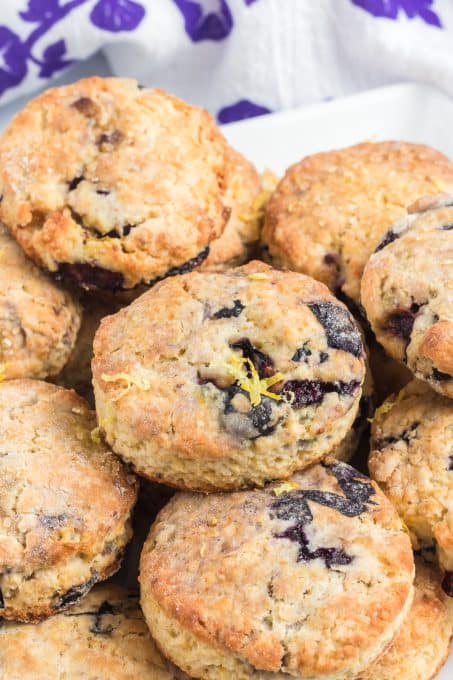 Scones Tips and Tricks
Use cold butter for best results! The cold temperature keeps the butter from melting before the scones bake, for a delicious soft, flaky crumb.
Be careful not to overwork the dough. You want to mix the ingredients just until combined. Over mixing can result in scones that are dense or tough.
Blueberry Cream Cheese Scones taste best enjoyed the same day you bake them. Store leftovers in an airtight container at room temperature and enjoy leftovers as soon as possible. More reasons to have a SECOND scone with your morning coffee!
Want more sweetness in your scones? Sprinkle the top of each one with a little turbinado sugar (sugar in the raw) before baking.
I love these scones served plain, just as they are. You could also spread them with a bit of butter, jam or clotted cream if you like. There's no wrong way to eat scones!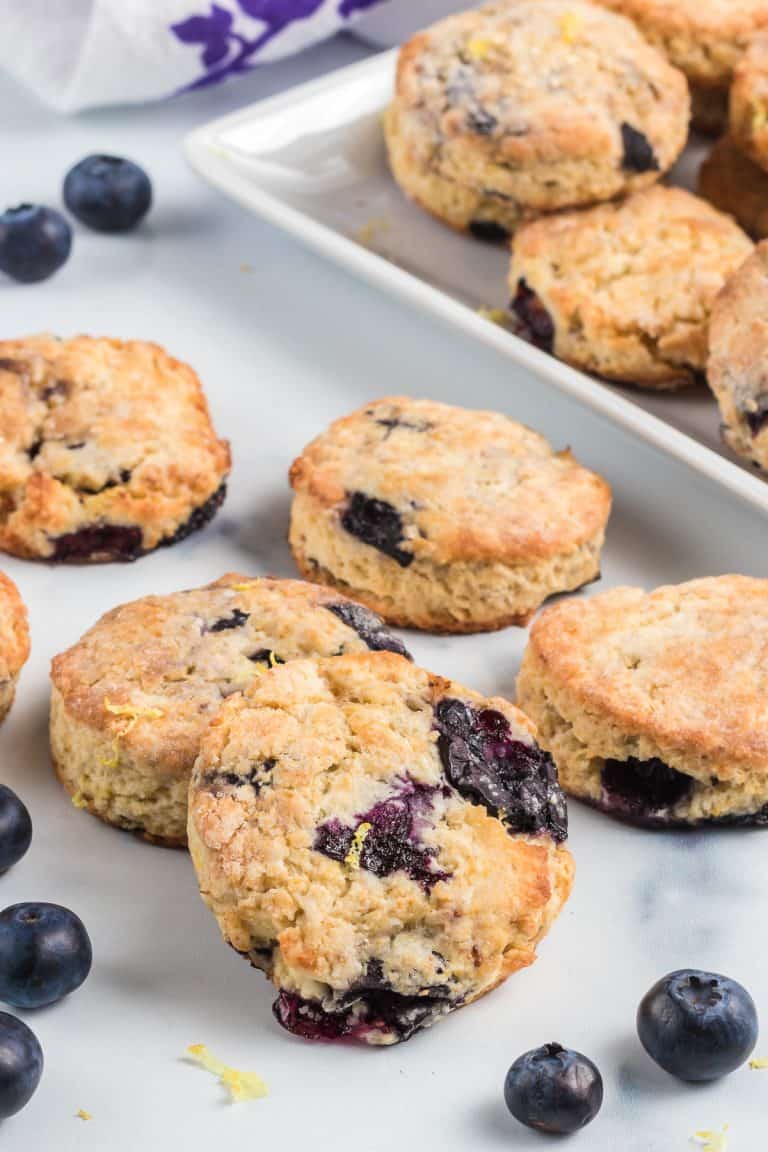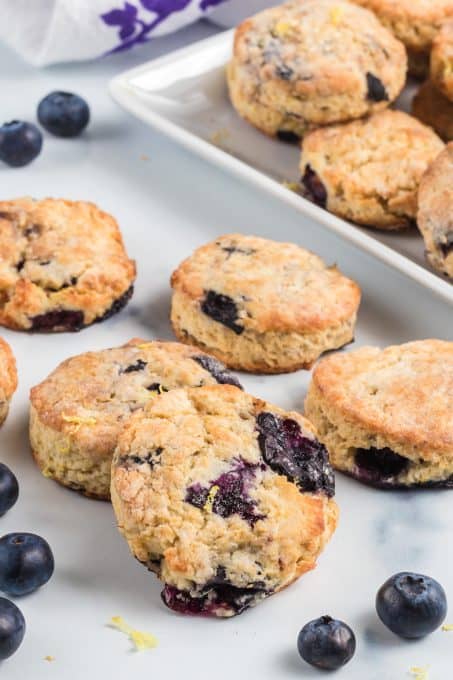 Delicious Scones
I used to spend so much money on scones from coffee shops and bakeries. When you have a cup of coffee in hand, you NEED a scone to go with it, right?
Then I learned how easy it is to make scones at home. Once you know the basic method, you can make scones to suit any craving from Banana and Chocolate to Orange Marmalade!
Try these Cranberry Macadamia Scones next time fresh cranberries are in season or if you've stored some in your freezer. These Apple Cinnamon Scones with Maple Glaze are perfect for fall, but the ingredients are easy to find all year long.
For more summer ready scone ideas, try my recipes for Peach Scones and Lemon Poppy Seed Scones! And of course, I'll always love these simple, classic Easy Strawberry Scones!
Can't decide which flavor to make? This Mixed Berry Scone recipe has a little bit of all my favorite berries.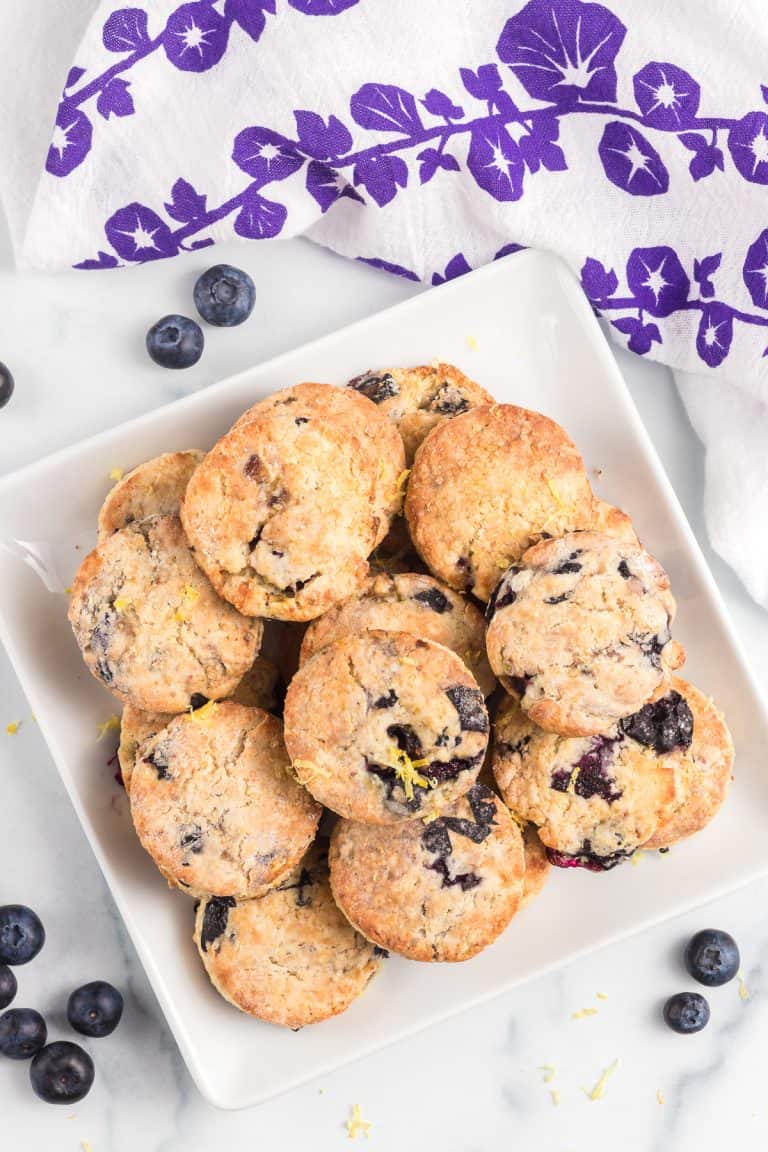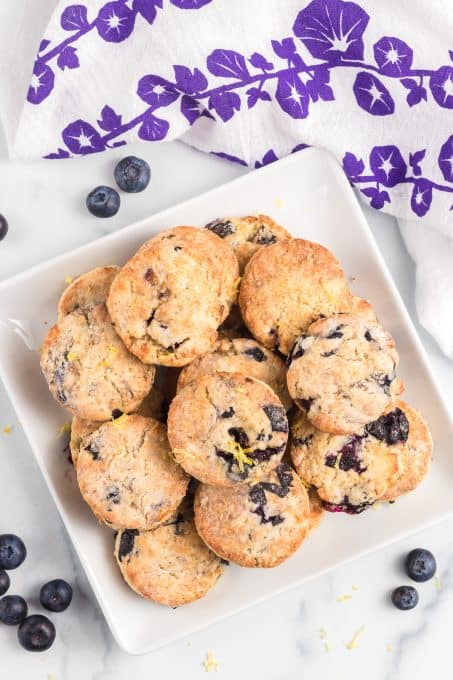 Blueberry Recipes
Whenever fresh blueberries are in season, I have a hard time deciding what I'll use them for. Not because I don't have any ideas, but because I have too many! I can't get enough of breakfast delights like Baked Blueberry Oatmeal and Blueberry French Toast.
Not to mention desserts like Blueberry Coriander Bundt Cake and Blueberry Ginger Galette.
Now I have blueberry scones with cream cheese to add to the list, along with the dozens and dozens of other blueberry recipes I have on the blog.
How many of my favorite blueberry recipes have you tried?
Looks like you've got your blueberry baking cut out for you to try them all!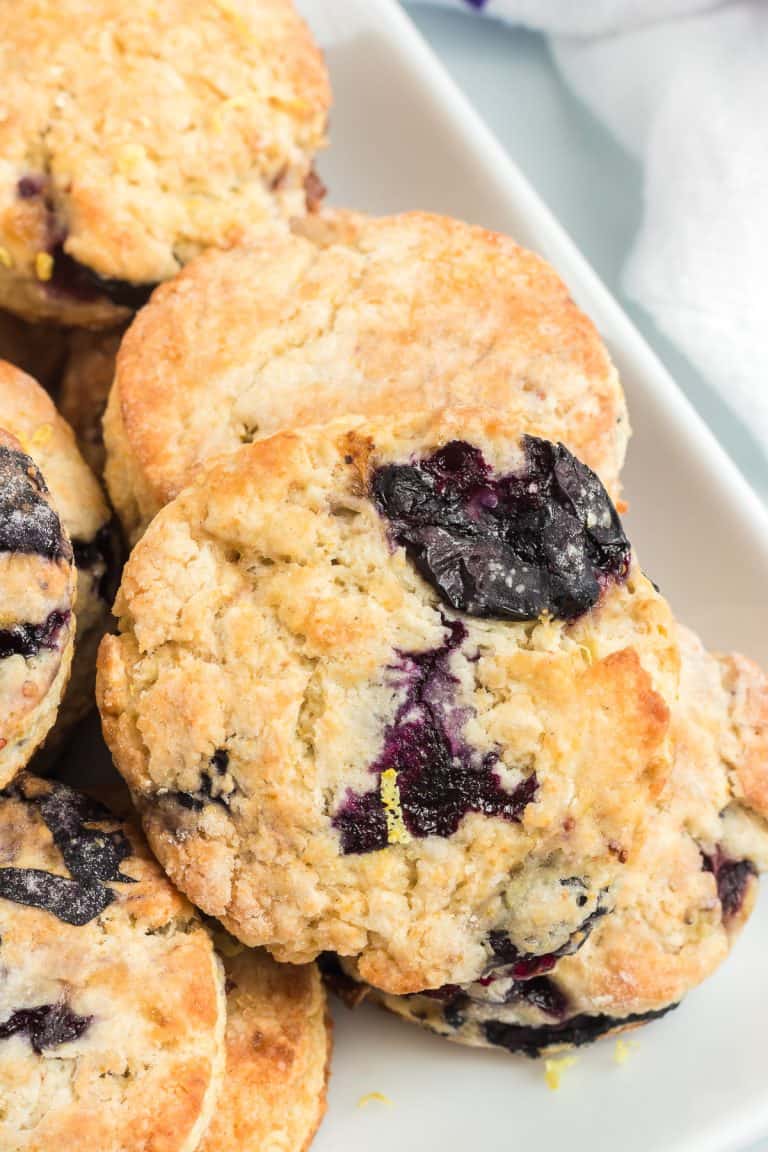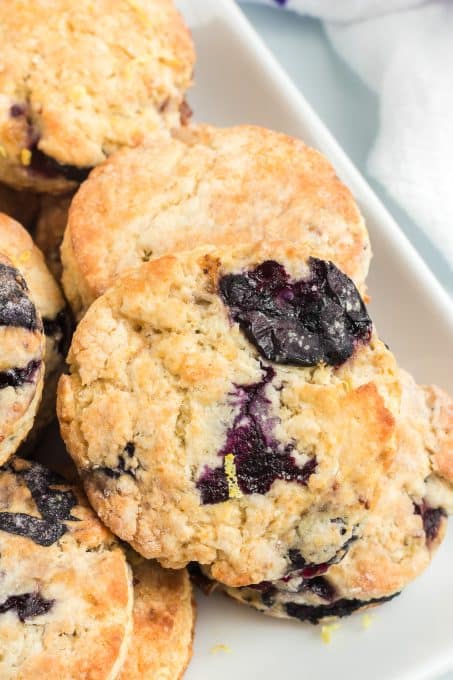 Start by rolling up your sleeves and baking a batch of these easy Blueberry Cream Cheese Scones for your next breakfast recipe. They're soft, flaky and full of juicy berry flavor!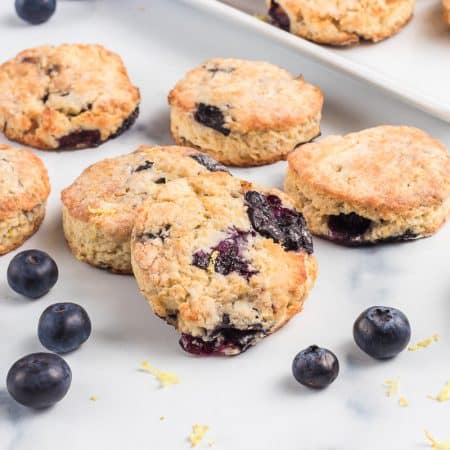 Blueberry Cream Cheese Scones
Blueberry Cream Cheese Scones are soft, lightly sweetened scones bursting with fresh, juicy blueberries. Perfect for breakfast, a Mother's Day brunch, tea time or an afternoon snack!
Ingredients
1 ¾ cups sifted all-purpose flour
¼ cup sugar
1 ½ teaspoons baking powder
¼ teaspoon salt
2 teaspoons fresh lemon zest from 1 lemon
¼ cup unsalted butter chilled
2 ounces cream cheese chilled
⅓ cup fresh blueberries can use frozen, just completely thaw and blot dry to remove excess moisture.
1 egg lightly beaten
2 tablespoons milk
2 tablespoons Turbinado or Raw Sugar for sprinkling
Instructions
Preheat oven to 425°F. and prepare a baking sheet by placing a piece of parchment over it.

Sift flour, sugar, baking powder, salt and lemon zest into a large bowl.

Using a pastry blender, or two knives, cut in butter and cream cheese until the mixture resembles coarse meal.

Add egg, milk and blueberries. Mix with a fork until everything comes together to form a soft dough

Roll out onto a lightly floured surface and pat into a circle about a 1/2-inch thick.

Cut into rounds with a 2-inch cookie or biscuit cutter.

Place onto prepared baking sheet, about an inch apart and sprinkle each with a little bit of the Turbinado sugar. Bake for 12 minutes or until lightly golden.

Transfer to a wire rack and allow to cool 1-2 minutes before serving warm.
Nutrition
Serving: 1scone | Calories: 129kcal | Carbohydrates: 18g | Protein: 2g | Fat: 5g | Saturated Fat: 3g | Polyunsaturated Fat: 0.3g | Monounsaturated Fat: 1g | Trans Fat: 0.1g | Cholesterol: 25mg | Sodium: 61mg | Potassium: 78mg | Fiber: 1g | Sugar: 6g | Vitamin A: 178IU | Vitamin C: 1mg | Calcium: 31mg | Iron: 1mg
Did you make this recipe?
Share it with me on Instagram and make sure to follow me on Pinterest for more recipes.
Reader Interactions