These Strawberry Cream Cheese Hand Pies are heart shaped with a heavenly cream cheese filling. An easy strawberry pastry recipe for Valentine's Day or any occasion!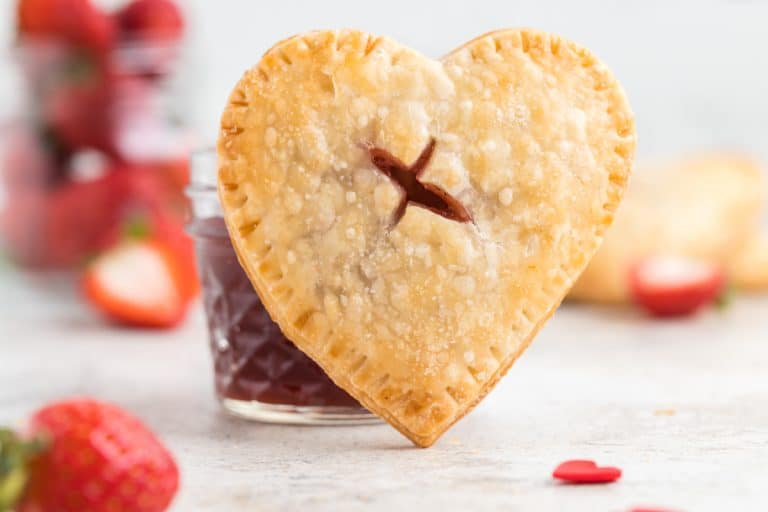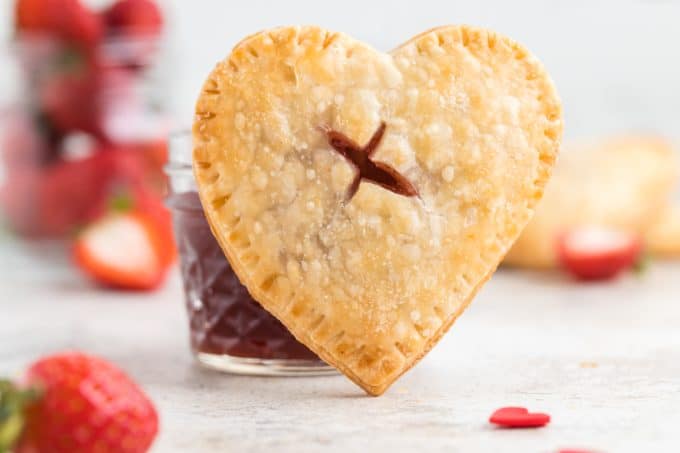 How adorable are these hand pies?
Bursting with sweet strawberry and tangy cream cheese filling, heart shaped hand pies taste even better than they look!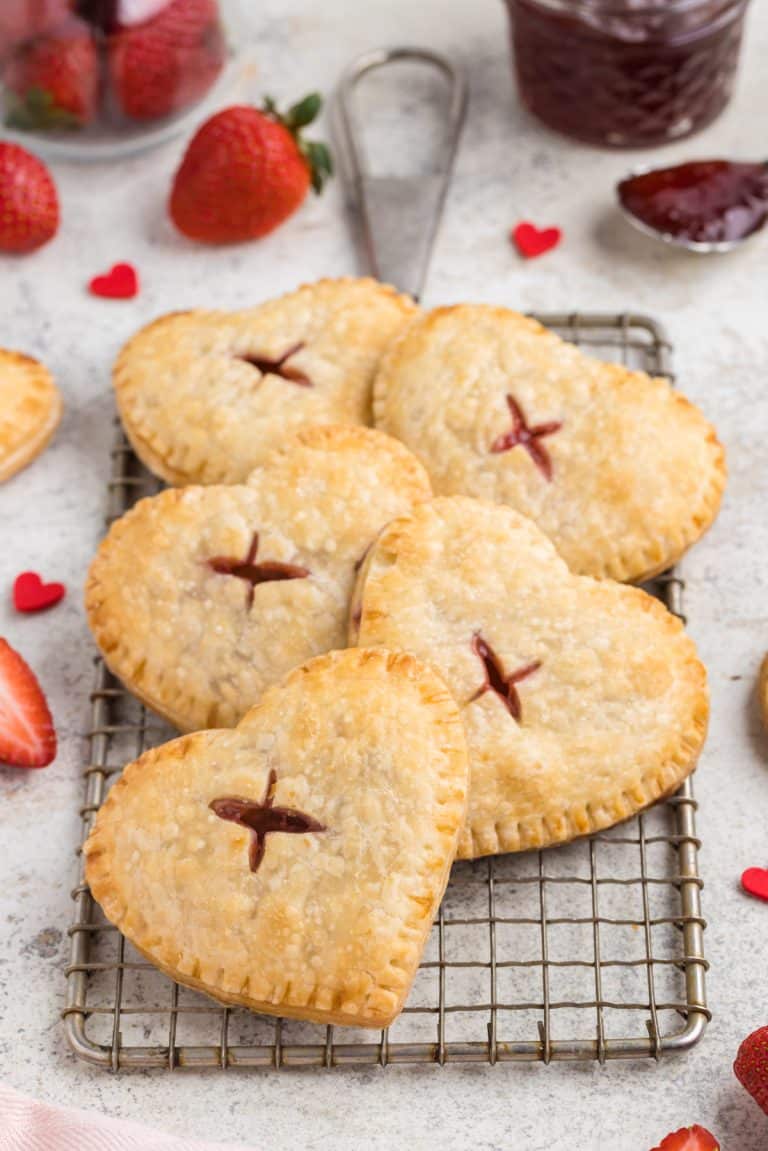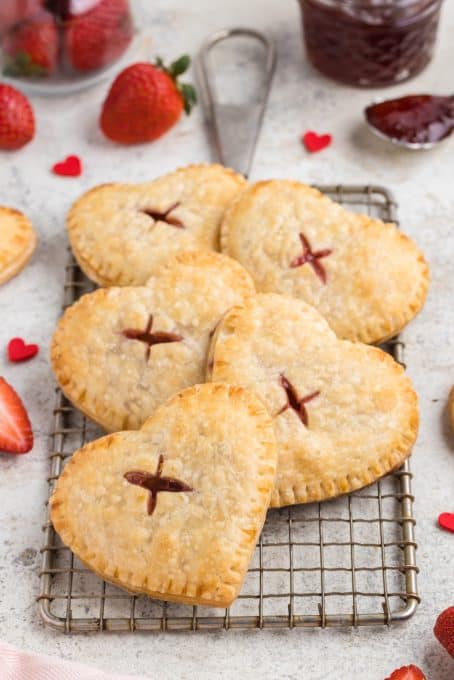 A few weeks ago, I shared an easy recipe for Strawberry Danish Hearts. Today's hand pies are another spin on strawberry and cream cheese — hand pies!
What are hand pies?
Hand pies are single serving pies you eat with your hands! Aptly named, right?
You can make hand pies with all kinds of fillings and flavors. I have a recipe for Cherry Hand Pies hand pies that uses canned filling to make things super easy.
Today, I'm getting into the Valentine's Day spirit with a batch of Strawberry Cream Cheese Hand Pies. Made from scratch with fresh ingredients, these mini strawberry heart pies are the perfect way to spread some love.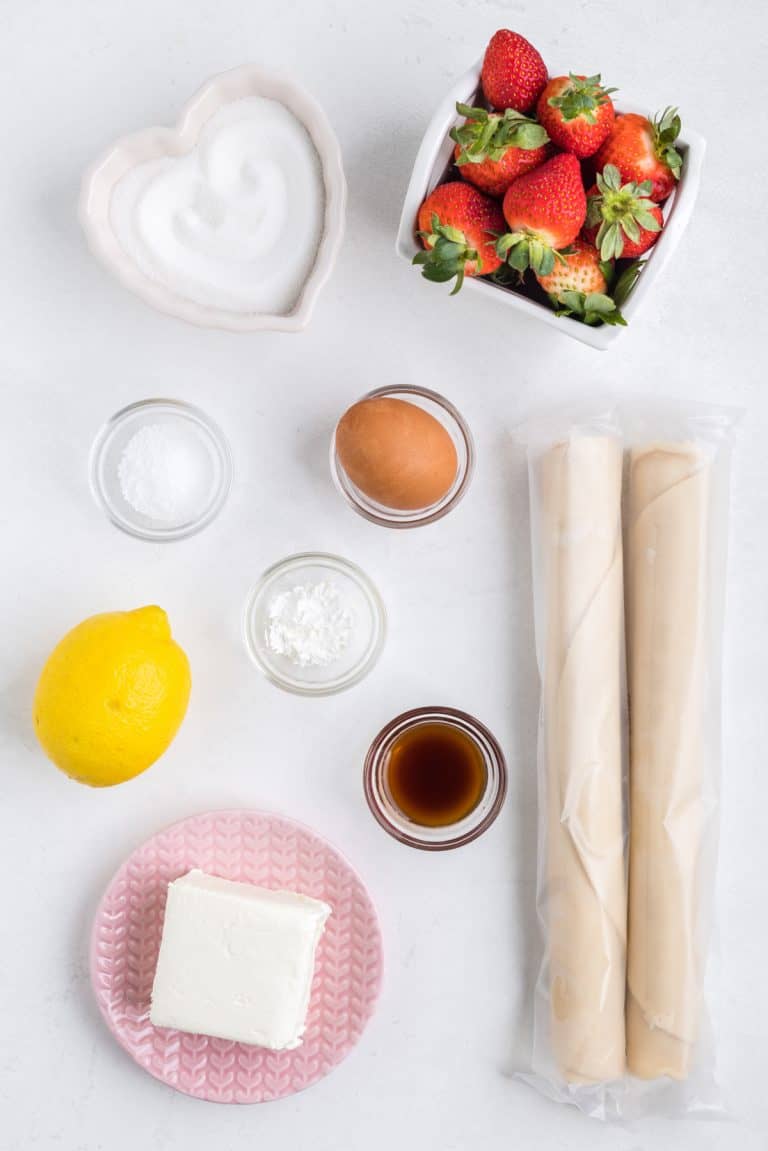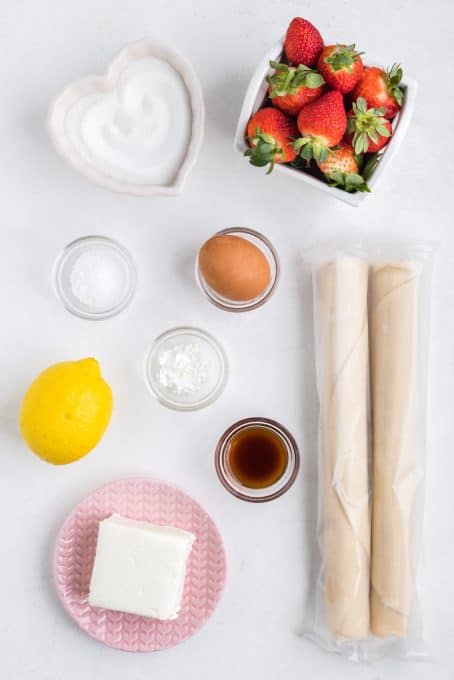 What do I need to make strawberry pies?
Here's what you need to make Strawberry Cream Cheese Hand Pies.
Fresh Strawberries – Hulled and quartered, with stems removed. You can use fresh or frozen berries for today's recipe.
Granulated sugar
Lemon – You'll need both the juice and the lemon zest.
Corn starch
Cream cheese – Let it come to room temperature first.
Egg – Separate the yolk and the white.
Vanilla extract
Pie crust – Refrigerated or homemade.
Coarse sugar – like turbinado sugar or "sugar in the raw".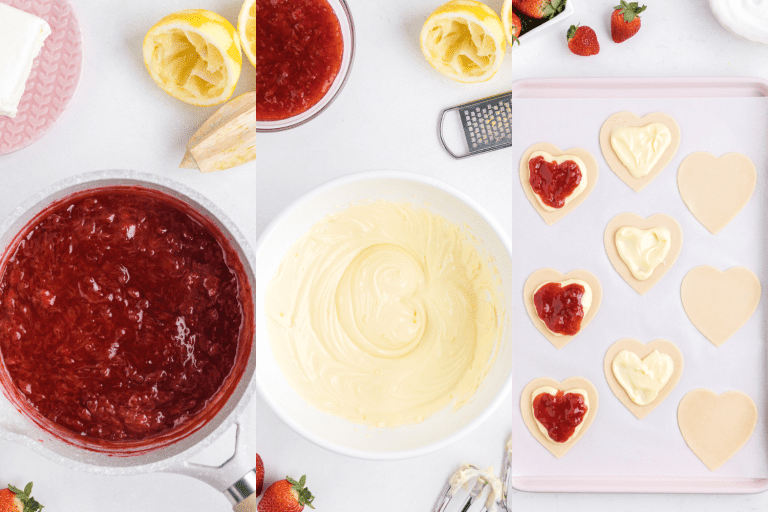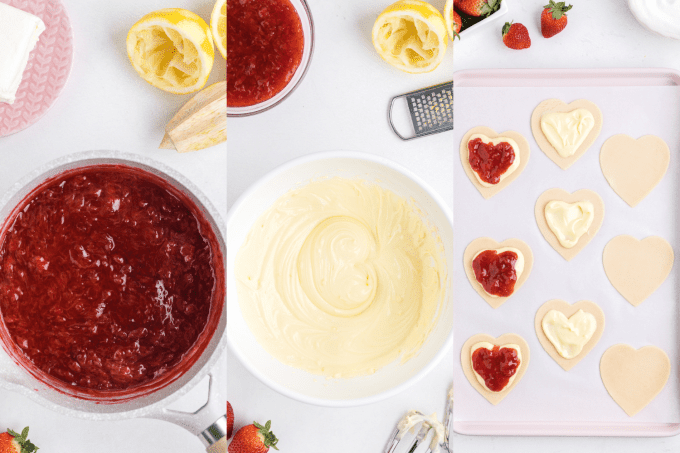 How to Make Strawberry Hand Pies
The first step is to make the strawberry jam by combining the strawberries, sugar, lemon juice, and cornstarch in a small saucepan. Bring the mixture to simmer on the stove, stirring occasionally.
After about 5 minutes, use a potato masher or strong fork to mash the softened strawberries. Cook the strawberry mixture for another 5 to 10 minutes, or until thickened. If you use frozen strawberries, this may take a little longer due to the extra liquid in frozen fruit.
Ensure the strawberry jam has cooled completely before assembling the pies. If the jam is still warm or hot it will cause the butter in the crust to melt leading to a soggy, rather than flaky crust.
While the jam cools, beat together the ingredients at medium-high speed for the cream cheese filling. Unroll your refrigerated pie crust and place dough on to a lightly floured surface.
Use a heart shaped cookie cutter to cut out 10 hearts from each crust. You may need to reroll the remaining dough a couple of times to get 10 hearts. Once you have 20 heart crusts, you're ready to assemble your strawberry mini pies.
Spoon a bit of sweet cheese mixture onto half of the hearts. Add a spoonful of strawberry filling on top of the cream cheese filling.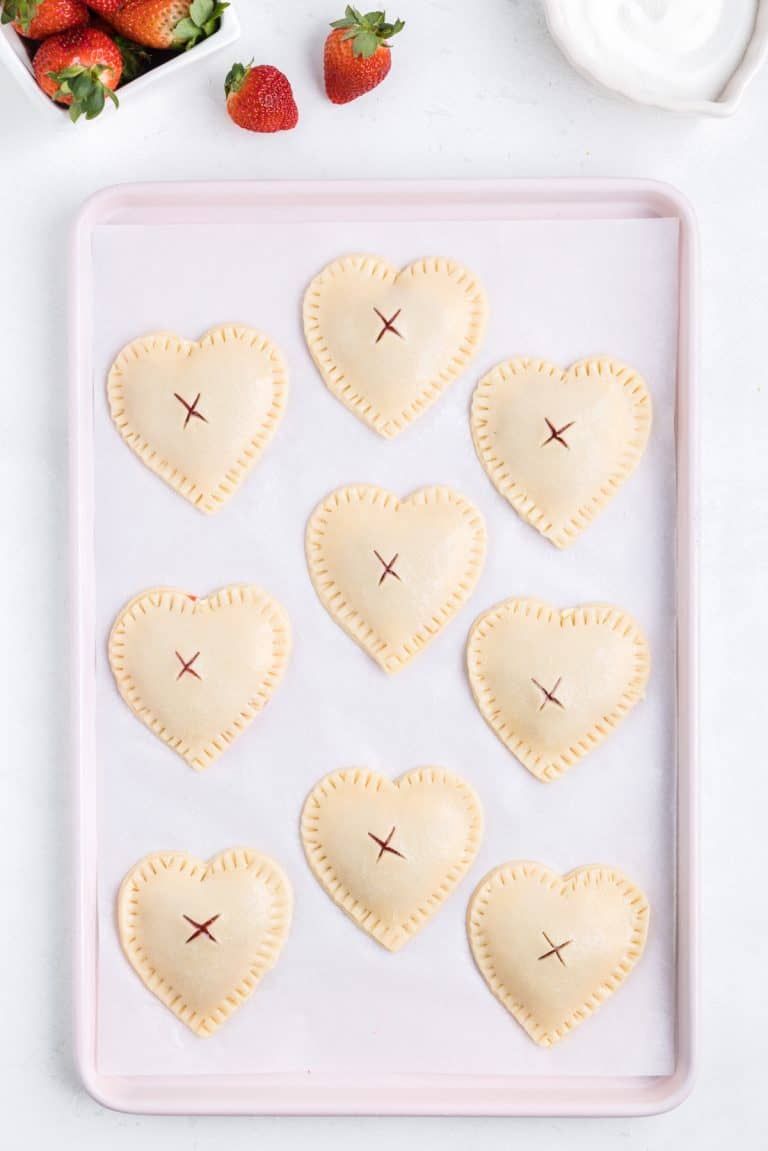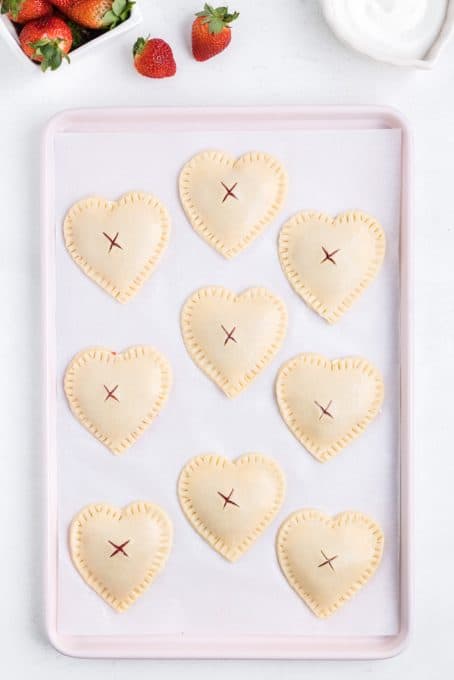 Cut an "x" in the remaining pie crusts with a sharp knife to create a vent. Top each filled pie crust with a vented crust.
Press the ends of the crusts together and use the tines of a fork to crimp the edges, creating that classic hand pie look.
Before baking these hand pies, I add one extra step that makes all the difference: refrigerate the pies for 30 minutes! Chilling the strawberry hand pies helps firm up the filling which prevents the excess liquid from leaking out all over the place as they bake.
After 30 minutes, brush the pies with egg wash and sprinkle the top of each pie with coarse sugar. Bake until golden brown, cool slightly and enjoy warm! You can even dust them with powdered sugar if you'd like.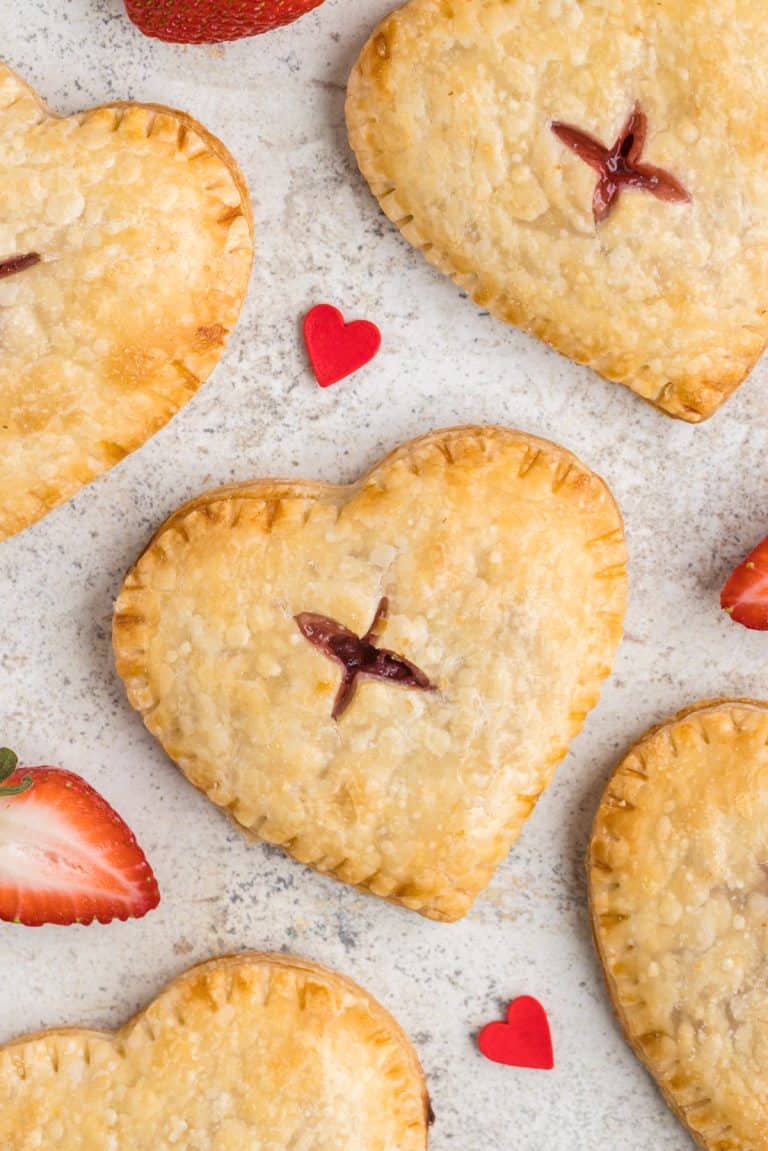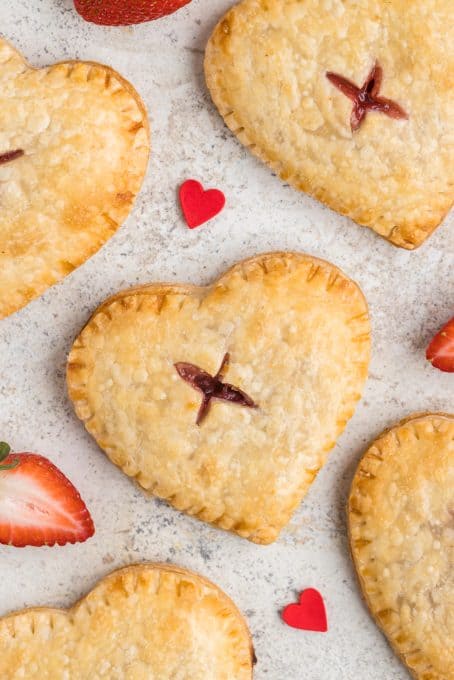 What size cookie cutter do I need to make cream hand pies?
I used a 3.5 inch cookie cutter to make my heart shaped hand pies. The size of your cookie cutter will determine the amount of hand pies this recipe yields.
If you do not have a heart-shaped cutter, you can create a stencil from parchment paper and use a paring knife to cut out the hearts instead. Takes a little extra work, but still pretty easy!
Of course, you can also make hand pies with other cookie cutter shapes or a round biscuit cutter instead. Feel free to make different shaped hand pies for different holidays and occasions!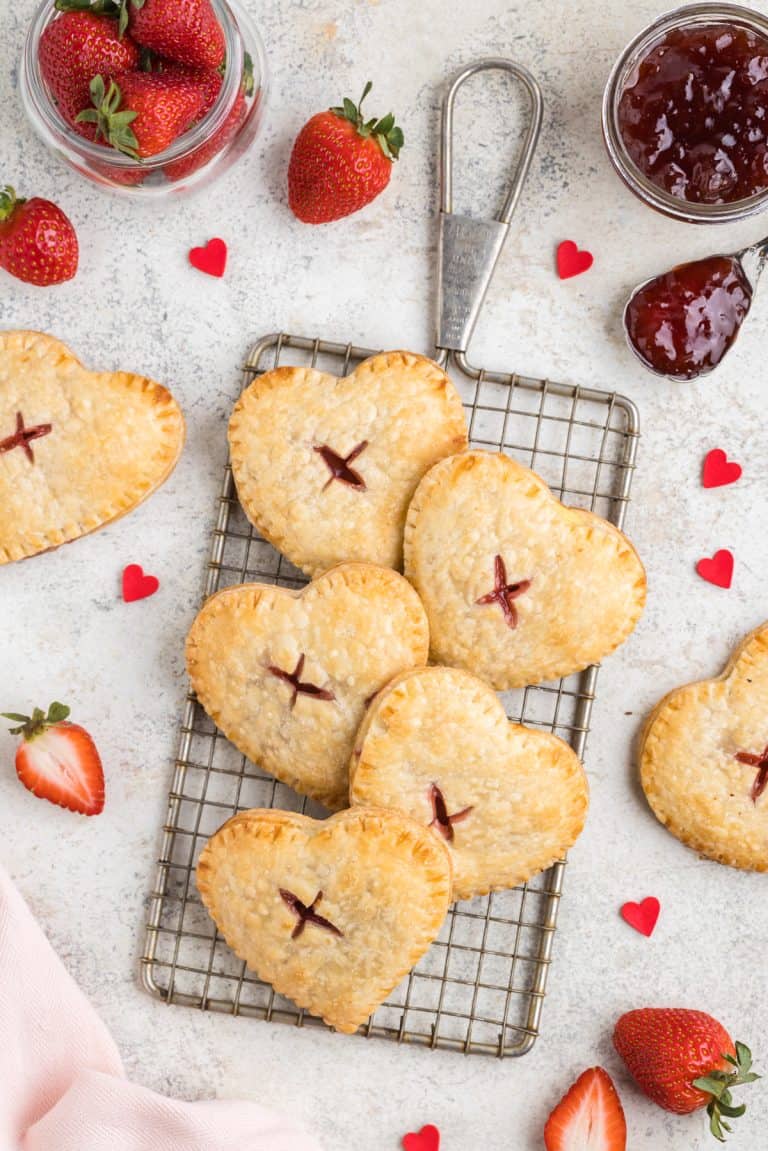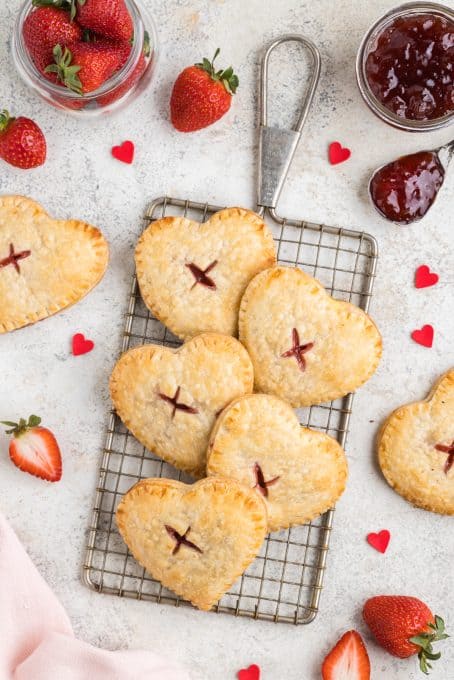 Tips & Tricks for Strawberry Cream Cheese Hand Pies
Store leftover mini hand pies in an airtight container in the refrigerator for up to 2 days or in the freezer for up to 2 months.
I recommend reheating chilled hand pies in a 300 F oven before eating. Do NOT microwave strawberry cream cheese hand pies! The flaky crust turns into a soggy mess in the microwave.
Be careful not to overfill the hand pies. Depending on the shape of the cutter you use there may be a small amount of filling left over. Too much filling leads to pies that break and are difficult to eat.
In a rush? the best part is that you can swap your favorite store bought strawberry preserves for the homemade jam in this recipe.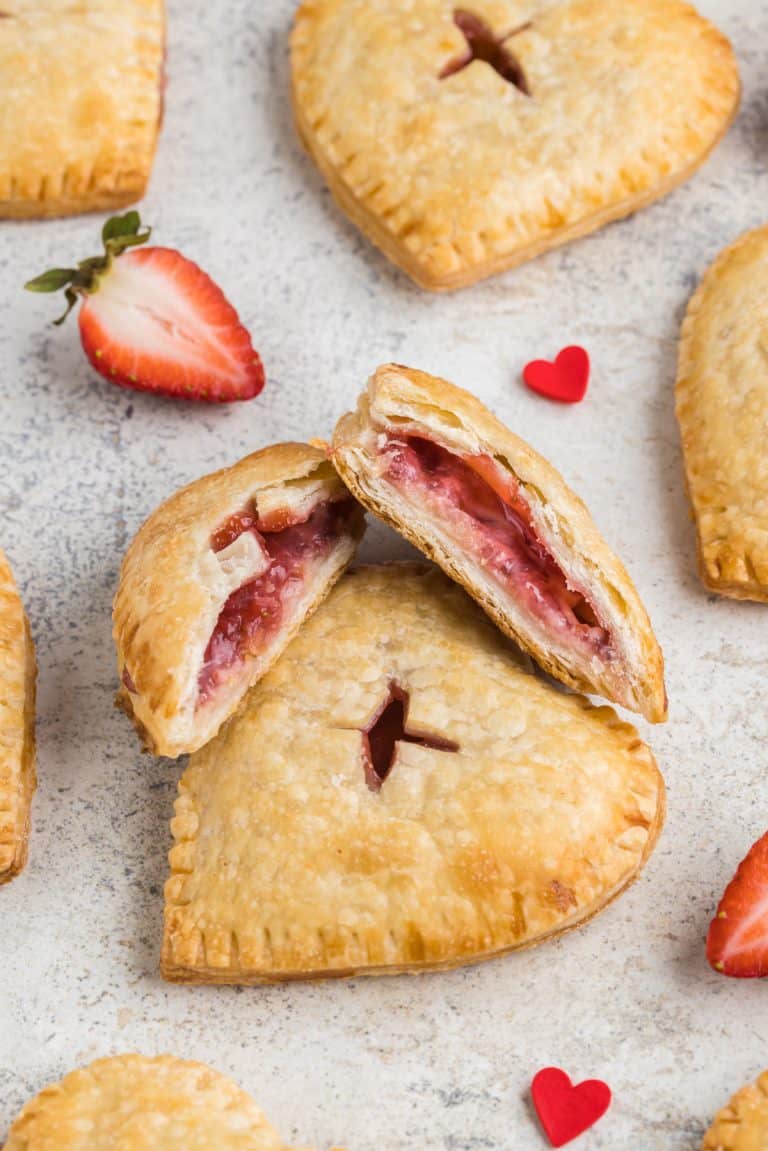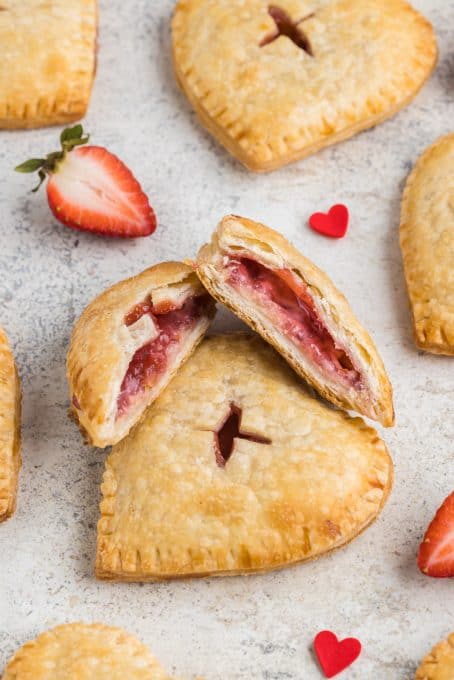 Recipes with Juicy Strawberries
Valentine's Day makes me crave all things strawberry! When it's cold outside, I love the sweet burst of summer flavor in baked goods like these Strawberry Scones and this Strawberry Rhubarb Galette.
If you love the sweet and tangy combo in these strawberry cream cheese hand pies, you'll love my Strawberry Cheesecake Dream Bars and these Chocolate Covered Strawberry Dream Bars too.
Looking for the perfect Valentine's Day breakfast? Indulge in a batch of these decadent Strawberry Nutella Crepes or a slice of Chocolate Strawberry Bread!
Roast your strawberries and use them to top ice cream or even make Roasted Strawberry Ice Cream with them!
Valentine's Day Desserts
Nothing says "I love you" like a plate full of homemade sweets and treats! Try these other delicious and easy dessert ideas guaranteed to impress your special someone.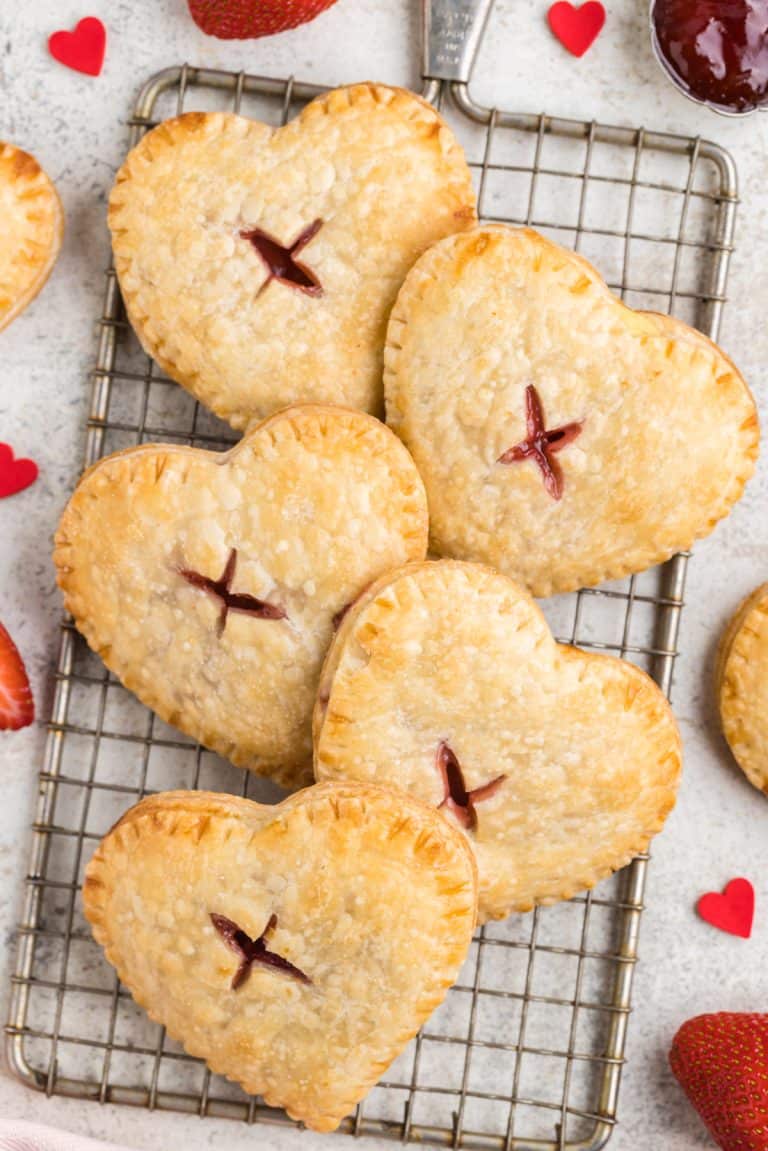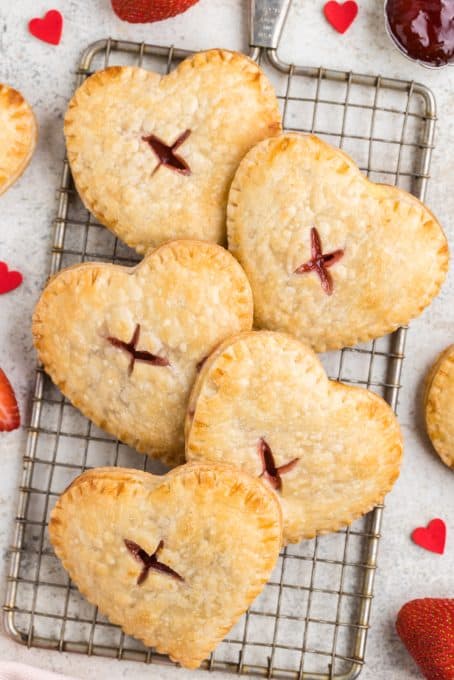 ~ FOLLOW ME ~
Keep an eye out for more of my easy recipes each week!
Or go ahead and just make these sweet pastries for yourself! You deserve a little extra love in the shape of strawberry cream pies, too!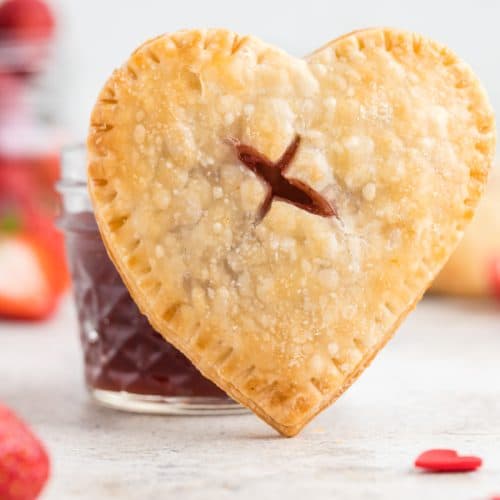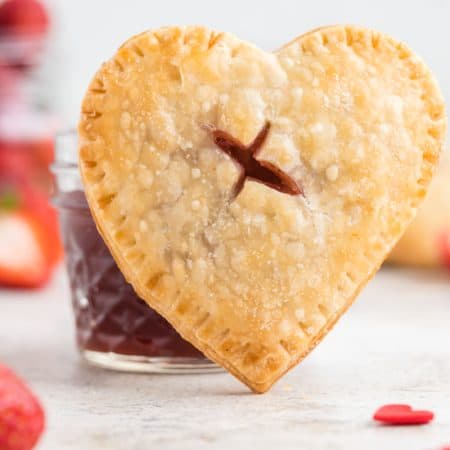 Strawberry Cream Cheese Hand Pies
These Strawberry Cream Cheese Hand Pies are heart shaped with a heavenly cream cheese filling. An easy strawberry pastry recipe for Valentine's Day or any occasion!
Ingredients
Strawberry Filling
1 ½ cups strawberries hulled and quartered (fresh or frozen)
¼ cup granulated sugar
2 teaspoons fresh lemon juice
1 ½ teaspoons corn starch
Cream Cheese Filling
4 ounces cream cheese room temperature
1 large egg yolk
½ teaspoon pure vanilla extract
1 teaspoon fresh lemon zest
pinch of salt
Crust
1 package refrigerated pie crust (2 count) or 2 homemade 9-inch pie crusts
1 large egg white
1 tablespoon coarse (raw sugar) or granulated sugar for sprinkling
Instructions
For the strawberry filling
Bring the strawberries, sugar, lemon juice, and cornstarch to a gentle simmer in a medium saucepan over medium-low heat, stirring occasionally. After about 5 minutes the strawberries should be soft enough to smash with your spoon or a potato masher.

Cook for an additional 5-10 minutes until thickened. Transfer the strawberry filling to a bowl and let cool completely.
For the cream cheese filling
In a separate small bowl, beat the cream cheese, egg yolk, vanilla, lemon zest, and salt with a hand mixer until smooth and well combined. Set aside while you prepare the pie crust.
For the crust
Line two large baking sheets with parchment paper.

Unroll the pie crust onto a lightly floured work surface. Lightly roll the crusts with a rolling pin to remove any creases.

Use a 3 ½" heart cookie cutter to cut 10 hearts from each pie crust. You may need to re-roll the pie dough once to get all 10 pieces.

Cut a small 'X' into 10 of the hearts to create a vent for the pies. These pieces will be the top crust for the pies. Place the unvented pie crust (solid bottoms) onto the parchment-lined baking sheets.
Assembly
Place a heaping tablespoon of the cream cheese filling onto the unvented (solid) pie crusts leaving a small border.

Top the cream cheese with a heaping tablespoon of the strawberry filling.

Brush the border around the filling with the egg white and place the vented pie crust on top. Press the edges together to seal the pie, then crimp the edges with a fork.

Place the assembled pies on the baking pans into the refrigerator for 30 minutes.

While the pies are chilling, preheat the oven to 400° F.

Brush the top of the chilled pies with the egg white and sprinkle with raw sugar if using.

Bake for 20-25 minutes or until the crust is golden brown. Allow the pies to cool for 5-10 minutes on the baking sheet before enjoying them.
Notes
The exact yield may vary depending on the size of your cutter. If using a cutter smaller than 3 ½" the pies will take less time to bake. Start checking on the pies around 12 minutes.. 
Do not overfill the pies. Depending on the shape of the cutter you use there may be a small amount of filling left over.
Ensure the strawberry jam has cooled completely before assembling the pies. 
Be sure to chill the assembled pies. Chilling the pies helps the filling firm up and minimizes the risk of it leaking during baking.
Nutrition
Serving: 1serving | Calories: 281kcal | Carbohydrates: 30g | Protein: 4g | Fat: 16g | Saturated Fat: 6g | Polyunsaturated Fat: 2g | Monounsaturated Fat: 7g | Cholesterol: 30mg | Sodium: 222mg | Potassium: 100mg | Fiber: 2g | Sugar: 8g | Vitamin A: 180IU | Vitamin C: 13mg | Calcium: 26mg | Iron: 1mg
Did you make this recipe?
Share it with me on Instagram and make sure to follow me on Pinterest for more recipes.
Reader Interactions