This simple and easy recipe for Roasted Strawberries enhances the natural sweetness and rosy color of the summer fruit. Just three ingredients and no added sugar is all you need to take some of your favorite strawberry recipes to the next level.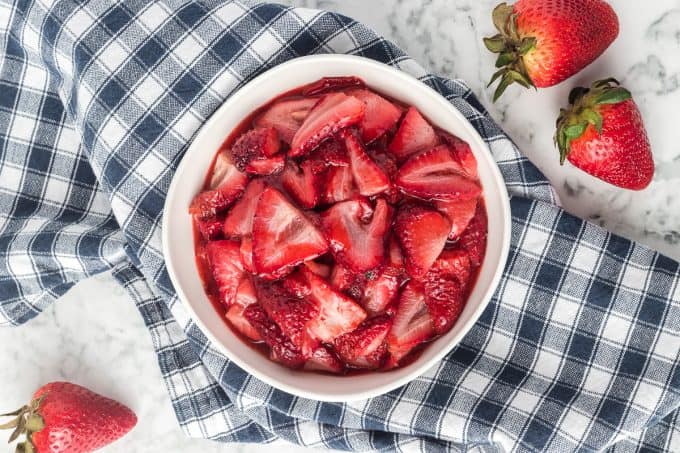 Buckle up, strawberry lovers, it's strawberry season and these roasted strawberries might just blow your mind.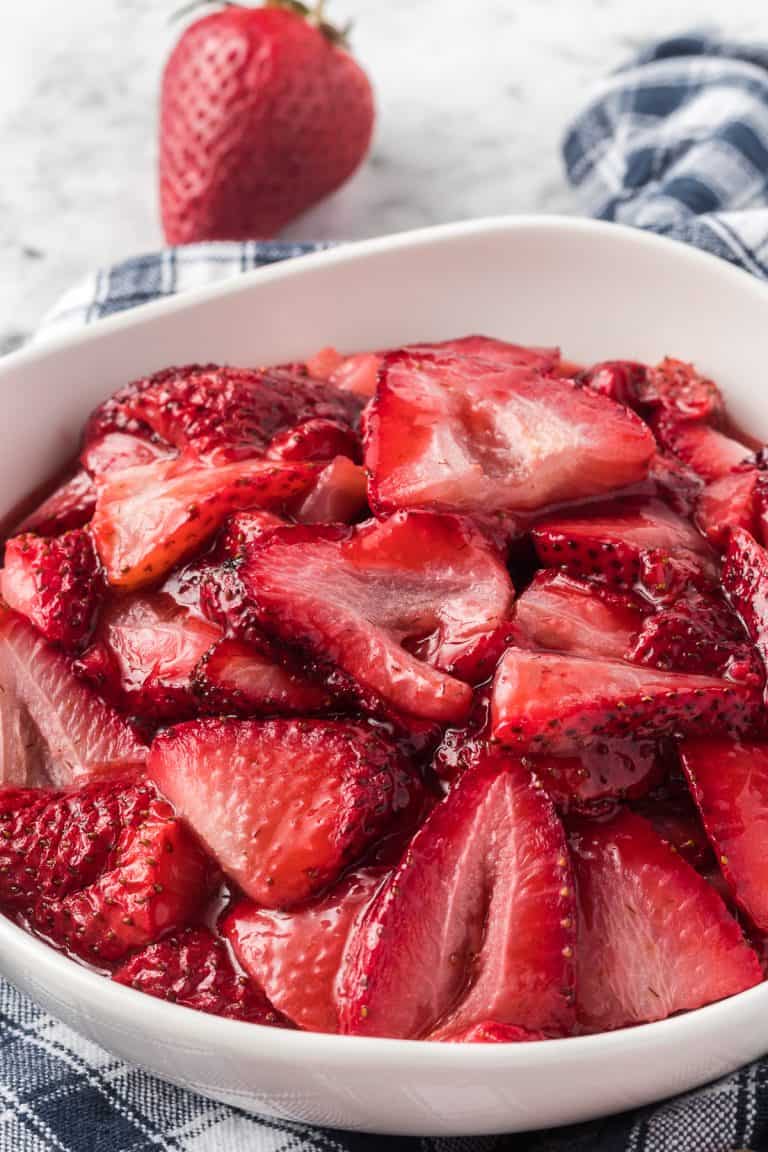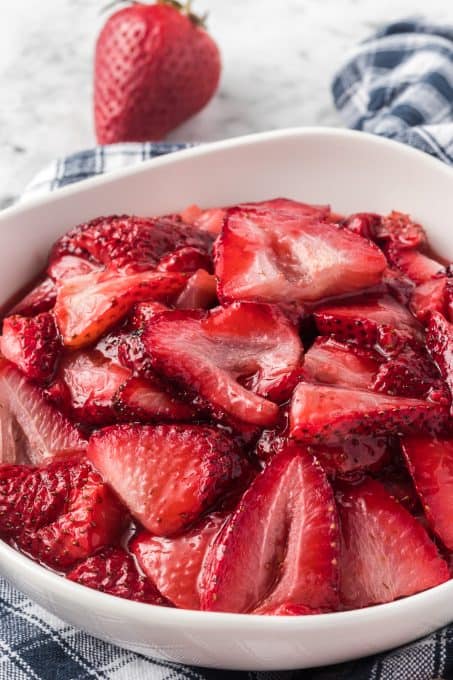 When you place fresh sliced strawberries under heat in the oven, something magical happens. The heat concentrates the juices for a sweeter taste without the need for any additional sugar and intense strawberry flavor. As the natural sugars caramelize, the color of the berries deepens to an eye-catching bright red hue.
This makes roasting a perfect way to enhance the color and flavor of underripe strawberries. But it's well worth trying the method with the freshest, juiciest berries available, too.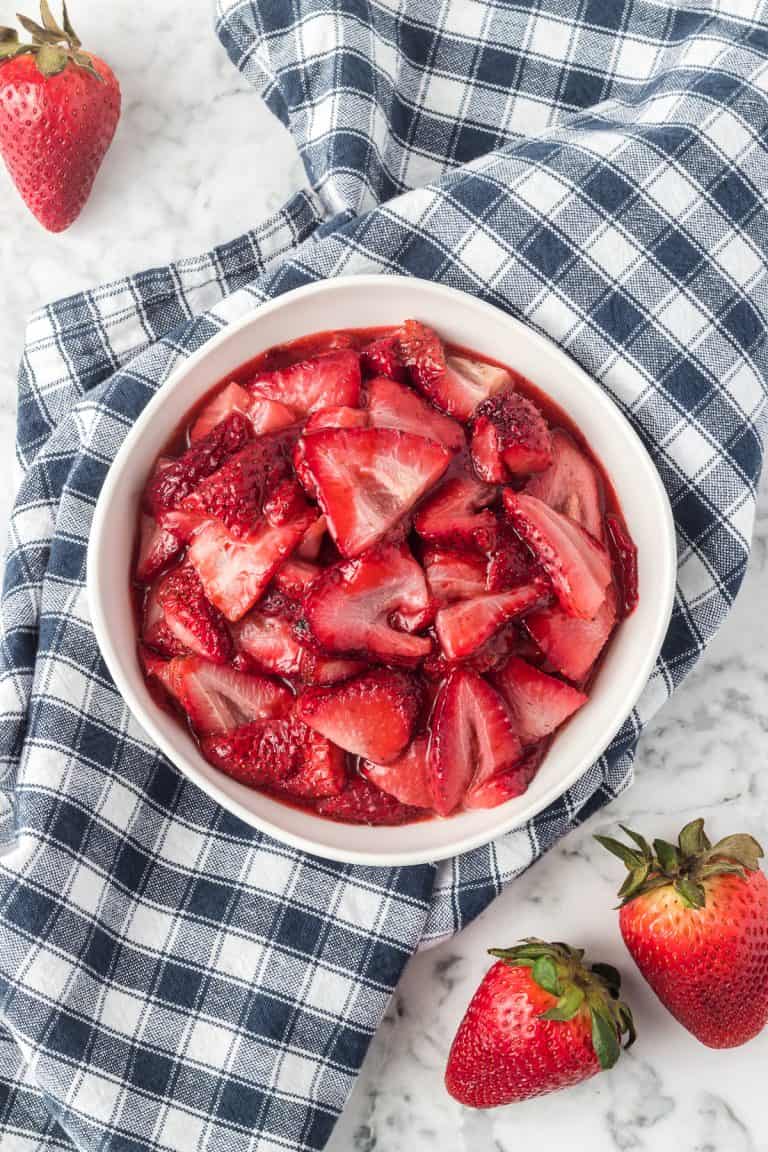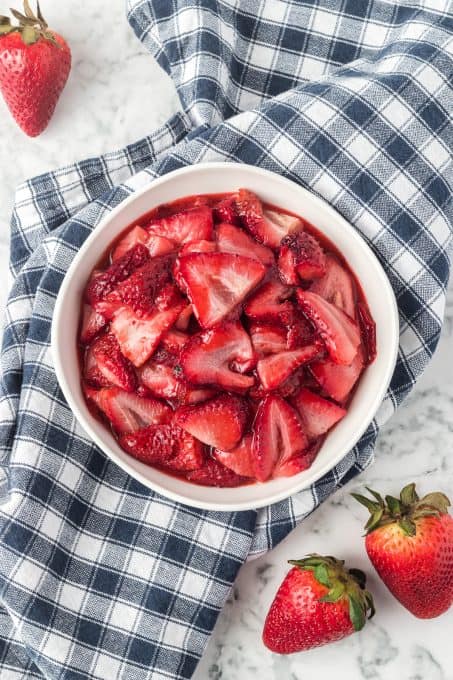 Why roast strawberries?
There are a few reasons you might want to roast your basket of juicy strawberries.
It perks up under or over ripened berries.
It makes ripe, sweet berries taste even more spectacular.
It disguises bruised or discolored berries.
Roasted strawberries taste amazing on their own or as a topping for all kinds of dishes!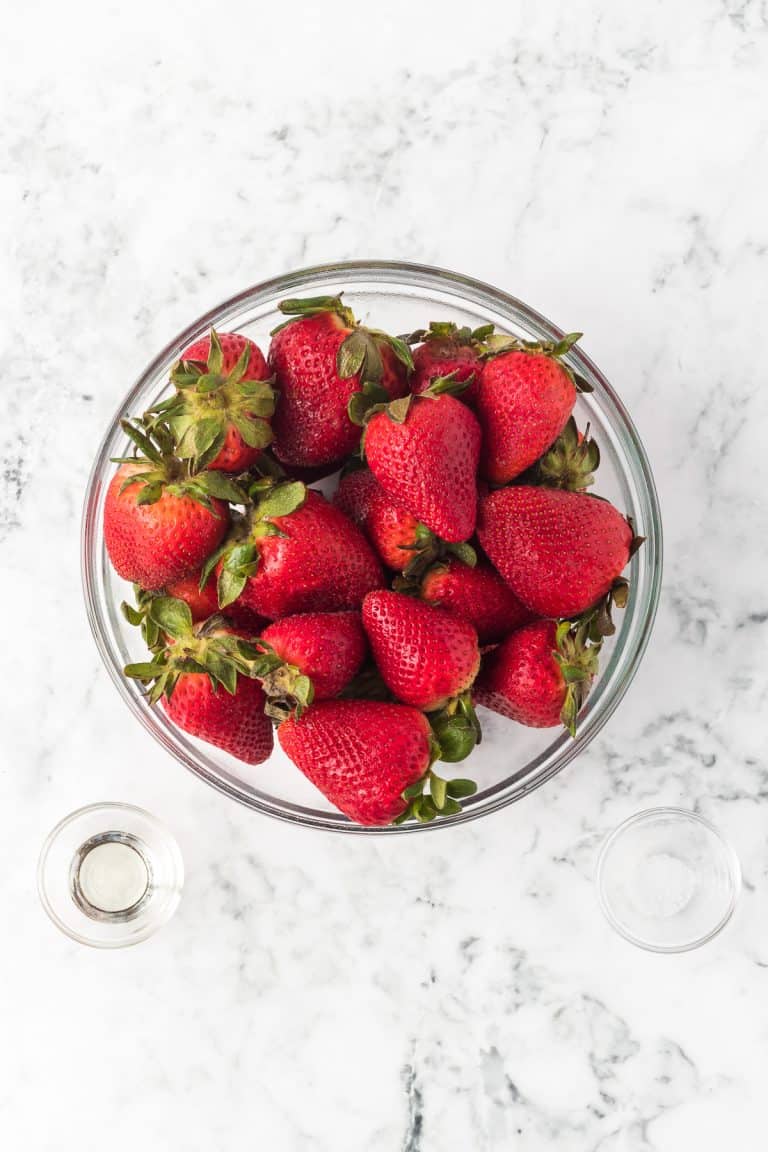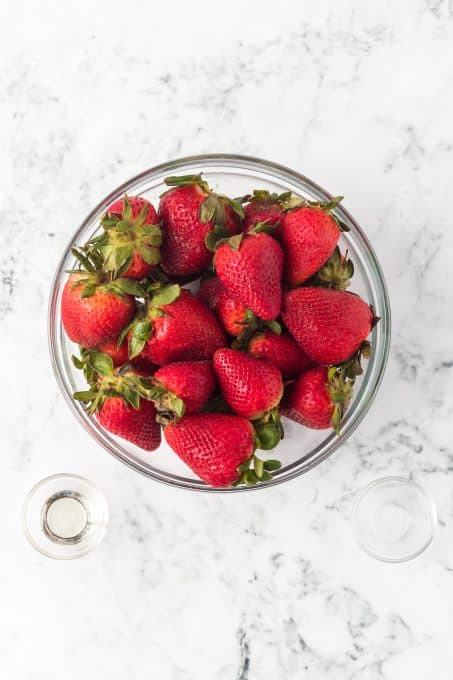 Ingredients for Roasted Strawberries
This recipe uses minimal ingredients to keep the strawberry flavor in the spotlight.
All you need are:
Fresh strawberries
Canola oil or vegetable oil
Pinch of salt
Make sure to wash, dry and hull your berries first. Slice them about 1/4 inch thick for best texture.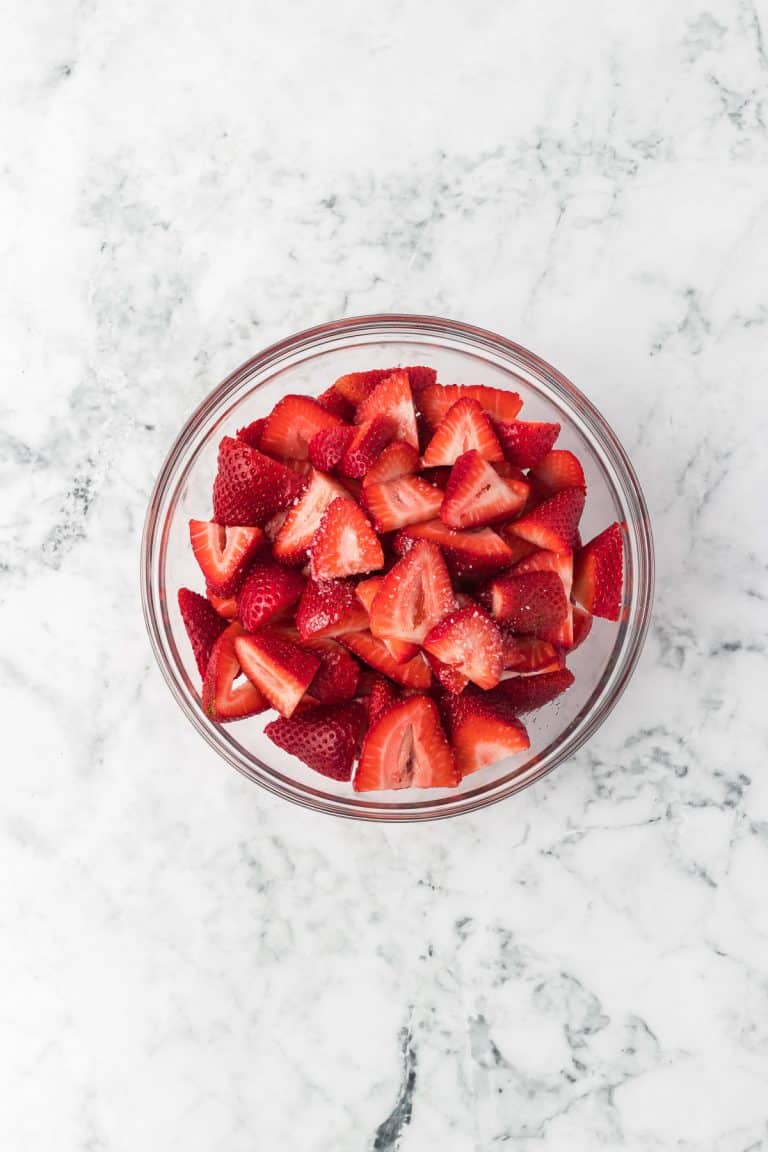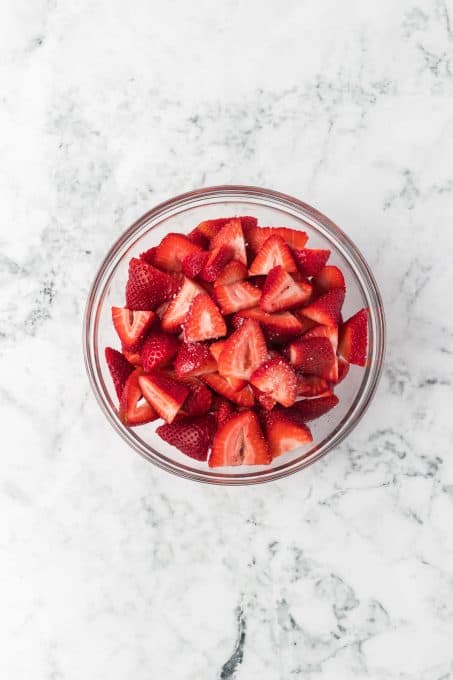 How to Roast Strawberries
Making roasted strawberries without sugar is almost unbelievably easy.
Toss strawberries that have been sliced with canola oil and salt. Use a large spatula to ensure all the berries are evenly coated. Then arrange them on a single layer on a rimmed baking sheet. Bake for 15 minutes in a 375 degree preheated oven.
You'll know the strawberries are ready when they look bright red with a thick, syrupy coating. The edges may look slightly caramelized, too. Keep a close eye on the strawberries as they roast; they can burn quickly if left in the oven too long!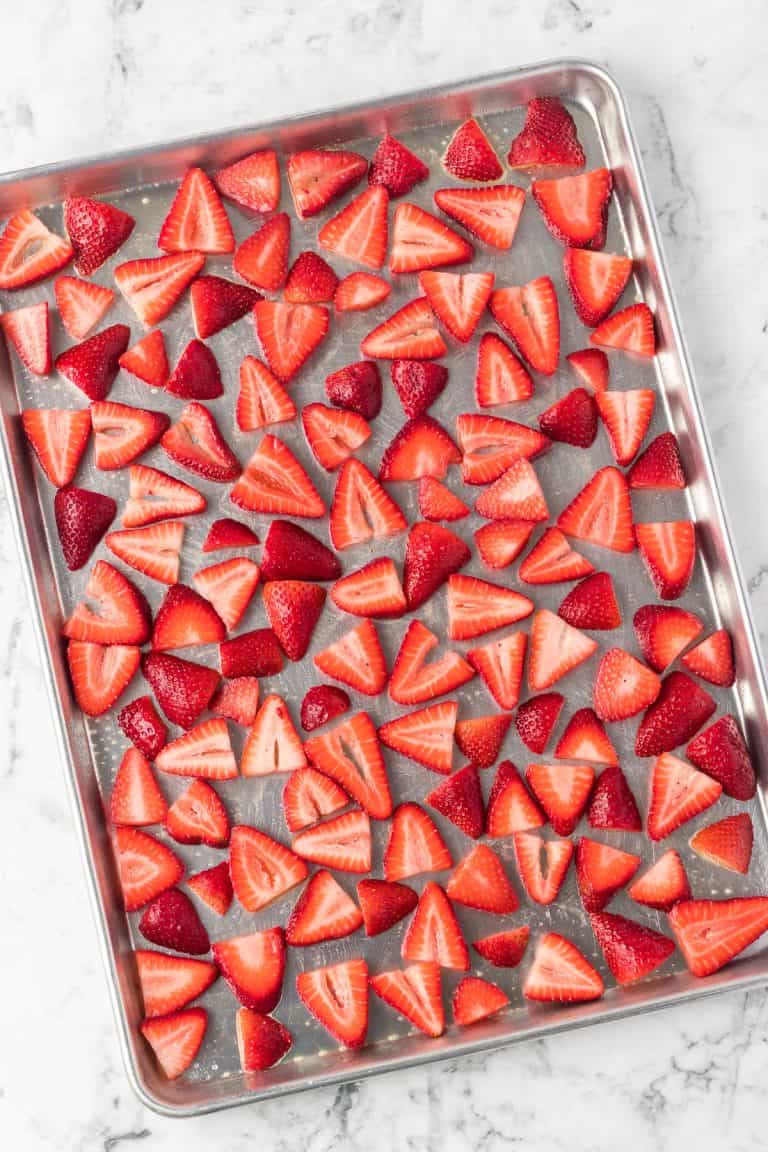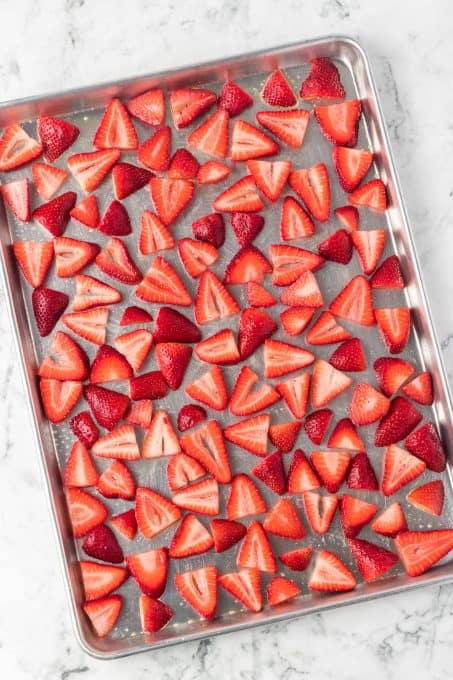 Do I eat them warm or chilled?
Roasted strawberries can be enjoyed warm, room temperature or chilled. They're extremely hot when they first come out of the oven, so remember to let them cool for at least 15 minutes first, even if you plan to eat them warm.
I like to make a big batch all at once, then store them in the refrigerator to use throughout the week.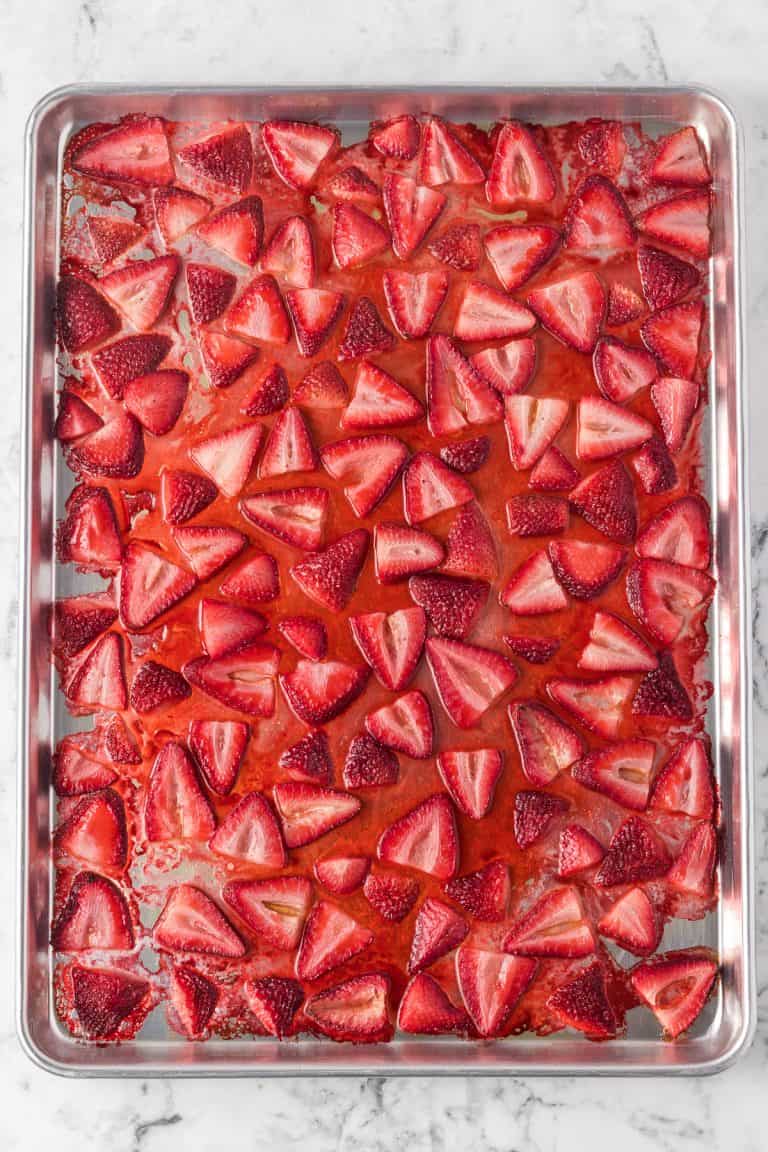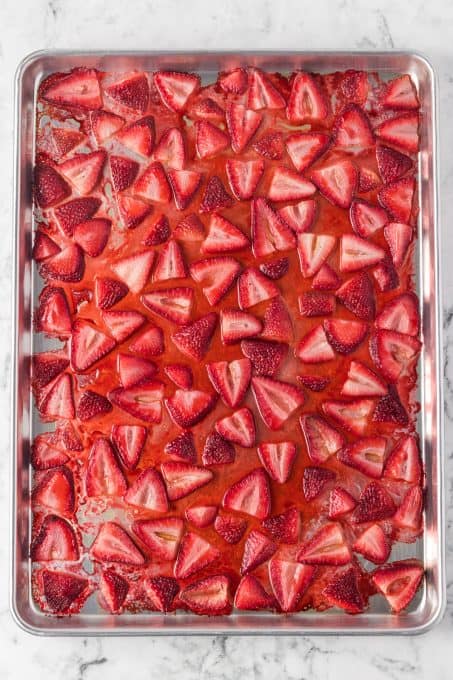 What to do with roasted strawberries
You can use roasted strawberries just about anywhere you would use fresh ones! Here are a few serving ideas to get you started:
Serve a bowl full of oven roasted berries with some heavy cream, Vanilla Bean Whipped Cream or a scoop of ice cream for an easy dessert.
Enjoy them on top of pancakes, waffles or French toast.
Layer roasted strawberries with Greek yogurt and granola for a colorful breakfast parfait.
Serve with buttery biscuits and whipped cream for classic strawberry shortcake.
Toss them with spinach and poppyseed dressing in this light summer salad.
Stir roasted strawberries into your morning bowl of oatmeal, cold cereal or overnight oats.
Fill a baked pastry shell with roasted strawberries and dust with powdered sugar to make a berry tart.
Using roasted strawberries instead of fresh ones is an easy way to add even more flavor to familiar favorites. The rich color makes these berries ideal for topping these Patriotic Buttermilk Pancakes for the 4th of July.I also can't wait to try swapping fresh strawberries for roasted ones in this refreshing Strawberry Lemonade recipe.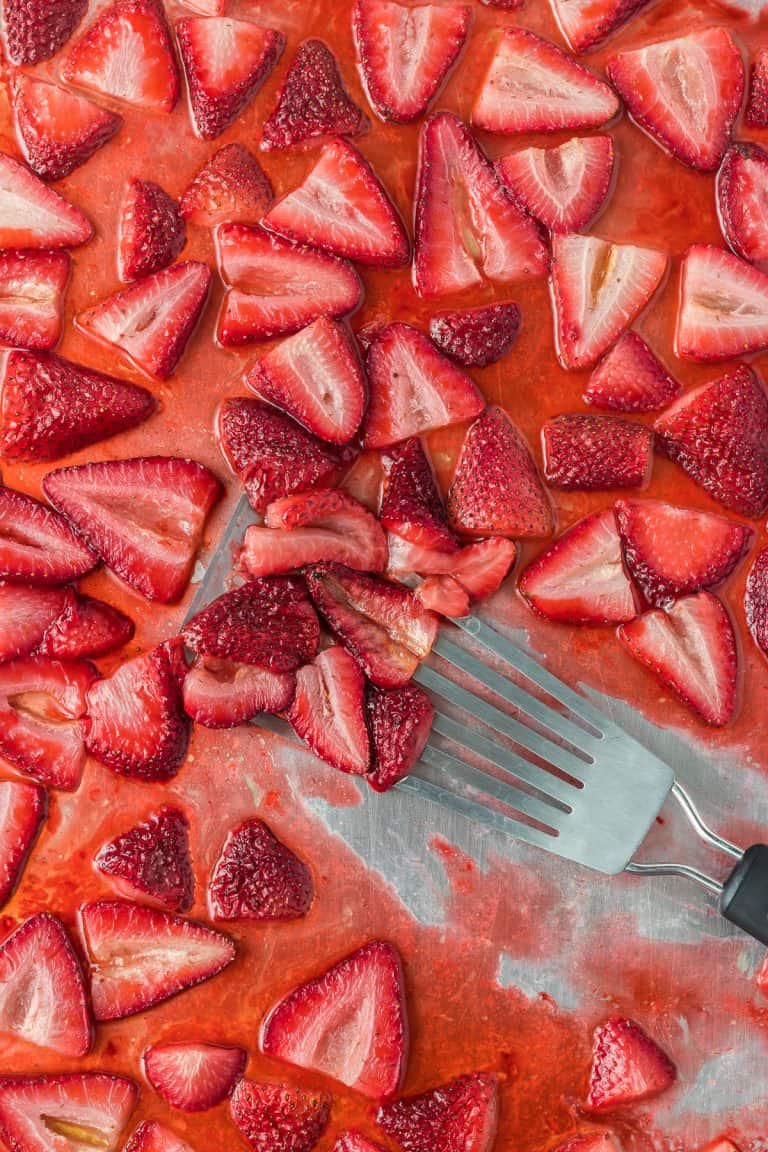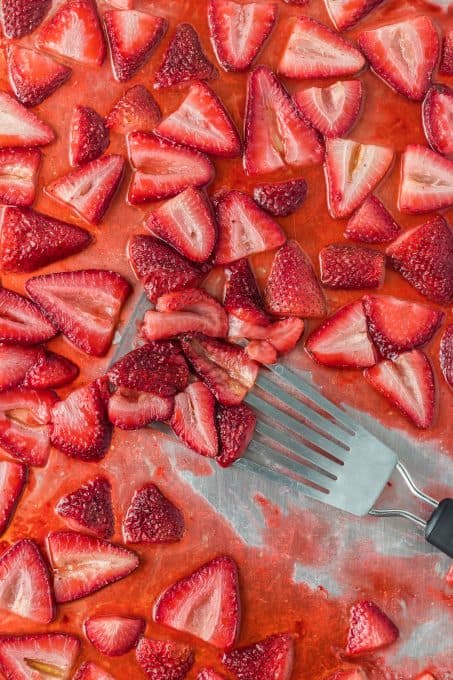 Storing Roasted Strawberries
Roasted strawberries should be stored in the refrigerator. In most cases, they keep well for 3 to 4 days in a glass jar. The exact shelf life will depend on how fresh your raw strawberries were to begin with, and the conditions in which you store them.
Follow these tips for maintaining best freshness and quality in your oven roasted strawberries.
Let them cool. Allow the roasted strawberries to cool completely before storing them. This helps prevent condensation and moisture buildup in the container you use for storage.
Use an airtight container. A plastic container with a lid or a zip seal bag is ideal.
Check for signs of spoilage before eating: Before using the roasted strawberries, look them over to ensure there's no signs of mold, discoloration or off smells. Better safe than sorry!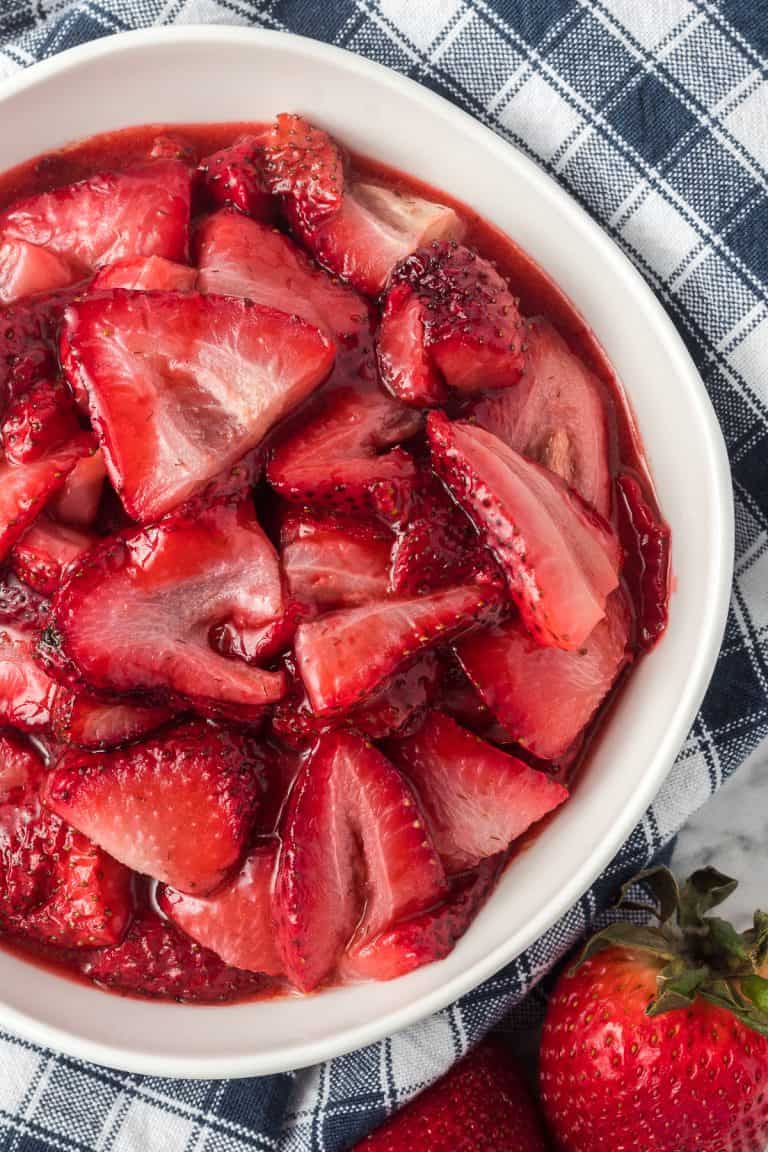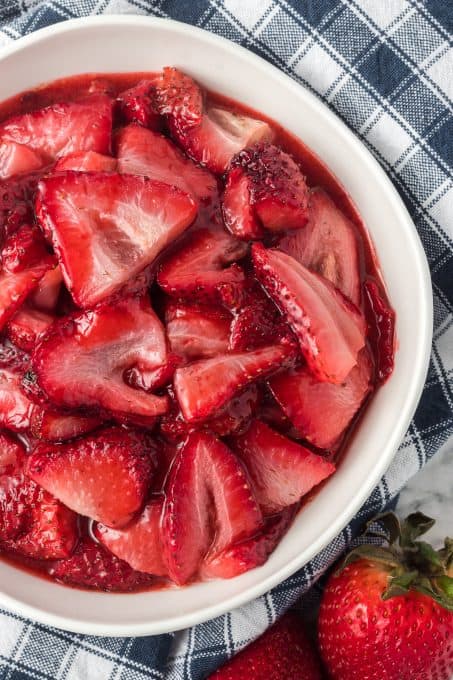 More Strawberry Recipes
Savor the summertime abundance with these other fun and flavorful strawberry dishes, from nourishing breakfasts to decadent desserts.
Strawberry Danish Hearts are heart shaped pastries with a lightly sweetened berry center! Perfect for Valentine's Day or any special breakfast. Need a quick breakfast pastry you can take on the road? Strawberry Cream Muffins and Strawberry Scones are two freezer friendly pastries you'll love with your morning coffee or tea.
When it comes to summer time desserts, Strawberries Lenox Shortcake is always a crowd pleaser. It features syrup-soaked strawberries layered with pound cake and topped with whipped cream! Easy, beautiful and good to the last bite.
Strawberry Chocolate Bread can double as a sweet breakfast or dessert! If you like chocolate and strawberries together, here's a recipe for chocolate covered strawberry dream bars designed with you in mind!
Whether you enjoy them as a topping for ice cream or cake, or devour them all on their own at the height of the season, roasted strawberries are a delightful, curiously satisfying sweet treat — no added sugar needed!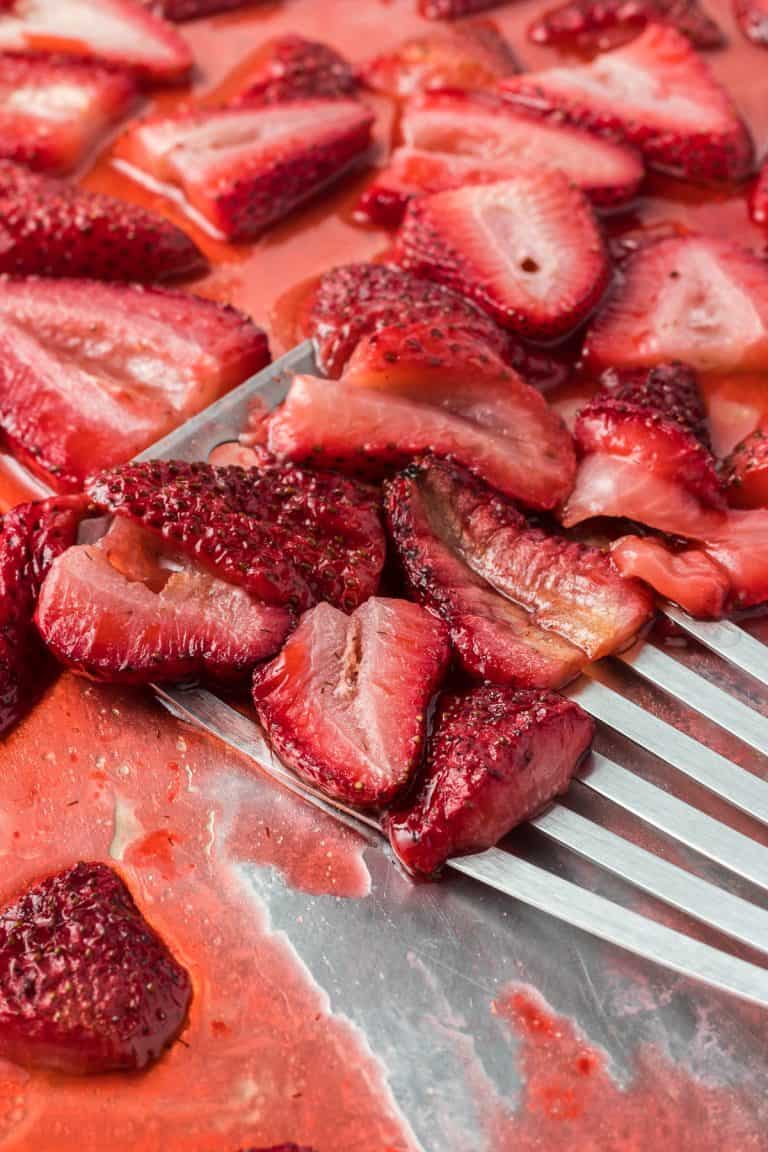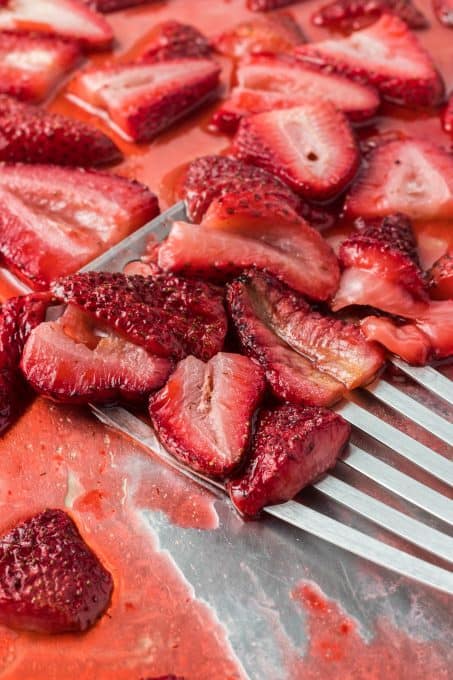 ~ FOLLOW ME ~
Keep an eye out for more of my easy recipes each week!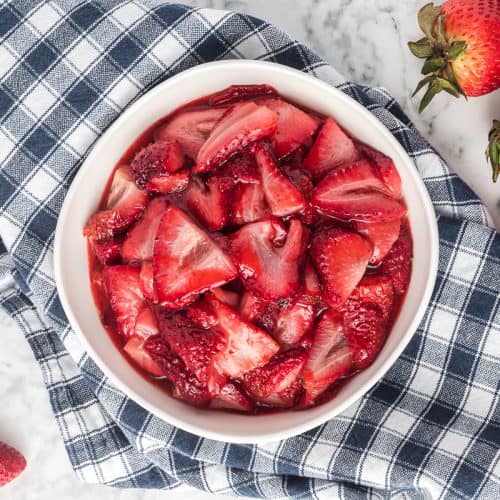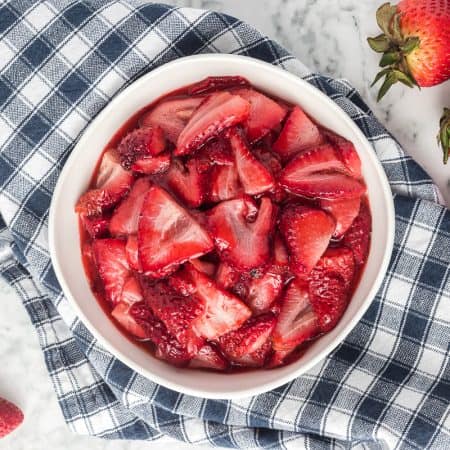 This simple and easy recipe for Roasted Strawberries enhances the natural sweetness and rosy color of the summer fruit. You'll just need three ingredients and no added sugar!
Ingredients
2 pints strawberries washed, hulled, and sliced about 1/4-inch thick
1 ½ teaspoons canola oil
⅛ teaspoon salt
Instructions
Preheat oven to 375 degrees. Place sliced strawberries in a medium bowl.

Add canola oil and salt. Toss to coat.

Place strawberries in a single layer on a rimmed baking sheet.

Bake for 15 minutes, and allow to cool.
Nutrition
Serving: 1cup | Calories: 142kcal | Carbohydrates: 29g | Protein: 3g | Fat: 4g | Saturated Fat: 0.2g | Polyunsaturated Fat: 1g | Monounsaturated Fat: 2g | Trans Fat: 0.01g | Sodium: 120mg | Potassium: 579mg | Fiber: 8g | Sugar: 19g | Vitamin A: 45IU | Vitamin C: 223mg | Calcium: 61mg | Iron: 2mg
Did you make this recipe?
Share it with me on Instagram and make sure to follow me on Pinterest for more recipes.
Reader Interactions