Spanakopita – spinach, onion, herbed Feta cheese in between layers of Phyllo dough create an easy and delicious Greek dinner that you'll have plenty to serve everyone.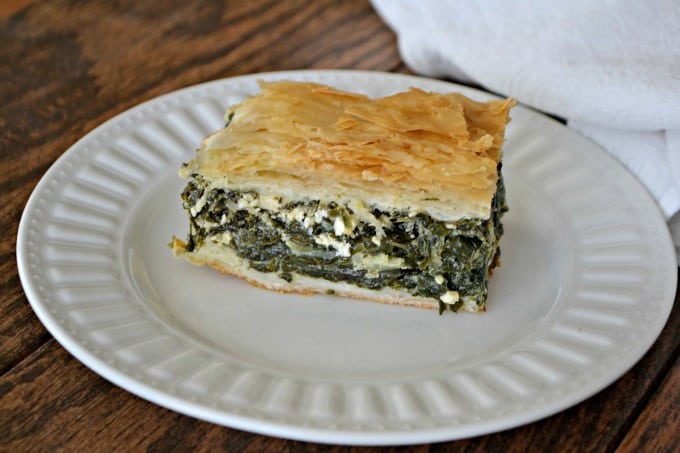 Spanakopita. I think in a previous life I must've been Greek, maybe Italian, too.
*this is an updated post in both format and with pictures. The previous post was published as Day 48 as my original 365 Days of Baking and the old pictures remain below.
I LOVE those foods!!
Mmmmmm…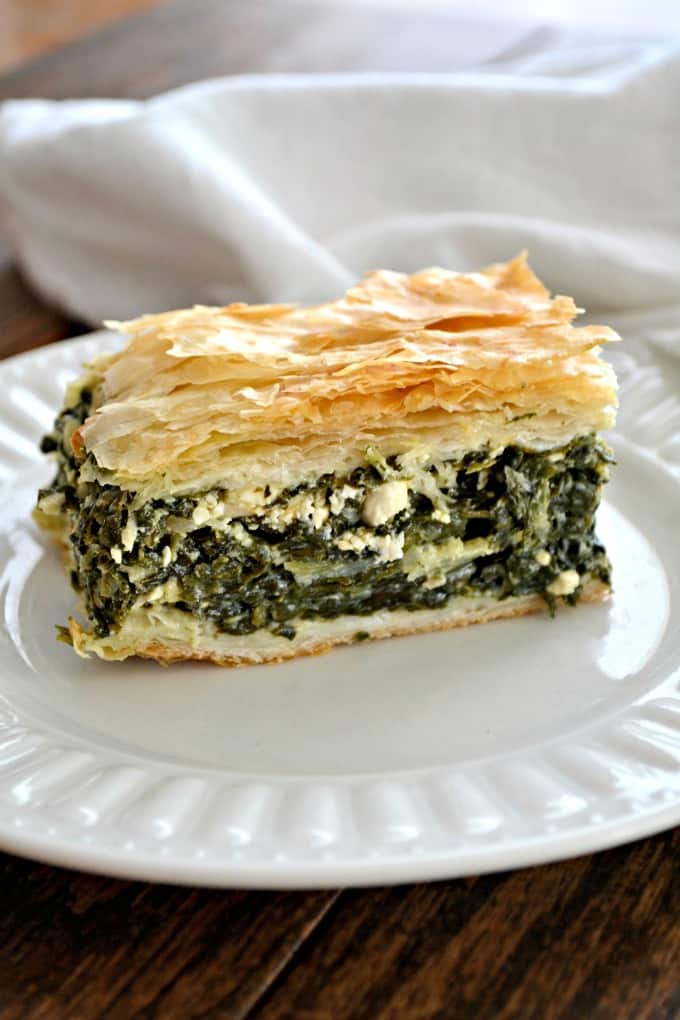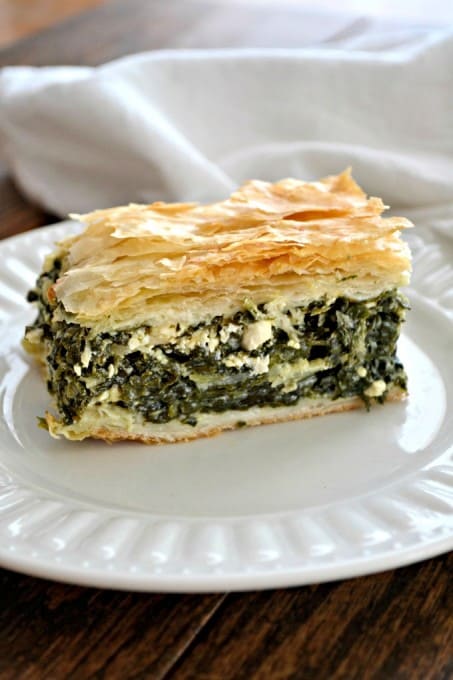 When we lived in Rhode Island we became extremely close friends with a family across the street. It's not often that each family member gets along with every member of another family. But this is the way it was with my and Mary's family. We all had a very special bond, so much so that we became family.
One day, with a three-year-old by my side and a one-year-old on my hip, I answered the door and saw a woman standing on our front steps with a beautiful, three-year-old little boy. She introduced herself and her son and said they had purchased the home across the street. They hadn't moved in yet and were living about 40 minutes away.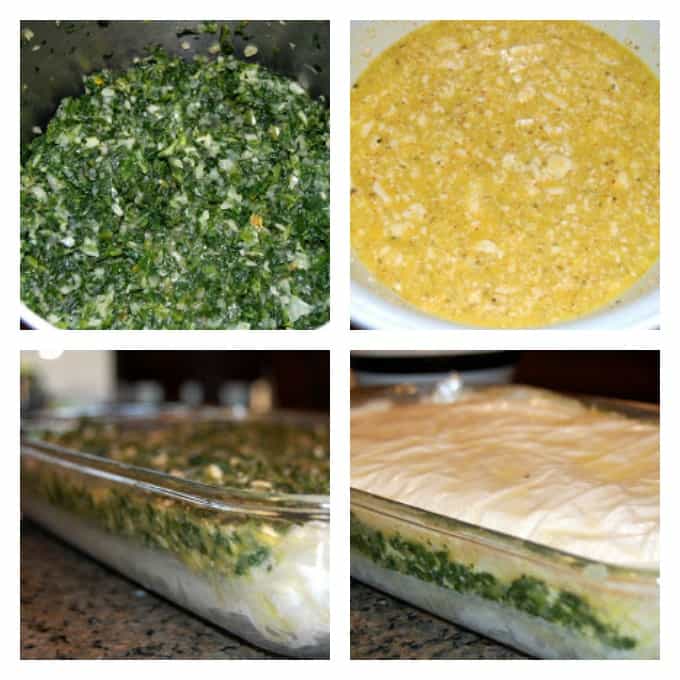 I invited her in and we talked at length while the kids played quite nicely together. She said she wasn't feeling well, had recently found out that she was pregnant, and really wanted to lay down before driving back home. I decided I'd take the three kids to the playground down the street to give her some peace and quiet.
Now if you've ever had a "gut feeling" about someone, or feel like you've known a person forever even though you've already met them, then you know what I'm talking about. There was an instantaneous connection between our families, and Mary and I felt completely comfortable with each other.
SAVE THIS SPANIKOPITA TO YOUR FAVORITE PINTEREST BOARD!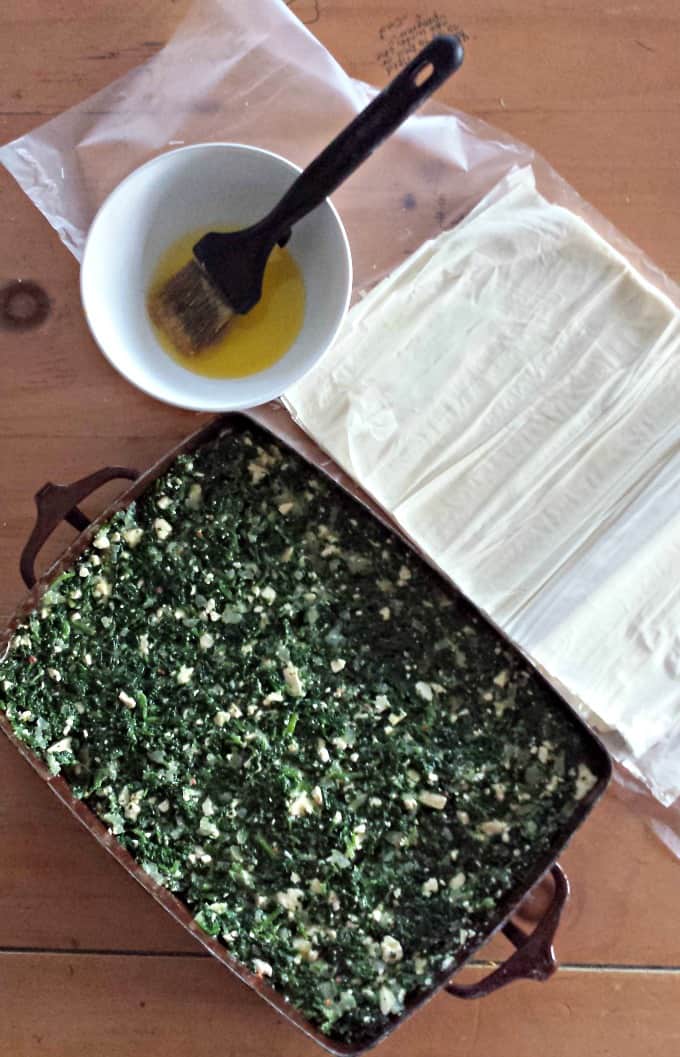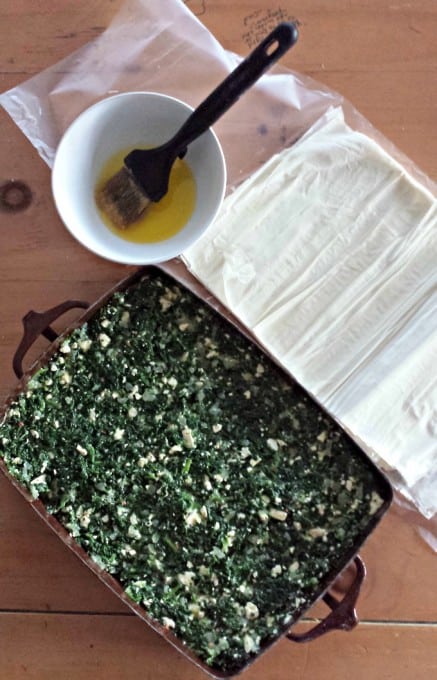 So comfortable with each other in fact, that I allowed a stranger to rest in my home without me being there and she to allow a stranger to take her son to the park! I know, it seems a little bizarre, but neither of us had any concerns. There are some things in life you "just know". And this was one of them. Our first meeting always reminds me of a Bible verse:
"Do not forget to entertain strangers, for by so doing some people have entertained angels without knowing it."
Hebrews 13:2
New International Version 1984
Yes, Mary was, and still is an angel. Her family came into our lives at exactly the perfect time. Throughout the years we shared many tears, an endless amount of laughter, and countless hours playing cards after we had put the kids to bed. There are so many memories we will all cherish for the rest of our lives.
Since both families have moved away from the old neighborhood, we don't stay in contact as often as I'd like; our lives are busy with three kids each, various activities, and time just goes too quickly. One thing I know for sure is that whenever we talk to each other it's as though no time has passed. We can always pick up where we left off.
I asked Mary for this recipe because it was something she made often and we absolutely loved it.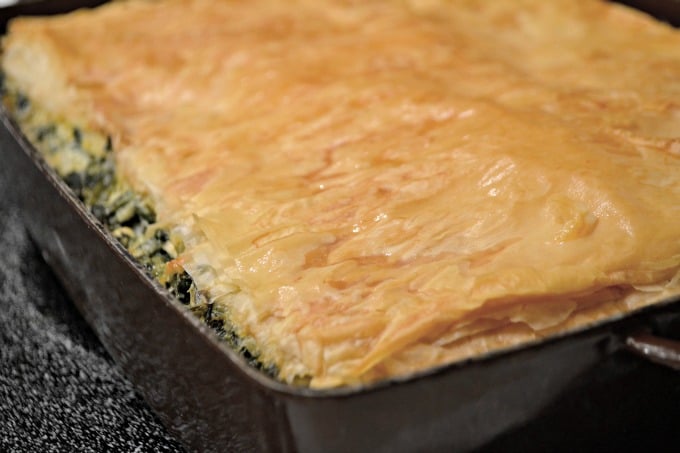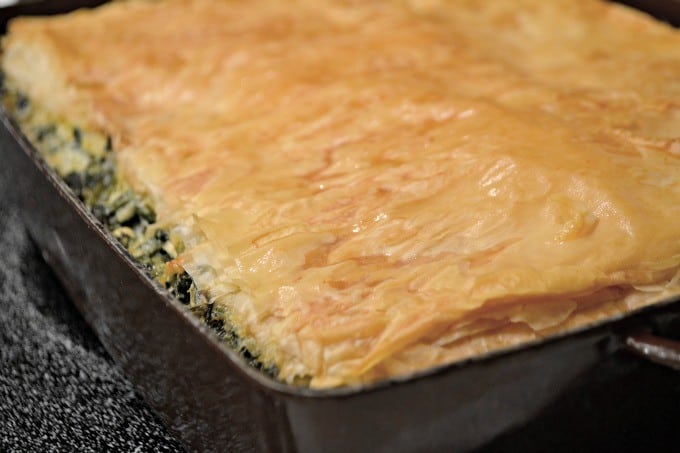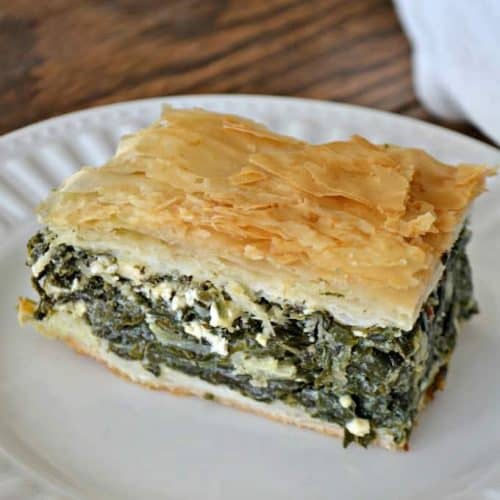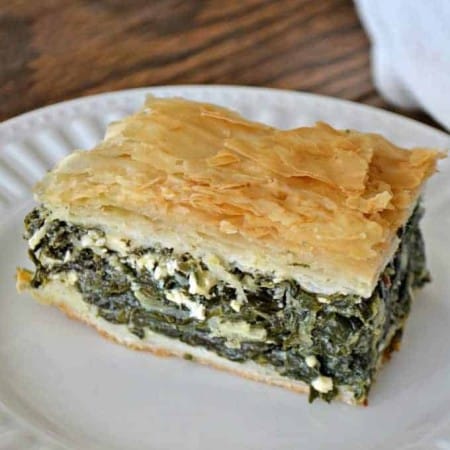 Spinach, onion, herbed Feta cheese in between layers of Phyllo dough create an easy and delicious Spanakopita that makes plenty to serve everyone.
Ingredients
1 package of phyllo dough thawed
2 16- ounce packages of frozen spinach thawed
1 very large sweet onion minced
3 packages of tomato & basil spiced feta cheese
1 cup olive oil + 2 tablespoons
5 eggs
8 tablespoons 1 stick unsalted butter, melted
Instructions
Preheat oven to 350 degrees F.

Heat large pot on stove top on medium high heat.

Put in the 2 tablespoons of olive oil, add minced onion and sauté until soft.

Add spinach and mix together.

Remove from heat and set aside to cool.

In a large bowl, beat eggs.

Add remaining cup of olive oil and crumbled feta cheese.

Combine cooled, cooked spinach mixture with egg mixture

Brush a small amount of melted butter on bottom of a 9 x 13-inch baking dish.

Place three pieces of Phyllo dough into the bottom of the baking dish.

Brush gently with melted butter (don't be shy, but don't overdo). Continue with process until half of the Phyllo dough is on the bottom.

Pour spinach mixture over Phyllo dough.

Place three pieces of Phyllo dough over mixture and brush with butter.

Continue with Phyllo dough and butter.

Butter top layer and sprinkle a small amount of cold water on top. Tuck in edges.

Bake for 1 hour.
Did you make this recipe?
Share it with me on Instagram and make sure to follow me on Pinterest for more recipes.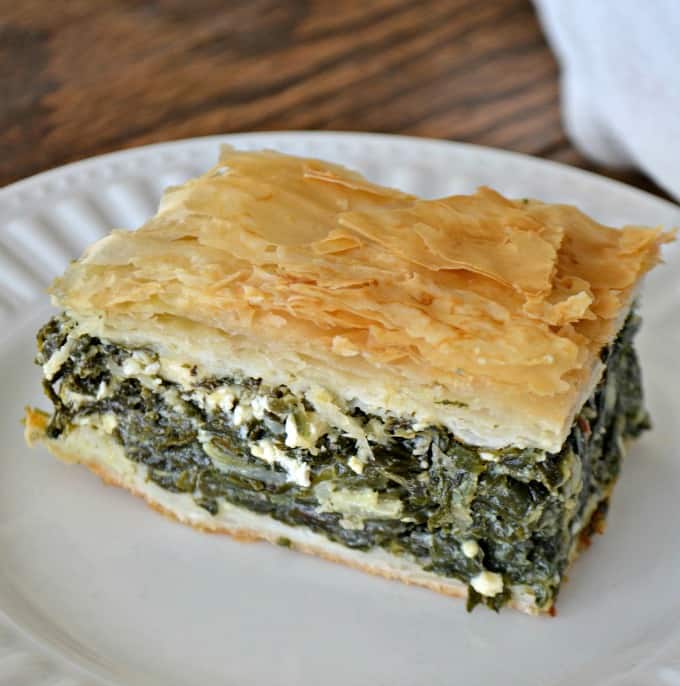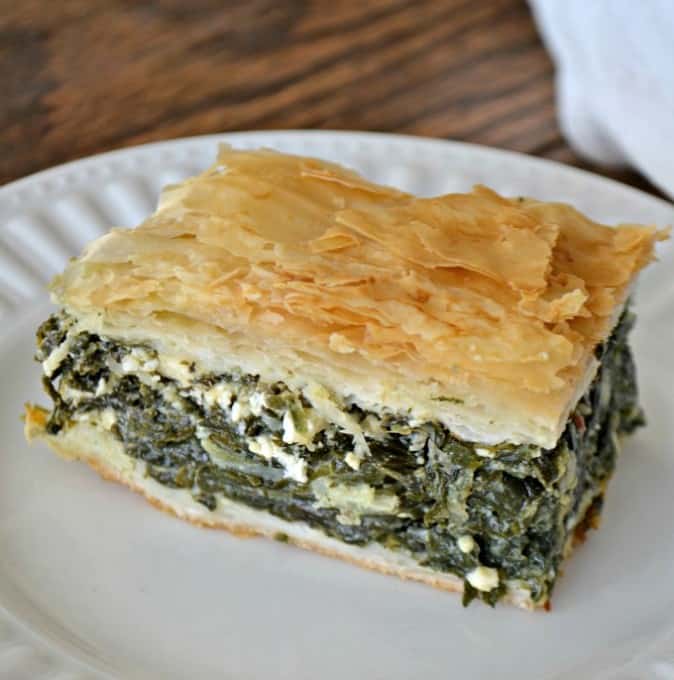 Four out of five family members (reminds me of the old commercial: four out of five dentists…oh, never mind) enjoyed this dish. Interesting how my son loves quiche, but won't eat this. Those who liked it decided it should earn 3½ rolling pins for a rating. My system is based on a scale of 1-4 with four being the best.
Mary, thank you not only for your Spanakopita but for being you. I am blessed to have you in my life.
Happy baking all!
If you like this then you'll LOVE…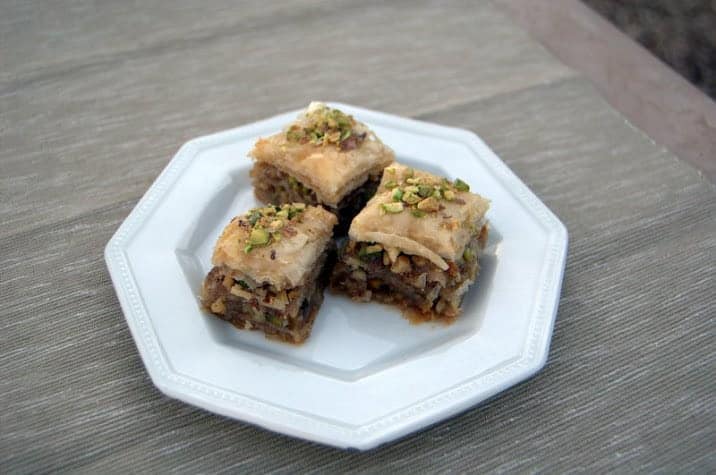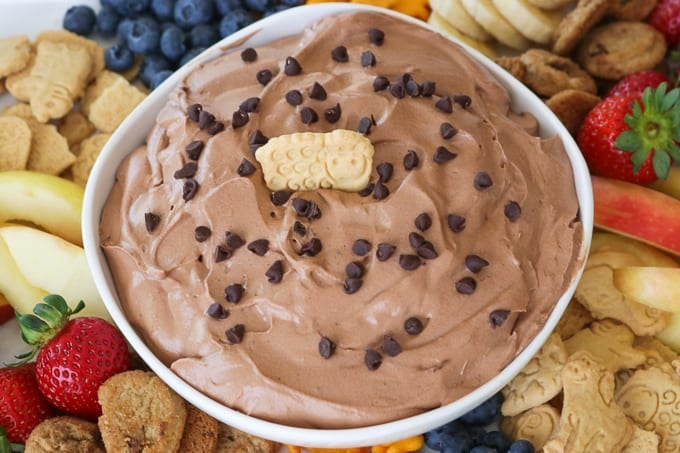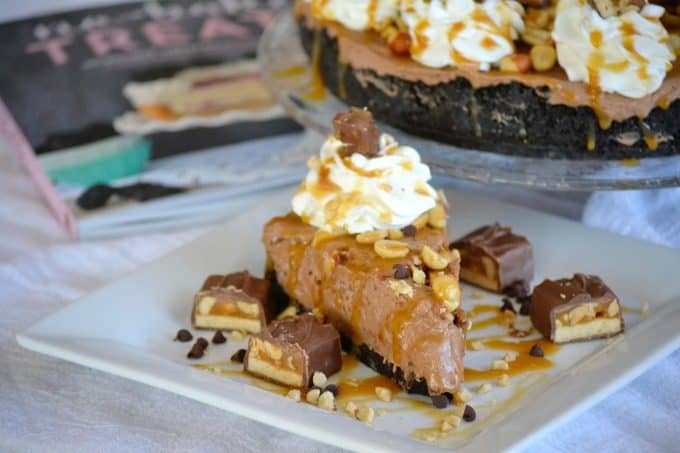 Reader Interactions