The perfect classic Chicken Caesar Salad recipe! Crisp romaine leaves are tossed with tangy Caesar dressing, fresh Parmesan and crunchy croutons for a delicious, refreshing meal idea with slices of boneless skinless chicken breast added.
The dressing is made without raw eggs, too!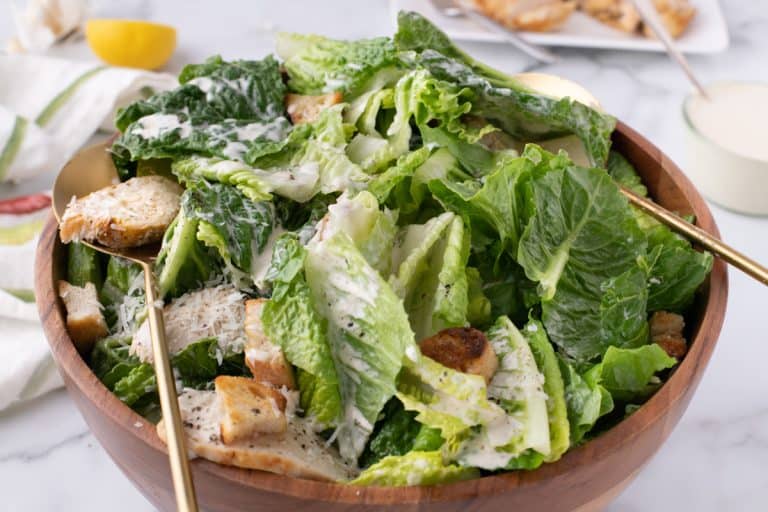 You don't need a zillion ingredients to make a satisfying salad. The dressing is the star of the show in this easy Caesar Salad with chicken recipe.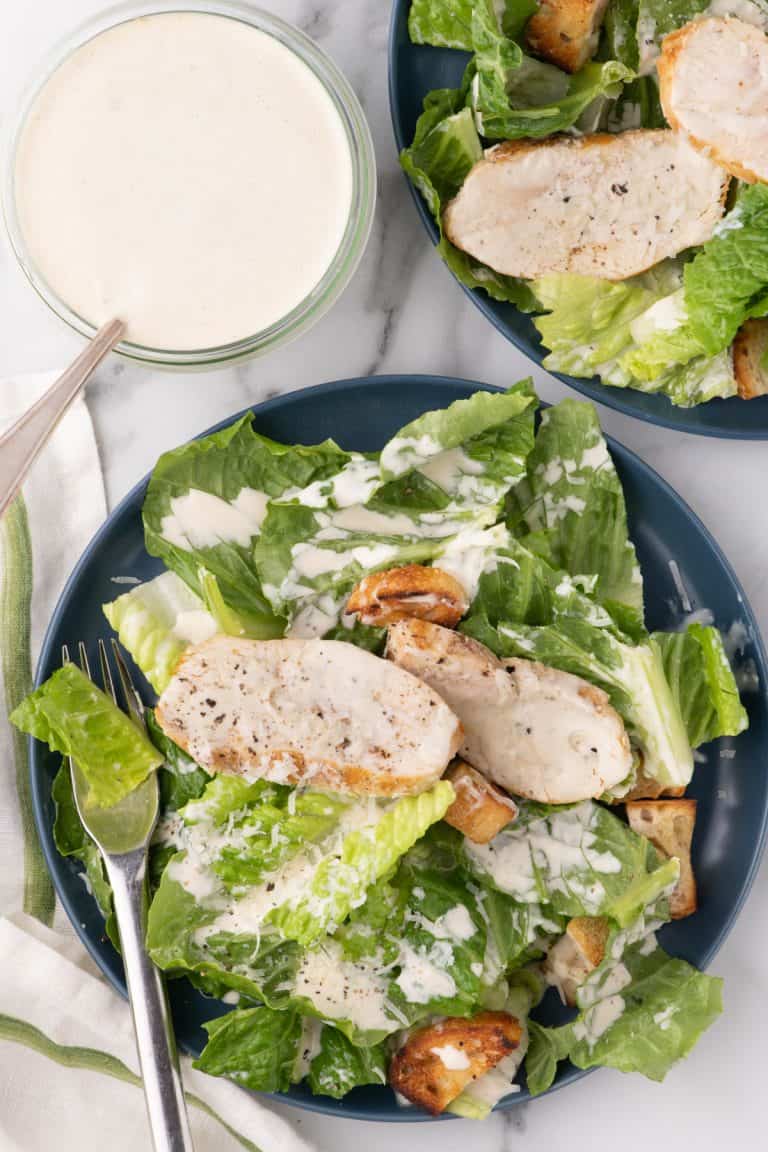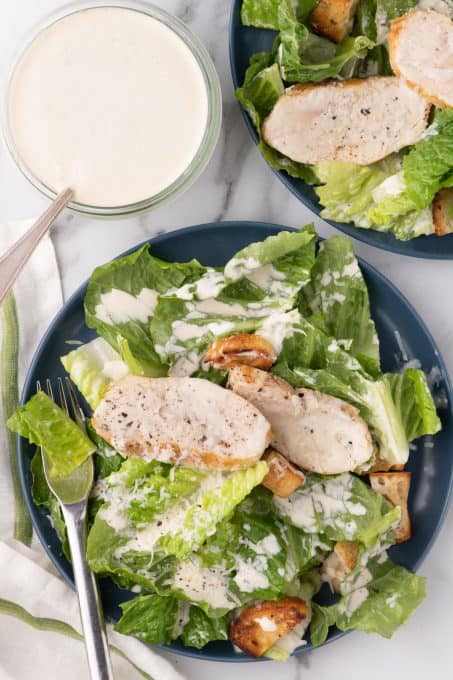 The creamy Caesar dressing has a bright tang of fresh lemon juice, balanced by salty Parmesan and a bit of brininess. It's all you need to transform a simple bowl of romaine lettuce into a restaurant quality side dish.
Add some cheese, chicken, croutons, and fresh cracked pepper and you have a complete meal!
You'll love this Caesar salad with or without chicken anytime of year. It's a great option for spring and summer when I'm craving all things light, crisp and refreshing. Since it's made with mayonnaise instead of raw eggs, you can safely make the dressing at home without any special equipment or cooking skills!
Now that I know how to make Caesar salad dressing from scratch, this recipe is going to be eaten on a regular basis since I've recently added it to my salad rotation, along with my Strawberry Spinach Salad and Couscous Chicken Salad.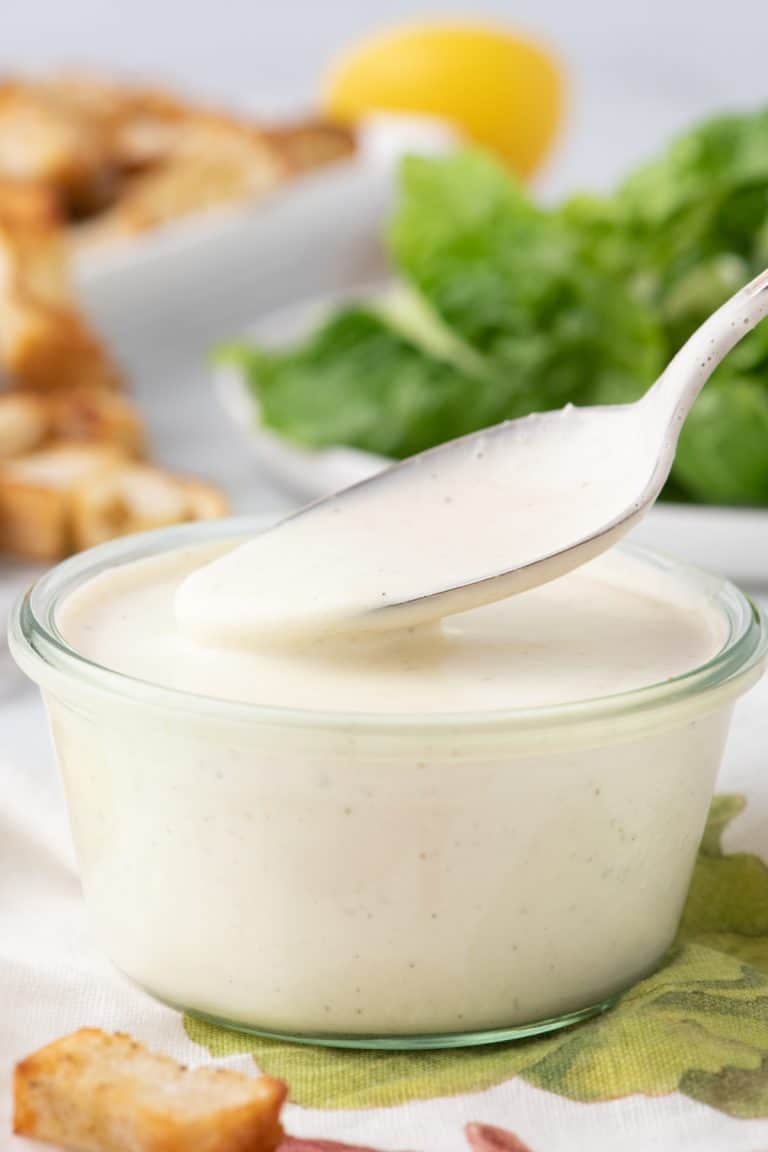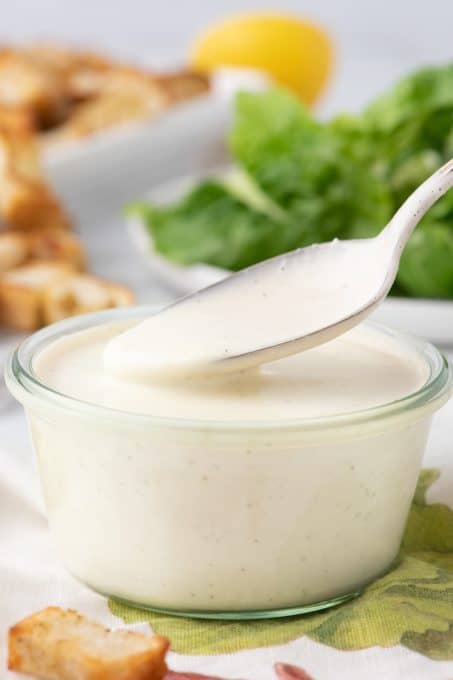 What is homemade Caesar dressing made of?
Caesar salad dressing is typically made with a combination of beaten egg yolks and oil as a base, with capers, anchovies, garlic and other ingredients added for its signature flavor.
My Caesar dressing recipe uses these ingredients:
Mayonnaise – Replaces the raw eggs used in many recipes, eliminating the risks associated with raw egg consumption.
Garlic cloves- Use fresh peeled cloves for best flavor.
Capers – Use the jarred ones, drained from the brine.
Lemon juice – For fresh, bright acidity.
Worcestershire sauce – A tangy, smoky lightly sweet sauce that adds robust flavor to the dressing.
Dijon mustard – For a zippy kick.
Parmesan cheese – Grated fresh for best flavor.
Anchovy fillets – You'll need the oil they come packed in, too.
Sea Salt and black pepper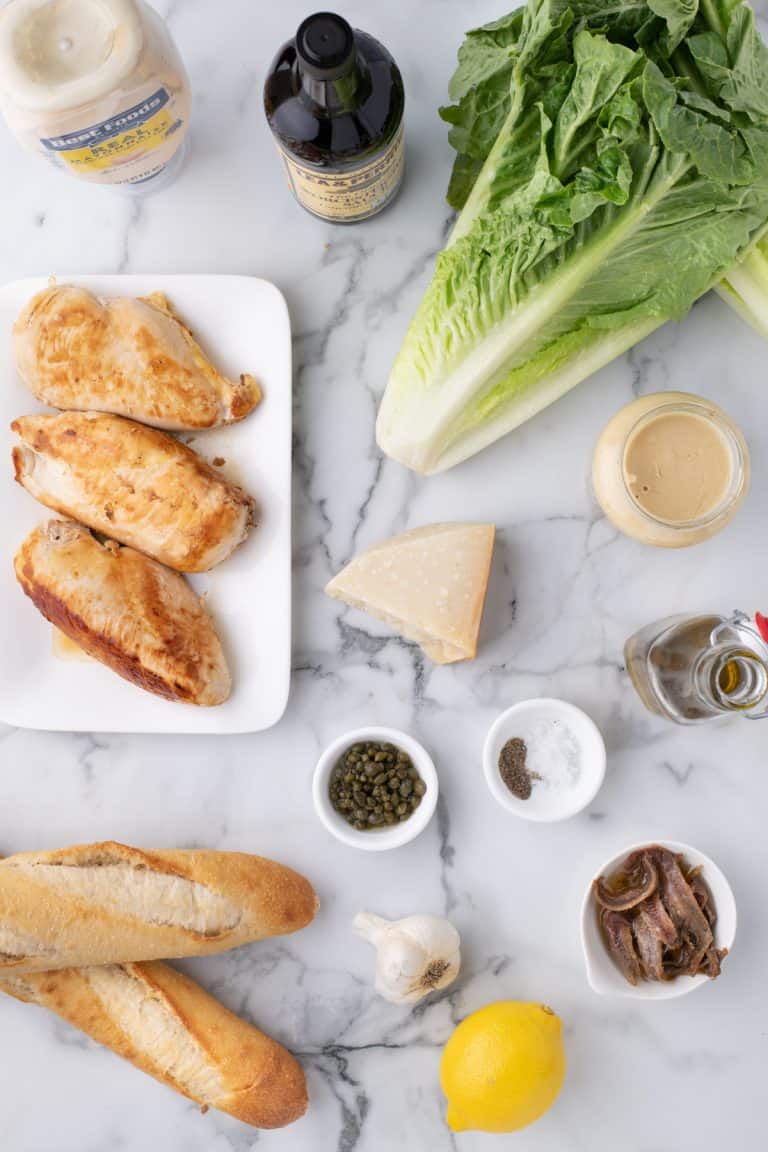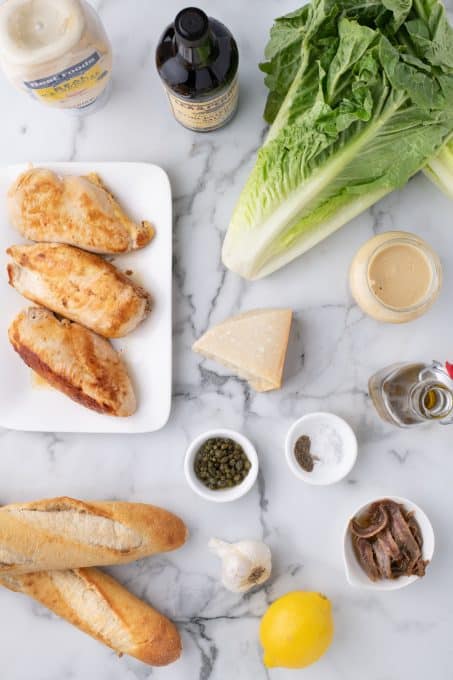 What other ingredients do I need to make Caesar salad?
Once you have your salad dressing ingredients blended and combined, you're ready to add it to bowls of fresh romaine lettuce leaves. Add a few croutons, a sprinkle of extra freshly grated parmesan and more salt and pepper to taste.
For an extra pretty presentation, use a cheese slicer to grate your fresh parmesan into curls!
To turn this into a meal, I also added some bite sized pieces of cooked chicken to the salad.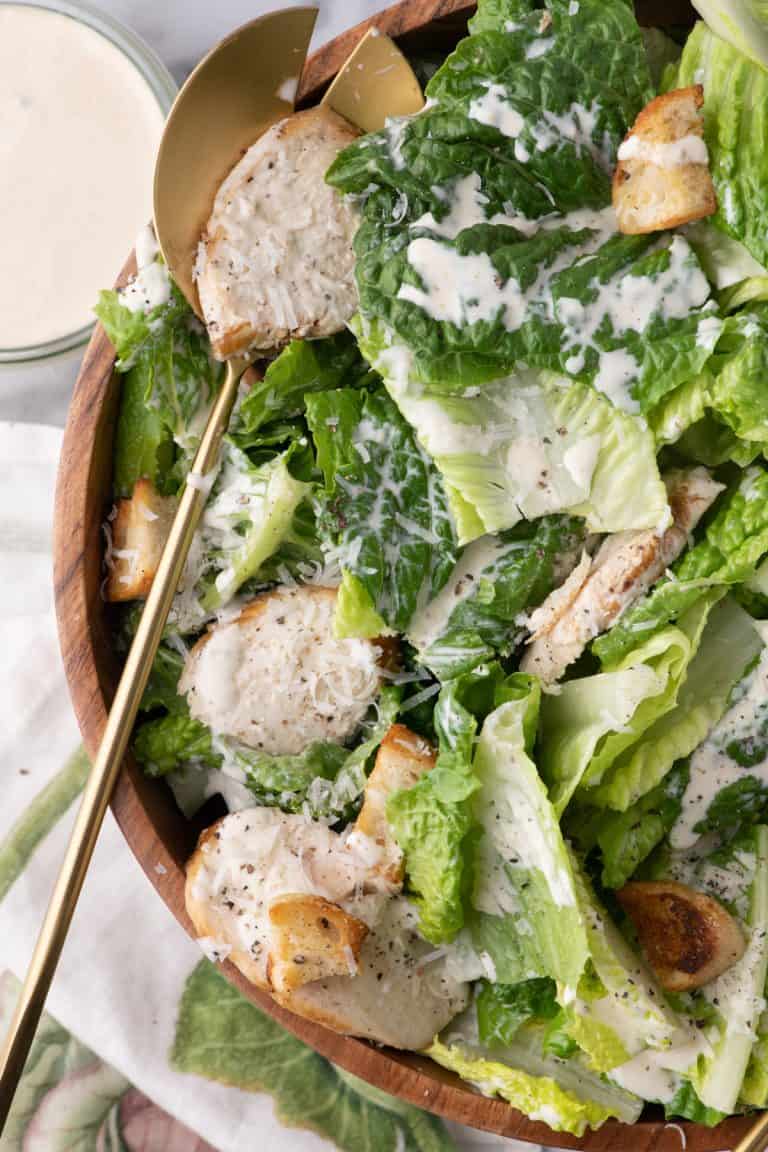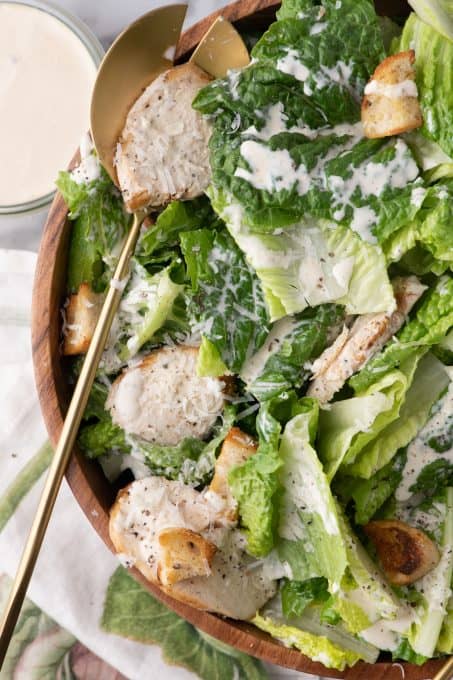 Wondering what kind of chicken is best in Caesar salad?
It's really up to you! I love to just cook a couple of boneless chicken breasts seasoned with a little salt and pepper on the grill top. Slice the chicken into bite-size pieces and add it to the Caesar salad while it's still warm for a heavenly combination.
This Lemon Herb Roasted Chicken is a tasty chicken for Caesar salad as well. Make a whole chicken for dinner one night, then enjoy the leftovers meat in a Caesar salad for lunch the next day.
If I'm being honest, most of the time I'm lazy when it comes to cooking chicken for my salad. Or else too strapped for time! On those days, I grab a rotisserie chicken from the grocery store. Slice off the meat, toss with lettuce and Caesar dressing, sprinkle some fresh cracked pepper, and serve.
You gotta love those recipe hacks that help you get dinner on the table FAST! I use rotisserie chickens for all kinds of dishes, like Chicken Tostadas and this Chicken Fried Rice.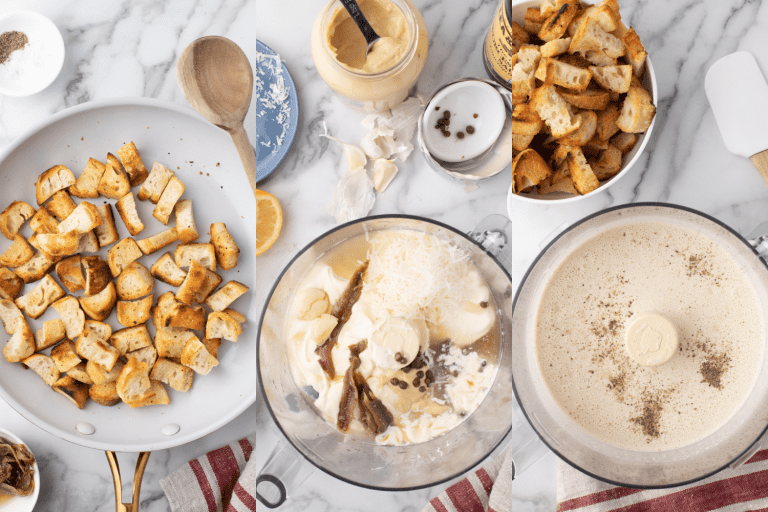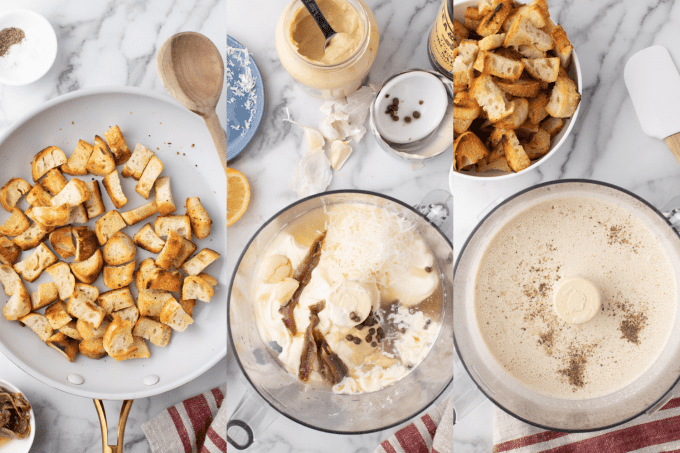 Croutons for Caesar Salad
For today's salad recipe, I went a little above and beyond. I whipped up some homemade croutons to give my grilled chicken Caesar salad that gourmet restaurant quality.
To make the croutons, start with cubes of baguette (aka the long, skinny French bread loves).
Toss the cubes in a bowl with olive oil and the oil from your anchovies. Fry the bread on the stove top until brown and crisp on all sides.
I know some of you will ask if you can just use store bought croutons in stead. YES! You can! But if you have a chance, definitely try this method for making stovetop croutons, at least once. They're so easy and the taste is well worth it!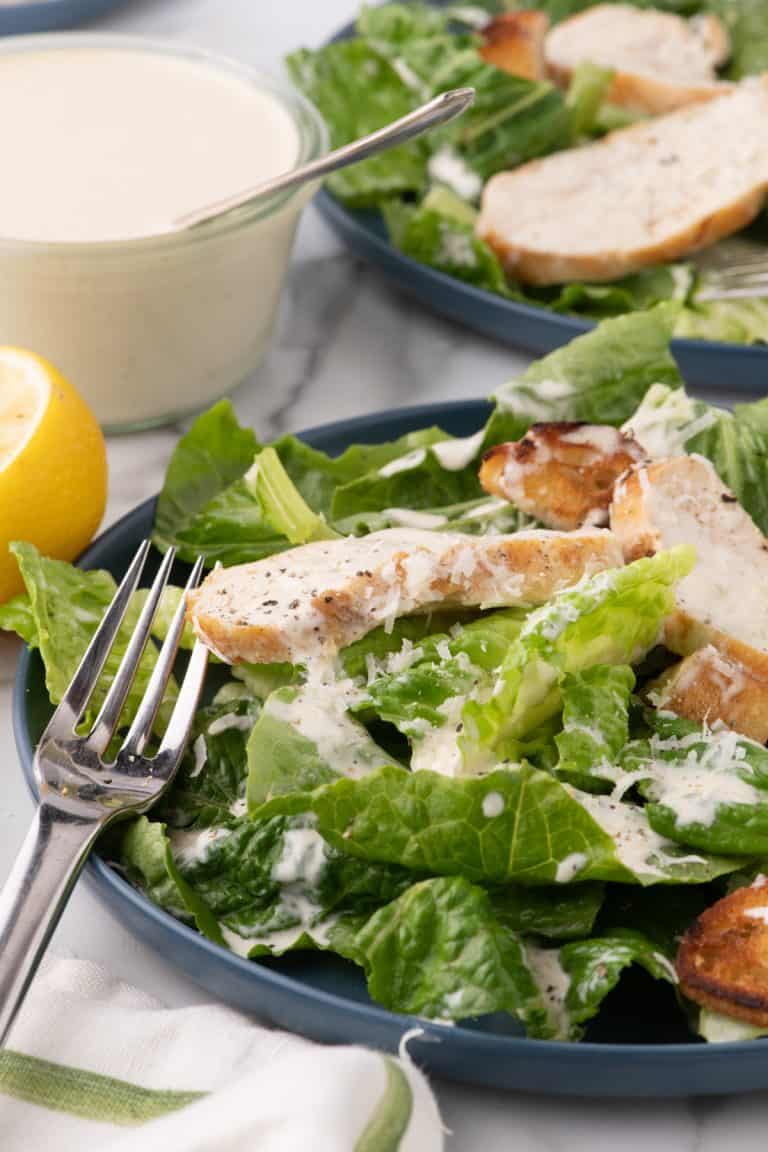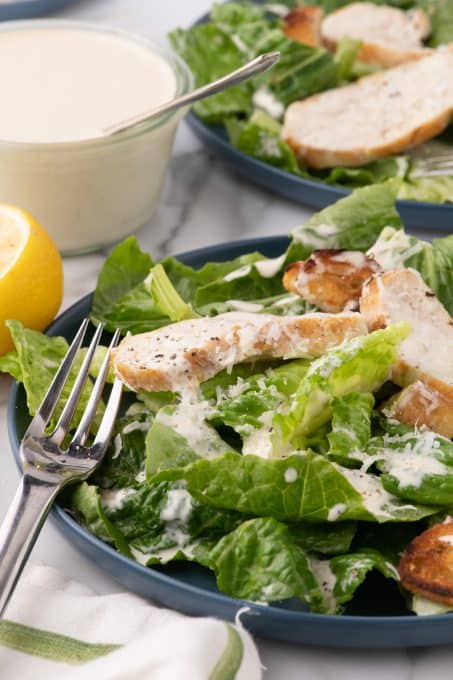 Can I use anchovy paste instead of filets?
Yes, anchovy paste makes a great substitute for the tinned filets. Use two Teaspoons of anchovy paste, and add 2 teaspoons of additional olive oil to the bowl for the coating the croutons.
How long does Caesar dressing stay good?
Homemade Caesar salad dressing can be stored in the refrigerator in an airtight container for up to one week. So feel free to make extra dressing up to a few days in advance, if needed!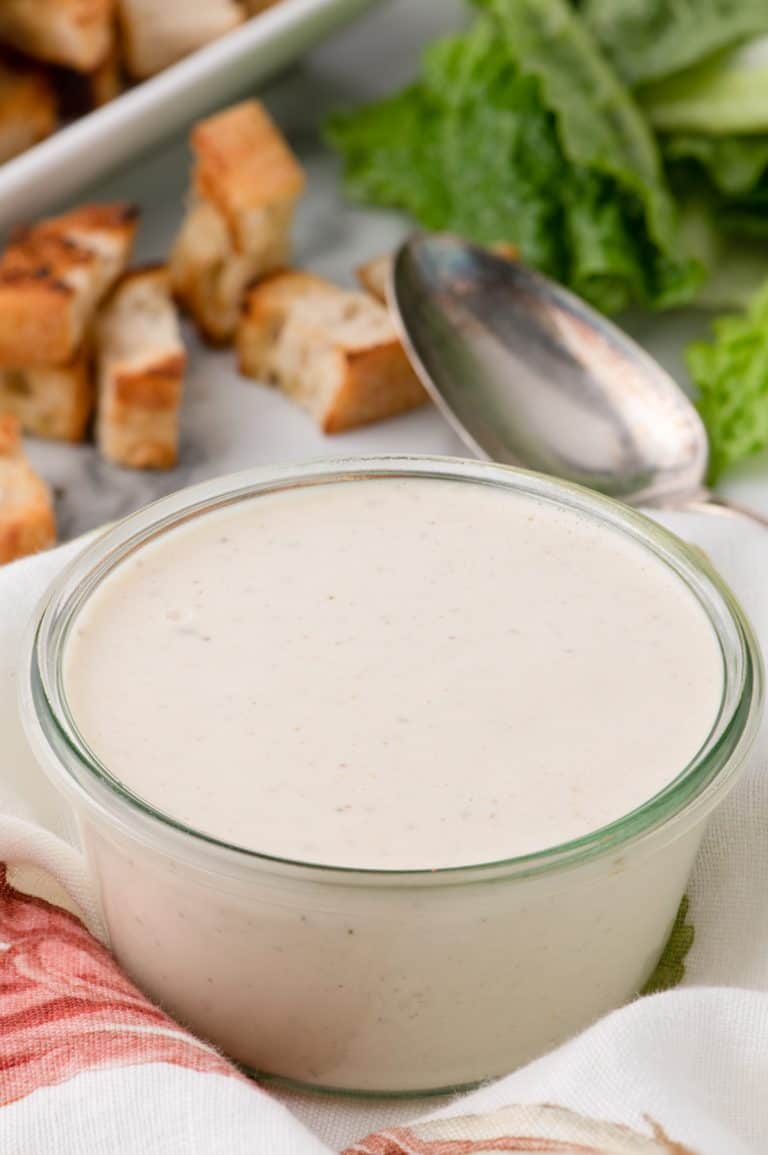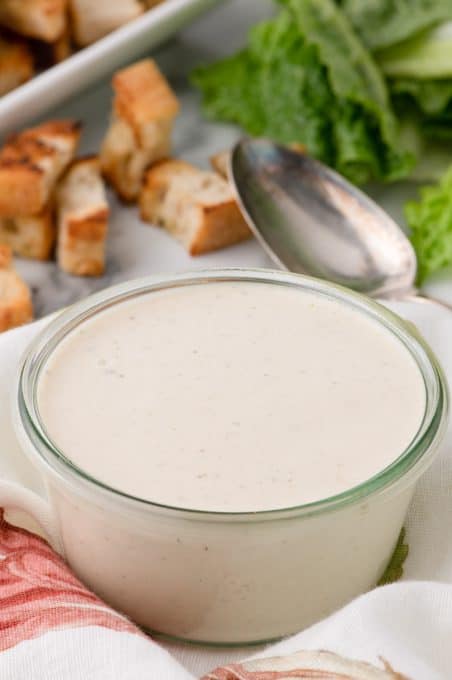 More Salad Recipes
There's no question: homemade dressing is almost always better than store bought.
We all really love the cream heartiness of this Caesar dressing. For those of you who love creamy dressings with some character, my Gorgonzola (Blue Cheese) Dressing makes another great salad topping
If you're looking for a salad dressing without mayonnaise or cheese, I have a Homemade Italian Dressing recipe you'll love. It tastes great on all kinds of salad greens, from spring mix to spinach.
Need a few more salad recipes to add to your menu rotation? Here are a few more easy, flavorful salads my readers love!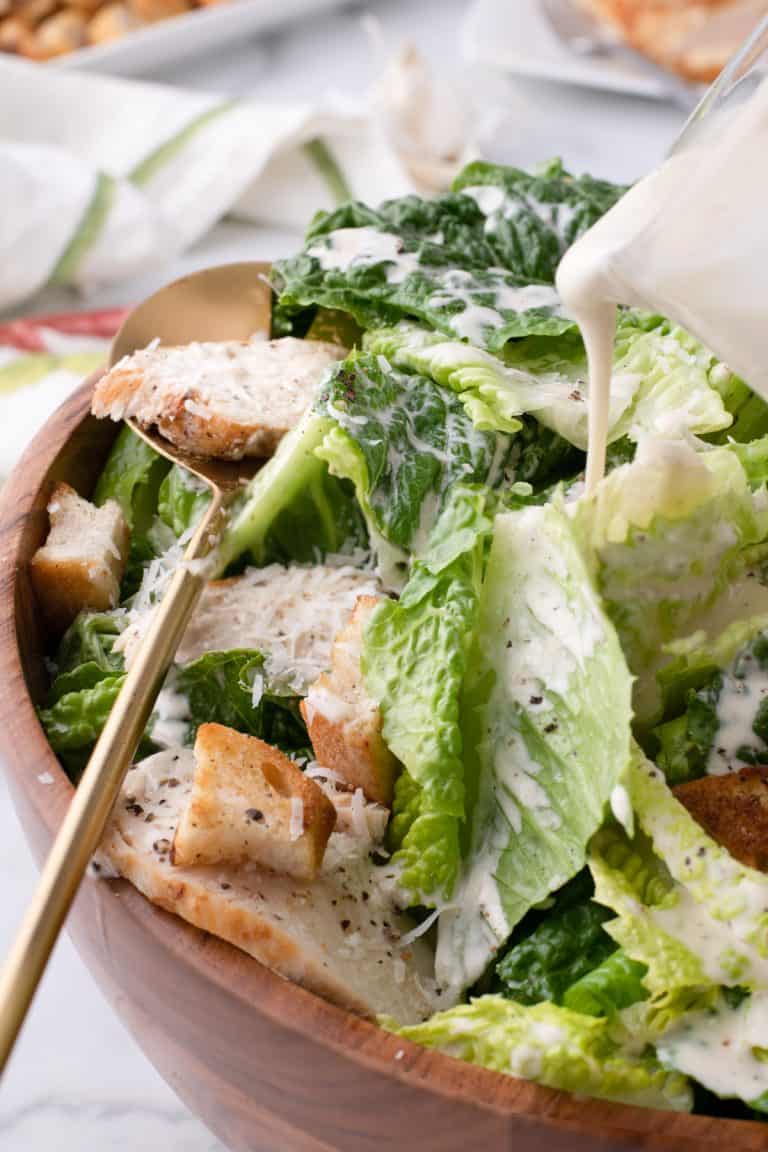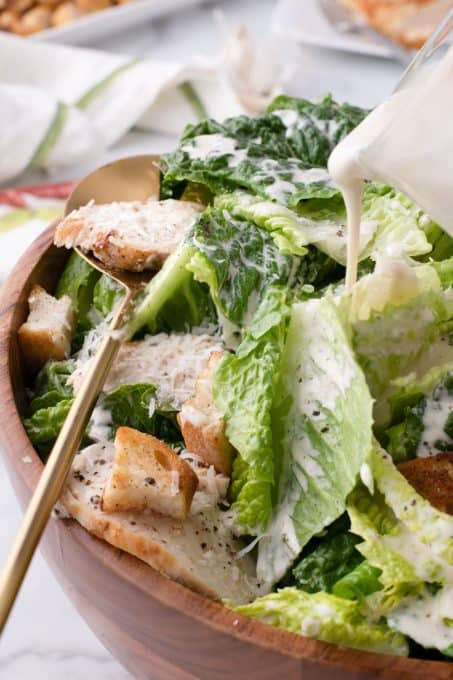 Make a delicious salad the whole family will enjoy with this classic Caesar Salad. Adding chicken slices to your favorite salad with this tangy dressing will make a great lunch or easy weeknight meal.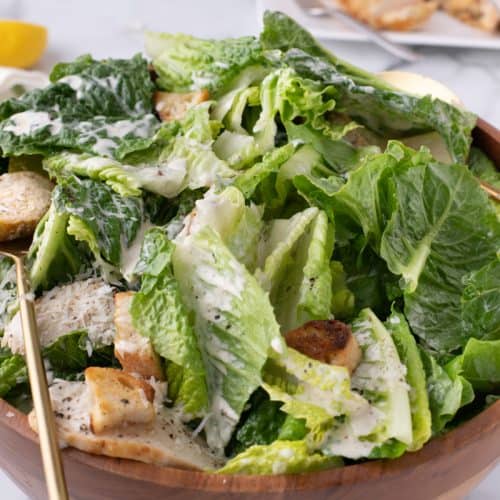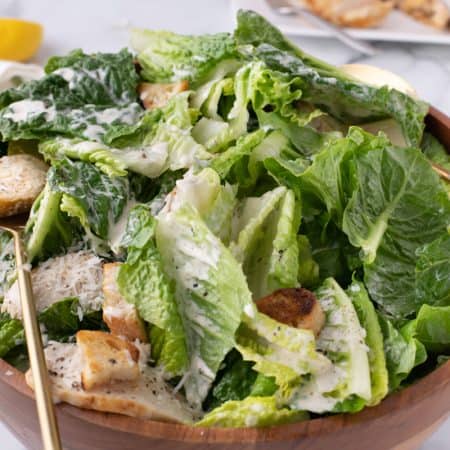 Fresh romaine leaves are tossed in creamy, tangy dressing, homemade croutons and fresh Parmesan in this easy version of a classic Caesar Salad! Serve it with slices of cooked chicken and make it a meal.
Ingredients
For the dressing:
1 cup mayonnaise Hellman's or Best Foods recommended
2 cloves garlic peeled
2 teaspoons capers
1 teaspoon kosher salt
2 tablespoons grated Parmesan cheese
2 tablespoons lemon juice juice from about one lemon
2 teaspoons Worcestershire sauce
1 teaspoon Dijon mustard
4 anchovy filets oil reserved
For the croutons:
½ baguette loaf cut into 1-inch cubes
2 teaspoons anchovy oil reserved from the tinned anchovies
4 tablespoons olive oil divided
For serving
1 head romaine lettuce washed and dried
¼ cup grated Parmesan cheese
fresh cracked pepper
1 pound cooked chicken breast, diced can also use a rotisserie chicken
Instructions
Croutons Instructions
In a large bowl, toss cubes of bread with the 2 teaspoons of anchovy oil and 2 tablespoons of the olive oil.

In a heavy bottomed skillet, heat the remaining 2 tablespoons of olive oil on low-medium heat. Add the bread. Fry on low until nicely browned on all sides. Remove from heat and set aside.
Dressing Instructions
In the bowl of a food processor, combine mayonnaise, garlic, capers, salt, 2 tablespoons parmesan cheese, lemon juice, Worcestershire sauce, Dijon, and anchovy fillets. Pulse until smooth in texture and transfer to a jar. Keep chilled until ready to use.
Salad Assembly
Tear or cut romaine lettuce into bite sized pieces. Place in a large salad bowl.

To the salad bowl, add half the dressing, the croutons and the remaining Parmesan cheese. Add freshly ground pepper to taste. Serve immediately with cooked chicken, if desired.
Notes
A fun alternative is to shave your parmesan cheese with a cheese slicer to get nice curls of cheese for a pretty presentation.
For optimal crunch, the croutons are best consumed within half an hour of tossing salad. Once the dressing comes into contact with them, they get soggy. 
It's best to keep salad leaves refrigerated until ready to use, as a nice cold leaf provides a great texture with the dressing.
Nutrition
Serving: 1serving | Calories: 855kcal | Carbohydrates: 23g | Protein: 45g | Fat: 64g | Saturated Fat: 11g | Polyunsaturated Fat: 28g | Monounsaturated Fat: 22g | Trans Fat: 0.1g | Cholesterol: 132mg | Sodium: 1575mg | Potassium: 815mg | Fiber: 4g | Sugar: 4g | Vitamin A: 13775IU | Vitamin C: 10mg | Calcium: 204mg | Iron: 5mg
Did you make this recipe?
Share it with me on Instagram and make sure to follow me on Pinterest for more recipes.
Reader Interactions