Learn how to make Chicken Tostadas with all the fixings! Crunchy tortilla shells are piled high with perfectly seasoned chicken, black beans, cheese, and more. It's a quick and easy dinner recipe that's packed with Mexican flavor the whole family will love!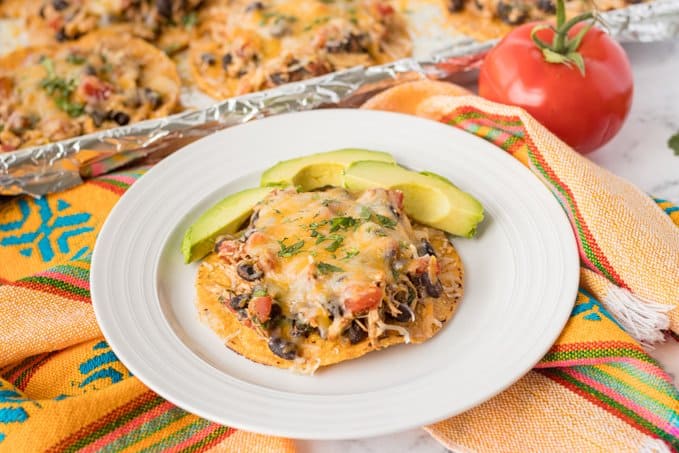 These Shredded Chicken Tostadas are one of those quick dinner recipes you'll come back to time and time again.
Some of you are asking, "What are tostadas?".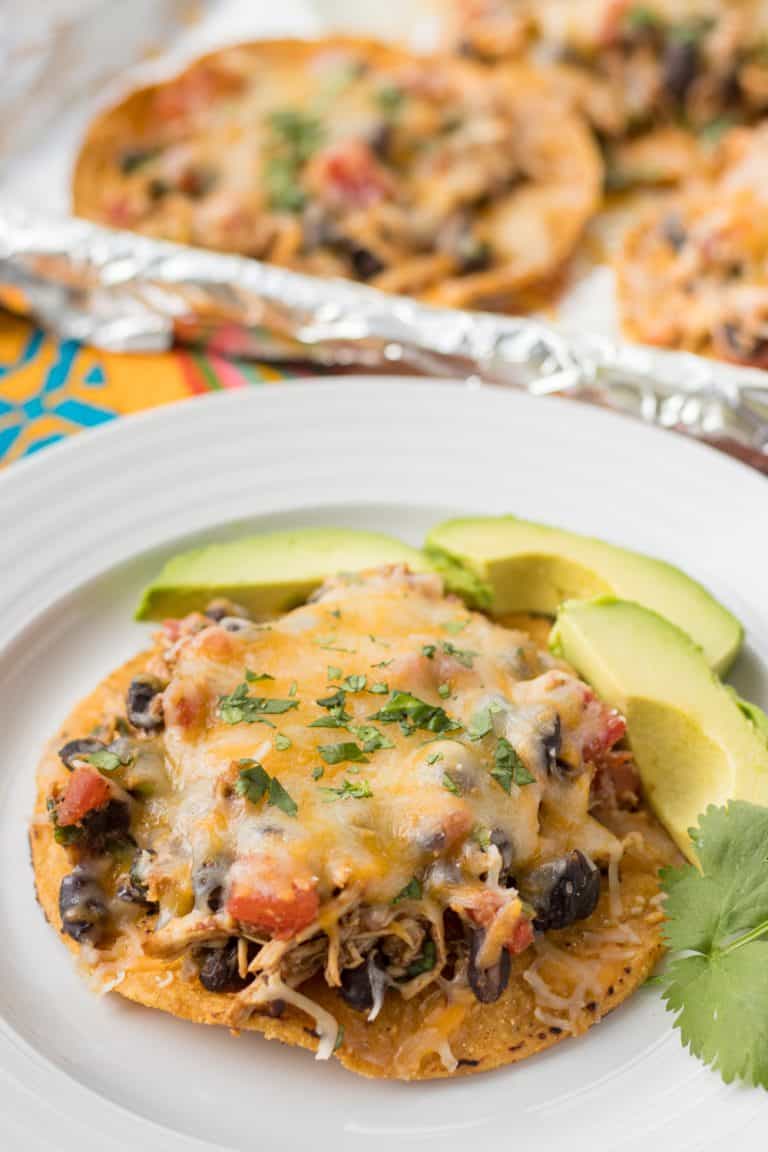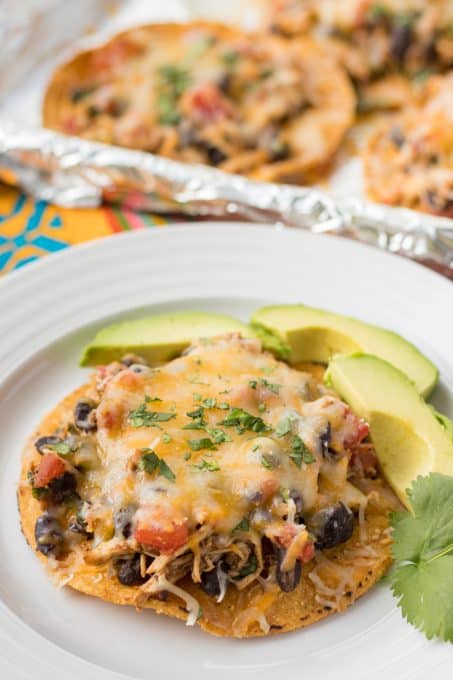 I'm glad you asked.
Tostadas are flat or saucer-shaped corn tortillas that are baked, toasted or fried until crispy. The word "tostada" literally translates to "toasted" in English. The tostada is filled or topped with a combination of meat, cheese, beans and vegetables, like an open-faced hard or flat taco.
With so many topping and filling options you can make them a million different ways and never get bored. It's a great option for taco night, and a recipe with simple ingredients that will please those picky eaters. And after a long day, this meal is a real time saver, becoming a regular in our dinner rotation.
That's why today I'm sharing my family's favorite Chicken Tostadas recipe.
The juicy taco-seasoned chicken, the toasted corn tortilla shell, creamy avocado and pop of fresh toppings make them mouthwateringly delicious. I know no one will complain about eating every bite of their meal when Chicken Tostadas are on the menu.
Even better, this easy chicken dinner is ready to eat in only 30 minutes!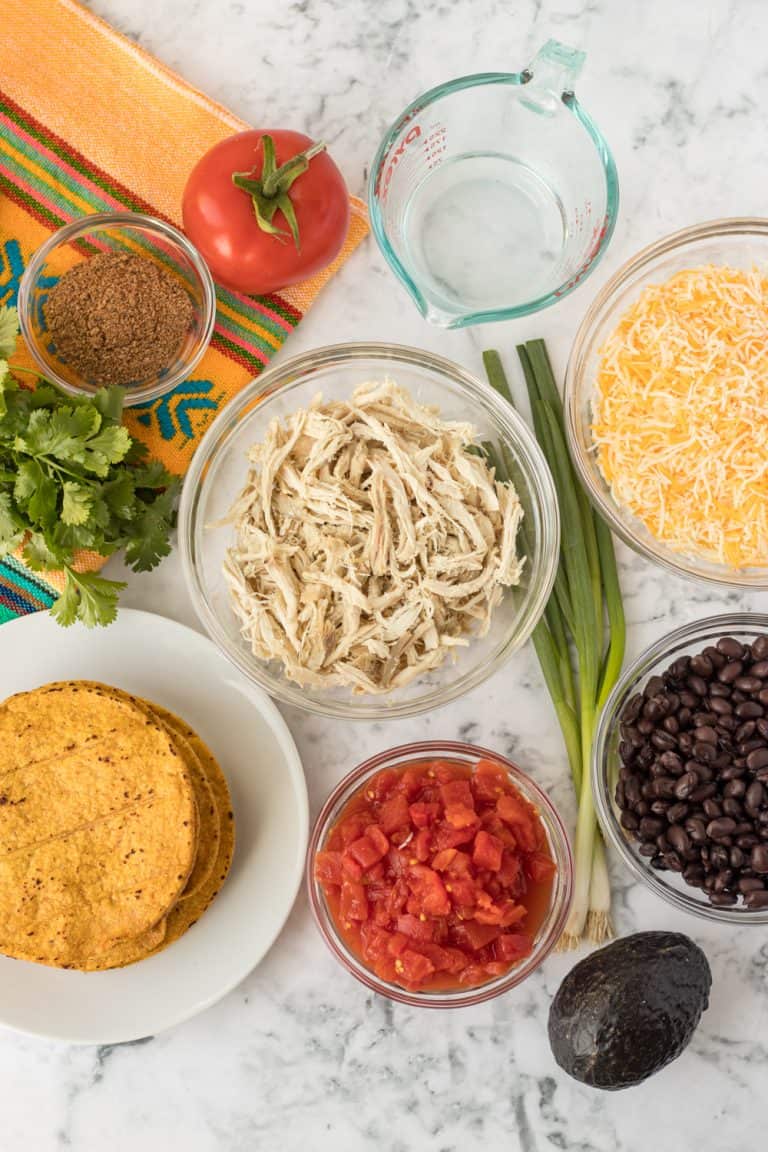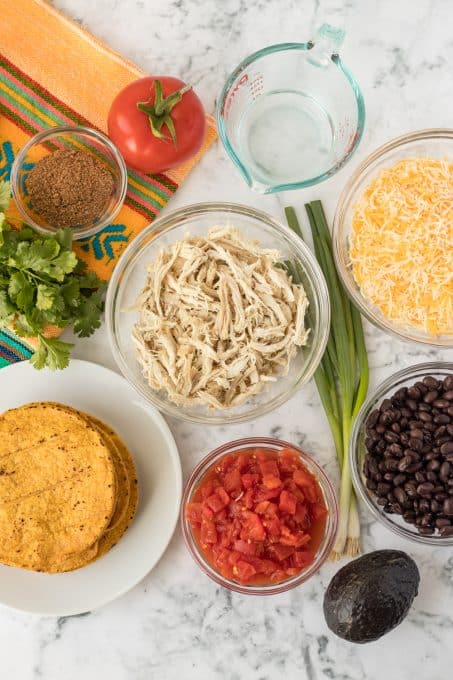 What do I need?
You will need these ingredients to make the chicken tostadas.
Tostadas – Store bought or homemade
Cooked shredded chicken – A rotisserie chicken is perfect!
Black beans
Rotel diced tomatoes – Or any kind of diced tomatoes with green chilies.
Green onions
Shredded Mexican cheese
Avocado
Fresh tomato
Fresh cilantro
How do I make them?
You are going to LOVE how easy it is to make homemade rotisserie chicken tostadas! Here's how you do it.
First, line a baking pan with foil. Place 8 tostadas on the pan and preheat your oven to 350°F.
Now, combine the shredded chicken, Rotel tomatoes, black beans and taco seasoning in a sauce pan. Add a generous splash of water and cook until heated through. This takes about 7 minutes.
Stir chopped green onions into the chicken mixture. Spoon the shredded chicken evenly over the tostadas. Sprinkle a handful of shredded cheese over each one.
Bake the chicken tostadas for about 5 minutes, or until the cheese is melted. Serve hot with diced avocado, tomato, fresh cilantro and any other toppings you like.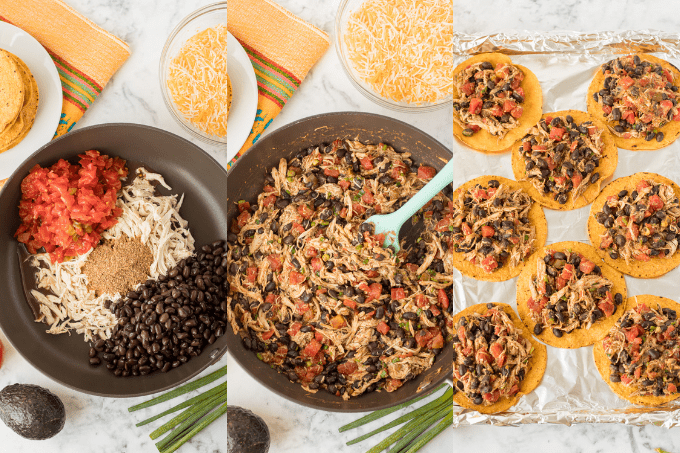 How do I make my own tostadas if I can't find them?
If you can't find the crispy shells for sale at your local grocery store, you can make your own homemade tostada shells. It's easy!
Preheat your oven to 400°F.
Lightly grease both sides of 8 corn tortillas and place them flat on the baking sheet.
Bake the tortillas for 5 minutes on each side, or until hard and crispy. Voila! Crunchy tostadas!
OR
Once your tostada shells are ready, follow the recipe below for assembling easy chicken tostadas.
Can I use flour tortillas to make tostadas?
Corn tortillas are the traditional choice for tostadas but you're welcome to use flour if you prefer!
The flour tortillas take a bit longer to get crispy. They'll have toasty edges and a softer center than the thin, crisp corn tostadas.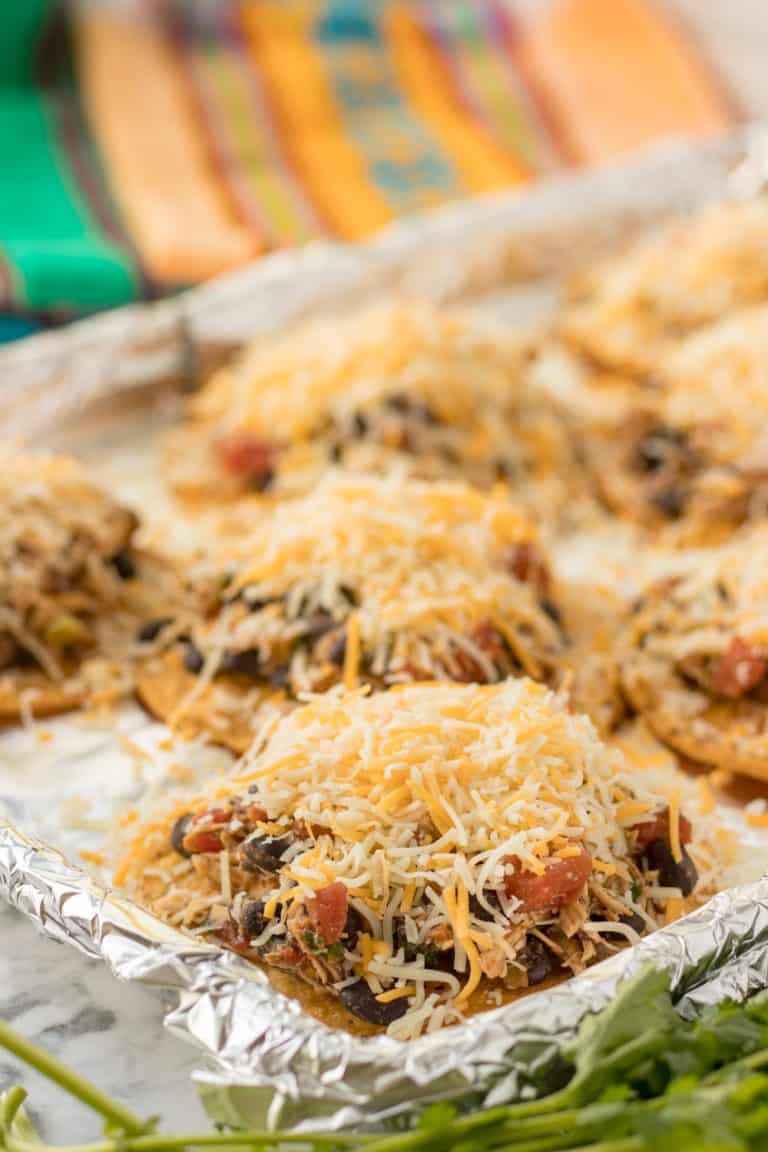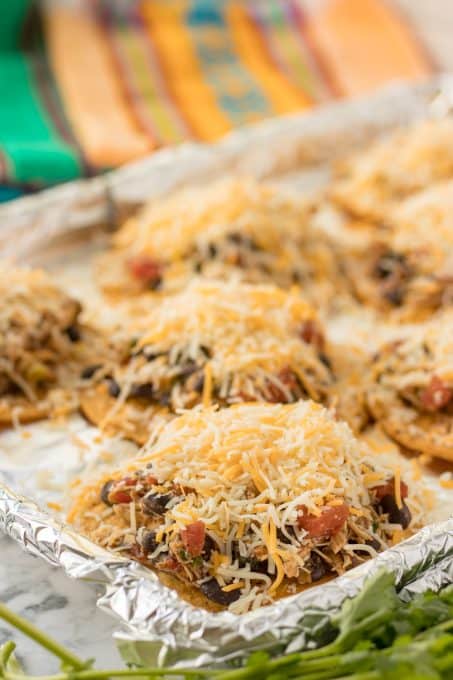 What other toppings are good on chicken tostadas?
Diced avocado, tomatoes and cilantro aren't the only things you can put on cheesy baked tostadas.
Try a dollop of sour cream, homemade crema or plain Greek yogurt to add a cooling dimension to the spicy Mexican chicken. If you want a spicier tostada, spoon your favorite salsa or hot sauce. Top it with some cotija cheese, pickled red onion, and some fresh lime juice.
Instead of black beans, you can use pinto beans or spread a layer of refried beans on the crunchy tortillas.
In place of the chicken, top them with some slow cooker carne asada for an equally delicious recipe.
We also enjoy eating Mexican tostadas with pico de gallo and guacamole on top instead of the tomatoes, cilantro and avocado. There's no wrong way to enjoy homemade chicken tostadas!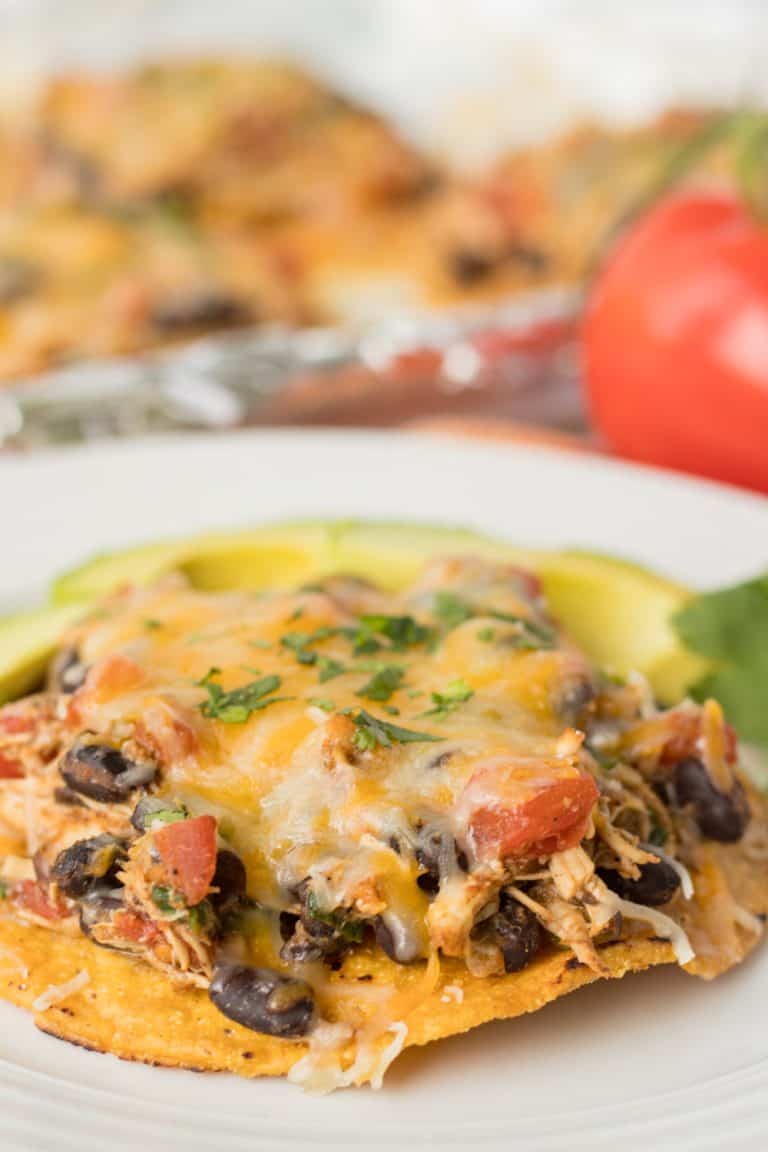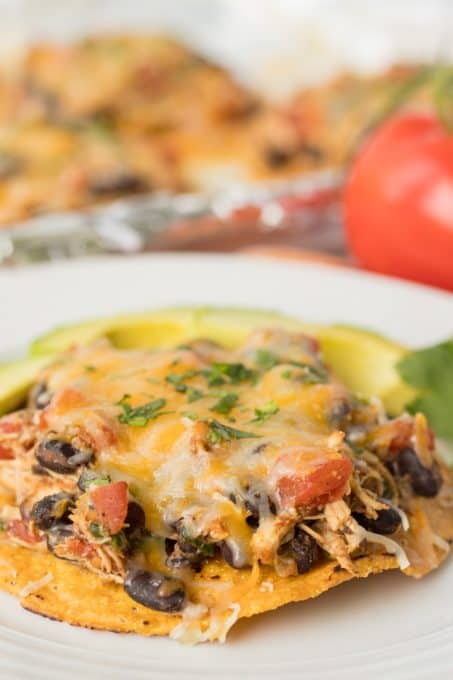 Mexican Recipes
I love Mexican food. And Tex-Mex food and Cal-Mex food and every other cuisine informed by Mexican flavors.
We eat tacos regularly in this house. Whether it's a plate of Baja inspired Shrimp Tacos or these decidedly nontraditional Taco Hummus Wraps, everyone is happy when dinner comes wrapped in a tortilla.
The taco obsession doesn't stop when we run out of tortillas. I love layering cheese, meat and peppers in a Layered Taco Dip to scoop up with chips. This Chicken Taco Dip is another version you'll enjoy.
Make ahead casseroles make mornings so much easer—and tastier. Fans of breakfast tacos will love my Mexican Breakfast Casserole with its layers of eggs, spicy chorizo sausage and peppers.
Whatever main course you choose you'll want to pair with a side of Skillet Mexican Street Corn. It's got all the spicy, creamy sweet corn taste of Elote, cooked up in a skillet.
No Mexican meal is complete without a refreshing beverage like horchata or the horchata-inspired Coconut Cooler. Both would be delicious served with your chicken tostadas!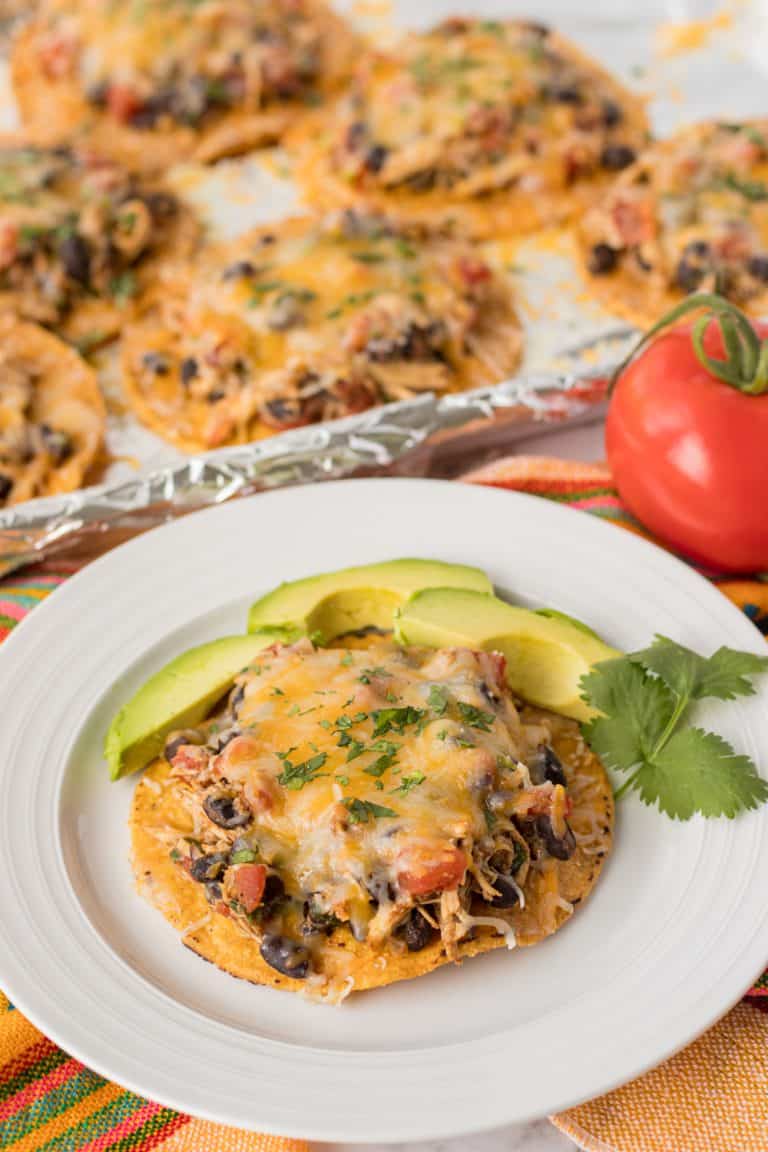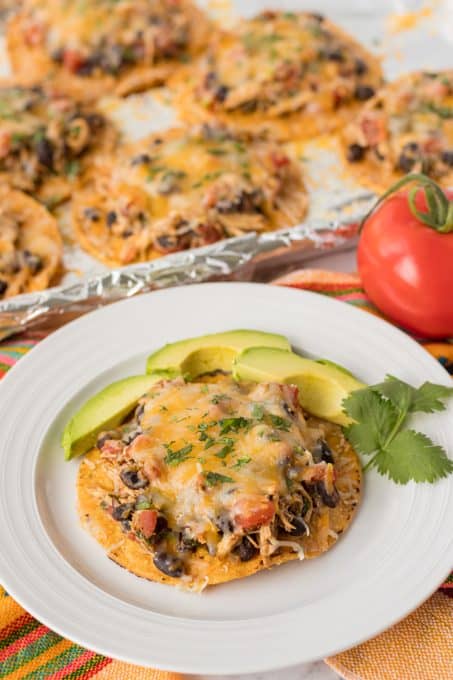 Chicken Dinners
It's easy to get stuck in a rut, making the same chicken recipes in an endless loop. That's why I'm always finding and coming up with creative chicken dinner ideas to keep meal times exciting, easy and, especially, delicious.
Whether you need a good crockpot BBQ chicken recipe or the perfect easy chicken marinade you're bound to find what you're looking for here on the blog.
SIGN UP FOR THE WEEKLY
365 DAYS OF BAKING & MORE
NEWSLETTER BELOW!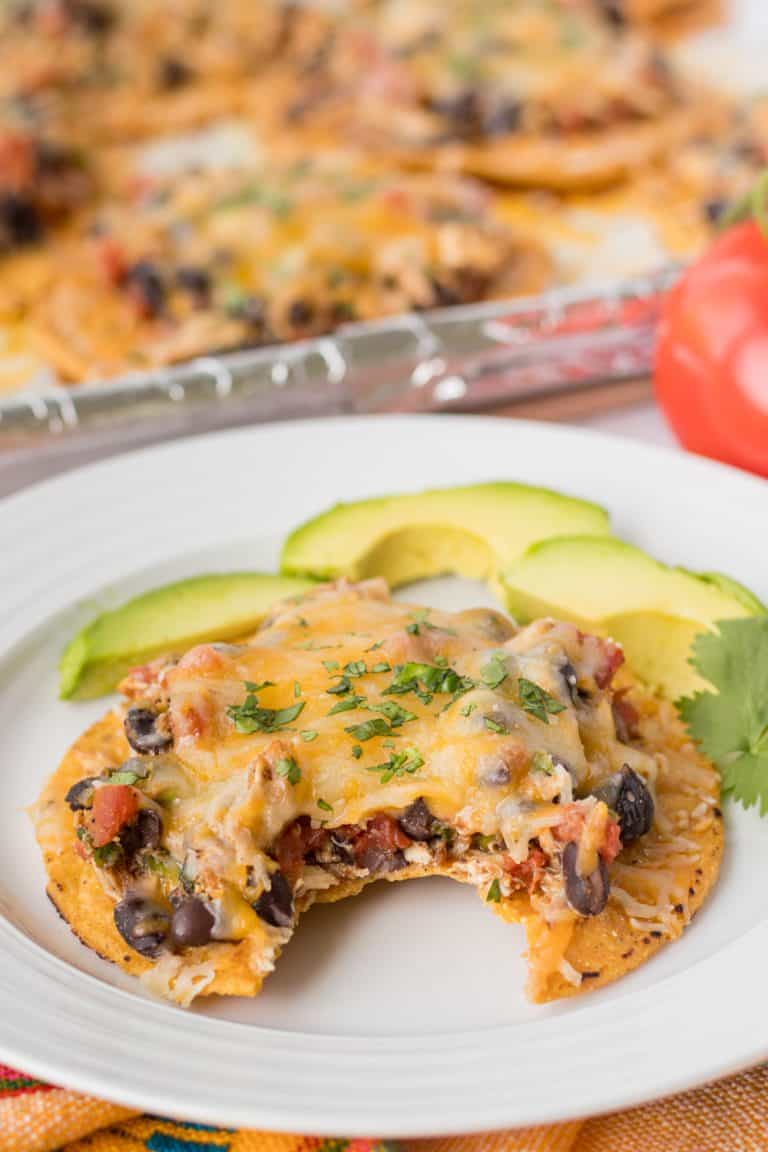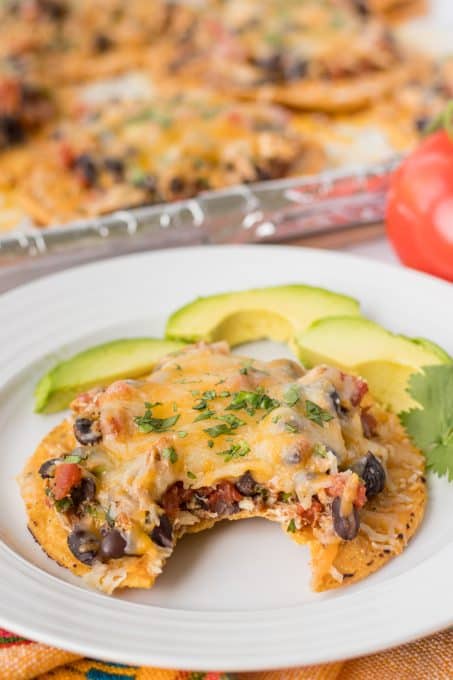 This Chicken Tostada recipe is one the whole family will love! Serve shredded chicken breast on a crispy corn tortilla covered with your favorite toppings. It's a dinner with a lot of flavor that's perfect for Taco Tuesday and busy weeknights.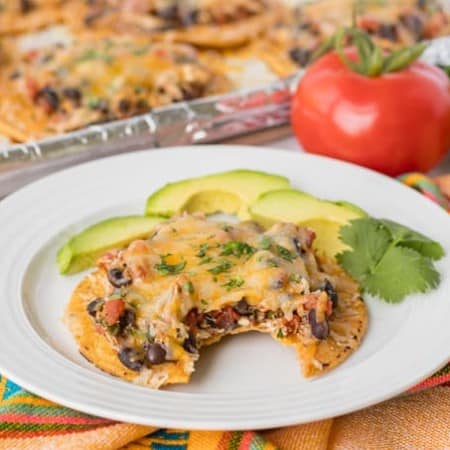 Learn how to make Chicken Tostadas with all the fixings! Crunchy tortilla shells are piled high with perfectly seasoned chicken, black beans and cheese, and more. It's a quick and easy dinner recipe that's packed with Mexican flavor the whole family will love!
Equipment
Baking Sheet

aluminum foil or parchment paper

skillet
Ingredients
8 tostadas
2 cups cooked shredded chicken
15 ounces black beans
10 ounces Rotel diced tomatoes and chopped green chilies
⅓ cup water
2 tablespoons homemade taco seasoning or one packet
3 green onions chopped
2 cups shredded Mexican cheese
1 avocado sliced
1 tomato diced, if desired
chopped fresh cilantro
Instructions
Preheat oven to 350°F, and place 8 tostados onto a baking sheet lined with aluminum foil or parchment paper.

In a large skillet over medium heat, place chicken, beans, can of diced tomatoes, water, and taco seasoning. Cook for about 7 minutes until completely heated through, stirring frequently.

Add the green onions to the skillet, and mix. Evenly distribute the chicken mixture among the tostadas, and cover each with ¼ cup of the Mexican cheese.

Bake for 5-7 minutes until heated and cheese has melted. Serve with sliced avocado, and top with diced fresh tomato and cilantro, if desired.
Nutrition
Serving: 1tostada | Calories: 359kcal | Carbohydrates: 29g | Protein: 22g | Fat: 18g | Saturated Fat: 7g | Polyunsaturated Fat: 3g | Monounsaturated Fat: 7g | Trans Fat: 1g | Cholesterol: 53mg | Sodium: 363mg | Potassium: 569mg | Fiber: 8g | Sugar: 2g | Vitamin A: 512IU | Vitamin C: 9mg | Calcium: 235mg | Iron: 3mg
Did you make this recipe?
Share it with me on Instagram and make sure to follow me on Pinterest for more recipes.
Reader Interactions