The best ever Shrimp Tacos! Seasoned with taco spices, this shrimp is pan-cooked and served with a zesty cilantro lime dressing. Grab your favorite tortillas and make these easy shrimp tacos for dinner tonight!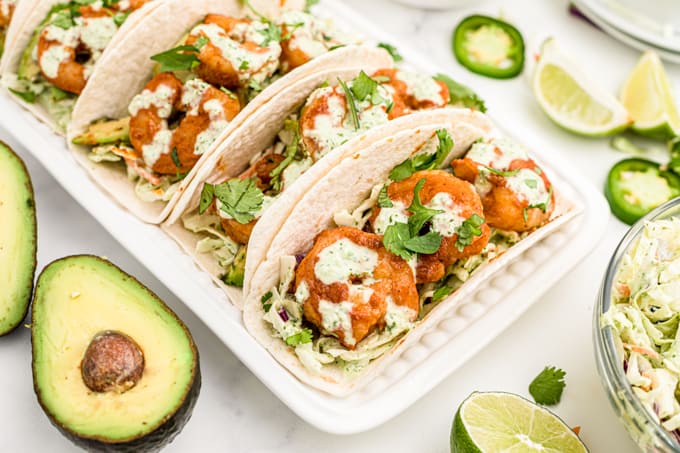 This is not your average taco Tuesday meal.
Cilantro Lime Shrimp Tacos bring together the taco flavors I love with the fresh juicy taste of perfectly cooked shrimp.
SAVE THIS EASY SHRIMP TACO RECIPE TO YOUR FAVORITE PINTEREST BOARD!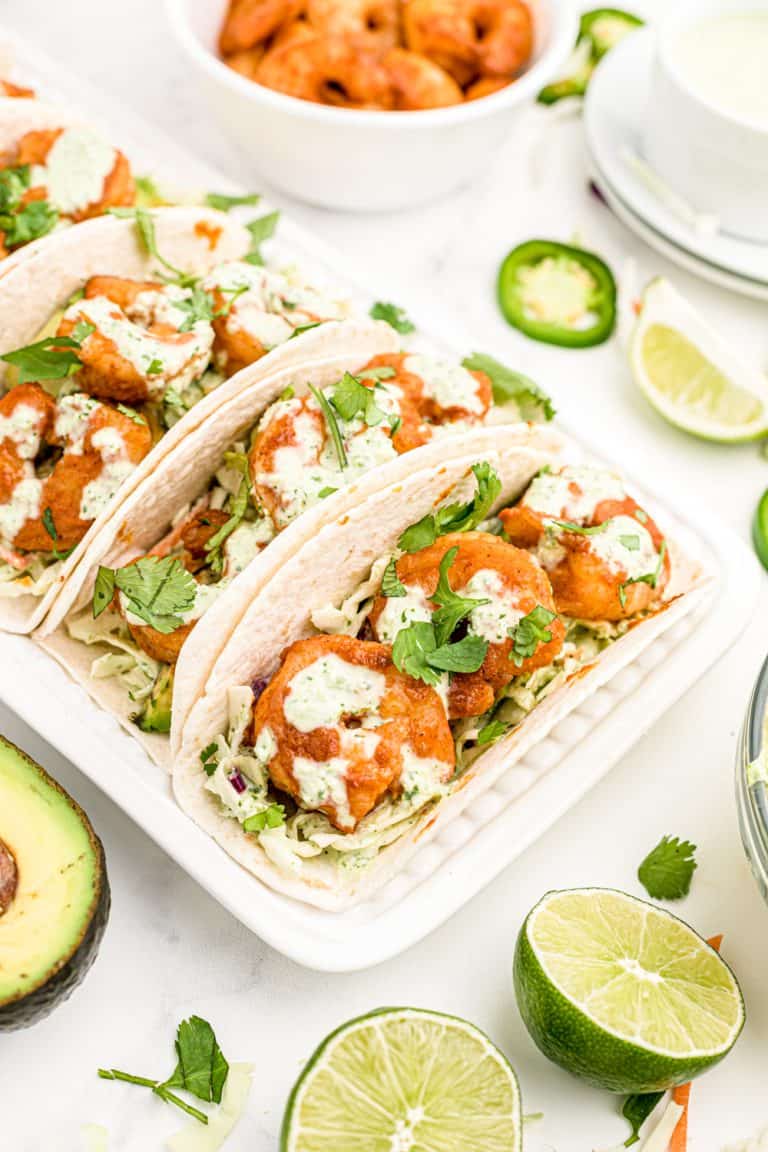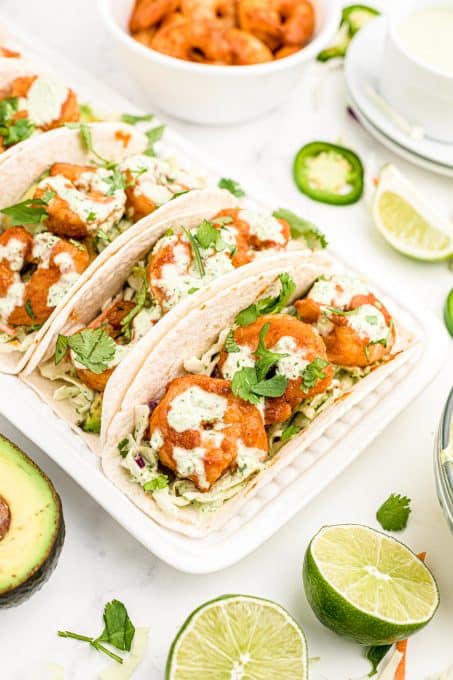 You'll have a restaurant-quality dinner on the table in just 20 minutes with this recipe! Inspired by the street tacos popular in the Baja peninsula, these Shrimp Tacos are perfect with a side of Skillet Mexican Street Corn too.
Mix up a few refreshing Horchatas and dinner is complete!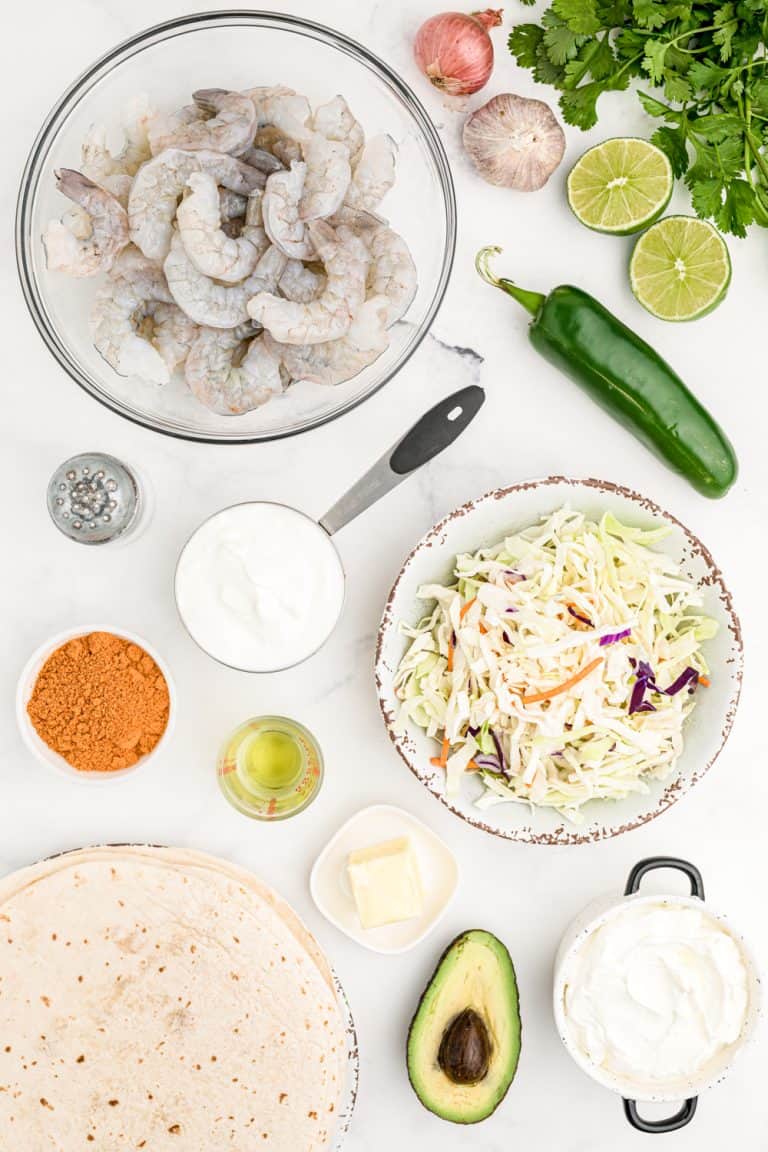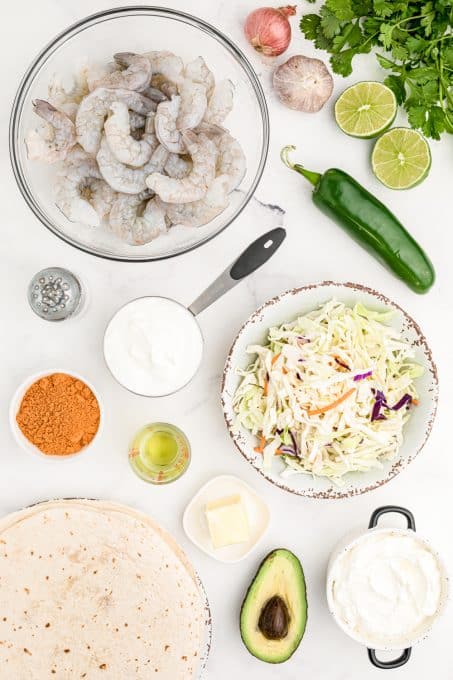 What do I need?
Here's what you need to make shrimp tacos with slaw:
large shrimp
butter
flour tortillas
Greek yogurt
grapeseed oil
garlic
shallot
jalapeno
cilantro
salt,
limes
coleslaw mix
The shrimp should be shelled and deveined before cooking. Buy fresh shrimp from the seafood counter at your supermarket. Or, use frozen shrimp that's been thawed and patted dry.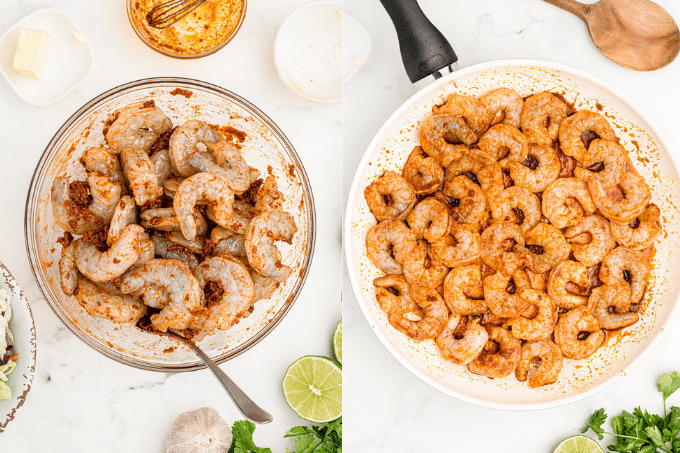 Should I season shrimp?
At a minimum the shrimp will need salt and pepper to help enhance that delicious sweet flavor. We use taco seasoning in this recipe which makes it even more delicious!
After seasoning the shrimp, you simply pan cook it for a few minutes until cooked through.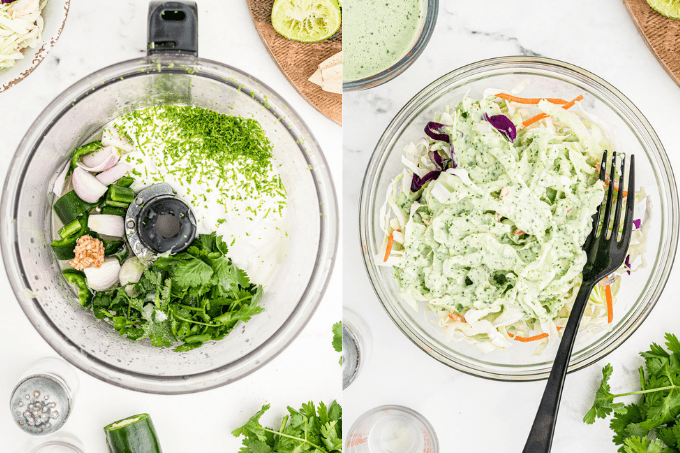 Can I use regular coleslaw instead of cilantro lime coleslaw?
This recipe includes instructions for making a delicious taco slaw tossed with a Greek yogurt based cilantro lime dressing. If you prefer to just use a store bought coleslaw or other favorite slaw, the tacos will have a totally different flavor but still be good!
Are shrimp tacos better with corn or flour?
This is personal preference. I prefer soft flour or soft corn tortillas, but crunchy taco shells are great too!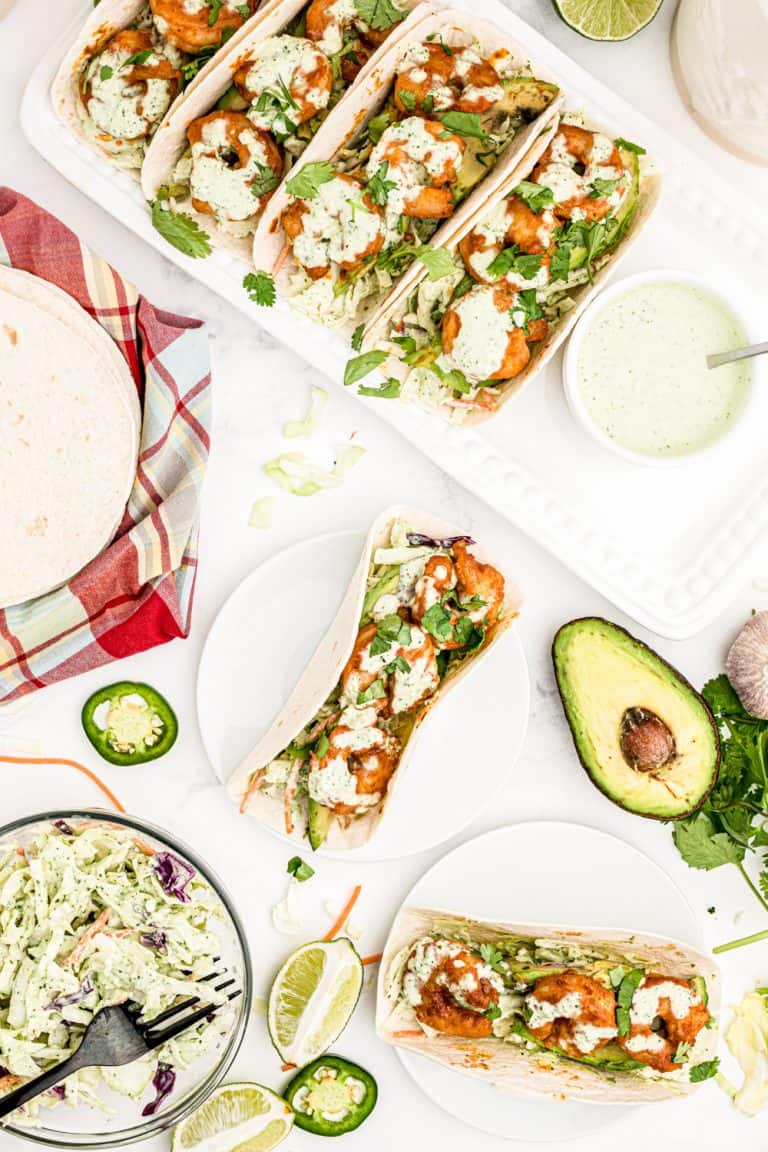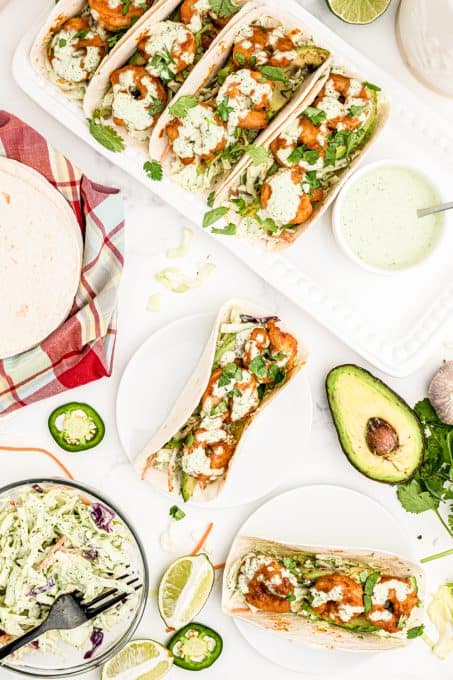 Can I fry the shrimp for these shrimp tacos?
You can definitely fry the shrimp if you like. This is another favorite way to serve shrimp tacos. Battered and fried shrimp adds a little crunchy texture to the taco. This is especially nice if you're serving them in flour tortillas.
Storage Instructions
If you don't think the tacos will all be eaten at that time, don't assemble them all. These tacos are best when assembled right at the time of eating. Otherwise the ingredients all get soft/soggy.
Store the coleslaw separate, dressing separate and the shrimp separate and reheat as needed.
These ingredients should be kept in the refrigerator for up to 3 days. Reheat the shrimp (if desired) upon eating–or enjoy it cold if you prefer! It's tasty either way.
What toppings are good for shrimp tacos?
We served these Cilantro-Lime Shrimp Tacos with all our usual favorite taco fixings. Pico de gallo salsa, avocado slices (or guacamole) and sour cream are all delicious additions.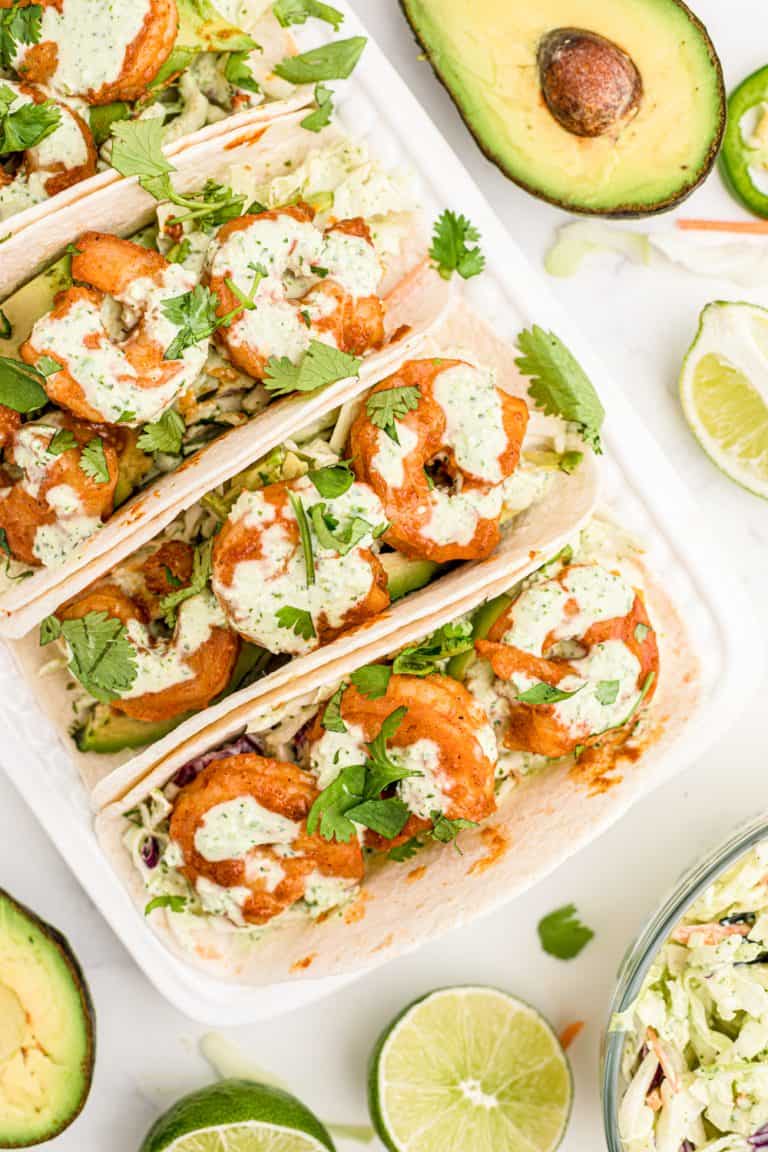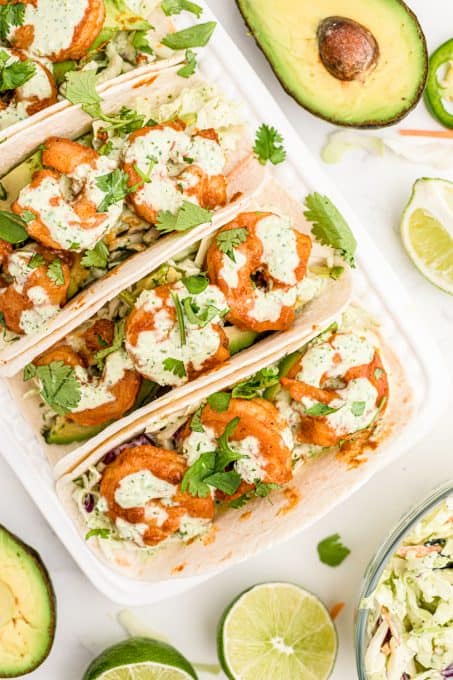 Taco Recipes
When I can't decide on a meal that everyone in my family is guaranteed to love, I turn to TACOS.
With so many different filling and topping options, we could have tacos every night for months and never repeat the same exact dish twice. Even when we're not eating tacos. . . we're meals INSPIRED by tacos!
You'll love this Crunchy Taco Chicken encrusted with tortilla chips and taco seasoning. These Slow Cooker Carne Asada Taco Boats are another fun variation on the normal soft tortilla taco.
To keep your party guests fed and happy all night, you can't go wrong with this Chicken Taco Dip or an easy Taco Braid.
Seafood Recipes
Cooking seafood doesn't have to be complicated or intimidating. In fact, plenty of seafood is quick and easy to make, even for beginner cooks.
If you loved these Taco Seasoned Shrimp Tacos, you're going to enjoy this Tacoed Tilapia with Raspberry Mango Salsa just as much. This Chimichurri Salmon is another seafood recipe brimming with zesty cilantro flavor!
Here are a few more easy seafood recipes our readers love: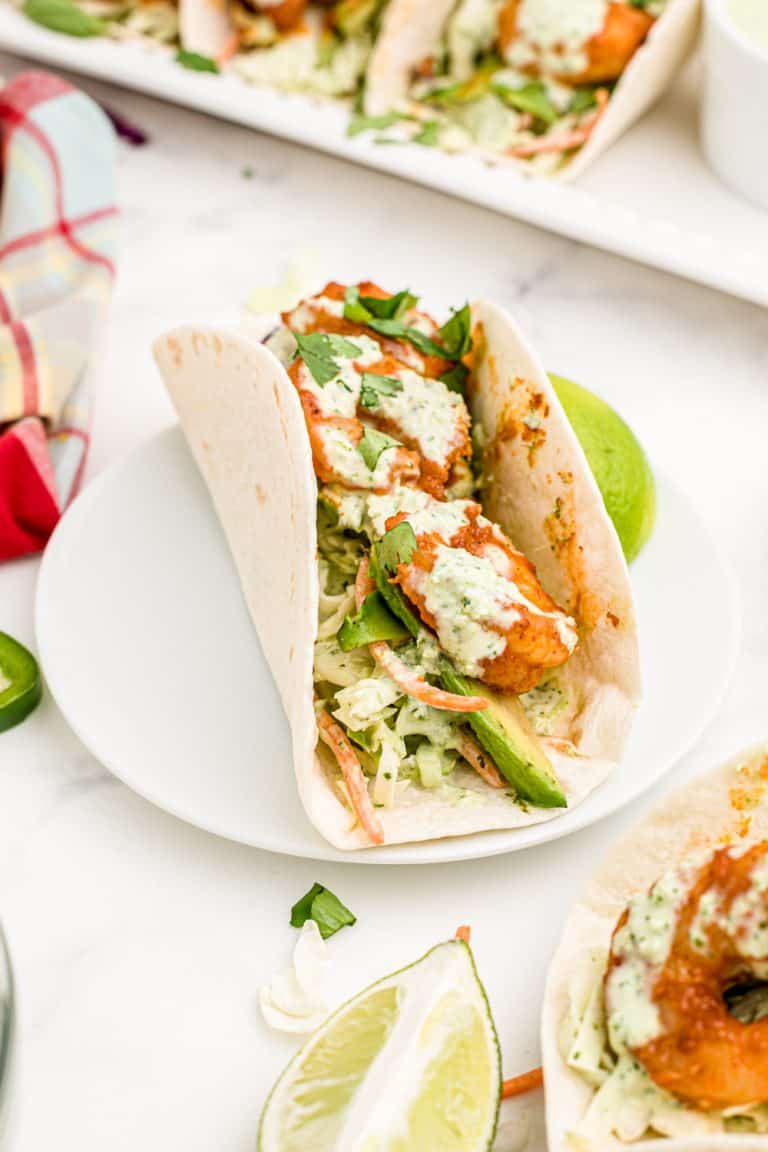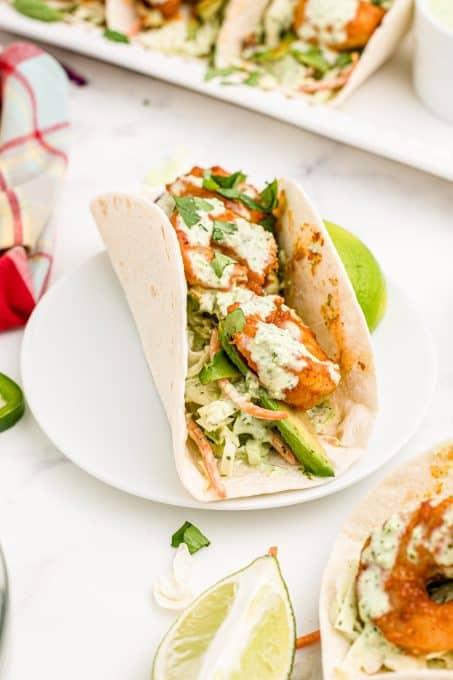 The BEST Shrimp Tacos are spiced with taco seasoning and topped with a cilantro lime slaw. Served on flour or corn tortillas, this shrimp is flavorful and easy to make!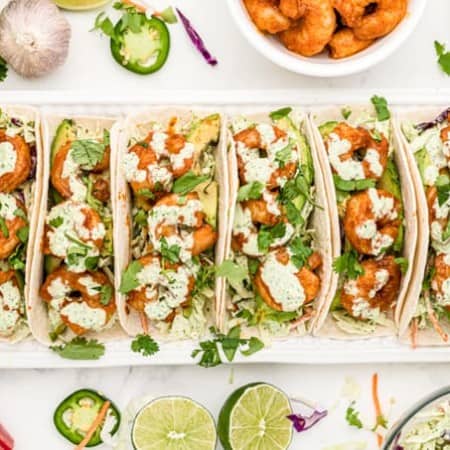 The best ever Shrimp Tacos! Seasoned with taco spices, this shrimp is pan-cooked and served with a zesty cilantro lime dressing. Grab your favorite tortillas and make these easy shrimp tacos for dinner tonight!
Ingredients
4 tablespoons unsalted butter
1 oz homemade taco seasoning
1 lb large shrimp deveined, shelled, tails-off
6 flour taco tortillas
1 cup plain Greek yogurt or sour cream
1 tablespoon canola oil or grapeseed oil
1 garlic clove
1 shallot
½ of a small jalapeño with seed if you like the heat
¼ cup freshly chopped cilantro
¼ teaspoon kosher salt
2 limes zested and juice reserved
2 cups coleslaw mix
Instructions
Rinse the shrimp and pat dry.

In a large microwavable bowl, melt two tablespoons of butter. Add the taco seasoning and mix well.

Add the shrimp to the bowl and toss gently to coat completely. Set aside.

Put the Greek yogurt, garlic, shallot, jalapeño, cilantro, salt, lime zest, and lime juice in a food processor or blender. Add the canola oil and mix for about 30 seconds until dressing is smooth.

Put the coleslaw into a medium bowl, and pour half of the dressing. Toss to combine. Reserve the rest of the dressing to top the tacos. It will seem a bit liquidy, but will thicken as it sits.

In a large skillet, melt the remaining butter over medium high heat.

Add the seasoned shrimp and cook for about 4-5 minutes, until no longer translucent. Move the shrimp around , and turning over so that it cooks completely.

Remove from heat and place into a serving bowl alongside the bowl of coleslaw, a bowl of the remaining dressing, and additional toppings. Additional toppings can include avocado, sour cream, chopped tomatoes, and any additional items you might enjoy on top of tacos.
Notes
Optional Extras: Avocado, sour cream, chopped tomatoes (typical Taco toppings) 
Nutrition
Serving: 1person | Calories: 277kcal | Carbohydrates: 25g | Protein: 17g | Fat: 13g | Saturated Fat: 6g | Polyunsaturated Fat: 1g | Monounsaturated Fat: 5g | Trans Fat: 1g | Cholesterol: 117mg | Sodium: 1130mg | Potassium: 265mg | Fiber: 3g | Sugar: 5g | Vitamin A: 906IU | Vitamin C: 19mg | Calcium: 131mg | Iron: 2mg
Did you make this recipe?
Share it with me on Instagram and make sure to follow me on Pinterest for more recipes.
Reader Interactions