This Peppermint Buttercream Frosting is creamy and fluffy with a zing of minty flavor! Dotted with candy cane pieces, peppermint icing adds instant holiday flair to all your favorite frosted desserts.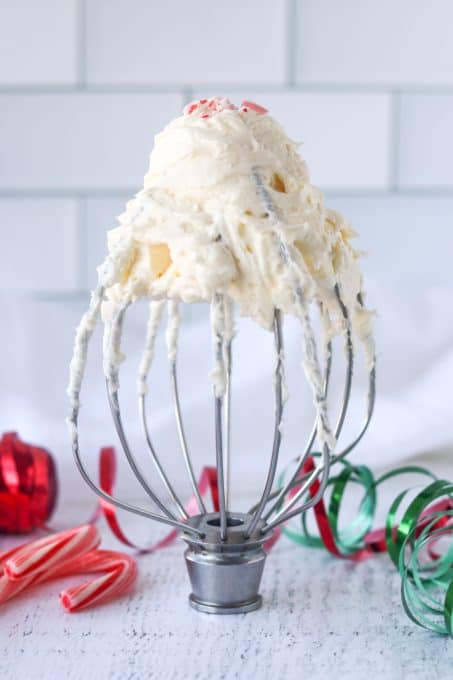 If you love those soft buttery peppermints, you're going to love this buttercream frosting recipe!
Like a melt-in-your-mouth mint, this peppermint frosting tastes creamy and sweet. The cooling peppermint flavor is just enough to balance out the sweetness without overwhelming your senses.
SAVE THIS EASY PEPPERMINT FROSTING TO YOUR FAVORITE PINTEREST BOARD!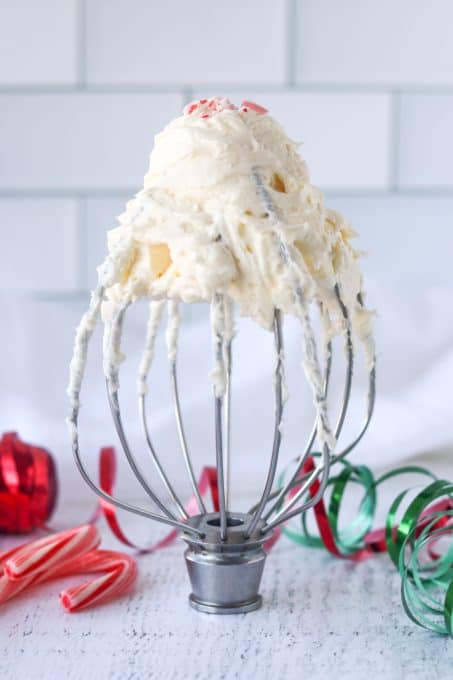 You can fold crushed candy cane pieces into the fluffy buttercream but it's delicious without them too. Once you learn how to make buttercream frosting, it's so easy to change it up with different flavors and mix-ins. This peppermint version is a winner for sure!
I originally used my Peppermint Buttercream Frosting recipe to fill these Sugar Cookie Cups.
It's so delicious–and versatile–that I decided it needs a post of its own.
There are a so many ways you can use peppermint frosting. Spread it onto Soft Sugar Cookies, pipe it onto cupcakes or add a thick layer to a pan of Hot Chocolate Brownies. It turns any recipe into a Christmas recipe!
As a fan of all things peppermint this time of year, I found it tough to resist tasting this buttercream straight out of the bowl with a spoon. . . . maybe more than a few times. Once you taste it you'll understand!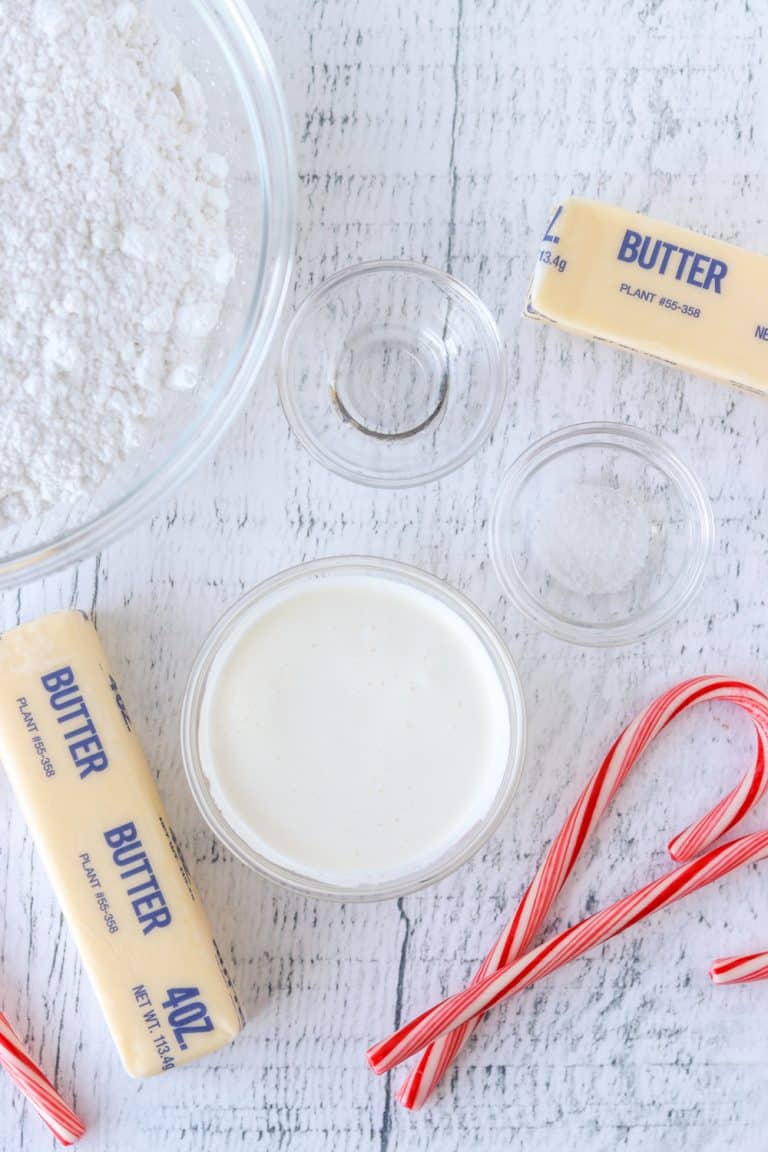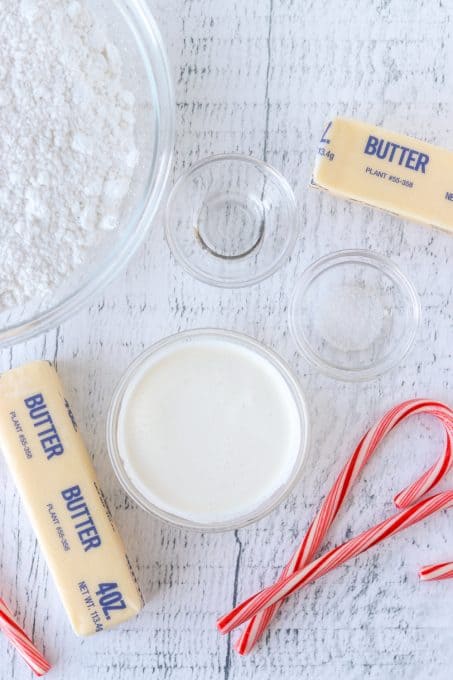 What do I need?
To make peppermint buttercream frosting, you will need:
unsalted butter
peppermint extract
confectioner's sugar
salt
heavy cream
food coloring (This is optional.)
candy canes, crushed into pieces (Also optional but so festive!)
Making the frosting is as easy as can be. Just beat the peppermint extract with the butter until fluffy. Add the other ingredients and beat until smooth. If you're using food coloring or candy canes, fold those in at the end.
You can use the frosting right away or store it for later.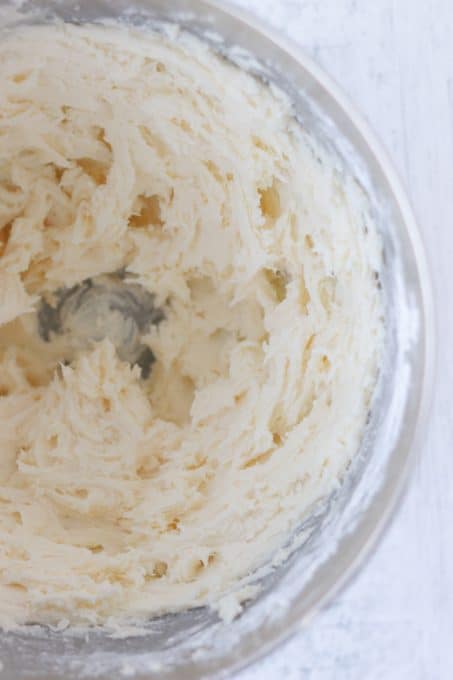 How do I store buttercream frosting?
Store this peppermint icing in an airtight container in the refrigerator. I recommend using it within a couple of days for best consistency and flavor. If it starts to look dry or too stiff, you can give it a good stir to reincorporate the ingredients or even add a teensy bit of extra cream if needed.
Can I make it with milk instead of cream?
You can but the frosting won't be as rich and, well, creamy. I highly recommend going with the heavy cream here if you can. You won't regret the amazing consistency and flavor it lends to homemade frosting.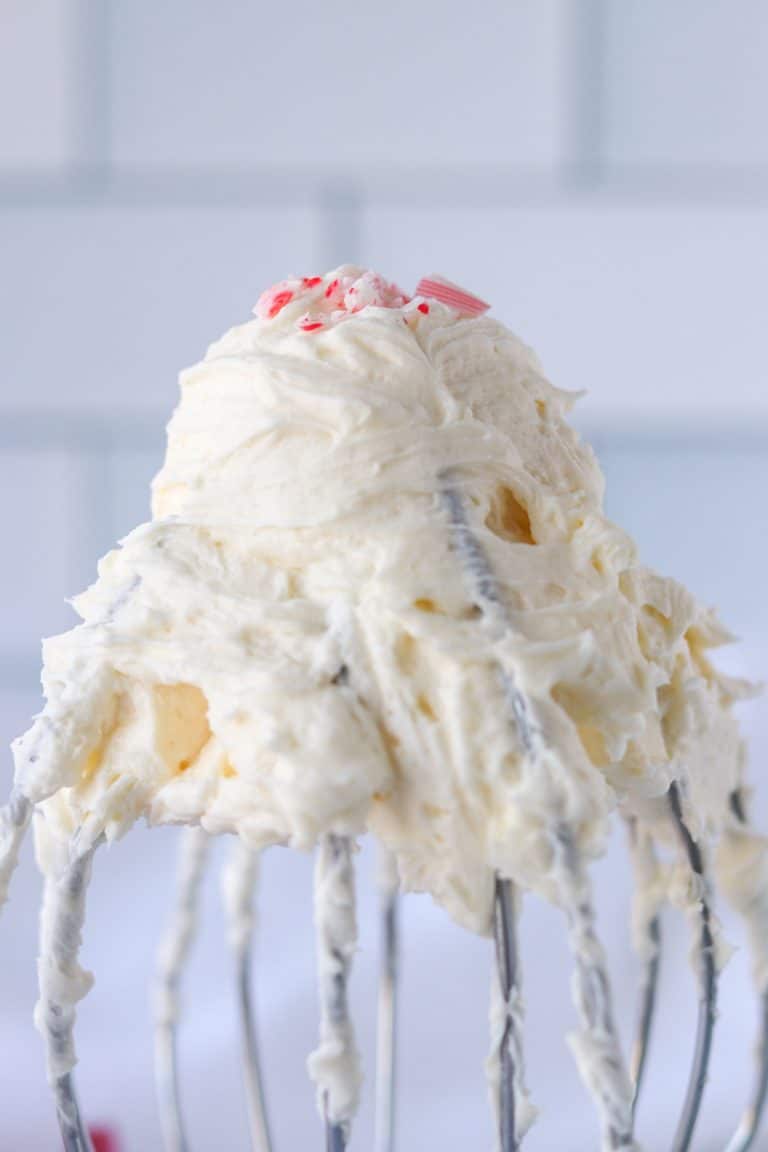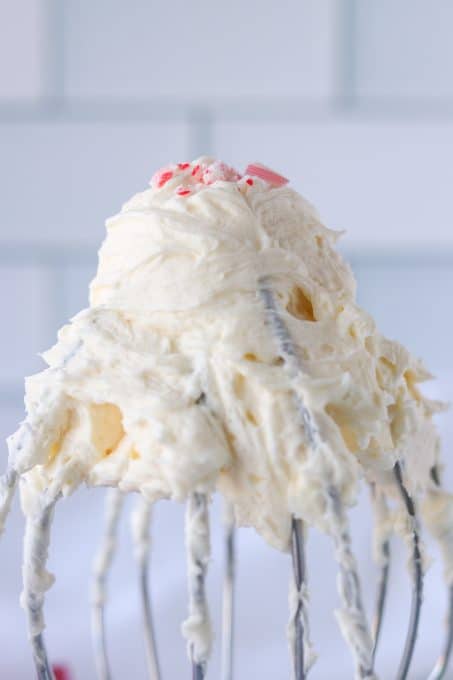 Tips for Best Peppermint Frosting
Use REAL peppermint extract, not imitation flavor. It makes a difference!
Beat the confectioner's sugar and salt into the butter first. Add the cream a little at a time until the frosting reaches your preferred consistency.
Prefer a thinner frosting? Add more cream. Want it extra thick? Add less. So simple to customize!
Recipes using peppermint frosting
I use homemade peppermint buttercream on several recipes I've shared on the blog over the years.
These Peppermint Frosted Sugar Cookies are a classic that I keep coming back to, whether it's Christmas time or not! I also use today's frosting recipe to complete these Easy Peppermint Brownie Bites. The bite size shape is perfect for a party or enjoying at home.
Get creative and try today's peppermint frosting on these Cream Cheese Meltaways cookies instead of the traditional cream cheese topping.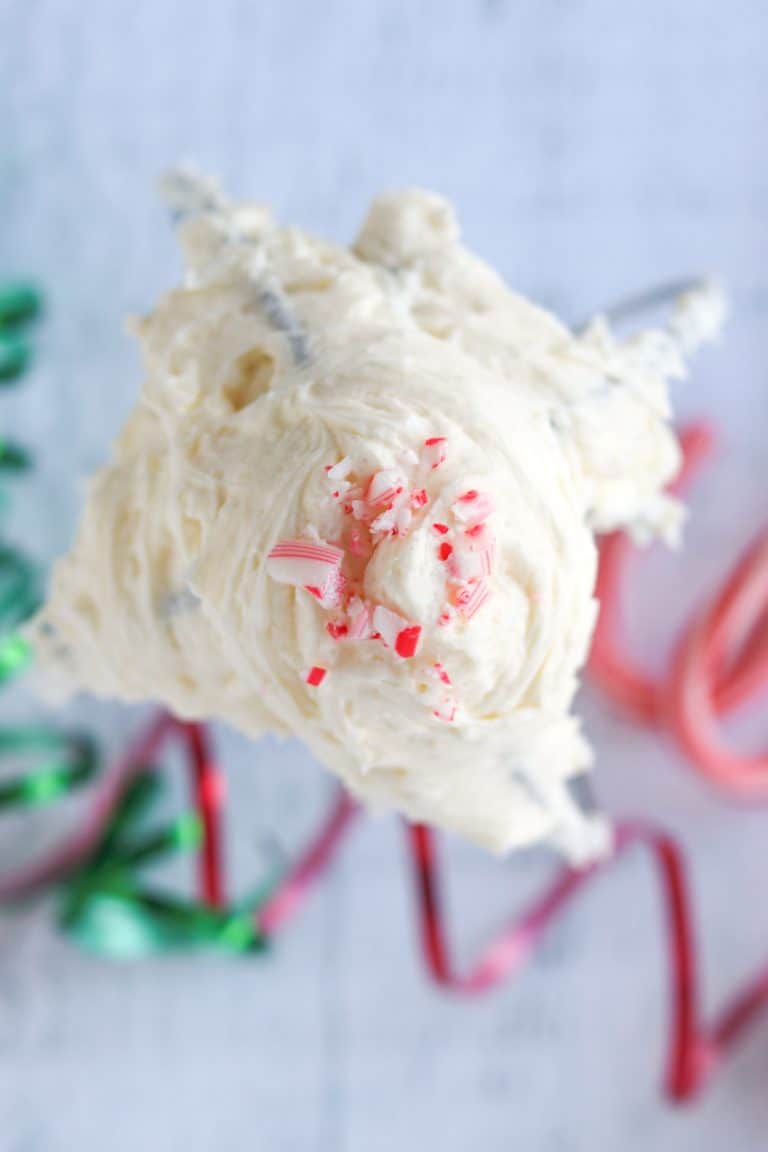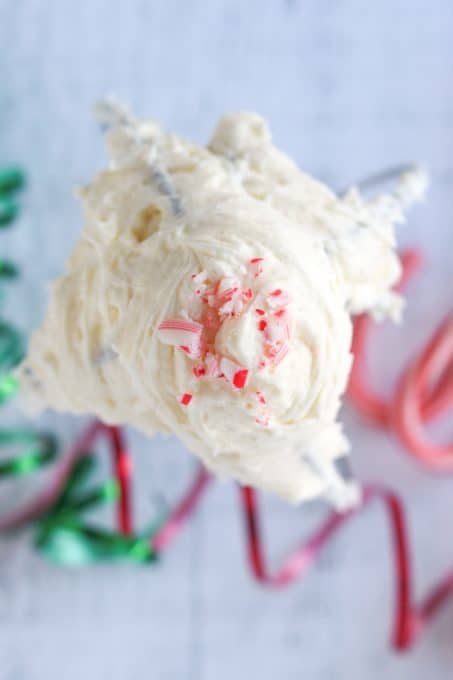 Peppermint Desserts
Make sure to try all the other decadent peppermint desserts and drinks my readers love!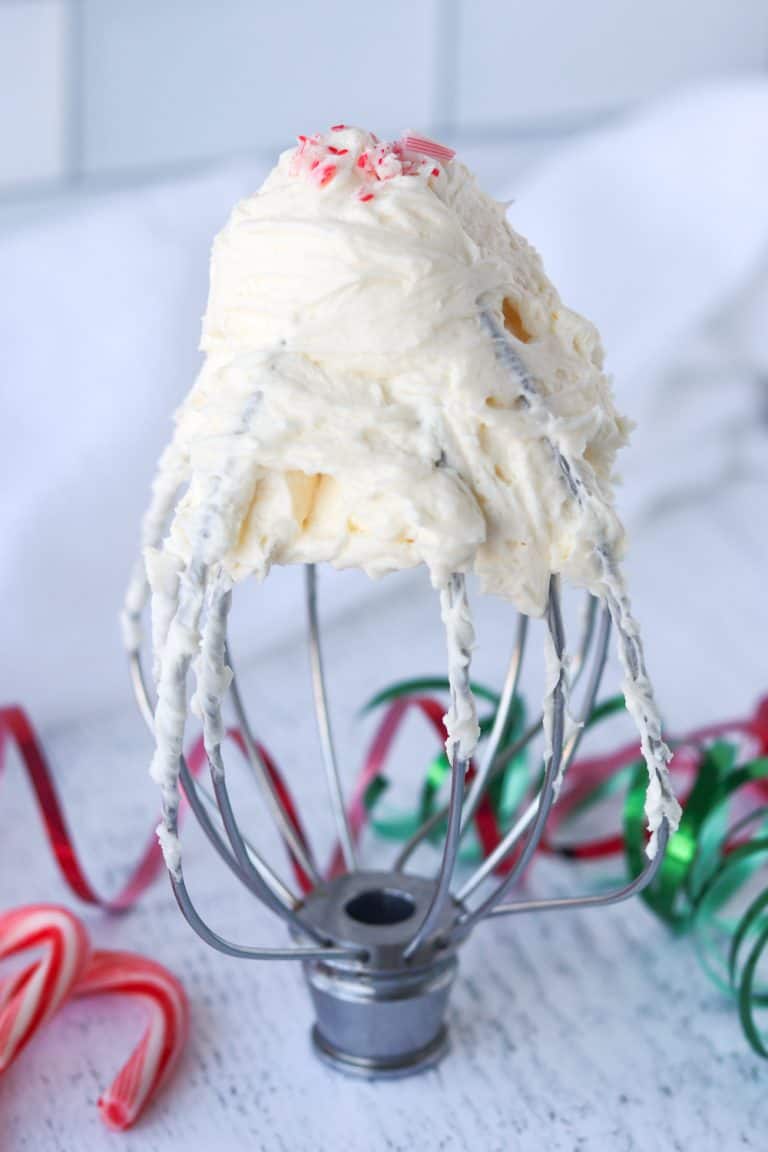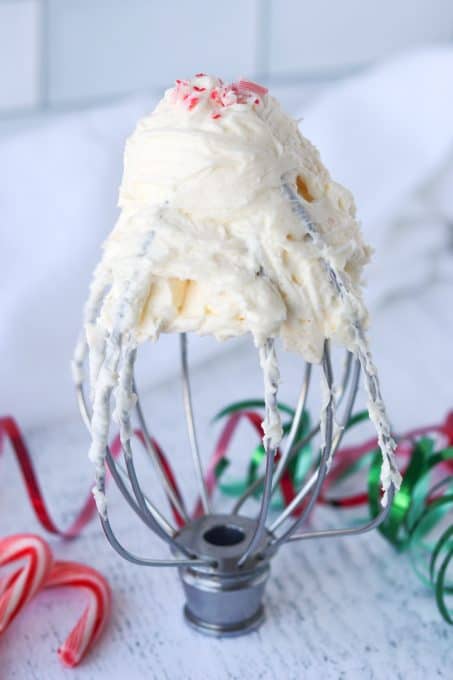 The easiest and best tasting Peppermint Buttercream Frosting!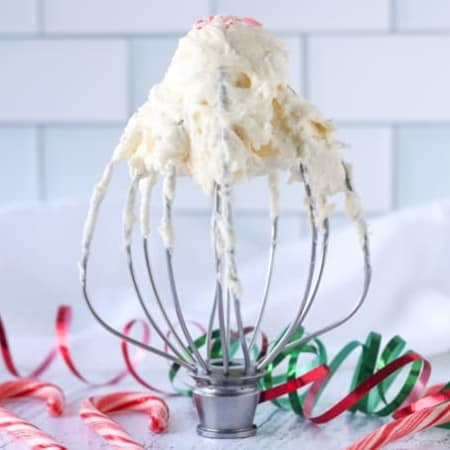 Peppermint Buttercream Frosting
This Peppermint Buttercream Frosting is creamy and fluffy with a zing of minty flavor! Dotted with candy cane pieces, peppermint icing adds instant holiday flair to all your favorite frosted desserts.
Ingredients
1 cup unsalted butter room temperature
1 teaspoon peppermint extract
4 cups confectioners' sugar
pinch of salt
6 tablespoons heavy cream
food coloring if desired
crushed candy canes if desired
Instructions
In a large mixing bowl, cream the butter and peppermint extract until light and fluffy.

With the mixer on low speed, gradually add the confectioners' sugar and the salt.

Frosting will be dry but should be smooth and creamy. Add the cream, one tablespoon at a time, incorporating each completely.

After all the cream has been mixed in, beat on medium-high speed for about two minutes, till light and fluffy.

Add food coloring, and / or crushed candy canes, if desired, and thoroughly combine. 
Notes
This recipe makes 2 1/2 cups of frosting and will frost 12 cupcakes. 
For nutritional information each serving is .20 cups or the amount to top one of 12 cupcakes.
Nutrition
Serving: 1person | Calories: 318kcal | Carbohydrates: 40g | Protein: 1g | Fat: 18g | Saturated Fat: 11g | Polyunsaturated Fat: 1g | Monounsaturated Fat: 5g | Trans Fat: 1g | Cholesterol: 51mg | Sodium: 6mg | Potassium: 11mg | Sugar: 39g | Vitamin A: 583IU | Vitamin C: 1mg | Calcium: 10mg | Iron: 1mg
Did you make this recipe?
Share it with me on Instagram and make sure to follow me on Pinterest for more recipes.
Reader Interactions