Hot Chocolate Brownies – brownies with marshmallow creme and topped with Andes Mints – you'll be eating your Hot Chocolate!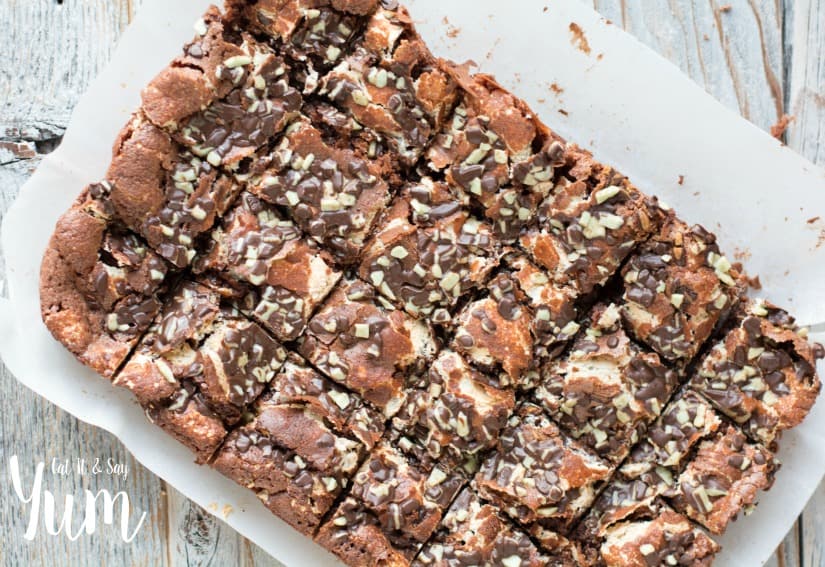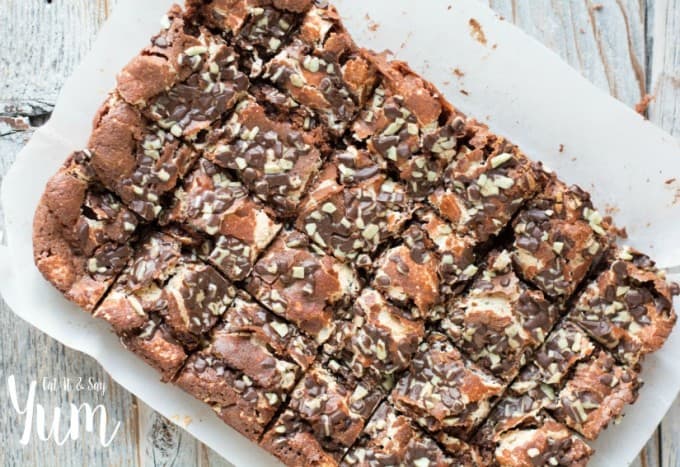 Hi again! Leia here, from Eat It & Say Yum. How is everyone enjoying their Fall?
I can feel Halloween sneaking up on me, and I'm NO WHERE ready for it. All my Halloween decorations are sitting in a pile, just waiting to be put up. And let's not even talk about costumes… I've got lots to do.
In the meantime, however, we have been enjoying some cooler weather and my kids LOVE drinking hot chocolate. As they were making a mess hot chocolate the other day, I was noticing all the things they were adding to their mugs, and thought 'I'd sure like those things in some brownies.' So, Hot Chocolate Brownies were created. Not because I used hot chocolate in the brownies, but because we added our favorite things to put in hot chocolate. And brownies are chocolate, so it totally works. 🙂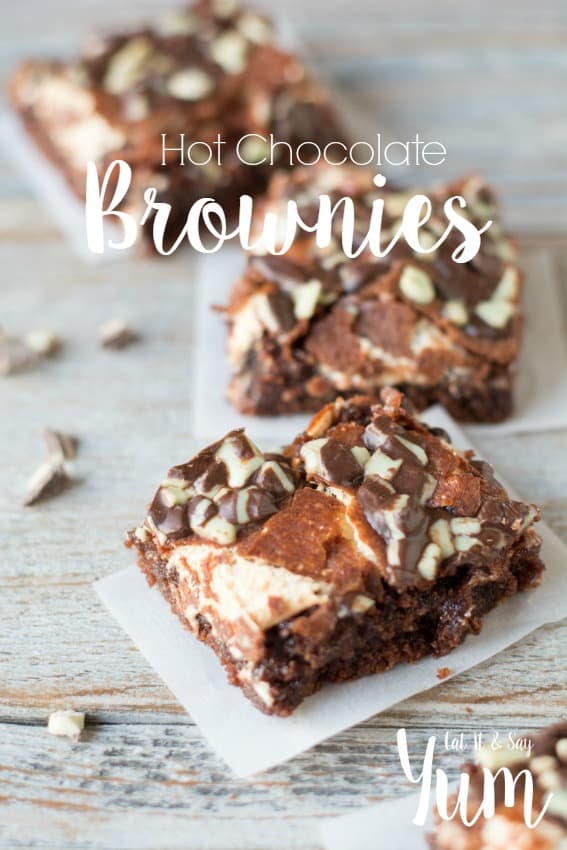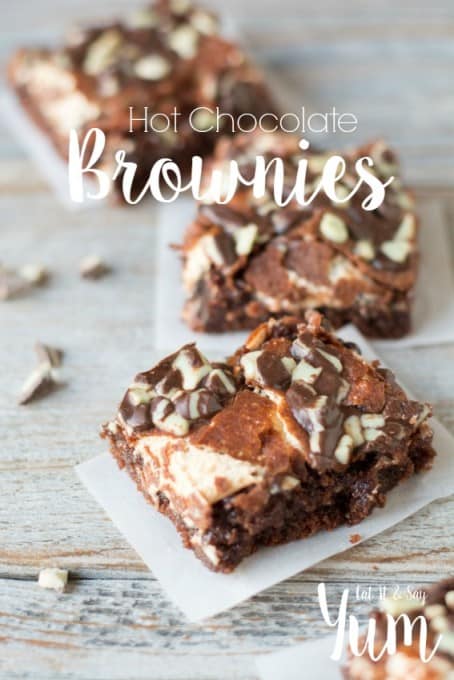 I made some brownie batter and poured half of it into a 9×13 pan, lined with parchment paper. Then I topped that layer with some warm marshmallow creme, and then layered on the rest of the brownie batter.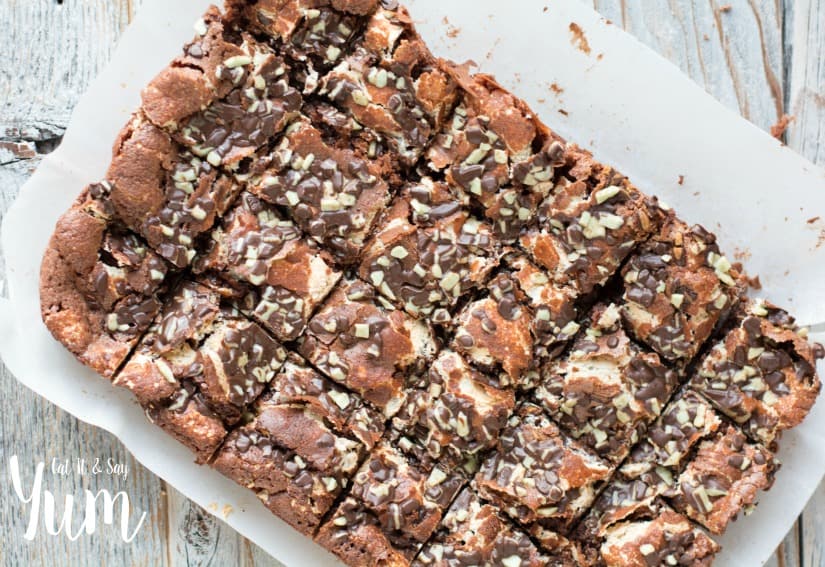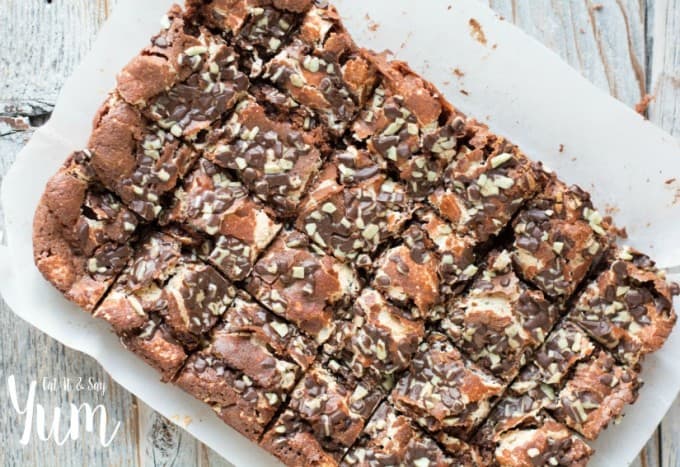 After baking, and cooling a little bit, I sprinkled on a good dose of crushed Andes Mints. The brownies stay nice and soft, and who can complain about marshmallow and mint!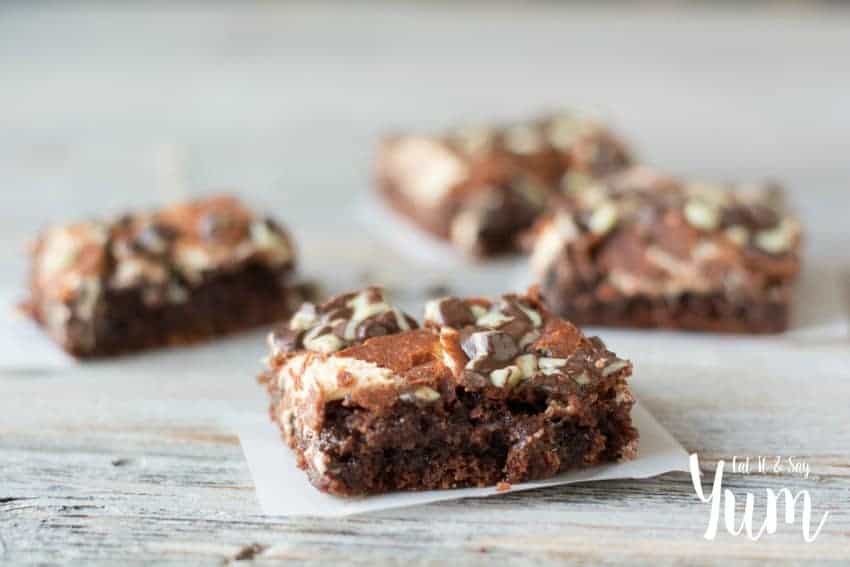 So, I recommend letting these cool to room temperature before cutting them, or even sticking them in the fridge or freezer. But definitely eat them at room temperature, or even warmed a little. And with a glass of milk.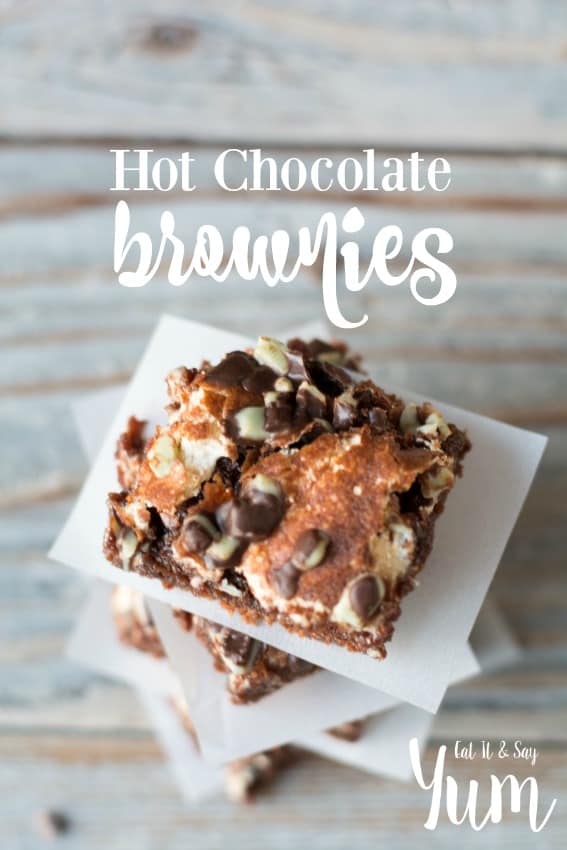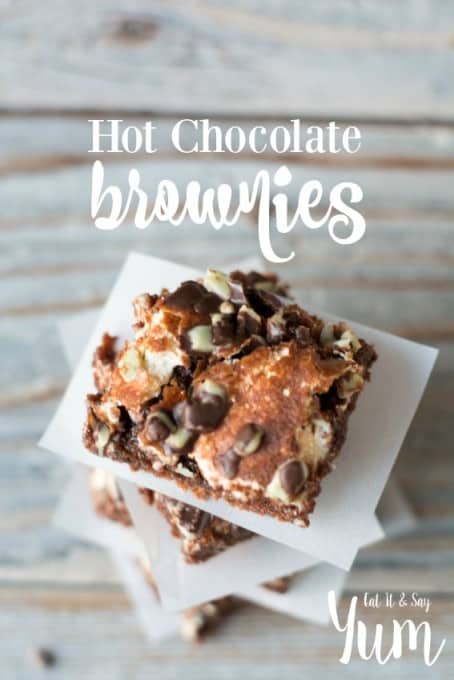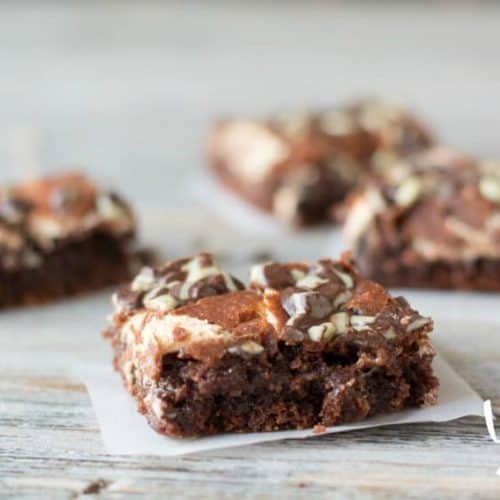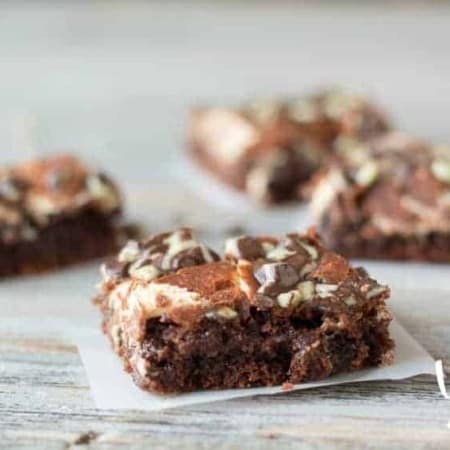 Brownies with marshmallow creme and topped with Andes Mints - you'll be eating your Hot Chocolate!
Ingredients
1 cup plus 2 Tbs flour
⅓ cup plus 2 Tbs cocoa powder
½ tsp baking powder
½ tsp salt
1 cup oil
1 ¾ cups sugar
2 tsp vanilla
4 eggs
1 jar marshmallow creme 7 oz
1 cup crushed Andes Mints
Instructions
Preheat oven to 350. Line a 9x13 pan with parchment paper (it won't stay down in the pan until the brownie batter holds it down), and grease the paper.

Mix the flour, cocoa powder, baking powder, and salt in a large mixing bowl.

Add the oil, sugar, vanilla, and eggs to the mixing bowl. Stir those together until combined.

Pour half the batter into the pan. Spreading to the edges.

Open the marshmallow creme and warm it in the microwave for about 30-45 seconds, just to make it easier to pour and spread. Pour the creme over the brownie batter and spread to the edges.

Top that with the remaining brownie batter.

Bake at 350 for 45-50 minutes, until a toothpick inserted near the center comes out relatively clean. Let the brownies cool for 5-10 minutes, then sprinkle the Andes Mints over the top.

Let cool completely, or even chill, before cutting. Store leftovers in an air tight container.
Did you make this recipe?
Share it with me on Instagram and make sure to follow me on Pinterest for more recipes.
~FOLLOW LEIA~
More desserts from Eat It & Say Yum: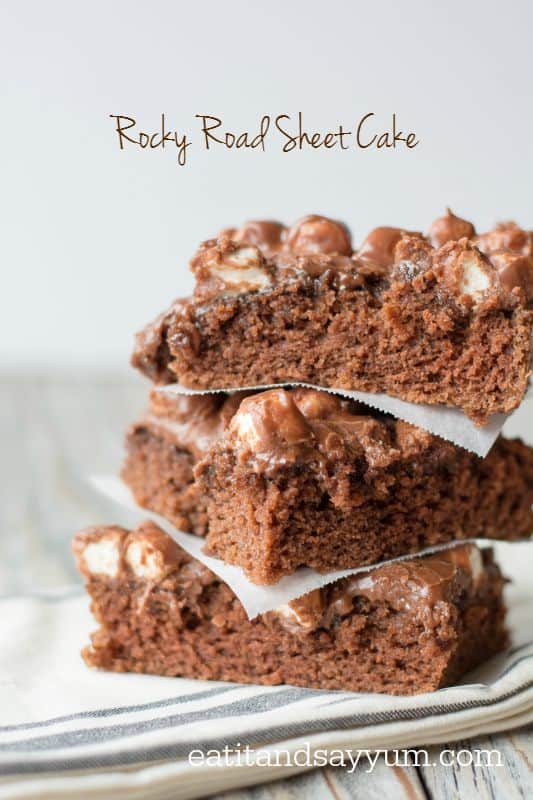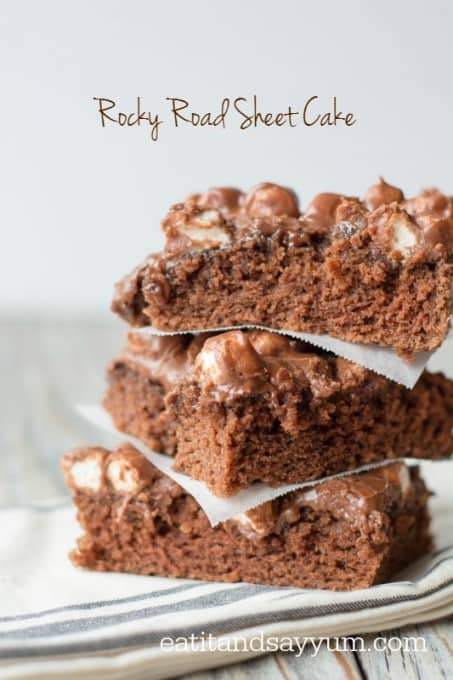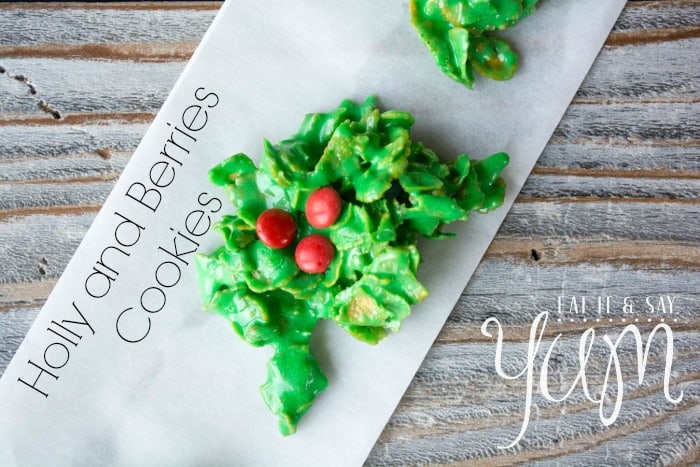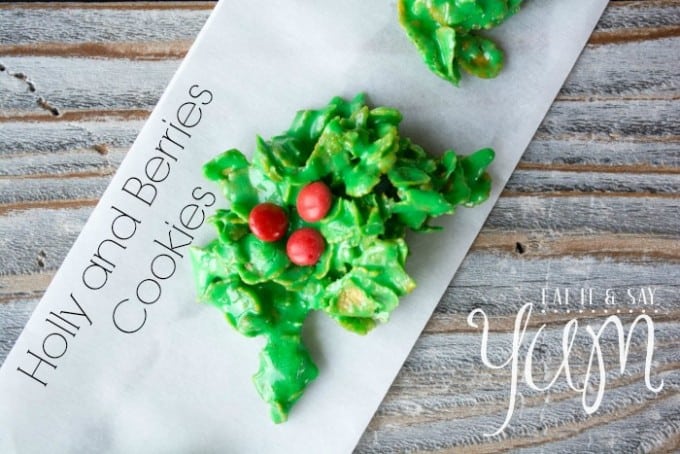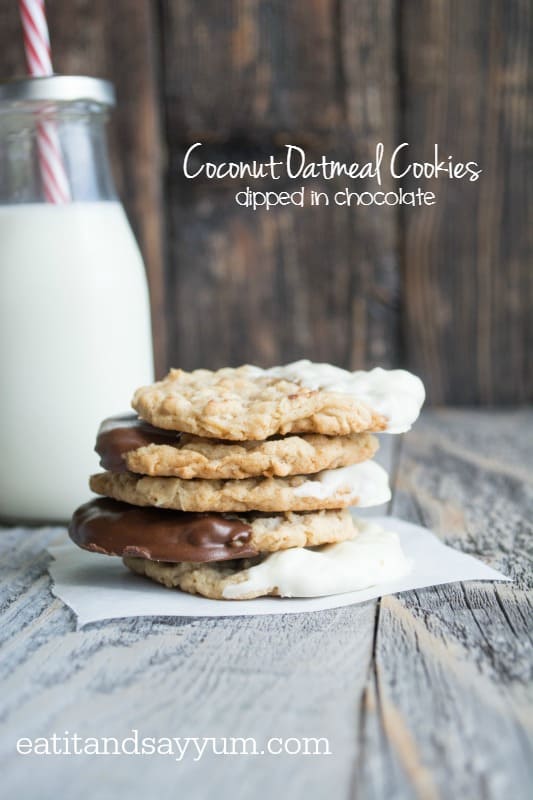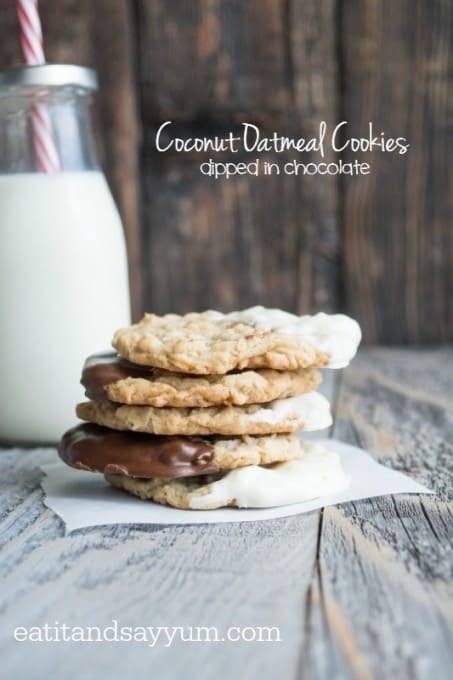 Reader Interactions