Complete your party spread with a big bowl of Pico de Gallo! Learn to make the best salsa fresca with this classic recipe. Serve it with tortilla chips for an explosion of fresh, zesty flavor.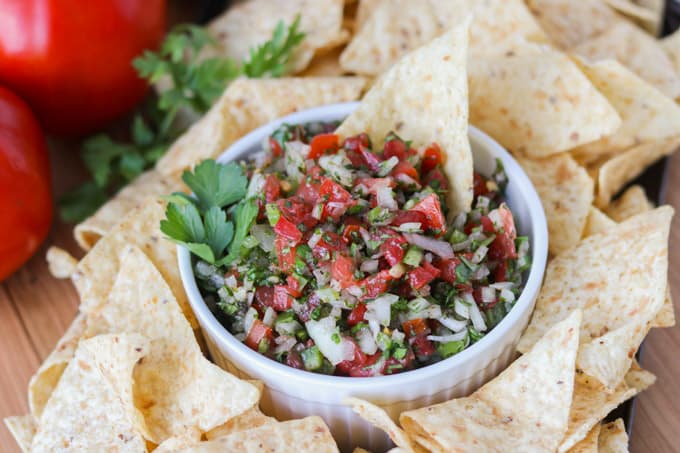 We eat a lot of Mexican food in this house. Which means we eat a lot of salsa.
At one point, it seemed like every time I opened the fridge we were out of salsa.
There are plenty of good jarred salsa available in stores these days.
SAVE THIS EASY PICO DE GALLO RECIPE TO YOUR FAVORITE PINTEREST BOARD!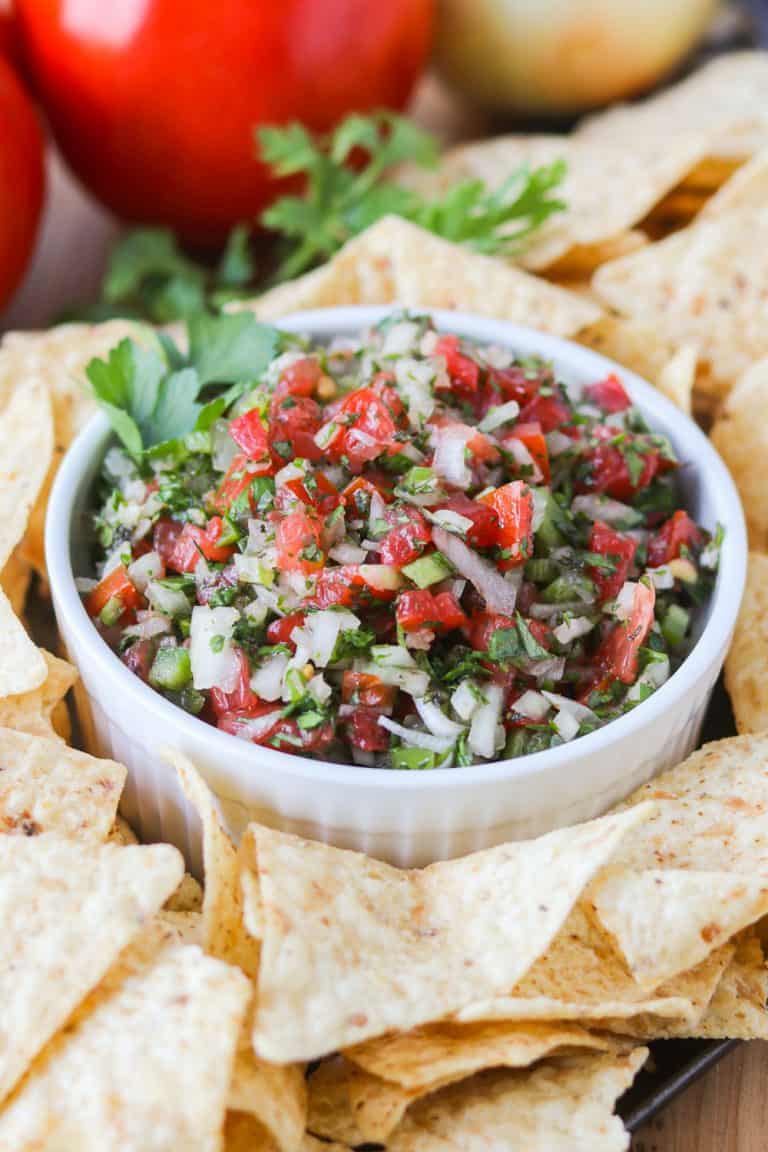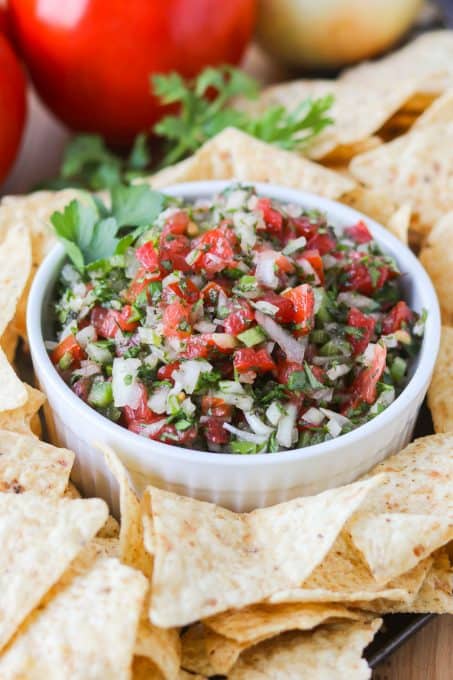 But there's one kind of store bought salsa that doesn't hold a candle to homemade: Pico de Gallo.
What is the difference between Pico de Gallo and salsa?
Strictly speaking, Pico de Gallo is a type of salsa.
It's a salsa fresca–which translates simply to "fresh sauce " in Spanish.
Unlike the red and green salsas you buy in jars, Pico de Gallo is made entirely of fresh raw ingredients.
It's a chunky dip with an aromatic combination of zesty, spicy and juicy flavors.
We most often eat it with thick crunchy tortilla chips as an easy appetizer.
It's also wonderful as a topping for tacos, my Taco Braid, nachos, burritos, and even fish.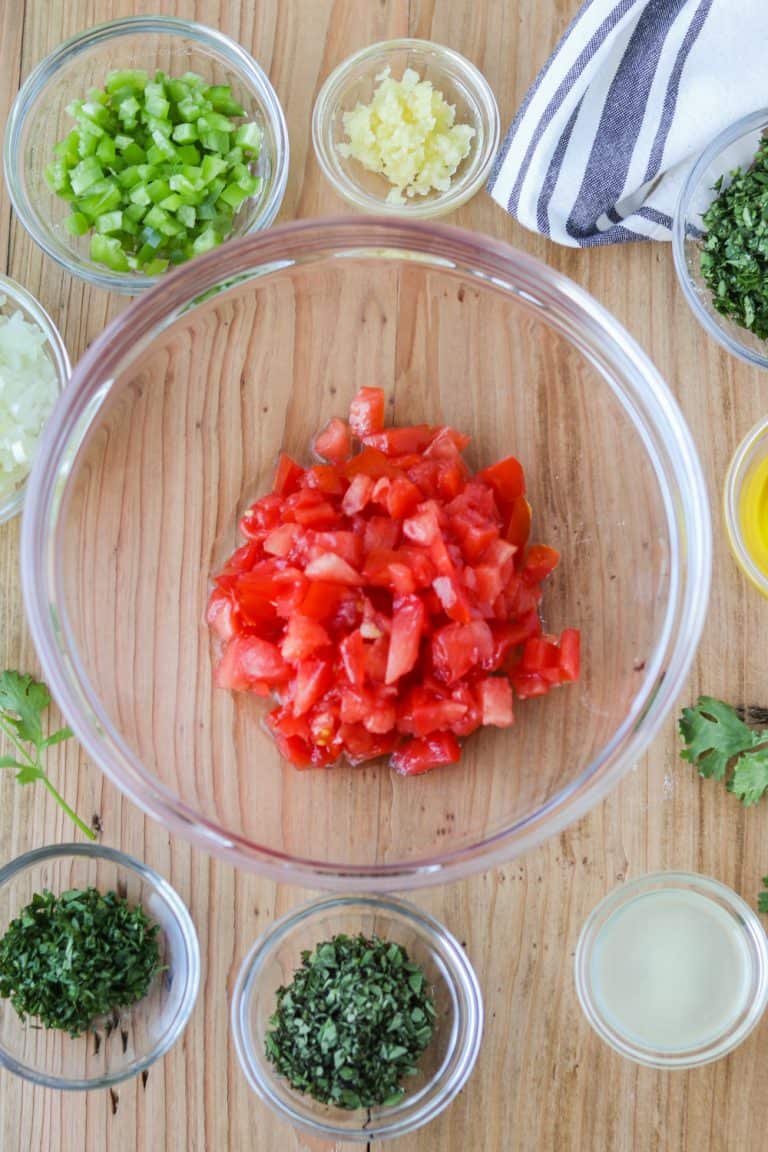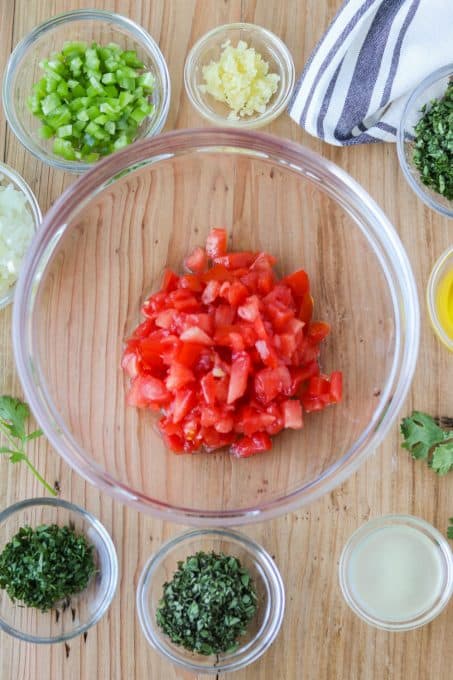 What do I need?
Here's what you need to make this easy fresh salsa recipe:
plum tomatoes
onion
garlic
oregano
flat leaf (Italian) parsley
cilantro
jalapeño
lime juice
olive oil
Making pico de gallo is as easy as chopping the vegetables and herbs and tossing them in a bowl.
Add a spoonful of fresh lime juice and a drizzle of olive oil, then let it sit for a few minutes to give the flavors a chance to mingle.
How long is it good for?
Kept covered in the fridge, this pico de gallo will stay good for 3 -4 days.
This recipe makes about 2 cups worth of fresh salsa.
It's the perfect amount to enjoy with your appetizer and still have leftovers for an easy snack the next day.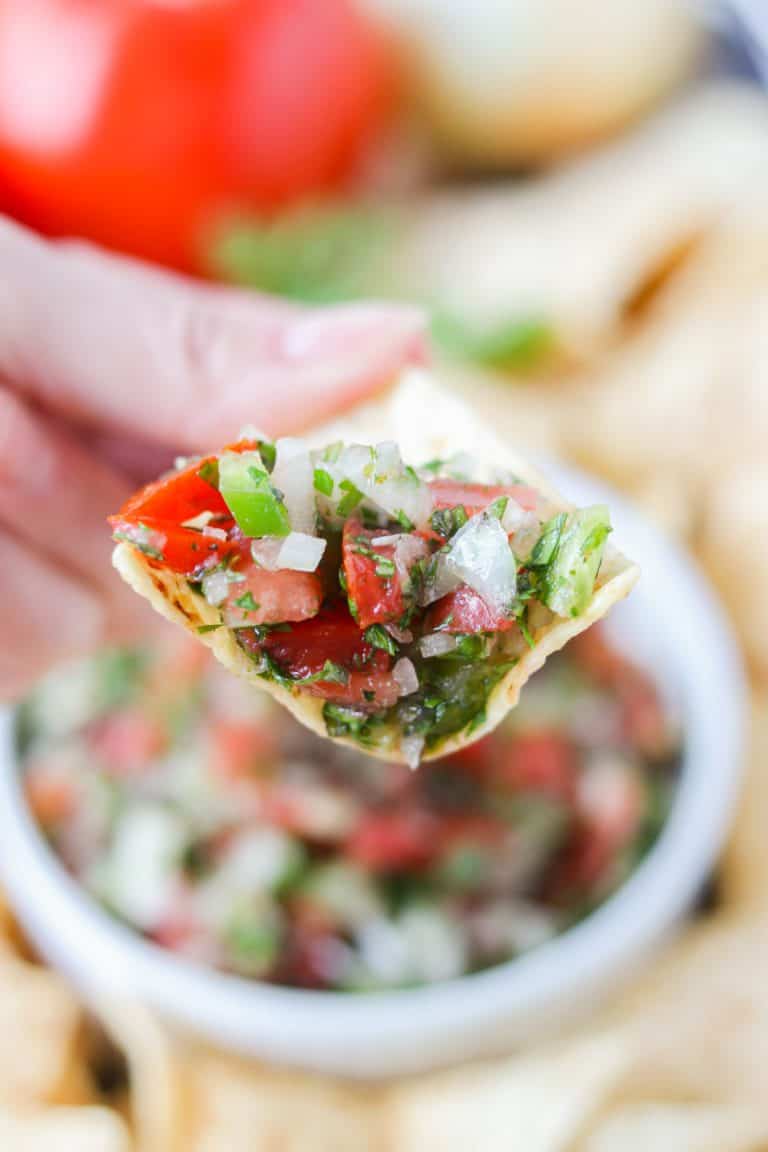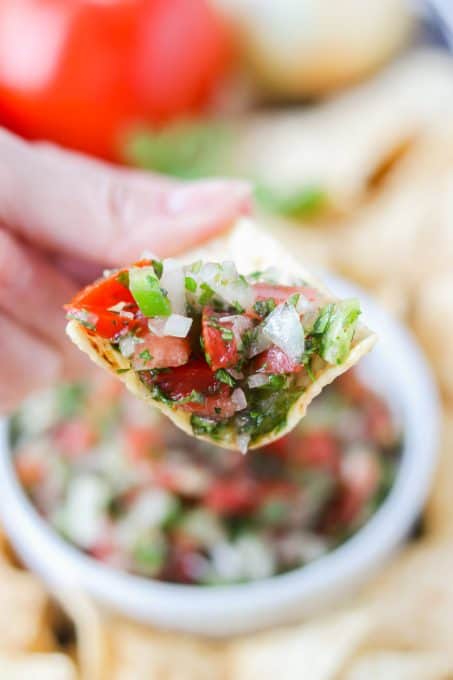 Tips and Tricks
For best results, use the FRESHEST ingredients you can.
The fresher your tomatoes, cilantro and onion, the better your salsa fresca will taste.

If you're using pico de gallo as a topping, use a slotted spoon to serve it.
This will keep you from accidentally adding too much liquid to your meal.

Feel free to reduce the amount of jalapeño called for in the recipe for a milder flavor.
This dip is far from overwhelmingly spicy but does have a bit of kick to it.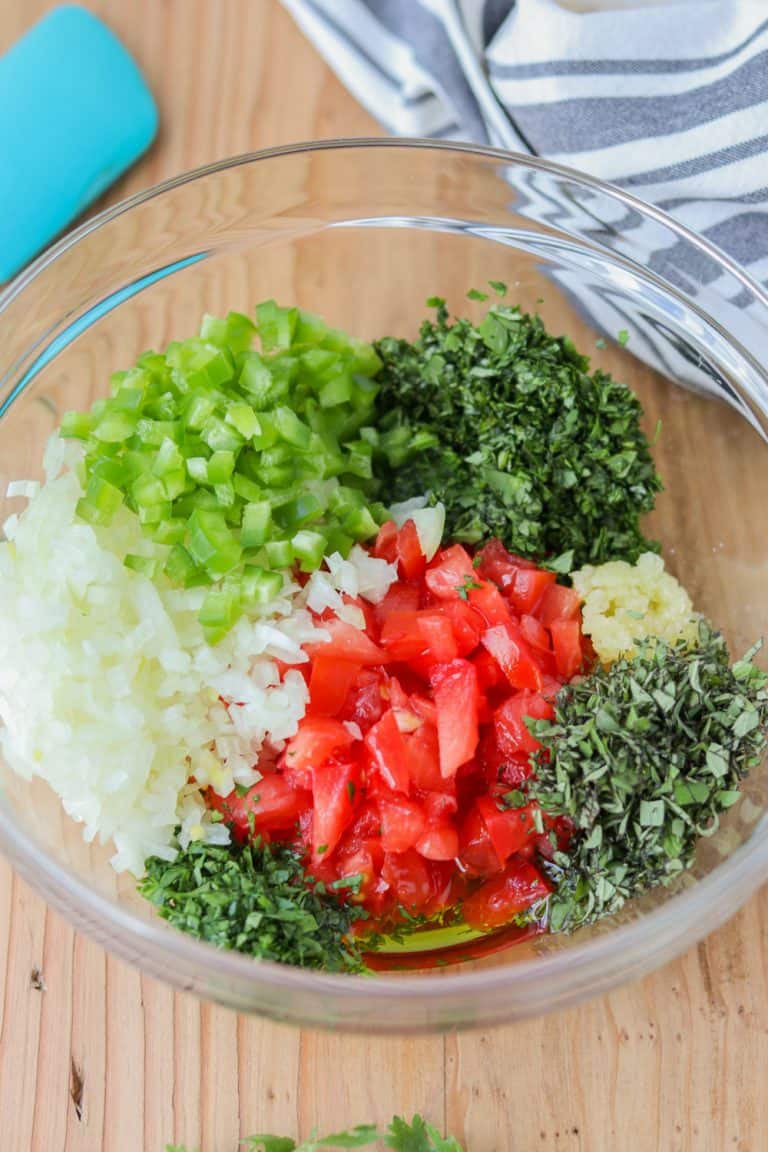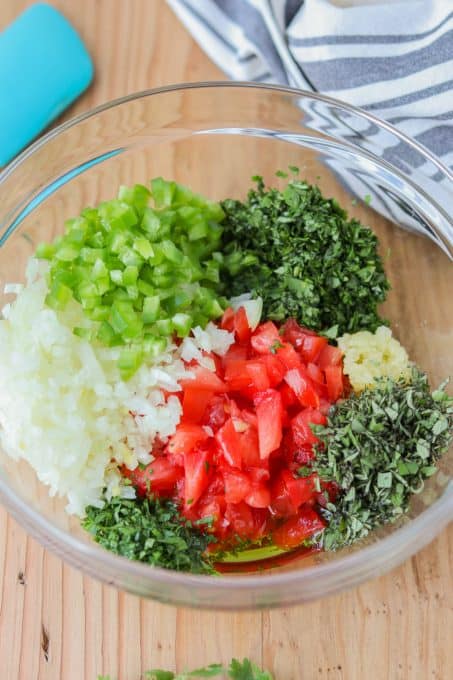 Appetizers
Need a little easy appetizer inspiration?
We have no shortage of delicious recipes for meal starters and party foods with the Mexican flavors you love.
For a heartier cold dip, give this 7-LAYER DIP a try.
It's made with refried beans, cheese and guacamole for a dip that'll have you scraping the bottom of the bowl for every delicious bite.
For a warm option, this Easy Layered Taco Dip is cheese lover's heaven!
It's a perfect addition to any party or gathering. If chicken is more your style, check out this Chicken Taco Dip too.
Even more easy appetizers to love. . .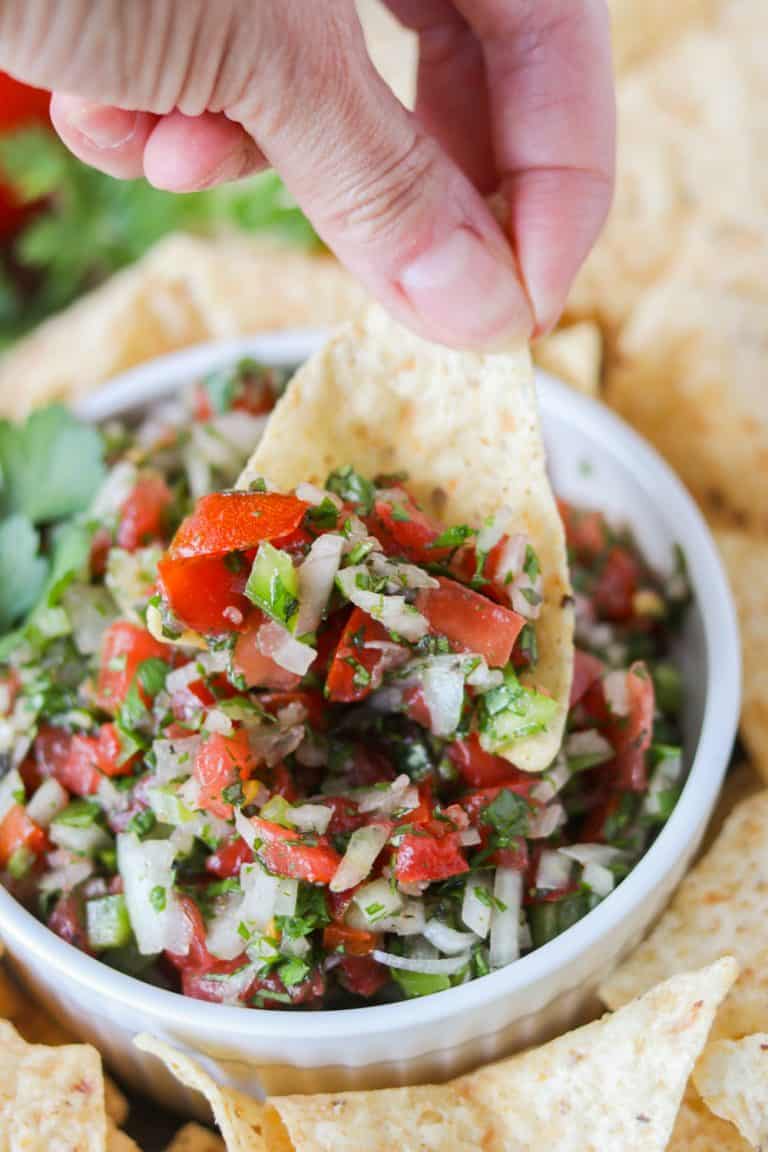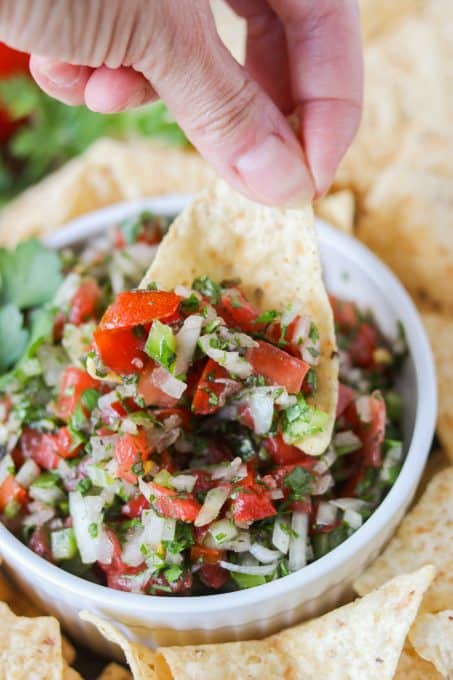 You can't beat the taste of homemade Pico de Gallo. Don't forget to have extra tortilla chips on hand for scooping up every last drop!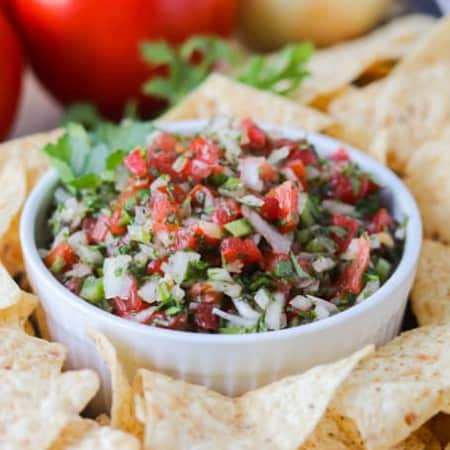 Complete your party spread with a big bowl of Pico de Gallo! Learn to make the best salsa fresca with this classic recipe. Serve it with tortilla chips for an explosion of fresh, zesty flavor.
Ingredients
1 pound red ripe plum tomatoes seeds removed and diced
⅓ cup onion
3 cloves garlic minced
¼ cup fresh chopped cilantro
2 teaspoons oregano
2 teaspoons flat leaf (Italian) parsley
1 jalapeño seeded and diced
1 ½ tablespoons olive oil
1 tablespoon fresh lime juice
Instructions
Combine all ingredients into a medium bowl and mix well. Cover loosely and let sit for about 15 minutes, and serve.
Notes
Makes about 2 cups. Nutritional information based on ½ cup per person.
Nutrition
Serving: 1g | Calories: 80kcal | Carbohydrates: 8g | Protein: 1g | Fat: 6g | Saturated Fat: 1g | Polyunsaturated Fat: 1g | Monounsaturated Fat: 4g | Sodium: 8mg | Potassium: 328mg | Fiber: 2g | Sugar: 4g | Vitamin A: 1069IU | Vitamin C: 23mg | Calcium: 36mg | Iron: 1mg
Did you make this recipe?
Share it with me on Instagram and make sure to follow me on Pinterest for more recipes.
Reader Interactions