Parmesan Crusted Cod and Berry Salsa – slices of codfish covered in a Parmesan crust from Gorton's Seafood and accompanied by a Berry Salsa made of fresh strawberries, blueberries, and mango. Put the two of them together and you've got a delicious, easy dinner that's ready in under 30 minutes and one you'll feel great about serving your family!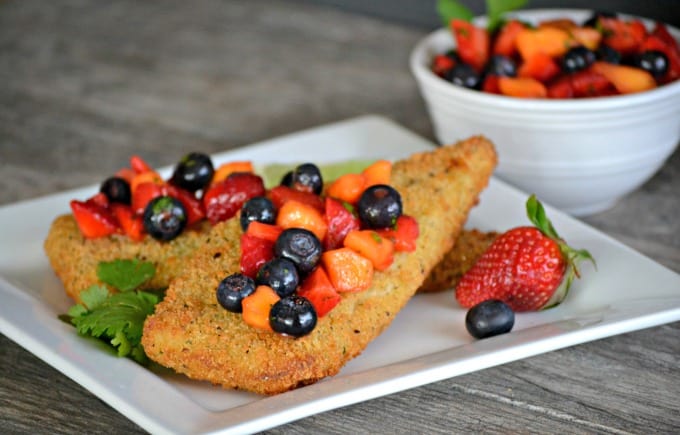 When I was growing up in Rhode Island, we lived in a quaint little seaside…ok, Narragansett bayside…village, so fresh seafood was common.
Many nights during the summer, dad would cook swordfish out on the grill. I didn't like it, but my parents being as smart as they were and knowing how important it was and is to eat fish, would encourage me to eat my fish sticks.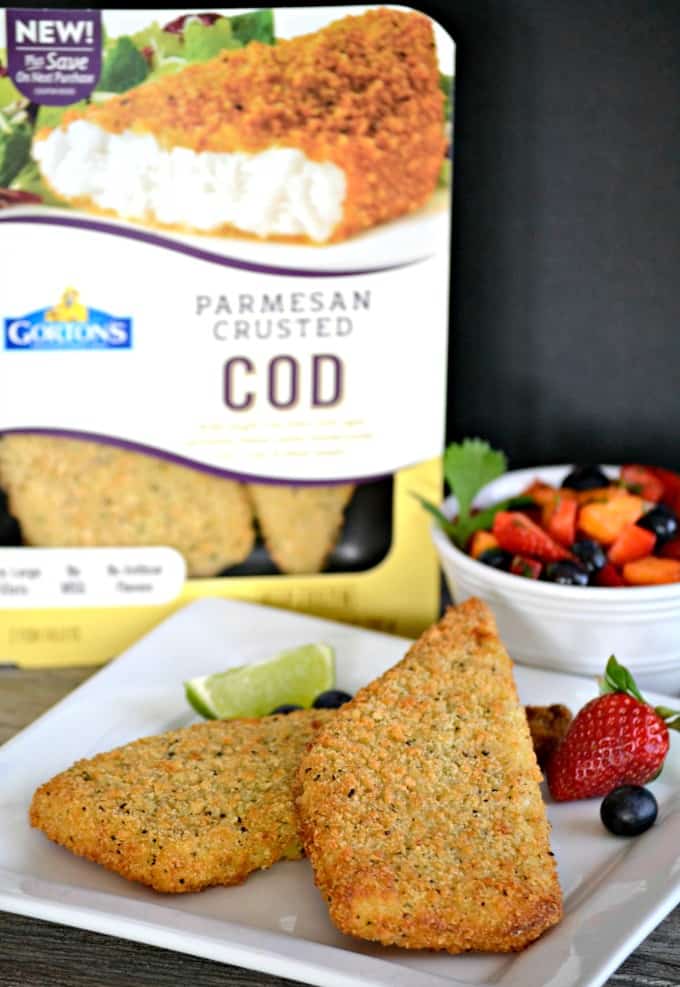 Times have changed since then and fish sticks don't taste the same as they did back in the early '70s (they're better!) AND there are so many more options of frozen fish available! The varieties of fish and the many ways they are prepared, allow us to now have plenty of convenient, easy, and delicious menu options.
SAVE THIS SALSA RECIPE TO YOUR FAVORITE PINTEREST BOARD!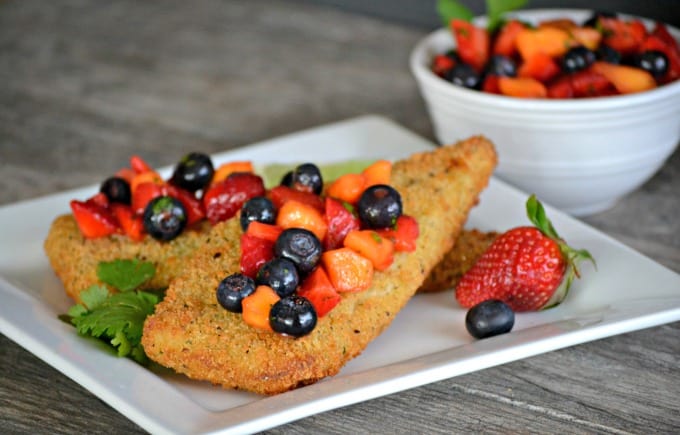 Gorton's knows that in today's day and age we are all very busy, but that we also want to feed our families food that is both nutritious and delicious that won't take a lot of time to prepare. So, they've created Gourmet Fillets!
It's so easy to become caught up in a world where fast-food is so readily available – grab a quick bite to go and we're on our way. While I personally have done this many times before or after various sports practices, games, etc., I'd much rather prepare a meal at home, with a delicious entree and some fabulous sides while we sit at the table catching up on our day.
Life just becomes so busy and I want to enjoy it with my family, not rush through it.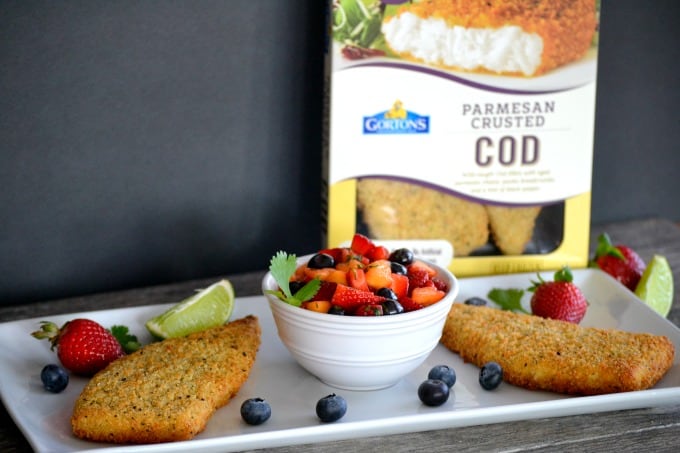 I also want to serve my family food they're going to get the best health benefits from. Did you know that the USDA, American Heart Association, American Cancer Society, and American Diabetes Association all recommend eating seafood at least twice a week? It's SO healthy for you because seafood contains natural omega-3 fatty acids.
It is also a lean protein that contains important vitamins and minerals to help with brain development. Seafood also helps to keep your heart healthy, improves arthritis and joint pain, helps combat obesity AND can improve your overall health. So, EAT MORE FISH! 😉
Seriously though, don't you want to do what's best for your body and each of your family members?

Today, you can find Gorton's Gourmet Fillets in a variety of flavors, so there's something for everyone – Parmesan Crusted Cod, Pub-Style Beer Batter Cod, Tuscan Garlic & Herb Tilapia, and Signature Seasoned Salmon. They're all made with real ingredients and contain no MSG.
Also, each fillet is extra-large, so you won't need extra helping or be hungry like you sometimes are when eating a smaller sized piece of fish. Don't worry, I feel ya. I've had plenty of small pieces of fish where I was thinking, that's it? With Gorton's, there's no need to worry about that.
Also, be sure to Like Gorton's on Facebook, follow them on Instagram: @gortonsseafood, on Twitter: @gortonsseafood, and on Pinterest: Gorton's Seafood, so and you can stay up to date on all their products and recipes.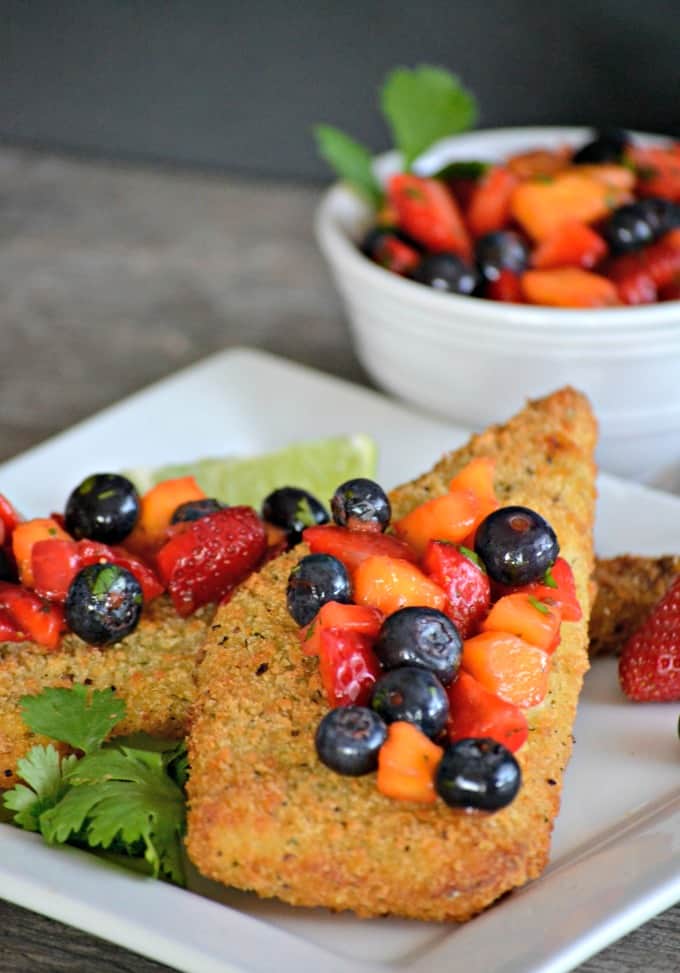 SIGN UP FOR THE WEEKLY 365 DAYS OF BAKING & MORE
NEWSLETTER BELOW!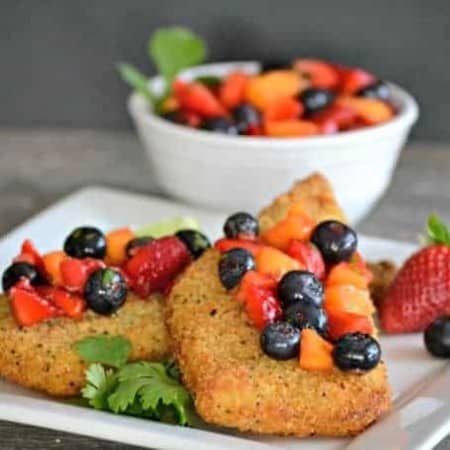 Parmesan Crusted Cod and Berry Salsa
Parmesan crusted Cod and Berry Salsa made with strawberries, blueberries and a mango - it's a delicious and easy dinner that's ready in under 30 minutes!
Ingredients
16- ounces fresh strawberries hulled and chopped
1 mango chopped
6- ounces fresh blueberries
I tablespoon chopped fresh cilantro
⅛ teaspoon sugar
zest of half of a lime
juice of half a lime about 1 tablespoon
pinch of kosher salt 1/16 teaspoon
Instructions
Before preheating oven and baking the fish filets, combine all salsa ingredients in a medium bowl, and gently toss. Allow to sit at room temperature.

Serve.
Did you make this recipe?
Share it with me on Instagram and make sure to follow me on Pinterest for more recipes.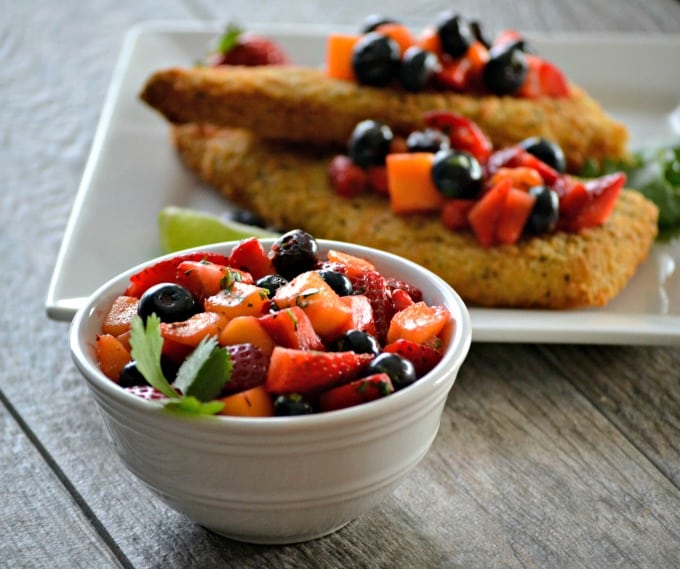 Try these great side dishes to go with your Parmesan Crusted Cod and Berry Salsa…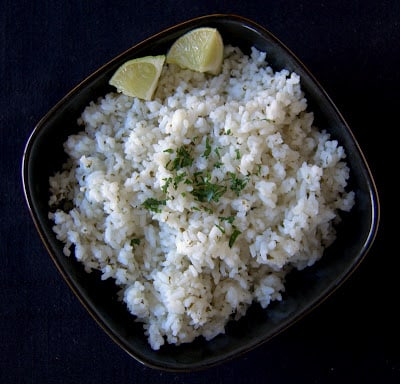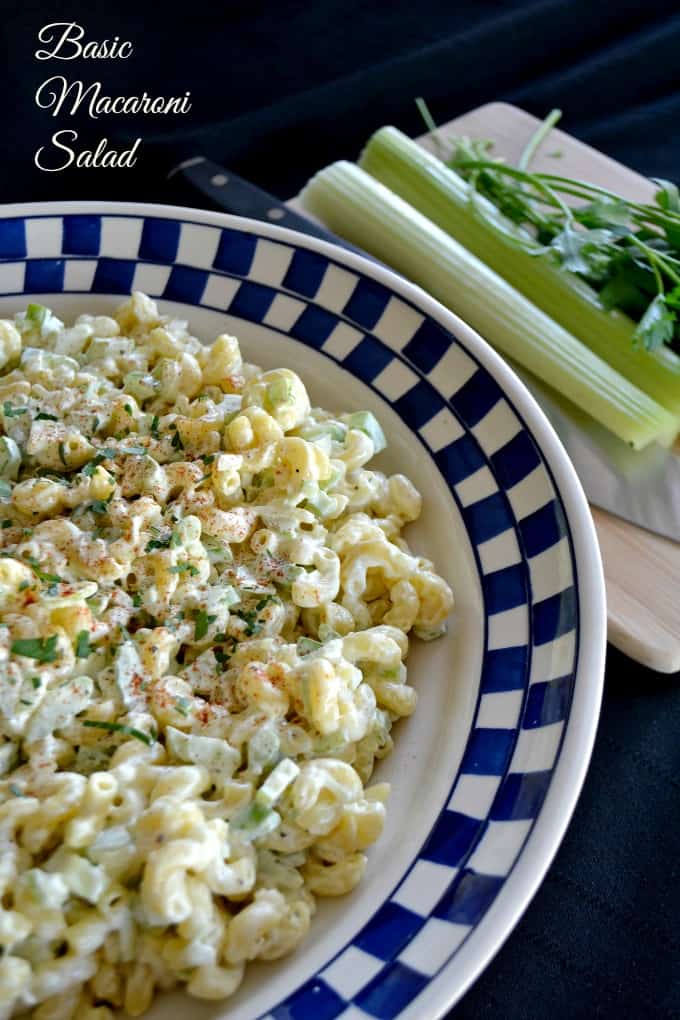 This is a sponsored post written by me on behalf of Gorton's Seafood for IZEA. All opinions are 100% mine.
Reader Interactions