7-Layer Dip is the ultimate party and game day appetizer!
With layers of refried beans, spicy Mexican sour cream, shredded cheese, tomatoes, olives, and green onions, you'll want plenty of thick tortilla chips on hand to scoop it all up in one delicious bite.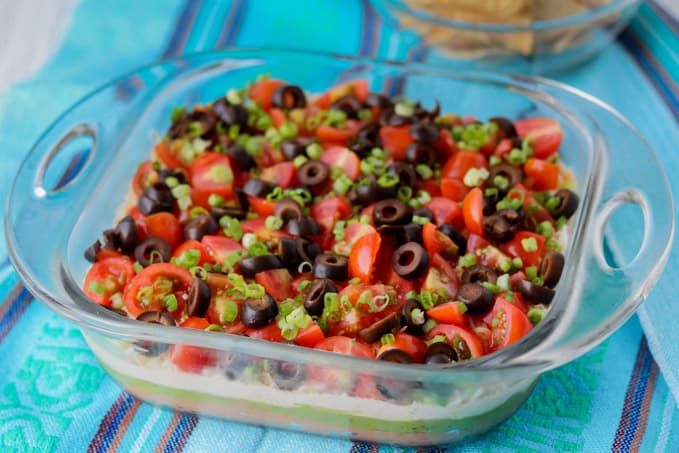 If I could only eat one dip for the rest of my life, it might be this 7 layer bean dip.
Although this other Easy Layered Taco Dip would be in the running too.
SAVE THIS EASY 7 LAYER BEAN DIP RECIPE TO YOUR FAVORITE PINTEREST BOARD!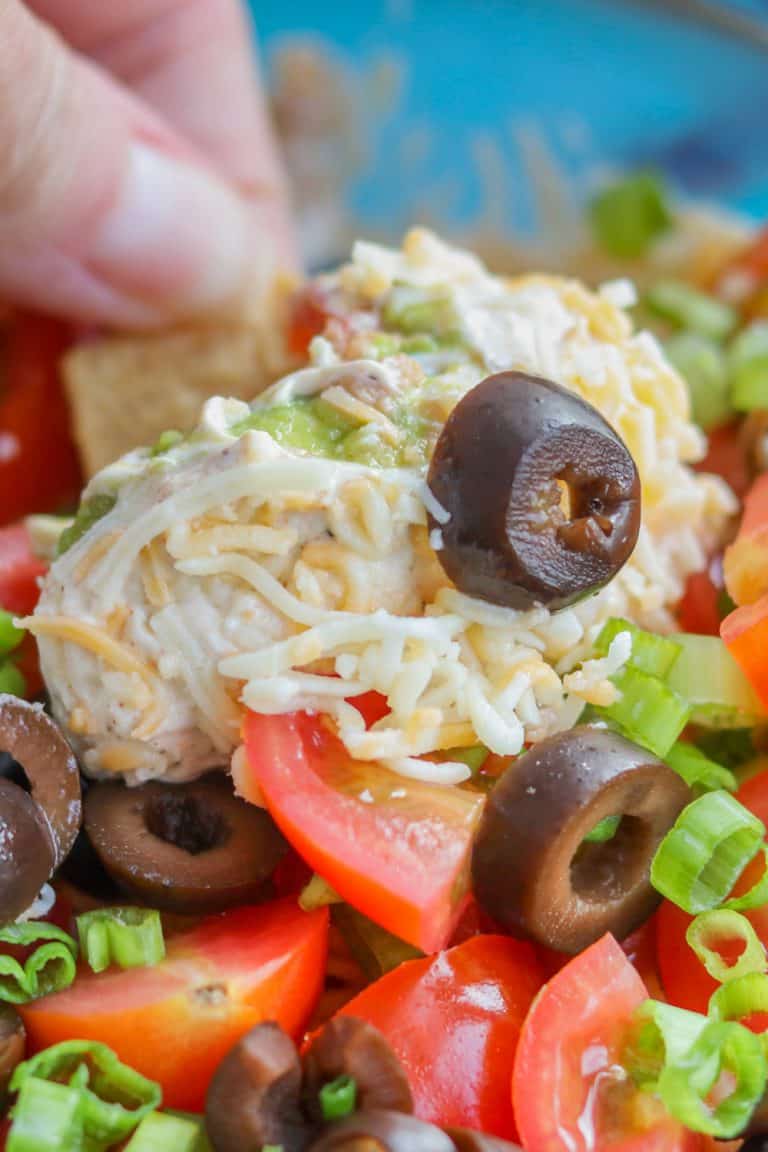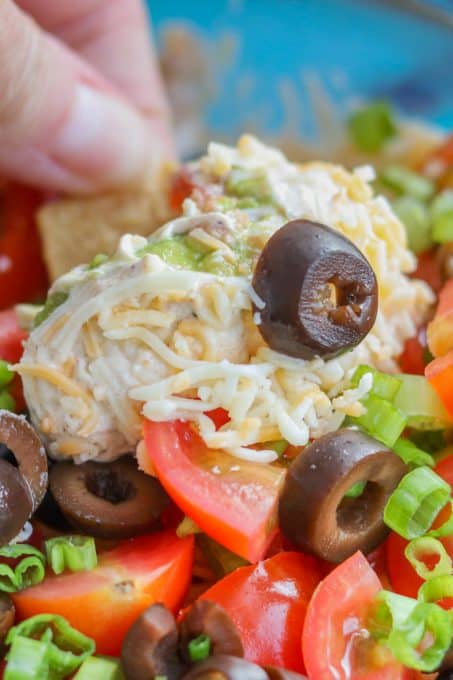 No party is complete without a good layered dip on the appetizer table!
There are a million variations on 7-layer dip, but this one is my personal favorite.
It makes a great game day food or snack for the kids, too.
My 7-Layer Dip recipe has the perfect combination of textures and flavors.
Guacamole and mayo for creaminess, juicy grape tomatoes and tons of shredded cheese on top!
Green onions in the top layer add some crisp freshness to the hearty dip too.
It's amazing scooped up thick tortilla wedges, chips or crackers. Like a taco in dip form!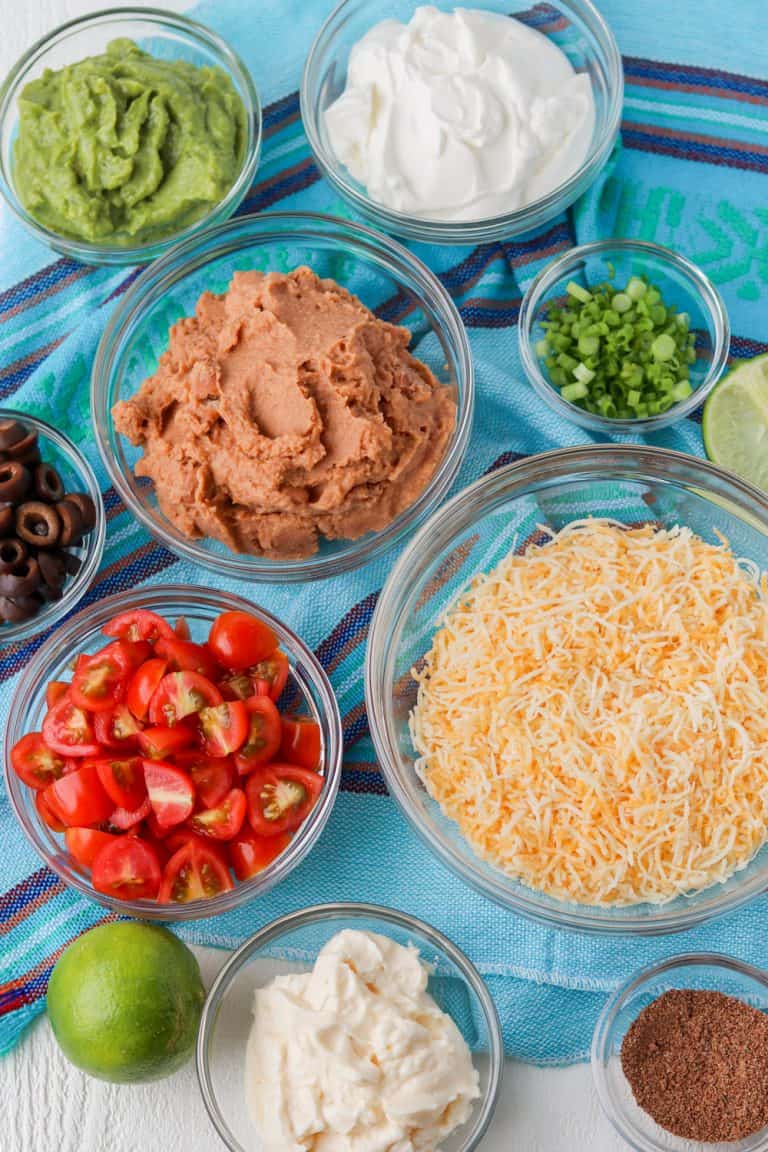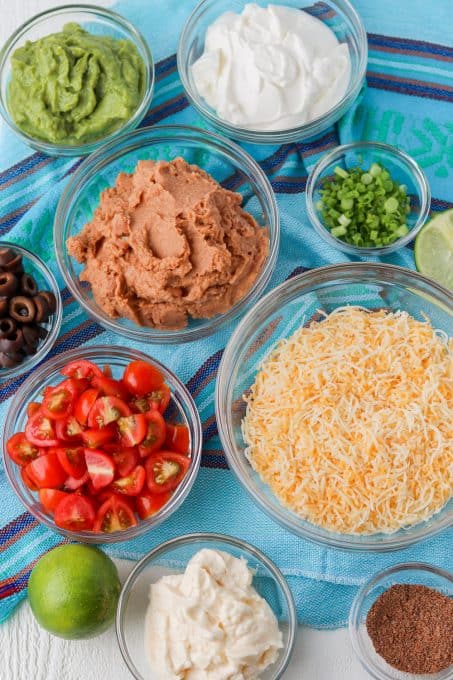 What is in this layered dip?
Here's what you need to make this easy appetizer.
refried beans
mayonnaise
sour cream
shredded cheese
grape tomatoes
black olives
green onions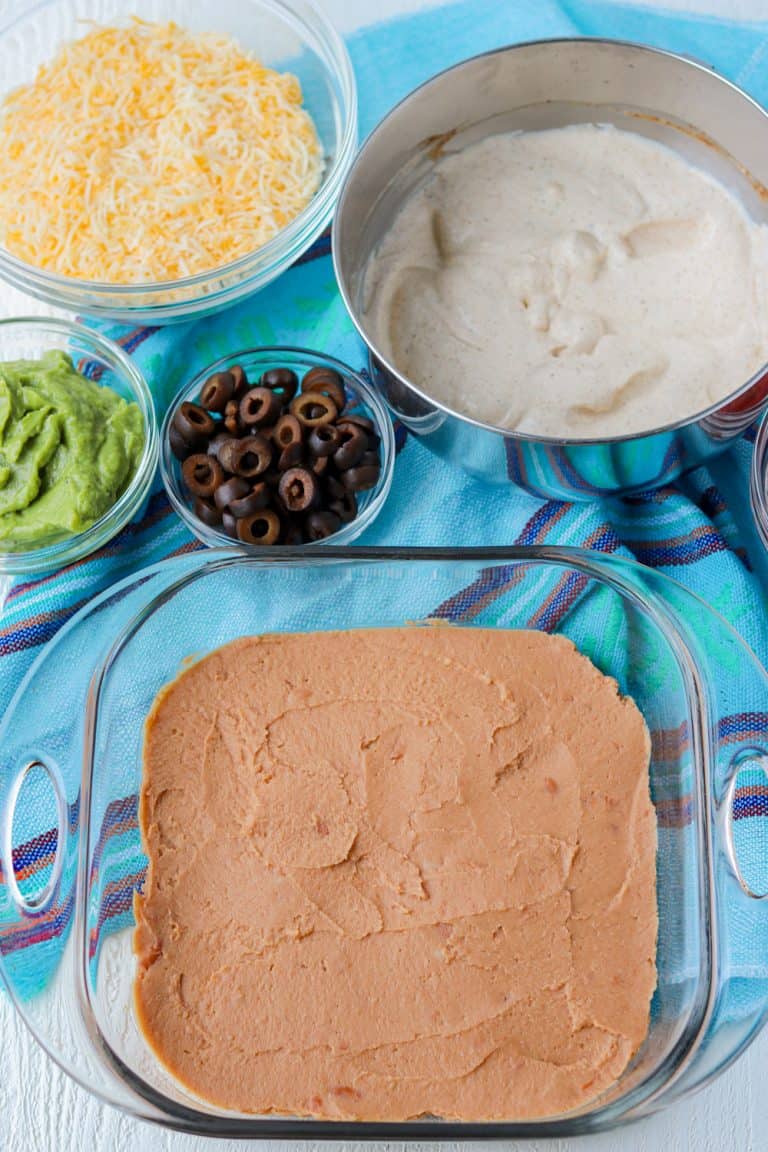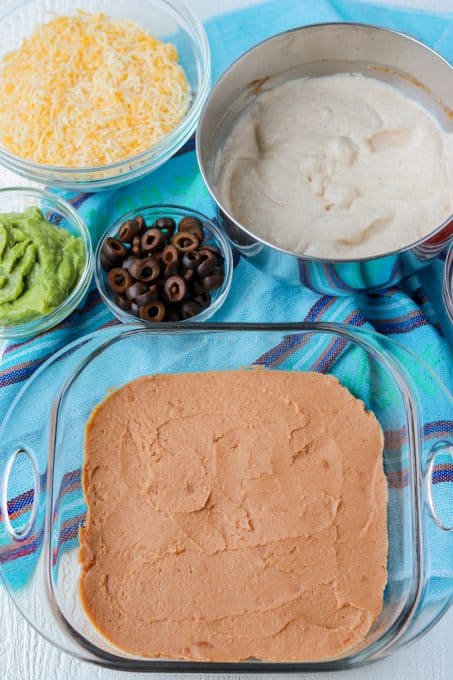 How do you make it?
First, make a batch of this Easy Guacamole or you can use this Edamame Guacamole.
If you don't have a stash on hand yet, mix together some Homemade Taco Seasoning too.
I keep a big container full of it in my spice cupboard at all times, just for recipes like this one.
Grab a can of refried beans, slice some black olives or buy them sliced and cut your tomatoes into quarters.
Mix together the mayonnaise, sour cream and taco seasoning.
Add more heat to it with some Sriracha sauce or some chopped jalapeños.
Now, mash up the refried beans. Spread them in the bottom of a square baking dish.
Cover the beans with guacamole.
Pour the sour cream mixture on top and be sure to cover completely.
If air should get to the guacamole it will oxidize and turn brown.
It won't be pleasing to the eye, but it will still be edible and delicious.
Sprinkle shredded cheese, tomatoes, olives and green onions on top.
Serve or chill the 7 layer dip for 1 hour allowing the flavors to blend together.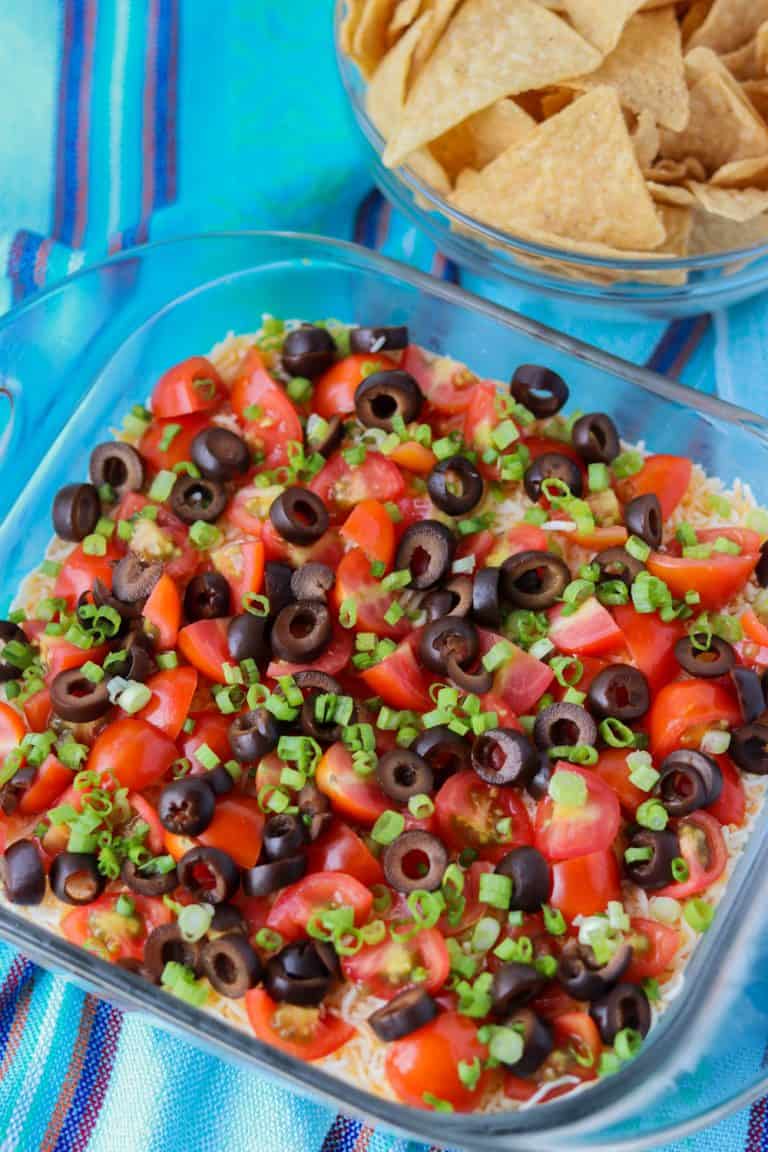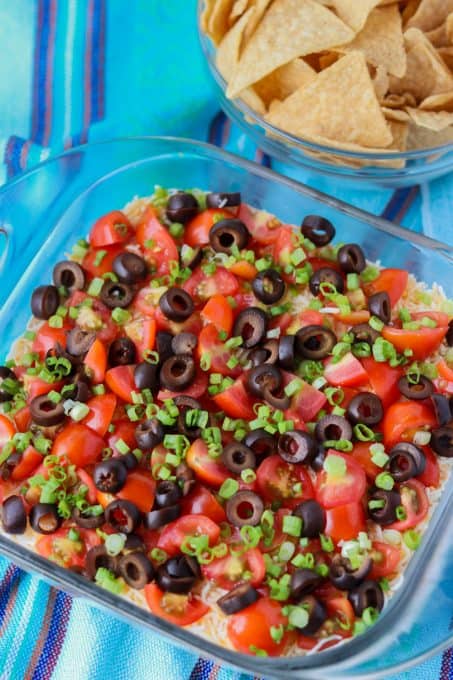 Can you make it the day before? Can it be frozen?
You can assemble the dip the night before.
Cover it with plastic wrap and keep in the fridge until ready to serve.
I don't recommend freezing 7-layer taco dip.
Many of the ingredients, like fresh tomatoes and green onions, don't hold up well to being frozen and thawed.
What to serve with 7 layer dip
This dip is thick and hearty, so make sure you choose dippers that are up to the task!
I've found thin restaurant style tortilla chips break when you use them to scoop layered bean dips.
Thicker tortilla chips and the scoop shaped corn chips are an ideal choice.
Crackers and pita chips are delicious too.
If you have flour tortillas handy, cut them into triangles and toast them lightly.
Serve alongside this dip for an amazing taco-inspired appetizer!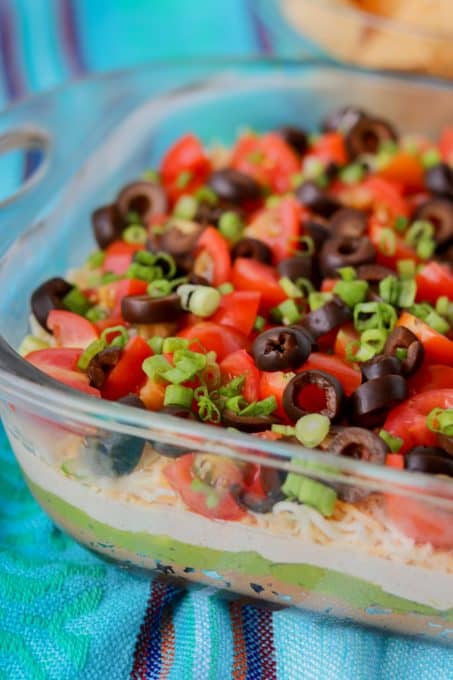 Appetizers
We love appetizers around here!
If you need a few more ideas for great game day foods or party snacks, I've got you covered.
If hot dips are your style, this Chicken Taco Dip is a must try.
Like today's recipe, it features taco spices, refried beans and creamy cheesy layers, along with shredded chicken.
Looking for a party food that doubles as a main course?
Bake up a Taco Braid for the table!
It looks as impressive as it tastes.
My pizza obsessed friends can't stop talking about this Pepperoni Pizza Dip Recipe.
Easy to make and the kids love it too!
To sneak some veggies into their bellies, this Spinach Pepperoni Bread is another crowd pleaser.
Here are a few more deliciously easy appetizer ideas for your next gathering!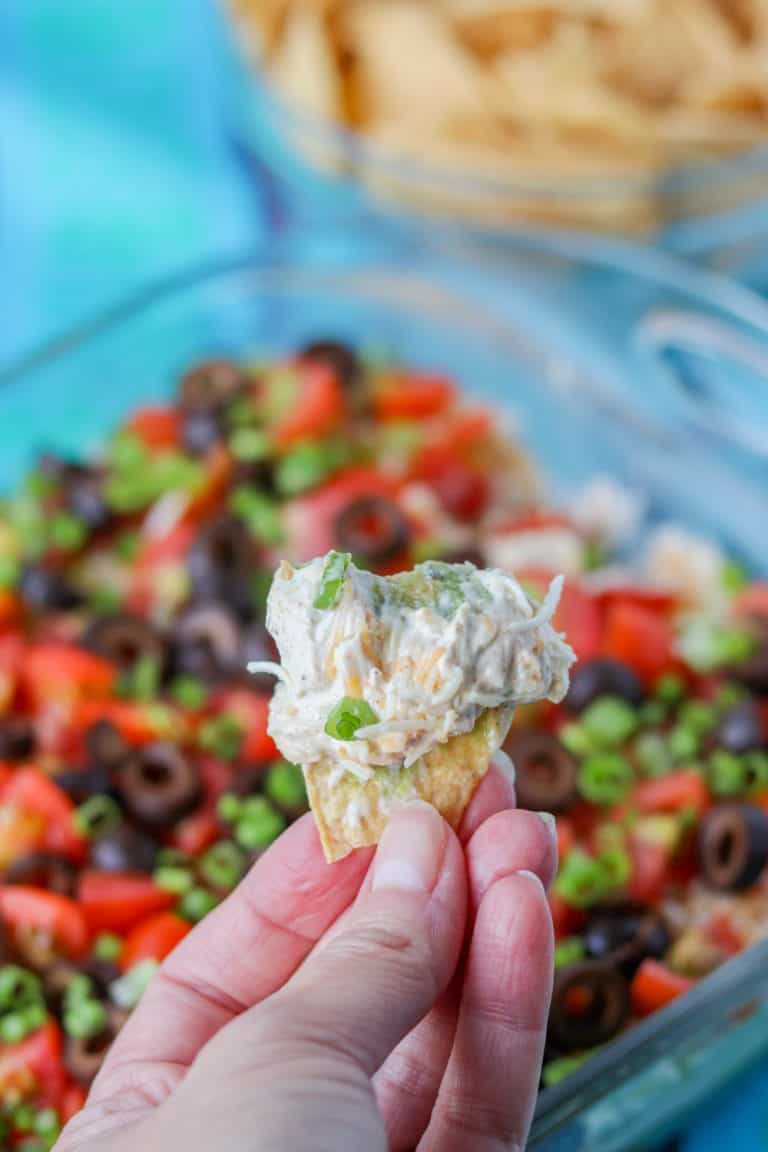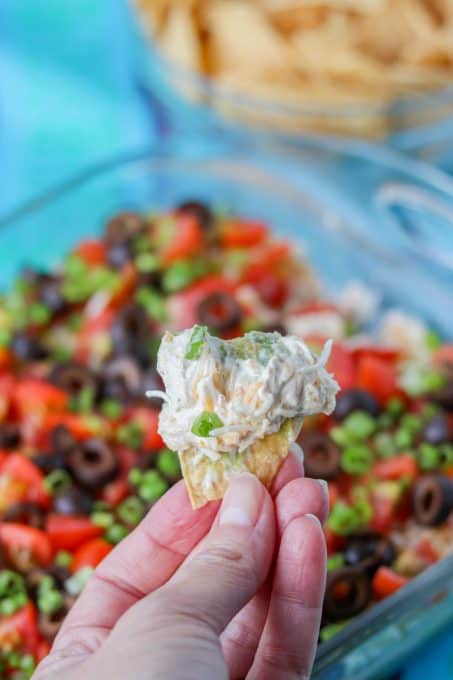 Grab your chips and crackers and dig into the BEST ever 7-Layer Bean Dip!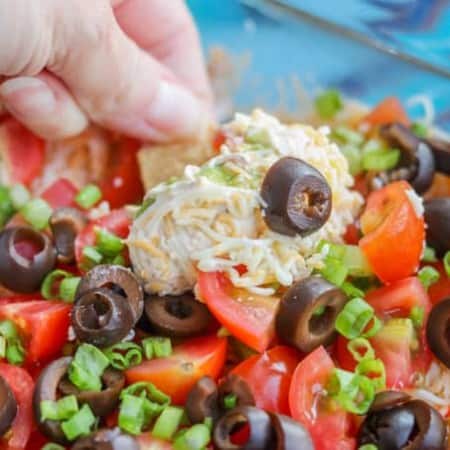 7-Layer Dip is the ultimate party and game day appetizer! With layers of refried beans, spicy Mexican sour cream, shredded cheese, tomatoes, olives, and green onions, you'll want plenty of thick tortilla chips on hand to scoop it all up in one delicious bite.
Ingredients
1 cup sour cream
½ cup mayonnaise
1 tablespoon homemade taco seasoning
16 oz refried beans
1 cup homemade guacamole
1 ½ cups Mexican Shredded Cheese
1 pint grape tomatoes quartered
2.25 oz sliced black olives
3 green onions chopped
Instructions
In a medium bowl mix together the sour cream, mayo, and taco seasoning.

Put the refried beans into a medium bowl and mash them. Then spread into the bottom of an 8 X 8-inch baking dish or pan. Or you can mash them in the baking dish and then spread.

Cover with the guacamole.

Completely cover with the sour cream mixture.

Sprinkle the cheese, tomatoes, olives and green onion on top.

Can be served immediately or is even more delicious refrigerated an hour and then served. Be sure to use thick tortilla chips or crackers for dipping as too thin tortilla chips break off too easily.
Nutrition
Serving: 1g | Calories: 283kcal | Carbohydrates: 12g | Protein: 9g | Fat: 22g | Saturated Fat: 6g | Polyunsaturated Fat: 7g | Monounsaturated Fat: 8g | Trans Fat: 1g | Cholesterol: 26mg | Sodium: 716mg | Potassium: 328mg | Fiber: 6g | Sugar: 4g | Vitamin A: 838IU | Vitamin C: 12mg | Calcium: 175mg | Iron: 1mg
Did you make this recipe?
Share it with me on Instagram and make sure to follow me on Pinterest for more recipes.
Reader Interactions