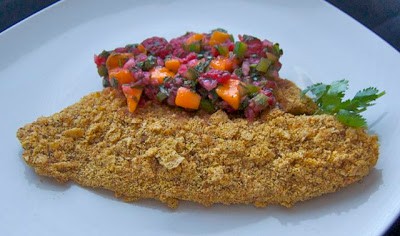 I have to be honest.

I was all excited to be creative and make this dinner tonight. I've really been wanting to put some of that Homemade Taco Seasoning on some fish to see how it would taste and of course, really wanted to make a fruit salsa to go along with it, but after I made the salsa tonight I was SSOOOOOO ready to scratch the whole thing and not even post it.
BUT, here I am.
Something just wasn't right when I tasted it. It was tart with the raspberries and I was wishing I'd bought some strawberries for it instead. But the raspberries were on sale and I can't resist saving a buck or two.
So, I added the honey. If you make it with strawberries, I'd suggest leaving the honey out. I'm sure they'll be sweet enough on their own.
SAVE THIS TILAPIA RECIPE TO YOUR FAVORITE PINTEREST BOARD!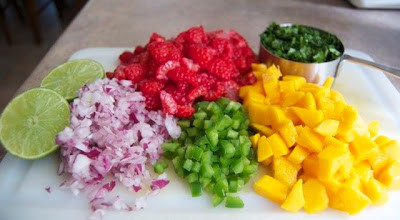 I served the fish and salsa for dinner and before I got to the table I heard my daughter say, "Mmmm, this is good!"
"What, the fish or the salsa?" "All of it. The salsa tastes really good on the fish!" Fist pump from the mother and she's quietly doing the happy dance in the kitchen!
I have to say I was pleased with the family's reaction and even more excited when I tasted it myself. I'll let you know what I rated it…after the recipe, of course!
Adapted from my Breaded Tilapia with Cilantro Citrus Sauce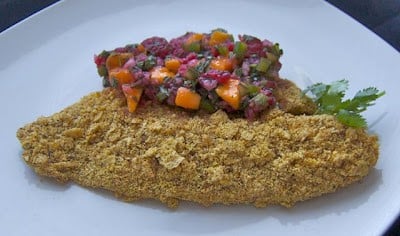 Tacoed Tilapia with Raspberry Mango Salsa
Ingredients
1 pound Tilapia fillets
2 eggs lightly beaten
¾ cups tortilla chips crushed
⅓ cup yellow cornmeal
2 tablespoons  Homemade Taco Seasoning
freshly ground black pepper
Salsa
1 mango peeled, cored and diced
1 jalapeño pepper seeded and diced
6 ounces raspberries quartered
3 tablespoons fresh lime juice I used one lime
½ cup freshly chopped cilantro
¼ cup red onion minced
2 teaspoons honey
salt and freshly ground pepper to taste
Instructions
In a medium bowl, combine salsa ingredients, and stir well to combine.

Cover with plastic wrap and refrigerate at least one hour before serving.

Preheat oven to 425 degrees F.

Prepare a rimmed baking sheet by lining it with tin foil. Spray a wire rack with cooking oil and place it on the foil inside the baking sheet.

In a medium bowl, combine crushed tortilla chips, cornmeal, taco seasoning and ground pepper. Mix well.

Place tilapia fillets into the beaten eggs, making sure to completely cover.

Allow excess egg to drip off and dredge through tortilla chip mixture, coating thoroughly on both sides.

Place on prepared baking sheet.

Bake for 15-20 minutes, until fish flakes when pulled apart with a fork.
Did you make this recipe?
Share it with me on Instagram and make sure to follow me on Pinterest for more recipes.

For all you fish lovers, here are a few recipes for you to try during the week!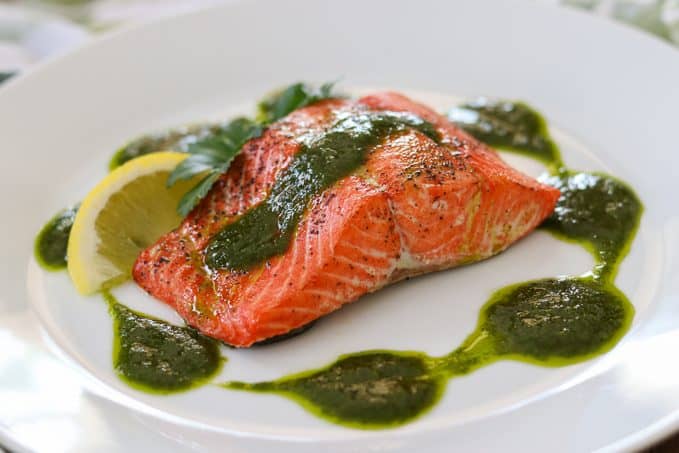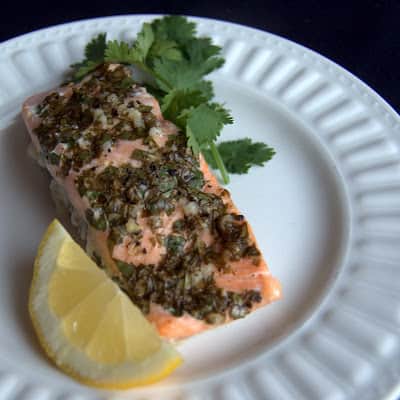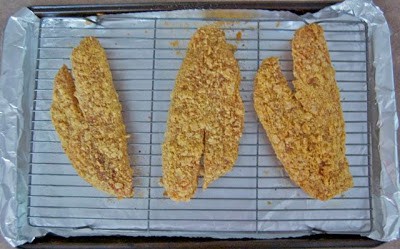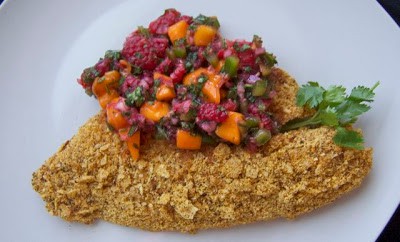 I rate everything I make on a scale of 1-4 with 4 being the best and this Tacoed Tilapia with Raspberry Mango Salsa earned 3 rolling pins. I will definitely be making this again but will make the salsa with strawberries to see how that is. The tortilla chips combined with the cornmeal gave the fillets a nice crisp coating and the taco seasoning gave it some tasty flavor.
The salsa, I must say, was a perfect accompaniment to the fish. I could still slightly taste a tartness, but the fish really balanced it out. I was so psyched this dinner didn't end up in the garbage as I was afraid it might have.
PHEW! I will be going to bed a happy girl tonight!!
I'd like to welcome all of our new readers! There are a lot of new followers here on the blog, new subscribers to the 365 e-mail updates and the 365 Days of Baking page on Facebook has reached a whopping 3, 275!!! UNBELIEVABLE!!
I am amazed that this little blog I started to challenge myself has grown as it has. I am so completely humbled and extremely blessed, and cannot thank you all enough for your support, comments, e-mails, tweets, pins, shares, and above all,
LOVE!!
You all amaze me and I CANNOT thank you enough. The support has been tremendous and has helped fuel my passion and love for what I'm doing. I love that at the age of *ahem* 44 I have FINALLY found out what I want to be when I grow up!
Thank you!
Reader Interactions