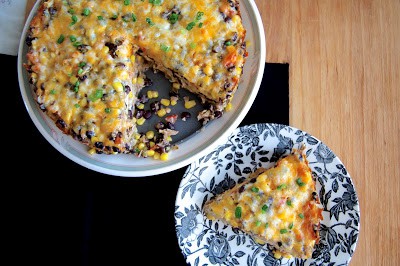 The giveaway is now closed! Thanks to all who entered!
Congratulations to kwinans!!! You will have 48 hours to respond or another winner will be chosen.


SAVE THIS CHICKEN, BLACK BEAN AND TORTILLA PIE TO YOUR FAVORITE PINTEREST BOARD!
This is similar to the Chicken Tortilla Bake I made back on Day 139 of the 365 Days of Baking and that one was pretty good. This one today has a few different ingredients and earned a higher rating from the family. It's also interesting to see how much prettier today's pictures are, no to mention the food. LOL!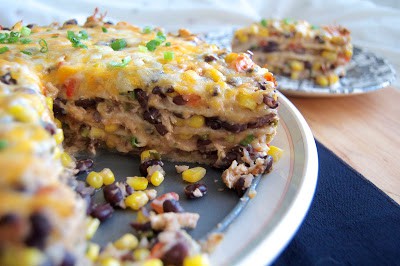 This is adapted from Martha Stewart's Everyday Food – Great Food Fast, p. 236; author, Martha Stewart; publisher, Clarkson Potter/Publishers, an imprint of Crown Publishing Group, a division of Random House, Inc.; ISBN 978-0-307-35416-7.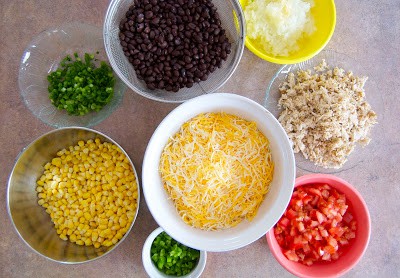 Chicken, Black bean and Tortilla Pie
Ingredients
4

tortillas (10-inch)

1

tablespoons

canola oil

1

large

onion, minced

1

jalapeno chile, cored, seeded and diced

2

cloves

garlic, minced

1/2

teaspoon

cumin

salt and freshly ground pepper

2

15 oz. cans

black beans, dried and rinsed

1 1/2

cups

water

1

10 oz. package

frozen corn

1-1 1/2

cups

shredded, cooked, seasoned chicken breast

4

plum

tomatoes, diced

4

scallions, thinly sliced for garnish

3

cups

shredded cheddar cheese
Instructions
Preheat oven to 400 degrees F. In a large skillet over medium-high heat, and heat the canola oil.

Add the onion, garlic, and jalapeno, and cumin. Add salt and pepper to season.

Cook until onion is soft and translucent, about 5-7 minutes. Add beans and water. Bring to a boil.

Reduce heat to medium and simmer until the water has practically evaporated about 8-10 minutes.

Add the corn, chicken, and tomatoes and scallions. Mix to combine and remove from heat. Season with salt and freshly ground black pepper to taste.

With a paring knife, trim tortillas to fit a 9-inch springform pan using the bottom of the pan as a guide.

Put springform pan back together and spray with cooking spray. Place one tortilla in the bottom of the pan.

Spread 1/4 of the bean mixture and cover with 3/4 cup of shredded cheese. Repeat process three times.

Cover the top layer of beans with 1 cup of shredded cheese.

Bake for 20-25 minutes until warm throughout and cheese is melted.

Sprinkle with scallions and remove from pan, leaving the bottom intact. Cut into wedges and serve.
Nutrition Facts
Chicken, Black bean and Tortilla Pie
Amount Per Serving
Calories 260
Calories from Fat 189
% Daily Value*
Fat 21g32%
Cholesterol 59mg20%
Sodium 355mg15%
Potassium 91mg3%
Carbohydrates 3g1%
Protein 14g28%
Vitamin A 565IU11%
Vitamin C 2.1mg3%
Calcium 417mg42%
Iron 0.5mg3%
* Percent Daily Values are based on a 2000 calorie diet.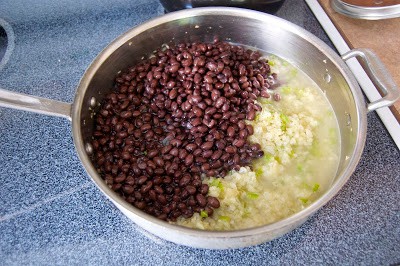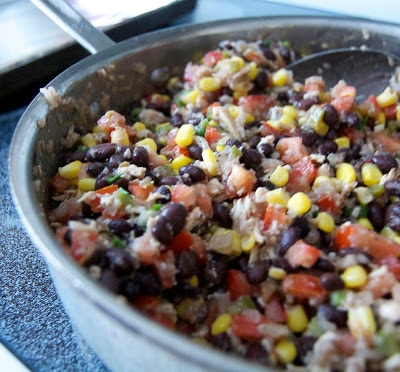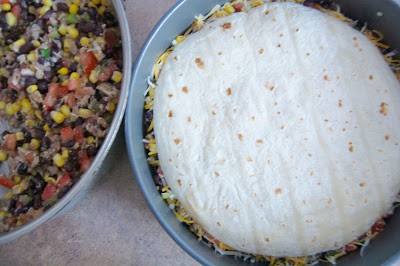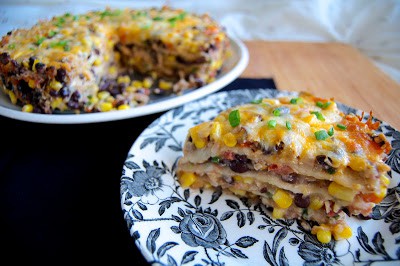 I rate everything I make on a scale of 1-4 and this Chicken, Black Bean, and Tortilla Pie earned a unanimous 4 rolling pins from the family. I have to admit I was surprised by their reaction. I hadn't started eating yet and already they were chiming in with their votes. Either they REALLY liked it or they were famished! LOL! No, I agree with them. It was just that good.
And now for the…
GIVEAWAY!!!! It is now closed. Thank you to all who entered.
It is from our wonderful friends at resource Natural Spring Water.
Content and/or other value provided by our partner, resource natural spring water.
resource Natural Spring Water is 100% sustainably sourced spring water.

It contains natural electrolytes for a uniquely crisp taste.

The bottles are made from 50% recycled plastic (excluding the cap and label)
resource Natural Spring Water, it's more than hydration, it's Electrolytenment.
Yes, you can drink water out of the tap, buy a filter for your faucet or buy the pitchers with the filters in them, but they aren't going to give you the same results as drinking water with natural electrolytes. I drank the water after my run one day and I have to say that my recovery was quicker and I just felt better. Who doesn't want to feel that way after a workout?
My son and daughter are also runners, so I want to give them what I can to help them perform at their peak, especially when they're racing. This water is from the makers of Nestle Waters, North America, Inc. and is available at your local grocery store or convenience stores throughout the United States.
And now for the giveaway!
It is a $25 gift card sent by e-mail to Spa Week!! It's time to pamper yourselves!!
*because the gift card will be sent by e-mail,
I will need to have a valid e-mail address
* Winner will be notified by e-mail and will have 48 hours to respond. If the winner does not respond, another person will be chosen and notified.
Be sure to leave a comment telling me where you'd take your resource Natural Spring Water. *Sorry, the contest is open only to U.S. residents.* You can receive additional entries by doing the following:
I was given two samples of resource Natural Spring Water and a $25 Spa Week gift card in exchange for my review. All opinions, however, are my own. This has been shared at Thursday's Treasures at Joan's site, Chocolate, Chocolate, and More Chocolate and at Debi's, Recipes For My Boys! Head on over to see what my fellow bloggers have cooked up this week!