Chicken 'N' Dumplins – Diced chicken in a flavorful broth topped with mounds of buttermilk dumplings. This is southern cooking comfort food at its' finest and it's just one of the many great recipes you'll find in Melissa's Southern Cookbook by Melissa Sperka.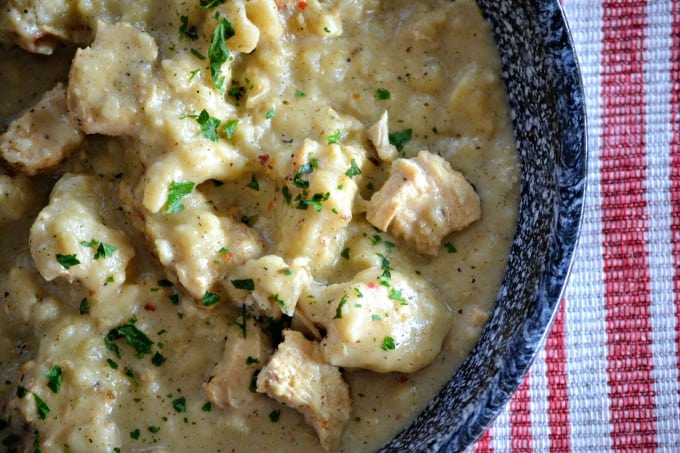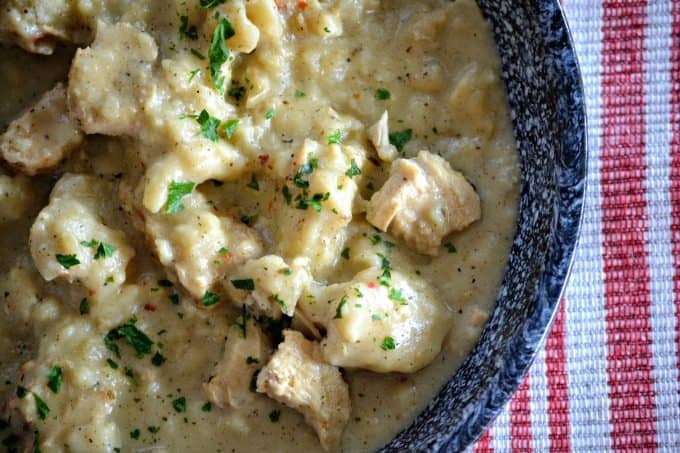 I am so excited to share another great recipe with y'all today. Comfort food lovers, this one's for you!
I may not have southern roots, but I feel like today's post gives me permission to write with a drawl because it's all about the good cookin' of the south! This Chicken N' Dumplings recipe brings out the southern girl in all of us.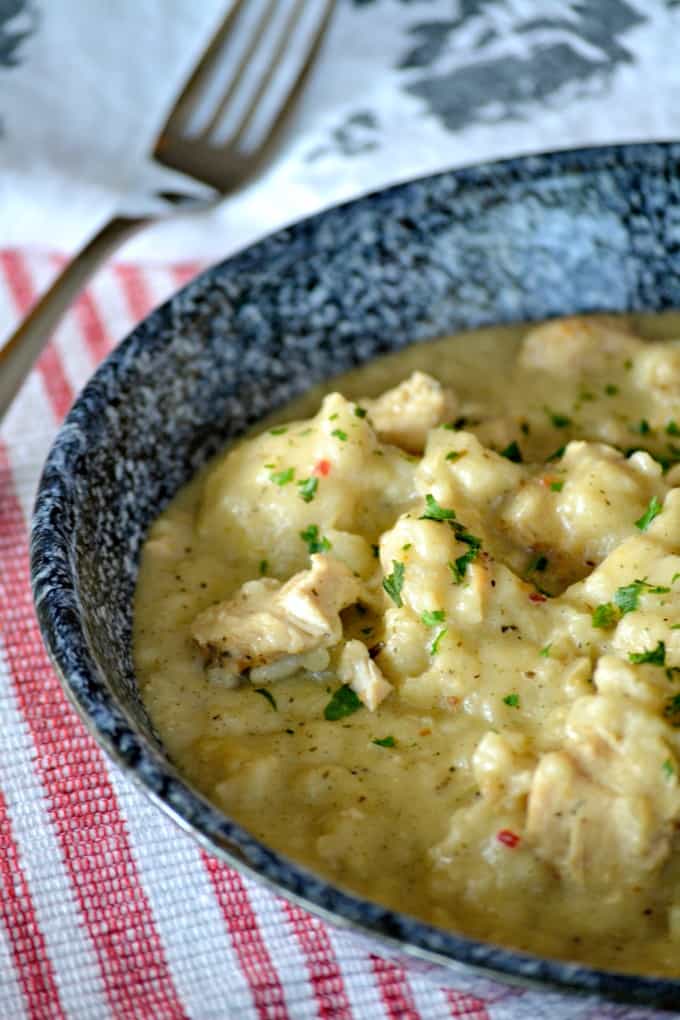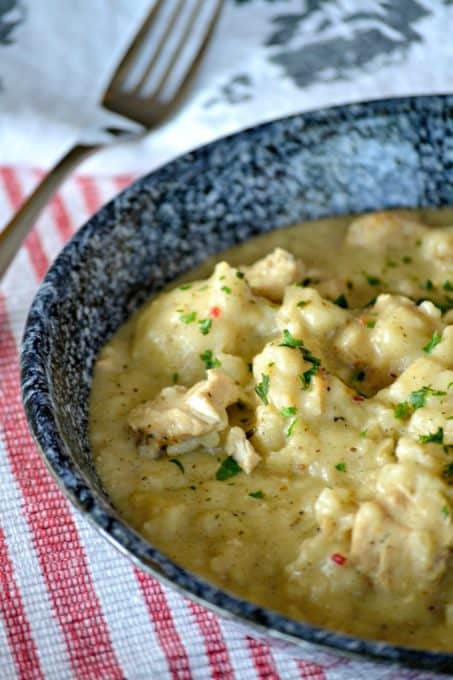 Chicken and Dumplings
Today I am sharing a dish that I have never made before, and come to think of it had never even eaten it until I made the recipe from Melissa's new book, Melissa's Southern Cookbook – Tried and True Family Recipes.
Melissa is a dear blogging friend who I met virtually a few years ago and hope to meet very soon in person. Her blog, Melissa's Southern Style Kitchen, as well as her new cookbook, focuses on her love of family, her southern roots and the wonderful food that is close to her heart.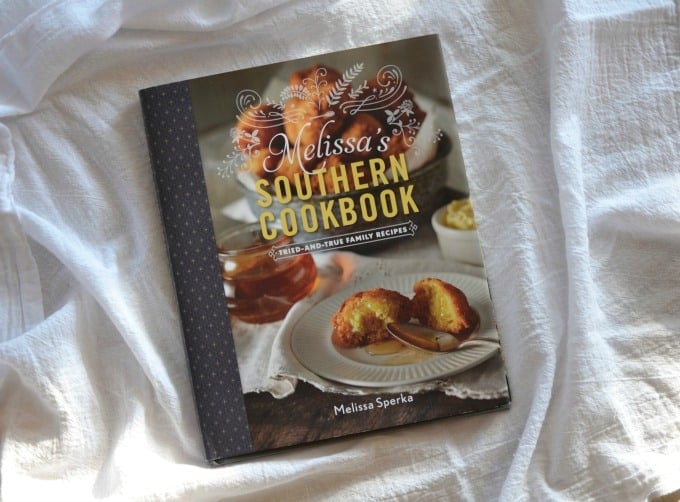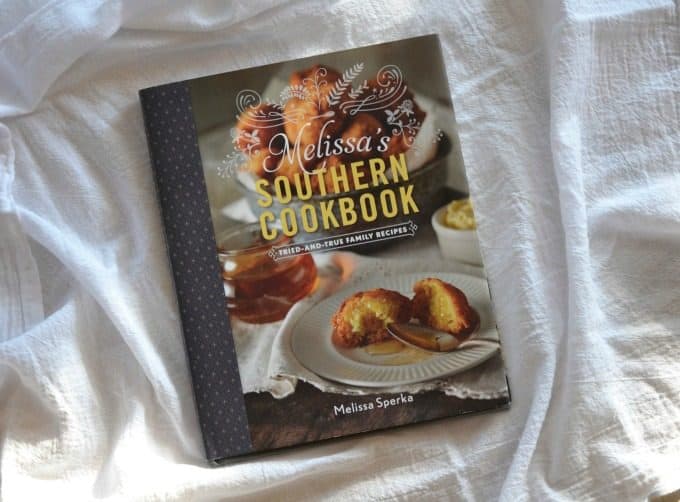 This beautiful cookbook is filled with wonderful recipes from Melissa's family and the generations before her who were her inspiration. There are gorgeous pictures of appetizers, main courses, desserts and so much more. If you love pretty cookbooks on your shelf, this is one you can't miss out on.
It's a book of comfort food that's sure to please your own family and it's one that I highly recommend that you add to your collection. You can purchase it here.
Please stop and visit Melissa's Southern Style Kitchen on Facebook and see all of the wonderful dishes she shares. You can also follow Melissa on Instagram for even more cooking inspiration.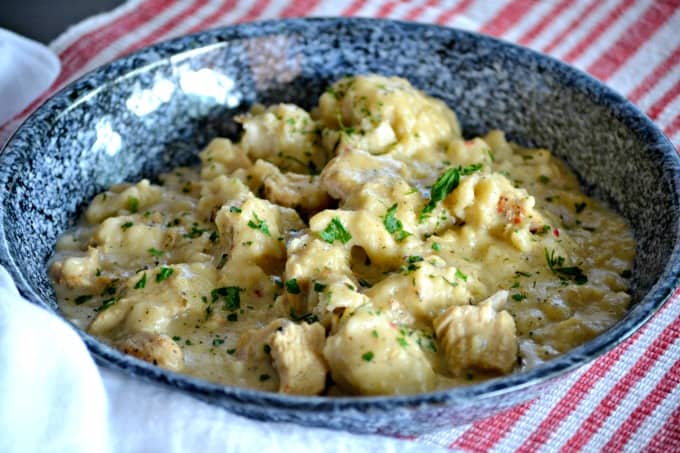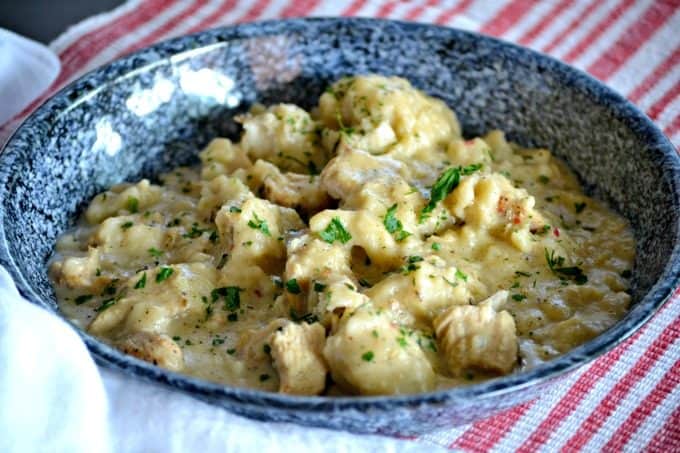 SIGN UP FOR THE WEEKLY 365 DAYS OF BAKING & MORE
NEWSLETTER BELOW!
Chicken 'N' Dumplings Recipe
If you're like me and have never had chicken and dumplings (or chicken 'n' dumplins, if we're being authentic), you're in for a delicious surprise. I think in my mind I imagined chicken and dumplins as something akin to a creamy pasta dish but with dumplings instead of noodles.
I think I was imagining something like Chicken Noodle Casserole? Who knows. All that matters is that I have seen the light of southern style Chicken 'N' Dumplins and it is GOOD.
It's not a pasta dish or a casserole at all. Chicken and dumplings is more like a hearty chicken stew covered in little buttermilk biscuits (dumplings). It's a filling, satisfying and flavorful family-friendly meal that warms the soul. Just try to be sad when you're eating a steaming bowl of this chicken and dumplings, I dare you.
Chicken Dumplings
The "dumplings" in Chicken 'N' Dumplins aren't the kind that are wrapped around a piece of meat or vegetable. Instead, they're like small doughy biscuits shaped into balls that you cook right in the broth.
It was so much fun to drop scoopfuls of the buttermilk dough into the pot and see them turn into cooked dumplings. After about 25 minutes simmering with the chicken, stock and seasonings, the dumplins were cooked through and absolutely perfect.
Since this was a new dish for me, I couldn't wait to pour a generous portion into a bowl and dig in. I wasn't sure whether to eat this with a spoon or a fork so I opted for a fork. (Southern folks, how do you eat your chicken and dumplings?)
Oh boy, Melissa did NOT steer me wrong. Each and every forkful of this dish was better than the last. The chicken in the creamy gravy-like broth was delicious on its own but combined with the mounds of buttermilk dumplings it was marvelous.
I couldn't believe how easy it was to make the dumplings, either. Just self-rising flour, a good amount of butter and some buttermilk is all it took.
Chicken Recipes
Okay, like a lot of folks we cook a LOT of chicken around here. It's an affordable meat that everyone in my family likes and is versatile enough to hardly ever get bored with.
Sometimes, though, I end up with too many leftovers. I use leftover in Chicken Salad and Slow Cooker Buffalo Chicken Dip with zero complaints.
I'm excited to have yet another way to use leftover chicken I might have stored in my fridge. Plus, using chicken that's cooked in advance cuts down immensely on the prep time for this recipe so it's quick enough even for a busy night. Even if you don't have cooked chicken on hand already, this recipe is easy to make (and well worth the few extra minutes).
What's the verdict?
Melissa's Chicken N' Dumplins recipe is comfort food at its best. I'll be saving to make again next time I'm in the mood for down home comfort food!
When I'm tired of my usual soups and stews during cold weather, I know Chicken N' Dumplins will be just right to warm us up on a chilly night. Melissa really hit it out of the ballpark with this one!
I can't wait to keep indulging my inner wannabe southerner and making even more of the recipes from Melissa's new book. Don't forget to grab your copy!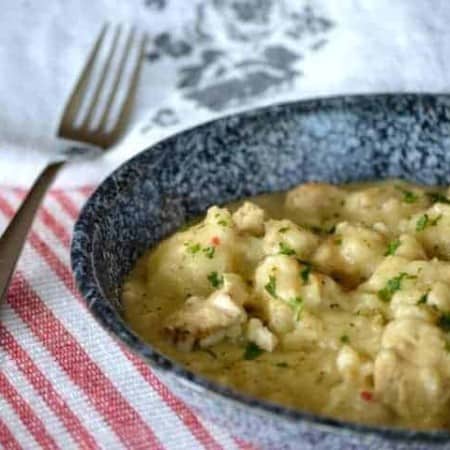 Chicken 'N' Dumplins - diced chicken in a flavorful broth topped with mounds of buttermilk dumplins. This is southern cooking comfort food at its' finest.
Ingredients
3 cups roughly chopped cooked chicken
3 14- ounce cans low sodium chicken broth or stock
1 10 3/4- ounce can cream of celery soup
2 teaspoons poultry seasoning
1 teaspoon salt
½ teaspoon freshly ground black pepper
½ teaspoon dried tarragon
½ teaspoon onion powder
¼ teaspoon garlic powder
¼ cup all-purpose flour
4 tablespoons salted butter room temperature
Dumplins
½ cup salted or 4-ounces cold butter, cubed
3 cups self-rising flour
1 cup whole buttermilk
Instructions
Place the chicken, chicken stock, celery soup, poultry seasoning, salt, pepper, tarragon, onion powder, and garlic powder in a large pot over high heat and bring to a boil.

In a small bowl, mix together the flour and butter to form a paste. Whisk into the pot to thicken the broth.
To Make the Dumplins:
Cut the butter into the flour, using a pastry blender or food processor, until the mixture resembles cornmeal.

Using a fork, mix the buttermilk into the flour until it forms a soft dough.

Using a 2-ounce ice cream scoop or tablespoon, drop the dough into the boiling broth. Immediately lower the heat to a simmer and cover tightly. Allow to simmer for 25 minutes without lifting the lid.

Uncover and gently stir. Let rest, uncovered, for at least 5 minutes, to allow the both to thicken.
Cook's Note:
In place of poultry seasoning, you may use 1/2 teaspoon each of ground sage, ground marjoram, ground thyme and ground rosemary.
Notes
I seasoned each of the chicken breasts I cooked with 1 1/2 teaspoons of Weber's Kick'N Chicken Seasoning and reduced the amount of poultry seasoning called for to 1 1/2 teaspoons and omitted the salt, pepper, tarragon, onion powder and garlic powder.
Did you make this recipe?
Share it with me on Instagram and make sure to follow me on Pinterest for more recipes.
Chicken Recipes
If you like this Chicken 'N' Dumplins, check out these other recipes with chicken that I love.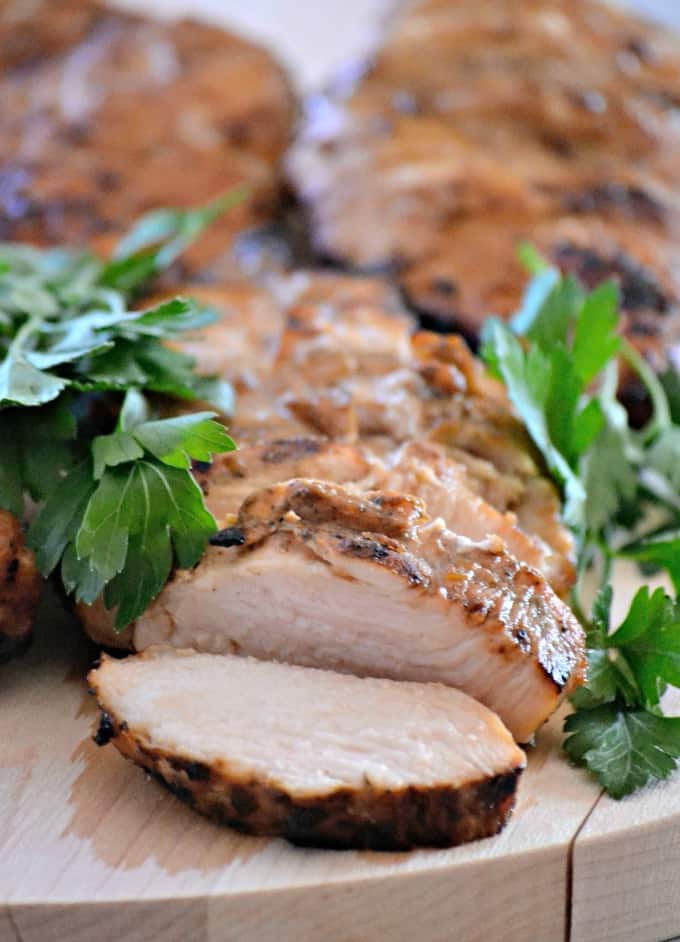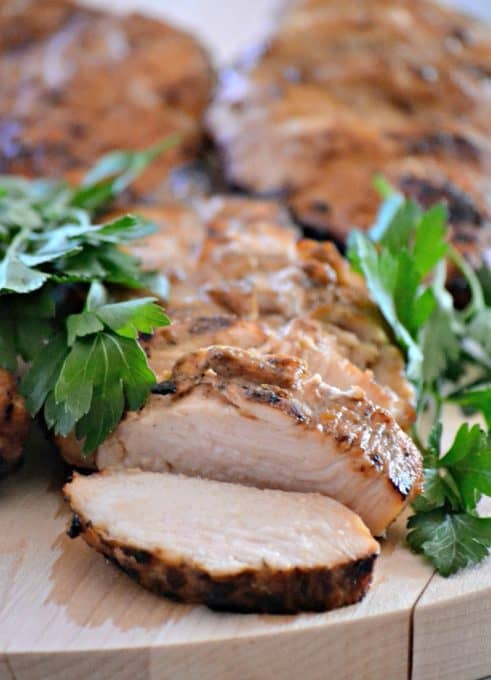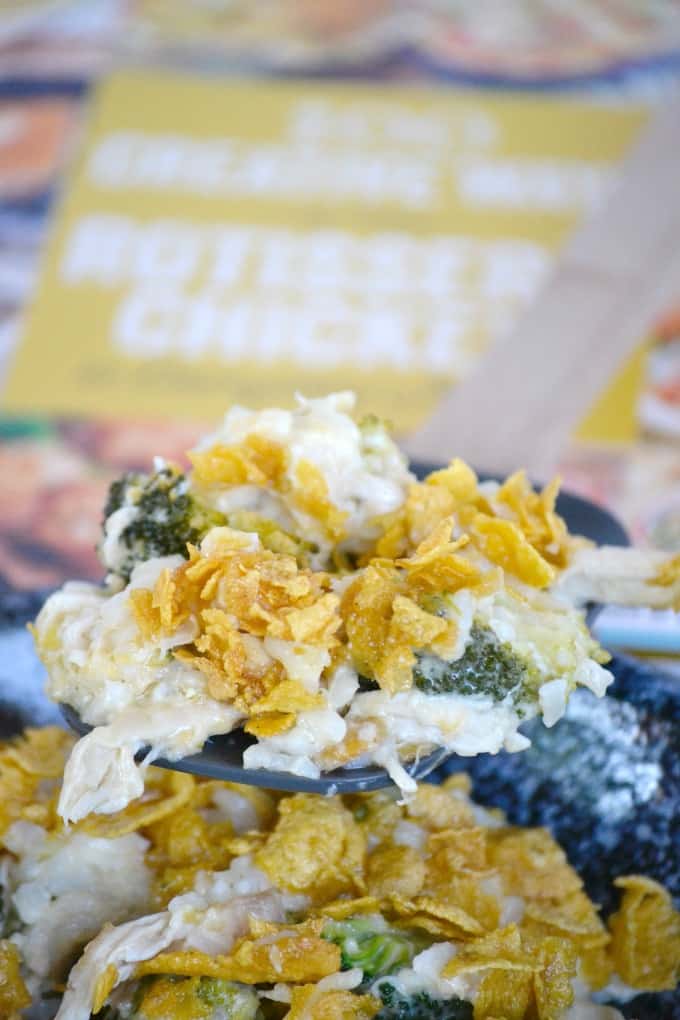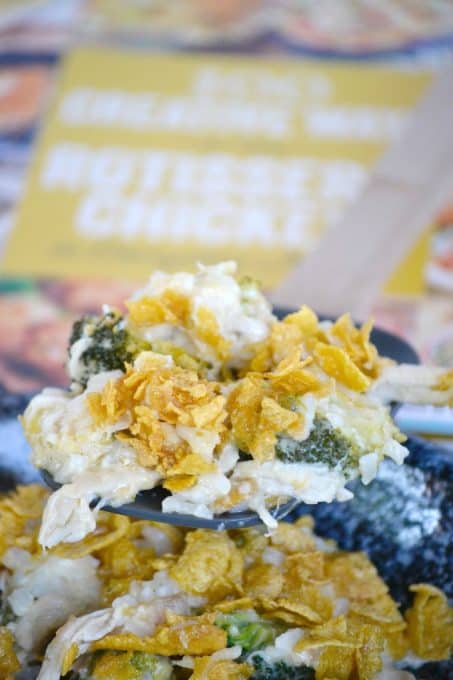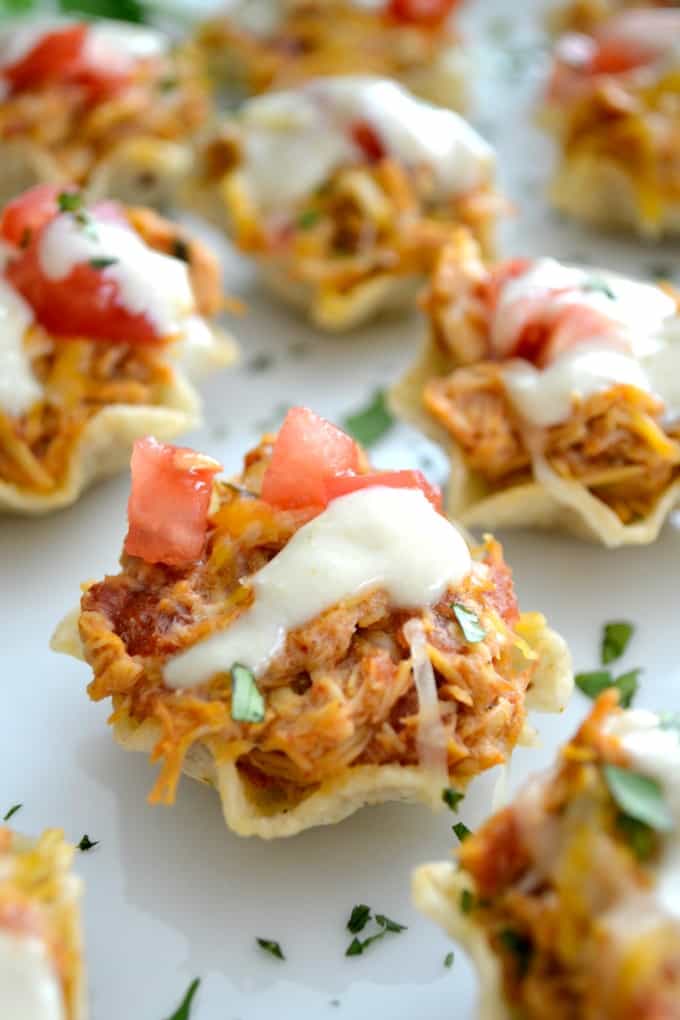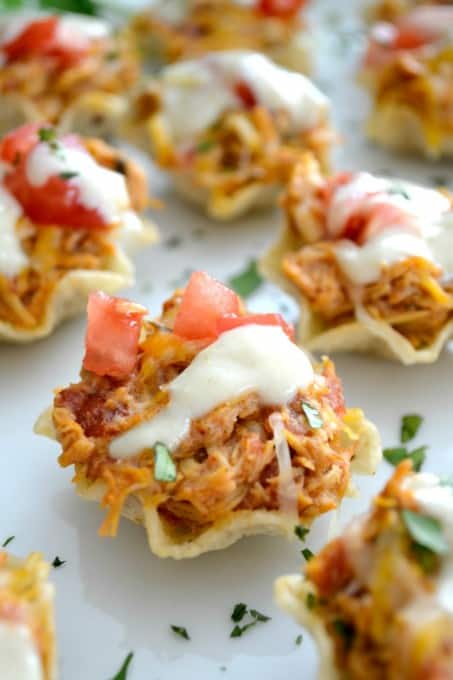 And I can't forget my other favorite chicken recipes! Greek Quinoa Chicken Salad and Pesto Chicken Pasta Salad are light and tasty meals I love in the spring and summer especially.
Chicken Taco Dip is a kid-friendly dip full of Mexican flavors that I make for tailgating parties, game days and get-togethers.
As always, all opinions expressed are my own and I appreciate your support of 365 Days of Baking and your support of Melissa's Southern Style Kitchen as well.
Reprinted with express permission from Melissa Sperka, author of Melissa's Southern Cookbook – Tried and True Family Recipes, The Countryman Press, a division of W. W. Norton & Company, New York, NY 2016. ISBN 978-1-58157-383-1
This post contains an affiliate link(s). These are links that can take you to a product (or products) that I recommend. I do receive a portion of the sales or credit for my future purchases from any items purchased through those links. Your purchases encourage my baking, cooking and butter habit, and contribute to the life of this blog.
I thank you so very much for your support. Let's keep having fun in the kitchen!!
Reader Interactions