These Chicken Alfredo Stuffed Shells are impossible to resist! This stuffed shells recipe combines the richness of a creamy Alfredo sauce with succulent shredded chicken and jumbo pasta shells. Baked with tangy ricotta cheese, a garlicky sauce, and plenty of Parmesan, this chicken dinner will become a regular on your meal plan.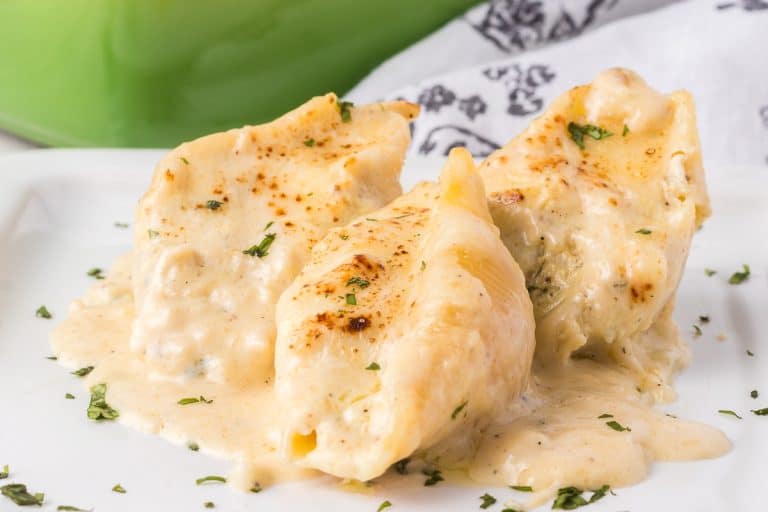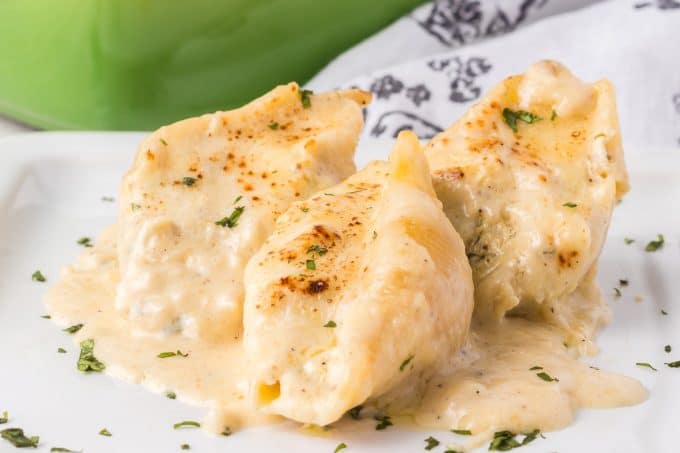 I'm obsessed with this Roasted Garlic Alfredo Sauce. If left to my own devices, I would gladly eat a whole bowl of it a spoonful at a time.
Today's recipe is one of my all time favorite ways to enjoy the hearty cream sauce: Chicken Alfredo Stuffed Shells! Jumbo pasta shells are cooked, stuffed with THREE kinds of cheese (yes, three) and savory chicken, smothered with homemade alfredo, and baked to bubbly perfection.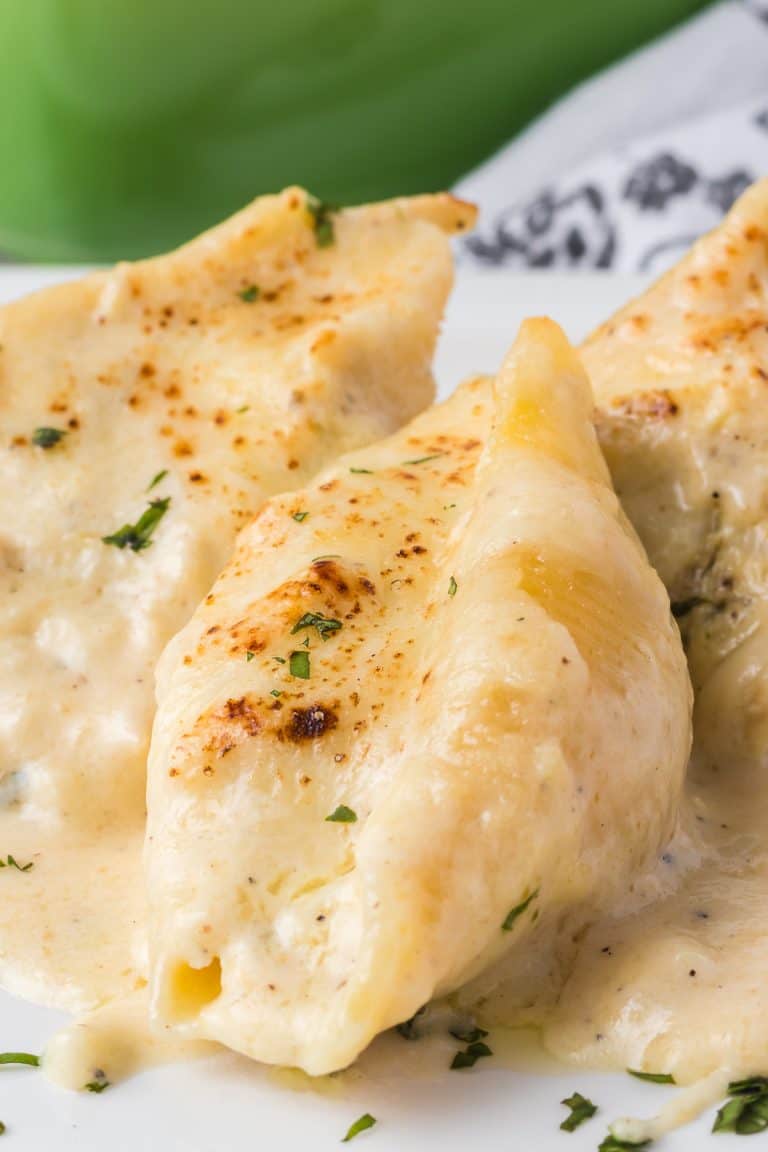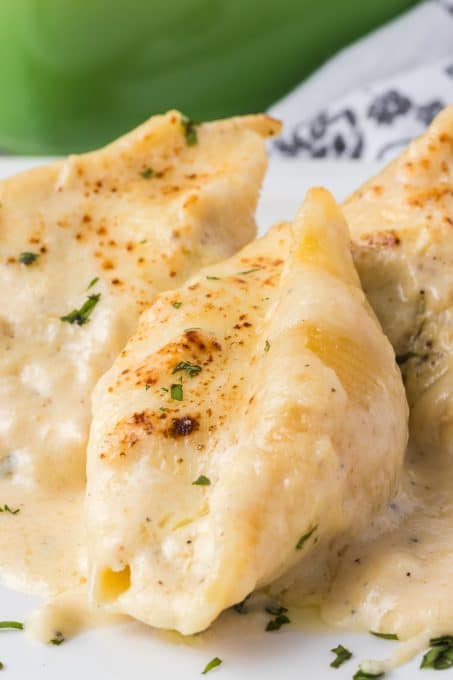 Alfredo Stuffed Shells are a definite stick-to-your-ribs comfort food kind of meal. A plate of these stuffed pasta shells is filling, hearty and cozy; like getting a warm hug from an old friend.
It's hard to feel down when you're chowing down on a bowl of creamy, cheesy chicken Alfredo!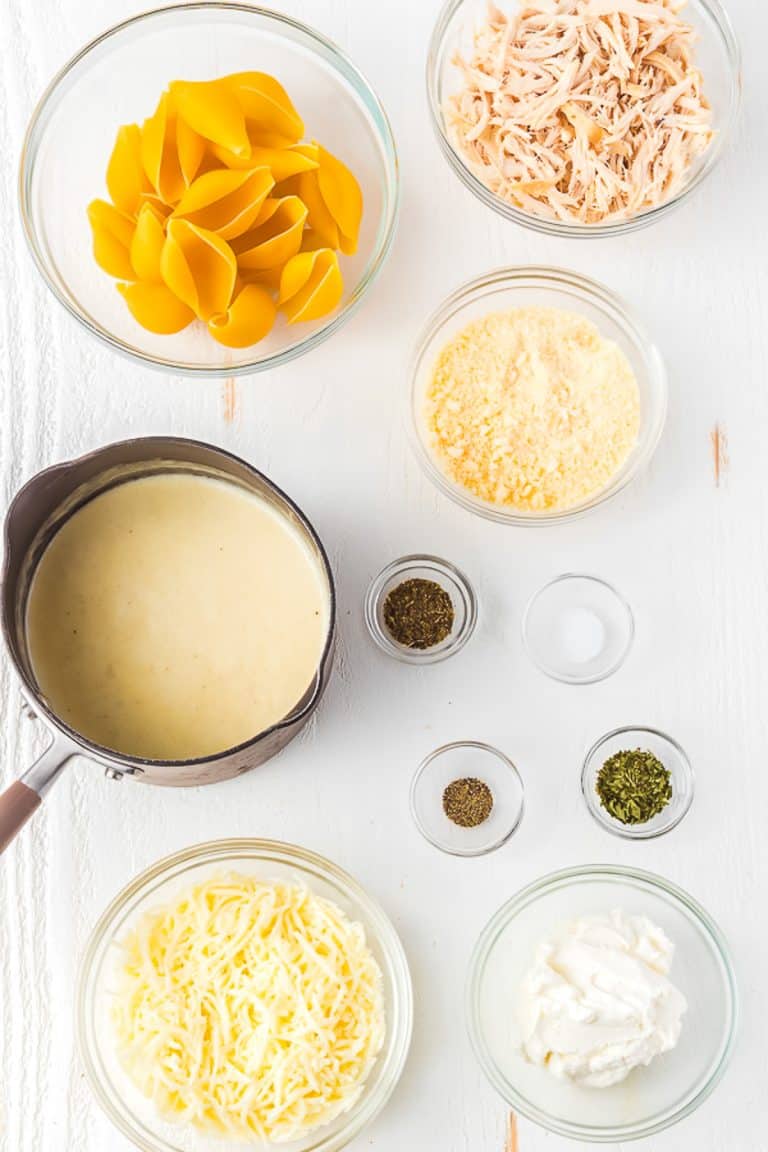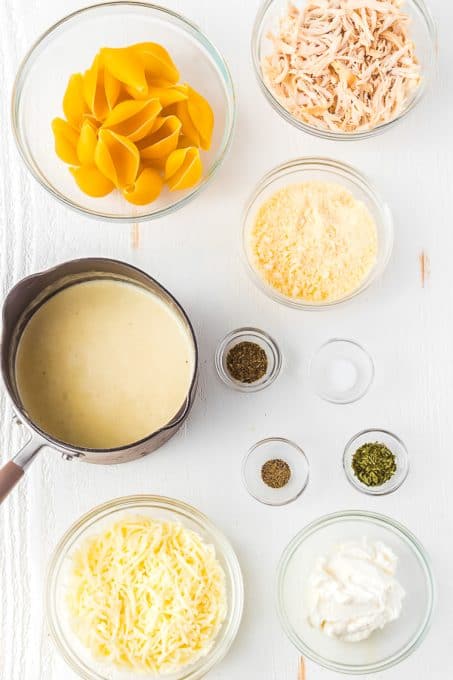 Chicken Alfredo Stuffed Shells Ingredients
Gather your ingredients first. Here's what you'll need for this chicken stuffed shells recipe.
Shredded chicken
Jumbo shells
Mozzarella cheese
Parmesan cheese
Ricotta cheese
Egg
Fresh parsley
Italian seasoning
Salt and black pepper
I suggest picking up a rotisserie chicken from the grocery store for this recipe. It just makes life easier! Stuffed shells are also a great way to use up any leftover cooked chicken breasts or thighs you might have in the fridge.
Can I use jarred Alfredo sauce instead?
The sauce is what makes these stuffed shells stand out from the ordinary. I promise you, if you put forth a little extra effort for the homemade roasted garlic sauce that these stuffed shells will taste restaurant quality or better!
Of course, if you're pinched for time and prefer an easy dinner recipe, go ahead and use your favorite jarred sauce. It'll still taste good!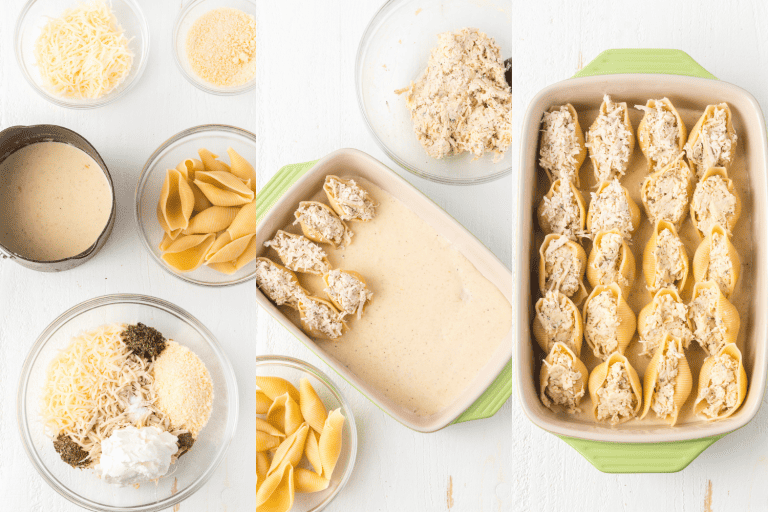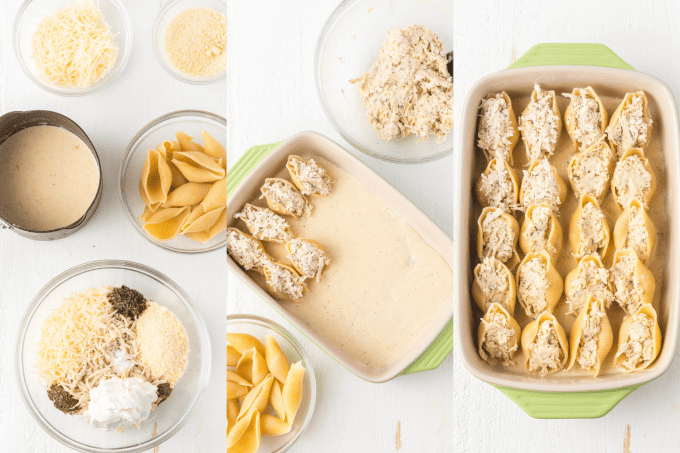 How to Make Chicken Alfredo Pasta Bake
Make the homemade Alfredo sauce:
Roast a head of garlic in the oven. Squeeze the cloves into a bowl and mash them with a fork. Melt butter in a sauce pan on the stove and add the garlic and heavy cream. Stir in the shredded Parmesan until the cheese is melted. Dissolve a tablespoon of flour with the remaining heavy cream. Whisk the flour mixture into the sauce until it begins to thicken.
Prepare the stuffed shells:
Cook pasta shells in a pot of salted boiling water and cook until al dente. Drain and set aside while you make the chicken filling.
Chicken filling:
Crack the egg into a large mixing bowl. Lightly beat with a fork, then add shredded chicken, ricotta, and half of the mozzarella and parmesan cheeses. Stir in chopped parsley, Italian seasoning, salt and pepper.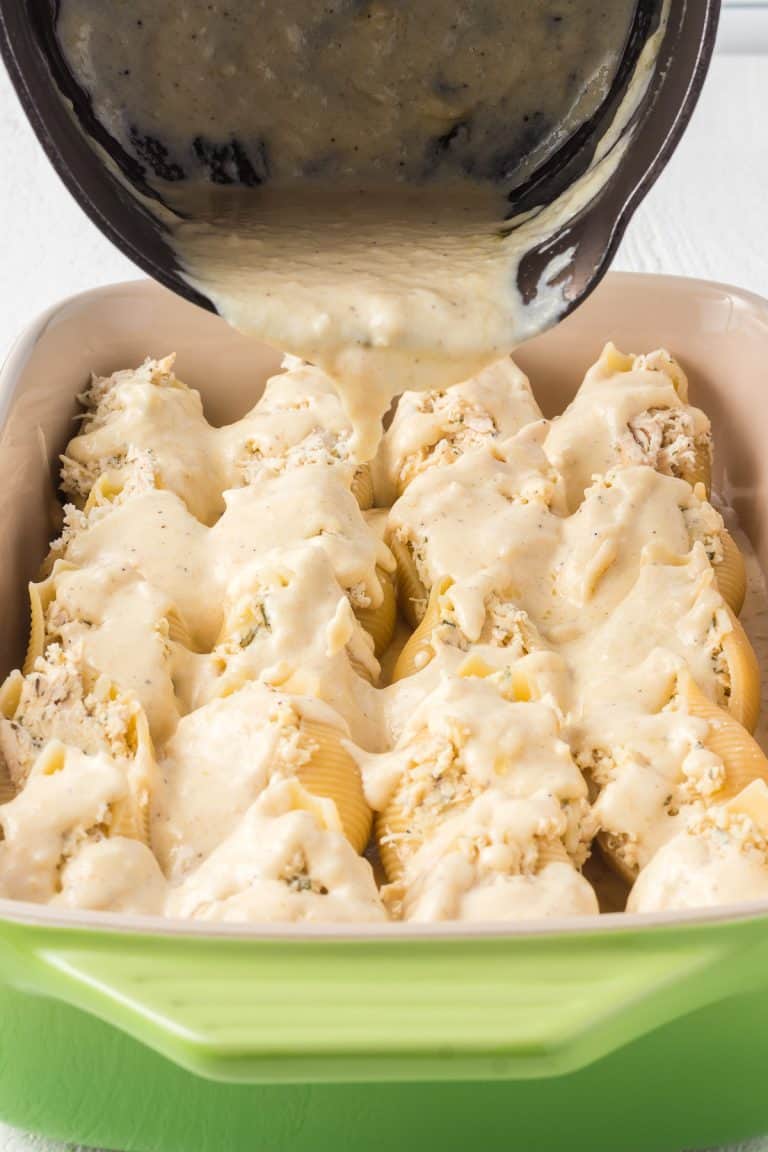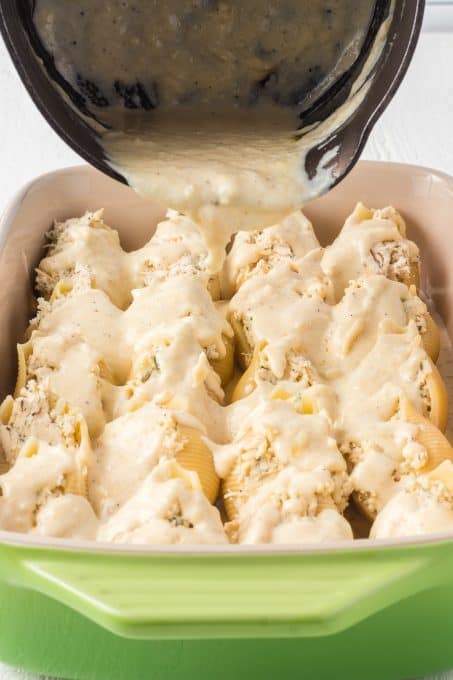 Assemble and bake:
Spray a baking dish with cooking spray and preheat your oven to 400 °F. Ladle one cup of Alfredo sauce into the bottom of the dish. Evenly distribute the chicken mixture into each of the cooked pasta shells. Arrange the filled shells into the pan with the filling side facing up. Pour the remaining creamy sauce on top.
Now cover the casserole dish with tinfoil and bake for 25 minutes. Remove the foil and sprinkle the remaining cup mozzarella cheese over the shells. Bake for another 5 – 10 minutes until the cheese is melted and the top is golden brown.
Serve hot garnished with extra chopped parsley for that fresh touch!
See the complete list of ingredients and full recipe directions in the printable recipe card below.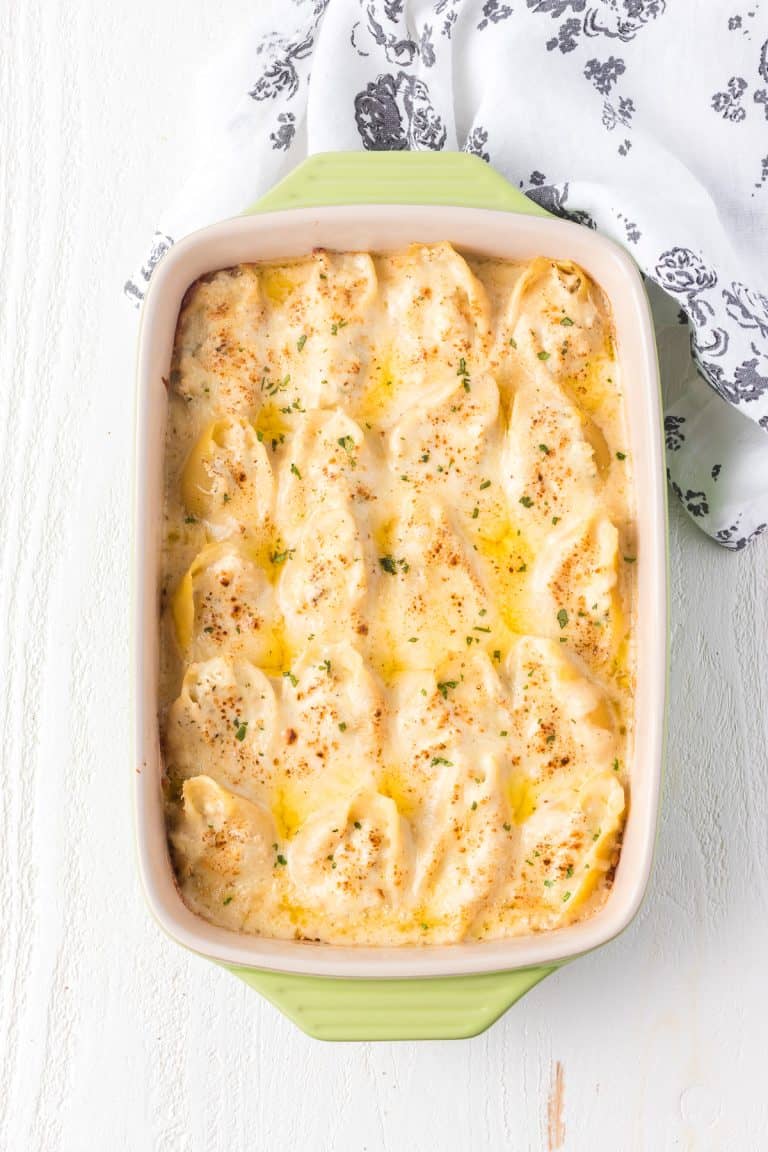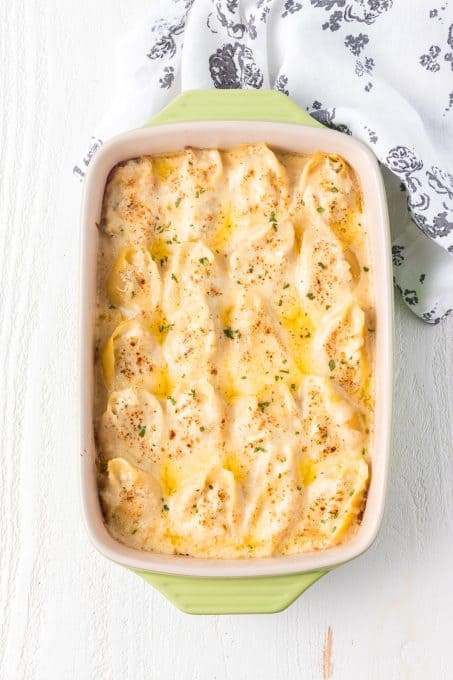 What to Serve With this Chicken Alfredo Recipe
Chicken Alfredo Stuffed Shells are hearty enough to serve as a full meal all on their own!
Add a little balance to the dinner table by serving them with a side of mixed greens tossed with homemade Italian dressing. This strawberry spinach salad is another light side salad that contrasts the rich, creamy quality of the Alfredo sauce, too.
You're bound to have a little extra Alfredo sauce left on your plate at the end of the meal. Soak up every drop with a slice of freshly baked Italian bread or these sticks of garlic bread.
Make sure to leave some room for dessert! Strawberries Lenox shortcake is sweet and satisfying, yet light and refreshing — just what you need to finish your meal.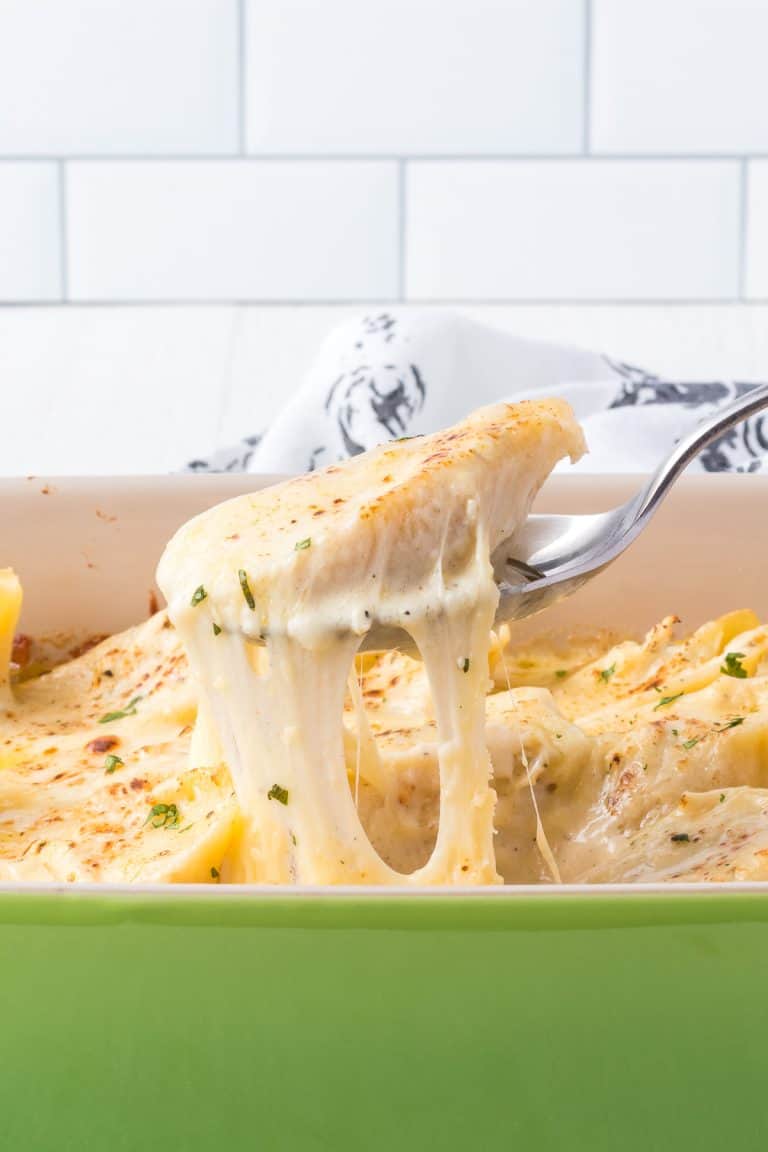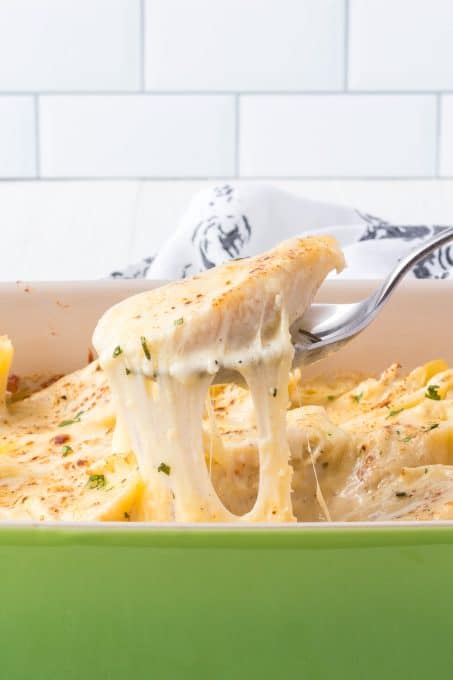 Can stuffed shells be prepared ahead of time?
Stuffed shells are a popular choice for prepping ahead of time. You can make the sauce and the chicken mixture ahead of time then keep them stored in the fridge until you're ready to cook, stuff and bake the pasta shells.
Stored in the fridge, the Alfredo sauce keeps well for several days. I recommend using the chicken mixture within a day of assembly, on account of the raw egg.
How to store baked stuffed shells with Alfredo?
Leftover Chicken Alfredo Stuffed Shells should be kept tightly covered in the refrigerator. To keep the leftovers at their best, transfer the shells to an airtight container with a lid. Keep chilled and enjoy reheated within 3 -5 days.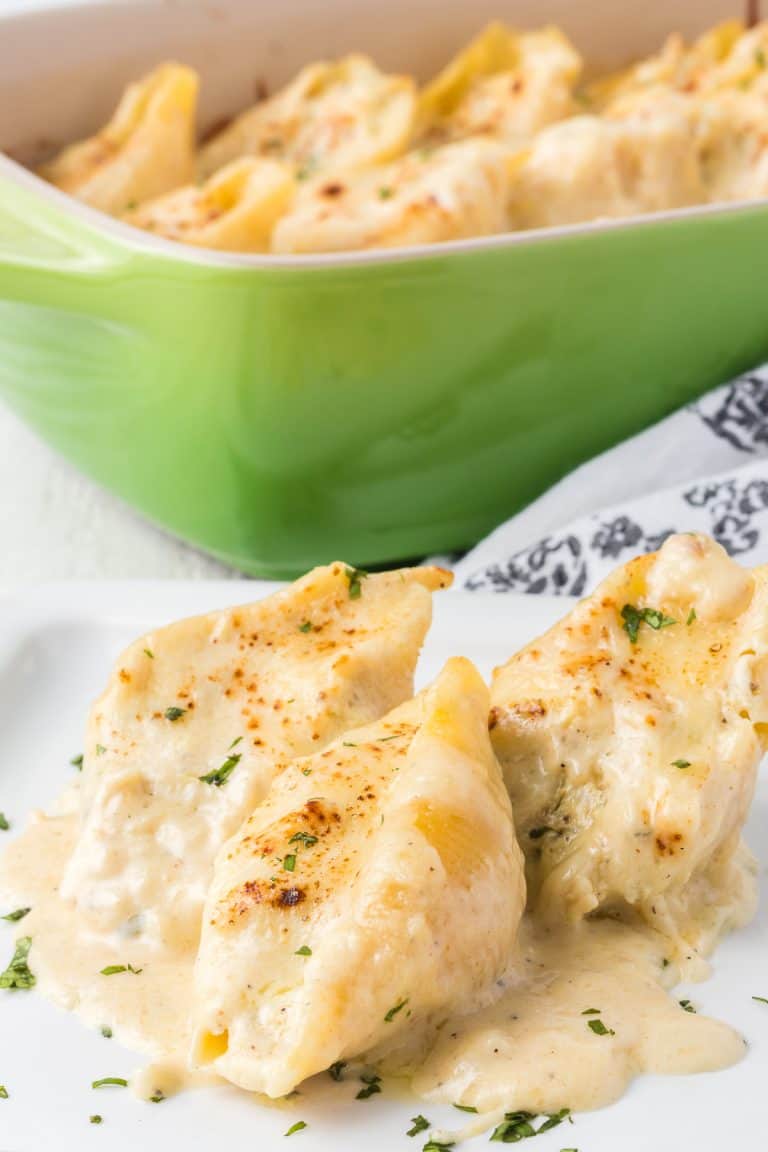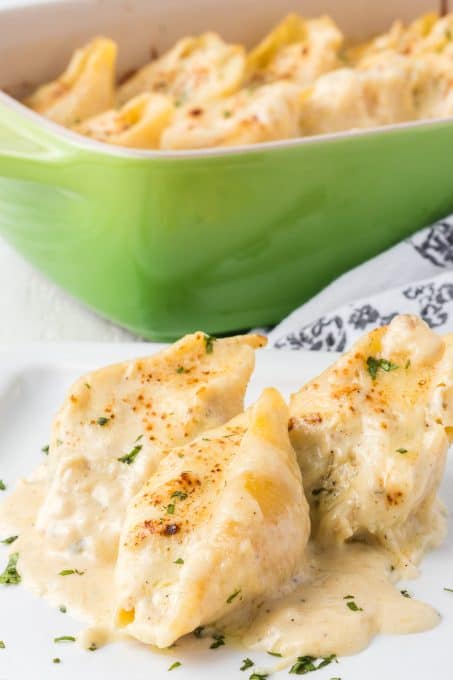 Can I freeze Chicken Alfredo Shells?
I don't recommend freezing shells with Alfredo sauce. To me, the texture and flavor tastes "off" after freezing and thawing due to the heavy cream and cheese, so I wouldn't suggest it.
BUT, you can freeze the individual unbaked shells by placing them on a cookie sheet and putting them in the freezer for about 30 minutes. Then put them in a large freezer bag and they'll keep for up to 3 months. Thaw them overnight in the refrigerator before adding the Alfredo sauce to the casserole dish with the shells and baking. You'll also want to cook them an additional 10 minutes covered with foil as they won't be room temperature.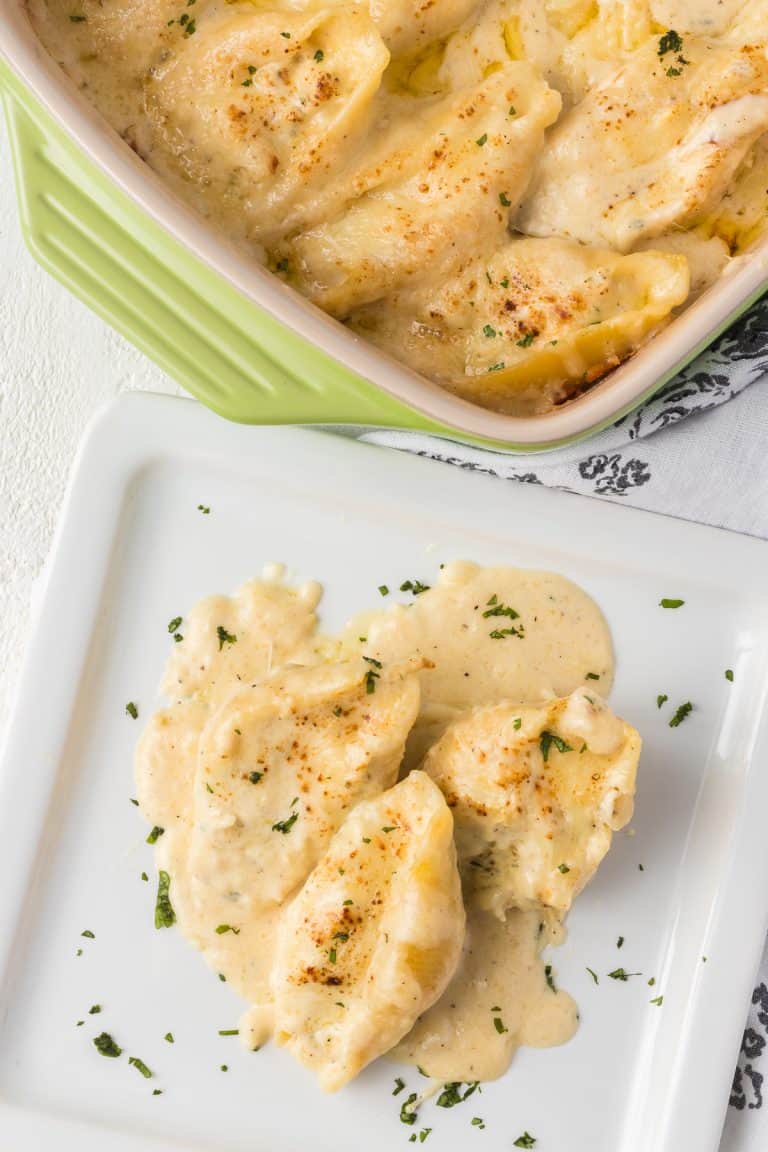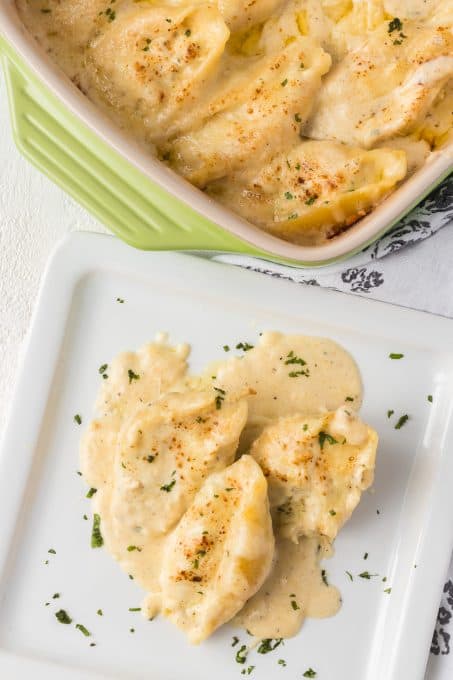 More Easy Pasta Recipes
We all love a good baked pasta dish around here!
Today's shells are made with a creamy white sauce. If you're looking for a version with a red tomato sauce, try my classic Baked Stuffed Shells! These Pepperoni Pizza Stuffed Shells are another variation my readers rave over.
We love the combination of juicy chicken and shredded cheese in today's recipe. You're guaranteed to enjoy this Chicken Parmesan Spinach Pasta Bake just as much. It's even easier to make than this stuffed shells dinner! This Baked Spaghetti is another unbelievably easy twist on a familiar favorite.
Need a good appetizer idea? I've made this Breaded Baked Ravioli numerous times now and we can't get enough. The baked ravioli taste every bit as crispy as the restaurant versions, but without all the grease.
Love this creamy pasta sauce as much as I do? Use it to make this Fettuccine Alfredo. It's a quick dinner the entire family will enjoy and perfect for those busy weeknights.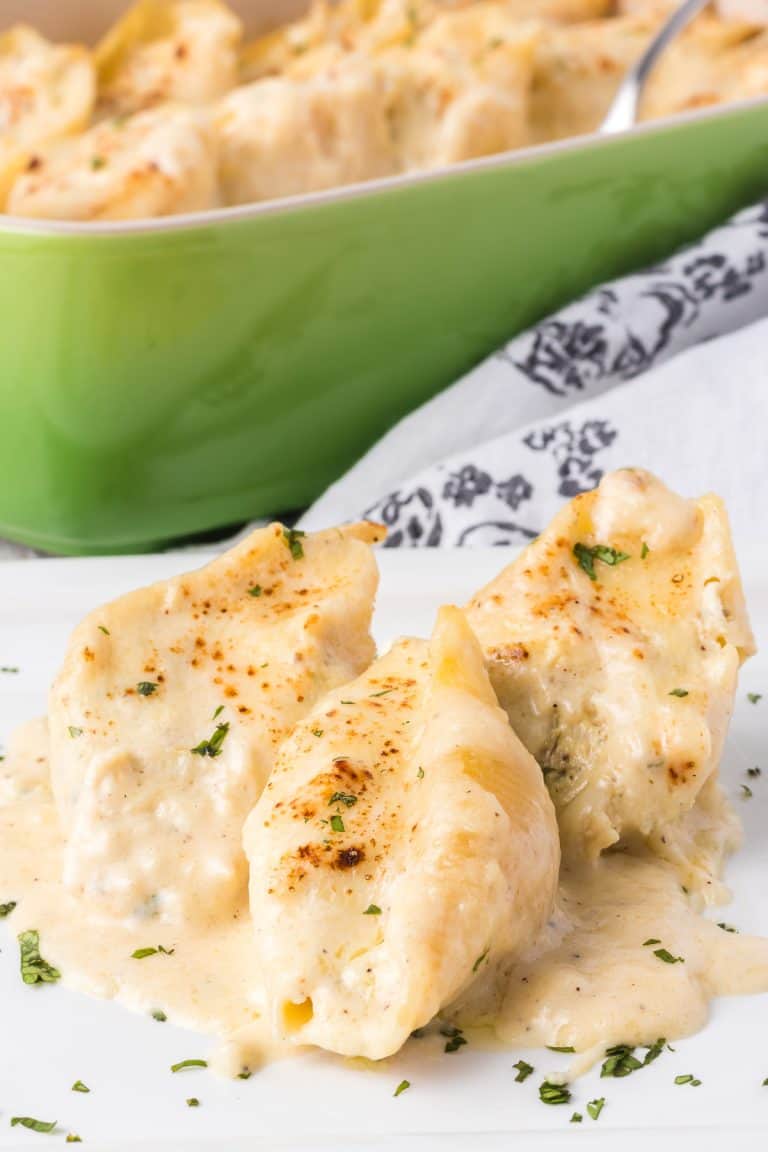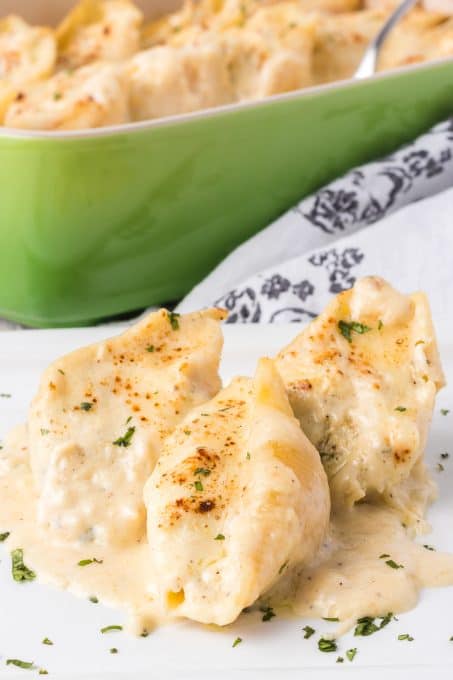 ~ FOLLOW ME on SOCIAL MEDIA~
Keep an eye out for more of my new recipes each week!
This Chicken Alfredo Stuffed Shells recipe brings together the sumptuousness of Chicken Alfredo with the convenience of a pasta bake! An easy recipe made with rotisserie chicken and homemade Alfredo is the perfect comfort food.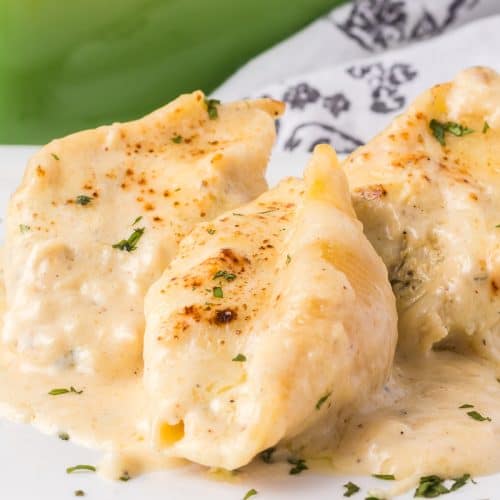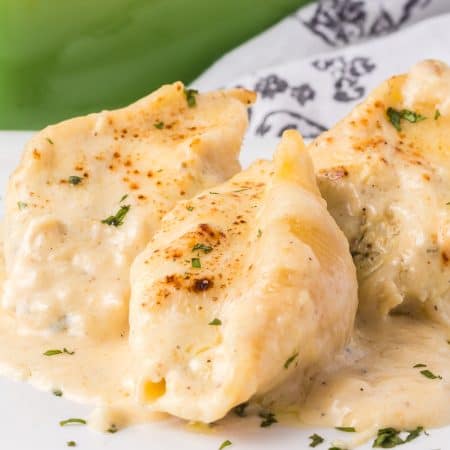 Chicken Alfredo Stuffed Shells
These Chicken Alfredo Stuffed Shells are impossible to resist! This stuffed shells recipe combines the richness of a creamy Alfredo sauce with succulent shredded chicken and jumbo pasta shells. Baked with tangy ricotta cheese, a garlicky sauce, and plenty of Parmesan, this chicken dinner will become a regular on your meal plan.
Ingredients
Roasted Garlic
1 head garlic
2 teaspoons olive oil
Stuffed Shells
20 jumbo pasta shells
3 cups shredded chicken I use a rotisserie chicken
2 cups shredded mozzarella cheese divided
1 cup grated Parmesan cheese divided
¾ cup Ricotta cheese
1 large egg
2 tablespoons chopped fresh flat leaf parsley plus additional for garnish, or 2 teaspoons dried parsley
1 teaspoon Italian seasoning
½ teaspoon kosher salt
¼ teaspoon pepper
Roasted Garlic Alfredo Sauce
1 head roasted garlic mashed (from above)
4 tablespoons unsalted butter
16 ounces heavy cream divided – 1 3/4 for sauce and remaining 1/4 cup for thickener.
1 ¼ cup Parmesan cheese freshly grated
salt to taste
½ teaspoon ground black pepper
1 tablespoon all-purpose flour
¼ cup heavy cream the remainder of the 16 ounces
Instructions
Roast Garlic
Preheat the oven to 400 °F. To roast a whole head of garlic, peel off the outer skin, leaving the skin on the individual cloves. Cut 1/4 to 1/2-inch off the tops off of the cloves with a sharp knife so that you can see the individual cloves. Place the head of garlic on a square piece of tinfoil and drizzle with olive oil. With clean fingers, massage the two teaspoons of olive oil into the tops of the garlic cloves. Wrap aluminum foil around the whole head of garlic so that it is completely encased. Place wrapped garlic on a baking sheet, and bake for 30 minutes, or until cloves are tender when lightly squeezed. Set aside to cool enough to be handled. Use when ready to make sauce.
Stuffed Shells
After roasting the garlic, lower the oven temperature to 375°F. Prepare a 9 x 13-inch baking dish by spraying it with cooking spray.

Bring a large pot of salted water to a boil over medium-high heat. Add the pasta shells, and boil to al dente about 9-11 minutes. Allow to cool while preparing the filling and sauce.
Chicken Filling
In a large bowl, lightly beat the egg with a fork. Add the shredded chicken, ricotta, 1 cup of the mozzarella cheese, 1/2 cup of the Parmesan cheese, parsley, salt, pepper, and Italian seasoning. Mix completely. Set aside while you make the sauce.
Roasted Garlic Alfredo Sauce
Remove the cloves of garlic by gently squeezing them from the skins and place into a small bowl. With a fork, mash the cloves.

In a small saucepan, on low to medium heat, melt the butter. Add 1 3/4 cups heavy cream and the mashed roasted garlic, and heat to very warm, but DO NOT boil.

Mix the Parmesan cheese, salt and pepper, whisking constantly until cheese has melted.

To thicken the sauce, mix 1 tablespoon of flour with the remaining heavy cream (1/4 cup)in a small bowl. Add the cream/flour mixture to the saucepan, stirring and heating until mixture thickens.
Assembly
Place one cup of the Alfredo sauce into the prepared baking dish and spread so that it coats the entire bottom.

Fill each shell with some of the chicken mixture and place into the pan with the filling facing up. Pour the remaining sauce over all of the shells.

Cover with foil and bake for 25 minutes. Remove foil and sprinkle the remaining 1 cup of mozzarella and 1/2 cup Parmesan over the top. Bake for an additional 5-10 minutes or until cheese has melted. Garnish with additional parsley.
Notes
This recipe is restaurant quality when you make the Roasted Garlic Alfredo Sauce from scratch, but if you'd like to save time, then by all means use a jarred sauce. 
Nutritional Information has been calculated with one serving being about 3 ½ shells per person.
Nutrition
Serving: 1serving | Calories: 837kcal | Carbohydrates: 15g | Protein: 46g | Fat: 66g | Saturated Fat: 39g | Polyunsaturated Fat: 4g | Monounsaturated Fat: 19g | Trans Fat: 0.3g | Cholesterol: 268mg | Sodium: 1183mg | Potassium: 433mg | Fiber: 1g | Sugar: 3g | Vitamin A: 2362IU | Vitamin C: 5mg | Calcium: 764mg | Iron: 2mg
Did you make this recipe?
Share it with me on Instagram and make sure to follow me on Pinterest for more recipes.
Reader Interactions