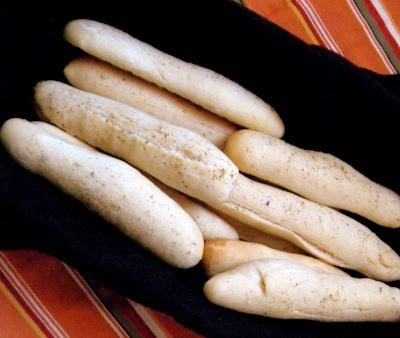 Yes, it's time for another copycat recipe!
So far, these copycats that I've done have only been bread. Hmmm, you think I like my carbs?
The other one, the Texas Roadhouse Rolls, was to. DIE. FOR!
You have GOT to try those! Like, yesterday!
We are nuts about Olive Garden, their breadsticks and their salad.
Everything is just so delicious and I don't remember ever having a bad meal there. At least the food wasn't bad.
One meal, our waiter spilled a glass of lemonade over our table and my leather jacket. The plus side was that we were given a discount on the lemonade laden ravioli and received a gift card for future use.
There was that time when the kids were misbehaving and being too loud, so we left before the meal even came to the table, taking dinner to go. Not fun when you have to drive 25 minutes to get to the restaurant and then leave before you even eat. But knowing that other people were looking to eat their dinner in peace we decided it be best if we high-tailed it out of there.
Then there was another meal when we just had our daughters and they were ages 4 and 2. Yeah, that is one is a keeper, too. But you'll have to wait for my book to come out for that one.
I can't tell you everything here on the blog. 😉
When I found this recipe at Cate's World Kitchen, I just knew I had to make it.
Easy and delicious, at least if you follow the directions correctly.
I still have a habit of doing that, or at least changing things around when I think it will make the recipe better when, in all actuality, it. doesn't.
I'll explain after the recipe.
A Copycat Recipe – Olive Garden Breadsticks – makes 16 breadsticks
1 3/4 cups warm water (100 degrees F.)
1 tablespoon active dry yeast (it was less than 2 packets)
4 1/4 cups all-purpose flour
2 tablespoons unsalted butter, room temperature
2 tablespoons sugar
1 1/2 teaspoons salt
3 tablespoons unsalted butter, melted
1/4 teaspoon fine sea salt
1/4 teaspoon garlic powder
1/4 teaspoons dried oregano, crushed in between fingers
Prepare two baking sheets by lining them with parchment.
Place 1/4 cup warm water in the bowl of an electric mixer. Mix in yeast and sugar and allow to stand for 5 minutes until foamy.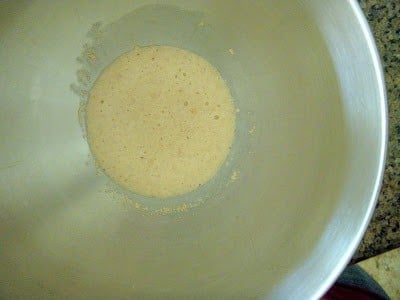 Stir in the flour, 2 tablespoons room temp. butter, 1 1/2 teaspoons salt, and 1 cup warm water. With the paddle attachment, mix on medium until the dough comes together, adding additional water 1-2 tablespoons at a time.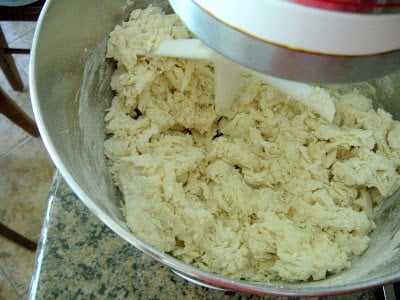 Switch from the paddle attachment to the dough hook and mix for 4 minutes until dough is smooth.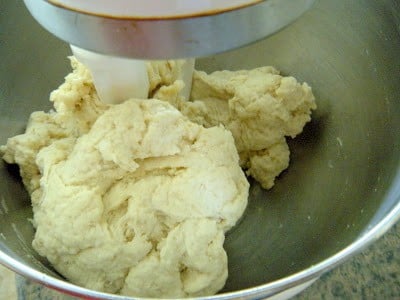 Place the dough on a lightly floured surface and cut into 16 pieces. I found it easiest to do this by separating the dough in half, halving it again, and again, etc. until I had 16 pieces. They were more even that way. At least the second half of the dough was as you can tell from the picture below. Haha
Roll them into logs about 7 inches long.
Place them on the prepared baking sheets about 2 inches apart and cover with a towel.
Allow them to rise for 45-60 minutes.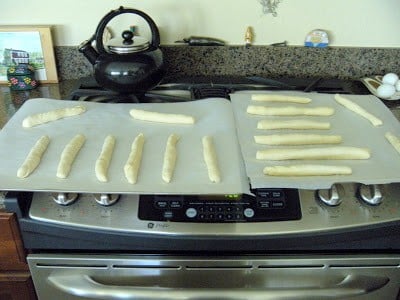 In a small bowl, whisk together the fine sea salt, garlic powder, and oregano.
Preheat oven to 400 degrees F.
Brush each breadstick with half of the melted butter and sprinkle half of the seasoning mixture on the breadsticks.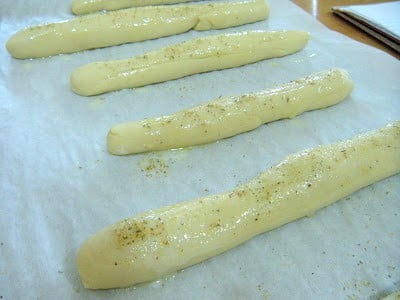 Bake for 15 minutes.
Brush each breadstick again with melted butter and sprinkle with remaining seasoning.
Serve warm.
I rate everything I bake make on a scale of 1-4 with 4 being the best and these Copycat Olive Garden Breadsticks earned 3 rolling pins.
They would have earned 3 1/2 or maybe even 4 if I hadn't have covered them with a damp cloth. I don't know, just one of those things I told you about when I go changing things, thinking it will be for the better and it backfires on me.
AND…
if I hadn't left them in the oven 4 minutes longer than they were supposed to be.
They were in for 15 minutes exactly and weren't brown enough, so I thought I'd leave them in two minutes longer. They still weren't browning, so another two minutes.
I removed them regardless and the bottoms turned out to be harder than I would have liked.
I think they would have tasted just fine without being any bit of brown and having only been in the oven for 15 minutes.
You live and learn.
Next time, a dry towel, and only 15 minutes because believe me, there WILL be a next time!
I give you BIG baking hugs and muffins!!