This is a sponsored post written by me on behalf of Barilla®.
Chicken Parmesan Spinach Pasta Bake is bite-sized chicken parmesan pieces tossed with fresh spinach, mozzarella cheese, pasta, and Barilla® Marinara Sauce.
It's a great new twist on the classic Chicken Parmesan!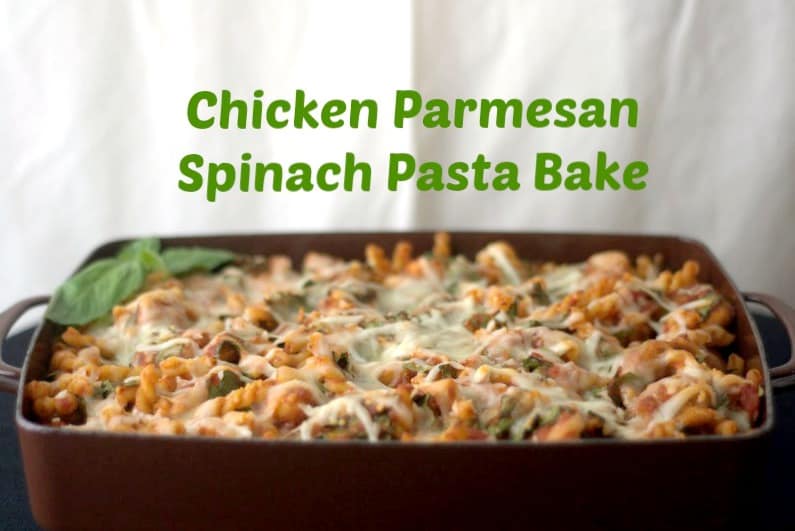 One of my favorite dishes that my mother used to make was her Chicken Parmesan.
My aunt had given her the recipe and to this day, that recipe is one now one of our family favorites.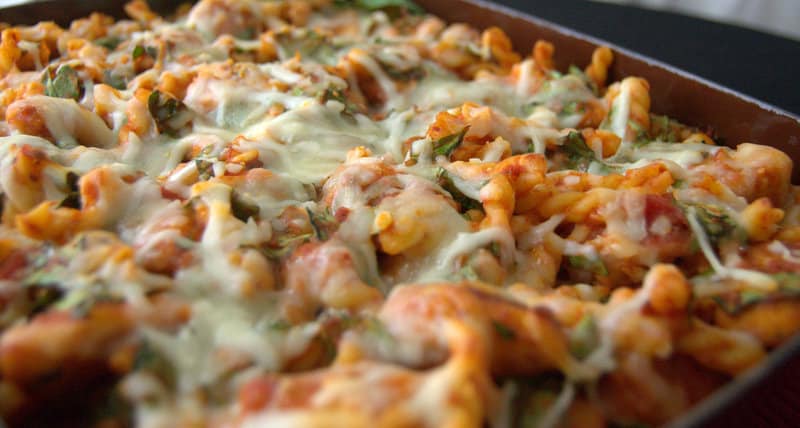 I love how recipes are handed down through the generations and that they connect us.
There's just something warm and fuzzy about that, isn't there?
Food brings us together, allows us to share quality time with family and friends.
We share tears, laughter, memories and more all while sitting around the table eating a meal.
Ok, I'm beginning to get a little sappy here, can you feel it? haha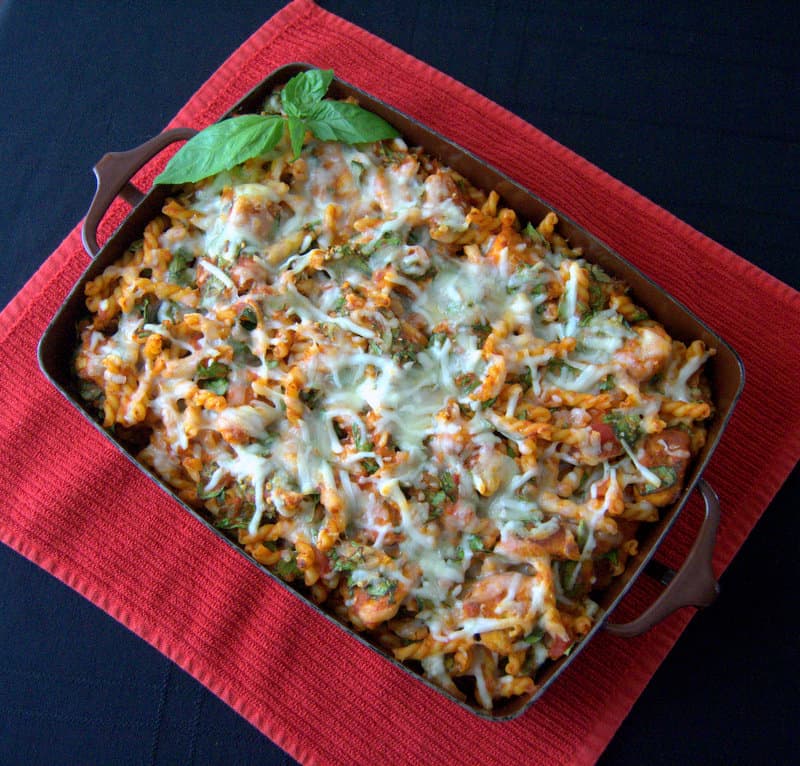 When I was growing up I cherished the times we'd spend with my extended family at holidays eating.
I've always loved to eat.
Is there anyone who doesn't, actually?
And I think because of these meals, food became such an integral part of my life and brought me to where I am today.
Here.
Immersed in the food world.
Loving and soaking up as much as I possibly can.
And sharing.
With family, friends, and all of you.
Today, Barilla® gives each of you the opportunity to share your love of food and give something back!
I am very excited to tell you that Barilla®'s Taste the Difference Make a Difference is partnering with Feeding America, the nation's largest organization dedicated to fighting domestic hunger through a network of food banks throughout the country!
No one deserves to be hungry and everyone should have access to good, fresh food.
Unfortunately for some people that just isn't possible.
So, this is where YOU come in!
For every jar of Barilla® sauce purchased between 4/1/14 through 5/31/14, Barilla® will donate $.05 to Feeding America's National Produce Program with a minimum donation of $150,000!
Now THAT'S a lot of wonderful fresh produce – 4,200,000 lbs. of fresh produce, in fact!
Visit Barilla® to learn more!
I've been using Barilla® for years in my recipes.
Whether it's just with a simple and quick pasta dinner to this Chicken Parmesan Spinach Pasta Bake, I know that my family will be eating food that tastes fresh and delicious.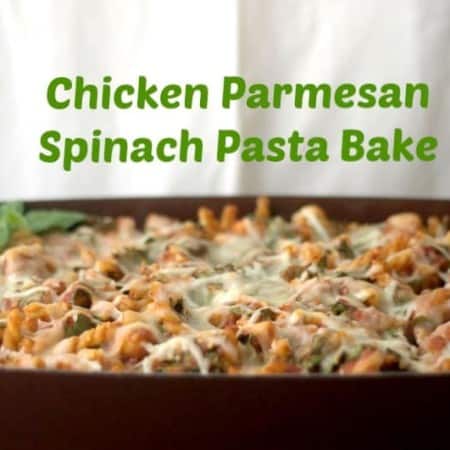 Chicken Parmesan Spinach Pasta Bake
Chicken Parmesan Spinach Pasta Bake is a delicious new twist on an old favorite! Pieces of breaded chicken, pasta, spinach and sauce and mozzarella cheese make this dinner one everyone will enjoy!
Ingredients
1 lb. Gemelli pasta
2 boneless skinless chicken breasts cut up into 1-inch bite-sized pieces
1 egg beaten
¾ cup Italian seasoned bread crumbs
½ cup grated Parmesan cheese
2 cups shredded mozzarella cheese divided
6 tablespoons olive oil divided
6 ounce fresh spinach chopped
48 ounces Barilla® Pasta Sauce
Instructions
Preheat oven to 350 degrees F.

Prepare a 9 X 13-inch baking dish by spraying it with cooking spray.

Boil pasta for 2 minutes less than what is directed on package. Drain and set aside.

In a shallow dish, combine the bread crumbs and Parmesan cheese and mix well.

Working in batches, coat the chicken pieces in egg and then coat completely in the bread/cheese mixture.

Heat 3 tablespoons of olive oil in a large skillet over medium heat. Place half the chicken pieces into the skillet and cook about 2 minutes on each side until golden brown.

Remove and place on a plate covered with a paper towel. Continue process with remaining chicken, adding remaining olive oil to the skillet.

In a large bowl, combine cooked pasta, chopped spinach and 1 cup mozzarella cheese.

Add both jars of Barilla® sauce. Mix well.

Add chicken pieces and mix to coat.

Transfer mixture to the prepared baking dish.

Sprnkle with remaining cup of shredded mozzarella.

Bake for 30 minutes.
Nutrition
Serving: 1g | Calories: 543kcal | Carbohydrates: 61g | Protein: 27g | Fat: 22g | Saturated Fat: 7g | Cholesterol: 66mg | Sodium: 1374mg | Potassium: 975mg | Fiber: 5g | Sugar: 10g | Vitamin A: 3034IU | Vitamin C: 19mg | Calcium: 291mg | Iron: 4mg
Did you make this recipe?
Share it with me on Instagram and make sure to follow me on Pinterest for more recipes.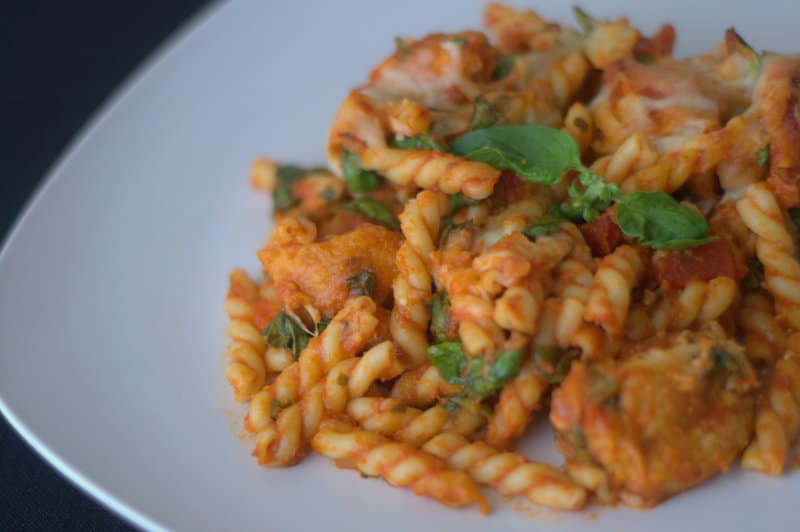 So many things we do make a difference in the lives of people around us.
I want you to hear how you make a difference, so leave me a comment telling me how you make a difference!
Because every single day you do.
It can be making meals for a neighbor, volunteering at your child's school, the local library or by simply brightening up a stranger's day when you give them a smile and say hello.
I can't wait to hear your story!
This is a sponsored post written by me on behalf of Barilla®. For every jar of Barilla® sauce purchased, $0.05 will be donated to Feeding America's National Produce Program which secures one pound of fresh produce on behalf of local food banks. Barilla® will make a minimum donation of 4.2 million pounds of fresh produce ($150,000) from 4/1/14 through 5/31/14.
I give you BIG baking hugs and muffins!!
Reader Interactions