This shop is part of a social shopper marketing insight campaign with Pollinate Media Group™ and Wet-Nap but all my opinions are my own. #pmedia #showusyourmess http://my-disclosur.es/OBsstV
Baked Chinese Chicken Wings – chicken wings baked in a honey, Chinese 5-spice sauce with a touch of Whiskey to kick it up a touch.

Sometimes when you want to grill outside, it's just TOO darn cold!!
I know, I know… "Lynne, honey, you're living in upstate New Hampshire, pretty darn close to the Canadian border, how can you not expect it to be cold well into July?!" JULY?!?!!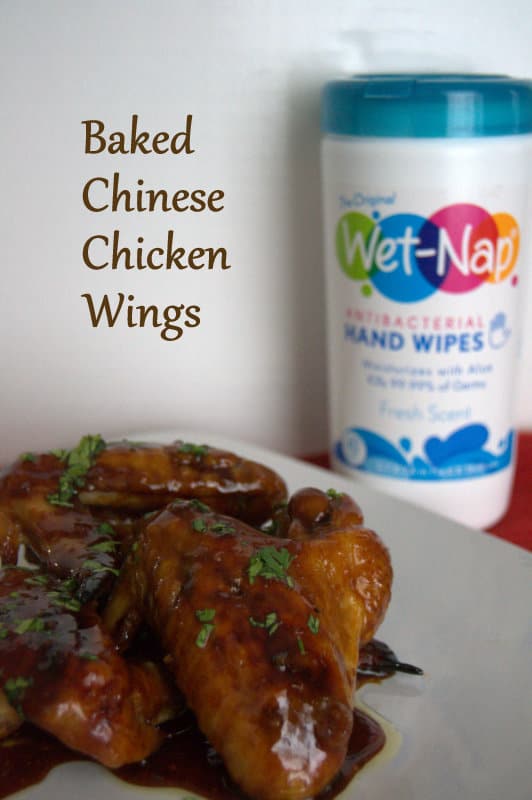 Ok, no one's said that to me actually, but I'm sure there are people thinking it. Maybe not the July part, but the suck-it-up-you're-living-where-it-could-be-cold-for-quite-a-while-so-quit-your-whining type thinking. I really, REALLY want the weather to get warmer so we can fire up that baby and grill some steaks, pizzas and sticky ribs, and chicken! So when push comes to shove and it's just too cold to do that, you fire up the oven inside. Well, preheat it anyway.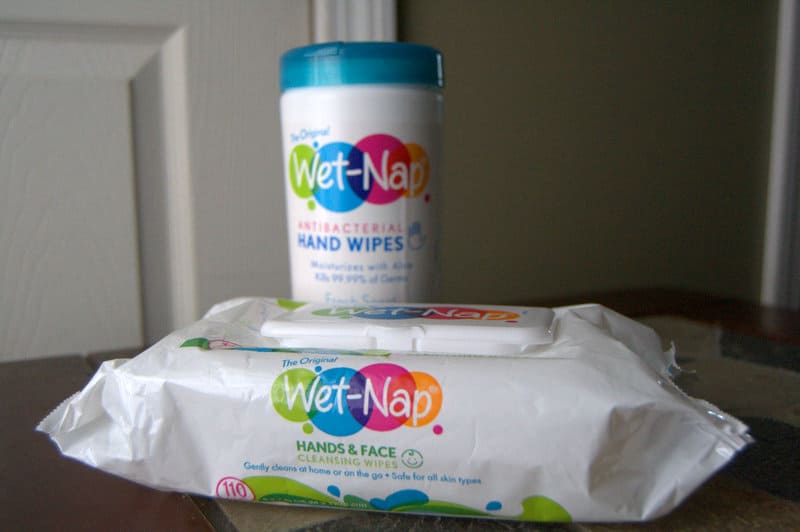 And this summer, when fingers get sticky from that awesome food you'll be making on the grill or even in your kitchen, be sure to have one or two containers of Wet-Nap within reach! I found them at our local Walmart in the aisle with the paper goods and and purchased them because of their everyday low prices. You're going to be VERY happy you can just pull one of those out of the container right there at the table or on your picnic and not have to worry about running to a faucet to rinse your hands off. And you KNOW that one of those dry napkins is just going to smear the yumminess all over your hands and just make matters worse, so save your self the trouble and pick some up, so you have them.
Oh, and guess what??!! Wet-Nap is having a Most Original Mess Contest that YOU can enter!! All you have to do is upload a photo of your messy kids and then share the photo link through your social media. The photo with the most votes will win a $1,000 gift card to Walmart and a year's supply of Wet-Nap products!! Voting closes on June 16, so get those kids messy and upload that photo!! Follow this link to find out more: http://contest.wetnap.com/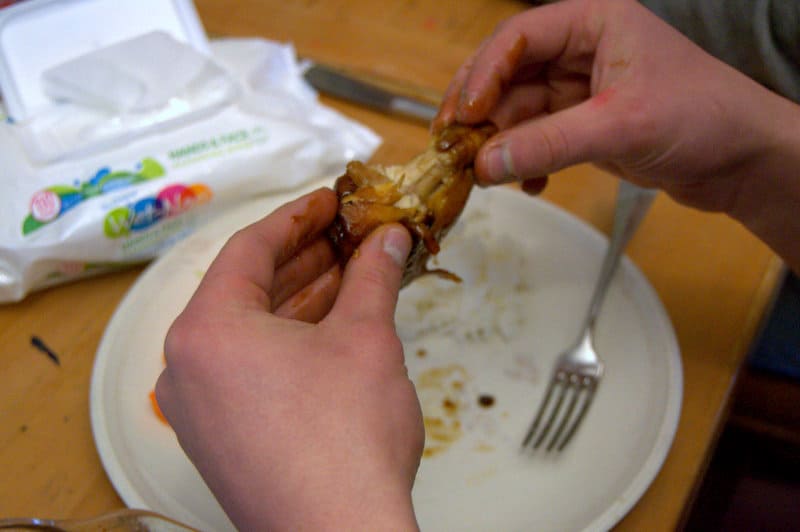 My recipe is adapted from the Slow Cooker Sticky Chicken Wings by Six Sisters Stuff.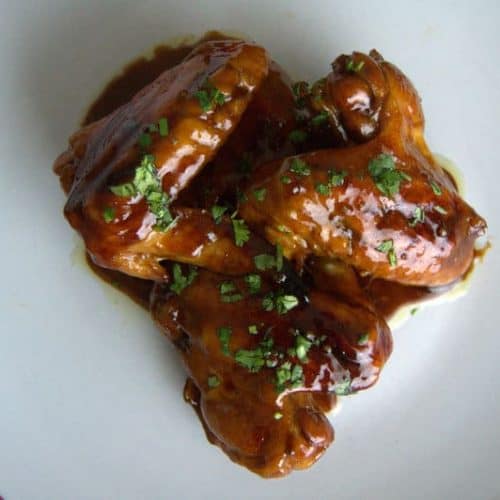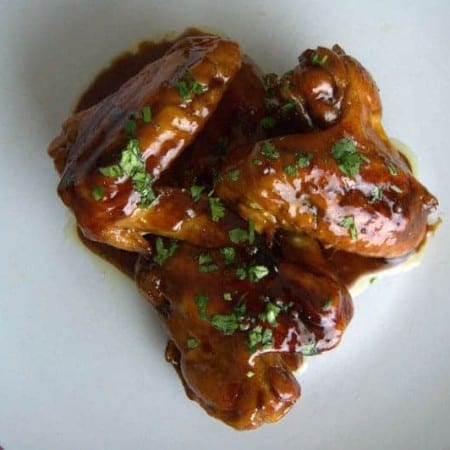 Baked Chinese Chicken Wings
Ingredients
12 Chicken Wings about 3 lbs.
½ cup honey
½ cup dark brown sugar
⅓ cup balsamic vinegar
⅓ cup soy sauce
3 garlic cloves minced
1 teaspoon ground ginger
1 teaspoon Chinese 5-Spice
¼ cup Jack Daniel's Whiskey
1 tablespoon cornstarch
1 tablespoon water
flat leaf parsley for garnish if desired
Instructions
Preheat oven to 375 degrees F.

in a cup, mix together cornstarch and water.

In a small saucepan over medium-high heat, whisk together the honey, brown sugar, soy sauce, balsamic vinegar, minced garlic, ginger, Chinese 5-Spice and whiskey.

Bring to a rolling boil and reduce heat.

Mix in cornstarch mixture and allow to simmer for 5 minutes until contents thickens slightly and sugar is dissolved.

Remove from heat and allow to cool for 5 minutes.

Place wings into a large bowl.

Gently pour sauce over wings and with tongs, turn to coat.

Place wings into a single layer into a 9 X 13-inch baking dish. Ladle sauce over the wings.

Bake uncovered for 30 minutes.

Remove from oven and turn each chicken wing over with cleaned tongs. Return to oven to bake for an additional 15 minutes.

Garnish with flat leaf parsley, if desired.
Did you make this recipe?
Share it with me on Instagram and make sure to follow me on Pinterest for more recipes.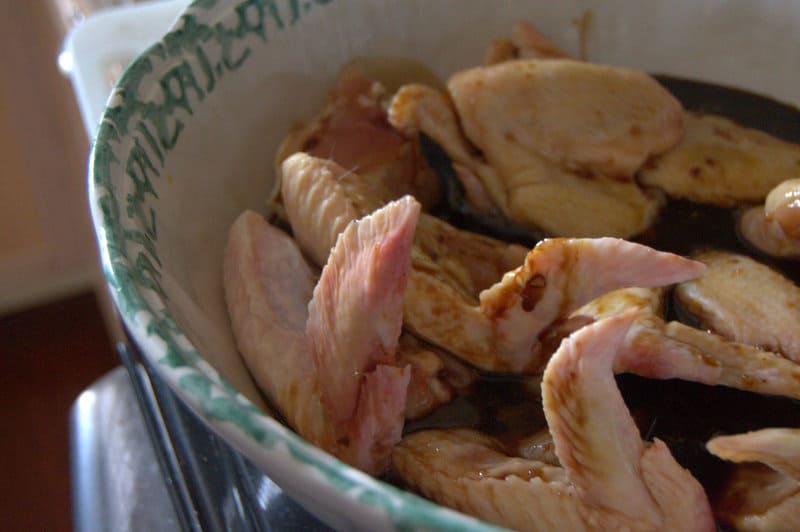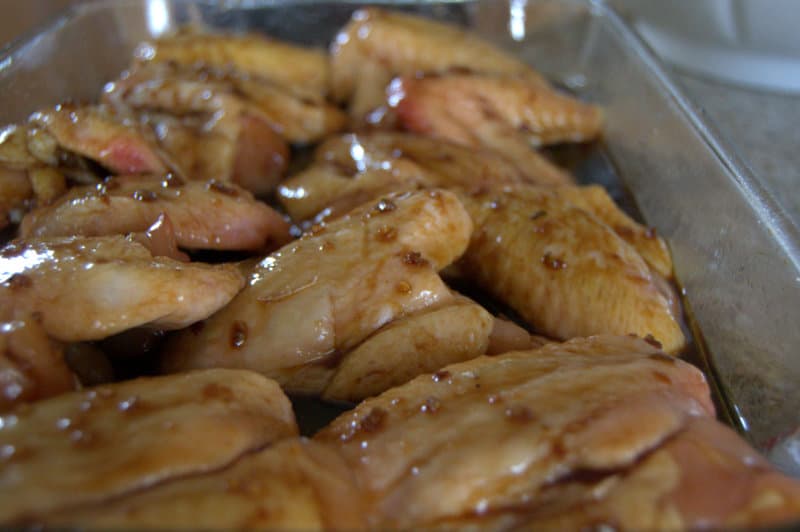 I rate everything I make on a scale of 1-4 with 4 being the best and these Baked Chinese Chicken Wings earned 2 rolling pins.
Um, yeah, so the family requested that I not make these again. I think part or a major part of the problem is that throughout the years I've spoiled them with entirely eating dishes made only with the breasts of chicken, no bones, no dark meat.
My family has been sheltered and I attempted to pull them from the shelter and had little success.
Come to think of it, we rarely ever eat fried chicken or that sort of stuff when we go out to eat. No KFC for this family. So, as always, I leave it up to you if you want to make this dish.
The recipe may not have been the best I've ever made, but those Wet-Nap Hand Wipes turned out to be the best part of the dinner because it removed the chicken quite nicely from our hands. And remember, you win because you can use the coupon!
I give you BIG baking hugs and muffins!!
Reader Interactions