Neapolitan Hi-Hat Cake – a brownie layer on the bottom, covered with a strawberry cake, topped with Cool Whip, and completely covered in a melted milk chocolate shell. A delicious cake from the new cookbook, Surprise-Inside Cakes, by Amanda Rettke, creator of the I Am Baker blog.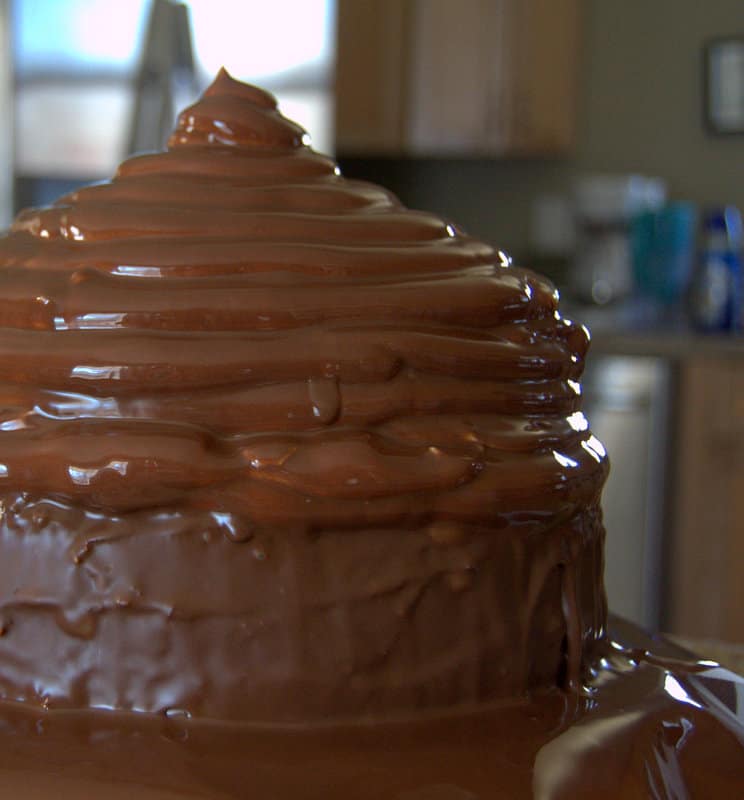 I like cake…
Do you like cake?
If so, have I got a great cake for you!
SURPRISE!!!!!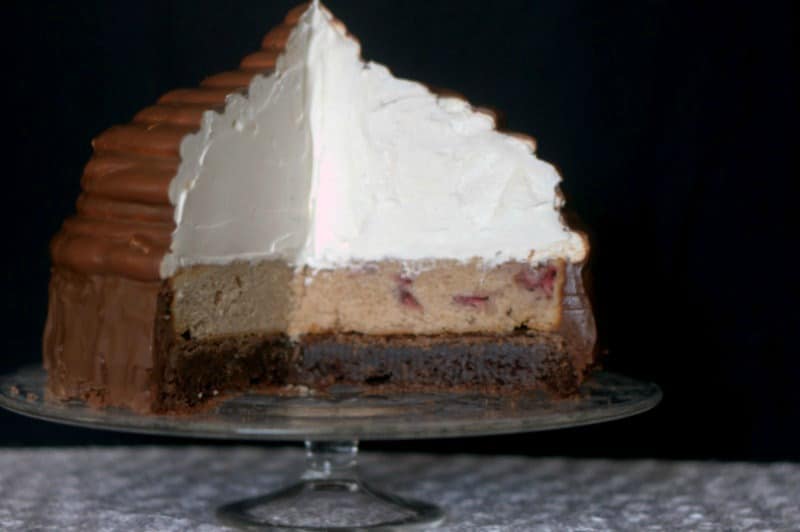 But this is not only a cake, it's like a brownie, a strawberry cake and lots of delicious Cool Whip all rolled into one.
This incredible creation is just one of the A-M-A-Z-I-N-G cakes you'll find in the new cookbook, Surprise-Inside Cakes, by Amanda Rettke.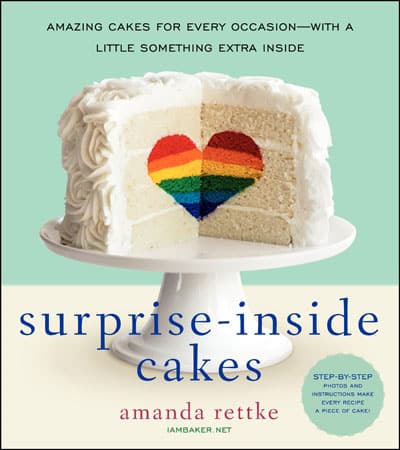 She is the extremely talented woman behind the blog, I Am Baker. She is also the original creator of the Rose Cake which you can find on her blog. Go here to see her blog – http://iambaker.net/
Since I started blogging, I have been extremely fortunate to meet so many talented, and wonderful bloggers, and many, if not all, are so willing and ready to assist should the need arise. Amanda is no exception. We've become friends thanks to social media, but I so look forward to the day when I can give her a big hug in person!
She is one of the most talented women I know and the best part, she is self-taught! Check out her blog, read about her story and buy this incredible cookbook!
I don't claim to be a professional cake decorator and I'm not going to try to be. One of my motivators for doing this blog is to show people who either don't know how to do things in the kitchen or are afraid to that it can be done. All you have to do is try and gain experience. Yes, you are going to make mistakes.
We all do.
And I most certainly did the other day….See?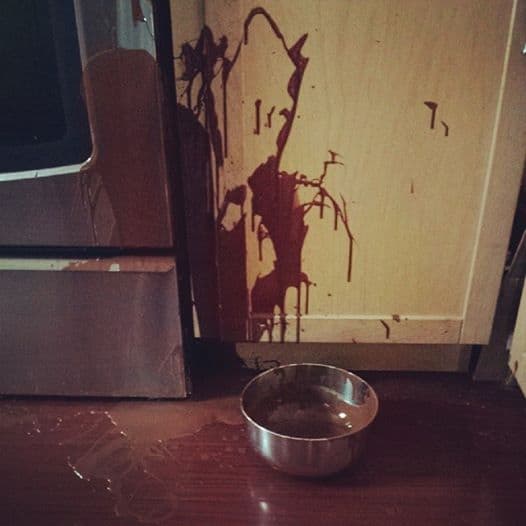 Yes, I made a BIG mess. I melted the chocolate chips mixed with canola oil and was getting ready to transfer it to a container so that I could pour it onto the cake when the bowl slipped from my hand going EVERYWHERE – onto the floor, the stove, down the cupboards, in between the cupboards and the stove and onto me. I was SO incredibly upset!!
And of course, I had only purchased one package of milk chocolate chips, so had to wait til the next day to finish.
So, yes we all make mistakes, but we just have to keep at it and keep trying.
You never know what wonderful things you can create if you do!
SAVE THIS HI-HAT CAKE TO YOUR FAVORITE PINTEREST BOARD!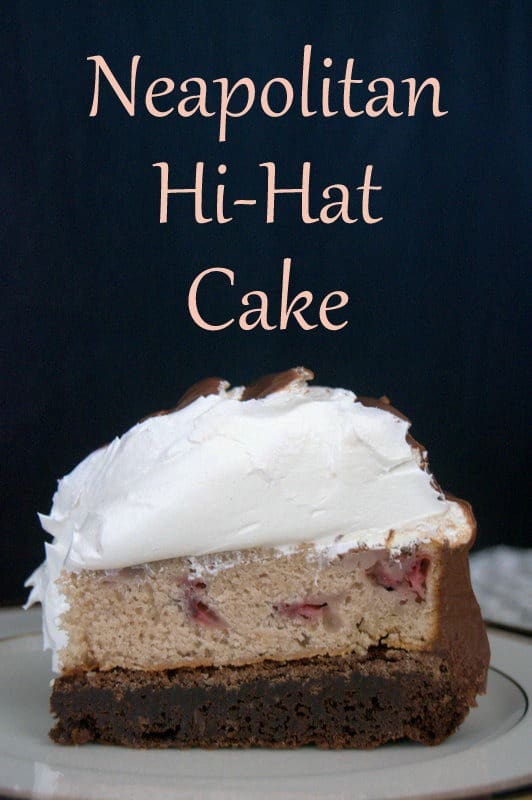 This cake turned out to be one of them. It's so delicious in so many ways and really is incredible to look at. I have to say that I was pretty proud of myself having not made too many cakes in the past, but each cake in Amanda's book is a step-by-step tutorial which made it not only easy, but fun as well. She also tells you which cakes are good for beginners and which are more challenging.
And not only are the directions easy to follow, but her cake and brownie recipes are out of this world!
I know that I will be referring to this book again and again. I'm excited to try out some of her other cakes like the Oreo Cake, the Tree Cake, and the Stripe Birthday Cake among others!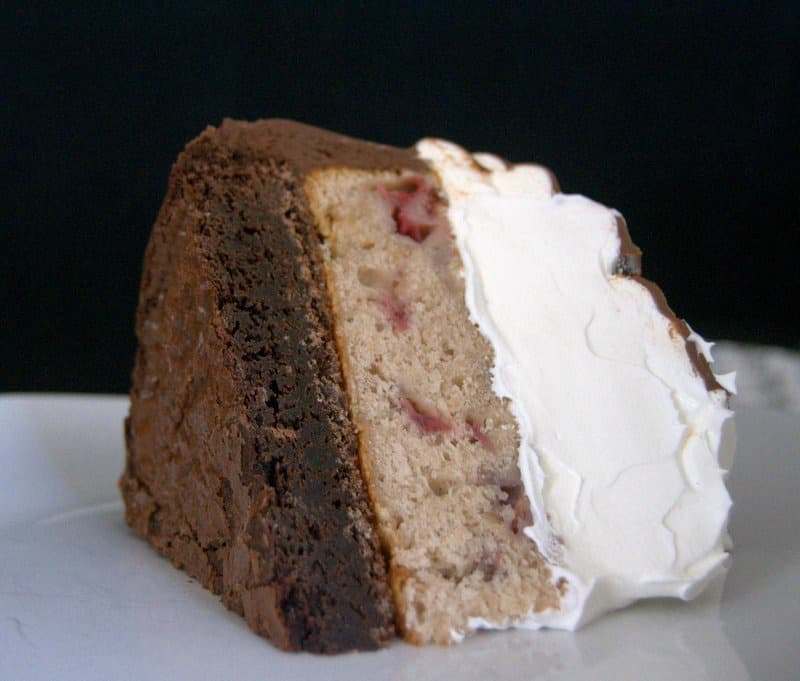 The whole cake was delicious, but since the strawberry layer turned out to be Mr. 365's favorite (and one of his favorite cakes I've made to date, so far), I'll give you the recipe for that. For the rest of it, you'll need to purchase the book. There's just WAY too much greatness in here for me to cover!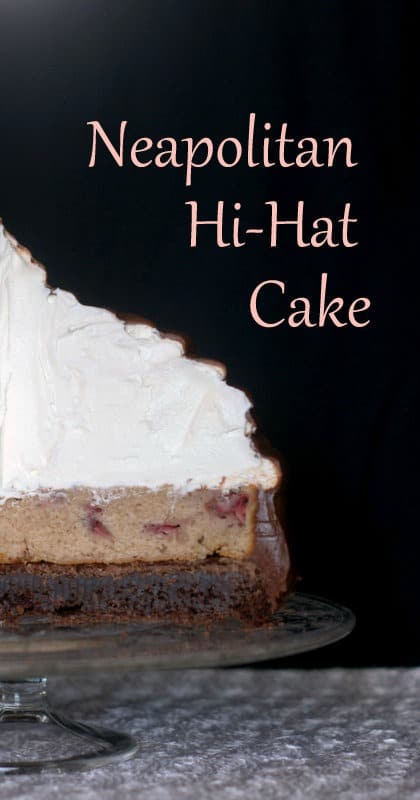 Here are some more pictures of the process…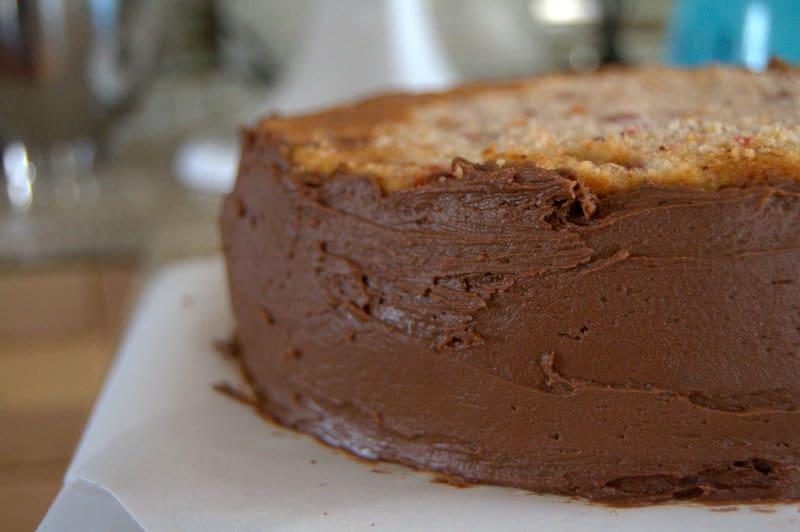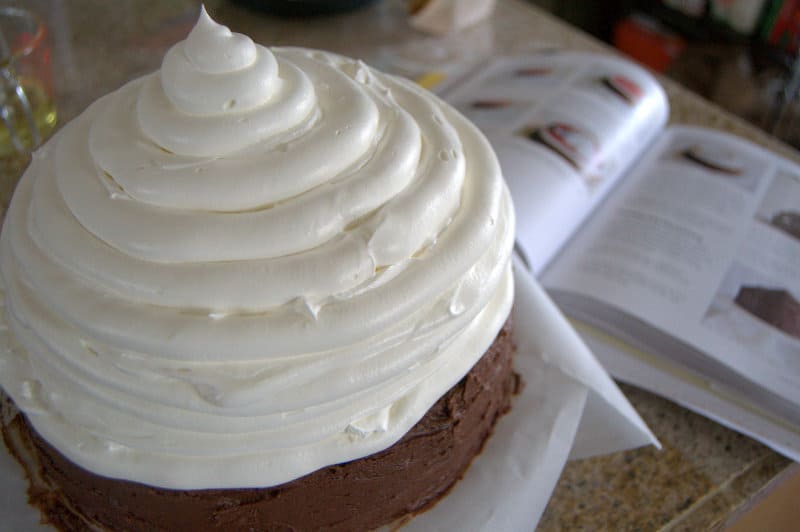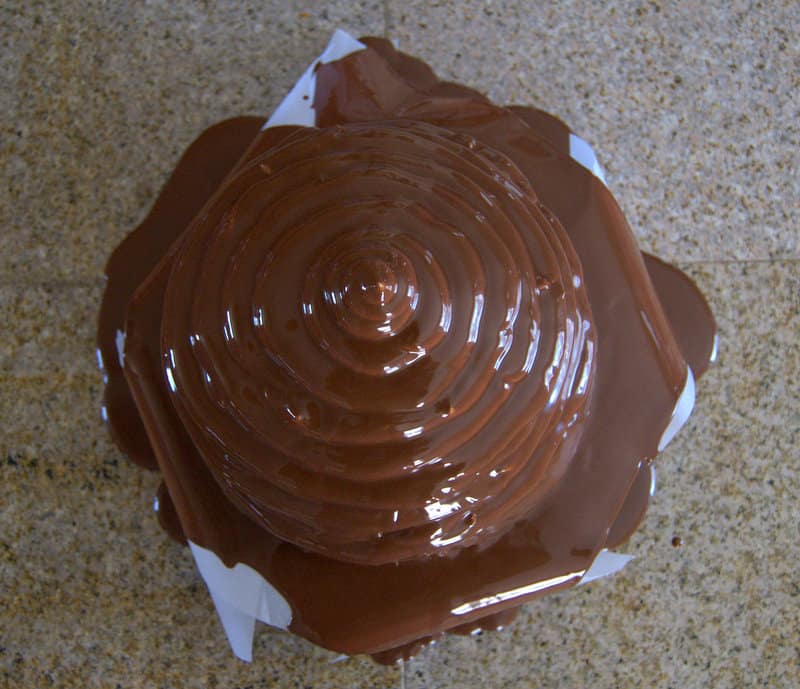 SIGN UP FOR THE WEEKLY
365 DAYS OF BAKING & MORE
NEWSLETTER BELOW!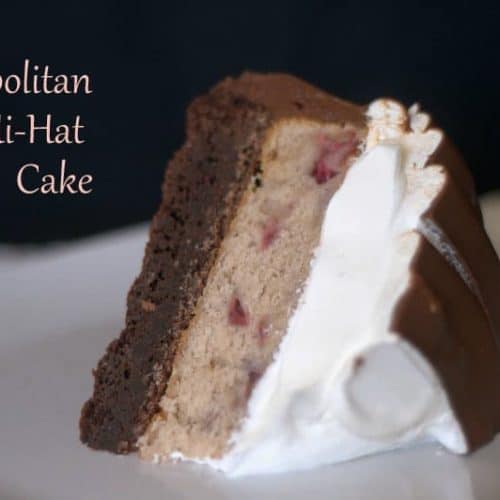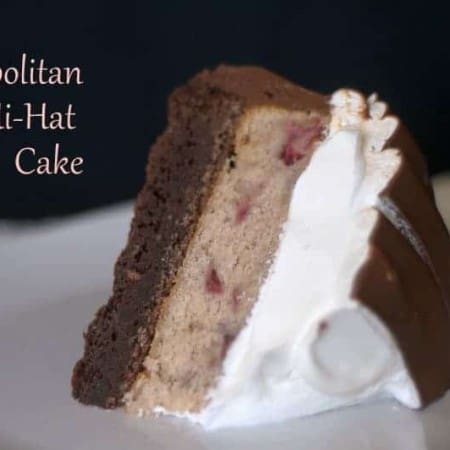 A cake from Amanda Rettke's cookbook, Surprise-Inside cakes with a delicious strawberry flavor. Using both strawberry puree and diced strawberries, this cake can be made into an 8-inch three layer cake, a 9-inch double layer cake or with one 9-inch layer included in the Neapolitan Hi-Hat Cake.
Ingredients
4 large eggs separated and room temperature
2 cups granulated sugar
1 cup 2 sticks unsalted butter, room temperature
1 tablespoon Rodelle Pure Vanilla Extract
½ teaspoon almond extract
3 cups plus 2 tablespoons flour
½ teaspoon salt
2 teaspoons baking powder
⅔ cup strawberry puree below
2 cups fresh strawberries diced
Instructions
Strawberry Puree
Blend one cup of thawed frozen strawberries and 1 - 2 tablespoons water
Cake
Place a rack in the center of the oven and preheat to 350 degrees F.

Prepare two 9-inch round cake pans by spraying them with a baking spray.

In a stand mixer, with the whisk attached, beat the egg whites until soft peaks form. This should take approximately three minutes.

Add 1 cup of the sugar, using one tablespoon at a time while continuously whipping.

Transfer the egg white mixture to a large bowl and clean the mixing bowl.

Next, using the paddle attachment of the stand mixer, cream the butter and the remaining cup of sugar in the clean mixing bowl until light and fluffy. This should take approximately 2 minutes.

Add both the vanilla and almond extracts and thoroughly combine.

One at a time, add the eggs yolks, beating well after each inclusion.

In a medium bowl, sift the 3 cups of flour, salt and baking powder together.

Add one-third of the flour mixture to the batter and thoroughly incorporate.

Add half of the strawberry puree, followed by half of the remaining flour mixture.

Add the rest of the strawberry puree and then the rest of the flour mixture.

Be sure to mix well after each addition and it will be thick.

Using a rubber spatula, fold in the egg whites.

In a medium bowl, combine the diced strawberries with the two tablespoons of flour. Fold them gently into the cake batter using the same rubber spatula.

Pour the batter into the two prepared 9-inch round cake pans and bake for 35-40 minutes, until a toothpick inserted into the middle comes out clean.

Allow the pans to cool for 5-10 minutes before carefully removing and transferring to a wire rack to cool completely.
Notes
Three 8-inch round cake pans can be used for this recipe, but for the cake, I used two 9-inch round baking pans as directed in the cake tutorial which is what follows, but only used one.
If using two 8-inch cake pans, Amanda says to bake them for 45 - 50 minutes.
Did you make this recipe?
Share it with me on Instagram and make sure to follow me on Pinterest for more recipes.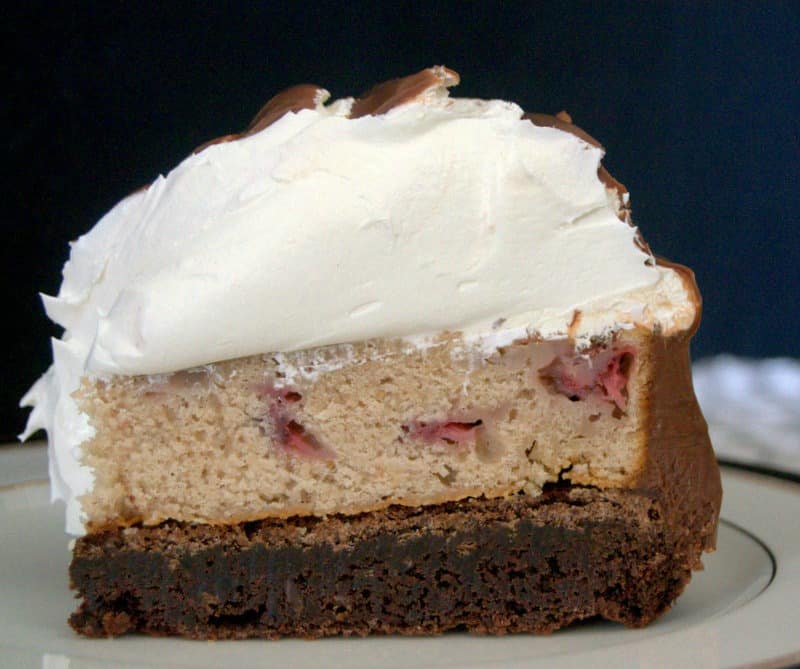 I rate everything I make on a scale of 1-4 with 4 being the best and this Neapolitan Hi-Hat Cake earned 4 rolling pins!
How could it not?
With three layers of incredible goodness AND completely covered in a chocolate shell, this masterpiece is sure to be the talk of your next gathering.
If you're looking to impress people – your boyfriend's parents, your girlfriends at your next Girls' Night, those moms in your playgroup (oh, and they don't need to be impressed, they just deserve this really good cake and will be forever grateful that you took the time to make it for them!), your boss or to make your significant other feel extra-special, then this is the cake to make.
I'll be honest (because that's all I ever am here on the blog), the only thing that disappointed me about this cake was the color of my strawberry cake. It was more of a beige with bits of pink strawberries in it rather than the gorgeous, and I do mean gorgeous color pink of Amanda's on the book.
I think just a touch of red food coloring would remedy that, but in the end, it didn't really matter because it was pretty darn delicious no matter what the color!
The giveaway is now closed. A huge THANKS to all of you who entered!!
The 48th comment has been chosen by Random.org as the winner of the cookbook –
CONGRATULATIONS to Jessica W.!!!
One person will receive a copy of Amanda's book, Surprise-Inside Cakes! The giveaway is open to residents of the U.S. ages 18 and older (unfortunately, shipping prevents me from allowing international readers to enter).

Please be sure I have your e-mail so that I can contact you when you win!
It's simple. It's easy.
I will be using Random.Org to select the winner.
This giveaway will end this Friday, April 25 at 11:59 pm EST.
Good luck!
Reader Interactions