Orange Nutella Palmiers – that wonderful pastry you buy in a bakery can be made easily at home. This one is filled with orange marmalade and that delicious chocolate hazelnut spread from Nutella. The perfect flavor combination in a light, flaky crust!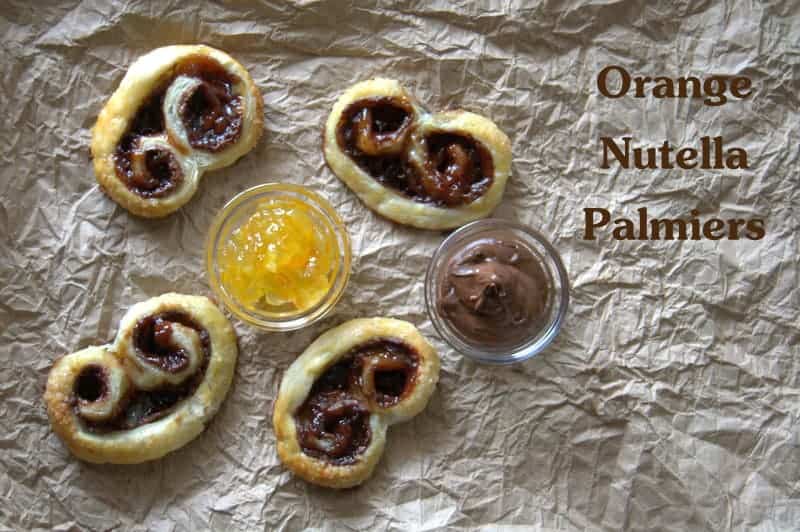 Alright, I have a confession…
I'm sure you've already discovered it. The second installment of 365 Days of Baking came to a screeching halt after about 50 days. I had good intentions, really I did. It just became much more difficult than I expected between working (even though it is only part-time and not having access to a computer on which to post every day.
And now, one of the two computers that we do have is not able to read my SD card.
I'm saving my pennies for my own Mac, I am.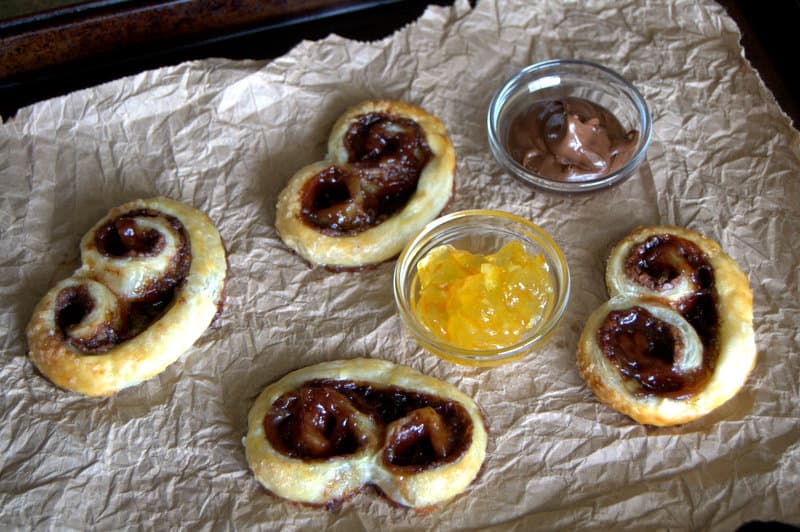 So, I'll continue to bake and bring you fantabulous recipes. It just won't be daily.
Maybe I'll start it up again when I have my own computer and am not working outside the home at all.
It will happen.
I can FEEL it!!
SAVE THIS PALMIER RECIPE TO YOUR FAVORITE PINTEREST BOARD!
Have you had Palmiers before?
Have you bought them at a bakery? They are SO darned delicious, but YOU can make them at HOME and they're SO stinkin' easy!!
I've seen those chocolate oranges in the stores. You know, the ones that are wrapped up like an orange and I guess are cut into chocolate wedges? I've never tried one because the thought of chocolate and orange never really turned me on.
Chocolate and strawberries or chocolate and cherries, now that's another story. I'd eat those combinations any time, any day.
But chocolate with oranges? Nuh-unh.
But if they make chocolate oranges, there's got to be something to it, right?
I have to say that the combination was pretty darn delicious.
Especially this part…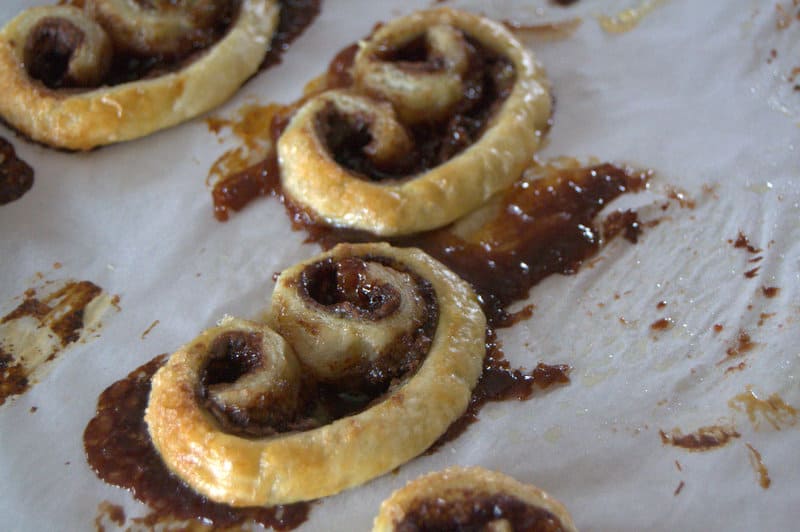 See the ooey-gooey stuff that melted onto the parchment during baking? Yeah, that was like an incredibly chewy chocolatey orange taffy type kinda stuff.
IT WAS SO GOOD!!!!!
The Orange Chocolate Palmiers were really good, too.
I think you'll like them.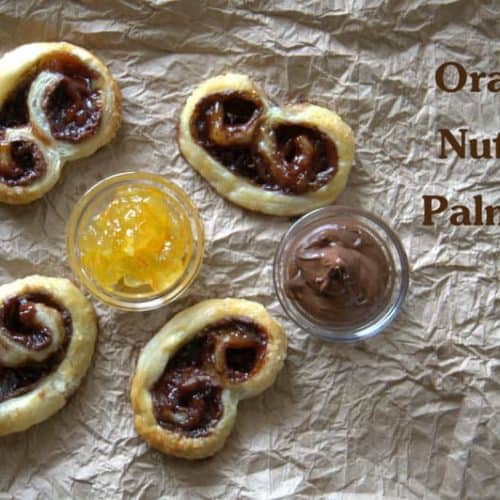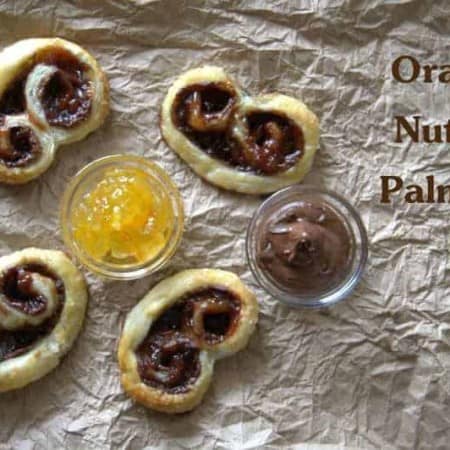 Ingredients
1 sheet puff pastry thawed
½ cup Nutella
½ cup orange marmalade
Egg wash
1 egg
1 tablespoon water
1 - 2 tablespoons Turbinado sugar or raw sugar for sprinkling
Instructions
Prepare a cookie sheet by lining it with parchment.

Place a piece of parchment, about 15 X 18 inches, on a clean work surface.

Gently unroll the puff pastry onto the prepared work surface.

With a rolling pin, roll the dough out so that it is about 1/2-1 inch longer on all sides so that it is approximately 10 X 12-inches. The rolling pin shouldn't stick to the dough, but if it should place a piece of parchment on top of it and roll it out.

With an offset spatula, spread the Nutella over the entire surface of the dough, leaving about 1/2-inch space on all the edges.

It's easier to spread if you place tablespoons of Nutella in various places. Be gentle when spreading so that the dough doesn't tear.

Do the same with the orange marmalade.

Beginning at one long end of the dough, gently and as tightly as possible roll it up to the center.

Do the same with the other side of the dough, so that you have two rolls meeting together in the center. Gently press the two rolls together.

Wrap in plastic wrap, place onto a cookie sheet and refrigerate for one hour until firm.

Preheat oven to 400 degrees F.

In a small bowl, beat the egg with the one tablespoon of water.

Remove dough from refrigerator.

Using a pastry brush, brush the egg wash onto the top and sides of the rolled dough.

Sprinkle the entire roll with Turbinado sugar.

Using a sharp knife, cut dough into 1/2 inch-thick slices and place on prepared cookie sheet about 1-2 inches apart.

Bake for 7 minutes, rotate the cookie sheet and then bake for another 7-9 minutes or until golden.

Allow to cool completely on the baking sheet.
Notes
If the puff pastry should tear when unrolling, use a dab of water and piece it back together. I used approximately 1/2 cup each of the Nutella and Orange Marmalade. You may use more, you may use less.
Did you make this recipe?
Share it with me on Instagram and make sure to follow me on Pinterest for more recipes.
Then there was this cute little doggie (although he really isn't little anymore) who was beside me in the kitchen the whole time I made BOTH batches. How can you resist this fella?
I rate everything I bake on a scale of 1-4 with 4 being the best and these Orange Nutella Palmiers earned 3 1/2 rolling pins. I really, really liked the taste of the orange marmalade and Nutella.
And I actually made them twice this week because Mr. 365 had taken the original 6 leftovers to work with him before I had a chance to photograph them.
I'm a food blogger, don't you know you have to ask before you eat ANYTHING in this house because it could be blog material?!?!?!
Oh well, they were all so yummy delicious and so freakin' easy to make that I didn't mind making another batch.
If you like these Orange Nutella Palmiers then you'll LOVE these…
Reader Interactions