Chicken Fried Rice that's better than takeout!
Learn how to make the best homemade fried rice with this easy chicken recipe.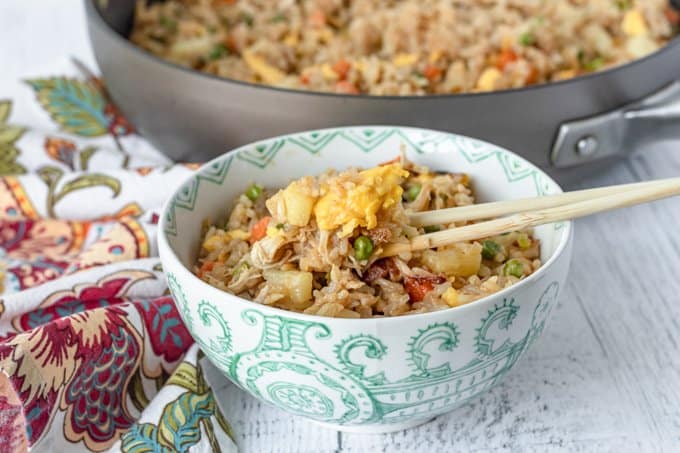 Your favorite takeout place is about to see a lot less of you. Sorry, not sorry. 😉
This Chicken Fried Rice is every bit as delicious as the restaurant version. It's the perfect use for leftover rice and shredded chicken, and takes just minutes to prepare.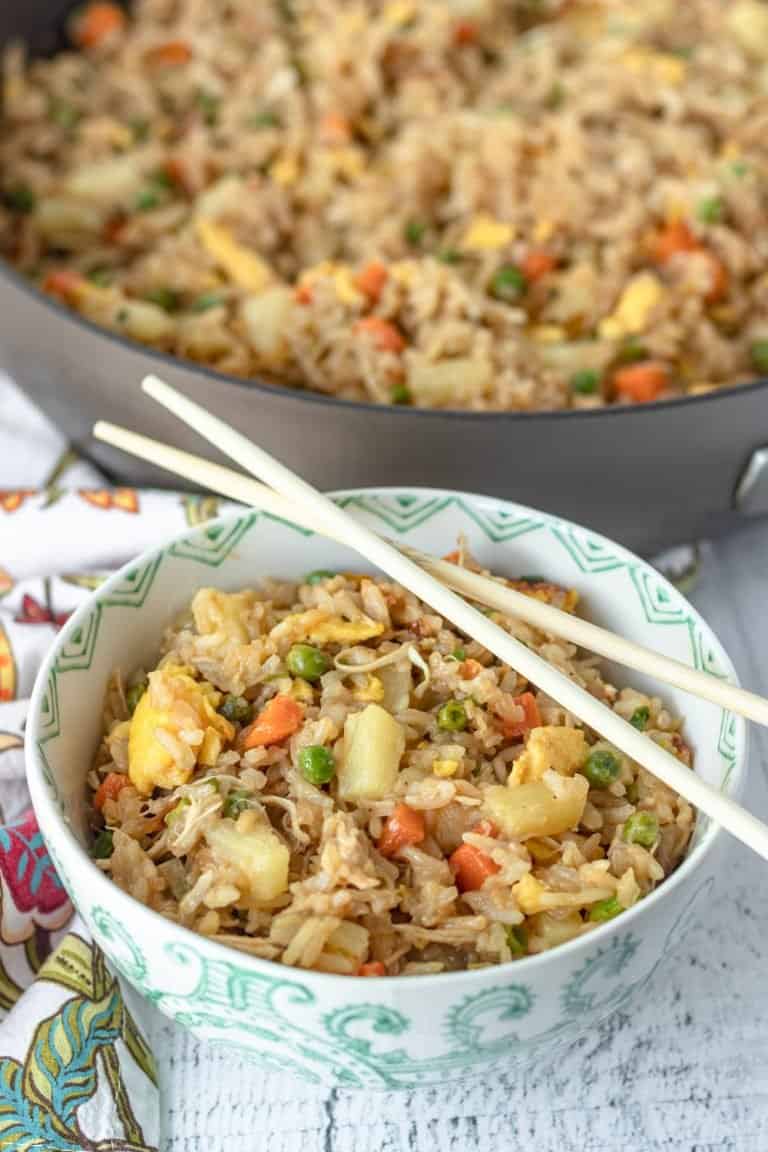 I love all kinds of Asian and Asian American dishes. We never order Chinese food without adding a pint or two of fried rice to the menu. Chicken fried rice is my favorite because you can eat it as a side dish or a main course.
Last week I had a craving for the savory, salty rice with chicken and decided to try making it at home. It's even easier to make than I expected and my whole family loved it, giving it a 5 star rating.
One of the things I LOVE about this recipe besides the taste, is that it makes A LOT!!
It will serve a family of four for dinner and you'll have plenty of leftovers for lunch the following day.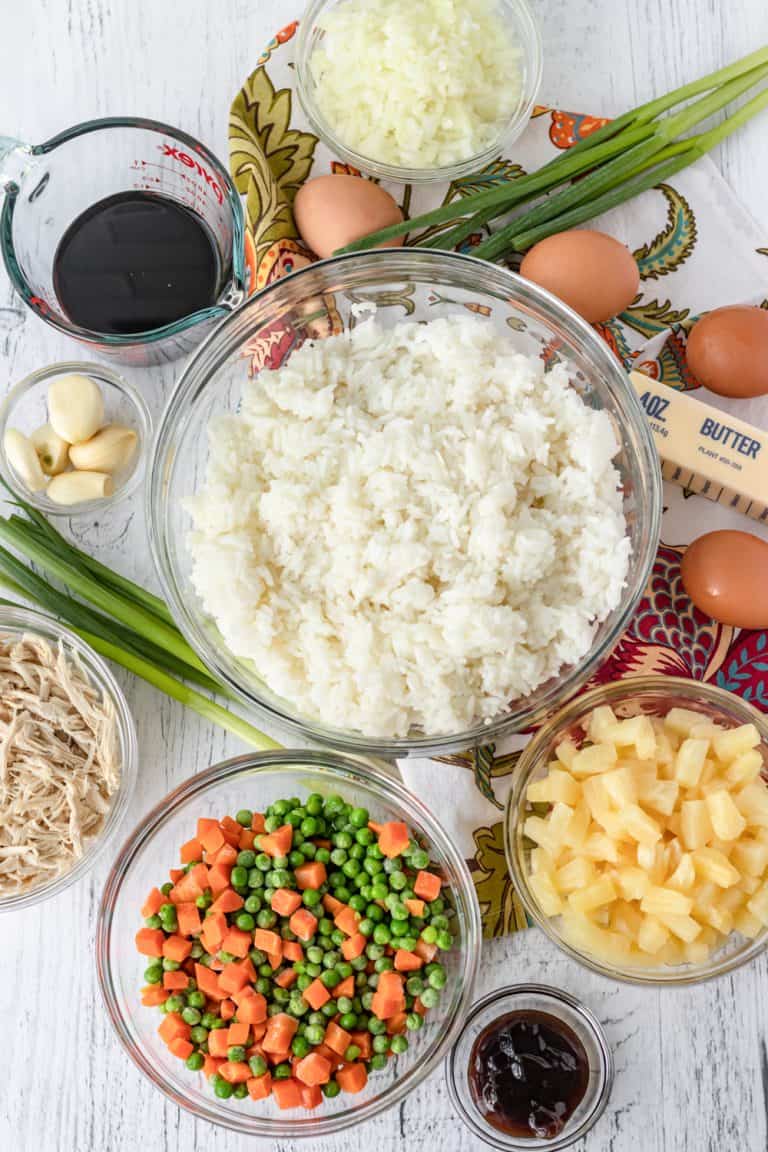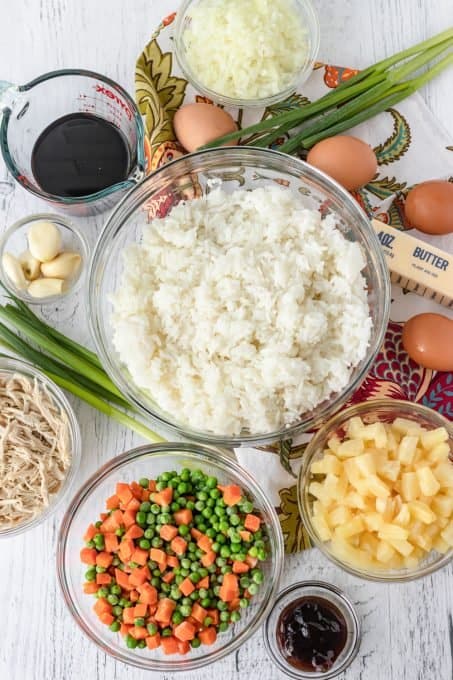 What do I need?
Here are the basic ingredients you need for this chicken fried rice recipe.
Leftover refrigerated white rice – Day old rice is best. The drier the better when it comes to making fried rice, and you want cold rice as well!
Cooked chicken – Use leftover chicken, some boneless skinless chicken breasts, boneless skinless chicken thighs or grab a rotisserie chicken from the grocery store!
Beaten Eggs
Butter
Onion
Garlic
Peas and carrots – I use the frozen mix and thaw it first. You can also use fresh carrots if you'd like, just take a couple medium sized ones and dice them into small pieces, and use a cup of thawed frozen peas.
Soy sauce – Low sodium is best.
Oyster sauce
Pineapple tidbits – MY secret ingredient! – Canned, with the juices drained.
Toasted sesame oil
Green onions
Salt and black pepper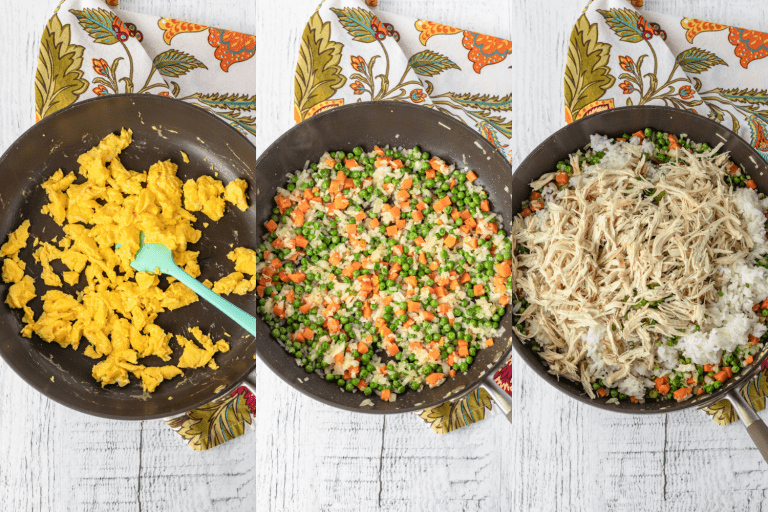 How To Make Chicken Fried Rice
Scramble the eggs.
Beat the eggs together in a mixing bowl. Melt two tablespoons of butter in a skillet. Add the eggs and scramble until fully cooked. Take the eggs out of the skillet and set them aside.
2. Stir fry the vegetables.
Melt some more butter in the pan. Now add the diced white onions, peas and carrots and cook them for about 4 minutes, or until the onion is transluscent.
3. Fry rice.
Now it's time to add your rice to the skillet. Pour the soy sauce and oyster sauce in now, too. Make sure everything gets fully combined then STOP stirring. It's one of THE most important things you must do in this easy recipe because it makes all the difference.
You heard me. The number one mistake people make with fried rice is stirring too much. The rice needs to sit still over the heat for a minute or so it gets a bit browned and even more flavorful. I personally love it even more when it gets a bit crispy. YUM!
After a couple minutes or so, you can stir it once or twice more, then let it sit once again for another few minutes. Trust me on this.
3. Add the chicken.
Once the rice is fried to your liking, add the shredded chicken, pineapple tidbits, green onions and the scrambled egg. Stir to combine everything together.
Let your fried rice sit for 3 minutes to let everything heat up, stirring once. Add a little salt and pepper to taste here, too.
4. Serve!
Finally, drizzle 1-2 tablespoons sesame oil over the fried rice and toss to combine. Scoop your chicken fried rice into bowls and garnish it with more chopped green onions before serving.
I like to serve chicken fried rice with a little extra soy sauce on the side so everyone can add more salty soy sauce flavor if they like. Hot mustard, sriracha and chili garlic sauce are also delicious toppings for a spicy kick!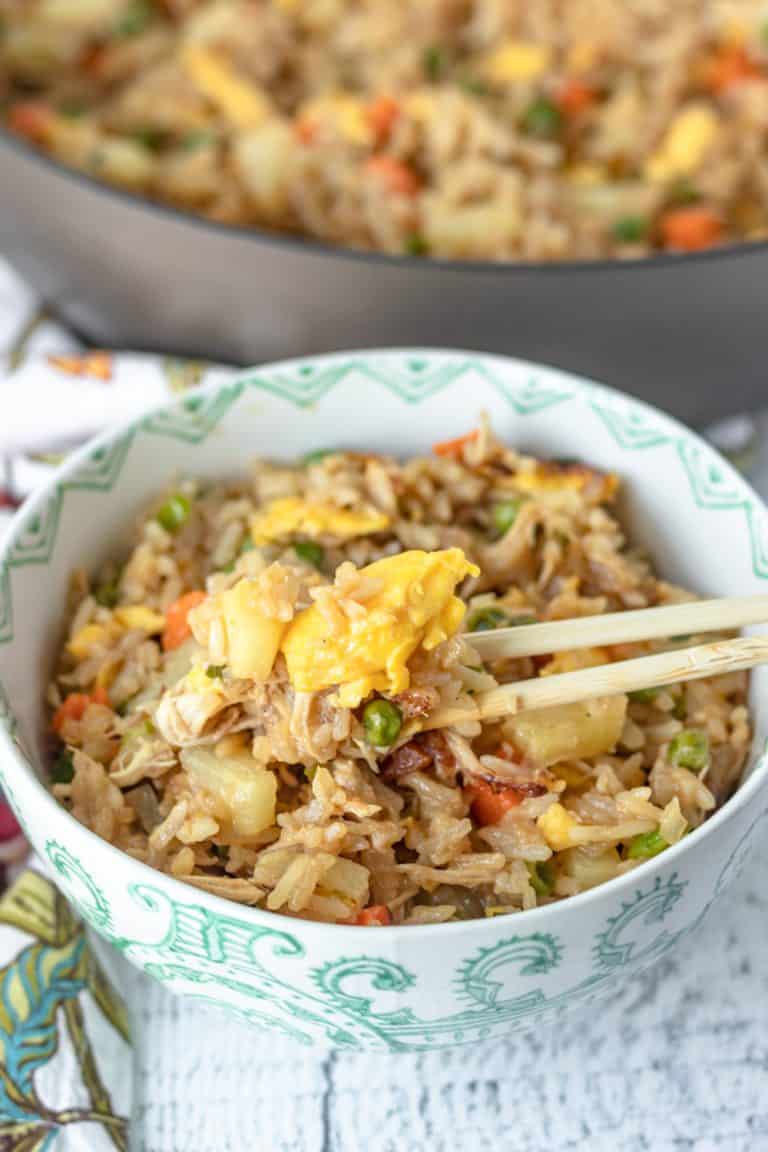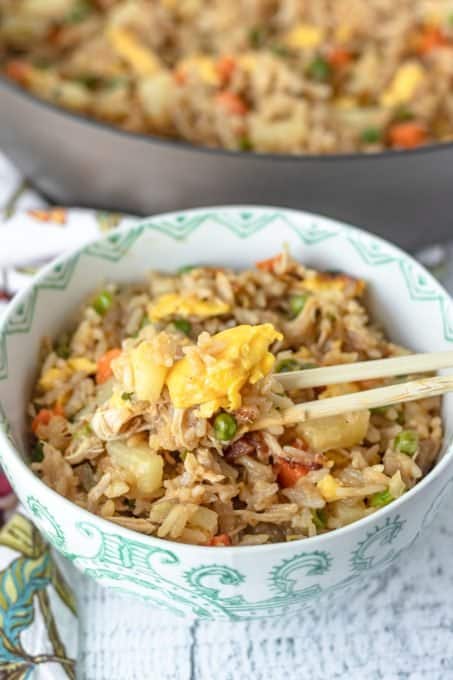 What substitutions can I make?
There are so many ways to tweak this fried rice recipe according to your preferences, cravings and mood. It's a forgiving recipe that tastes great so many different ways.
Vegetarian: Leave out the chicken or swap it out for stir-fried mushrooms.
Egg free: Just omit the scrambled egg from the recipe.
Other vegetables. Cabbage, bell peppers and broccoli are all good additions to fried rice. Use them instead of or in addition to the frozen peas and carrots.
Fresh pineapple. Feel free to use fresh chopped pineapple instead of canned, if you prefer.
Best rice for fried rice
Jasmine rice is my preferred type of rice for this recipe. Any short or long grain white rice will work if you don't have jasmine.
In a hurry and thinking of making rice fresh for this recipe? Don't do it!
Freshly cooked rice simply does not work in fried rice recipes. It usually turns into a sticky mess because it has much more water content than day-old rice.
The longer rice sits after cooking, the drier it becomes, especially once it's in the refrigerator. For best results, cook your Jasmine rice the day before and store it in the fridge until you're ready to make chicken fried rice!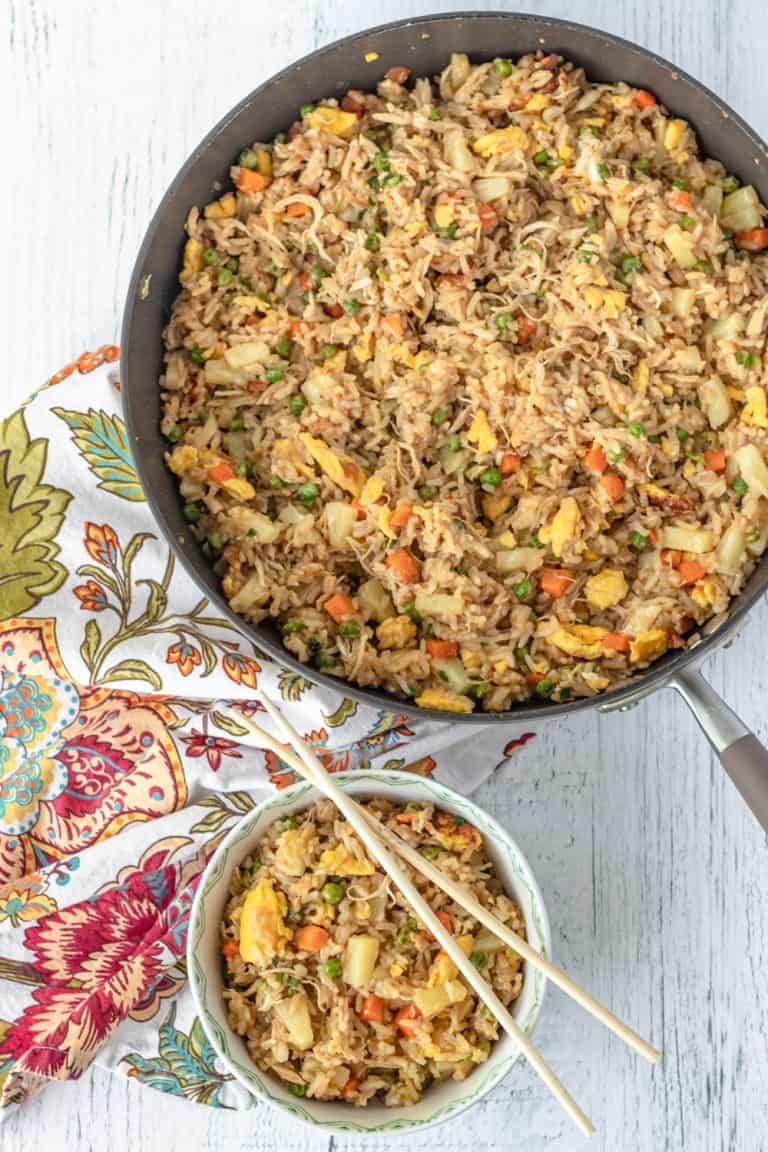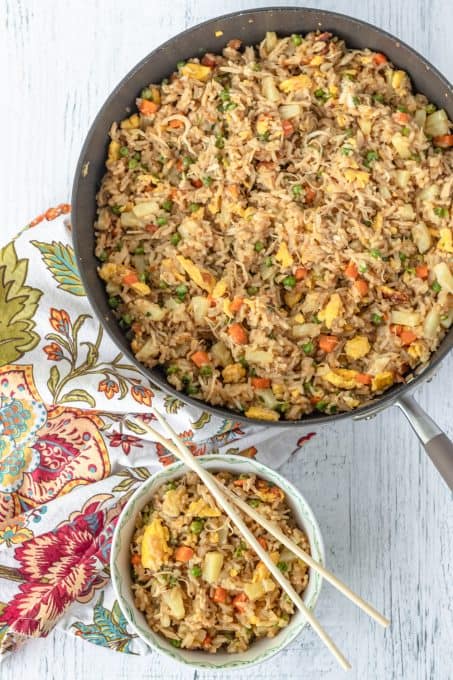 Chicken Recipes
Like a lot of home cooks, I rely on a few "cheats" to get dinner on the table on busy nights. One of them is the magic of grocery store rotisserie chicken!
Having a cooked rotisserie chicken in the fridge means I'm ready to make family favorites like Chicken Tostadas, this Chicken Divan and today's chicken fried rice recipe. I love it in classics like Homemade Chicken Noodle Soup and Chicken 'N' Dumplins too.
Don't think I don't cook my share of chicken at home, too. I stock up on chicken thighs when they're on sale and make Orange, Honey, Soy Baked Chicken Thighs with a side of rice. You could have that for dinner one night, then save the extra rice to make this fried rice the next day!
This Lemon Herb Roasted Chicken is a staple that everyone should know how to make. If you're looking for something a bit lighter for a lunch, you'll love this Greek Quinoa Chicken Salad.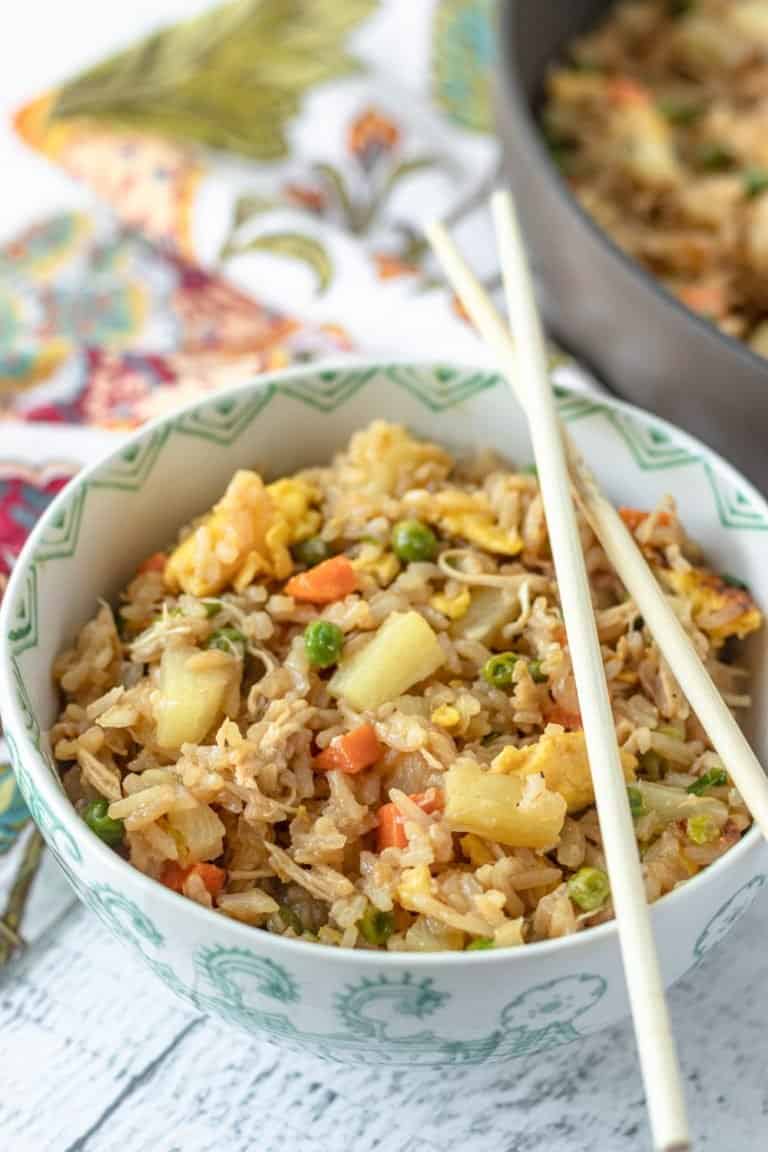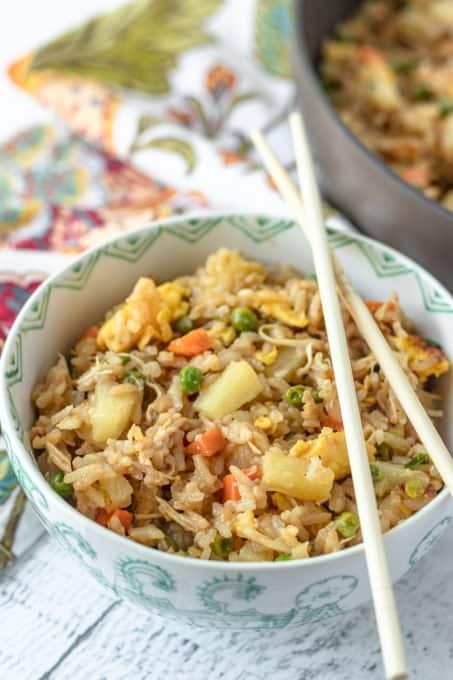 Easy Dinner Recipes
Instead of reaching for the takeout menu, make one of these easy dinner ideas my readers have loved over the years!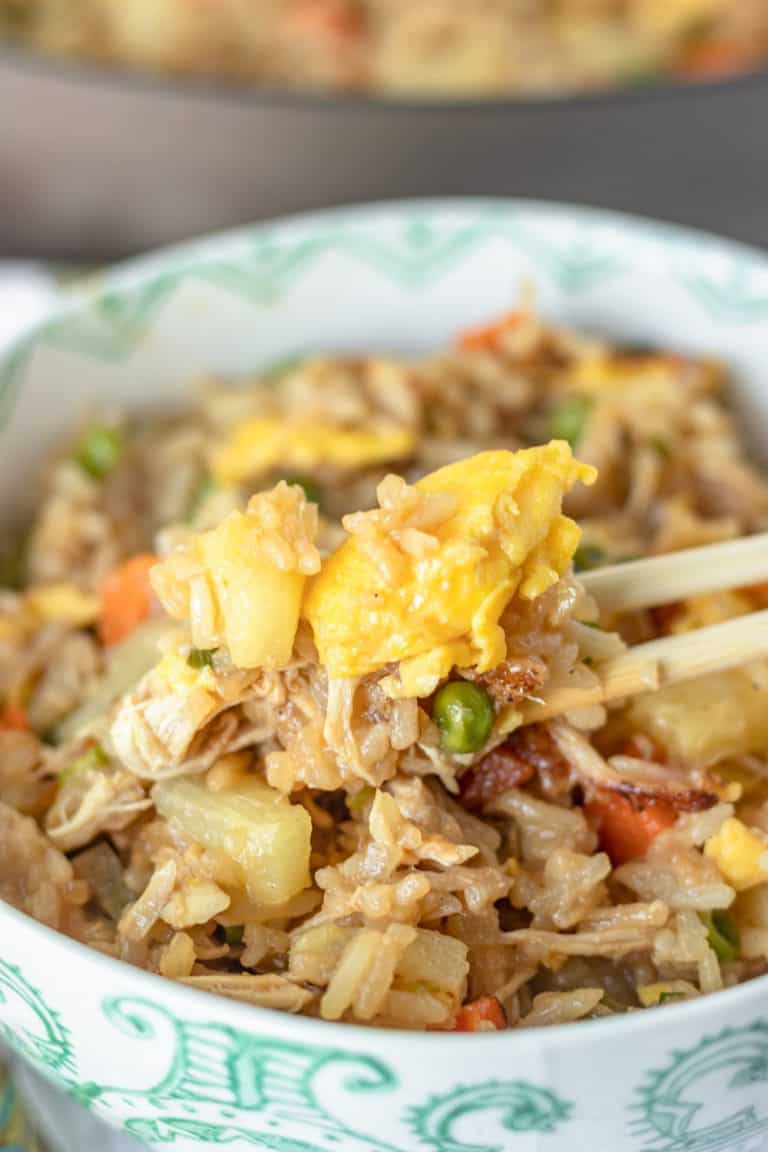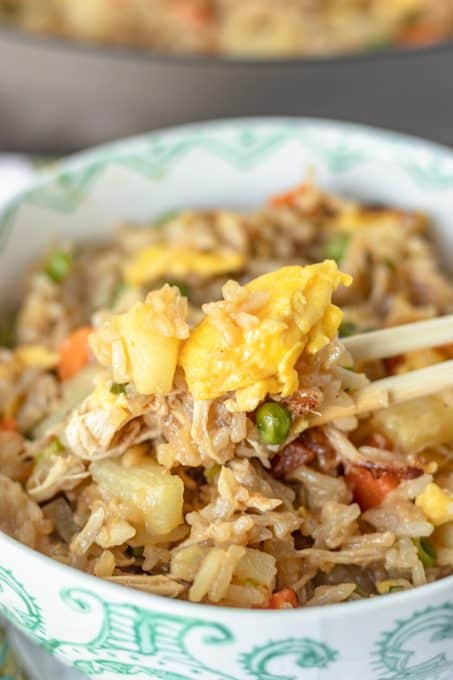 This is a good fried rice recipe that the whole family will enjoy. With shredded or diced chicken, a few leftover ingredients, and a large wok or large skillet, you'll have a delicious meal that will rival the main dish you order at your favorite Chinese restaurant.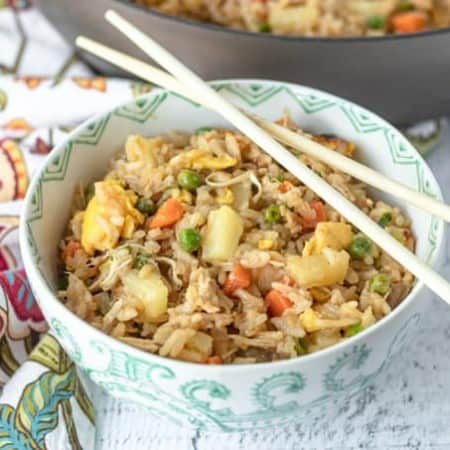 This is a good fried rice recipe that the whole family will enjoy. With shredded or diced chicken, a few leftover ingredients and a large wok or large skillet, you'll have a delicious meal that will rival the main dish you order at your favorite Chinese restaurant.
Ingredients
8 tablespoons butter divided
4 large eggs beaten
1 medium onion diced
6 cloves garlic minced
2 cups frozen green peas and diced carrots thawed
6 cups day old cooked and refrigerated rice I love using jasmine rice
½ cup low sodium soy sauce
1 ½ tablespoons oyster sauce
2 cups cooked and shredded chicken I love to use a rotisserie chicken for convenience
20 ounces pineapple tidbits drained
6 green onions chopped with some reserved for garnish
2 teaspoons sesame oil
kosher salt and black pepper to taste
Instructions
In a large skillet over medium heat, melt 2 tablespoons of butter. Add the beaten eggs and scramble, stirring occasionally until fully cooked. Transfer eggs to a plate until ready to add later.

Add 2 tablespoons of butter to the pan and heat until melted. Add the onion, garlic, peas and carrots, a generous pinch of salt and pepper, and cook until onion is translucent and fragrant, stirring occasionally, about 4-5 minutes.

Push the vegetables to the edges of the skillet, increase heat to medium high, and add the remaining 4 tablespoons of butter. When melted, add the rice, soy sauce, and oyster sauce. mix all ingredients together well then let sit for 3 minutes to fry the rice, stirring once or twice. See note.

Add the chicken, pineapple, and green onions and stir again until completely mixed. Let sit for an additional 3 minutes to heat through and fry rice again, stirring once or twice.

Remove from heat and drizzle sesame oil over skillet. Stir to combine. Serve with additional chopped green onions, and additional soy sauce and sesame oil, if desired.
Notes
NOTE: When the rice sits in the pan to fry, I personally like to leave it as long as possible before stirring so that it becomes crispy and browns up a bit. 
Nutrition
Serving: 1person | Calories: 789kcal | Carbohydrates: 130g | Protein: 25g | Fat: 18g | Saturated Fat: 9g | Polyunsaturated Fat: 2g | Monounsaturated Fat: 5g | Trans Fat: 1g | Cholesterol: 138mg | Sodium: 851mg | Potassium: 541mg | Fiber: 5g | Sugar: 11g | Vitamin A: 3933IU | Vitamin C: 14mg | Calcium: 99mg | Iron: 3mg
Did you make this recipe?
Share it with me on Instagram and make sure to follow me on Pinterest for more recipes.
Reader Interactions