Roasted spaghetti squash and sausage come together for an easy dinner. Seasoned with garlic and Italian herbs, Sausage Spaghetti Squash is a flavorful family favorite!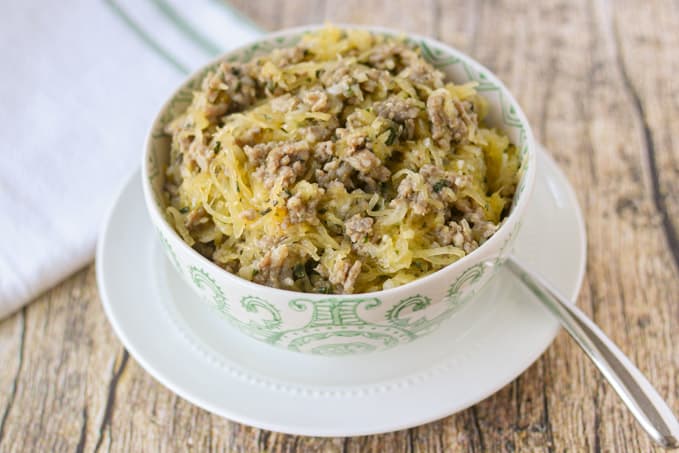 Today's recipe is the one that introduced me to the miracle of spaghetti squash.
You never forget your first . . .
spaghetti squash recipe.
HA! And you probably thought I was going to say something else, didn't you?
SAVE THIS EASY LOW CARB SPAGHETTI SQUASH RECIPE TO YOUR FAVORITE PINTEREST BOARD!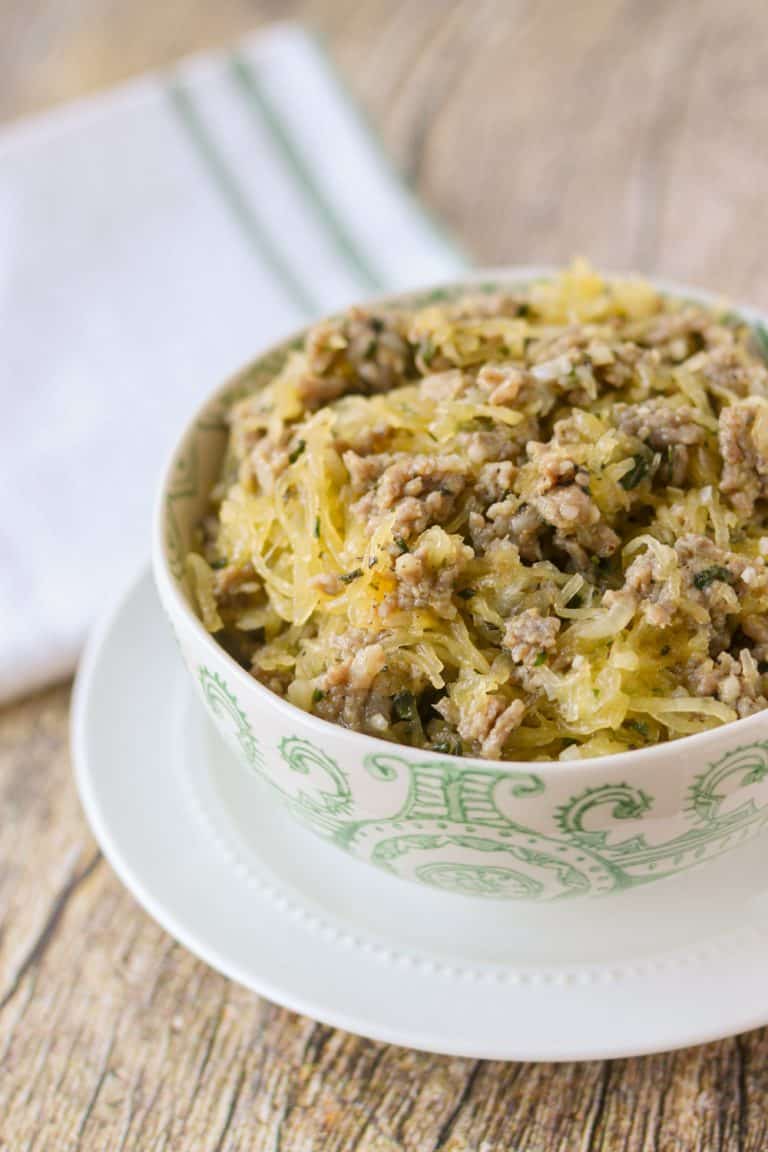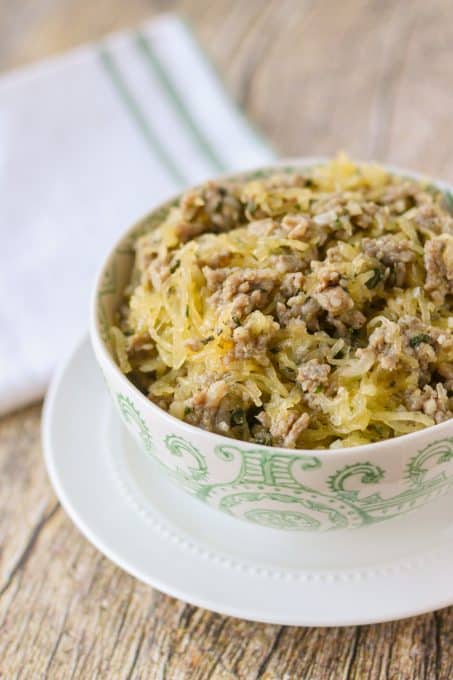 If you've never marveled at the inside of a spaghetti squash, this recipe is the perfect place to start. I made this meal for the first time in the early days of blogging and it's continued to make regular appearances on our meal rotation.
This Sausage Spaghetti Squash recipe is easy to make with delicious results!
What Is Spaghetti Squash
At first glance, spaghetti squash looks like any other winter squash. It's oval shaped with a yellow or slightly orange exterior. Raw, the insides are solid and dense.
Once cooked, the flesh shreds into pasta-like tendrils that give spaghetti squash its name. It's appearance and consistency make it a perfect swap for starchy noodles in all kinds of dishes, but it's also delicious in its own right.
Here's my disclaimer: please don't expect spaghetti squash to taste exactly like spaghetti!
It definitely doesn't and threw our pasta loving son for a loop when he took his first bite.
It might look like pasta but it has its own unique and appealing flavor.
Roasting the squash in this recipe brings out a nutty sweetness. The flavor is perfect seasoned with savory garlic, butter and herbs. Browned sausage turns this spaghetti squash into a hearty meal that gets rave reviews every time.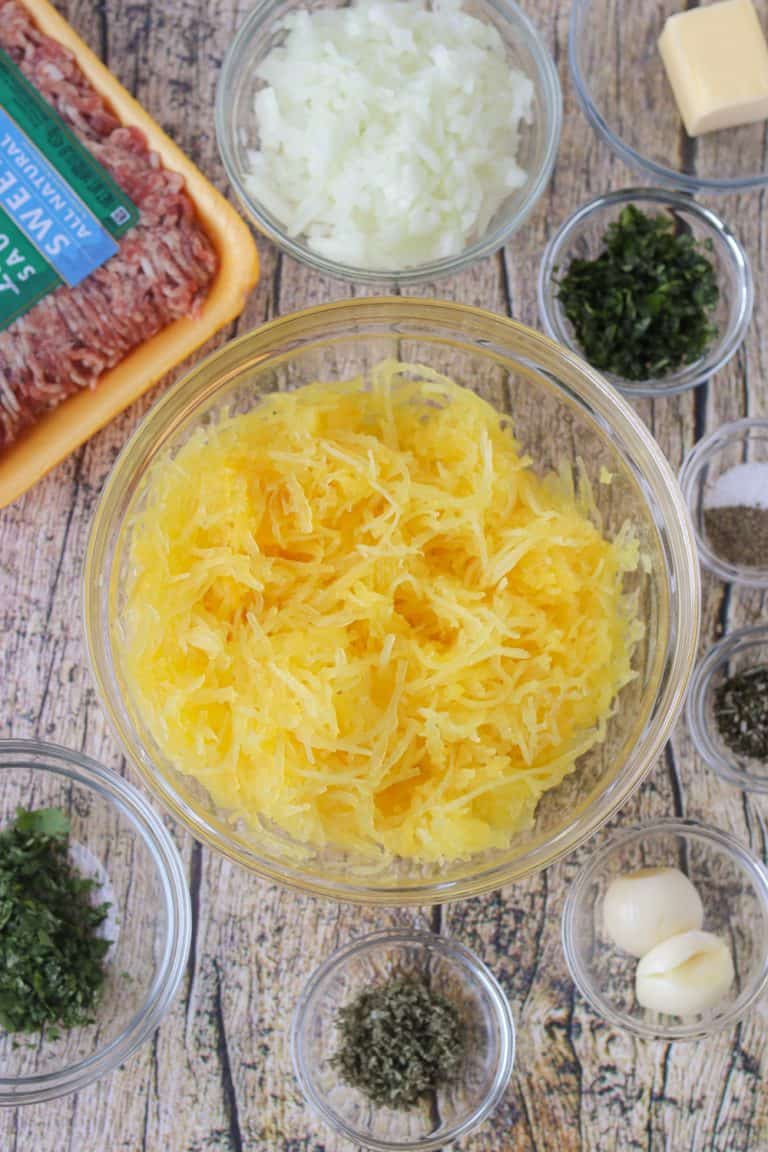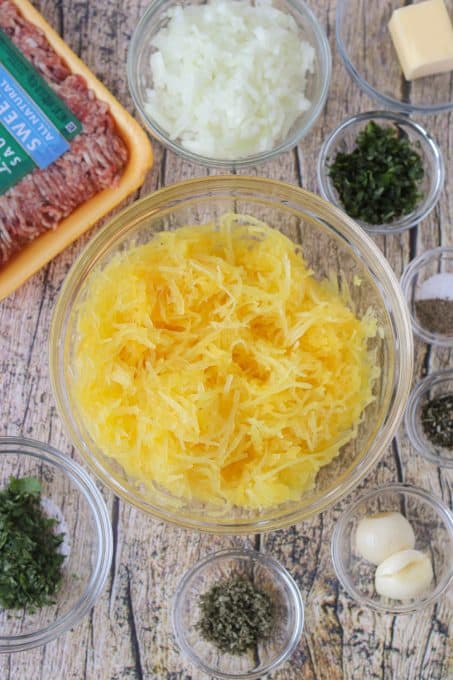 What do I need?
This Sausage Spaghetti Squash recipe uses simple, fresh ingredients.
ground sausage (or pork)
spaghetti squash
butter
onion
garlic
basil
sage
rosemary
salt and pepper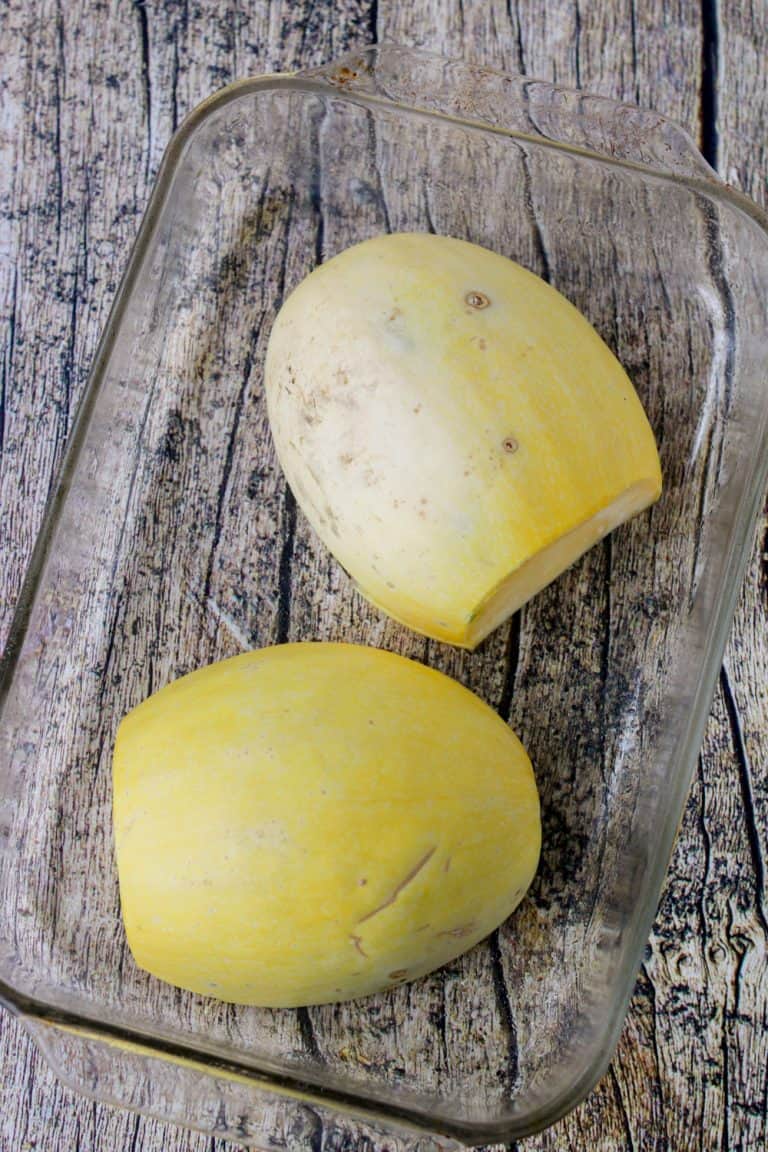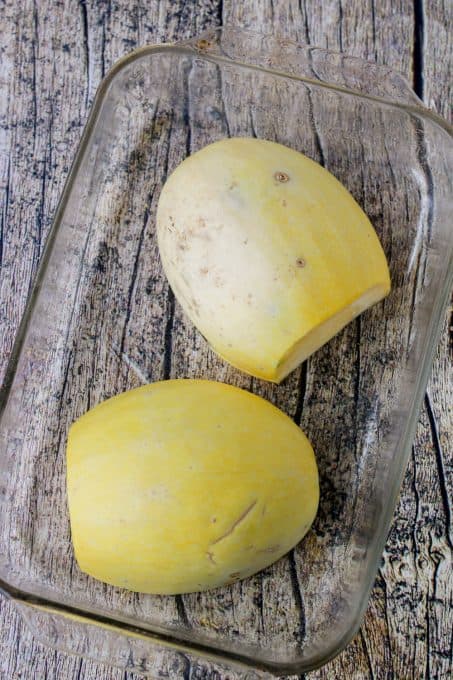 How to Roast Spaghetti Squash
Start by cutting your squash in half lengthwise. Place each half flesh side down on a greased 9 X 13-inch baking dish. Add a half inch of water to the dish.
Cover the squash with foil and roast in a 375 degree F oven. It's ready when you can easily insert a sharp knife into the skin. This usually takes between 45 and 60 minutes.
Once the squash is roasted, you can discard the seeds and scoop out the flesh. Add it to the pan with garlic and onion, then add in sausage and herbs.
This dish is best enjoyed immediately so be ready to eat!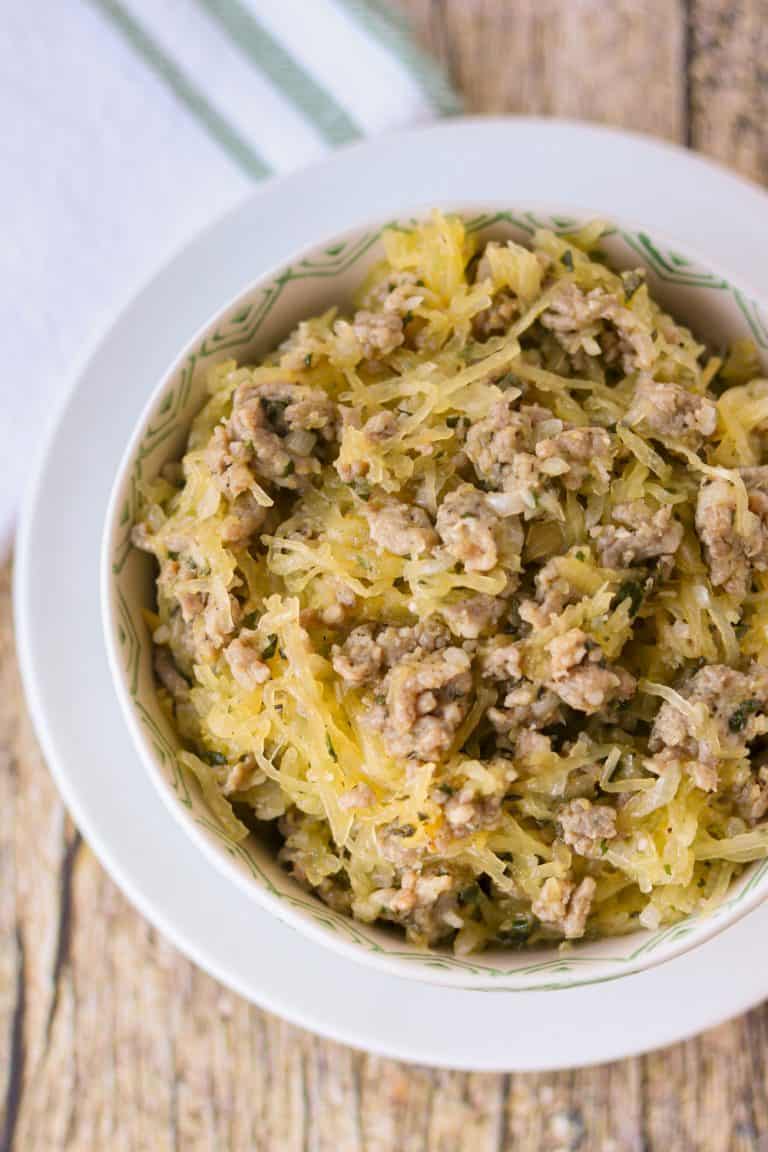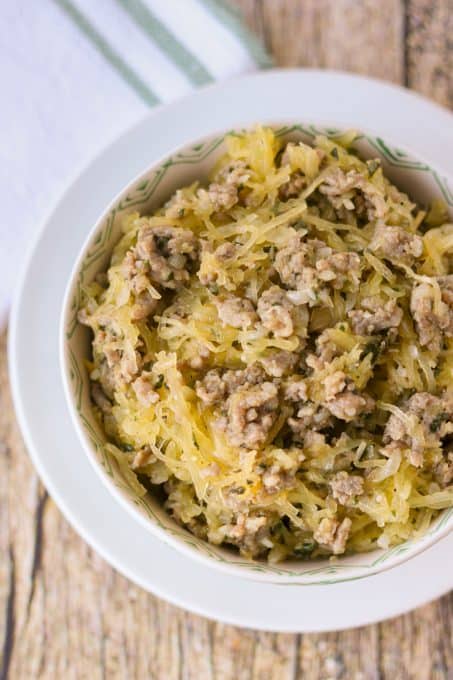 Squash Recipes and Sausage Recipes
Sausage is one of our most consumed proteins in the 365 household. It's a versatile ingredient that cooks quickly and adds substance along with flavor.
Give this One Pot Sausage Linguine a try next time you need a fuss-free meal. Kids always gobble it up, too! You'll also love this Sausage Alfredo Rigatoni and these Cheesy Sausage Stuffed Mushrooms.
Looking for more spaghetti squash ideas? Try it stuffed with cheesy Italian flavors in this recipe for Spaghetti Squash Lasagna Boats.
Side Dishes That Pair Well
A mixed green salad with Homemade Italian Dressing is the perfect way to round out a bowl of buttery spaghetti squash and sausage. A loaf of Easy Homemade Italian Bread is always a good idea too.
Plus, your home will smell amazing. Roasted squash + freshly baked bread?! Yes, please.
For more side dish ideas, check out these other favorites from the blog.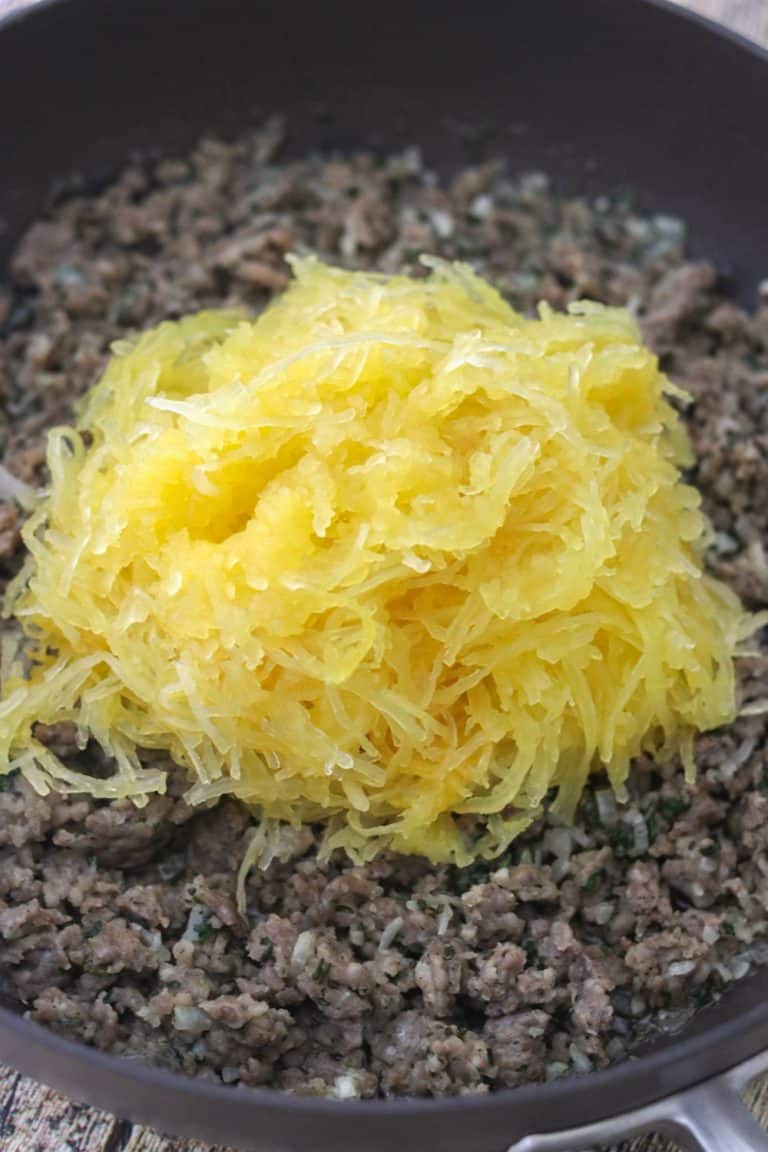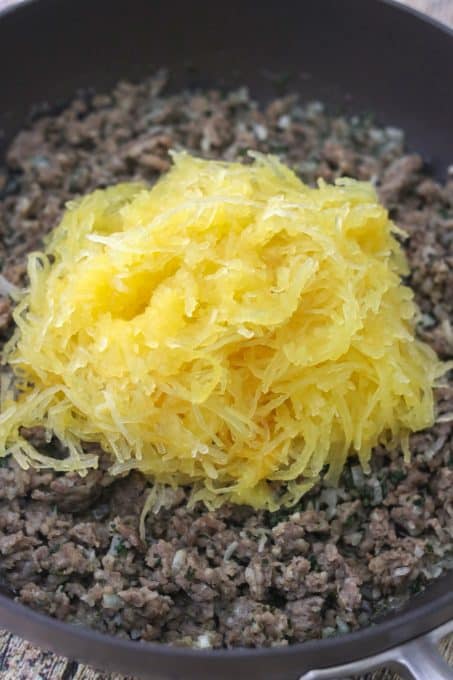 When I first started my blogging journey, I rated every recipe I made on a scale of 1 -4 rolling pins (4 being the BEST). This Sausage Spaghetti Squash earned an enthusiastic 3 1/2 stars. Although, the more I make it the more I think it deserves all four.
Grab a squash and give this recipe a try tonight. I have a feeling you'll love it too!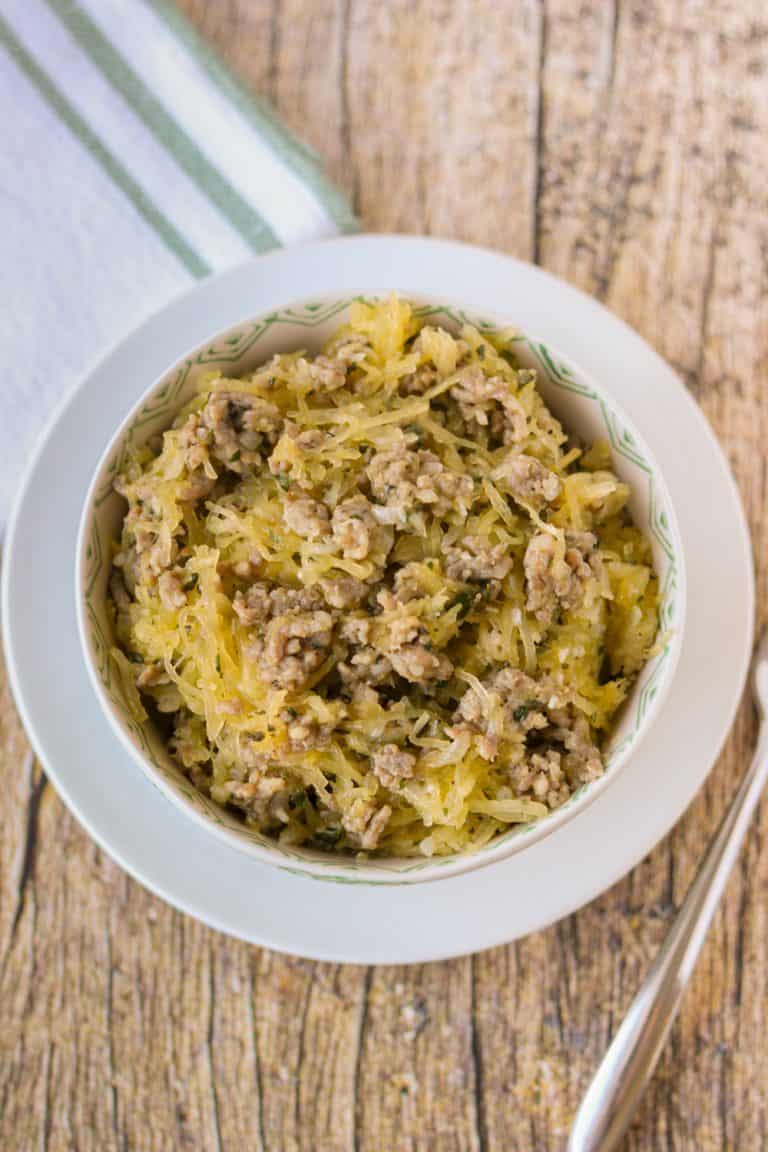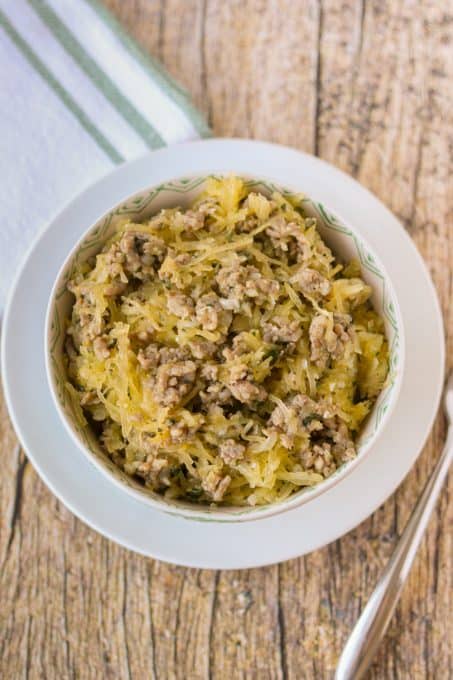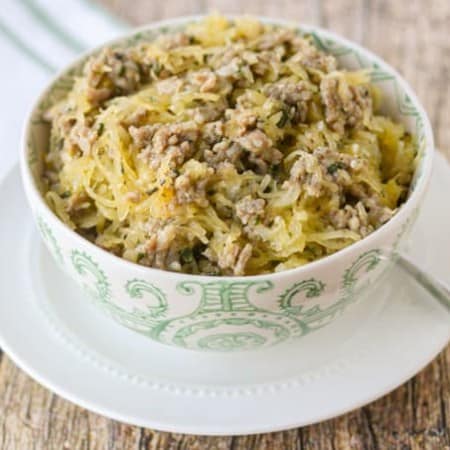 Roasted spaghetti squash and sausage come together for an easy dinner. Seasoned with garlic and Italian herbs, Sausage Spaghetti Squash is a flavorful family favorite!
Equipment
9 X 13-inch baking dish

Large skillet
Ingredients
1 lb ground sausage or ground pork
2 ½ lb. spaghetti squash
water to put in baking dish
3 tablespoons butter
1 cup diced onion
3 cloves garlic minced
2 tablespoons chopped fresh basil
1 tablespoon chopped fresh sage
1 teaspoon chopped fresh rosemary
¾ teaspoon kosher salt
1//4 teaspoon pepper
Instructions
Preheat oven to 375° F, and prepare a 9 x 13-inch baking dish by spraying it with cooking spray.

With a long, sharp knife, carefully cut the spaghetti squash in half lengthwise. Do not remove seeds. Place each half cut side down into the prepared baking dish. Fill the dish with about a half inch of water. Cover with tin foil and bake for 45 – 60 minutes or until a sharp knife is inserted easily into the skin.

Remove baking dish from oven, and turn the squash over so that the inside is facing up. Cover again with tin foil and return to the over to bake for an additional 15 minutes. Allow to cool slightly when finished baking.

Discard the seeds and using a fork, scrape the strands into a large bowl.

In a large skillet over medium heat, melt the butter. Add the onion and garlic and cook until translucent and fragrant, about 2-3 minutes.

Add the sausage and cook until browned, breaking it apart as it cooks. Add the basil, sage and rosemary and mix well.

Place squash into the pan and add the salt and pepper and mix until squash is well coated with seasonings. Cook until heated through and serve.
Nutrition
Serving: 1serving | Calories: 530kcal | Carbohydrates: 24g | Protein: 20g | Fat: 40g | Saturated Fat: 16g | Polyunsaturated Fat: 5g | Monounsaturated Fat: 16g | Trans Fat: 1g | Cholesterol: 104mg | Sodium: 1275mg | Potassium: 667mg | Fiber: 5g | Sugar: 10g | Vitamin A: 742IU | Vitamin C: 11mg | Calcium: 103mg | Iron: 2mg
Did you make this recipe?
Share it with me on Instagram and make sure to follow me on Pinterest for more recipes.
This post was originally published on 9/30/11. It was updated in format and pictures and republished on 10/15/21.
Reader Interactions