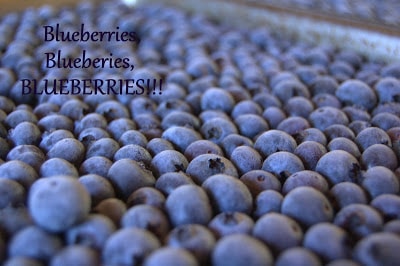 So, when you pick a lot of blueberries, you need to do something with them, of course.
Pancakes for dinner, a blueberry galette (recipe to be seen this week), eating them out of the box, blueberry muffins, yada yada yada…AND
you want to make sure that you have enough blueberries to last you through the winter.
Right?
Ok, I know we aren't bears and aren't going into hibernation (although this being our first New Hampshire winter, I might), but we're going to want to save these puppies for future use and when you pick an abundance of them, you want to make sure they taste just as fresh as the day you picked them.
How do you do that, Lynne, you ask?
Well, I'll tell ya.
It's easy peasy and pretty quick, too.
You are going to FREEZE them!
But not just the stuff-them-into-a-Ziploc-freezer-bag-and-shove-them-into-the-freezer type freezing.
No, there's a way to do it, that is SO easy even a caveman could do it and you'll be eating them months down the road.
Are ya ready? Here we go.
Freezing Blueberries
1. Pick those blueberries. Lots! Eat some while you're picking, but make sure you come home with so many you don't know what to do with and think you might be eating blueberries for the rest of your life.
Ok, maybe not that many, but enough so you'll have them for quite some time.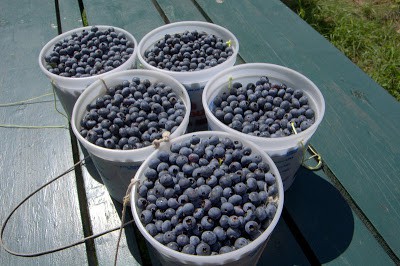 We had 5 bucketfuls, one for each of us. I thought that would be enough.
Mom was a happy picker that day ~ SO proud of my offspring for earning their keep!
haha
2. In batches, rinse the berries and let them drain to dry slightly in a colander.
3. Place the berries on a rimmed baking sheet in a single layer.
Placing them on baking sheets ensures that they won't be clumped together when they freeze. It's a lot easier to remove them for what you're making this way.
Or if you want to just eat them frozen. They are SO yummy!!!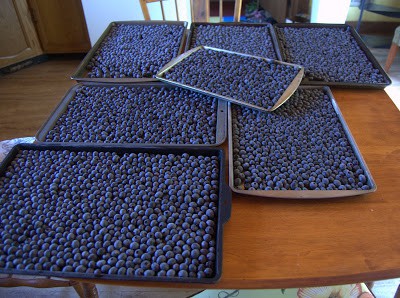 If you pick as much as we did, you're going to want to make sure you have enough baking sheets or borrow them from your neighbor, Granny, Cousin Pete down the street (no, I don't have a cousin named Pete) or you can refrigerate some of them and do the process over again the next day.
4. Using a paper towel, gently, and I do mean, gently, pat the berries so that any excess water is removed.
Be nice to the berries and they will be nice to you. It's not a big deal if there's some water on the bottom, but you don't want a lot, otherwise they REALLY stick to the pan when you try to remove them.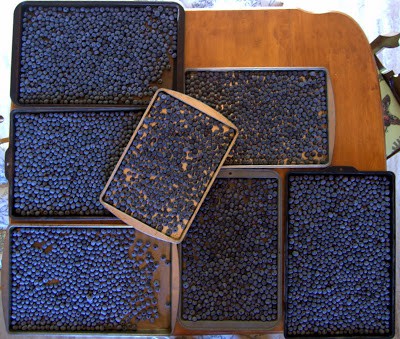 5. Place the pan or pans into the freezer overnight .
Fortunately, our freezer is pretty empty at this point because we just moved in a few weeks ago, so we had plenty of space for the babies.
6. Remove pans from freezer and with a large spoon, scrape the berries from the pan and place into Ziploc freezer bags. I placed 4 cups into each quart bag because (DUH!) there are FOUR cups in a quart!
Sometimes, I'm so smart it just kills me!
Now, when you're scraping these pups from the pan, make sure you go kinda slow, otherwise you're going to have things shooting all over the kitchen like bullets.
And when these berries are frozen, they roll forever and they roll fast!
Fast, I say. They be rolling under the cabinets and stove and you'll be finding moldy blueberries when the frost is on the pumpkin (or next may when you pull out that appliance to do a thorough Spring cleaning.
You do do that, don't you? Nevermind. I don't want to know.
Anywho…
Here are the bags I assembled….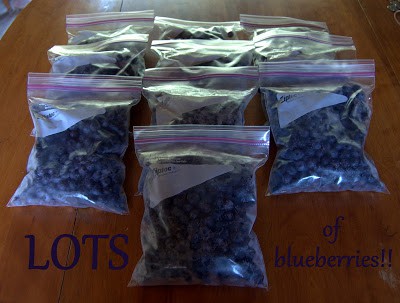 GO ahead, count them.
That's right, 4 cups in 1,2,3,4,5,….10 bags (ok, one of those bags only has 3 cups) equals…..
39 CUPS OF BLUEBERRIES!!!!!
That is a HECK of a lot of blueberries. And we even had more because of course, we ate a bunch plain, had blueberry pancakes for dinner the night we picked them and I made a galette yesterday.
Yes, so that is why you may be seeing quite a few blueberry recipes on the 365 days of Baking & More blog in posts to come.
My brother-in-law was here with his family over the weekend and he joked that I could do 365 Days of Blueberries.
Yeah, no.
I have to thank my awesome SIL, Kate, for helping me prep them and putting them into the freezer. It would have taken me a lot longer to get this all done. I also have to say that I got kinda bored after scraping the third tray and wanted it to end already, but I pushed through it, and kept my eyes focused on the prize. Seeing the bags of berries at the end and knowing we'd have plenty to last us through a cold freeze was a great satisfaction.
If we run out of milk and bread, we'll always have the blueberries!
I give you BIG baking hugs and muffins!!!