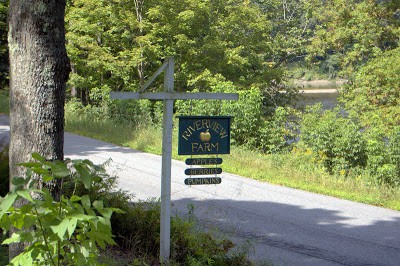 Yesterday we took the family blueberry picking at
Riverview Farm
 in Plainfield, NH.
We had never been to pick them, so thought it would be something fun and New Englandy to do since I never did see too many blueberry bushes whilst we were living in Arizona.
Long ago when the kids were little, I took them strawberry picking at a local farm in Rhode Island and that was LOTS of fun!! The girls loved it and I don't know what I was thinking bringing a toddler boy with us, but I just had to have those freshly picked strawberries. He was a red mess by the time we were done, I tell ya.
Yesterday, he came off the farm without one blue stain on him. Such a proud mama!
It took us about an hour and a half to get to the farm from where we are located, but the drive was definitely worth it. We've been soaking in the beauty of New Hampshire since we've moved here and just can't get enough of it. 
Besides, it was good quality time spent in the car with children singing and all of us making fun of each other at one point or another. Mostly, they made fun of mom. And that makes me feel really old for some reason.
When we arrived, we walked into the store and were greeted by Paul and Nancy. 
Nancy asked if she could help us and Mr. 365 said that we were "here to do it all". Both Paul and Nancy chuckled and Nancy said she had a long list of things that needed to be done around the farm as they were needing some extra hands. Mr. would have been happy to assist them in that, but I was just in the mood to pick the blueberries.
The grounds were beautiful and I think Mr. had farm envy. He's been talking about having land and growing various things, and having some animals, too ~ cows, chickens, goats. I'm all for it, so we'll see how that pans out in the future.
The flower gardens were gorgeous! You could cut your own flowers and take them home.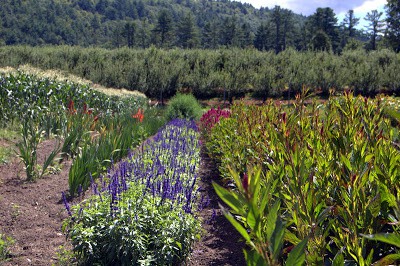 The sunflowers were large and full of color, attracting a few bees here and there.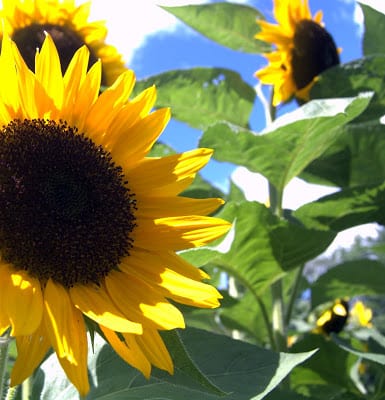 There were LOTS of apples that had already been picked and we could have picked our own, but after tiring ourselves out from the blueberries, we just opted to take a bag home.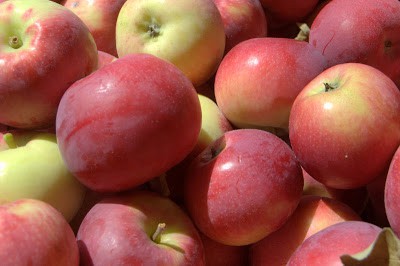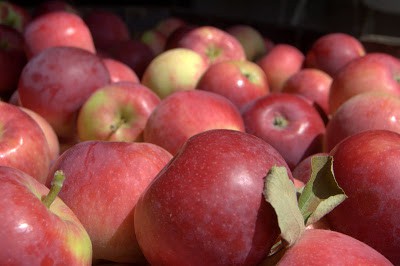 They also make their own pressed apple cider. We bought a gallon and tasted it when we got home. I have to say it was the best cider I'd ever had! It smelled so good, too, when I poured it into the glass.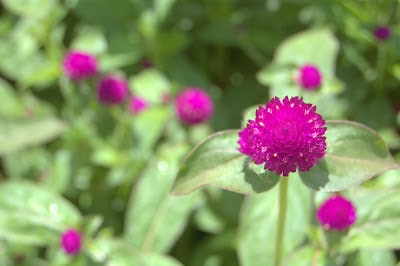 Below are the "fruits" of our labor. haha
We picked LOTS of blueberries!! We'll be eating them for days!
I have big plans for them and you'll see some recipes coming up here soon.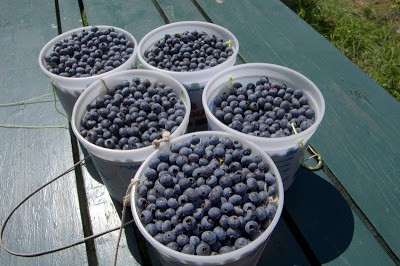 Then, as we were leaving, as kids will so often do, they started fooling around and were having a grand ol' time. So great to see that despite their squabbles and irritations with each other that they really do enjoy each other's company and love each other very much.
At least that's what this mother wants to think.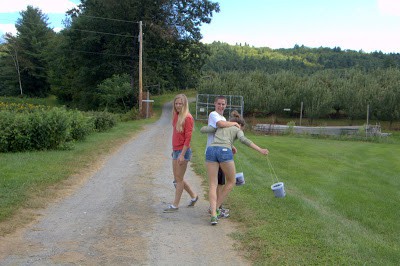 And a sister needs a wet-willy and her wrist chewed on every once in a while anyway.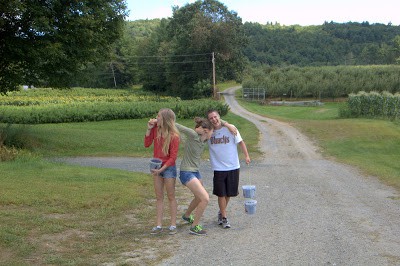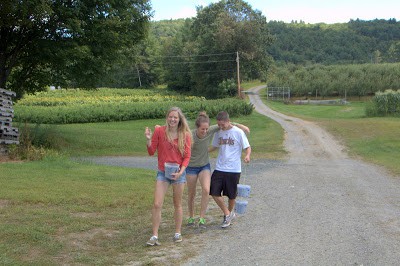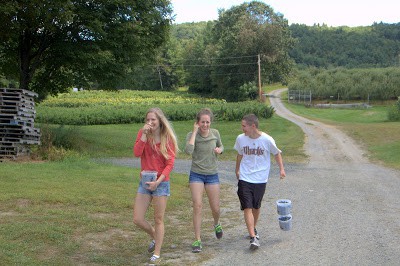 So, if you're in the area, please go visit Paul and Nancy and pick to your heart's content.
They have an abundance of fruits to choose from – apples, blueberries, raspberries, and pumpkins just waiting to be picked. And be sure to pick yourself up some cider. You won't be sorry!!
I give you BIG baking hugs and muffins!!