Fresh apple, cinnamon, and nutmeg make Apple Cinnamon Scones with Maple Glaze a fantastic breakfast treat or wonderful tea accompaniment.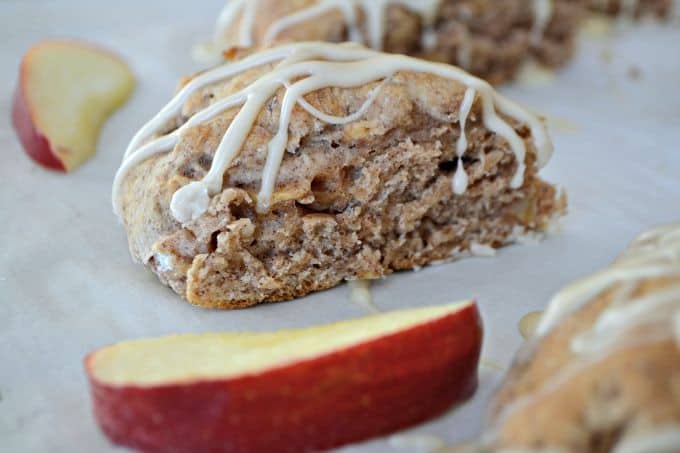 If you have been reading 365 Days of Baking and More for any length of time then you know that breakfast is our favorite meal here in these parts.
And any time I have a chance to create a recipe, odds are that it's going to be something designed for breakfast that we'll often end up eating for dinner at some point too.
Heck, I'm not ashamed. Breakfast foods are appropriate any time of day, I say! Who doesn't love breakfast for dinner? Especially when it means I can eat baked goods and call it a meal.
I also love when I can incorporate fresh fruit into the mix as well because it makes dishes taste that much better. This apple cinnamon scone recipe definitely fits the bill!
Scones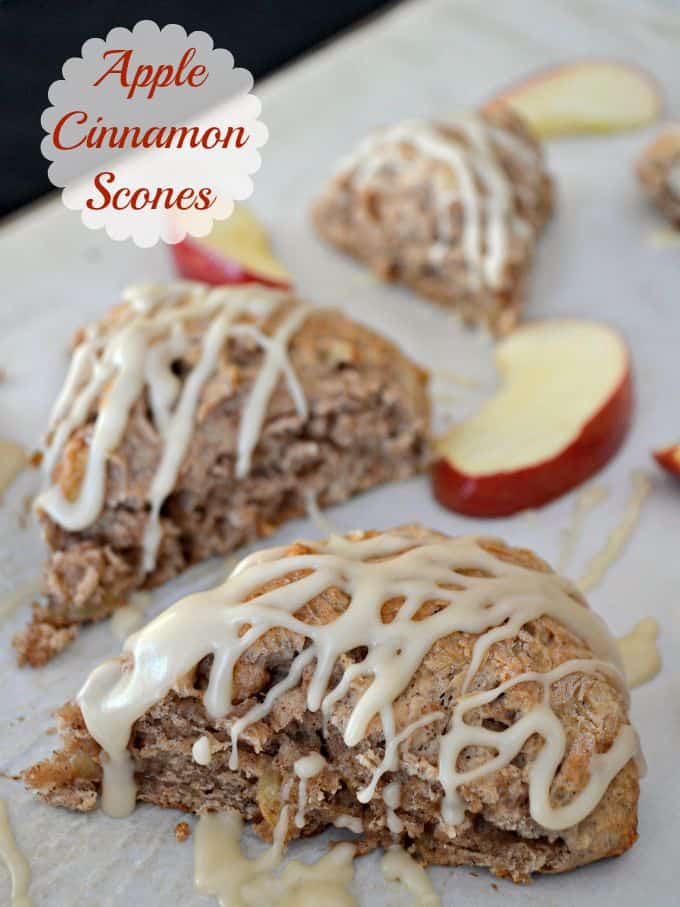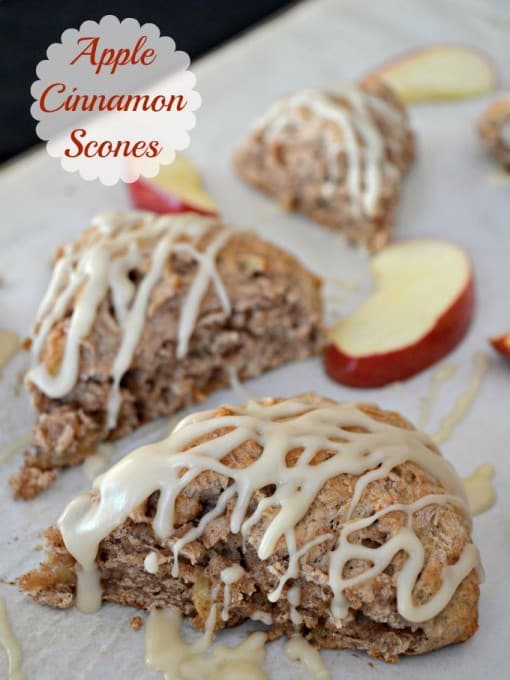 Today, I am so excited to be partnering with KitchenAid so we can share with you their #KitchenAidContest! They want YOU to create a unique recipe using an apple (or two, red or green).
I opted to make a batch of fresh scones using tart apples and plenty of cinnamon.
SAVE THIS SCONE RECIPE TO YOUR FAVORITE PINTEREST BOARD!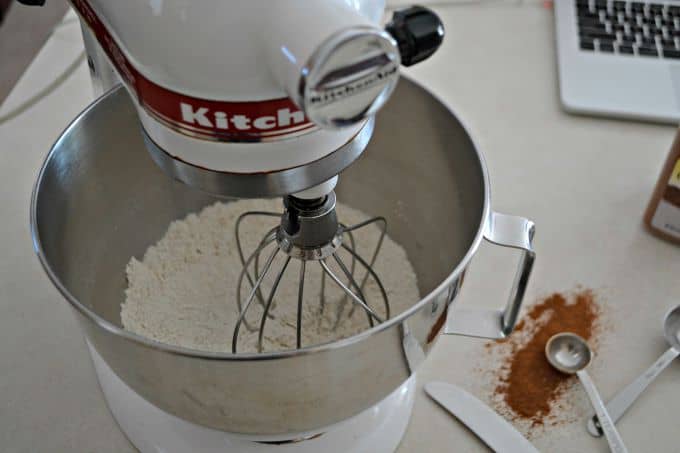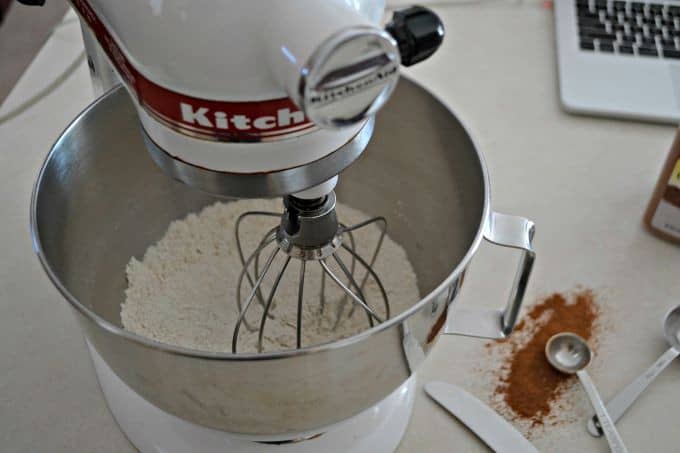 KitchenAid has just launched the first-ever black stainless kitchen. Believe me when I tell you that I can't wait to have a kitchen of my own so I can put all of these apple-iances in. (haha, get it – I just made that up, unless KitchenAid beat me to it then I'm a little late to the party.)
They're so sleek and beautiful, and YOU could be the proud owner of them! Read on.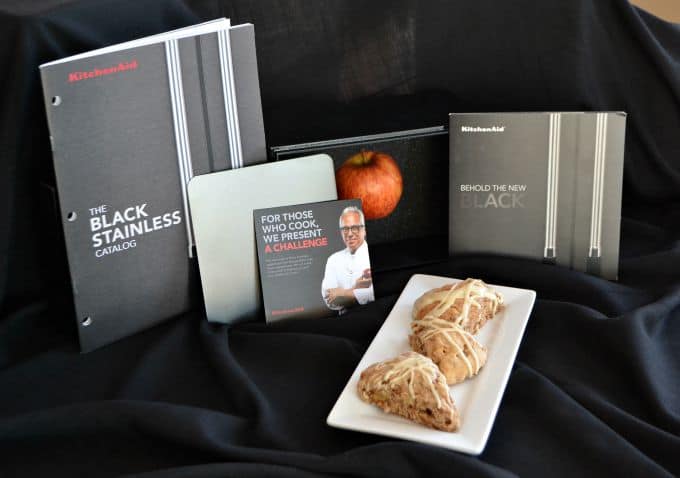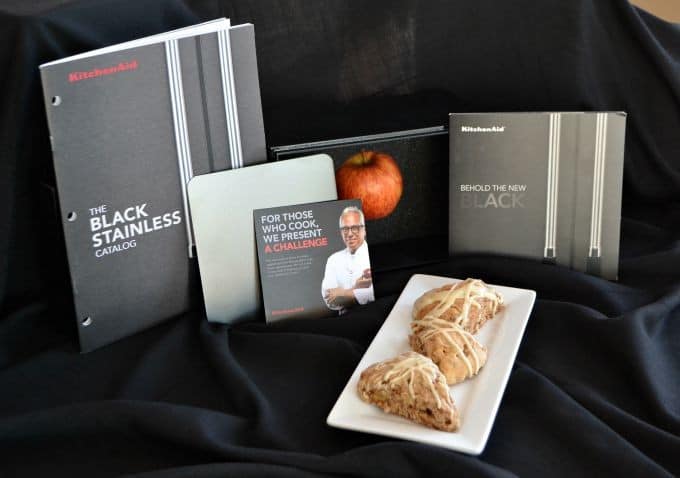 I created these Apple Cinnamon Scones with some Granny Smith Apples and now KitchenAid wants you to create something awesome and delicious as well!
I know you can do it and I'm so excited to see what you make.
For this #KitchenAidContest, four finalists will win a trip to New York City to compete in a cook-off judged by Chef Jeffrey Zakarian. The grand prize winner will receive a private cooking lesson with Chef Zakarian, their dish will appear in the Food Network Magazine, AND they'll also receive a new suite of KitchenAid appliances in the first ever black stainless steel!
I would LOVE to see you be the winner, so put those creative thinking caps on and go for it!! You can upload your submissions via Instagram or Twitter using #KitchenAidContest!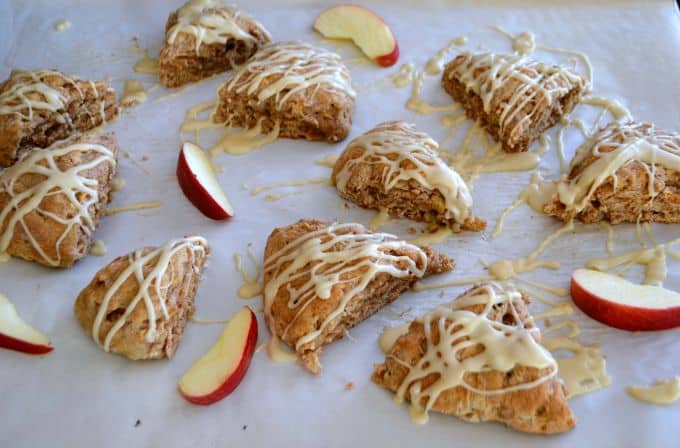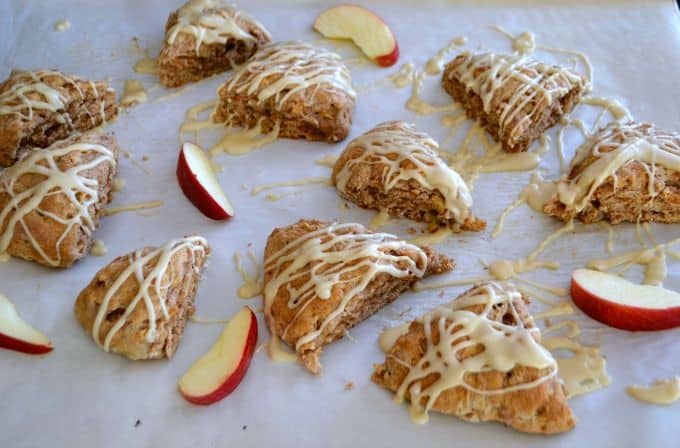 Apple Scones
For much of my life, I didn't consider myself a fan of scones. Too often the scones I'd try from coffee shops or bakeries just tasted too dry.
Then, I discovered a few secrets to making delicious scones that stayed moist even a day or two after baking them:
Use buttermilk (or a homemade buttermilk substitute) in the dough
Keep the scone wedges together while baking
Top the finished scones with a sweet buttery glaze
These apple cinnamon scones got me in the mood for fall; all those warming spices in the scones made my kitchen smell heavenly too!
While I'm new to the scone life, I am NOT new to loving apple recipes! While other folks are all about the pumpkin craze as we enter fall, I'm over here filling my kitchen with Apple Streusel Muffins and Caramel Apple French Toast Bake.
There's just something about the combination of apples, cinnamon and nutmeg that screams "FALL!" to me. If you're the same, you'll love these Fried Apple Rings and Baked Apple Cinnamon Pancake.
Oh, and Apple Cinnamon Sweet Rolls Monkey Bread. And Baked Applesauce. And can't forget a good old fashioned bowl of Apple Oatmeal.
I just REALLY love apple, okay?!
SIGN UP FOR THE WEEKLY
365 DAYS OF BAKING & MORE
NEWSLETTER BELOW!
Back to the scones!
Apple Cinnamon Scone Recipe
Start by combining all your dry ingredients in a bowl, then add the butter. Use a pastry cutter (or your clean fingers) to cut the butter into the flour to form a crumbly dough. It should resemble a coarse meal.
Toss chopped, peeled apples in a bowl with lemon juice. Sprinkle the apples with a mixture of cinnamon and sugar, then fold them into the flour mixture.
Add the eggs and buttermilk and mix until just combined. Use a flat spatula to knead and fold the dough over about 6 to 8 times. Turn the dough onto a clean floured surface.
How do you cut scones?
Divide the dough in half and pat each into a circle approximately 5 inches in diameter on the prepared baking sheet. Cut the dough into 6 wedges, but do not separate.
Cutting it before baking allows for easy separation, but keeping the wedges together during baking allowed for the scones to be bit more moist than is typical.
Bake the scones for 2o to 25 minutes in an oven preheated to 400 F. The scones are done when the tops become firm and lightly golden brown. Let the scones cool on a wire rack for at least 10 minutes while you prepare the glaze.
Maple Glaze Recipe
This glaze for scones couldn't be any easier to make. Combine three simple ingredients:
maple syrup
confectioner's sugar
butter
Melt the butter and maple syrup together first in the microwave. Then whisk in the confectioner's sugar until smooth. Drizzle the glaze over cooled scones and enjoy!
Tips for Making Scones
Make your own buttermilk by mixing 2 teaspoons of vinegar with regular milk. Let the mixture sit for 15 minutes until curdles and use as directed. I almost always use this homemade buttermilk when I bake!
Scones store well in the freezer for several months in freezer-safe bags or an airtight container. I like to freeze them plain then make and add the glaze just before serving.
Scone Recipes
Love scones? You'll also want to give some of my other favorite homemade scone recipes a try!
Apple Cinnamon Scones with Maple Glaze
This is a moist homemade scone full of chopped apples, cinnamon, and some nutmeg. I think your family members will be pleased when they see these on the breakfast table because mine definitely was!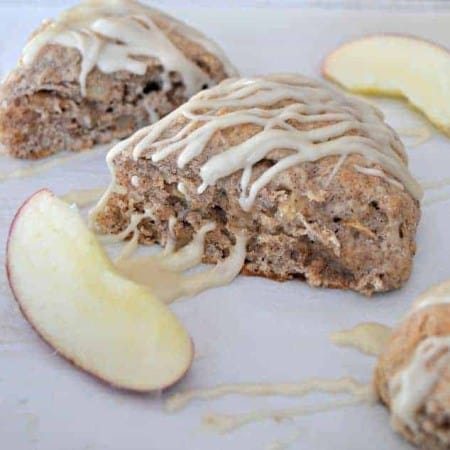 Apple Cinnamon Scones with Maple Glaze
Ingredients
2 cups all-purpose flour
¼ cup + 2 tablespoons sugar divided
1 tablespoon baking powder
1 tablespoon + 1 teaspoon cinnamon divided
½ teaspoon nutmeg
2 Granny Smith apples peeled, cored and diced small
1 teaspoon lemon juice
5 tablespoons unsalted butter
1 egg
⅔ cups buttermilk
Maple Glaze
2 tablespoons unsalted butter
4 tablespoons pure maple syrup
1 cup confectioners' sugar
Instructions
Place a rack into the center of the oven and preheat to 400 degrees F.

Prepare a baking sheet by lining it with parchment.

In a large mixing bowl, whisk together the flour, 2 tablespoons of sugar, baking powder, 1 teaspoon of cinnamon and salt.

Cut butter into smaller pieces and with a pastry cutter, cut butter into the flour mixture until it resembles coarse meal.

In a medium bowl, toss the chopped apples with the teaspoon of lemon juice.

In a small mixing bowl, combine the 1/4 cup sugar and 1 tablespoon cinnamon. Sprinkle mixture over the apples and toss to completely coat.

Add to the flour mixture and mix.

In another small mixing bowl, whisk together the egg and buttermilk.

Pour the mixture into the dry ingredients and stir until it just comes together. Then using a rubber spatula, knead and fold it together about 8 to 10 times.

Prepare a flat surface by dusting it with flour, and turn the dough out onto it.

Divide the dough in half and pat each into a circle approximately 5 inches in diameter on the prepared baking sheet. Cut the dough into 6 wedges, but do not separate. Cutting it before baking allows for easy separation, but keeping the wedges together during baking allowed for the scones to be bit more moist than is typical.

Bake for 20 to 25 minutes or until tops are lightly golden and firm. Transfer to a wire rack and allow to cool for 10 minutes while you prepare the glaze.
Glaze
In a medium microwavable bowl, melt together the butter and maple syrup for 30 seconds in the microwave on high.

Whisk to mix well.

Whisk in the confectioners' sugar until thoroughly combined and smooth.

Drizzle over scones and serve.
Did you make this recipe?
Share it with me on Instagram and make sure to follow me on Pinterest for more recipes.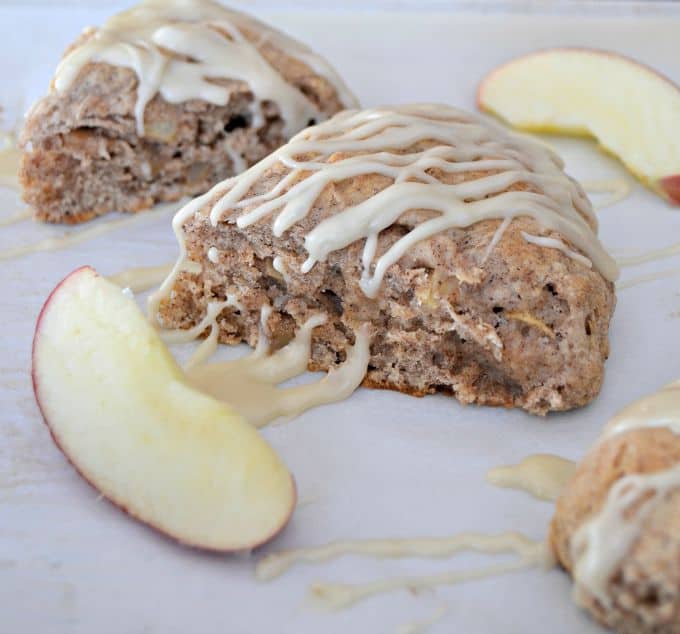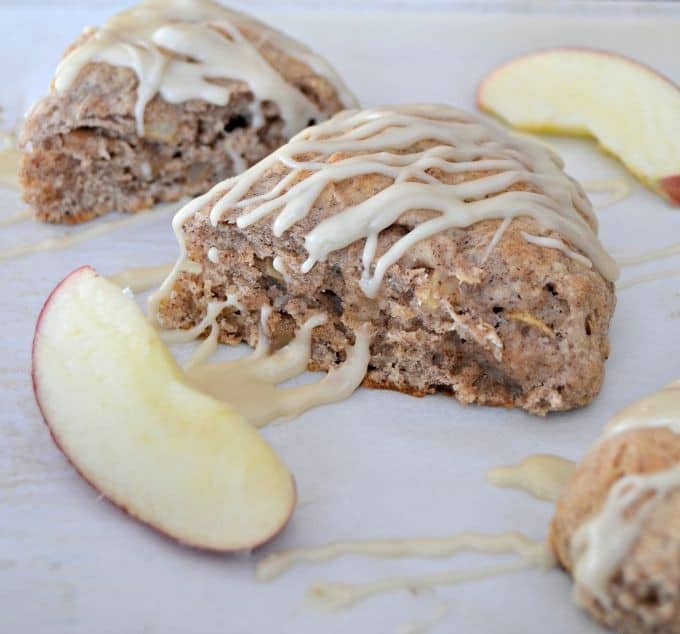 From the first-ever black stainless steel to the first-ever five-door refrigerator, KitchenAid pushes the limits with our appliances, so our home cooks can do the same with their cooking. Visit the Kitchenthusiast™ blog for recipes, tips and more.
Want some other sweet treats? Let these other recipes be a staple at your household…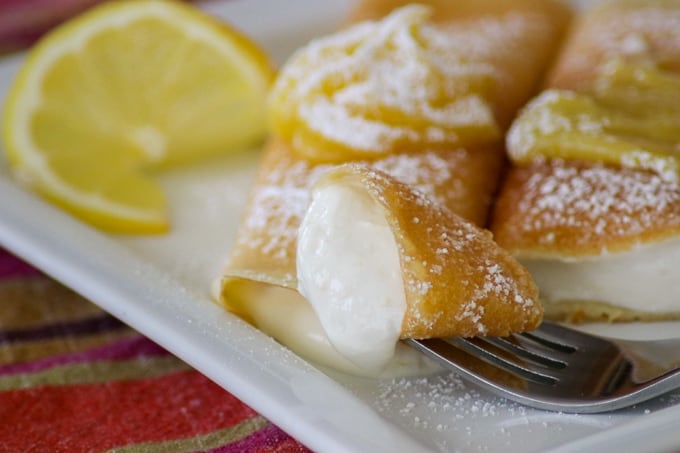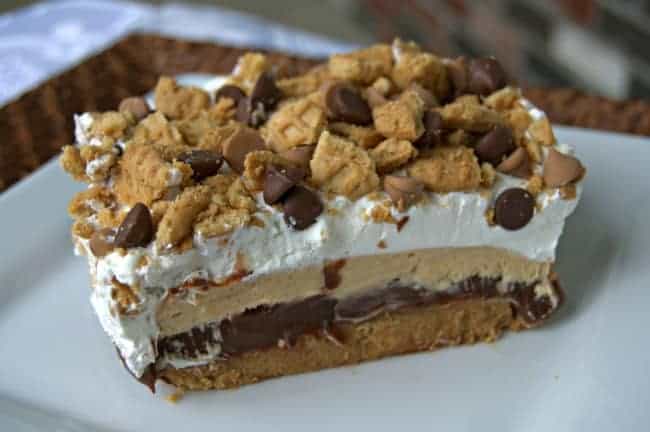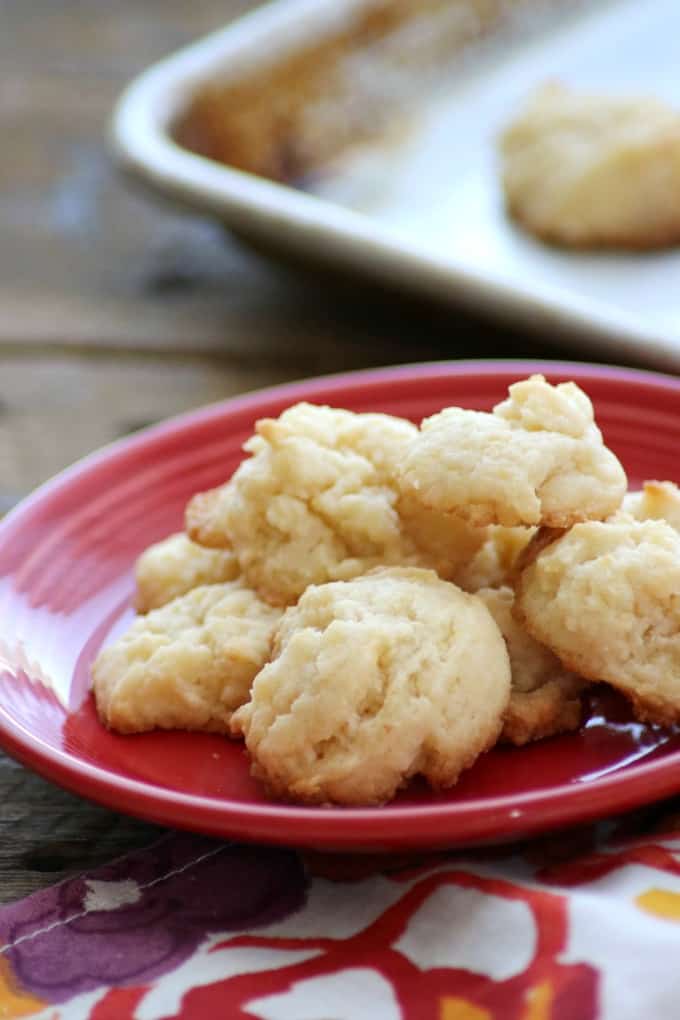 This is a sponsored conversation written by me on behalf of KitchenAid Elite Bloggers. The opinions and text are all mine.