Melted Reese's Peanut Butter Cups mixed in with a soft cookie is a sure thing the family will love. It's the traditional milk and cookies with a little improvising!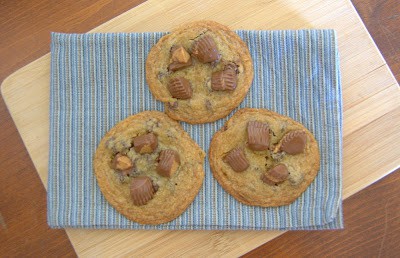 Three words…milk and cookies. That's all you need to know.
Maybe the recipe too, but honestly anyone who says or hears milk and cookies know they're in for a treat.
I know I've made quite a few of them the past few days, but I wanted to make something special tonight for
Avalee's
family. This was adapted from the Nestle Toll House Cookie Recipe.
I had help in the kitchen making these. Wonder why? Well, there's always an incentive when I make either cookies or brownies. And, these Reese's Peanut Butter Cup Cookies are no different.
So, the helper was able to lick clean the spatula that had the cookie dough on it, as well as the whisk. Boy did he take advantage of it. You may be thinking what boy since there's more than one. And yes, I'm counting the Mr. in this because you very well know he's a child at times. But, it was the son.
SAVE THIS REESE'S PEANUT BUTTER CUP COOKIES TO YOUR FAVORITE PINTEREST BOARD!
I rate everything I bake on a scale of 1-4 with 4 being the best and I have to say that these Reese's Peanut Butter Cup Cookies earned 3 1/2 rolling pins. These were quite delicious!
The thing that took the most time with these cookies was the unwrapping and cutting of the peanut butter cups.
A couple of these cookies and a nice tall glass of cow juice and you'll be ALL set! Ok, maybe a few more than a couple.
Just watch the baking time. You want the middles a little gooey so you can stick the cup pieces in, and then bake them for a few more minutes to set them. There was something else I was going to tell you, but I can't 'member. Hm.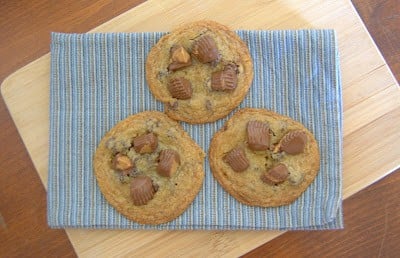 Reese's Peanut Butter Cup Cookies
Ingredients
¼ cups flour
1 teaspoon baking soda
1 teaspoon salt
1 cup (2 sticks) butter, room temperature
¾ cup granulated sugar
¾ cup packed brown sugar
1 teaspoon vanilla
2 eggs
2 cups (12oz.pkg.) Nestle Toll House Semi-Sweet Chocolate Morsels
48 miniature Reese's Peanut Butter Cups, unwrapped and cut into fours
Instructions
Preheat oven to 375 Degrees and prepare a cookie sheet by lining it with parchment.

In a medium bowl, whisk together flour, baking soda, and salt.

In the bowl of an electric mixer fitted with the paddle attachment, cream the butter with both sugars and vanilla until light and creamy.

Add eggs, one at a time, beating well after each addition. Gradually add flour until combined. Mix in chocolate chips.

Place tablespoonfuls onto the prepared cookie sheet, placing them about 1 1/2-inches apart.

Bake for 8-9 minutes. Middles should not be set.

Remove cookie sheet from oven and place 4 Reese's Peanut Butter Cup pieces (1 whole miniature cup) into the center of each cookie.

Return cookie sheet to oven and bake for another 2-3 minutes, until cookies are golden and middles are set.

Allow cookies to cool on sheet before transferring to a wire rack to cool completely.
Nutrition
Calories: 364kcal | Carbohydrates: 84g | Protein: 3g | Fat: 2g | Cholesterol: 81mg | Sodium: 898mg | Potassium: 85mg | Sugar: 77g | Vitamin A: 120IU | Calcium: 47mg | Iron: 1mg
Did you make this recipe?
Share it with me on Instagram and make sure to follow me on Pinterest for more recipes.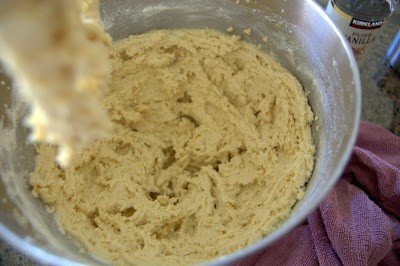 You'll notice that I didn't have the cookie sheet covered in parchment. Yeah, that was a mistake, that's why I'm suggesting you do it. This batch of cookies became a little browner than I would have liked.
After I used the parchment, they were much better and were able to be removed from the cookie sheet without nearly as much trouble. Yeah, it wasn't pretty.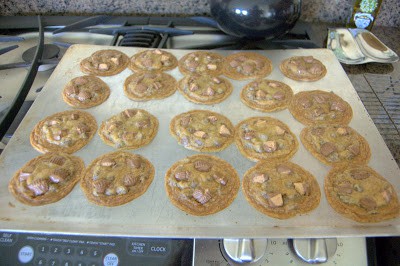 Um. I don't know. I can't remember. Obviously, it wasn't too important. I don't think it had anything to do with the cookies. Chalk it up to a pre-pre senior moment.
Here at 365, there are a ton of great cookie recipes you'll be able to make. Here are a few of my favorites.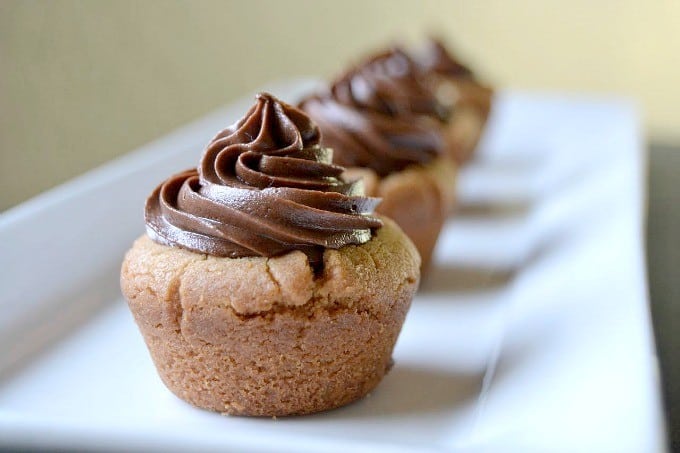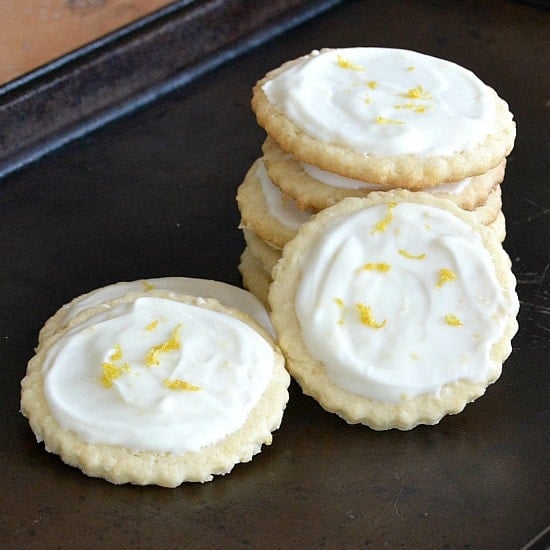 Oh yeeeaaaah, about cutting up the peanut butter cups… There isn't an easy way to do it.
I did it when they were room temp. and I did it after they had been refrigerated and I did it after they had been frozen for a while. It really didn't make a difference, a few of them broke apart.
The good thing, I just stuck them back together and you couldn't even tell after they'd been in the cookies.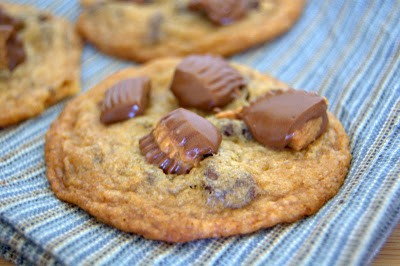 And storing them…I put them in an airtight container and stuck them in the fridge to set the peanut butter cups, separating the layers with parchment. Good idea, if I do say so myself. I liked them better cold anyway because they were a tad bit chewier and I'm really into anything chewy.
And these certainly aren't the kind of cookies you want to be making in the middle of an Arizona summer.
Just sayin'. If you were wanting the urge to do that. I can see those peanut butter cups melting all over your little digits.
Reader Interactions