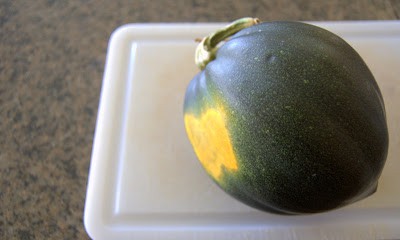 Today it's a side dish and I adapted this recipe from the Martha Stewart Living Cookbook – The Original Classics, p. 350; author, Martha Stewart; publisher, Clarkson Potter/Publishers, an imprint of the Crown Publishing Group, a division of Random House, Inc.; ISBN 978-0-307-39382-1.
Twice-Baked Acorn Squash – serves 1-2
1 acorn squash
salt and freshly ground pepper
2 tablespoons sour cream
1 1/2 teaspoons green onion, chopped
1/4 teaspoon Old Bay seasoning
1 tablespoon butter, melted
2 tablespoons Italian style bread crumbs
Place a rack in the center of the oven and preheat oven to 450 degrees F.
Cut the squash in half lengthwise.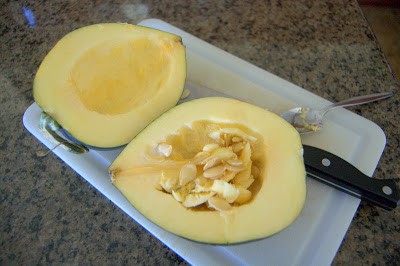 Remove the seeds and fibrous material.
Place the squash, cut sides up in a roasting pan filled with about 1/4-inch of water. Season each half with salt and freshly ground pepper and cover with tin foil.
Bake for 35 minutes, until the inside of the squash is tender enough to be poked with a fork.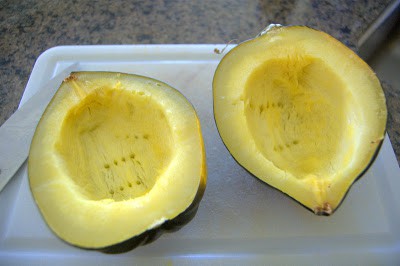 Remove from the oven and transfer squash to a cutting board to cool enough so that it can be handled.
Lower the oven temperature to 425 degrees F.
Using a spoon (I used a grapefruit spoon), scoop the inside of each acorn squash half out and place it into a medium bowl. Be sure to leave about 1/4-inch of the flesh around one of the halves for support, discarding the other half.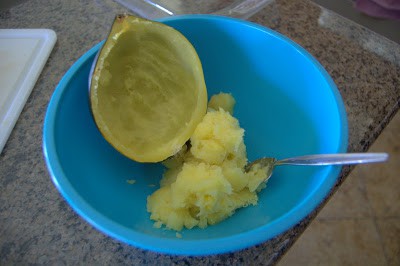 Place the sour cream, chopped green onion and Old Bay seasoning into the bowl. Season with additional salt and pepper.
Using a potato masher, mash and mix until thoroughly combined.
In a small microwavable bowl, melt the butter. Add the bread crumbs and mix well.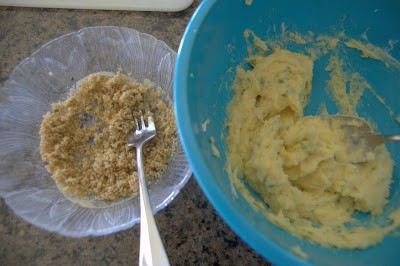 Fill the one half with the squash mixture.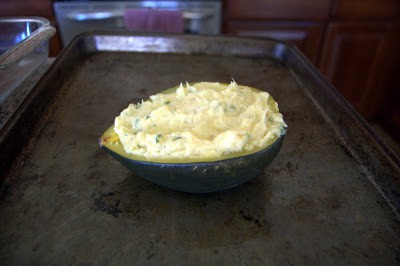 Place buttered bread crumbs on top of the squash.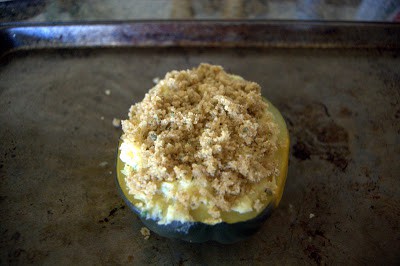 Bake for 15-20 minutes, until golden and heated through.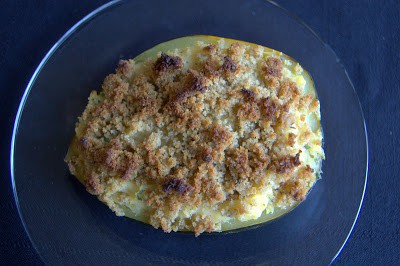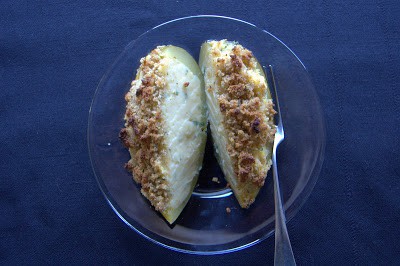 I rate everything I bake on a scale of 1-4 with 4 being the best and this Twice-Baked Acorn Squash earned 2 rolling pins.
It was, as Mr. 365 said, "Eh."
Yes, nothing spectacular and I don't think I'll be making it again.
I think the Old Bay seasoning may not have been the right choice of seasoning because one bite into it and it tasted like I was eating a Stuffie – a stuffed Quahog, and a Quahog (pronounced Kwo-hog) is a large clam. We used to dig for those things at the beach with our feet when we were little.
We?
I'm an only child. There wasn't a "we", it was me and my mom and she certainly wasn't little.
I remember her showing me the holes in the mud I had to look for. It was pretty neat being able to find them, but I can't tell you how many times I was cut by a razor clam because the mud holes are very similar.
Heck, what other blog can you go to where they talk about razor clams and educating you as to what they are?
Alright, enough of the marine biology. I'm off to bed.
I give you all BIG baking hugs and muffins!!