One of the most sought after cookies, this classic Girl Scout thin mint cookie can now be a homemade one. It's chocolate coating and delicious taste can now be had throughout the year.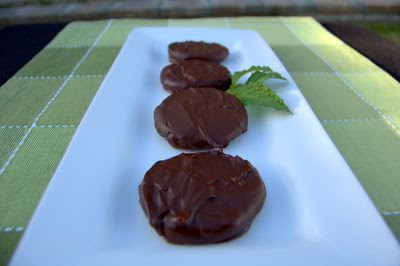 That amazing time of the year has come. Thin mints are going to be eaten!
Break out the wallets before you even head into the grocery store, because I know you won't be resisting the annual Girl Scout cookies sale. Trust me, the past me hasn't. The kids would always harp me every time we went, and for good reason too. These Girl Scout cookies are amazing!
How can you not by one in every flavor? Or just one box? You can't! Of course, everyone has their own favorite cookie and we can't all agree on one. So, I just had to make my favorite because I couldn't go another year of not having these thin mints.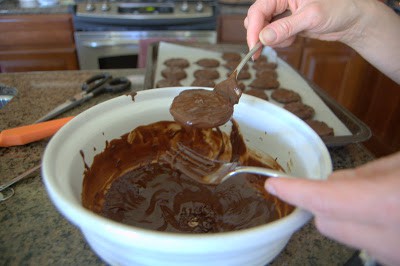 And don't get me started with what the best way to eat them is.
Frozen, frozen, frozen!
That's the only way I'll eat them, and it helps to be the main cooker in the household because I can hide one box for myself. What can I say, thin mints are something special?!
Anyways…
I hear the trumpets sounding… in my head anyway because I couldn't find the appropriate sound on YouTube.
2 WEEKS!!
14 more BAKED recipes!!!
I'm a little excited, can you tell?
Surprisingly enough, this year I haven't bought 1 box of Girl Scout Cookies. And I have to say that the family really didn't even miss them. No Girl Scout came to our door, I didn't have any friends whose daughters were selling them (at least that I knew of, or were here in Arizona anyway) AND I didn't even buy a box when they were selling them out in front of the grocery store.
How good is that?? Hunh?? At $4 a box, with the cookies becoming smaller and the amount in each box becoming less, I just rather make them myself anyway, especially since I know that I can. And it is much more productive for me to just give a donation to the Girls without receiving the cookies in return.
Fewer calories. Mission accomplished.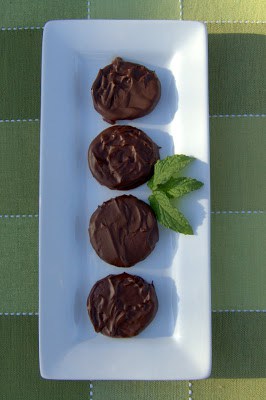 Enter an oven, a strong craving for some Thin Mint cookies and the recipe found at Baking Bites.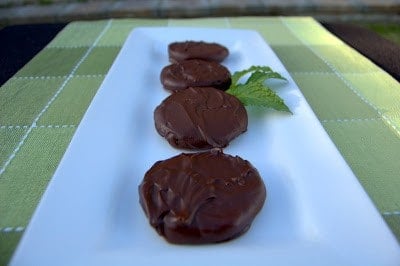 Homemade Girl Scout Thin Mint Cookies
Ingredients
1 Cup granulated sugar
⅓ cup milk
½ teaspoon vanilla
¾ teaspoon peppermint extract
2 ¼ cups flour
¼ cup cornstarch
6 tablespoons unsweetened cocoa, sifted
½ teaspoon salt
Chocolate Coating
10 ounce dark, or semi-sweet chocolate
½ cup (1 stick) butter, room temperature
½ teaspoon peppermint extract
Instructions
In the bowl of an electric mixer fitted with the paddle attachment, cream butter and sugar until light an fluffy. About 3-4 minutes.

Add the milk and extracts with the mixer running on low speed. The milk may look curdled.

In a small bowl, whisk together flour, cornstarch, cocoa, and salt.

Gradually add the dry ingredients to the butter mixture on low speed and mix until combined.

On two separate pieces of plastic wrap, shape half of the dough into rolls about 1 1/2-inches thick.

Refrigerate for at least an hour until dough is very firm.

Preheat oven to 375 degrees and prepare a cookie sheet by lining it with parchment.

Remove one of the rolls from the fridge, and with a sharp knife, make slices about 1/4-inch thick. Place on the prepared cookie sheet about an inch apart.

Bake for 13-15 minutes until edges are firm. Transfer cookies to a wire rack to cool completely before dipping them in the chocolate.

Repeat with the second roll of cookie dough roll.
Chocolate Coating
In a microwave-safe bowl, combine chocolate and butter. Heat on high for 30 seconds, stirring until chocolate is smooth and reheating for another 15-30 seconds depending on the consistency.

Mix in the peppermint extract.

Using two forks, dip a cookie into the chocolate, transferring to the rack with the forks.

Place on a cookie sheet lined with parchment paper to set for at least 30 minutes.
Nutrition
Calories: 1989kcal | Carbohydrates: 448g | Protein: 31g | Fat: 5g | Saturated Fat: 1g | Cholesterol: 8mg | Sodium: 1208mg | Potassium: 408mg | Fiber: 7g | Sugar: 205g | Vitamin A: 130IU | Calcium: 134mg | Iron: 13.1mg
Did you make this recipe?
Share it with me on Instagram and make sure to follow me on Pinterest for more recipes.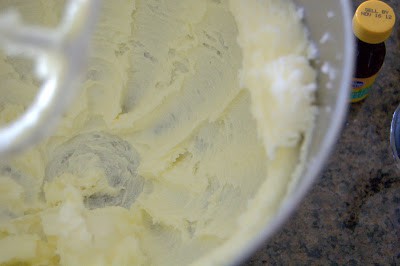 I realized when I was writing the post that I added an extra 1/2 cup of butter. For some reason, my mind computed the 1/2 cup to be 1/2 pound. I don't know. I've done this way too much in the past few weeks, misreading recipes. I just wasn't focused I suppose.
Then I had the cookies on the sheet and went to put them into the oven when my daughter, standing behind me, said, "wait, can I see them?".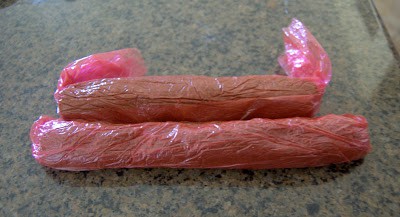 I guess I turned around too fast because 4 of them went flying off of the parchment onto the floor.
These cookies require a bit of love and care. They took me some time to coat and the chocolate may have needed another tablespoon or so of butter to make it a tad bit thinner. I found myself scraping some of the chocolate off because it was just way too thick.
It also only coated 1/2 the cookies and my ingredients made about 60 of them (it may have been that extra butter 😉 ).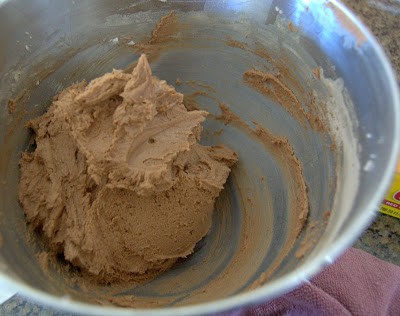 Ok, so here's the thing. I was a little preoccupied today. I went to bed last night after learning of a friend's daughter's disappearance. This two, soon to be three-year-old little girl, Avalee, has been missing since 9 am yesterday morning when her biological father failed to drop her off after his visitation.
Athena and her husband have not been able to contact him or his family and neighbors said he was seen moving furniture out of his home over the weekend. Needless to say, her mother, Athena, is worried sick.
I've posted her picture on the 365 FB page and information about the father's vehicle he drives.
Your prayers and positive thoughts for Avalee's return to her mom would be greatly appreciated and I thank you.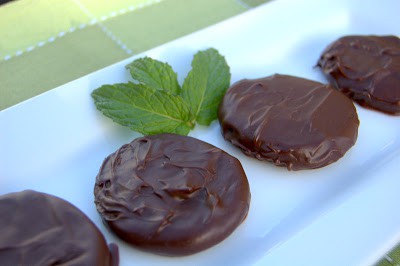 After learning there was no news on Avalee, I was able to motivate myself and planned to do a major grocery shopping and some cleaning after my P90X YogaX workout. Don't worry, I wasn't able to do the whole thing. I am certainly NOT a yoga person. I did about 45 minutes of the 1 1/2 hours and was then totally exhausted. The only energy I could muster was used to make these cookies.
You all know how I love my cookies. Well, here's a few that I make multiple times throughout the year.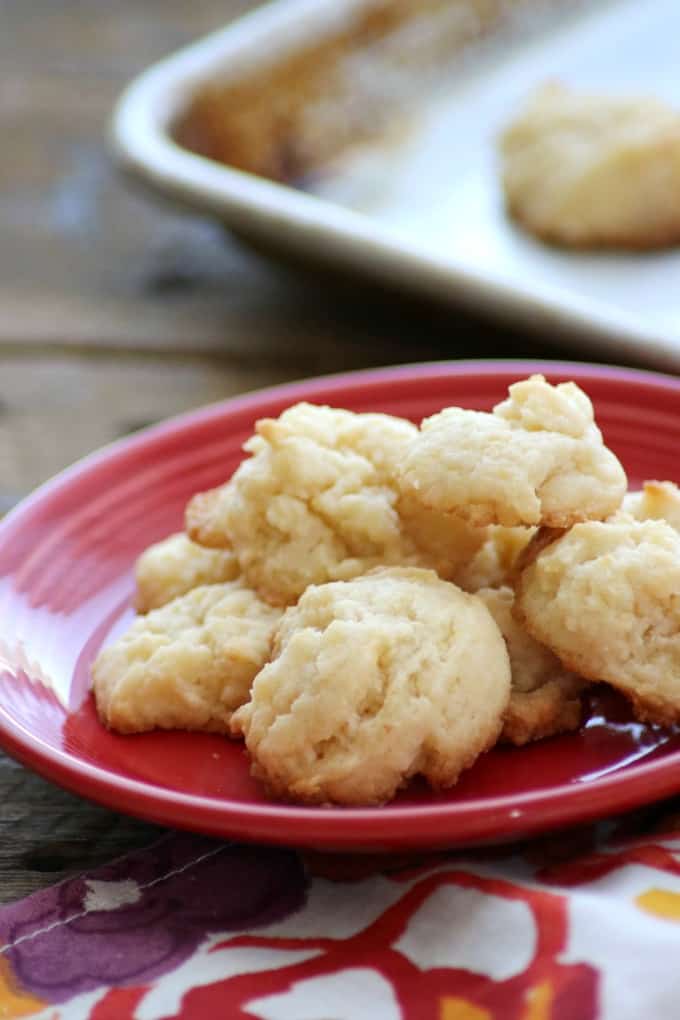 Soft Chewy Chocolate Chip Cookies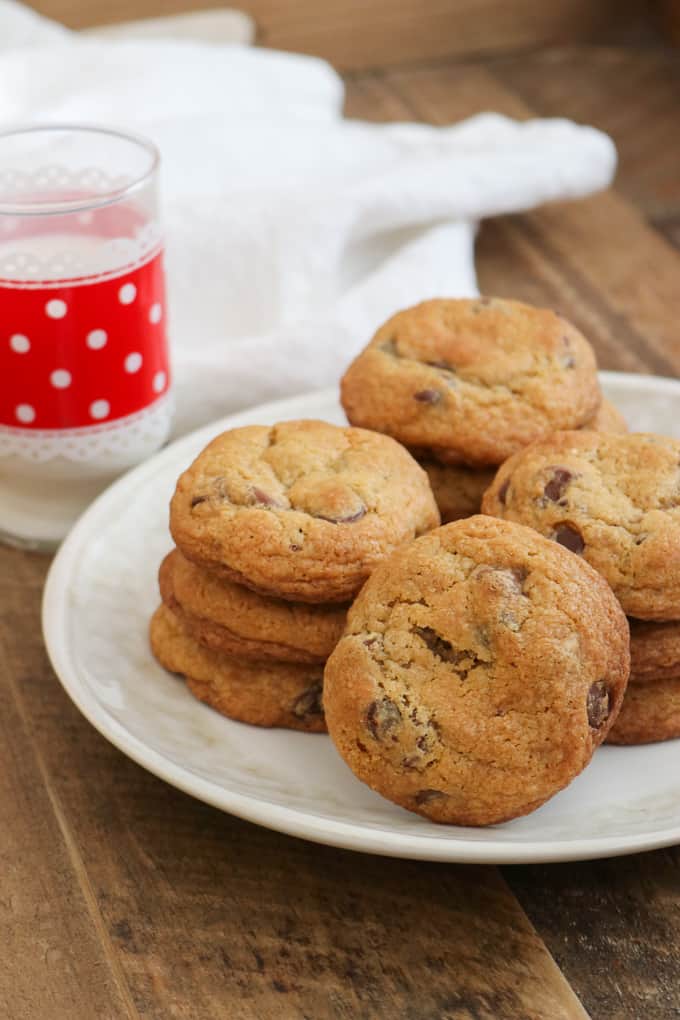 I rate everything I bake on a scale of 1-4 with 4 being the best and these Homemade Girl Scout Thin Mints earned 3 rolling pins.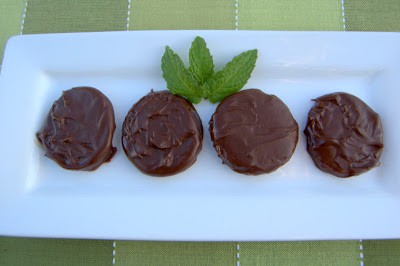 They were good and adding that 1/2 teaspoon of peppermint to the chocolate made a big difference. We had coated some of them when my daughter tried one and suggested we do that. I am so glad she did! Thanks, girl!
I wonder how much different they would have tasted without the extra butter.
They were good without the chocolate coating, too. Because I ran out of the chocolate we left some uncovered.
I think you'll like them. And it may even bring back some girl scout memories. It did for me!
Reader Interactions